Advertising Disclosure
Advertising disclosure:
Our partners compensate us. This may influence which products or services we review (also where and how those products appear on the site), this in no way affects our recommendations or the advice we offer. Our reviews are based on years of experience and countless hours of research. Our partners cannot pay us to guarantee favorable reviews of their products or services.
In today's rapidly advancing digital age, the proliferation of technology has significantly influenced the behavior and expectations of consumers. Nowhere is this more apparent than in the ever-evolving hospitality industry, which is growing year after year. As guests increasingly turn to digital platforms to facilitate their travel planning and booking needs, the role of digital marketing in hospitality has grown exponentially.
To harness the power of digital marketing and stand out amidst a sea of competitors, businesses in the hospitality sector - such as hotels, resorts, and inns - are relying heavily on digital marketing agencies that specialize in the hospitality industry. These agencies are designed to navigate the complex, rapidly evolving digital landscape and devise strategies that raise awareness, engage potential guests, and ultimately drive direct bookings.
---
Top Hospitality Digital Marketing Agencies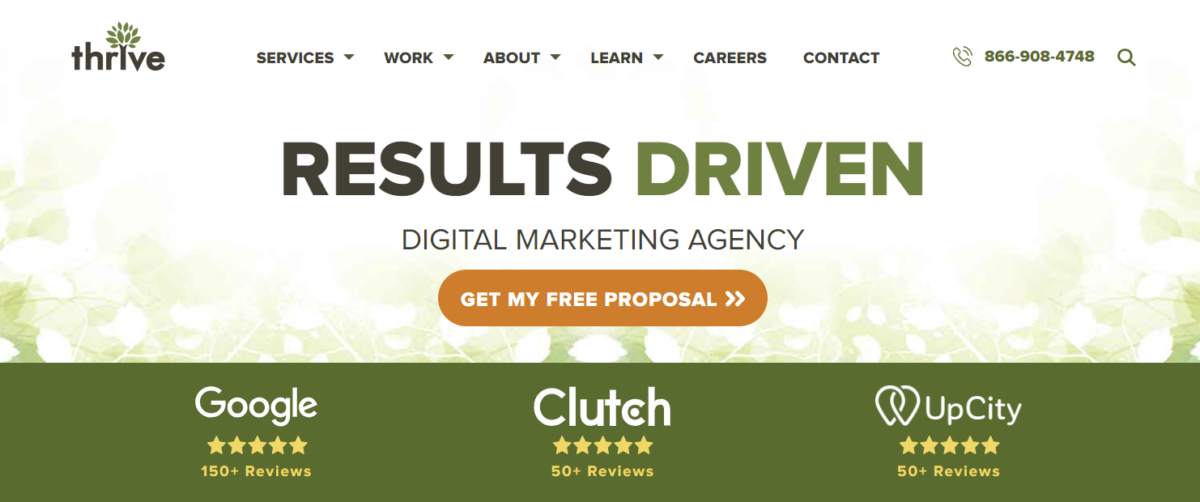 Thrive Average Hourly Rate: $100 – $149
Average Project Cost: $1,000+
Based in Dallas, Texas, Thrive is a comprehensive digital marketing agency that takes a data-driven approach to hotel marketing. They have an expert who specializes in various aspects of digital marketing, providing a broad scope of services to ensure every need of their clients is met.
Thrive's core service for hospitality projects is SEO. The firm also offers PPC, social media marketing, and web design services. Thrive aims to make its clients the best hotels in town through their proven solutions and an impressive 16 years of industry experience.
Key to Thrive's strategy is ensuring their clients have an optimized and compelling online presence. This is based on their understanding of the importance of digital visibility in the hospitality industry, considering the high percentage of travelers who book hotels online and gather information from the hotel's official website.
The firm has proven its expertise with successful past projects, such as the development of a modern website for the Hollow Hill Farm Event Center, which saw a 25.69% increase in page views and a 90.91% rise in online leads.
Services:
Social Media Marketing
Content Marketing
Email Marketing
Landing Page Design
Website Maintenance and Support
Graphic Design
Branding and Strategy
Video Production
---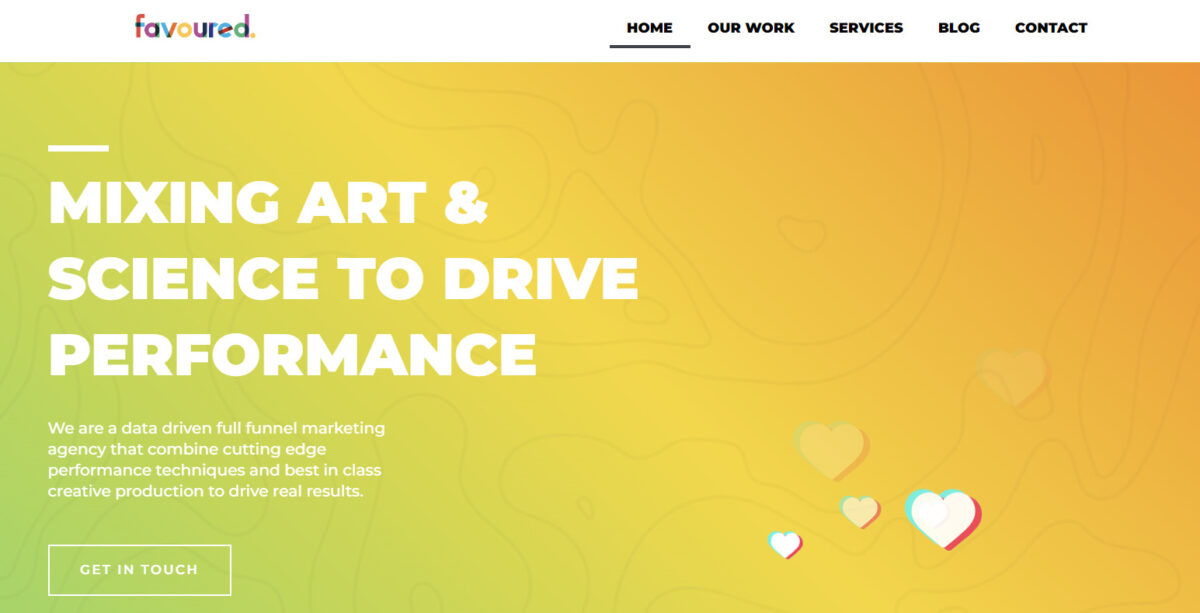 Average Hourly Rate: $100 – $149
Average Project Cost: $1,000+
Favoured is a London, United Kingdom-based full-funnel marketing agency that utilizes cutting-edge performance techniques combined with best-in-class creative production to achieve tangible results. They are a relatively small team who have managed to make a significant impact since their inception in 2018.
The agency is primarily focused on mobile and app marketing. They also provide advertising, social media marketing, PPC, web design, and marketing strategy services.
Favoured takes a data-driven approach to marketing, creating multi-channel campaigns that boost the visibility of their clients in the online world. They also place a strong emphasis on aesthetics, working closely with brands to distill their essence and create beautiful and functional designs.
Services:
Content marketing
Microinfluencer marketing
SEO
---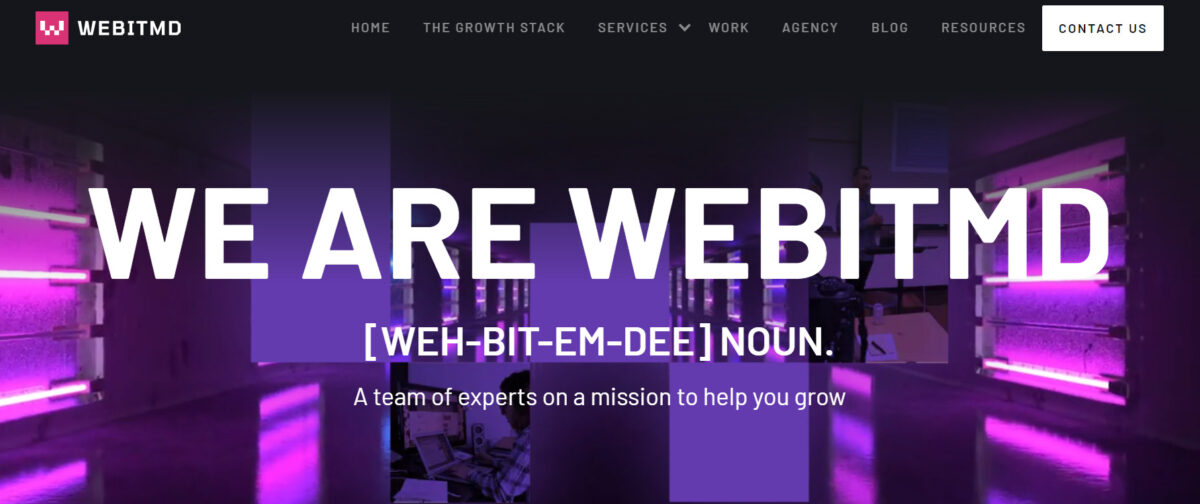 Average Hourly Rate: $150-$199
Average Project Cost: $1,000+
Los Angeles, California-based WEBITMD excels in providing digital marketing solutions, with a distinct emphasis on the hospitality sector. They focus on comprehensive strategies that help clients navigate the digital marketing landscape effectively.
WEBITMD's approach involves a blend of creative branding and tactical marketing efforts, leveraging key digital platforms to reach the target audience. Their specialties include messaging and positioning, where they refine your brand's voice to cut through the noise, and website design and development, where they build sites optimized for traffic conversion.
Their adept use of paid media and marketing automation ensures clients meet their customers right where they are, boosting engagement rates. They also offer HubSpot Onboarding, establishing a functional portal that provides value from day one. Additionally, their content and email marketing strategies focus on education, engagement, and conversion, fostering a stronger relationship with the audience.
Services:
Ecommerce Marketing
Pay Per Click
CRM Consulting and SI
Content Marketing
Media Planning & Buying
Web Design
---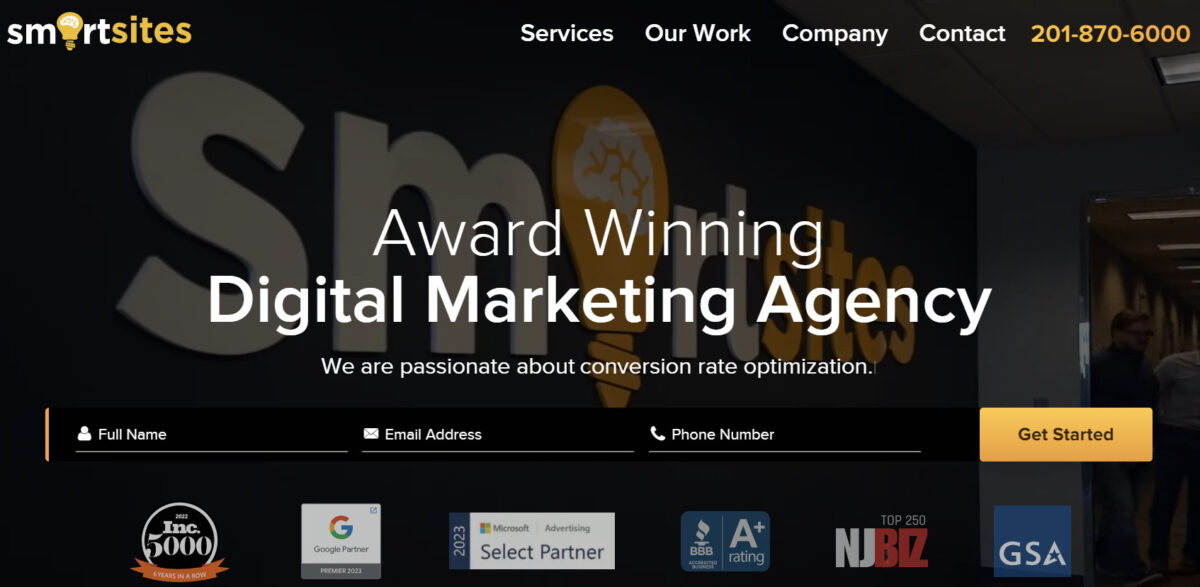 Average Hourly Rate: $100-$149
Average Project Cost: $1,000+
SmartSites, headquartered in Paramus, New Jersey, is a versatile digital marketing agency with a strong footing in the hospitality industry. They are committed to helping businesses rise above their competitors through targeted advertising and strategic web presence.
They possess an impressive array of partnerships and certifications, including Google Partner Premier, Microsoft Select Partners, and HubSpot Certified Partner. Their advertising strategy combines graphic design, copywriting, and organic SEO services to deliver a holistic approach to digital marketing.
Web design is another area of SmartSites' expertise. They focus on optimizing visual content to highlight the best aspects of a venue, enhancing customer engagement. They also employ dynamic PPC advertising strategies to widen your customer base and increase conversion rates.
SmartSites successfully enhanced Flight Courtier's (travel agency) visibility in the face of competition from major industry players. They executed a dynamic PPC campaign, focusing on specific routes and airline brands, leading to a 31% decrease in CPC and a 97% increase in CTR.
Services:
PPC Advertising
SEO
Web Design
Graphic Design
Copywriting
Link Building
Paid Social
Google Analytics
---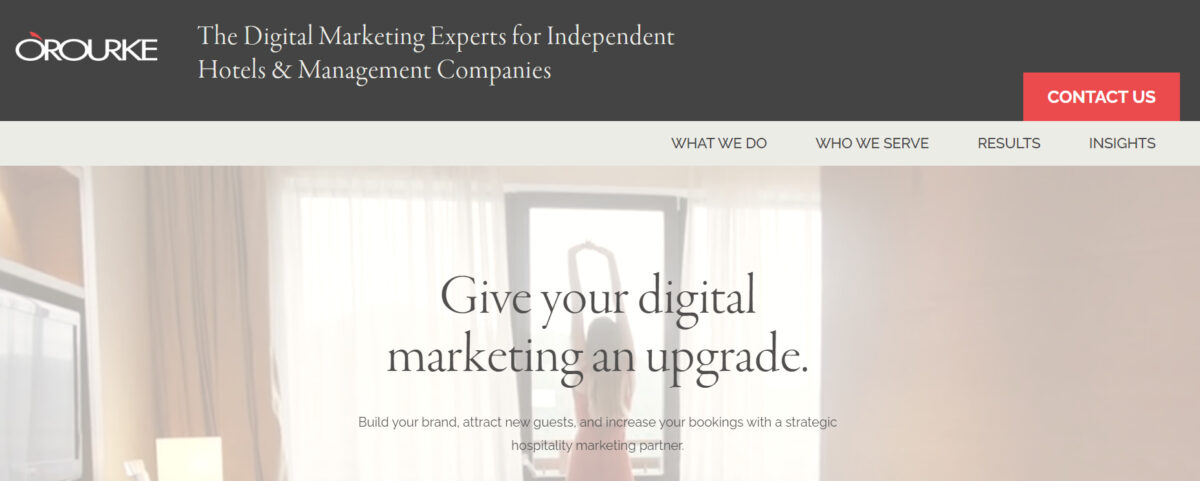 Average Hourly Rate: < $25/hr
Average Project Cost: $1,000+
O'Rourke Hospitality, based in Newburyport, Massachusetts, specializes in digital marketing, specifically tailored to the needs of the hospitality industry. Their clientele includes hotel management companies, independent hotels and resorts, branded hotels, destination marketing organizations, restaurant groups, and boutique brands.
The agency's comprehensive strategy encompasses various digital marketing services to effectively build brands, attract new guests, and enhance bookings. They optimize digital presence with strategic marketing, website design & development, and conversational marketing. This comprehensive approach ensures an immersive, compelling, and enjoyable digital experience for online visitors, turning prospects into guests and guests into repeat customers.
Services:
Pay Per Click
SEO
Metasearch
Social Media Strategy
Display Advertising
Conversational Marketing
---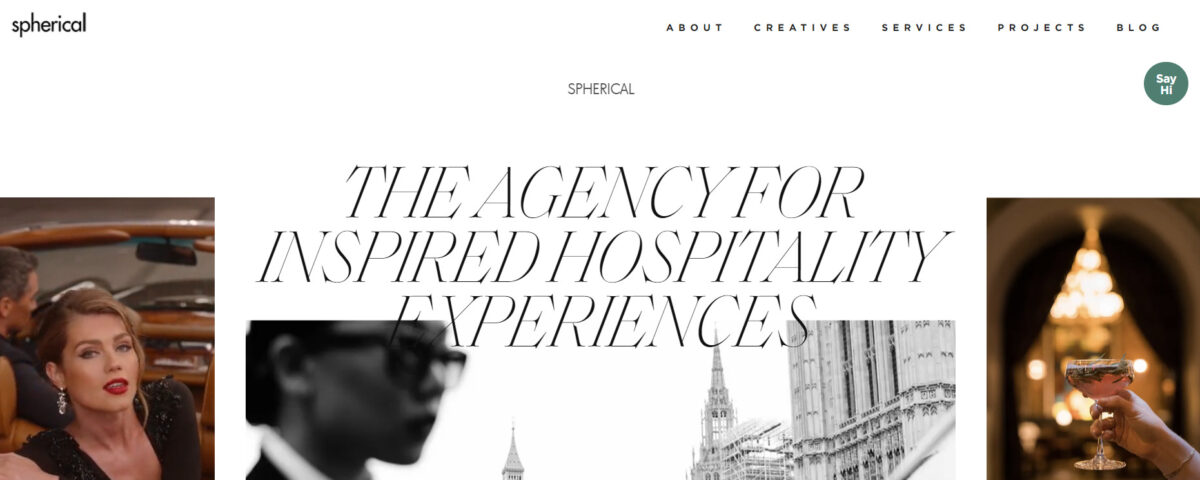 Average Hourly Rate: $25 – $49/hr
Average Project Cost: $1,000+
Spherical Communications is a New York-based agency that provides an array of digital marketing services with a particular focus on the hospitality industry. They pride themselves on their ability to elevate and connect every touchpoint of a brand's communication ecosystem, helping brands to bring their vision to life both in physical and digital spaces.
Their services suite includes Branding & Creative, Content Marketing, Performance Marketing, Production, Social Media, and Website creation. Spherical Communications also extends its services to developing ROI-driven digital campaigns designed to meet demand by balancing strong organic results with paid media.
The team at Spherical Communications thrives on big ideas and works with visionaries to create something profound and special. They have collaborated with many eminent personalities in the industry, such as Ian Schrager (EDITION), Chris Burch (Nihi), Sonia Cheng (Rosewood), and Brad Korzen & Kelly Wearstler (Proper), emphasizing their reach and influence in the industry.
Their approach to branding and creative direction is deeply rooted in research, enabling them to develop brands from scratch and express them cohesively across every channel. This meticulous approach coupled with their award-winning design team inspires the emotion of physical spaces through digital production, thus helping to create unforgettable experiences in the hospitality industry.
Services:
Social Media Management
SEO
PPC
Influencer Marketing
Online Reputation Management
CRO
Web Analytics and Reporting
E-commerce Strategy
---

Average Hourly Rate: $25 – $49/hr
Average Project Cost: $5,000+
Located in Guilford, Connecticut, Mediaboom is a premier digital experience creator for hotels and luxury residences, recognized as a leading luxury hotel marketing agency in Miami since 2002. They cater to top hotels and luxury residence clients, ensuring attention to detail at every level by integrating themselves as part of the client's team.
Their full suite of services is designed to create captivating digital experiences online and exquisite design pieces offline. Their capabilities extend from web design & development, mobile apps, digital installations to a range of marketing, advertising, and content creation services including search engine optimization, social media marketing, email marketing, and ad management.
Their unique approach includes custom design and development, 3D modeling, and flash animation for brands like Elegant Banquets, Musha Cay, and JW Marriott. They've partnered with top brands like Four Seasons Residences, Millennium Tower Boston, Hyatt, JW Marriott, and Wyndham Worldwide to create unique designs that capture the spirit of their brands.
Services:
Content Marketing
Digital Strategy
Pay Per Click
SEO
Web Design
Branding
Marketing Strategy
Email Marketing
---

Average Hourly Rate: $150 – $199
Average Project Cost: $5,000+
Mad Fish Digital, based in Portland, Oregon, specializes in digital marketing for the hospitality industry. They understand the importance of evolving digital marketing strategies in light of current industry challenges and the increased preference for online and mobile bookings.
They provide resources and guidance for success in this field, emphasizing the need for creative traveler research, clear and convenient online experiences, and fine-tuned advertising strategies. With the average customer switching over 50 times between different devices and channels during online travel research, Mad Fish Digital ensures their strategies are multi-channel to effectively meet customers where they are.
Mad Fish Digital has demonstrated remarkable achievements in the hospitality marketing strategy. For example, they improved traffic and goals by 150% with SEO and Content Strategy for the Park City Area Restaurant Association. Additionally, their paid advertising efforts resulted in an 869% increase in Google revenue for Park City Lodging.
Their extensive guide to hospitality marketing is a testament to their industry expertise and commitment to evolving strategies in bookings and ticket sales.
Services:
---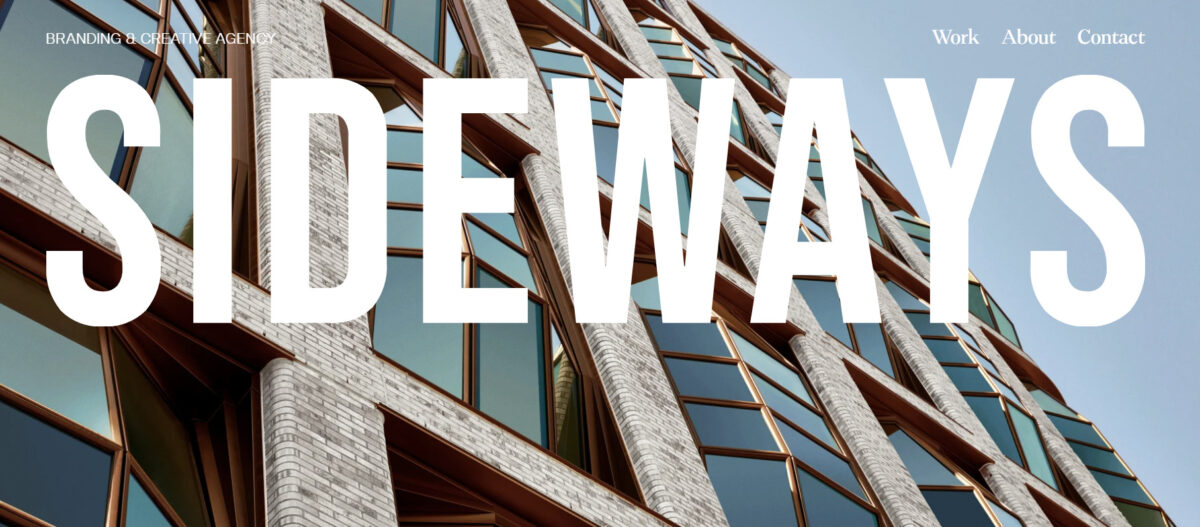 Average Project Cost: $50,000+
Average Project Cost: $5,000+
Based in New York, NY, Sideways takes a holistic approach to hospitality digital marketing, offering a vast array of services ranging from branding to web development. They work to create unique hotel brands of the future, focusing on providing immersive and lasting guest experiences.
Sideways puts a strong emphasis on hospitality branding, understanding that it is the unique element that sets each business apart. They offer services such as market analysis, strategy and positioning, brand foundation and architecture, visual and identity systems, and property experience and interior direction.
For hospitality marketing, Sideways understands the importance of consistent engagement. They provide services like advertising and go-to-market campaigns, creative activations, hotel website design and development, content strategy and production, social media strategy and marketing, performance-based hospitality marketing, and SEO strategy and implementation. Sideways' goal is to build a strong, unique online presence for your brand, drawing on their extensive experience and innovative strategies.
Services:
Branding
Market Research
Video Production
Corporate Photography
Digital Strategy
PPC
Product Design
SEO
Social Media Marketing
UI/UX Design
Web Design
Web Development
---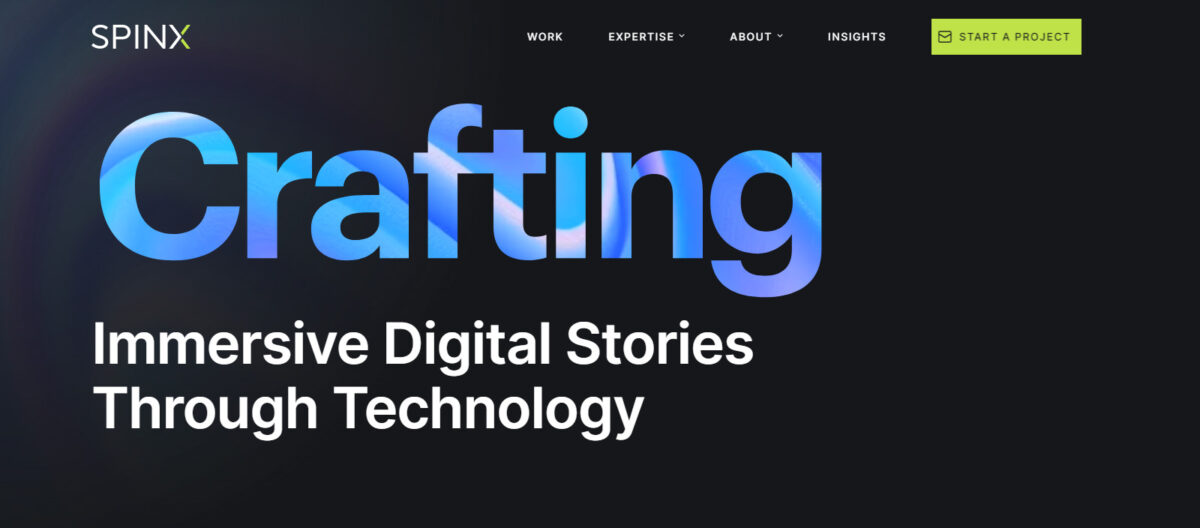 Hourly Rate: $150 – $199
Average Project Cost: $5,000+
SPINX Digital, located in Los Angeles, CA, primarily focuses on web design and development, while also offering digital strategy. They have over 16 years of experience in hospitality marketing and website engagement.
SPINX understands the importance of a strong online presence for hospitality and travel brands. They create personalized, fully functioning websites to showcase your brand and cater to the needs of potential guests.
With their digital marketing services, they aim to increase your brand's popularity and visibility online. Their team of experts is proficient in the latest trends, offering creative design layouts that reflect your brand's aesthetics. They also provide SEO strategies to ensure your brand ranks high on Google, which increases your website traffic and conversion rates.
SPINX Digital also offers their expertise in choosing the right platform for your web design needs, with proficiency in various platforms such as Magento, WordPress, Shopify, Umbraco, Microsoft .NET, and many more.
Services:
Web Design
Web Development
Digital Strategy
---
How to choose the best digital marketing agency for hospitality business?
With a vast range of agencies offering a myriad of services, finding the perfect match for your specific business needs requires careful consideration. One must evaluate the agency's track record, area of expertise, and their understanding of the unique dynamics of the hospitality industry. They should also assess the agency's ability to adapt to the evolving trends and their proficiency in utilizing the latest technology for maximum impact.
Choosing an agency is not merely about outsourcing a business function. It's about forming a strategic partnership that brings forth a deep understanding of your business goals, your brand identity, and your target audience. Therefore, compatibility with the agency's approach and the synergy between the teams are also factors that should not be overlooked.
In an industry as dynamic and competitive as hospitality, where guest preferences and market trends are constantly shifting, having a competent digital marketing agency by your side can be the key to staying ahead of the curve.
Frequently Asked Questions
How can a digital marketing agency benefit my hospitality business?
A digital marketing agency can help raise the online profile of your hospitality business, increasing brand awareness, driving traffic to your website, and ultimately increasing bookings. They can also handle your social media profiles, engage with your audience, and use data to make informed decisions about future marketing strategies.
What kind of services can I expect from a hospitality digital marketing agency?
Services offered by hospitality digital marketing agencies typically include branding, SEO, web design and development, social media marketing, content creation, paid advertising, and more. Some agencies may also offer services like market analysis, product design, and UI/UX design.
How does pricing work for digital marketing agencies?
Pricing for digital marketing services varies widely based on the scope of the project, the specific services required, and the agency itself. Some agencies charge by the hour, while others provide a quote for the entire project. It's essential to clarify these details before signing a contract.
Can a digital marketing agency help me improve my online bookings?
Absolutely. Digital marketing agencies can implement strategies like SEO, PPC advertising, and website optimization to improve your online visibility, attract more potential guests to your site, and enhance the user experience to encourage more bookings.