Any serious user of social media wants to know how their posts perform. This is particularly so for businesses who want to find some form of ROI for their social media activity. Similarly, firms working with influencers need to have some way of knowing the effectiveness of their influencer campaigns.
All of the major social networks now offer some form of social media analytics tools. Depending on your network of choice, you will discover useful and relevant analytical information from:
Instagram Insights

Pinterest Analytics

Facebook Insights

Twitter Analytics

LinkedIn Analytics

YouTube Analytics
You should be able to find each of the above sections in your social accounts, although in some cases, the social networks put some restrictions on who can access analytics.
There are many third-party social media analytics tools. However, that can give you additional analytics or present them in a more user-friendly way than the official analytics tools. Here is a selection of such tools that may be of value for your purposes.
---
Top Social Media Analytics Tools for 2022:
---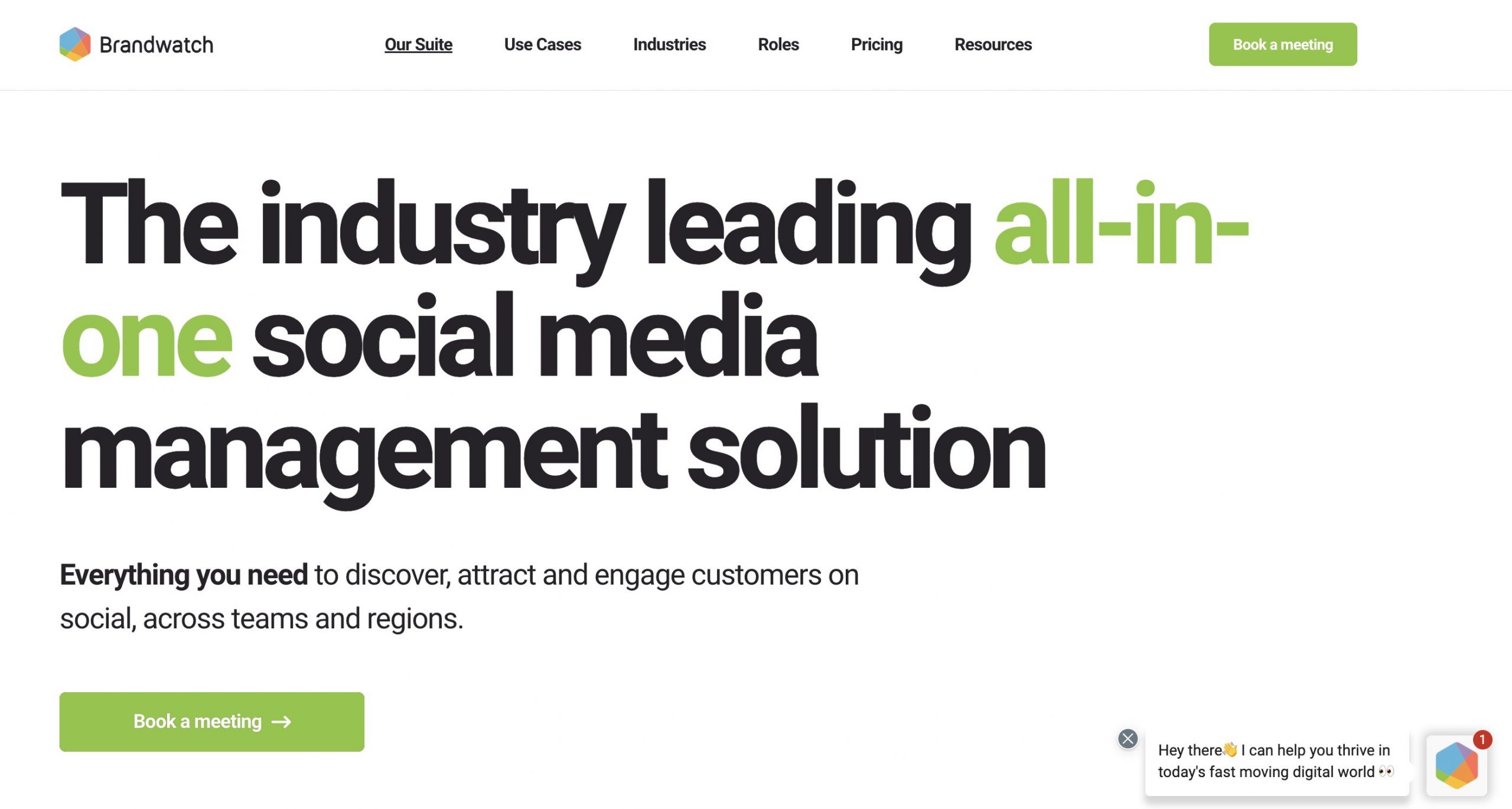 Brandwatch is a social media management and marketing platform. It also includes social media listening to help you keep tabs on conversations about your brand, provides audience data cards filled with valuable information about who you're engaging with, and provides analytics to help you measure and track performance across each platform. Among these features, one social media managers and digital marketers will find helpful is the cross-channel insights report. It's an overview of the performance of your social accounts and includes new fans and followers, engagement metrics by geography, age and gender, and more.
---

Liked other social media listening tools, Brand24 doesn't disappoint. In fact, it packs a solid punch when it comes to identifying opportunities to strengthen social strategy. It does this with features like alerts for discussions around important terms, sentiment analysis of mentions that include your brand and product names, influence scores that inform who you should partner with to reach a larger audience, and more.
Altogether, these features, make it possible to cut through the noise and zero-in on the right data and metrics, and how to devise a stronger social media plan.
---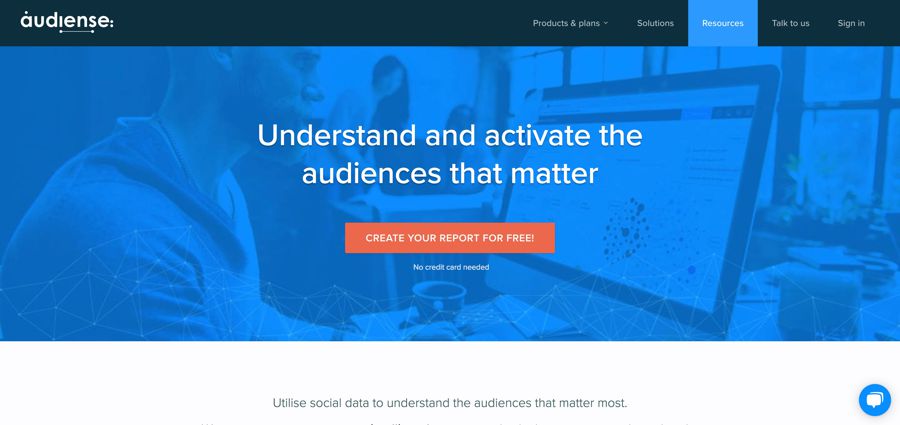 As its name indicates, Audiense is all about making sense of your audience. It helps you to identify relevant audiences, discover amazing actionable insights, and give you informative strategies to grow your business.
It gives you a unique visual segmentation of your audience.
Audiense Insights allows you to identify and understand your social audience, no matter how specific or unique it is. It offers numerous filter options when you create a report, which you can mix and match to ensure you are analyzing precisely the segment of your audience that most interests you. You can, in turn, compare segments with baselines or other audiences and create benchmarks with different segments, countries or your competitors.
You can easily integrate Audiense Insights with your own data or visualizations.
---

Agorapulse is packed with solid listening and reporting functionality. While also a social media planning tool, its ability to provide insights makes it a powerful solution. You can track conversations about your brand and later unpack the impact of your social media marketing effort using its reporting and analytics functionality. With Agorapulse, you can find out when it's best to publish content based on past content performance, use the hashtags report to determine which tags and content drive the most engagement, and uncover click and reach (paid and organic) results. Agorapulse's Power Reports add-on allow users to save customized reports and schedule reports to be automatically sent on a weekly or monthly basis.
---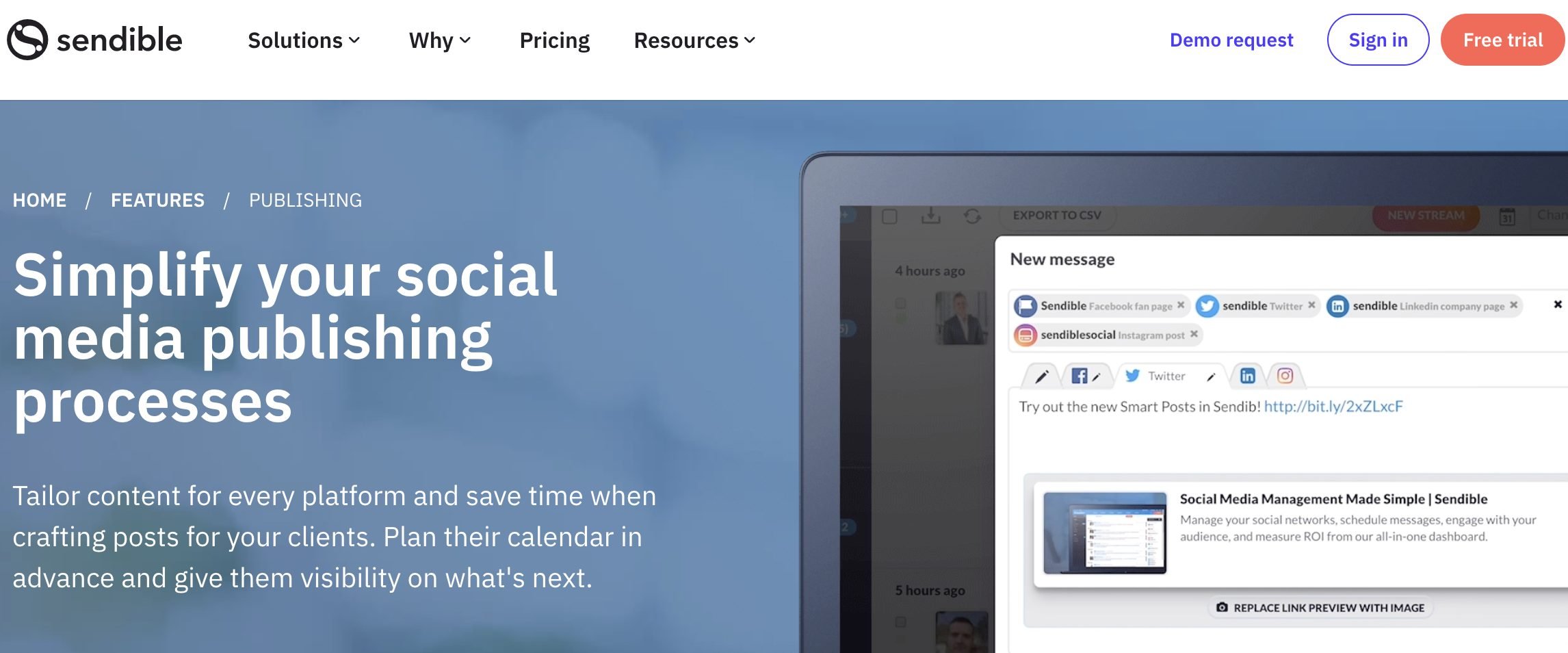 Sendible is a social media platform to manage your social activity at scale. You can use Sendible at all stages of the process, including planning your content and strategy, collaborating, and approving social media posts, monitoring brand mentions, and improving engagement. It also features a comprehensive analytics module giving you dynamic insights about your social data.
Sendible comes with eight standard reports covering:
Engagement: performance engagement metrics across all accounts

Facebook Page: audience behavior and engagement trends

Twitter: audience and engagement

Instagram: impact of your posts on your audience and engagement

LinkedIn: company presence

Monitoring: what's being said about your brand, keywords, sentiment, and influencers

YouTube: audience growth and video engagement

Google Analytics: the impact of social media traffic on your website
In addition, you can create custom drag-and-drop reports, combining from a selection of modules.
---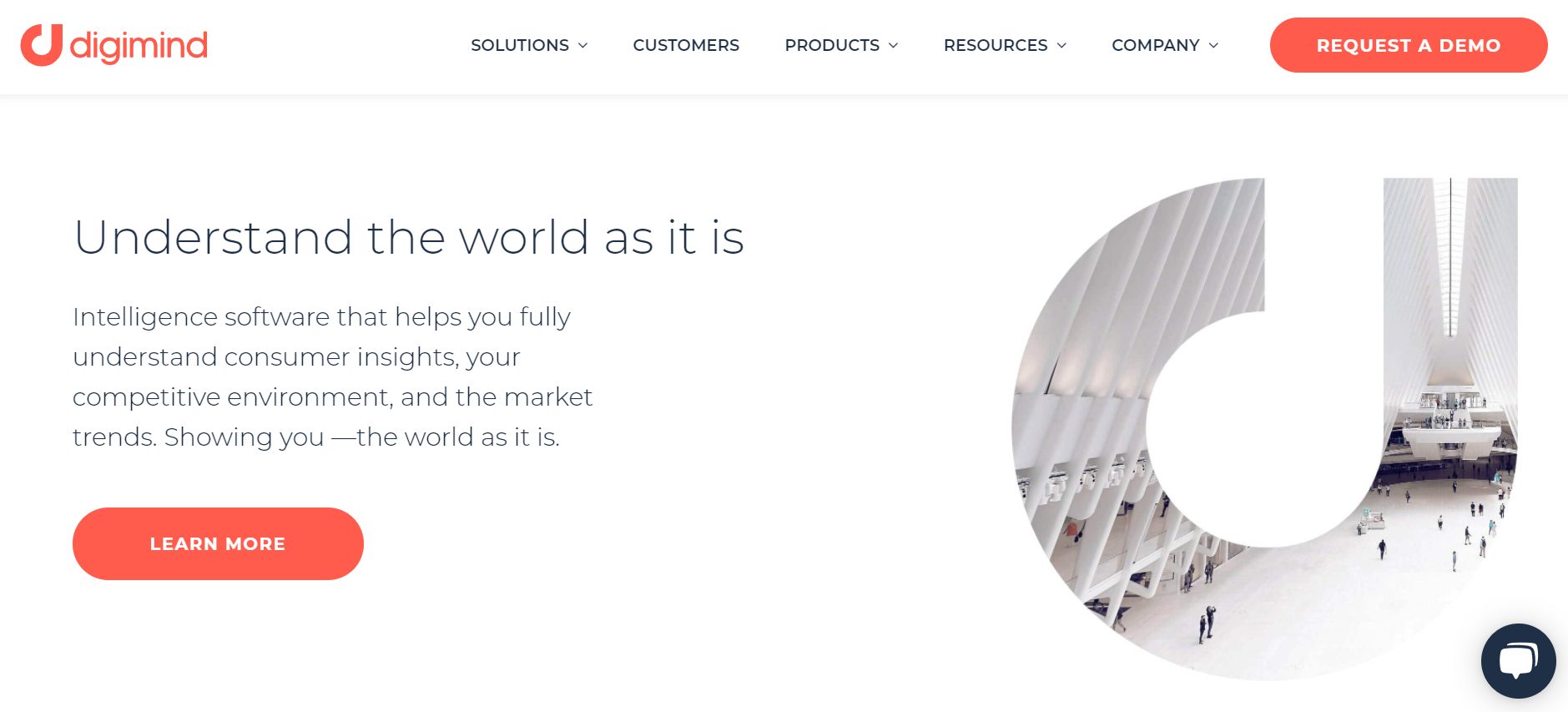 Digimind is primarily a social listening and market intelligence tool. It's powered by AI and does all the heavy lifting for you. You will find a considerable quantity of data neatly presented in one place. It is ideal for brands and agencies that want to step up digital transformation using data and insights. You will find everything you need to make sense of social and online data and transform it into actionable business insights.
Digimind's social listening tool helps you keep tabs on social media. You can monitor apps to listen, engage, analyze, and report on what's happening around your brand and products. In addition, you can measure how owned content performs while benchmarking it against your competitors' social performance.
The company's Marketing Intelligence product monitors changes in your business environment by sourcing information from web pages, databases, RSS feeds, forums, social media, and more. Real-time analysis ensures that you spot new trends as they develop.
---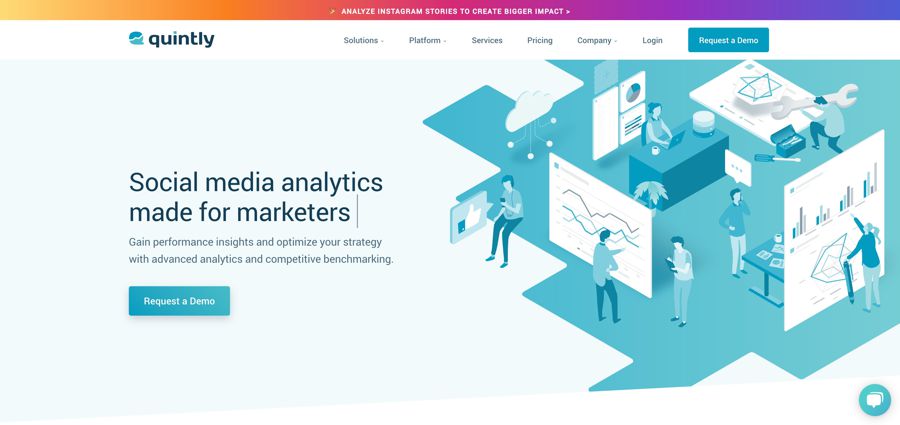 Quintly takes social data and uses it to provide solutions to brands, agencies, and the media.
It allows them to validate their social media marketing with robust analytics.
Quintly offers more than 350 metrics relating to social media activity. You can use these existing statistics or customize them to suit your business, to measure your firm's social media goals effectively.
Quintly allows you to arrange all relevant social media KPIs on a dashboard, either one of their pre-existing ones or a customized one you create yourself.
With Quintly, you can benchmark your channels against each other, and gain comparative insight.
Quintly offers a 14-day free trial. If you decide to continue with the software, you can select from Small, Medium, Large, and Enterprise plans. Every plan includes five Automated Reports, three Users, and all Core Features. The plans differ by the number of social profiles you can analyze. With the $120 per month Small plan, you can analyze five social profiles, while the Enterprise plan (custom pricing) permits you to analyze more than 100 social profiles.
---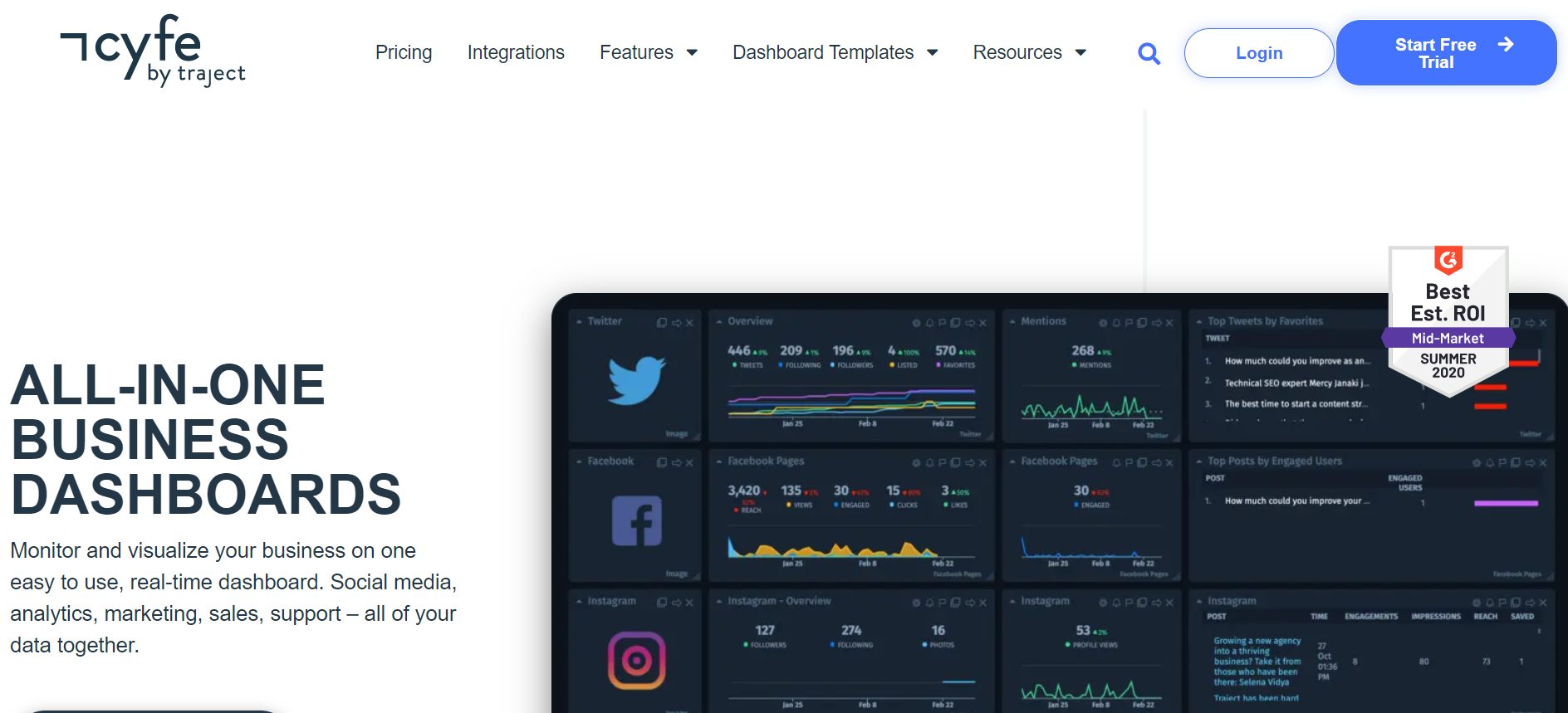 Cyfe describes itself as an all-in-one business dashboard. It monitors social media, web analytics, marketing, sales, support, infrastructure and more. Hence, it is much more than just a social media analytics tool.
Cyfe pulls data from a large number of popular services using pre-built widgets. These include the social sites, email collection sites, financial sites, WordPress, and many others.
It monitors everything relevant – individual departments, multiple websites and anything else. It has eight central dashboards, one of which is social media. You can use real-time data and metrics to start tracking how your brand or clients are doing across Facebook, Instagram, Twitter, YouTube, Pinterest, LinkedIn, and Vimeo, and measure the return on investment of your social efforts.
You can monitor your top performing messages, media, and posts, and track all of your social media analytics.
---

For some time, TweetReach was merely a standalone free social media analytics tool. If you entered a keyword, hashtag, or username, TweetReach would return a snapshot of analytics on your search. This included charts and graphs for reach, exposure, activity, and contributors. You can still get a free TweetReach report for your selected term.
TweetReach is now part of a more significant product, however – Union Metrics. Union Metrics allows you to monitor all the topics and profiles vital to you on Twitter, Instagram, and Facebook. It provides real-time monitoring to ensure its insights are as timely as possible.
Union Metrics allows you to dive deeply into your content. You can analyze how your posts perform on Twitter, Facebook, and Instagram, determining what's working versus what needs fixing.
You can measure earned and organic conversation. You can set up monitoring for any hashtags, keywords, names, and phrases.
As Union Metrics allows you to analyze any social profile, you can carry out detailed competitive social analysis.
You can create a basic TweetReach report for free. The more detailed plans from Union Metrics range from $49 to $199 per month.
---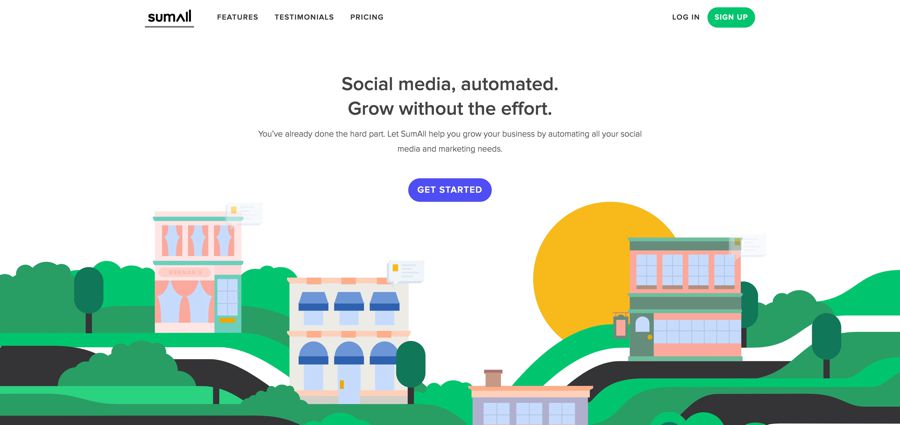 Free app SumAll allows you to automate much of your social media marketing. You connect to your platforms and set up relevant automation. This will enable you to schedule your content and post it at the most suitable times for your audience.
Regarding analytics, SumAll allows you to track your social media, ad, and sales data with ease. You can connect all of your social media apps, and SumAll collates all the relevant analytics. It saves this data to a graphical web dashboard, and sends you a weekly or email analysis, depending on your preferences.
---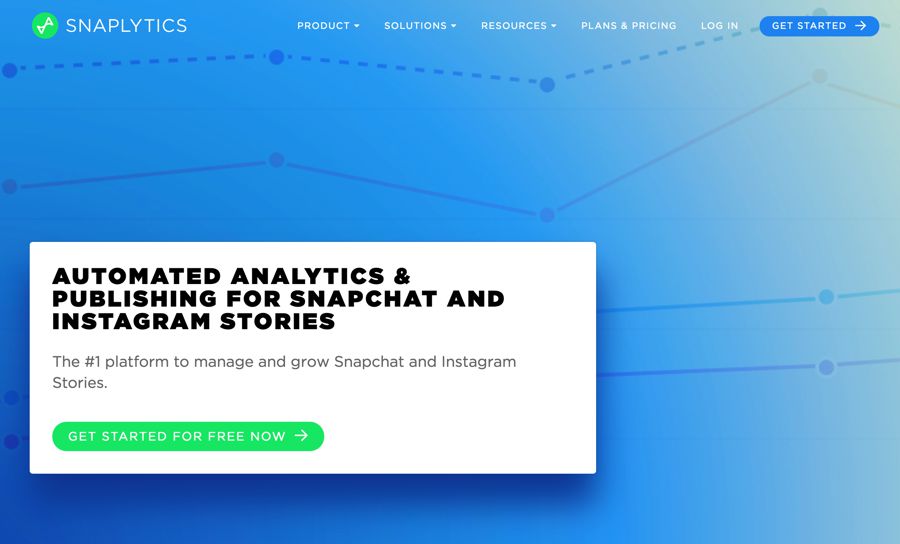 One thing lacking from most of the "all-in-one" type social media analytics tools is any recognition of Snapchat. You will usually have to look at a specialist platform if Snapchat is an essential channel for you or your business. To compound things, Snapchat does not have a robust internal analytics tool.
One useful third-party tool, however, is Snaplytics. You can use the platform to discover data relating to the performance of your snaps with your audience. Snaplytics also provides data relating to your Instagram Stories.
You can use Snaplytics to track open and completion rates over time, to give you a better understanding of how your audience engages with you. You can track engagement down to story level, even tracking screenshots and replies to discover the point where your viewers drop off. You can then use this data to optimize the length and flow of your future stories.
You can also track your Snapchat and Instagram followers, and determine your most successful acquisition methods.
Snaplytics is more than just analytics, however. You can create and schedule stories (both Snapchat and Instagram Stories) from within the app. You can also capture incoming snaps and repost them as user-generated content. Snaplytics is also ideal for managing your account, messaging, and even seamlessly collaborating with a team.
---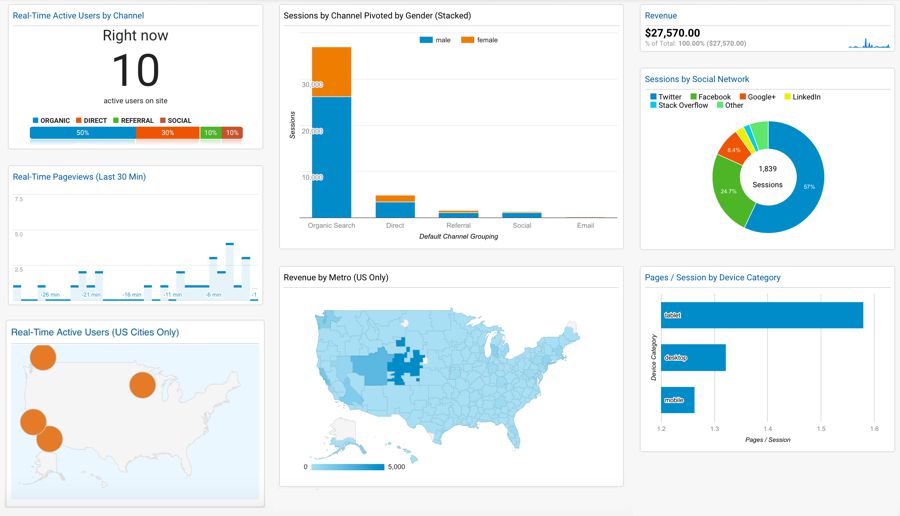 You might not naturally think of Google Analytics as a social analytics tool. It is, after all, where Google shows you analytics about your website. However, it is relevant, because it shows you how people arrive at your site – including via social media.
Unlike most of these tools, Google Analytics is totally free.
You can set up reports in Google Analytics that monitor your search traffic. You can even use it to measure your social ROI. To do this, you first need to determine your aim for engaging in social media. For instance, if you are a business, why do you operate company social accounts? What are you hoping to achieve by running these accounts? How will you measure success? Note that you do not have to measure this in money terms. For instance, you might want to build up brand recognition, and choose to measure your ROI by the number of people who click through to your site from your social posts.
You can use Google Analytics to track your progress towards this type of goal. It allows you to set a wide range of social goal types. Once you enter your goal information, you can choose to set a value for each "conversion." This will obviously depend on the goal in question.
You can then use Google Analytics to track your progress towards meeting your goals. It will automatically collect relevant information and make any necessary calculations.
---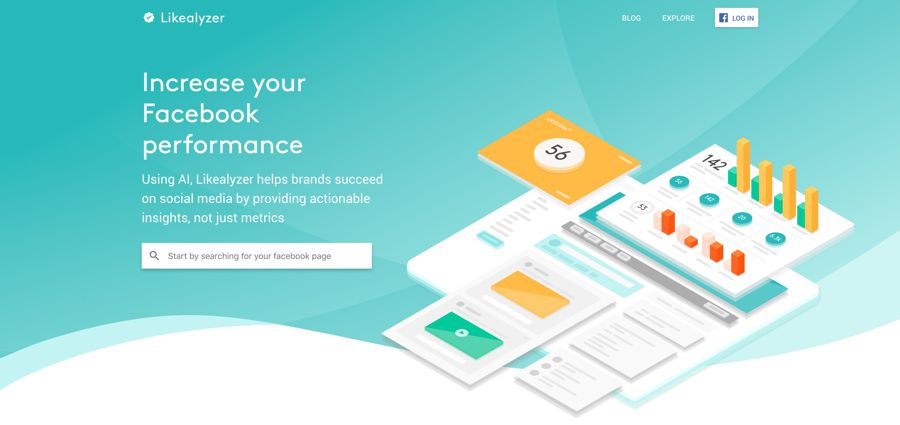 LikeAlyzer is a simple tool designed to help you improve your Facebook performance. You begin by searching for your Facebook page. It analyzes your page and gives you an overall LikeRank score. This is a combination of your Facebook page's Best Practices (60%) and Performance (40%).
LikeAlyzer gives you a free report on your page. The report contains three sections: Page Overview, Page Insights, and Content Portal.
The Pager Overview shows you your LiverRank score. It also offers personal advice on what you could do to improve your Facebook page. It gives you a series of other percentage scores for Front Page, About, Activity, and Response.
It shows graphs for your Likes growth, Engagement, and Ranking.
The Page Insights page gives more details about your overall performance for a set period. It also shows how your LikeRank score has changed over the period. It tells you your top performing posts and your types of engagement. This page features more information about your audience and their demographics.
The Content Portal page concentrates on the content you have posted to your page in the most recent period.
---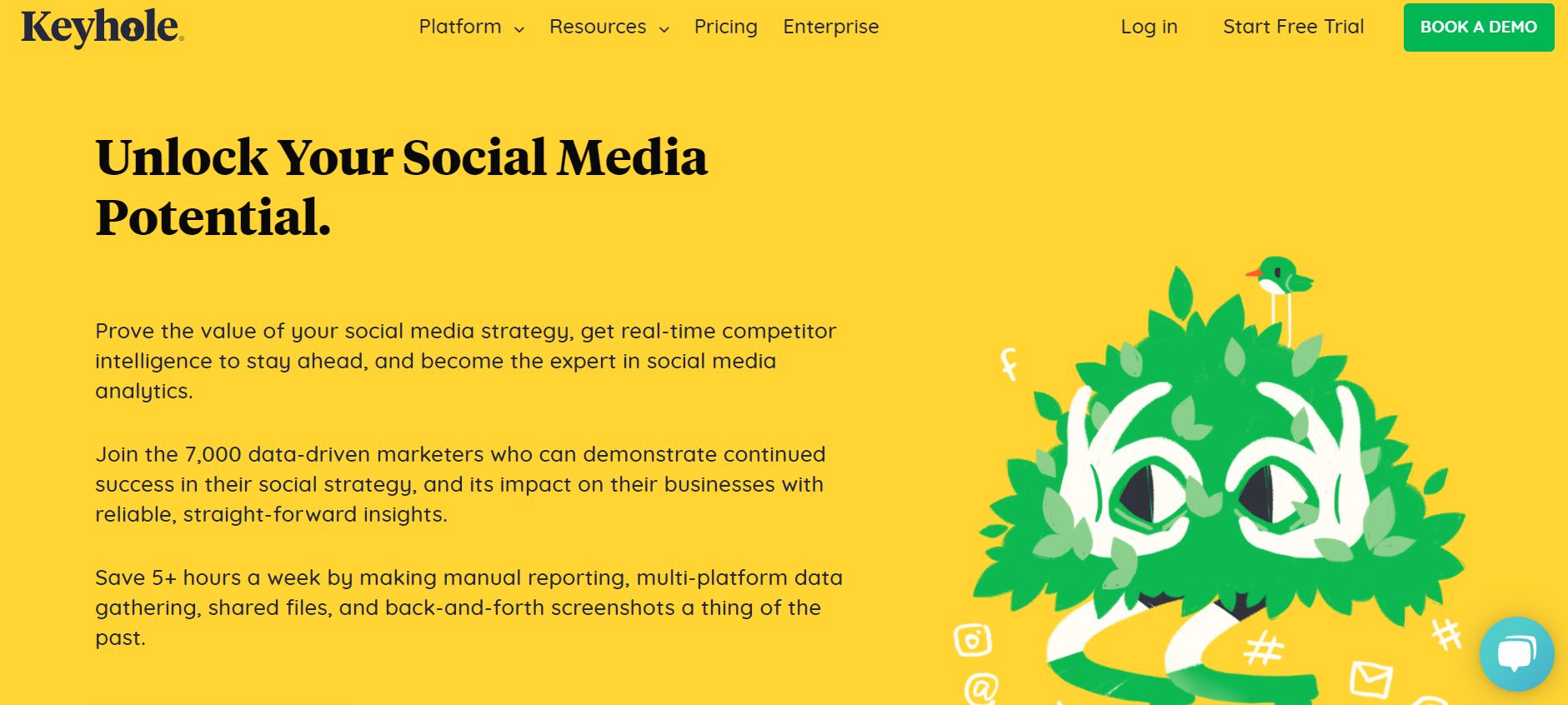 Keyhole is built to help marketers measure the impact of their social media and influencer campaigns. It does this by providing users with a host of valuable features. From within your account, you can:
Monitor campaigns

Monitor your brand

Manage influencer marketing campaigns

Monitor events

Conduct market research
Monitoring is coupled with the ability to drill-down by platform and access analytics for Twitter, Instagram, Facebook and YouTube. And the extent of the data you can gather is impressive. For example, using Twitter hashtags, you can derive insights on mentions along with metrics for your brand for as far back as five years ago.
---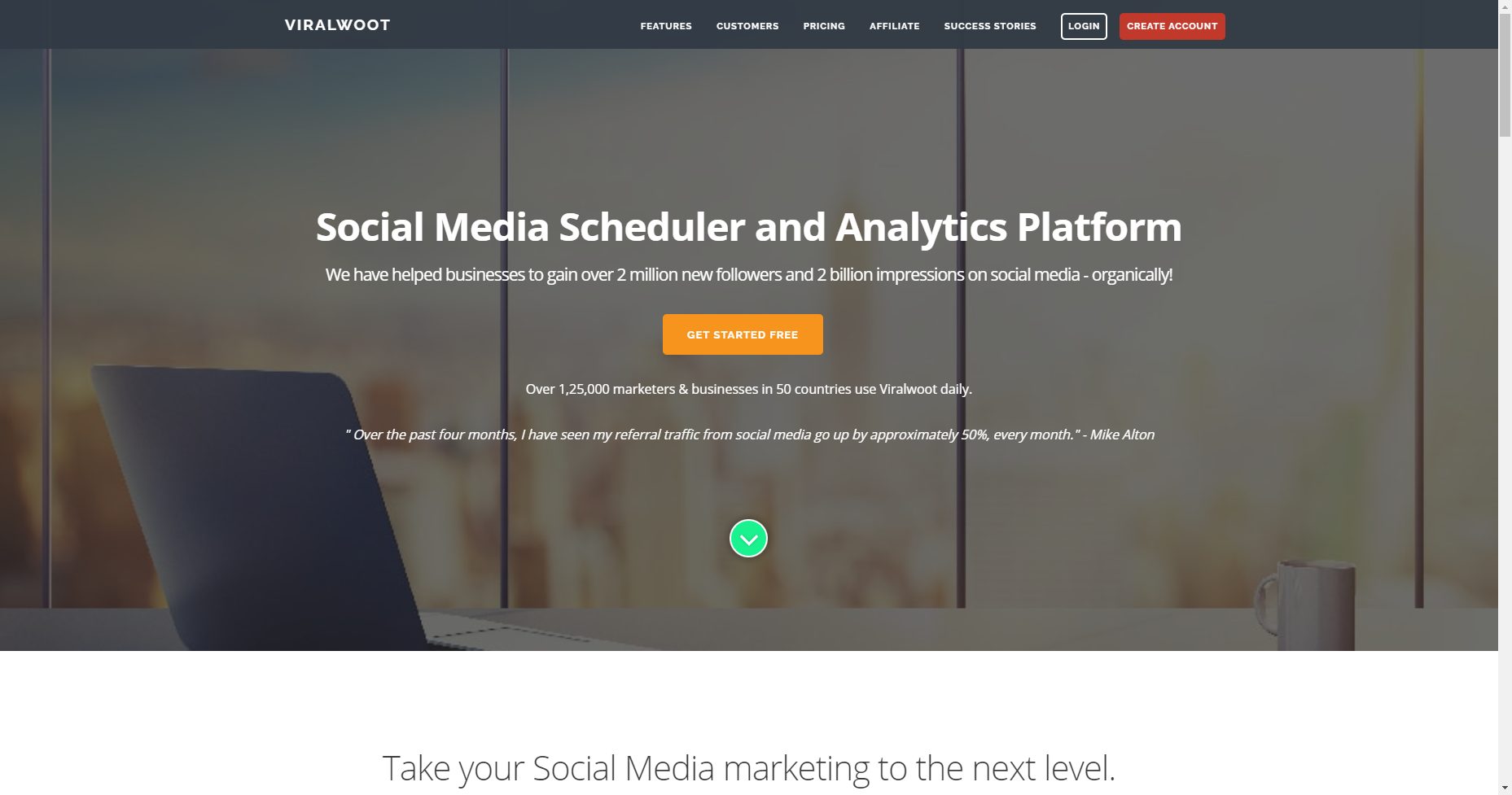 Viralwoot is a social media scheduler and analytics platform for Pinterest. As with most such tools, you can create content, and automatically schedule it, without having to open your social accounts. It also helps you develop relationships and engage with influencers.
It includes an analytics section that indicates clearly the success of your Pinterest posting. This includes giving you an Influencer Score, with clear suggestions of what you can do to boost your Pinterest presence.
Viralwoot tracks the underlying data for all of your boards, including group boards. You can monitor your number of followers, pins, repins, and likes. Viralwoot provides you with the data in a spreadsheet-type format, making for easy sorting.
You can use your analytics to discover the best days and times for you to pin – even the colors that work best for you.
It also tracks your boards' SEO level, improving your boards' search rankings.
Viralwoot even gives you trending keywords on Pinterest so you can take advantage, should any of the trending terms be relevant to your Pinterest account.
You can also use Viralwoot to analyze some of the content on your website, for example, which content is pinned most.
---

Brandwatch breaks social media analysis into six areas. And that's what makes this a stand-out tool. It can be used for
Competitor analysis

Brand management

Content strategy

Customer experience

Influencer marketing

Crisis management
While these may seem like grey areas when trying to understand how to derive meaningful insights, Brandwatch does all the heavy lifting in each scenario. The result is a more informed social media strategy based on real-time data about how your content and brand is doing out in the world.
---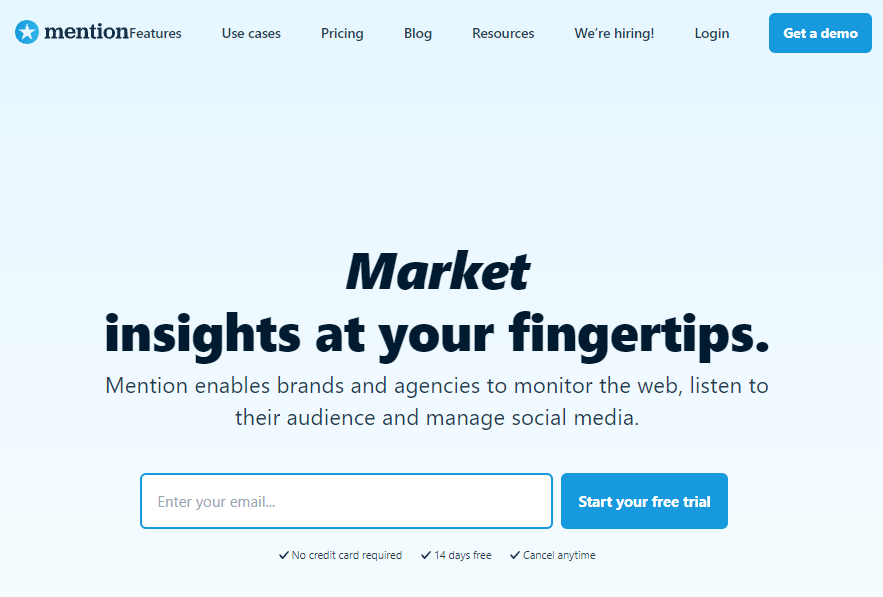 When it comes to social media management, listening is likely one of the most critical tasks any social media manager can perform. And access to a tool like Mention helps get the job done. It's robust and capable of tracking keywords, providing alerts, identifying sentiment, and more.
But what makes Mention a notable addition to our list is the intricate set of features. You can conduct competitor analysis, track conversations about competitors and identify trending niches your audience is paying attention to.
---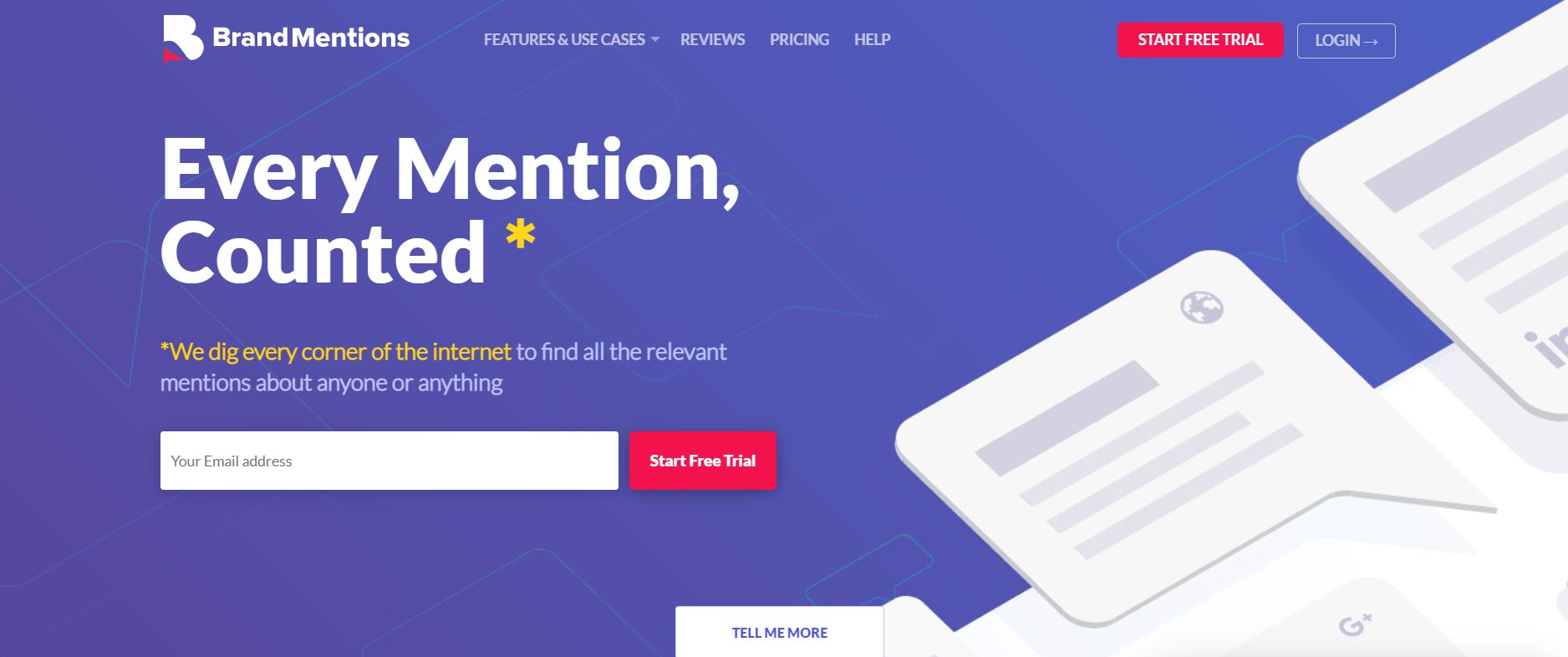 As social media analytics tools go, access to business intelligence isn't exactly something most promote. BrandMentions, on the other hand, does. Its approach to providing holistic intelligence makes it capable of turning insights from your audience, influencers research and customer care interactions into information you can use to build a strong social presence and brand. Use cases include competitor analysis, or as BrandMentions calls it "competitor spying", media monitoring, reputation management (including sentiment analysis) and brand monitoring.
---

Meltwater calls itself a solution for every department. And that's crucial in today's marketing environment. It does a great job of drawing lines between the four core departments (PR an Communications, Marketing, Executives, and Enterprise). This approach makes for a more holistic understanding of a brand's impact on social media and the latter's influence on business growth.
Meltwater enables you to track conversations about your brand and product, keep an eye on the competition, find the best influencers to raise your flag and measure the impact of your social efforts through reporting and valuable insights.
---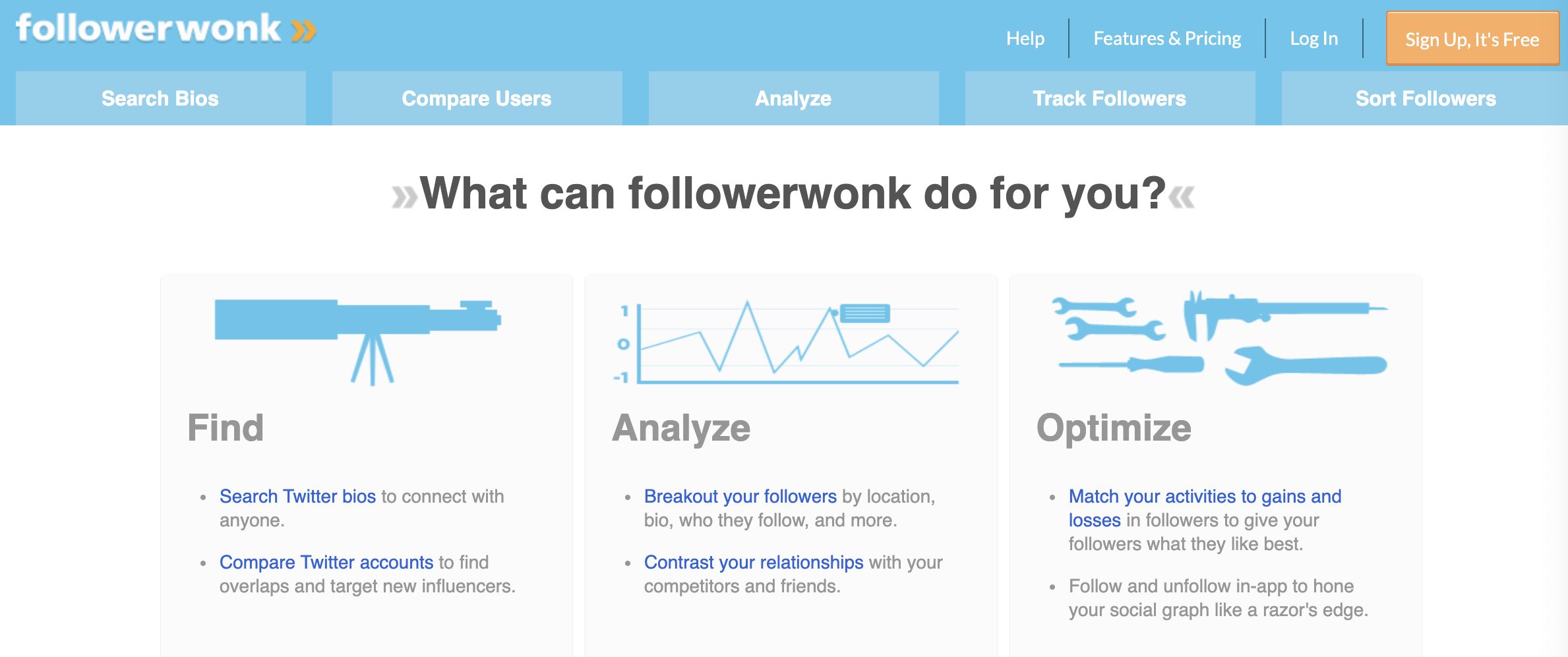 Followerwonk is a Twitter-specific tool. It makes it possible to gather data on influencers, compare accounts to identify audience commonalities, analyse followers by location, bio, who they follow and connections they have. It also allows you to contrast your brand's connections with those of your competition to derive insights on how to generate more reach.
---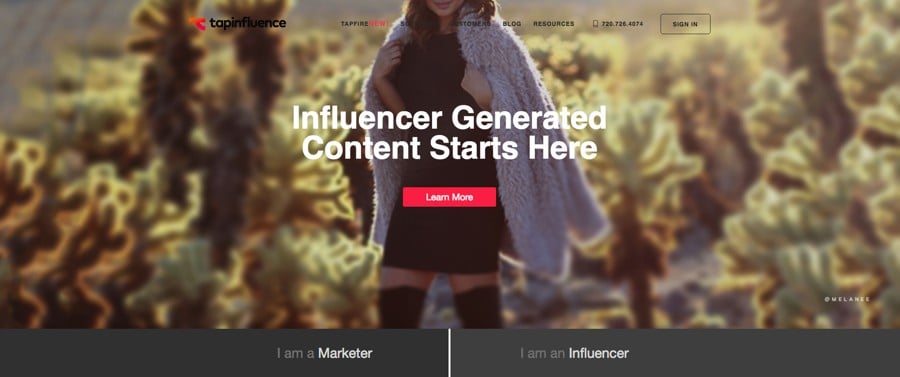 TapInfluence is an influencer marketing platform. It's designed to help you find the right influencers, generate audience insights, and create lists of potential influencers to work with. It also allows you to take this information, use it and then discover how effective your efforts are. This includes click tracking, campaign and project performance tracking, and the option of exporting your results for further investigation.
---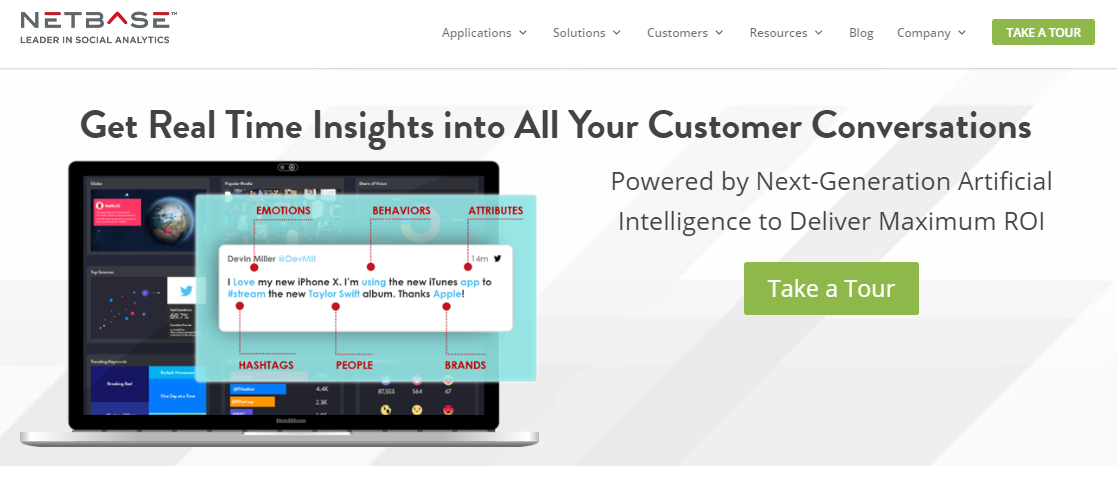 NetBase is a social analytics solution that leverages AI. It's able to listen to conversations and provide more than common sentiment analysis. It pulls social conversations apart and can identify consumer preferences, competitive insights, brand passion sentiment, trending topics, sentiment behaviour and consumer behaviour. This level of insight helps busy social media professionals quickly unpack the most important insights to help define a more informed social strategy.
Beyond these capabilities, you're can compare owned vs earned media content performance. You can also see how your brand is performing using NetBase's propriety image analytics solution, an image recognition and machine learning tool used to spot brand logos from online content.
---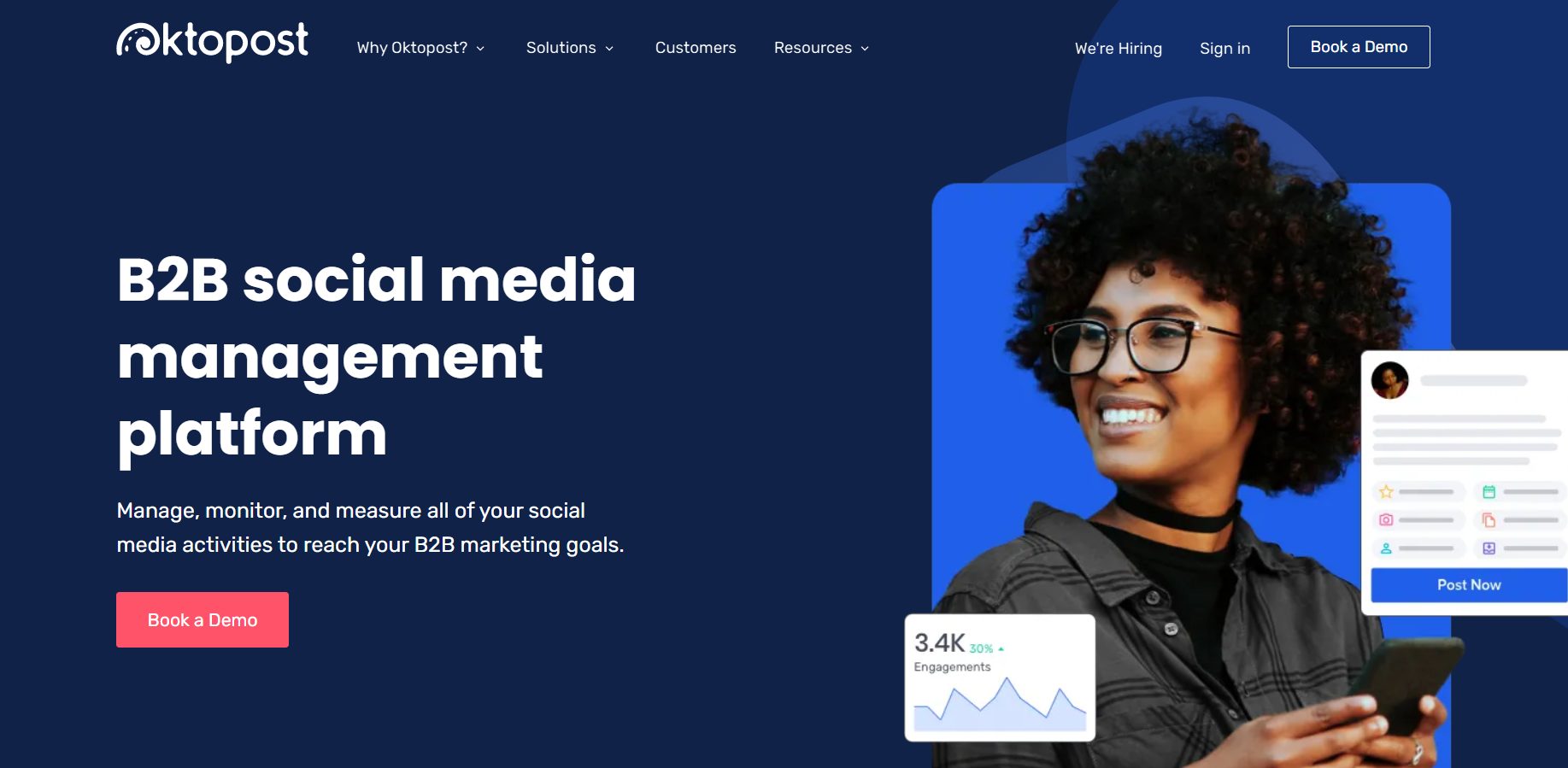 While most social media analytics tools cater to B2B and B2C brands, Oktopost is strictly for B2B companies. It helps B2B firms manage, monitor and measure their social media efforts. Oktopost enables brands to keep an eye on their performance by offering lead attribution and post-level analytics on top-performing assets, links, keywords and hashtags. It also strengthens B2B social media activities by roping-in employees for advocacy and provides insights on how effective each participating employee is on social media.
---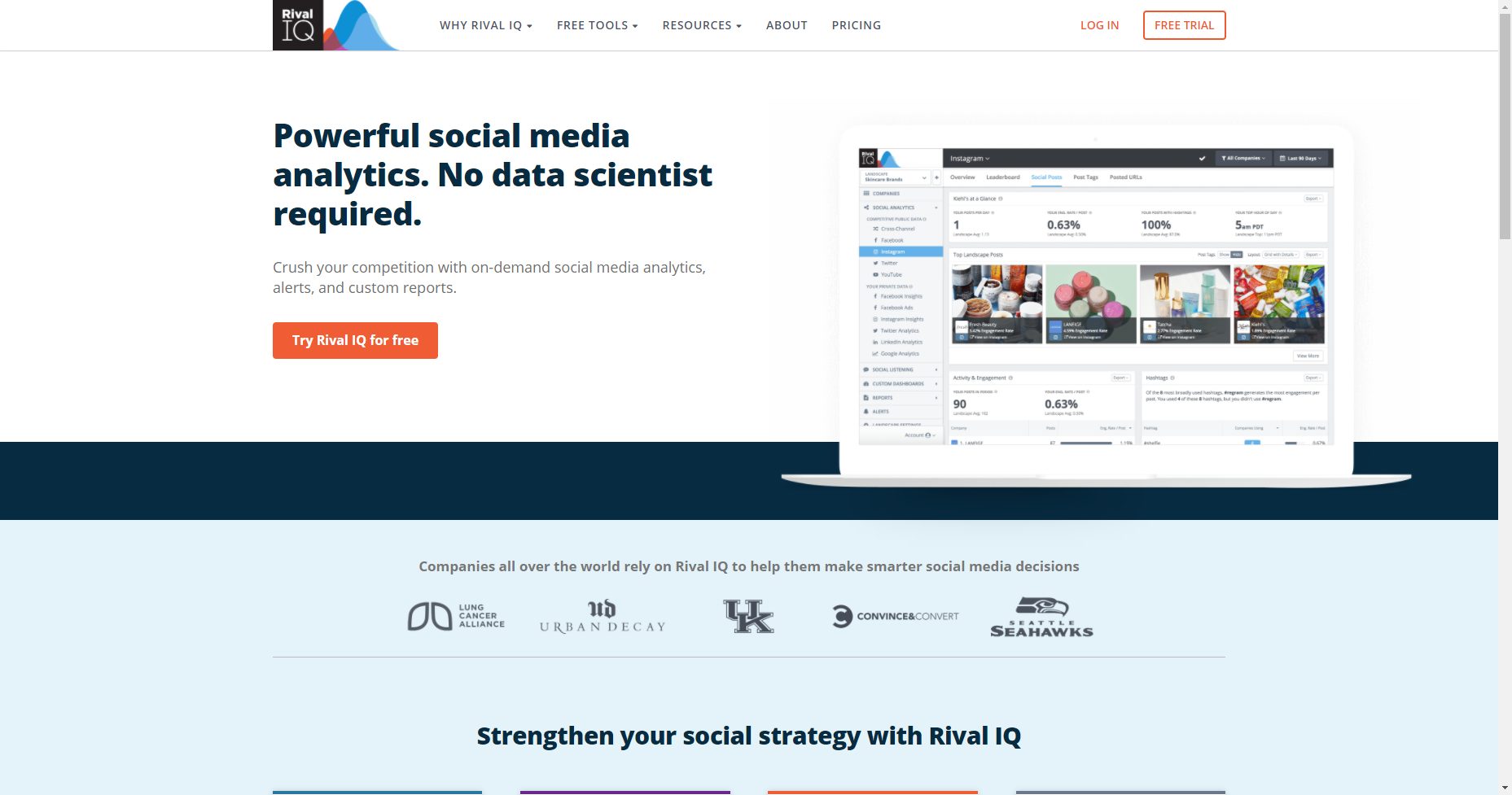 Rival IQ offers brands four solutions. These are competitive analysis, influencer tracking, social reporting and social media audits. And while three of these features sound common, social media audits is one we hardly see advertised. Rival IQ performs social audits by gathering data from the web and social platforms. Data includes insights on competitors, the best and worst-performing content (think images, topics, and themes your audience may pay attention to), hashtag analytics, and social posts tagging. Together, this data is compiled to tell an interesting story about what's working and what isn't for your brand on social media.
---
Salesforce is famous for acquiring businesses that add value to its CRM solution. And today, with the extent to which social media has grown to influence the sales process, the roll-in of Radian6 makes for a smart strategic move. Social Studio integrates with Salesforce offering users the chance to publish content, manage conversations, listen to and gather intelligence on social media. As you'd imagine, it comes with some hard-hitting features that focus on the impact of social on sales. You can get feedback on service and sales campaigns, and tie it all back to social media accounts.
---

Socialbakers is an AI-powered social media marketing tool. It pools what we think are some of the very best features that help brands control and excel on social media. These features include AI-driven audience analysis, influencer marketing and campaign insights, content intelligence, and analytics and benchmarking across channels (paid and organic content).
---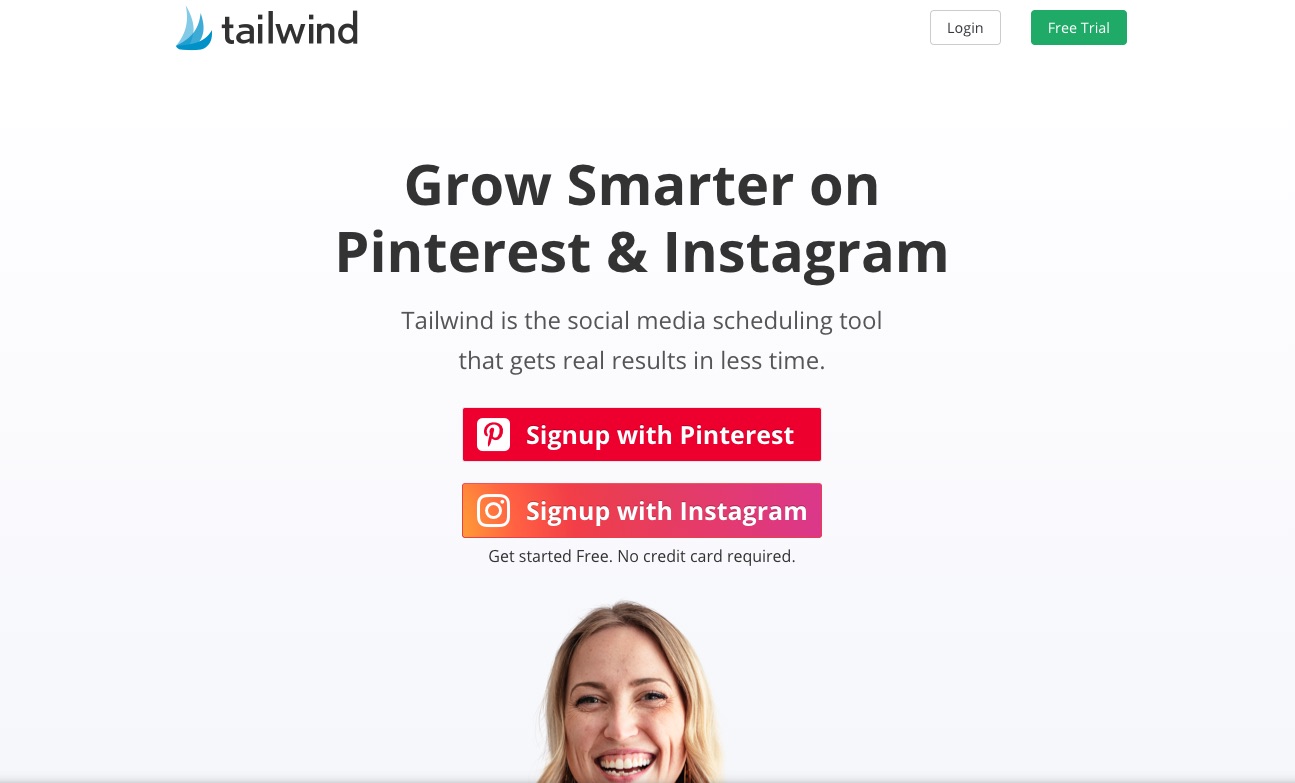 Pinterest and Instagram, while important, aren't the first two platforms marketers focus on when digging deep to uncover insights about audiences. This is where Tailwind comes to the rescue. It's dedicated to helping brands analyse their social media efforts on these picture-first platforms. And its feature set is rather impressive. On Pinterest, you can track followers and engagement trends, repins and comments at profile board and individual pin level, analyse virality and fan engagement levels, and access historical data to see progress over time.
---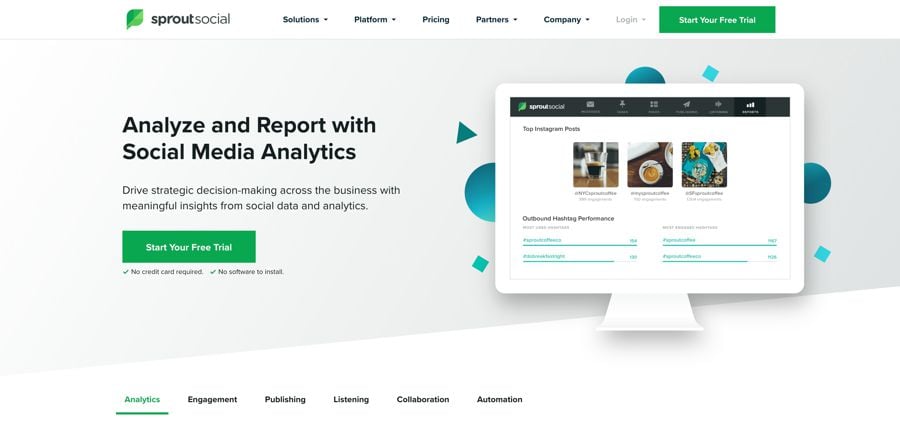 SproutSocial provides social media management software to assist businesses to implement their social media goals and strategies. This includes a dedicated social media management tool incorporating detailed social analytics.
You can access all of the analytics relating to your Facebook, Twitter, Instagram, and LinkedIn accounts from a single, centralized platform.
SproutSocial produces multiple reports relating to your use of your social accounts. This includes everything from an Engagement Report to a Facebook Pages report, to a review of your Task Performance.
For example, SproutSocial gives you a quick feel for your Facebook Page impressions, fan growth, and an indication of how your Facebook content performs. You can compare your performance with industry averages, and even directly compare your data with that of your competitors.
In the case of Twitter, you can view your aggregate post stats, by Twitter profile, including engagement details, such as clicks, reach, and engagement. It provides you with Twitter keywords, trends, and hashtag reports.
It offers a similar level of social analytics for the other social networks.
You can experiment with SproutSocial for a 30-day trial. Plans then begin at $99 per user/month, although many of the analytics reports don't become available until you purchase a Corporate membership, at $149 per user/month.
---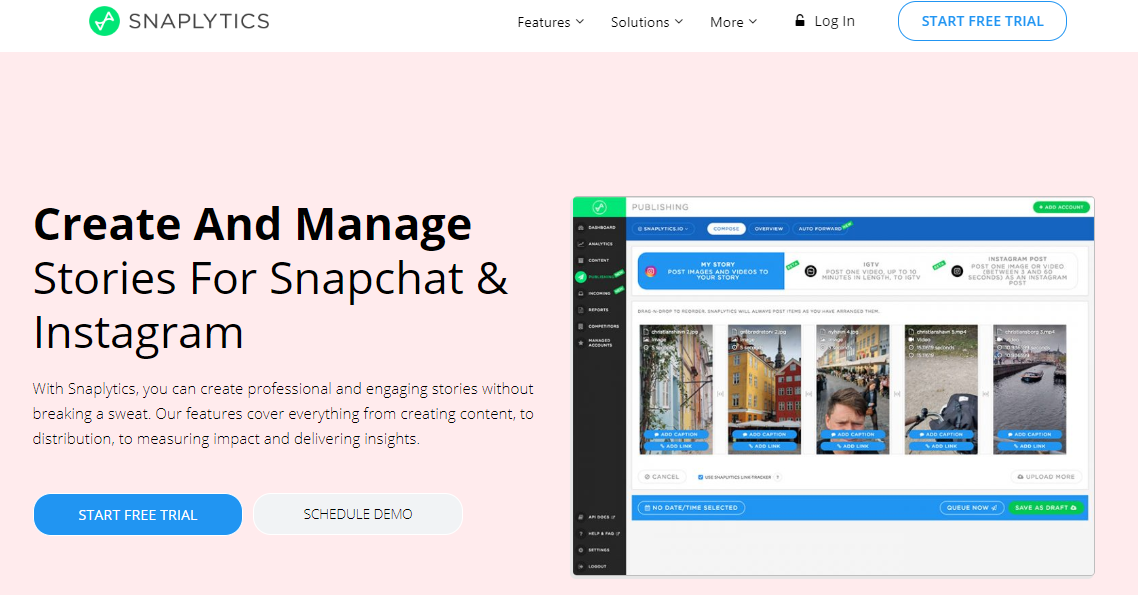 Snaplytics is a Snapchat and Instagram social media management tool. It helps brands create stories for both platforms and track and measure the impact of their content. You're able to track opens and completion rates, total views and story items, total followers and open rates, and more. You're also able to dig deeper and see engagement stats on a story level, track the number of followers and which acquisition method helps pull the largest crowd to your Snapchat accounts.

---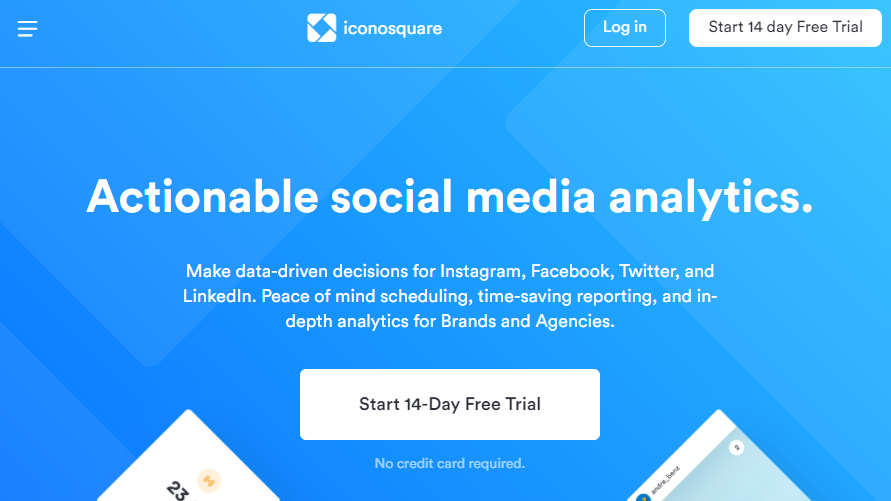 Iconosquare is an analytics, management, and scheduling platform. Our reviewer found that Iconsquare delivers some of the most in-depth analytics we have ever seen and does so in a beautiful way.
Iconsquare presents you with a range of easy-to-read graphs that display your brand's social performance in virtually every way imaginable. You can even track the success of Instagram Stories, their completion rate by story type and establish the best time to post Stories.
You can customize your dashboard, building one that captures insights important to your brand and campaigns for each social profile you manage.
In addition to its in-depth analytics, Iconsquare lets you schedule posts and monitor conversations about your brand and products. It also provides a media library where you can upload images for your posts. You can use Iconosquare to make driven decisions for Instagram, Facebook, Twitter, and LinkedIn.
---
Frequently Asked Questions
What are the best social media analytics tools?
The best social media monitoring tool and analytics tool out there is the one that works best for your company. Tools like Brandwatch, Audisense, and Brandwatch will all help collect online mentions from the web (social media, blogs, news sites, and more) to allow in-depth analytics for online mentions.
What are 3 social media tools?
There are three types of social media tools: listening platforms, publishing platforms, and competitive analysis platforms. Some tools will have several of these combined.
What is social media analytics examples?
A social media analytics tool will have an easy-to-use interface that helps build transparency and results for your campaigns. It will also help streamline the social media marketing process and workflow. Some examples include Brandwatch, Sprout Social ,Google Analytics, and more.
How do you use social media analytics tools?
Here are 5 easy steps to using social media analytics tools:
Access your analytics
Learn more about your followers
Set goals depending on your metrics
Use tools to analyze and measure your social data
Reevaluate your goals after time passes
What is a social media monitoring tool?
A social media monitoring tool is a tool that helps listen to social media and online conversations relevant to your brand. These monitoring tools will help collect mentions, track keywords, and monitor hashtags for relevant content.