Advertising Disclosure
Advertising disclosure:
Our partners compensate us. This may influence which products or services we review (also where and how those products appear on the site), this in no way affects our recommendations or the advice we offer. Our reviews are based on years of experience and countless hours of research. Our partners cannot pay us to guarantee favorable reviews of their products or services.
In this digital era, businesses and brands are constantly looking for innovative avenues for growth. Digital agencies, whether full-service, specializing in SEO, marketing, or social media, offer many strategies to amplify your business goals. By combining technology and creativity, they can reshape your online presence, guaranteeing that your brand flourishes in the competitive market.
Businesses of every scale benefit from digital agencies that boost their identity and connect them with their target audience using services such as:
Search engine optimization (SEO)

Pay-per-click (PPC) advertising

Social media marketing

Content marketing

Email marketing

eCommerce development

Web and mobile app development

UX/UI design

Conversion rate optimization (CRO)

Digital Analytics
Digital agencies come in various types, each offering distinct services to specific markets. Common types include full-service, marketing, creative, specialized, boutique, and in-house agencies. One primary benefit of working with a digital agency is opening your company for flexibility and scalability. Other compelling reasons include time efficiency, cost savings, consistent brand identity, and extensive industry experience.
---
Digital Agencies to Help You Thrive in the Digital Age
Here are the top and most dependable digital agencies to enhance your online presence and boost your revenue. Take a closer look at each to determine which aligns with your objectives.
Top
digital agencies
2024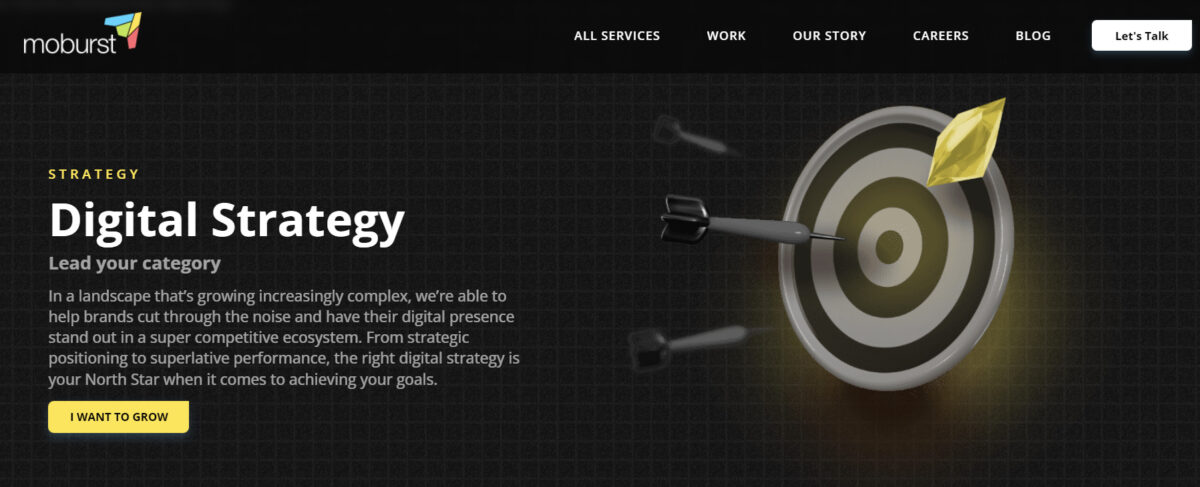 Best for: Enterprises
Founded: 2013
Location: New York City, San Francisco, London, and Tel Aviv
Moburst, a premier full-service agency, specializes in fueling brands for rapid growth. It tackles mobile challenges with creativity, cutting-edge technology, and data-driven strategies. By seamlessly connecting brands with highly targeted audiences who evolve into devoted users, Moburst facilitates cost-effective, imaginative, and pioneering expansion.
Moburst boasts a diverse clientele, which includes renowned names such as Reddit, Discovery, Pfizer, Samsung, Uber, Deezer, YouTube, and Google.
What Sets Them Apart
Moburst is a global digital agency with a strong presence in over 70 countries, collaborating with more than 600 apps. They have exclusive partnerships with 46% of the top 15 mobile apps, reaching an impressive one billion users. With their extensive expertise, Moburst serves a diverse range of brands, including those with significant revenues. They leverage this wealth of experience to help all clients successfully launch campaigns.
What sets Moburst apart is its unwavering commitment to long-term growth. As a data-driven agency, they excel at crafting strategies that ensure your business thrives for years to come. By collaborating with Moburst, you can have confidence in the sustainability and growth of your brand which is essential for achieving enduring success and a healthy return on investment.
Key Services:
Mobile Strategy
Digital Strategy
Social Strategy
Product Strategy
BI & Analytics
SEO & CRO
App Store Optimization
OTT Media Services
MarTech Channels: AppsFlyer, Google AdWords, Facebook Business, MobileAction, Facebook Audience Network, Localytics, Instagram, Twitter, TikTok, LinkedIn, YouTube, Google Play Store, Apple App Store, Amazon Appstore
Industry Specialization: IT and Technology, Media, eCommerce, Supply Chain, Logistics, Consumer Products
---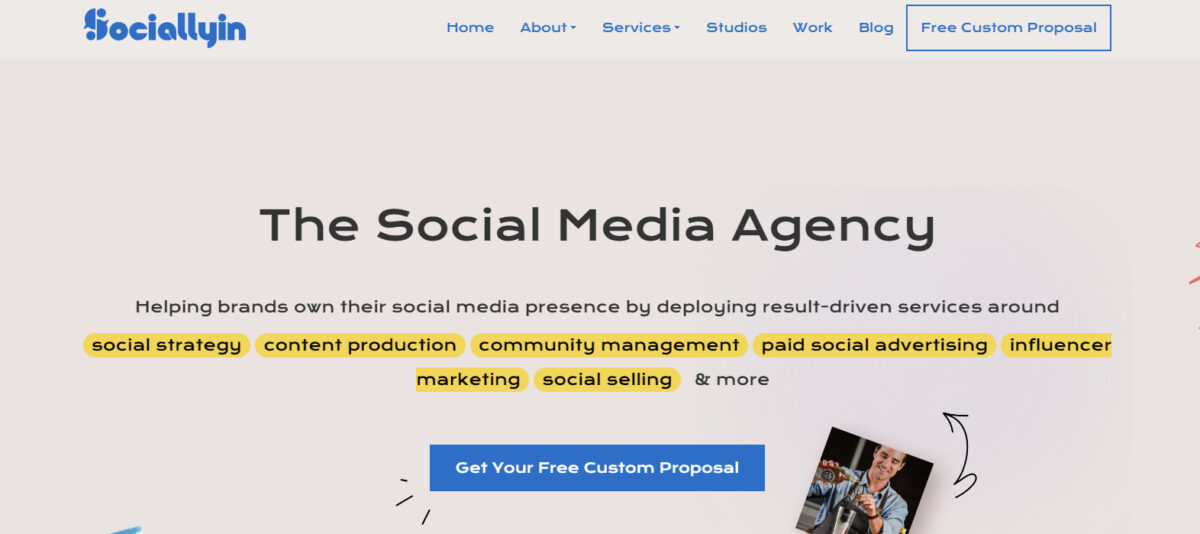 Best for: SMBs
Founded: 2011
Location: Atlanta, Georgia
Sociallyin is an award-winning, minority-owned digital agency that partners with global brands to deliver efficient and effective social media content. Its team aims to provide clients with a tailored social media marketing strategy to boost sales, attract new leads, and meet audience needs, accelerating business growth.
The agency is divided into three divisions. Studios by Sociallyin serves as its production studio, dedicated to creating content for social media. Social Selling by Sociallyin specializes in devising strategies for efficient social selling, helping clients close more deals through social media. SEO by Sociallyin, which is independently overseen by industry veteran Blake Akers, has a proven track record of successful SEO campaigns in various niches.
Its top clients include Dick's Sporting Goods, TGIFriday's, NetApp, Asus, Toyota, MagiQuiz, and Snap.
What Sets Them Apart
Sociallyin specializes in refining your brand's voice, giving it a unique and distinctive tone that sets it apart. Rather than merely amplifying your message, its expertise enables you to communicate with authority to your target audience. The agency manages all aspects of social media production in-house, from brand story to visual identity and everything in between. This approach ensures stringent quality control and consistently delivers favorable outcomes for clients.
Key Services:
Social Media Strategy
Social Media Management
Community Management and Listing
Influencer Marketing
Content Production
Paid Social Advertising
Data Analysis and ROI Modeling
MarTech Channels: AdRoll, Facebook Business, Facebook, HubSpot CRM, Pinterest, X, WordPress, LinkedIn, LinkedIn Ads, Clutch, Sprout Social, Instagram, YouTube, TikTok
Industry Specialization: Events Services, Health and Wellness, Consumer Goods, Consumer Electronics, Cosmetics, Food and Beverage, Education, Automotive, Apparel and Fashion, Luxury Goods, Sporting Goods, PR and Communications
---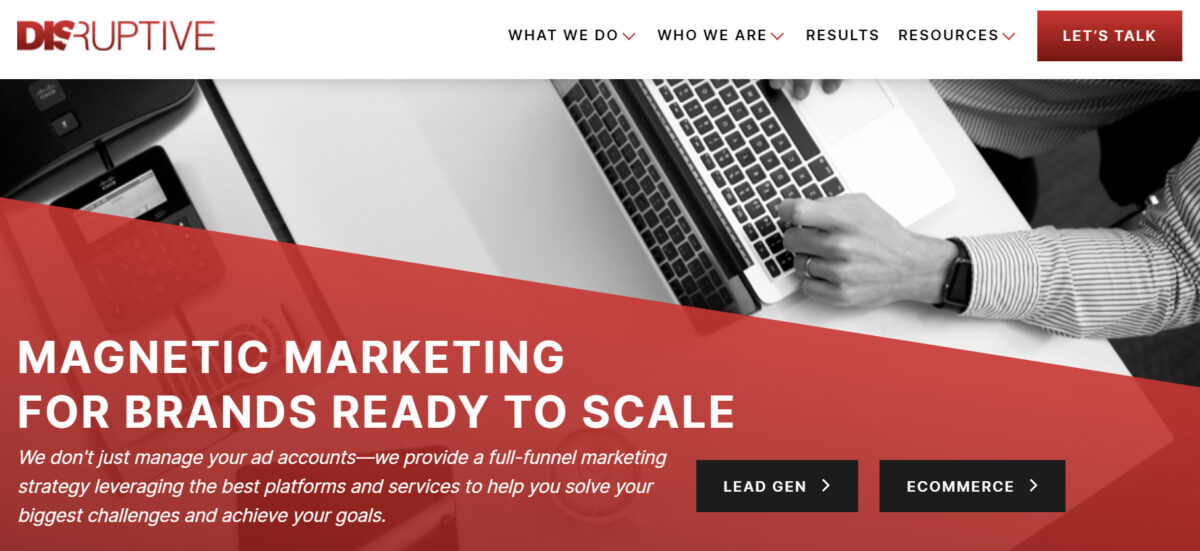 Best for: Mid-market to large businesses
Founded: 2011
Location: Lindon, Utah
Disruptive Advertising is an all-inclusive digital agency that helps businesses grow by creating and executing dynamic marketing strategies. It's a one-stop shop for advertising and marketing needs, offering strategic planning, implementation, and media buying across various platforms. The team handles various advertising types, including Google, YouTube, Facebook, and Bing ads.
The company's impressive list of clients include: Adobe, Fandango, Diesel Power Gear, Columbia Southern University, Guitar Center, and PennyMac.
What Sets Them Apart
Disruptive Advertising specializes in transforming good businesses into exceptional ones. It serves as your long-term growth partner, dedicated to linking your company's core purpose to your target market and establishing meaningful connections with them. By identifying and engaging with your Ideal Customer Profile (ICP), they craft marketing campaigns tailored to address your ideal customers' specific needs and desires, resulting in a win-win scenario.
Key Services:
eCommerce Development
Lead Generation
Paid Search
Paid Social
SEO
Amazon
Lifecycle Marketing
Email Marketing
MarTech Channels: YouTube, Bing, Google Ads, Yahoo, LinkedIn, Snapchat, Reddit, TikTok, Amazon
Industry Specialization: eCommerce, Business Services, Education, Legal, Retail, Hospitality, Entertainment, Travel, Finance, Real Estate, Healthcare, Automotive
---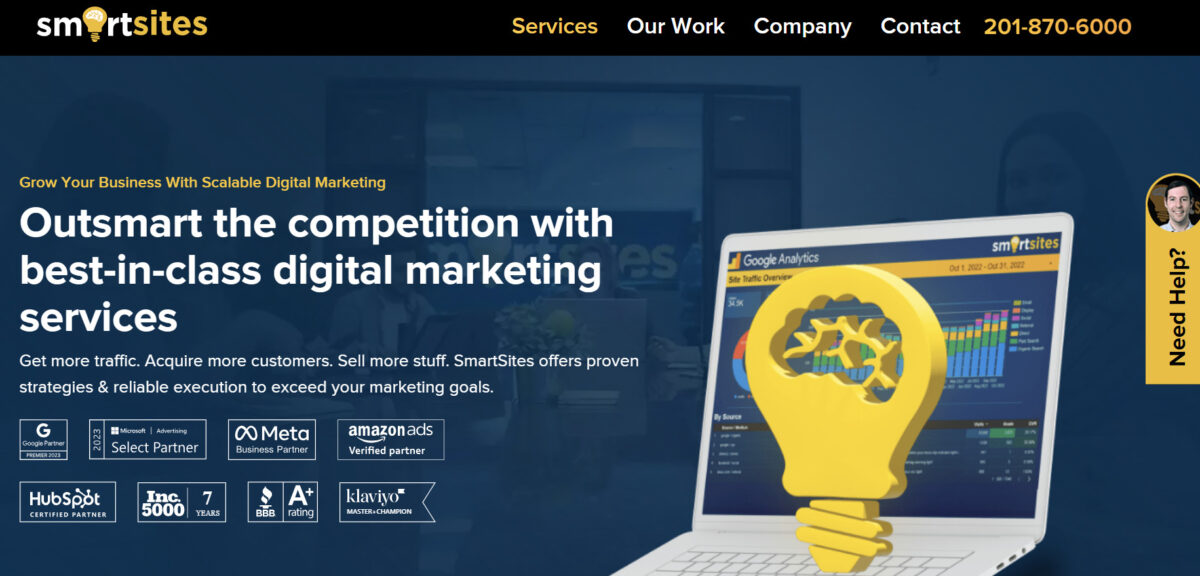 Best for: Small to mid-sized businesses
Founded: 2011
Location: New Jersey, New York, Illinois, California, Oregon
SmartSites is a multi-awarded digital agency that helps businesses acquire customers and boost sales through certified PPC advertising, proven organic SEO, and social media engagement. Its team works closely with clients to define their brand voice and execute strategic campaigns, content marketing, and social ads.
Notable clients of SmartSites include Porsche, Harvard University, Chevrolet, General Motors, Mailchimp, Mickey Truck Bodies, Rakuten, and Poker Stars.
What Sets Them Apart
SmartSites is widely recognized as one of America's fastest-growing companies with a team of over 100 digital experts. With a track record of successfully launching over 900 websites and generating client revenues exceeding $100 million, SmartSites is often referred to as the "secret weapon" for businesses. They prioritize client ideas and provide valuable suggestions throughout the project, ensuring a collaborative and impactful approach to achieve outstanding results.
Key Services:
Web Design
PPC
SEO
Social Media Marketing
Email and SMS Marketing
MarTech Channels: Google Analytics, Facebook Business, HubSpot, Zapier OpenCart, Bing Ads, Google AdWords, BigCommerce, Drupal, Salesforce CRM, Instagram, Facebook, X, Reddit, Squarespace, Pinterest, Twilio, and more
Industry Specialization: Automotive, Real Estate, Retail, Media Production, IT and Services, eLearning, Health and Wellness, Food Production, Consumer Goods, Computer and Network Security
---

Best for: Multi-location businesses
Founded: 2005
Location: Arlington, Texas, with offices in 25 major cities in the US
Thrive Internet Marketing Agency is an end-to-end digital company that helps businesses boost customer retention and increase conversions. Thrive's experienced team works with companies of all sizes and industries. They prioritize building strong client relationships, focusing on delivering accurate results. Their goal is to maximize your budget, ensuring the best possible return on investment. Thrive also owns SkyStats, a comprehensive business dashboard for WordPress.
Some of Thrive's noteworthy clients include the YMCA of Virginia's Blue Ridge, Vessel Tools, Tavistock Restaurants, Berryman Products, and BMS CAT.
What Sets Them Apart
Thrive is a people-centric company that ensures the success of employees, partner agencies, and the local community. It specializes in full-service franchise marketing, recognizing the unique marketing challenges for multi-location businesses. As a proud member of the International Franchise Association (IFA), Thrive possesses the knowledge to elevate your visibility and maintain brand consistency across various locations. Its team comprises over 200 web marketing specialists who excel in all aspects of digital marketing and are well-equipped to serve enterprises, franchises, and multi-location companies effectively.
Key Services:
Digital Marketing
Web Design
Social Media Marketing
Reputation Management
eCommerce Marketing
Amazon Marketing
MarTech Channels: Google My Business, Bing Ads, Shopify, Facebook, Twitter, Instagram, LinkedIn, Pinterest, YouTube, Amazon, Google, WhatsApp, Messenger, WeChat, Tumblr, Snapchat
Industry Specialization: Legal, Retail, Restaurants, Warehousing, Apparel and Fashion, Banking, Consumer Goods and Services, Events Services, Food and Beverage, Health and Wellness, Higher Education, Manufacturing
---

Best for: Small businesses and startups
Founded: 2011
Location: Atlanta, Georgia
LYFE Marketing is an integrated marketing agency with expertise in social media. It caters to small businesses with annual revenues of $500,000 to $10,000,000, using online strategies like social optimization, blogging, and email marketing to boost their digital presence and growth. LYFE offers a 3-month contract with the flexibility to cancel with 30 days' notice. This minimizes risk while giving ample time to earn client trust and demonstrate positive progress.
Some of LYFE Marketing's clients include Bill DeeWees, Petals, Lady Ease, Ancient Keto, and Cedar Craft.
What Sets Them Apart
LYFE Marketing started as a startup, so they understand the obstacles and challenges faced by small business owners. This firsthand experience drives them to effectively anticipate and meet your needs. They apply the same successful marketing strategies they use for their own business to help thousands of small businesses across various industries. LYFE leverages data from successful campaigns to create a proven framework for success. By partnering with LYFE, you can avoid common pitfalls and save time and money while gaining valuable insights that can accelerate your results.
Key Services:
Social Media Marketing
Social Media Advertising
PPC Management
Email Marketing
Short Video Management
Short Video Advertising
Web Design
MarTech Channels: LinkedIn, Linked Ads, Facebook, Facebook for Business, Google AdWords, Instagram, TikTok, Pinterest
Industry Specialization: B2B, eCommerce, Healthcare, Medical, Dentistry, Real Estate, Financial Services, Legal, Restaurant, Beauty and Skincare, Fitness, Professional Services, Nonprofits
---

Best for: Businesses of any size
Founded: 1996
Location: Chicago, Illinois, with 30+ digital locations across the US
NEWMEDIA is a holistic digital agency with expertise in performance marketing to boost revenue and company growth. Its team uses a comprehensive approach that consistently enhances brand visibility, reduces acquisition costs, and drives conversions and customer retention, resulting in substantial revenue growth for clients.
Notable clients of NEWMEDIA include CBS Television, Delta Air Lines, the University of Colorado, Delta Sky Club, and Six Flags.
What Sets Them Apart
NEWMEDIA has decades of industry leadership backed by over 25 years of digital marketing expertise. They cater to a wide range of clients, from startups to Fortune 100 companies, across various industries. Its outstanding reputation is underscored by remarkable 500+ five-star Google reviews, highlighting its unwavering commitment to excellence and client satisfaction.
What sets NEWMEDIA apart is its extensive expertise and proven track record of serving over 1,000 clients across 50+ industries. With a focus on data-driven decisions, the agency excels in leveraging advanced technology to deliver optimal outcomes for businesses of all sizes.
Key Services:
Digital Marketing
SEO and SEM
PPC
Web Design
Social Media Marketing
Strategy and Consulting
MarTech Channels: Facebook, Instagram, Pinterest, Facebook Ads, Pinterest Ads, Google, Bing, Yahoo, Yandex, Google Ads, Bing Ads, Shopify, WordPress, and more
Industry Specialization: B2B, D2C, Nonprofit, Education and Academia, SaaS, Consumer Goods, Startups, eCommerce, Retail, Real Estate, Legal, Medical, Hospitality, Travel
---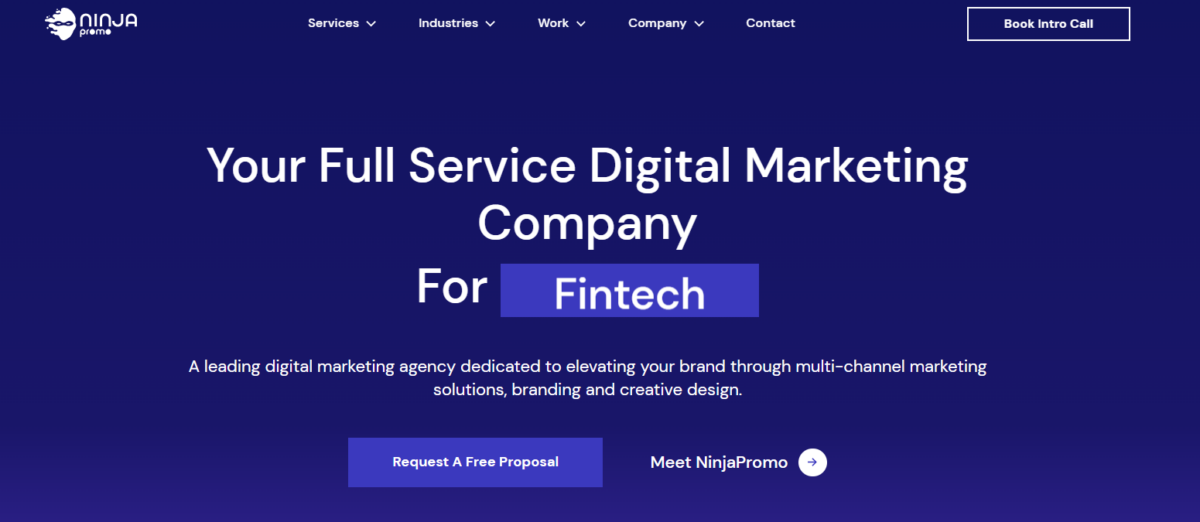 Best for: Crypto, fintech, SaaS, and software businesses
Founded: 2017
Location: UK, USA, UAE, Europe, China, and Singapore
NinjaPromo is a prominent global digital agency that employs a performance-driven, tailored marketing approach for each client, leading to measurable growth. NinjaPromo elevates brands through multi-channel marketing solutions, creative design, and branding. As a data-driven partner, the team carefully assesses your branding, messaging, and position. This enables them to develop strategies and content that align with your goals and provide valuable insights to support your business growth.
NinjaPromo's impressive client roster includes Bitcoin.com, Polkadot,  Bitforex, IronFX, IQONIQ, Intellectsoft, Parcelx, Hello Pal, and Mobilum.
What Sets Them Apart
NinjaPromo's teams excel in all areas of digital marketing. However, their greatest expertise lies in business-to-business, fintech, cryptocurrency, and high-growth startup brands. The team's firsthand experience in these industries gives them a competitive edge, allowing them to serve their clients better. Moreover, with a global presence and expertise in multiple regions, NinjaPromo is great for brands operating internationally or within specific areas.
Key Services:
Social Media
SEO
Paid Media
Email Marketing
Web Design and Development
Mobile App Design and Development
Influencer Marketing
Email Marketing
PR
MarTech Channels: Google AdWords, Google Analytics, LinkedIn, Facebook, Twitter, Instagram, YouTube, Snapchat, TikTok
Industry Specialization: B2B, Fintech, Crypto, Software, SaaS, eCommerce, Startup, Gaming, eSports, Mobile
---
What Does a Digital Agency Do?
A digital agency operates at the nexus of technology and creativity to provide a suite of digital solutions aimed at enhancing the online presence, functionality, and user experience for businesses. Their offerings are often multifaceted, tailored to meet the diverse digital needs of their clients. Here's a closer lens into the activities and services typically rendered by a digital agency:
Web Development and Design
A cornerstone of their services, digital agencies craft and manage websites. They ensure that websites are not only aesthetically appealing but also functional, user-friendly, and optimized for search engines.
App Development
They design and develop mobile applications to provide businesses with a mobile platform for customer engagement.
Graphic Design
From logos to branding materials, digital agencies create visual elements that encapsulate the brand identity.
User Experience (UX) and User Interface (UI) Design
They focus on creating intuitive, engaging digital interfaces that offer a seamless user experience.
Digital Marketing
Some digital agencies also offer digital marketing services to help businesses reach and engage their target audiences online. This could encompass SEO, PPC advertising, social media marketing, and content marketing.
Content Creation
Creating compelling, relevant content is key to online engagement, and digital agencies often have teams dedicated to content creation and strategy.
SEO
They work on optimizing the website's visibility on search engines, driving organic traffic, and improving rankings for relevant keywords.
Social Media Management
Managing and optimizing a business's presence on social media platforms to foster engagement and brand loyalty.
Analytics and Data Insights
Digital agencies harness analytics tools to gather data, measure the performance of digital assets and campaigns, and derive insights for optimization.
Digital Strategy
They develop comprehensive digital strategies to align with a business's goals, ensuring a coherent and impactful digital presence.
Technology Consulting
Offering advice on the right technologies, platforms, and digital practices to adopt, aiding in the digital transformation journey of a business.
Crisis Management
Preparing and managing online reputations in times of crisis to protect brand image.
Each service is designed to bolster a different facet of the digital ecosystem of a business. By integrating these services, digital agencies endeavor to build a robust, compelling digital presence for businesses, ensuring they remain competitive and relevant in the digital age. Through their expertise, they not only navigate the technical intricacies but also the creative aspects, melding them into a harmonious digital narrative that resonates with the audience and propels the business forward.
---
Why Do You Need a Digital Agency?
Delving deeper into each aspect elucidates the multifold advantages of partnering with a digital agency:
Expertise & Specialization
Digital agencies host a conclave of professionals whose expertise has been honed across a myriad of projects in the digital realm. These specialists bring to the table a wealth of knowledge in areas such as SEO, SEM, content strategy, social media marketing, and web development. The amalgam of these specialized skills fosters the creation of a robust digital strategy that is tailor-made to elevate the online presence of a business.
Cost Efficiency
The economic advantage of engaging a digital agency is underscored by the amalgamation of diverse digital services under one roof. This consolidated service model obviates the need for businesses to incur the overheads associated with maintaining an in-house digital team. Moreover, the cost-effectiveness extends to the avoidance of investments in pricey digital tools and technologies which are often already at the disposal of digital agencies.
Cutting-edge Tools & Technology
Digital agencies are at the forefront of adopting the latest tools and technologies integral for successful digital campaigns. Their access to state-of-the-art software facilitates precise analytics, effective campaign management, and innovative design work. This technological edge empowers businesses to stay ahead in the digital curve, ensuring a contemporary and competitive online presence.
Scalability & Flexibility
The scalability and flexibility of digital agencies are paramount for businesses navigating through different growth phases. They can adeptly recalibrate their strategies and resource allocation in alignment with the evolving needs of the business. This fluidity ensures that the digital campaigns remain congruent with the changing business objectives, market dynamics, and customer preferences.
Measurable Results
The modus operandi of digital agencies is often rooted in a data-driven approach, ensuring measurable and transparent results. The analytical frameworks employed allow for a granular assessment of the performance metrics, providing insightful feedback on the effectiveness of the digital strategies. This culture of measurement and analysis fosters a continuous improvement ethos, helping in refining the digital initiatives for better ROI.
Continuous Optimization
In the swiftly changing digital landscape, the continuous optimization of strategies is pivotal for sustaining a strong online presence. Digital agencies leverage real-time data and analytics to iteratively refine campaigns, ensuring they resonate with the target audience and the market trends. This culture of perpetual optimization ensures that the digital strategies remain effective and competitive over time.
Fresh Perspective
The external lens of a digital agency often unveils a fresh perspective on the digital strategy of a business. They can identify untapped opportunities or potential pitfalls that might be overlooked by an in-house team. This external insight, coupled with their broad experience across different industries, can significantly enrich the strategic discourse, leading to more innovative and effective digital solutions.
Time Efficiency
Entrusting the digital realm to seasoned agencies can significantly expedite the digital initiatives. They bring to the table a readiness and capability to hit the ground running, saving invaluable time in ramp-up. Furthermore, their proven methodologies and processes ensure a timely delivery of projects, allowing businesses to maintain a brisk pace in executing their digital strategies.
---
What are the Key Factors to Consider When Choosing a Digital Agency?
When choosing a digital agency to boost your competitive edge, consider the following:
Specialization and Niches
When selecting a digital agency to partner with, it is crucial to examine their core business niche. Typically, well-established and authoritative agencies have a diverse team of experts. However, be cautious if you come across a relatively young agency that offers a wide range of services. They may outsource specialists, which can raise concerns about the quality of work and timely delivery. In contrast, in-house specialists often provide better control and integration of data-driven efforts.
Furthermore, it is crucial to choose the right agency if your business requires specific compliance standards. While many digital agencies serve a wide range of companies, some specialize in niche areas that could be beneficial for you. These areas can include cryptocurrencies, blockchain projects, healthcare or legal sectors, projects requiring specific user data security standards (e.g., HIPAA), or campaigns aiming to ensure accessibility (ADA compliance).
For instance, WebFX, an ADA compliance agency, uses AI-powered technology and forward-compatible design to ensure your website remains accessible both now and in the future.
Business Stage
When assessing a digital agency, it's crucial to consider your current business stage. For new businesses with limited resources, focus on agencies that provide cost-effective solutions. Look for agencies specialized in SEO and content marketing tailored for startups and those that can scale with your business.
During the growth stage, diversify your digital presence. Find agencies proficient in channels like PPC, social media, and email marketing.
Once your business is established, prioritize agencies with expertise in data-driven strategies. They can help you make informed decisions based on analytics and optimize your marketing efforts for better results.
Data-Driven Approach and Efficiency Metrics
Regulations such as the EU General Data Protection Regulation and the California Consumer Privacy Act have limited marketers' access to third-party data. As a result, marketers increasingly rely on first-party data or information collected directly from their audience. As restrictions on third-party data tighten further, the significance of first-party data will continue to grow.
It's important to prioritize the agency's ability to utilize data effectively. Request KPIs and performance metrics from their previous cases to gauge their campaign effectiveness. Inquire about their approach to creating tailor-made digital marketing strategies. A thorough audit of your business, industry, and competitors should inform them of their data-driven plan, aligning it with your goals and target audience.
Here are some key questions to ask:
How do you measure the success of your campaigns?

What's your strategy for crafting customized digital marketing plans?

How proficient are you in data gathering, interpretation, and utilization?

Which data analysis tools do you use?

What's your preferred communication method and frequency?
Portfolio and Client Reviews
A digital agency's portfolio reflects the effectiveness of its work. Some companies may have underdeveloped portfolios on their websites, hinting at their inexperience and the potential ineffectiveness of their chosen marketing strategies. That said, a strong portfolio alone doesn't guarantee that you've found a digital agency with seasoned professionals.
Conducting thorough web research and reading genuine customer reviews on platforms like Clutch and TrustPilot is crucial. Remember that you might come across negative reviews from competitors or paid reviews written by companies on behalf of customers. So, allocate more than a few minutes to review feedback.
Once you have shortlisted a few digital agencies, don't hesitate to contact them and schedule a free consultation. Assess their work ethics and communication skills, and ask for insights into their past collaborations and success stories with other businesses.
---
What is The Difference Between a Digital Agency and a Digital Marketing Agency?
The terms "digital agency" and "digital marketing agency" are often used interchangeably, yet there exists a nuanced difference between the two, primarily rooted in the scope of services they offer. A digital agency is a broad term that encompasses a wide array of digital services including but not limited to web development, app development, digital design, and sometimes digital marketing. Their focus extends to creating digital experiences, ensuring functionality, and enhancing the digital interface between a business and its customers. They delve into the technical and aesthetic aspects of the online presence of a business.
On the other hand, a digital marketing agency zeroes in on the marketing aspect of the digital realm. Their primary aim is to promote a business, elevate its online visibility, and foster engagement with the target audience. Their expertise typically lies in areas such as SEO, PPC advertising, social media marketing, content marketing, email marketing, and other marketing-centric endeavors. They strategize and execute digital marketing campaigns to drive traffic, leads, and sales for a business.
While both types of agencies operate in the digital domain, a digital agency has a broader focus encompassing both technical and creative digital solutions, whereas a digital marketing agency is finely tuned to marketing strategies and campaigns in the digital arena. The choice between the two would hinge on the specific needs and objectives of a business. If a business is looking for comprehensive digital solutions encompassing both technical development and marketing, a digital agency might be the preferable choice. Conversely, if the core need is centered around boosting online marketing efforts, a digital marketing agency would be the apt choice.
---
How Much Does Digital Agencies Cost?
The cost of hiring a digital agency can vary significantly based on a multitude of factors including the scope of work, the size of the business, and the agency's pricing model. Here's a breakdown of the costs associated with hiring digital agencies in 2023:
1. Average Costs:
Monthly Costs: Ranges between $2,500 to $12,000 on average, with small to mid-sized businesses (SMBs) usually spending between $2,000 and $6,000 monthly. More ambitious companies might allocate between $10,000 and $20,000 monthly to meet their marketing objectives​.
Hourly Rates: Typically span from $50 to $500+ per hour.
Project-Based Fees: These can range from $1,000 to $7,500 per project.
2. Service-Specific Costs (monthly agency fees):
PPC Advertising: $1,500 - $10,000
SEO: $1,000 - $7,500
Social Media Marketing: $1,000 - $3,500
Content Marketing: $1,800 - $12,000
Email Marketing: $1,500 - $7,500
Influencer Advertising: $1,000 - $10,000
Affiliate Marketing: $5,000 - $15,000.
3. Costs by Agency Size
Marketing agency costs can fluctuate considerably based on the size and reputation of the agency, with monthly fees ranging anywhere from $900 to $20,000 on average.
This data underscores a broad spectrum of pricing, emphasizing the importance of delineating clear objectives, budget constraints, and expected outcomes before engaging with a digital agency. It's also prudent to solicit multiple proposals to garner a well-rounded understanding of the prevailing market rates and the value proposition of different agencies.
---
13 Questions To Ask When Hiring a Digital Agency
When contemplating the engagement of a digital agency, it's imperative to conduct a thorough vetting to ensure a fruitful collaboration.
Here are 13 critical questions to pose:
What is your experience in our industry? It's beneficial to understand the agency's familiarity with your sector, which can expedite the ramp-up process and contribute to more targeted strategies.
Can you provide case studies or references from past clients? Requesting tangible evidence of their expertise and the outcomes they have delivered can offer valuable insights into their capabilities.
What services do you specialize in? Understanding their core competencies will help align their services with your digital objectives.
How do you measure success and what metrics do you focus on? It's crucial to have a clear measurement framework to evaluate the ROI of the digital initiatives.
How will you tailor your services to meet our specific needs? Customization of strategies is pivotal to ensure alignment with your brand and business goals.
Who will be our primary point of contact, and how often can we expect updates? Establishing clear communication channels is fundamental for a seamless collaboration.
What is your pricing model? Understanding the cost structure will help in budget planning and ensuring there are no hidden charges.
How do you handle data security and privacy compliance? It's paramount to ensure that the agency adheres to the requisite data protection laws and best practices.
What is your approach to SEO and how do you stay compliant with the latest algorithm updates? This helps in understanding their SEO strategies and their adaptability to the ever-evolving search engine algorithms.
How do you manage paid advertising campaigns and optimize for better ROI? This will provide insights into their expertise in managing paid campaigns and ensuring cost-effectiveness.
What is your content creation process and how do you ensure it aligns with our brand voice? This helps in ensuring the consistency and relevance of the content being created.
How do you handle negative feedback or a crisis situation online? It's critical to have a crisis management plan to protect your brand reputation online.
What is the typical timeline for seeing measurable results? Understanding the timeline will set realistic expectations and help in evaluating the effectiveness of the digital strategies.
These inquiries can significantly aid in the appraisal of the digital agencies, ensuring that you select a partner that resonates with your business ethos, objectives, and the digital landscape.
---
Final Thoughts
When hiring a digital agency, seeking partners rather than simply hiring subordinates is important. This collaborative approach is essential for developing a promotion strategy that aligns with your long-term business objectives, rather than solely focusing on short-term metrics.
From the get-go, communicate your expectations to the agency. It's your responsibility, not theirs, to define the results you aim to achieve. In response, your partner team will provide insights on the most suitable digital promotion techniques, tools, and approaches tailored to your needs. Engaging in this dialogue will help you determine if the agency has genuinely considered your project requirements or is proposing a generic strategy.
Consider your goals, values, and budget when evaluating digital agencies. By exploring the abovementioned factors, you can make an informed decision and find the right agency to help you achieve your marketing goals.
Frequently Asked Questions
What are the different types of digital agencies?
There are several types of digital agencies:
Digital marketing agencies specialize in online marketing strategies

Web design and development agencies focus on building and maintaining websites

Social media agencies

manage social media campaigns

Content marketing agencies create engaging content for various platforms

SEO agencies optimize websites for better search engine rankings and organic traffic

PPC agencies work on pay-per-click ad campaigns

Email marketing agencies create email campaigns

eCommerce agencies

improve online stores

App development agencies develop mobile apps for various platforms
What should I consider when reviewing the agency's portfolio?
When looking at an agency's portfolio (or case studies), check if they have worked on projects like yours and have experience in your industry. Look for successful outcomes in their case studies, paying attention to the challenges they addressed and how they met their clients' goals.
What are the key elements to consider in a digital agency's team?
When assessing a digital agency's team, consider these key elements: diverse expertise, industry-specific experience, a data-driven approach, effective communication, and a proactive attitude. A well-rounded team with relevant skills, a proven track record in your field, and robust data analysis capabilities is crucial. Effective communication ensures clarity in goal setting, while a proactive team embraces change in the dynamic digital landscape.