Social media marketing has matured in recent years. The channels that used to be about driving engagement and brand awareness have become more infused with the customer journey for the purpose of driving click-throughs and conversions. Smart marketers are well beyond tracking vanity metrics. They've proven the power of social media and are employing increasingly sophisticated strategies — all to break through the social algorithms and capture the attention of online audiences. And the competition is stiff.
With the growing competition for paid social ads, and organic reach for brand accounts throttled heavily, more and more brands are taking a hybrid approach to their social media marketing mix. In less than a decade, advertising on social has gone from a forward thinking marketing tactic, to a standard best practice. The question is no longer paid vs organic social. Instead the challenge brands are facing is how to strike the right balance between the two to reach the right audiences at the right time.
What paid social offers in powerful targeting and conversion capabilities, it also lacks in trust and validation. Audiences simply don't want to engage with branded content, and while the use of ad-blockers is on the decline, more than 40% of social media users take advantage of these tools to limit their exposure to ads. Despite the widespread use of ad blockers, the average Facebook user clicks on eight ads per month — evidence of the opportunity in paid social.
The marriage of influencer marketing and paid social is a great way to make the most of this opportunity. Influencers provide the trust and validation to drive sales, while the targeting power of paid social ads helps amplify influencer content, enabling brands to reach the right customers, with the right message, at the right time.
---
6 Ways to Maximize Influencer Impact With Paid Social:
---
How Influencers Are Transforming Paid Social
Just like paid social, influencer marketing is no longer a novel practice marketers are trying to prove out. At every turn, audiences have made it loud and clear that they prefer influencer created content — and influencers have demonstrated that they can reach audiences brands can't and in a way that brands can't. Most brands understand this, and those that engage with influencer marketing are seeing positive results. With the average business earning more than $5 for every $1 spent on influencer marketing, it's no wonder 63% also have plans to increase their influencer dedicated budgets.
Influencer marketing works because influencers bring with them the trust and validation social media audiences are looking for. In the digital era, the power of word-of-mouth and social proof has been amplified. Nearly every purchase is preceded by the search for reviews, testimonials and recommendations — all of which provide validation based on a human experience. When brands team up with influencers, they get to borrow that person's reputation and create a human-centered experience that drives sales.
While it's clear that influencer marketing can drive real ROI for businesses that understand how to leverage its potential, influencer reach is limited by the size of their following. This is especially true for the creative influencers with smaller audiences, who are often ideal for driving the most engagement and conversion for sponsored content. These talented creators give brands access to audiences they might not have access to otherwise, but someone with 100,000 followers has a maximum organic reach of 100,000 users, and typically the reach is much smaller.
None of this means brands should target more popular influencers instead — quite the contrary. The larger the audience, the lower the audience engagement and campaign performance. What's more is that smaller influencers often come with category expertise, and audiences view them as more trustworthy and authentic than their more popular generalist cohorts. In fact, this trust and authenticity is exactly the advantage that drives the conversion power of mid-tail influencer campaigns.
Influencers may provide the social proof necessary to reach consumers on social media. However, there's no real targeting with organic influencer content, which puts a limit to who and how many people a particular piece of content will reach. With paid social ads, there are powerful hyper-targeting capabilities for brands to leverage, so they can reach the specific audience they'd like to reach. When combined with paid social, influencer marketing becomes a super-charged persuasion engine that helps brands connect with new audiences and turn them into paying customers.
---
Leveraging the Hyper-targeting Capabilities of Paid Social
Smart brands are already reaping the benefits of influencer validation to connect with social audiences — and bumping up against the limitations of organic reach. While partnering with influencers gives brands access to audiences they might not otherwise be able to reach, there are still limits to the organic reach of any given piece of content. Adding paid ads to the mix enables marketers to use the influencers' likeness to target the exact audience they want to reach they can't target with organic content.
For instance, Facebook will automatically show your ads to people who are most likely to find your ads relevant. You can get even more targeted with your ad delivery with three audience selection tools which enable you to choose between core, custom and lookalike audiences, which allows you to expand your targeted reach. Core audiences are defined based on demographic data such as age, interests, geography and more. Custom audiences allow you to connect with people who have engaged with your business both on and offline. With lookalike audiences you're able to reach new people with similar interests as your best customers.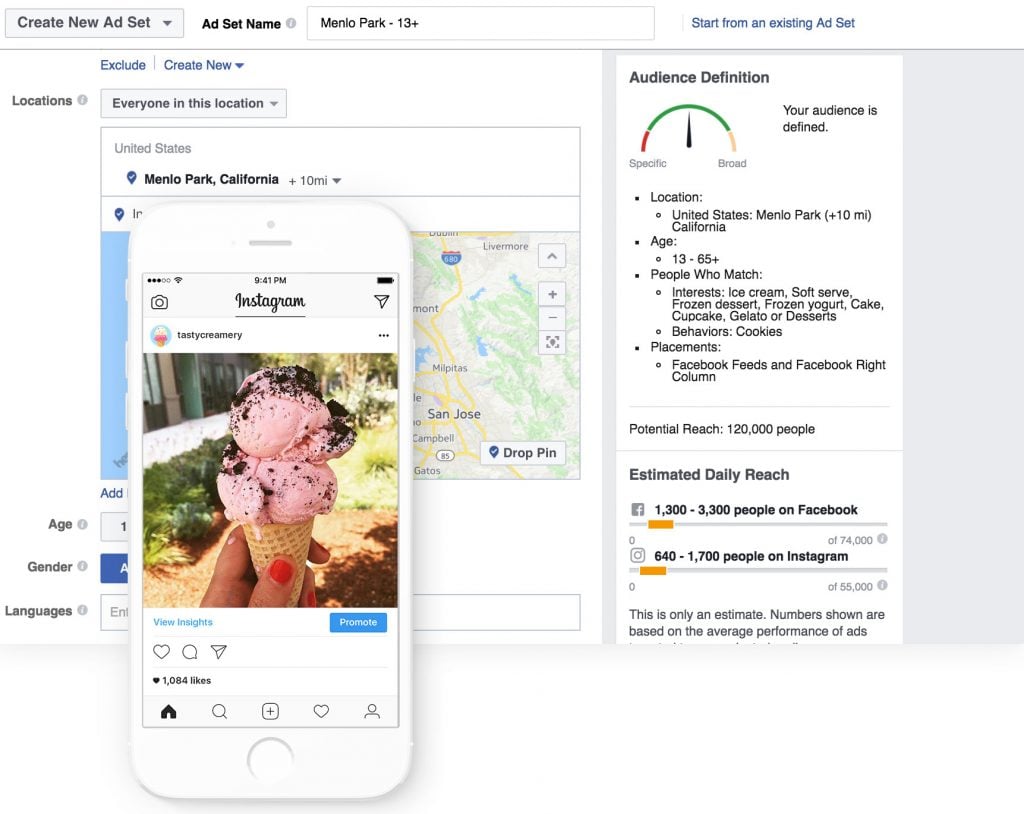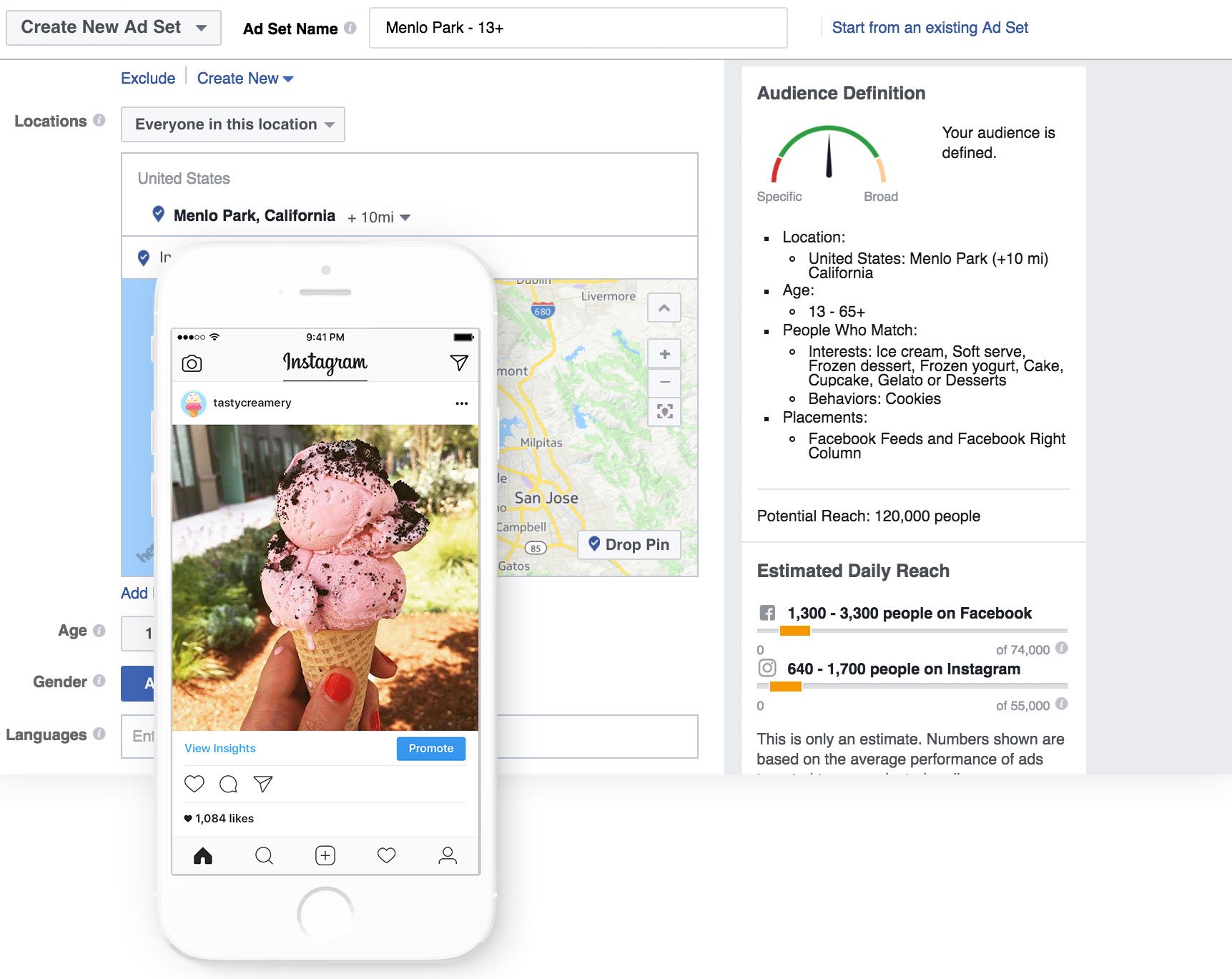 Paid social also enables marketers to go even further with the targeting — beyond typical demographic data such as age and gender. For a long time, this kind of basic demographic data was all marketers had to work with and it seemed to work, but today we live in the most intelligent marketing era in history. Now there's a vast amount of psychographic data available to help marketers truly understand consumers — and target them more effectively. Instead of generic targeting of women 18-35, for instance, marketers can now create smart audiences and target new mothers, who own their own homes and shop for organic or natural foods.
Combining the targeting of paid social ads with your influencer marketing campaigns enables you to maximize the power of both. Not only can you reach the audience of your chosen influencers, you're able to go beyond the limitations of organic reach to discover new potential prospects and create touchpoints for people already engaging with your brand. Adding in the psychographic piece can be a great way to leverage the hyper-targeted capabilities of paid, to reach consumers exactly where they are, with the right message, from a source they might know, like, and trust.
---
6 Ways to Maximize Influencer Content With Paid Ads
In order to remain competitive in the increasingly competitive paid social and influencer space, savvy brands are starting to optimize and amplify influencer content by turning them into paid social ads. While some opt to amplify content already performing well organically, others are working with influencers to create original content for paid ads. Either way, marketers are discovering that putting ad dollars behind a piece of influencer content can be a great way to take it to the next level.
Here are a few best practices and a caveat to consider for making the transitioning from influencer marketing to influencer amplification.
Keep it Simple With a Clear Call To Action
Influencers like to weave stories into sponsored content, but paid advertising is more about driving a specific action at the bottom of the funnel. When working with influencers to create paid ads, encourage them to be creative and focus on developing content that sells. This may be a challenge for less experienced content creators, but with more brands seeing the opportunity in paid social, experienced influencers know how to create authentic ads that drive sales. The key is to keep it simple and include a clear call to action.
---
Balance of Relevance and Trust
Finding the right brand-influencer fit is a crucial component of a high-impact influencer content — and it's no different when you turn that content into social media ads. Rather than looking for the most popular influencers, brands should ask themselves how relevant the influencer's content is to their audience. For example, if you're launching an ice cream brand it might be tempting to work with someone with 5 million followers; but you'll get better performance from working with someone whose audience looks to them for food product recommendations.
---
Get Smart With Your Targeting
Targeting, retargeting, and audience segmentation are a crucial aspect of what makes paid advertising so powerful. Take advantage of these tools to ensure your message reaches the right person at the right time. In the era of Big Data, we have so much information about today's consumers that it's possible to create a campaign that targets the right consumers at the right time. If you're working with an influencer to market a specific product, you can amplify that influencer content by turning it into an ad, while also giving that campaign super-targeted paid social boost to reach people you know will be receptive.
---
Leverage Data Insights to Improve Performance
One of the biggest limitations of influencer marketing is measuring performance. In many cases, it can be hard to track where clicks are driving conversion. This is where amplifying influencer content through paid social ads has a powerful advantage. In addition to tracking impressions and reach, paid advertising also enables brands to measure click throughs and conversion rates — data that can be very useful for shaping and refining content strategy to ensure relevance and overall performance. Keep in mind that data is only as useful as the insights you can extract and leverage to inform content decisions. For instance, if you're seeing CTA placement make a difference in click through, this is a useful insight for helping an influencer determine where, when, and how to incorporate CTAs into their content.
---
Prepare for Higher Initial Customer Acquisition Costs
The only downside to amplifying influencer content with paid ads is the higher customer acquisition costs, at lower spend levels. This acquisition cost will drop when spend increases, as the content creation costs are offset by the increased efficiencies. This is especially the case for brands going from 'free' influencer-gifting strategies to contracting influencers to ensure the right content is created, and to facilitate running the ad through the influencers ad account. It's important to remember that while organic influencer marketing might be free, it has its limitations when it comes to having control over the content, such as including a clear call to action, and being able to measure performance. Where organic campaigns can drive demand, paid advertising enables brands to capitalize on that demand. In most cases brands will find that the return on ad spend outweighs the higher initial set up costs.
---
The Influencer X-Factor
As paid social has matured it's become a hyper-competitive landscape, and we can probably expect the competition to get more and more fierce as social advertising reaches ubiquity among marketers. The X-Factor for rising above the competition is content and trust. Influencers bring both to the table, which is why influencer marketing is starting to bleed into paid advertising space. This is a really exciting development with the potential to revolutionize the way brands and marketers approach paid advertising on social.