Advertising Disclosure
Advertising disclosure:
Our partners compensate us. This may influence which products or services we review (also where and how those products appear on the site), this in no way affects our recommendations or the advice we offer. Our reviews are based on years of experience and countless hours of research. Our partners cannot pay us to guarantee favorable reviews of their products or services.
The education sector, specifically higher education, faces a number of unique challenges. The competition among institutions is fierce. Plus, unlike in other industries where spending large sums of money on a single marketing campaign won't draw much attention, if a college were to do that, you bet the community will complain.
Add to that the fact that their target audience is mainly Gen Z with rather distinct differences and crafting digital campaigns that will resonate has become a whole lot more challenging.
As such, it's key that schools, colleges, universities and even online tutors work with a digital advertising agency that dedicates itself to education marketing, or at least include the industry as one of its key focus areas.
We've done most of the homework for you and researched education marketing services. Here are 12 of the best marketing agencies that either focus solely on education or have a proven track record of working with this niche.
---
Top 12 Education Marketing Agencies to Help You Attract the Right Type of Student:
---
12 of the Best Education Marketing Agencies

If you're a regular reader of yours truly, you're probably familiar with Disruptive Advertising's broad scope of expertise by now. Included in their range of services is digital marketing for educational institutes. They can help you to target the right students and, in doing so, get more quality student leads. This way, institutions can decrease the enrollment gap.
If you're struggling with email deliverability specifically, they're a good agency to trust. They also include email strategies so that institutions can take advantage of prospective students' preferred communication channel — email. In fact, they're rated as one of the best email marketing agencies along with Straight North (more about them later).
Their clients in this niche include Napa Valley Wine Academy and Northern Arizona University. For more social proof, you can turn to Facebook, UpCity, G2, and Google where they have hundreds of reviews, with the vast majority being very positive.
Capabilities and services include:
Lifecycle marketing
Paid search
Paid social
Lead generation
SEO
---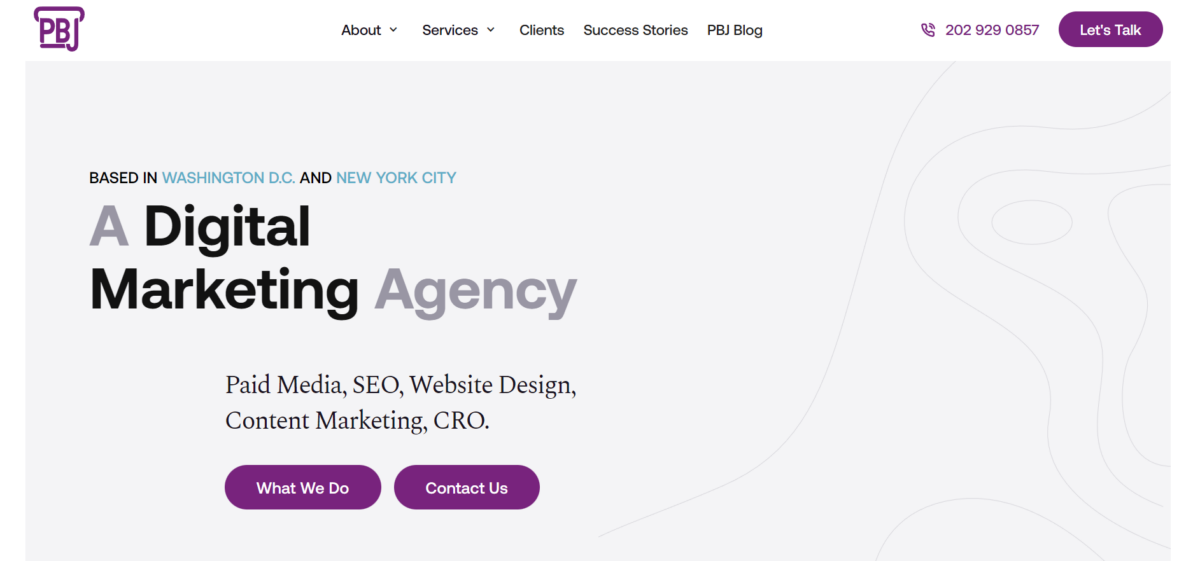 PBJ Marketing is one of the most reviewed educational advertising and marketing agencies on Clutch. Along with Disruptive Advertising, we've also featured them in a couple of listicles for their prowess in pay-per-click advertising (PPC) and SEO.
Based in NYC, they're rated as one of the leading digital marketing agencies in the city and also have another office in Washington D.C. Closer to their second office, they've helped the University of Maryland with their paid media efforts and SEO. They implemented a custom strategy based on research and analytics. In fact, half of all enrolled students can be linked to their paid media efforts.
Some of the other names in the education industry that they can call their clients include the National Education Association (NEA) and The Beekman School.
Capabilities and services include:
Website design
Conversion rate optimization (CRO)
Paid media
Social media management
SEO
---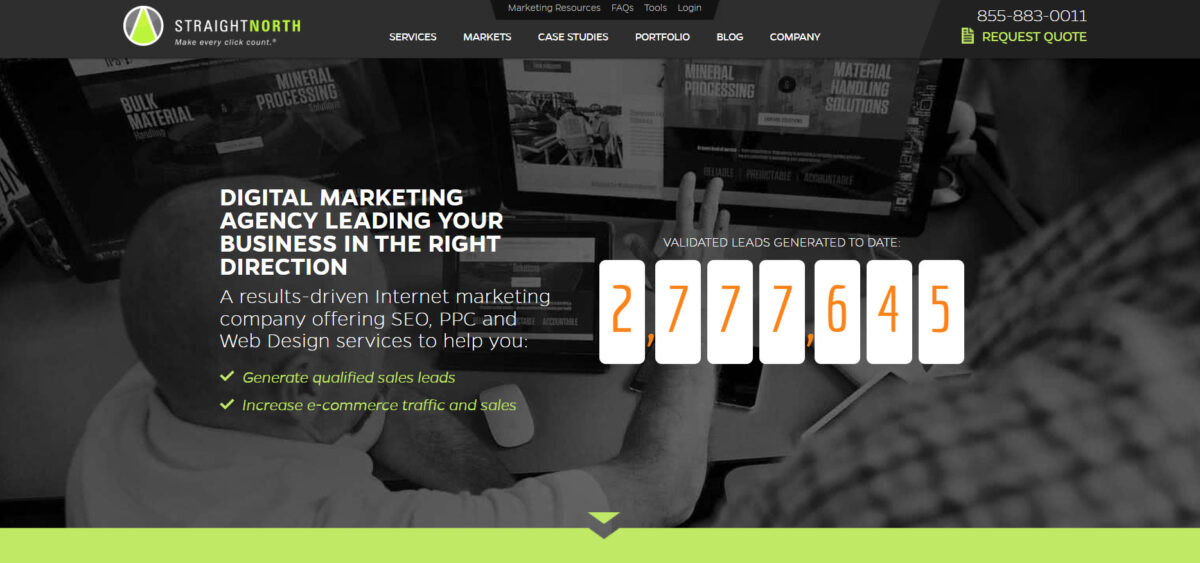 Along with PBJ Marketing, Straight North is rated as one of the top digital marketing agencies based in NYC and also has offices in a number of cities across the US. Whether you're an individual tutor, online school, or college, they've helped various types of educational providers get more students to enroll in their course.
With regards to their educational marketing services specifically, the two focus areas are SEO and website design. Their marketing strategies are carefully designed to showcase their programs, curriculum, and staff.
Capabilities and services include:
Responsive website design
Link building
Long-form content creation
---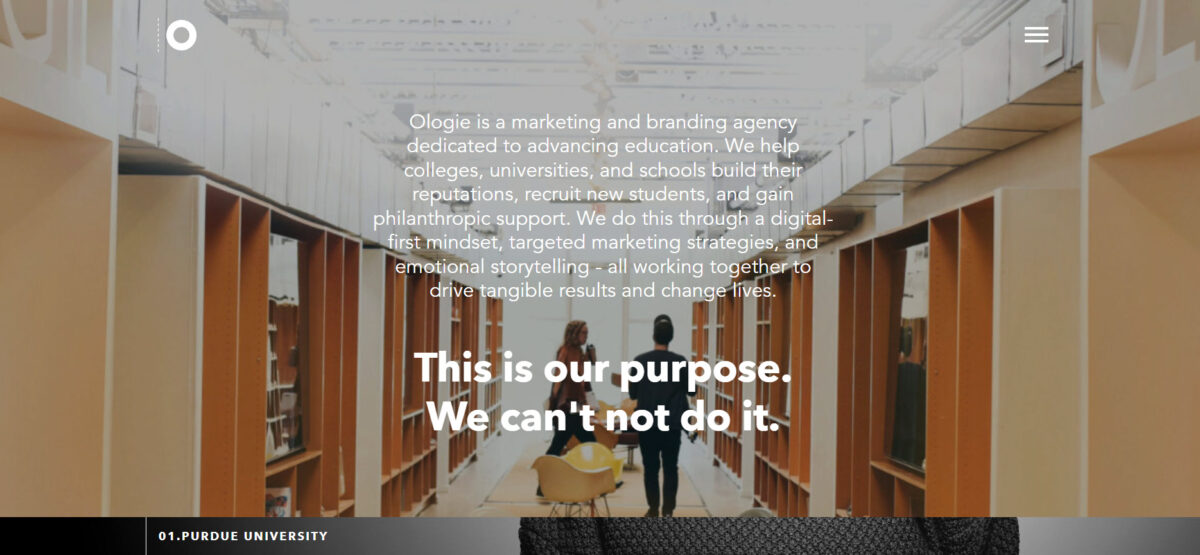 Ologie is a women-owned branding and marketing agency that focuses solely on the education sector. Based in Ohio, they work with various schools, including universities and colleges, to grow their rep and number of students while advancing education at the same time.
Their approach is to use targeted strategies and emotional storytelling. Their two core focus areas are branding and marketing. With regards to their marketing services, they can help with various aspects of your online presence including web design, social media, and content development.
Some of the educational institutions that they can call their clients include the University of Pennsylvania, Purdue University, and Grinnell College. For example, when Purdue wanted to grow its brand so that arts and humanities received the same attention as STEM, Ologie helped them to create a more unified visual identity. The result — social media followers nearly doubled.
Capabilities and services include:
Brand development
Enrollment marketing
Reputation building
---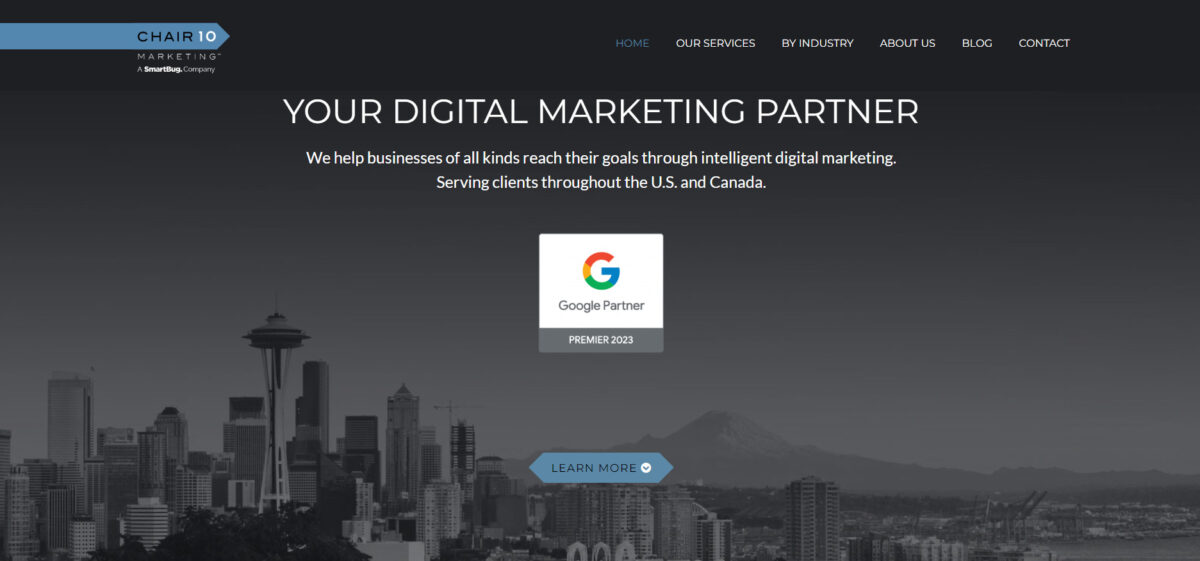 Higher education institutions located in the United States and Canada can turn to Chair 10 Marketing. As a Google Premier Partner, they're experts in all things related to online marketing.
They're based in Seattle and work with community colleges and public as well as private universities. Their main focus is to generate awareness and drive enrollment. They can also zoom in on specific programs offered to help work out a digital marketing budget and allocated spend between different programs.
As for clients, they've worked with names like the University of Washington. Using an omnichannel digital ad strategy, they helped them to advertise over 100 certificate and degree programs. Facebook and LinkedIn proved very effective in particular. The number of requests for info via Facebook more than doubled, while they decreased the average cost per lead for LinkedIn advertising by over 70%.
Capabilities and services include:
SEO
PPC
Online reputation management
Social media management
Facebook Ads
LinkedIn advertising
---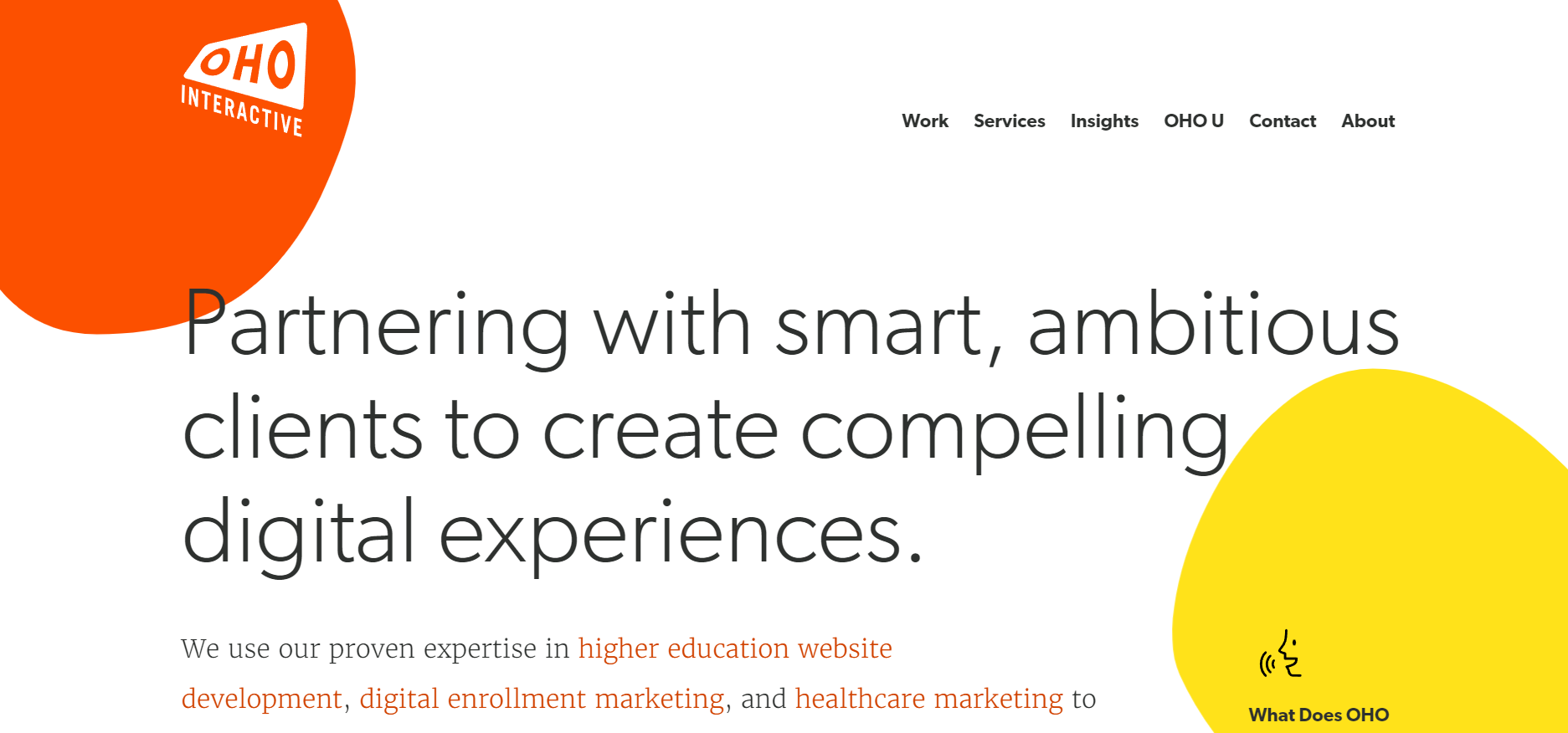 Founded in 1998, OHO Interactive is an award-winning digital marketing agency that offers web and digital marketing services to the higher education and healthcare industries. Their team of strategists, technologists, and creatives partners with marketing teams to grow brands and reach business goals.
Every campaign kicks off with discovery and research. Using workshops, audits, and interviews, they create a strategic roadmap. Next, they turn their attention to using design to craft a unified experience. Once they have a mix of creative assets, they coordinate all the different components, test, and launch.
They've used this four-step process to help the likes of Yale University, Harvard University, and Columbia Law School. For example, when Columbia Law School needed to redesign their website so that it communicated its experience better, OHO completed in-depth user research and implemented a content strategy to place users first and elevate the experience of website visitors.
Capabilities and services include:
Website redesign
Content strategy
CMS services
User research
Enrollment marketing strategies
---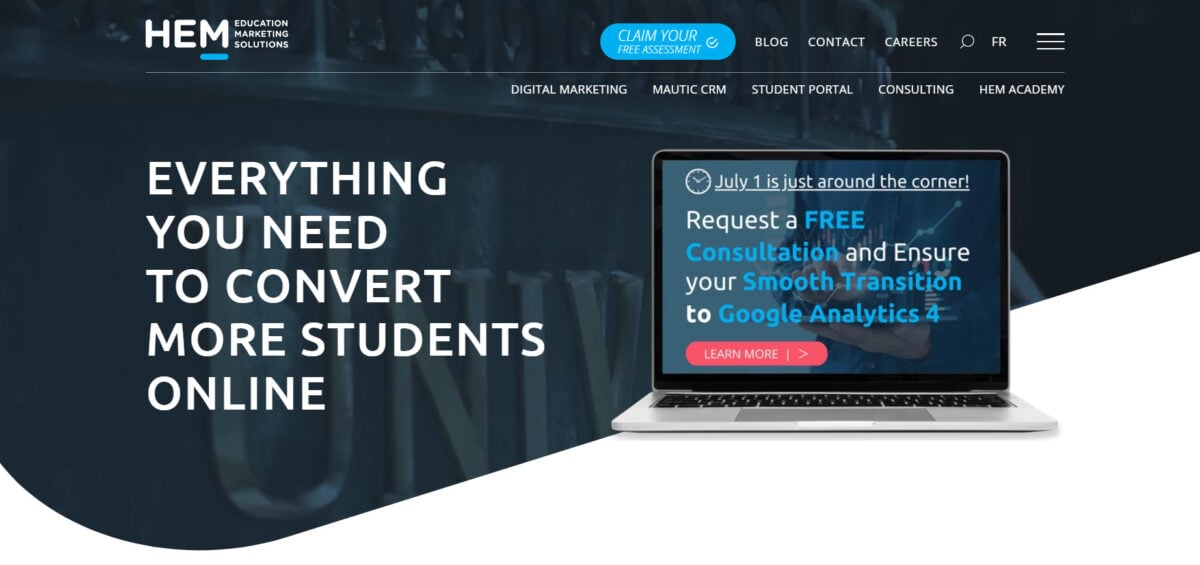 Launched in 2008 by a former college administrator in Montreal, Canada, HEM offers smart digital marketing strategies to help improve student recruitment. From summer camps to language schools to career colleges to business schools, they serve various types of educational institutions.
They use a five-step process that includes optimization. This process has proven to work for them and has helped institutions like McGill University to run new ad campaigns
Not only are they rated as one of the top education marketing agencies, but they're also regarded as a global thought leader. So, if you want to brush up on your own education marketing skills, you can check out their weekly blog, monthly webinars, or yearly conferences.
Alternatively, you can reach out to them for consulting. They can also audit your current website's user experience and digital marketing and lead conversion efforts.
Capabilities and services include:
Inbound marketing
Social media marketing
SEO
Content strategy and development
Email marketing
Paid marketing
Website design and development
---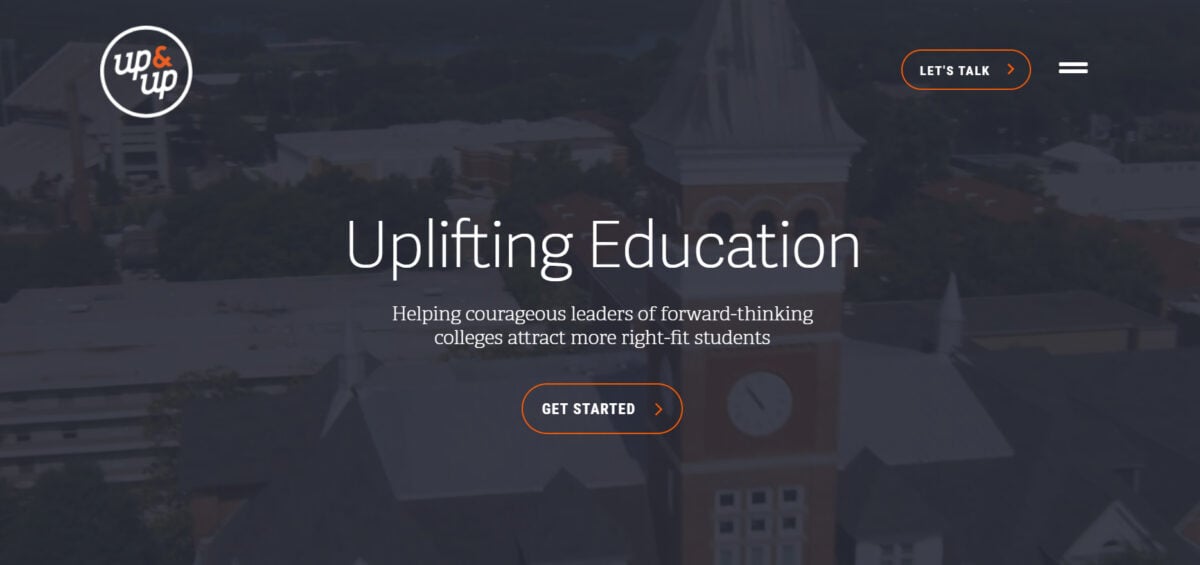 Founded more than two decades ago, Up&Up's mission is to "uplift brands that uplift others". To help colleges and universities increase enrollment, they focus on branding. They've helped names like Athens State University to create a more cohesive brand identity by crafting compelling messages.
In addition to helping institutions in this challenging niche develop a sound brand strategy, they can also help build key assets like websites. Their team will design a website that's intuitive, relevant, and communicates your brand clearly. To do this, they'll include components like user-friendly navigation and search.
Capabilities and services include:
Content strategy
Brand strategy
Website design
---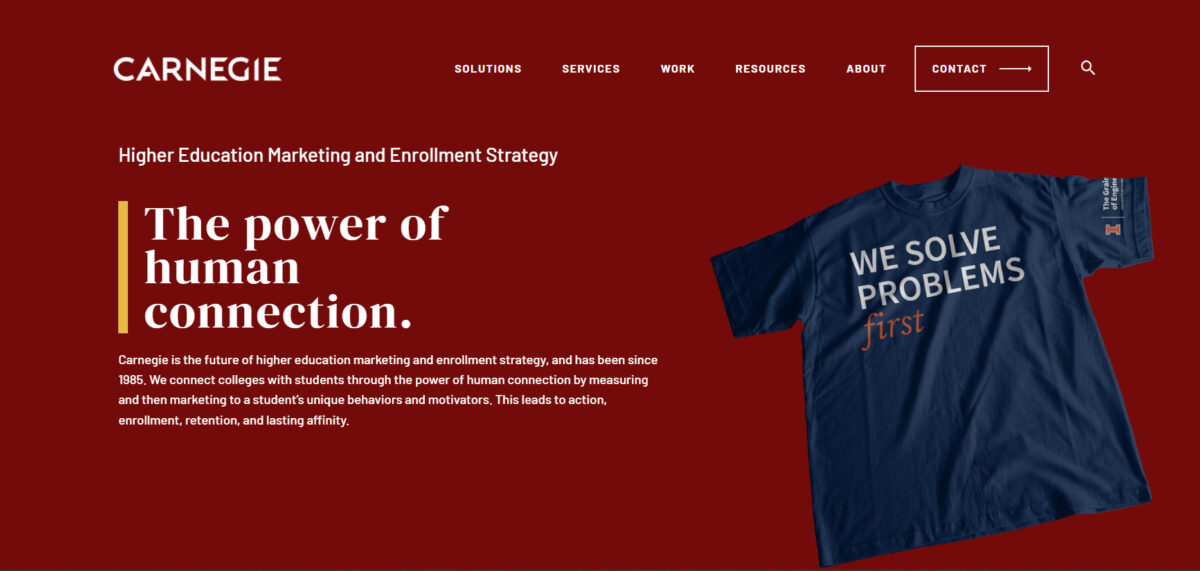 Carnegie is one of the undisputed leaders and innovators in education marketing. Their story dates back all the way to 1985 and for the three decades that they've been in business, they've used human connection to link colleges with their target audience.
To do this, they aim their marketing at the unique behavior and motivations of a student. You can think of them as an extension of your marketing team. They can help with various types of digital marketing including PPC, SEO, and social media marketing as well as more industry-specific solutions like enrollment pipeline and management.
They also recently acquired mStoner, a leader in web solutions for the field of higher education. User research forms the basis of their approach to ensure user-centric content gets displayed using design that's flexible and beautiful.
For example, when the University of La Verne's College of Law needed to boost their search engine visibility, they conducted a technical site audit to reveal page errors, broken links, etc. In fact, they identified more than 25,000 technical issues that they fixed. While they helped with web copywriting and content optimization, they extended their scope to beyond merely their website and also optimized its Google Business Profile.
Capabilities and services include:
Lead generation
Website development
Enrollment strategy
Financial aid optimization
UX design
Content strategy
---

Along with several of the other marketing agencies on this list, WebFX has been featured often in our listicles. They're one of the leading names in web development, email marketing, SEO, and search engine marketing.
Not only do they offer a wide range of digital marketing services, but they also serve a long list of industries, including education. They're a professional, full-service, education marketing agency that can take care of all the digital marketing, meaning that you can keep everything centralized. Plus, they have more than 25 years of experience to back that up.
Capabilities and services include:
SEO
PPC
Social media marketing
Web design and development
Content marketing
Email marketing
---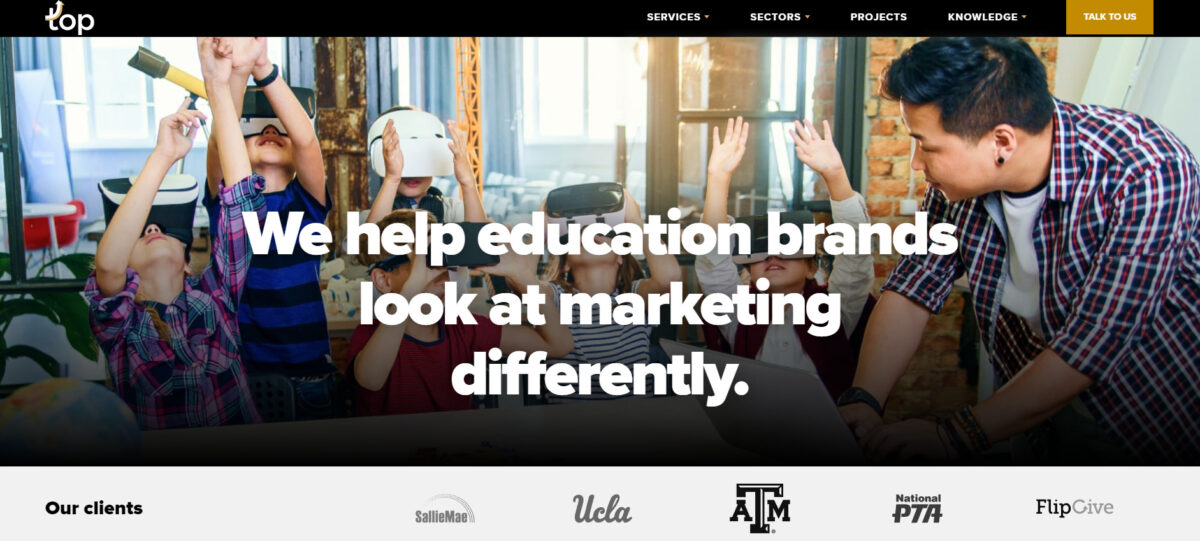 TOP Education Marketing Agency is extremely flexible in their approach. Not only can they manage all channels, but they can also build their campaigns around various goals. For example, if you have a learning app, they can drive downloads. If you need to implement administrative change, their team can make the changes more seamless. Or, if you simply want to generate an uplift in enrollment, they can do that too.
To do this, they use a four-step formula. They believe in using the right stories early. Not only do they focus on how you can connect better with your audiences, but also on how you can differentiate your brand from competitors. If they identify a better opportunity or you're ready to scale, they'll be ready to change gears as all their marketing campaigns are designed with flexibility in mind.
One of the advantages of partnering with TOP is that they also offer reputation management and crisis communications. In the light of an increased focus on inclusivity, partnering with a marketing agency that includes these types of communication services from the start can be a smart move. After all, the last thing you want is for all your marketing efforts to be erased by one controversial event.
Capabilities and services include:
Branding
Logo design
Graphic design
Copywriting
PR
---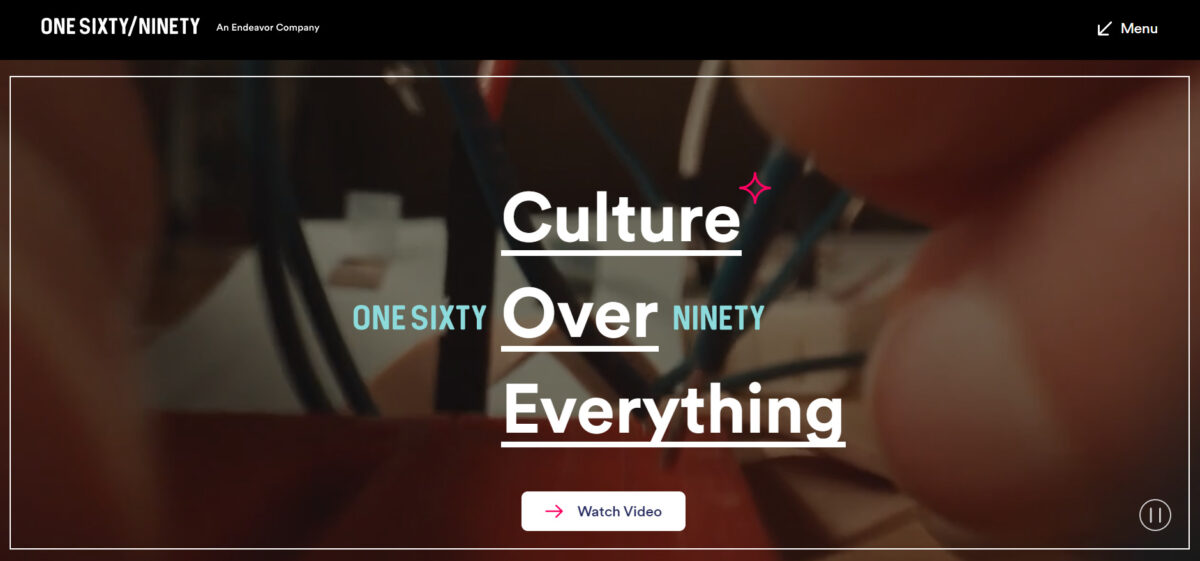 More than a decade ago, 160over90 started partnering with universities and colleges, helping them to transform their brands. To do this, they dig deep into the audience demographics of their clients that include names like the University of Wisconsin, the University of California (UCLA), and Texas A&M University.
For example, when UCLA needed to make its impact clear to the world, they turned to 160over90 to create a unified brand platform to improve its standing as a global leader in research as well as teaching. To do this, they turned to UCLA alumni that include names like James Dean, James Franco, and Jackie Robinson. The results — more than $5 billion were raised and applications increased by over 35%.
Their wealth of expertise and experience has also motivated them to publish two books about higher education marketing. If you prefer to read something shorter, you can check out their hundreds of online reviews that they've received on FeaturedCustomers for more proof of their skills.
Capabilities and services include:
Branding
Experiential marketing
Influencer marketing
Digital marketing
PR
Video production
---
---
What Exactly Can an Education Marketing Agency Do for Your Business?
An education marketing agency offers a wide range of services to institutions like schools, colleges, and universities. While these types of "businesses" might not have a product to sell, their "sales" are measured in the number of students that enroll for their courses, degrees, etc. As such, lead generation often falls within the scope of their offering.
In addition to lead generation, services that they typically offer include: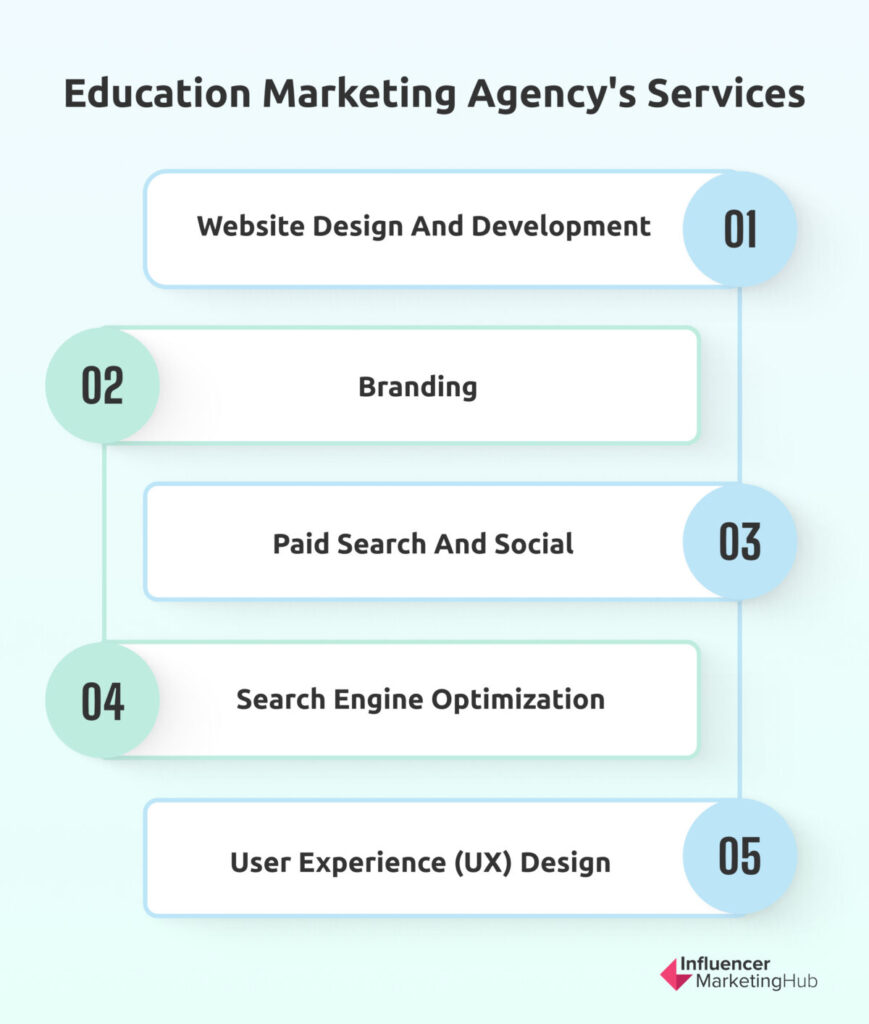 Some also offer public relations, reputation management, community building, and crisis communication. Considering how important maintaining a pristine image in this industry is, it makes sense to team up with an agency that covers these services too.
---
What Criteria Should You Use When Selecting an Education Marketing Agency?
Experience
It doesn't matter which type of job you need completed, experience always matters. Just like you're not going to hire a plumber to install a chandelier, you won't hire a digital marketing agency that has never worked with an educational establishment before.
One word of warning, though, be cautious of agencies that claim to work with all industries. It might not be an issue if you're operating in a non-specialized niche, but, as mentioned, this industry comes with unique challenges that only previous experience can tackle.
Tech expertise
In other industries, creative design can take center stage. You can create a few social media posts and the job is basically done.
However, colleges and universities rely a lot on data and communication. To help streamline your future campaigns, it's key that the agency knows how to integrate different systems and data effectively.
Innovation
While creativity might not be that high up on the priority list, you'll want to double-check that the agency doesn't simply use the same copy-and-paste recipe. As many of these agencies work only with education brands, you don't want your branding and messaging to look and sound virtually identical to the other players you're trying to set yourself apart from.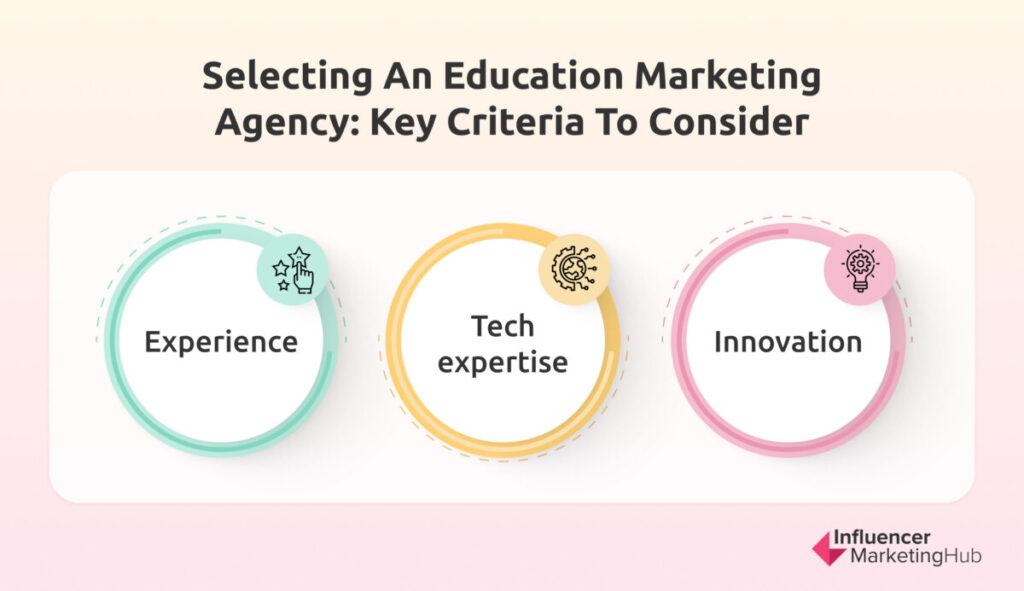 ---
Wrapping Things Up
The education industry is quite unique from most other industries when it comes to marketing. As these institutions' core focus is on training their students to become professionals in their chosen fields, it's critical that they're viewed as thought leaders and industry experts themselves.
Another challenge is that it's more difficult to get their target audience — young people — excited about the service that they're selling. Sure, prospective students are looking forward to the next chapter of their lives, but a big part of that involves textbooks, early classes, studying, and exams. It's not as if they're selling a product that can offer immediate gratification, making the task significantly harder.
As such, it's key that you partner with an agency that has done it before. Any of these 12 education marketing agencies have a proven track record and can help you like they've done for some of the leading educational institutions.
Frequently Asked Questions
What's education marketing?
Education marketing refers to strategies and campaigns designed to help institutions, such as schools, colleges, universities, and even online tutors, to enroll more students for their courses. Some of the most commonly used strategies include:
Lead generation
Website design and development
Branding
Paid media
SEO
UX design
What are some trends and strategies you can use in education marketing?
Create short-form videos for TikTok and long-form videos for YouTube
Partner with influencers and student ambassadors
Feature stories from alumni on your social media sites
Leverage chatbots and instant messaging to boost engagement with prospects
Which top digital marketing agencies serve the education industry?
There are a number of reputable digital marketing agencies that work with higher ed institutions, colleges, etc. You can, for example, contact:
Disruptive Advertising
PBJ Marketing
Straight North
Ologie
Chair 10 Marketing
OHO Interactive
Up&Up
HEM
Carnegie
WebFX
Who are some of the top education influencers in the United States?
According to a free Influencer Audience search tool powered by HypeAuditor, the following are five of the most authentic influencers in the US that post about education:
Ariannita la Gringa
Ysabelle Captiulé
Paul Stamets
Cécilia Jourdan
Gerry Brooks
What are popular tips for education marketing?
Make sure you have a modern, user-friendly website
Encourage students to leave feedback on online reviews sites and take the time to respond to negative reviews online
Include student testimonials on your institution's website
Create dedicated landing pages for different courses
Get a CRM and an email automation tool to automate as much of your communication with prospective students as possible