The cryptocurrency industry is growing at lightspeed, as is the need for blockchain and crypto marketing and PR agencies. If you're looking to grow your own crypto company, you'll want to start searching for a reputable marketing and PR firm. By finding marketing experts that have experience in blockchain, you'll feel more comfortable putting your business in their hands.
In this article, we'll breakdown what PR looks like in the blockchain industry and walk you through a list of our top 13 blockchain PR agency recommendations.
---
Top 13 Blockchain PR Agencies:
---
What is Blockchain PR?
Public relations (PR) is a communications strategy for a brand that helps to elevate their reputation and place them and their leadership team as thought leaders or experts within their industry.
Blockchain PR takes this same strategy and does it specifically in the blockchain industry. It's a good idea for marketing and PR agencies to niche down, and we're finding many opening up shop in the financial services—or more specifically cryptocurrency—industry.
Because blockchain technology and cryptocurrency are still relatively new and many consumers don't fully understand the concept, public relations has a big job to do.
This is why hiring a crypto marketing agency that specializes in blockchain PR services is a great idea. Because they fully understand the state of your industry and have established relationships with crypto journalists, they're able to help create and implement a comprehensive marketing strategy that will work for your brand.
---
What Does a Blockchain PR Agency Do?
Blockchain PR agencies provide public relations and digital marketing help to decentralized finance, cryptocurrency, NFT, and other blockchain-related brands.
These services might differ slightly in nature, but the services that a blockchain PR agency would typically offer include: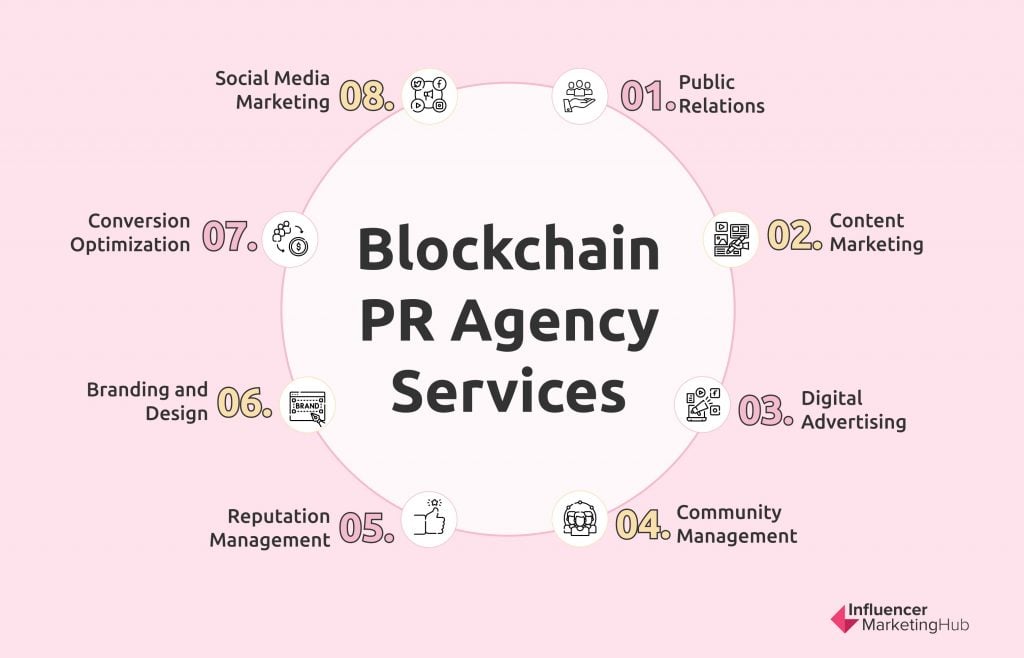 Public Relations:

Public relations experts will help your brand get more media coverage and increase overall buzz and awareness around your company.
Content Marketing:

This includes content creation and promotion services, including blog content, video content, landing page content, and more.
Digital Advertising:

Get your paid ads and other promotions in front of customers using various social media channels and search engines.
Community Management:

Reach your customers through dedicated online communities, like via Discord, Telegram, or another social media platform.
Reputation Management:

Have a professional team manage your review sites, increase positive reviews and ratings, and respond to negative news and reviews.
Branding and Design:

For brand new crypto companies, some marketing agencies will offer logo design and branding services.
Conversion Optimization:

This is all about working to increase the number of demo requests, signups, or customers you get through your website and blog.
Social Media Marketing:

Build a strong community and online presence with your social media content and promotions.
Some blockchain PR agencies offer more than the above list of services while others specialize in just a couple of services. Find the right agency for you by taking a look at what they offer and how past clients liked their work.
---
Top Blockchain PR Agencies for 2022
Looking for the right blockchain PR agency for your brand? We've pulled the top 13 in the industry and listed out each of their services and notable clients to help you find the best fit for you.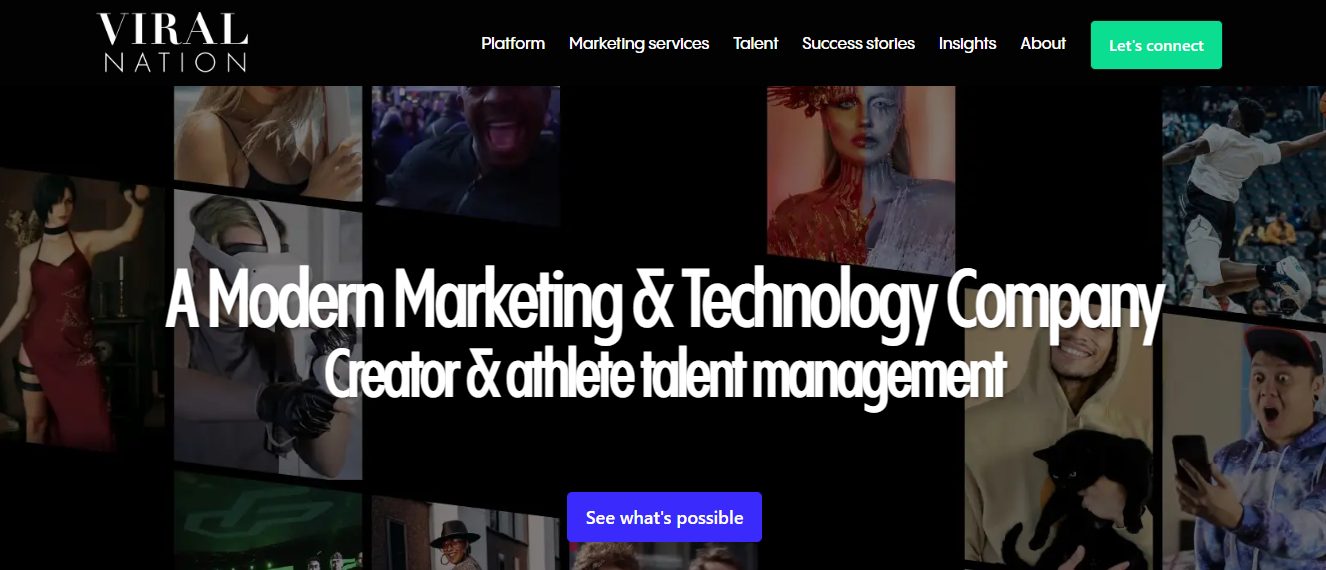 Viral Nation is a social and digital-first marketing agency. Using innovation, real-time data, and performance, they drive growth and connection, helping blockchain companies to create better bonds with their audiences. They offer everything you need to be successful in the blockchain industry.
Services Offered:
Artist sourcing and onboarding

Minting

Influencer marketing

NFT strategy and roadmapping

Content creation

Performance marketing
Notable Clients:
Energizer

Bud Light

PUBG MOBILE

Meta Quest

Viral Nation is a global digital and social agency group driving growth and connection through performance and innovation. ...
---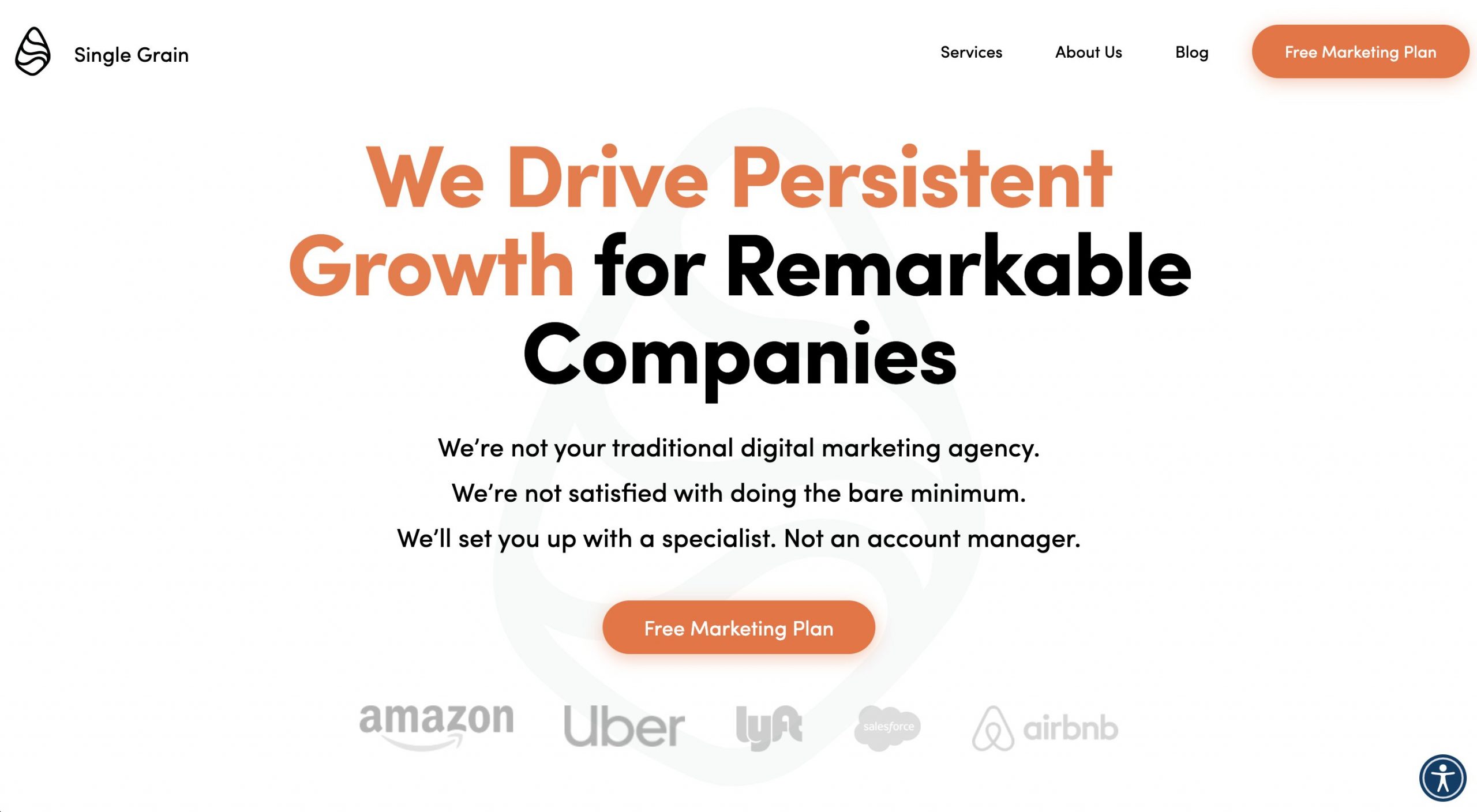 Single Grain is a digital marketing and PR agency for more than just crypto and blockchain, and they've worked with a number of big name brands. However, given the growth that the blockchain industry is seeing, they've been branching out with their services to help crypto brands as well.
Services Offered:
Blockchain & ICO Marketing

Cryptocurrency Marketing

NFT Marketing

TikTok Ads

SEO & SEM

Content Marketing

Conversion Optimization

Spotify/Hulu/Amazon Ads

Web3 Marketing

DAO Marketing
Notable Clients:
Amazon

Uber

Salesforce

Airbnb
---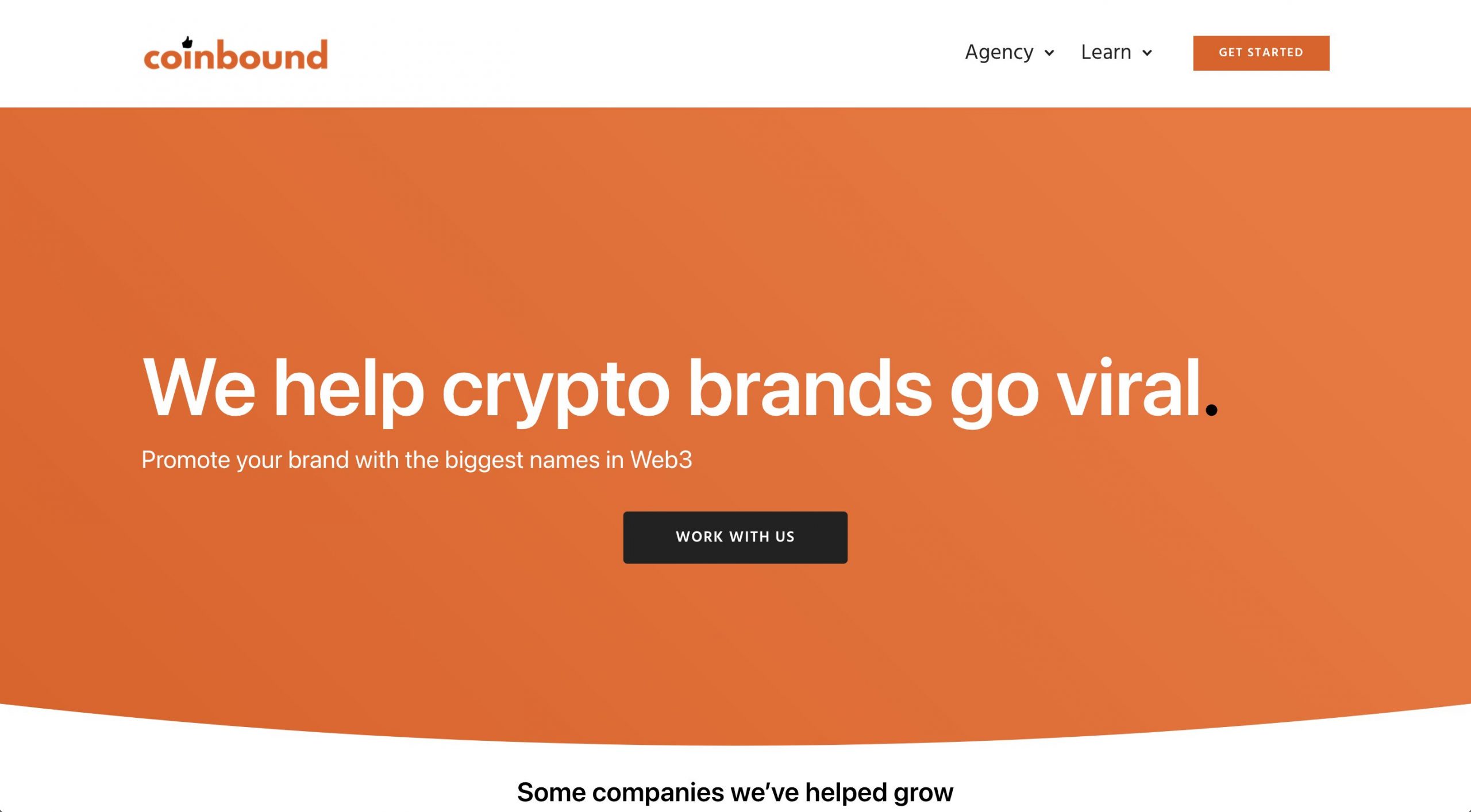 Coinbound is a marketing and PR agency specifically for crypto brands. In their words, they help crypto brands "go viral." Not only do they have a number of notable clients and testimonials to back up their expertise, they also have a popular crypto podcast called Crypto Marketing with Ty Smith.
Services Offered:
Crypto Influencer Marketing

Public Relations

Discord Community Building

Search Engine Optimization

Content Marketing

NFT Marketing

Web3 Marketing

PPC
Notable Clients:
Cosmos

CoinStats

Stake

Voyager
---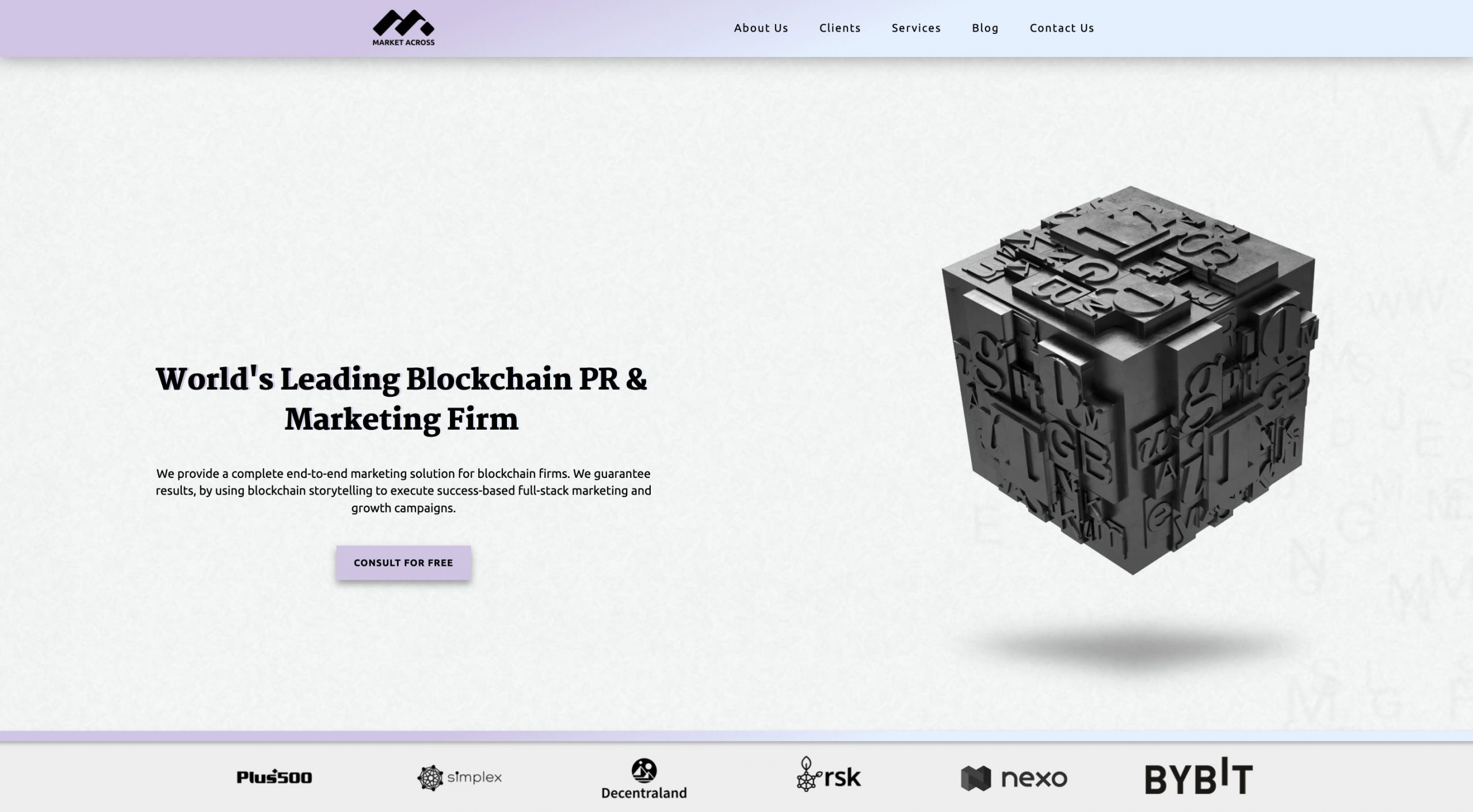 MarketAcross is a great blockchain PR agency to work with for every aspect of your crypto brand's growth and promotion. From public relations to thought leadership content and reputation management, they ensure your brand has the best online presence it can possibly have.
Services Offered:
Search Engine Optimization

Blockchain Public Relations

Blockchain Content Marketing

Reputation Management

Thought Leadership

Content Distribution

Messaging Strategy
Notable Clients:
Binance

Cardano

Skrill

Crypto.com
---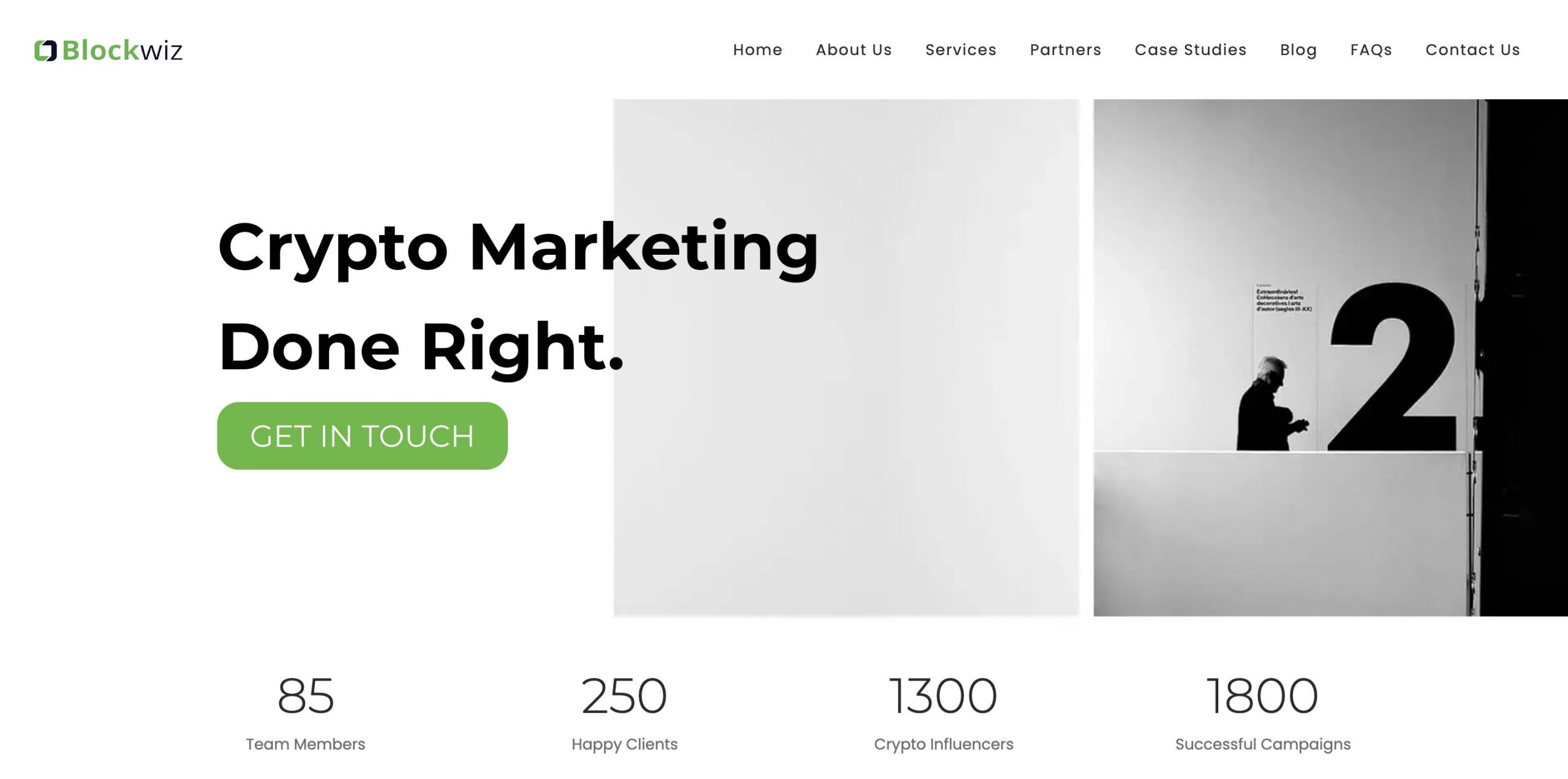 Blockwiz creates completely customized marketing and PR packages for the crypto and blockchain brands that they work with. From influencer marketing to community management, Blockwiz helps with all aspects of your online presence. They can even help you create educational crypto explainer videos to help your audience grasp your complex industry.
Services Offered:
Crypto Influencer Marketing

Discord and Telegram Community Growth

Social Media Marketing

Content Writing

PR & Sponsored Articles

Search Engine Optimization

PPC Marketing

Crypto Video Creation & Marketing
Notable Clients:
Glimpse

Attrace

Coinsquare

Gather
---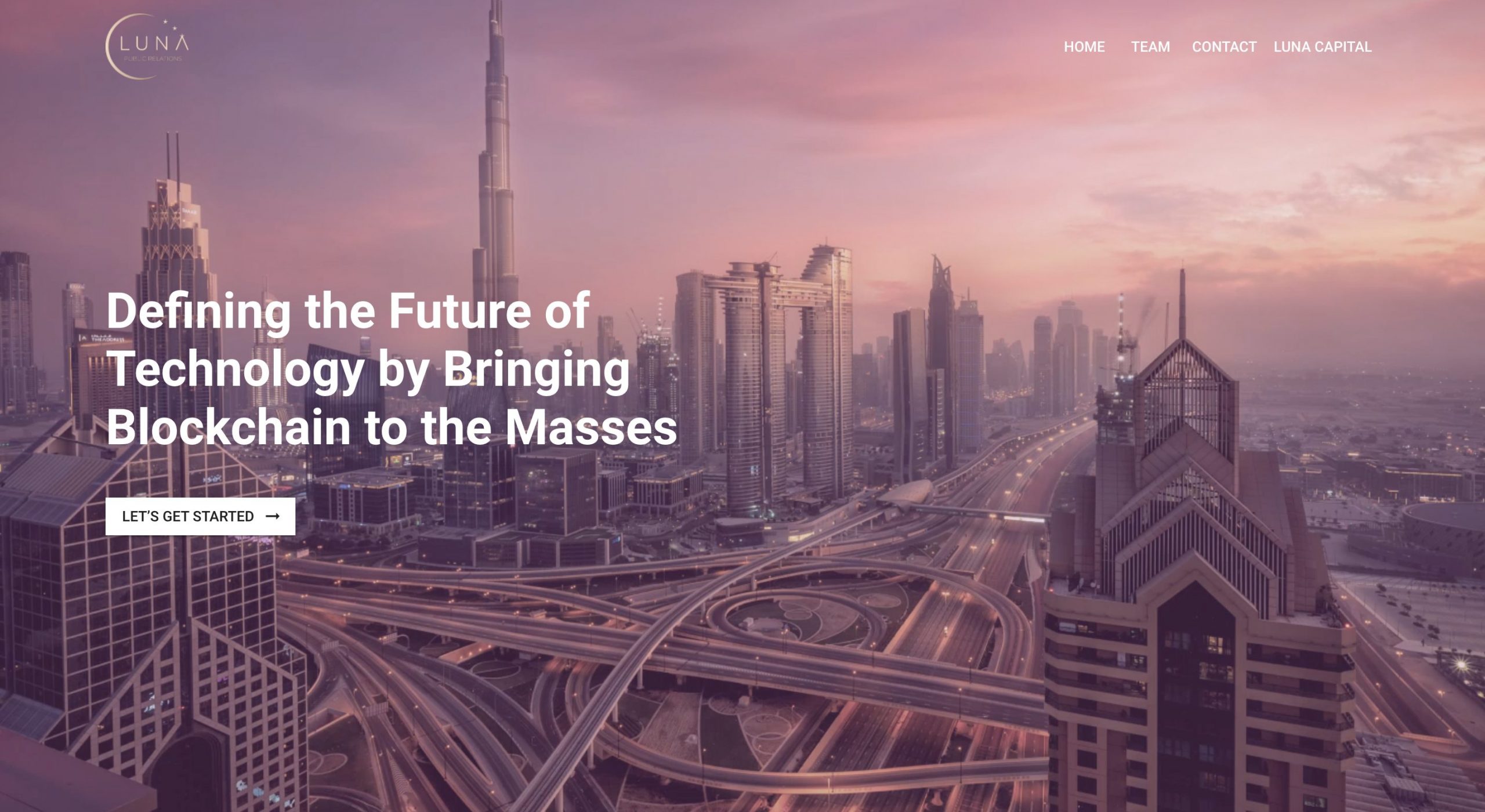 Luna PR is as futuristic as PR agencies come. Their goal is to move into the future of technology with marketing, and they help any type of brand in the blockchain, like crypto, web 3.0, NFT, GameFi, DeFi, Metaverse, and more.
Services Offered:
Public Relations

Influencer Marketing

Social Media Management

Strategy Implementation

Logo Design and Branding

Investor Relations

Event Management

Advisory Services
Notable Clients:
Clover

Bonded.Finance

Eurst

FirstGrowthFunds
---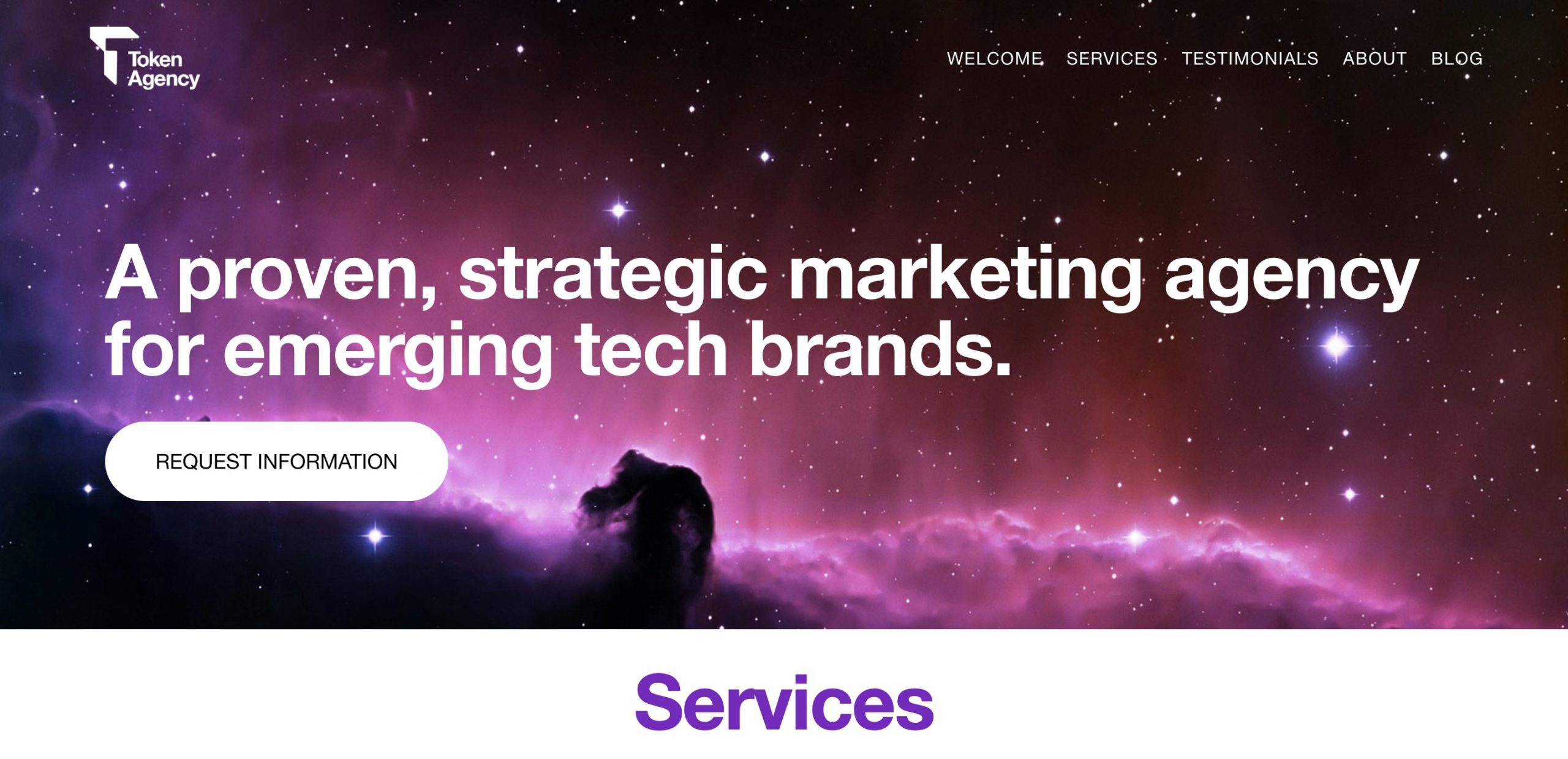 Token Agency focuses their services on emerging tech brands, like blockchain and crypto companies. They offer a number of unique services, including coaching brands to win investors and IEO (initial exchange offering) placements for brand new cryptocurrencies. These are incredibly useful services to find in the crypto space.
Services Offered:
Programmatic Advertising

Investor Pitch Coaching

Strategic Consulting

Public Relations

Branding & Design

Video & Blog Content

IEO Placement

Influencer Marketing
Notable Clients:
Elementus

Gojoy

Fysical

FINDMINE
---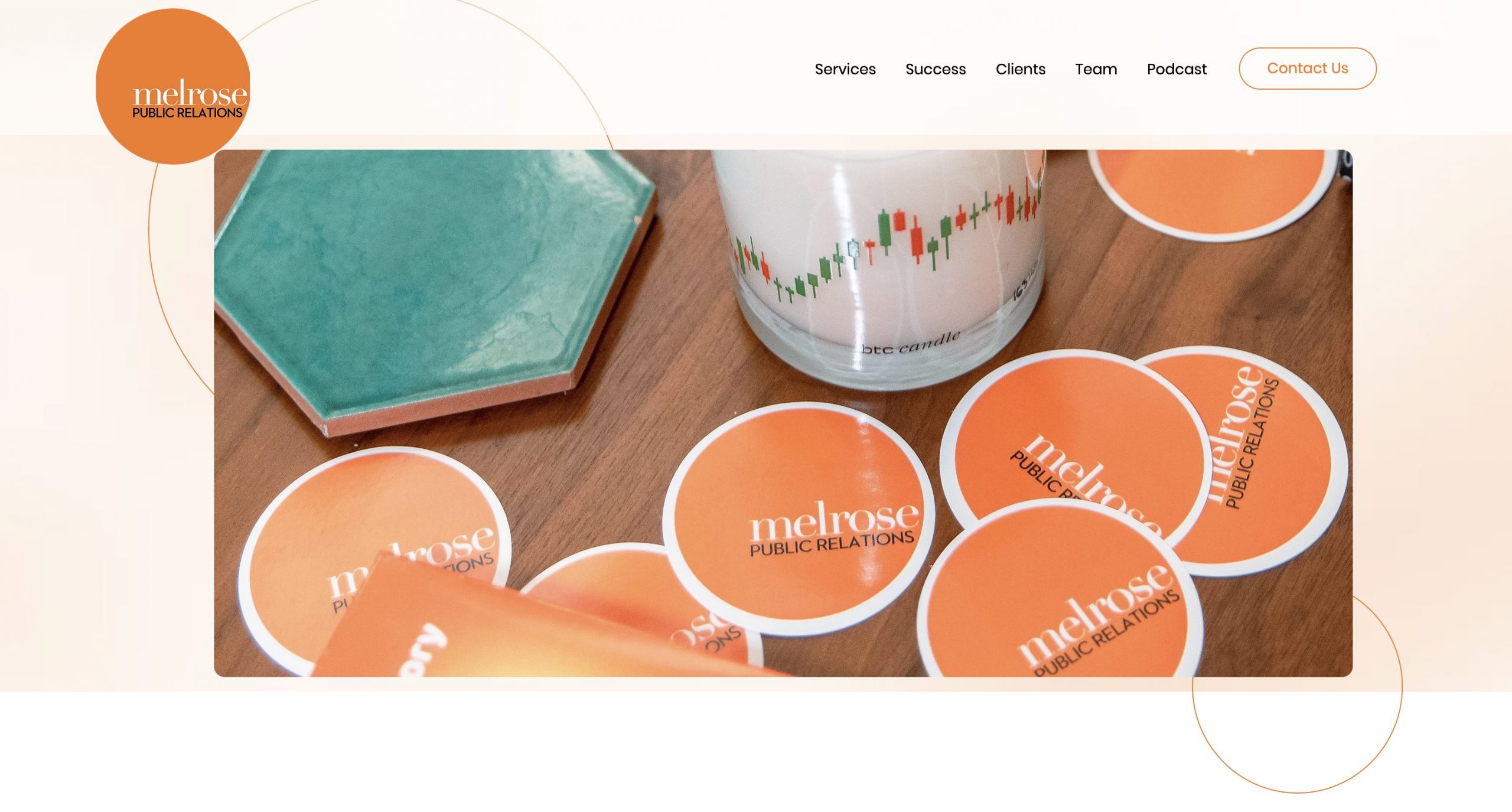 Melrose PR is a blockchain and crypto PR agency located in Silicon Valley, California, making them perfectly poised to assist with futuristic tech companies. Their focus is on press relations and thought leadership, helping their clients to prepare for and land interviews that will position them as experts in the blockchain community.
Services Offered:
Strategy

Press Relations

Thought Leadership

Content Marketing
Notable Clients:
Fold

Cypher

Terra

Coinmama
---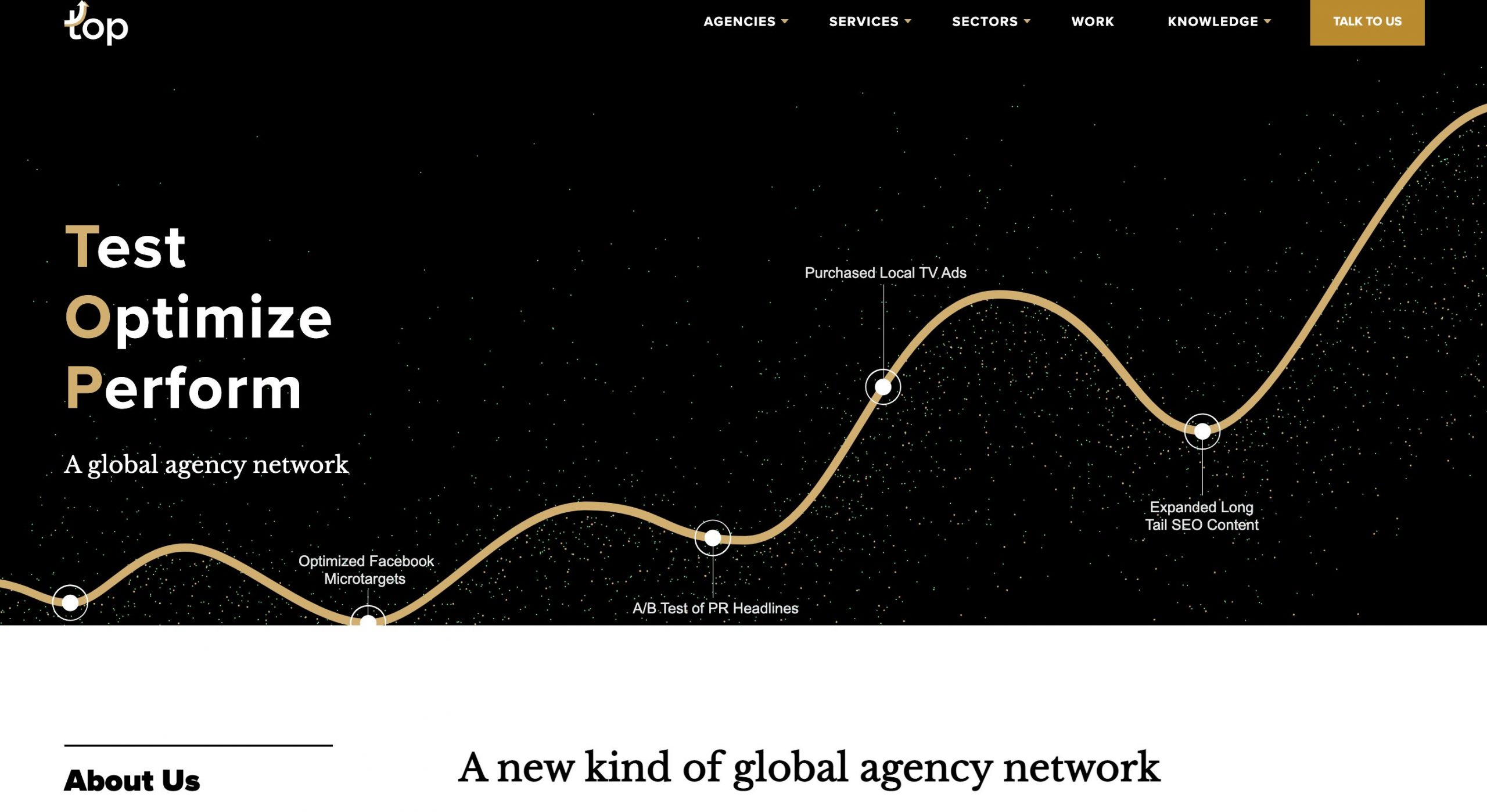 TOP is a conglomerate of 12 different agencies, all focusing on different industries. Their TOP Tech branch works with blockchain companies along with cybersecurity, IoT, SaaS, and more. As a global marketing and PR agency, they work with a number of crypto and non-crypto companies to elevate their brands and their reach.
Services Offered:
Direct Marketing

Experiential Marketing

Mobile Marketing

Native Advertising

Shopper Marketing

Sponsorship Marketing

TV Advertising

YouTube Advertising
Notable Clients:
Microsoft

Intel

Vacasa

Prezi
---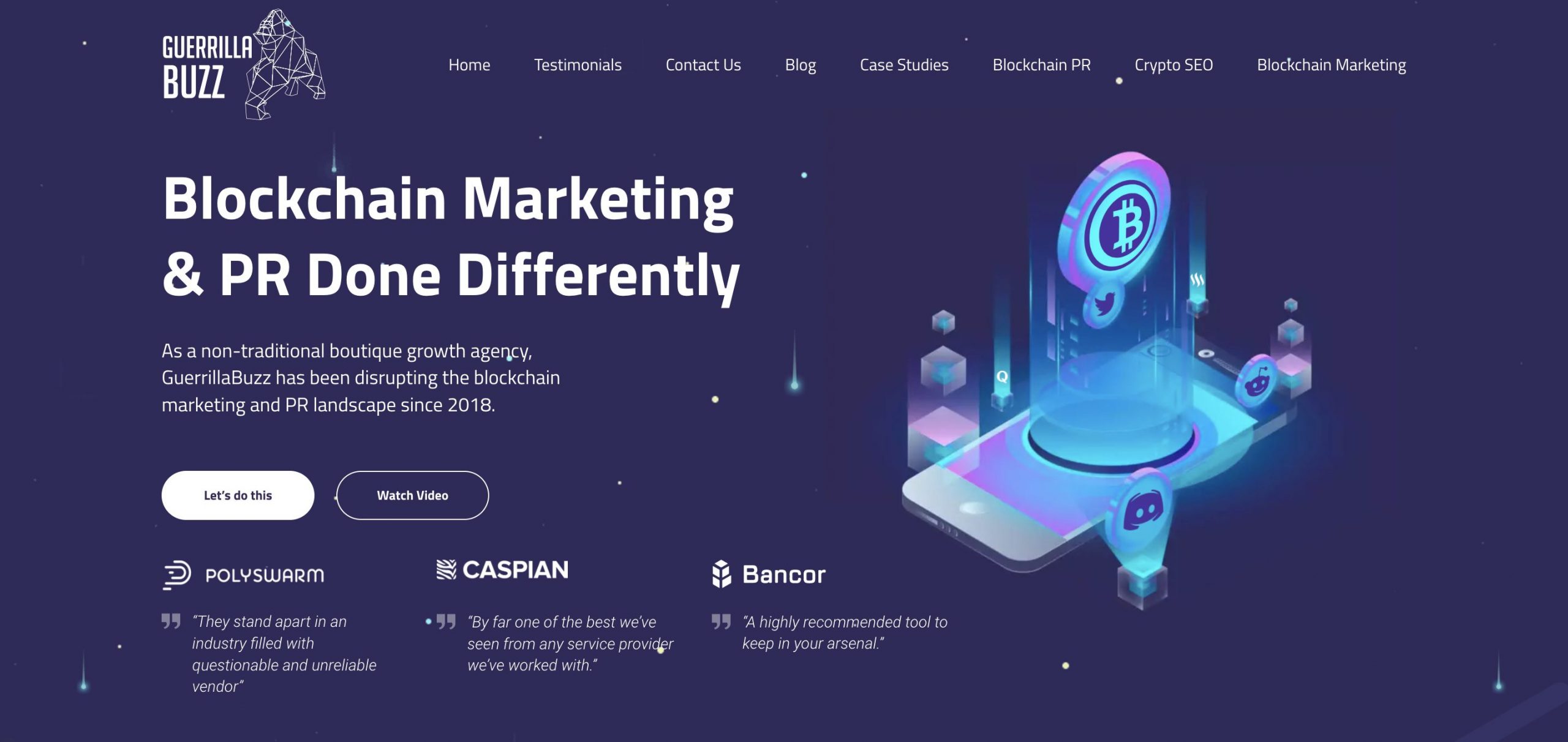 GuerillaBuzz has been operating as a blockchain marketing agency since 2018, so they've been around in the crypto industry for a few years. They offer crypto marketing services to any brand using blockchain technology. They do IDO PR, DeFi PR, IEO PR, and more, ensuring any brand in the blockchain market can easily head their way for marketing and PR.
Services Offered:
Public Relations

Content Marketing

Search Engine Optimization

Community Management

Branding
Notable Clients:
Polyswarm

Caspian

CryptoHopper

Bit.com
---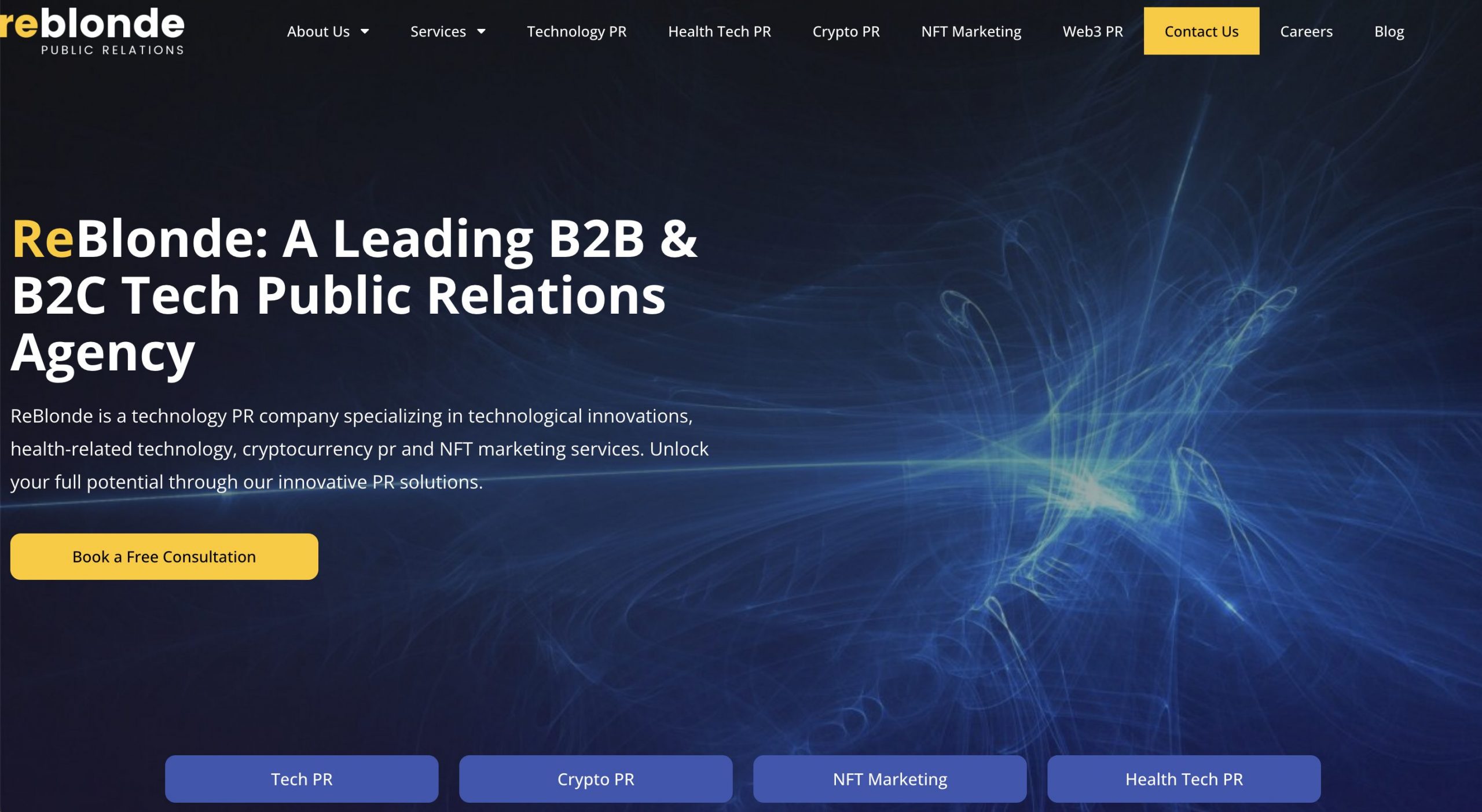 ReBlonde is a B2B tech PR agency that focuses on new-age tech clients. While they're not dedicated blockchain PR experts, they still cater their services to tech companies, making them a great option. They offer a free consultation to learn more about what they do and what it would look like to work together.
Services Offered:
Public Relations

NFT Marketing

Health Tech Marketing

Cryptocurrency Marketing

Thought Leadership

Media Relations

Crowdfunding Campaigns
Notable Clients:
Couchbase

BlueVine

Fragma

Status
---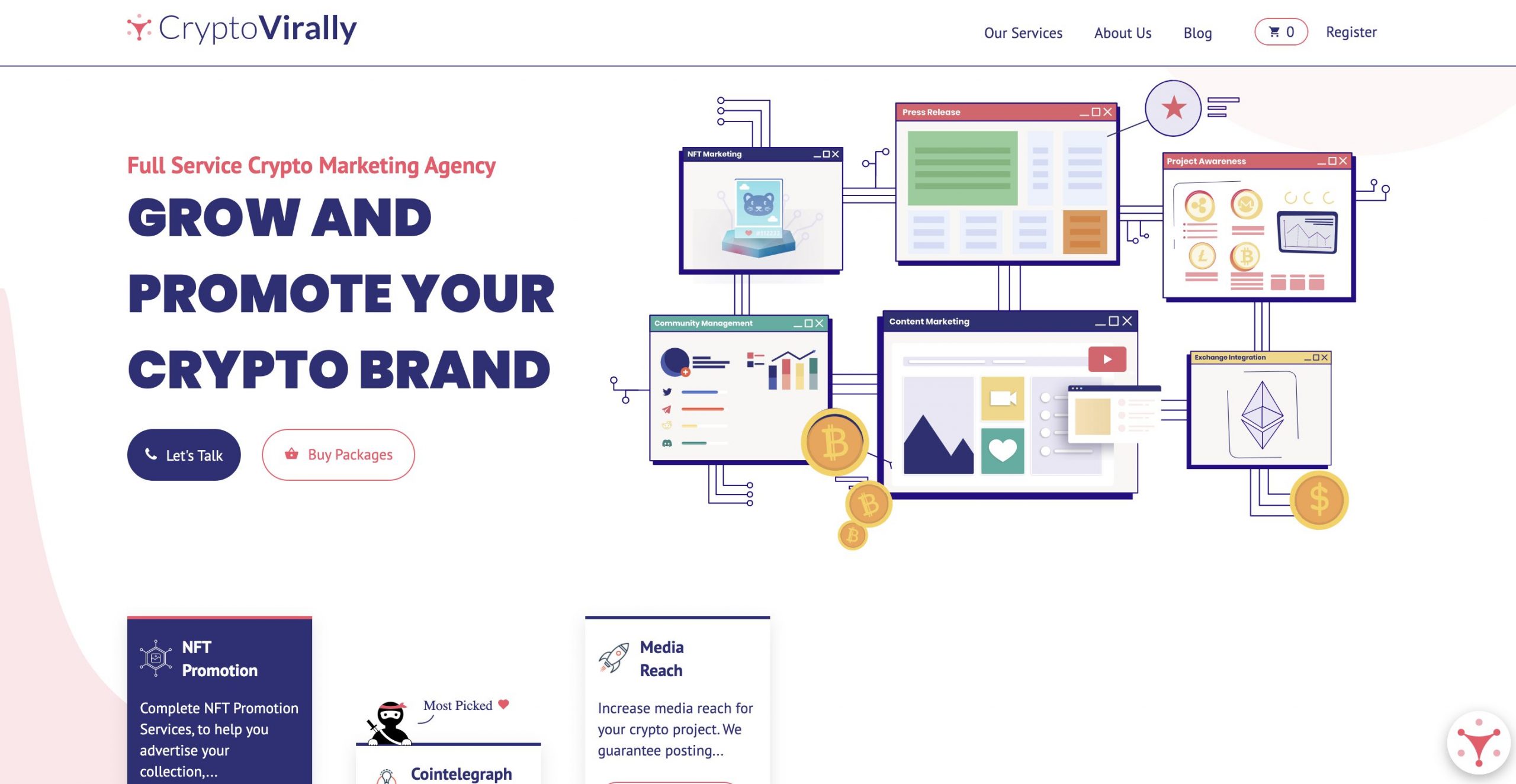 CryptoVirally is a full-service cryptocurrency marketing agency that focuses specifically on marketing and PR services for blockchain brands. They're upfront and transparent with their pricing, making it easy for brands to see if CryptoVirally is within their budget or not. Packages range from $299 to $8999, so there's a wide range of service offerings to choose from.
Services:
NFT Promotion

Media Reach

Press Releases

Project Awareness

Article Placement

Social Media Marketing

Influencer Marketing

Community Management

Viral Marketing Services

Content Marketing

Full Brand Development

Graphic Design

Web Design

Video Creation
Notable Clients:
---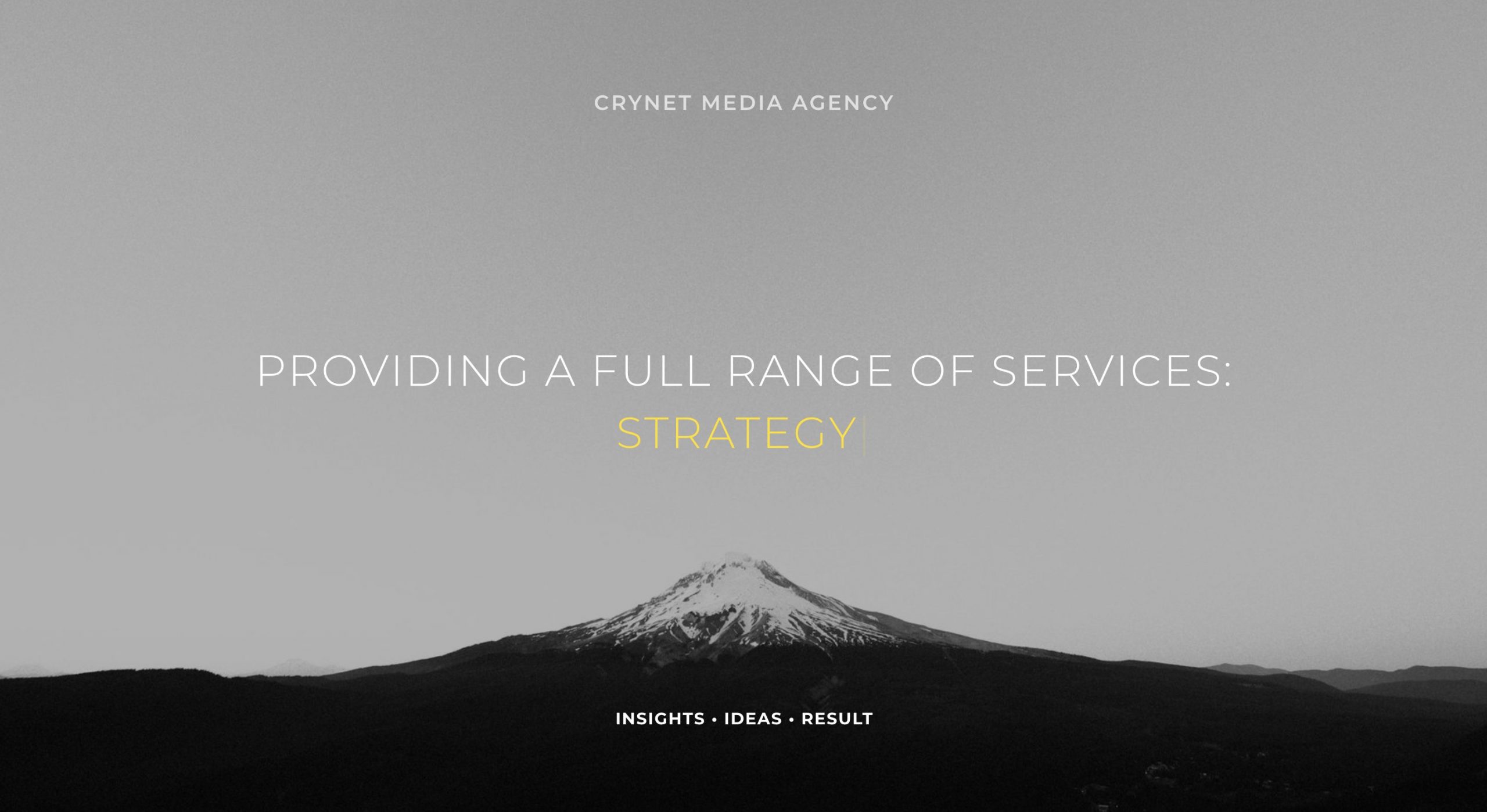 Crynet is the last of the public relations agencies on our list. They help with blockchain PR strategy and work with a number of decentralized finance brands. They offer a wide range of services for crypto platforms and startups. They also help create mobile and web apps for their clients.
Services Offered:
Strategy

Media Buying

App Development

Investor Relations

Public Relations
Notable Clients:
They don't share any notable clients on their website.
---
---
Find the Best Blockchain PR Agency for Your Brand
Help your crypto brand take off by working with one of these top 13 blockchain PR agencies. Or start working with blockchain influencers to help increase brand awareness. Check out our top 15 crypto influencers to find content creators who can elevate your brand.
Frequently Asked Questions
How do you do PR for crypto?
Public relations is all about reputation management, and with cryptocurrency still being so new, it absolutely needs to have a good reputation. This is where public relations (PR) comes in.
Crypto PR agencies help to spread the work about blockchain projects and brands and help their founders find speaking gigs and press coverage to increase brand awareness and confidence in your customers.
How big is the blockchain market?
The blockchain technology market is estimated to be around $11.54 billion in 2022. This estimate increases to $162.84 billion in 2027, just five years from now. This means it's a good idea to get your foot in the door before the market explodes.
How can blockchain be used in marketing?
Blockchain is another type of technology that can be used to help create connections between brands and their customers. It can be a more efficient way for brands to collect customer data and promote the exact products and services that their customers want. However, it's still a new technology and has some kinks that need to be sorted out.
How do you find a good PR firm?
It can be difficult finding a PR agency and consultant that meshes well with your brand. We have a few pointers that can help.
First, check out roundup posts like this one to see which agencies work with brands like yours and offer the services you're looking for. Next, look through case studies and testimonials to see their successes and happy clients.
Contact any agencies that interest you to gauge their pricing and see what it would be like to work together. Eventually, after vetting your top picks, you should be able to find an agency that will work for your brand.
Is hiring a PR agency worth it?
If you're able to see that a PR agency has helped past clients grow their businesses, increase revenue, and improve their overall reputation, then it can absolutely be worth hiring them to do the same for your business.