The cryptocurrency industry is growing at lightspeed, as is the need for blockchain and crypto marketing and PR agencies. If you're looking to grow your own crypto company, you'll want to start searching for a reputable marketing and PR firm. By finding marketing experts that have experience in blockchain, you'll feel more comfortable putting your business in their hands.
In this article, we'll breakdown what PR looks like in the blockchain industry and walk you through a list of our top 15 blockchain PR agency recommendations.
---
Top Blockchain PR Agencies:
---
What is Blockchain PR?
Public relations (PR) is a communications strategy for a brand that helps to elevate their reputation and place them and their leadership team as thought leaders or experts within their industry.
Blockchain PR takes this same strategy and does it specifically in the blockchain industry. It's a good idea for marketing and PR agencies to niche down, and we're finding many opening up shop in the financial services—or more specifically cryptocurrency—industry.
Because blockchain technology and cryptocurrency are still relatively new and many consumers don't fully understand the concept, public relations has a big job to do.
This is why hiring a crypto marketing agency that specializes in blockchain PR services is a great idea. Because they fully understand the state of your industry and have established relationships with crypto journalists, they're able to help create and implement a comprehensive marketing strategy that will work for your brand.
---
What Does a Blockchain PR Agency Do?
Blockchain PR agencies provide public relations and digital marketing help to decentralized finance, cryptocurrency, NFT, and other blockchain-related brands.
These services might differ slightly in nature, but the services that a blockchain PR agency would typically offer include: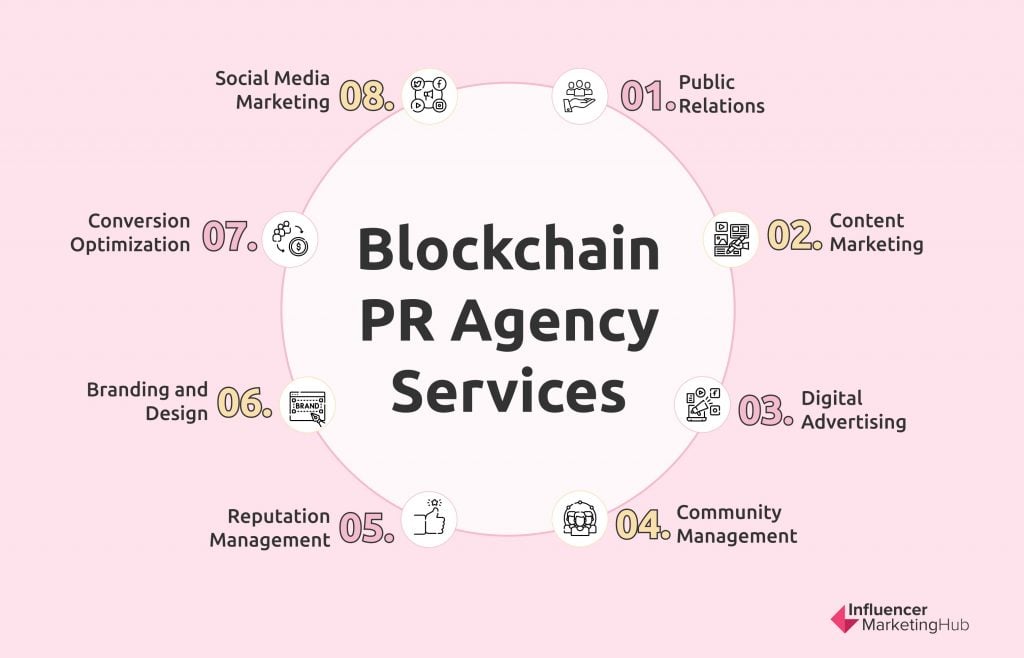 Public Relations:

Public relations experts will help your brand get more media coverage and increase overall buzz and awareness around your company.
Content Marketing:

This includes content creation and promotion services, including blog content, video content, landing page content, and more.
Digital Advertising:

Get your paid ads and other promotions in front of customers using various social media channels and search engines.
Community Management:

Reach your customers through dedicated online communities, like via Discord, Telegram, or another social media platform.
Reputation Management:

Have a professional team manage your review sites, increase positive reviews and ratings, and respond to negative news and reviews.
Branding and Design:

For brand new crypto companies, some marketing agencies will offer logo design and branding services.
Conversion Optimization:

This is all about working to increase the number of demo requests, signups, or customers you get through your website and blog.
Social Media Marketing:

Build a strong community and online presence with your social media content and promotions.
Some blockchain PR agencies offer more than the above list of services while others specialize in just a couple of services. Find the right agency for you by taking a look at what they offer and how past clients liked their work.
---
Top Blockchain PR Agencies for 2023
Looking for the right blockchain PR agency for your brand? We've pulled the top 15 in the industry and listed out each of their services and notable clients to help you find the best fit for you.
---
---
---
---
---
---
---
---
---
---
---
---
---
---
---
---
Find the Best Blockchain PR Agency for Your Brand
Help your crypto brand take off by working with one of these top 15 blockchain PR agencies. Or start working with blockchain influencers to help increase brand awareness. Check out our top 15 crypto influencers to find content creators who can elevate your brand.