Since the emergence of cryptocurrencies, the digital world has grown exponentially, which is hard to quantify in mere units. The cryptocurrency paved the way for creating Non-Fungible Tokens (NFTs), also known as crypto arts. Artists and creators are taking advantage of the moment as well.
In 2021, Digital artist Beeple sold an NFT collage of his work entitled "Everydays: The First 5000 Days" for over $69 million. It's the first time an auction house has offered a digital piece of art for sale. Unsurprisingly, after the sales, the mainstream started paying more attention to NFTs.
---
Top NFT & Crypto Marketing Agencies for 2023:
---
Top Crypto NFT Marketing Agencies for 2023
NFT marketing agencies can help you promote your crypto arts. Here are some of the best crypto and NFT companies to pay attention to:
---
---
---
---
---
---
---
---
---
---
---
---
---
---
---
---
---
What Are Cryptocurrencies?
In contrast to physical currency, a cryptocurrency is a form of digital tokens or coins dispensed via a private system. It is powered by the blockchain. The technology captures and preserves data on all transactions in a public ledger accessible by anyone. Crypto is not governed or centralized by a single authority. And unlike digital currencies, cryptos have robust encryption security.
---
What are Non-fungible Tokens?
Non-fungible tokens represent digital assets and tangible items that can be digitized. NFTs come in various forms, but the most prominent today are image files, trading cards, video clips, art collections, domain names, and gaming add-ons. The value of crypto arts is continuously increasing because of their scarcity. Developers program the NFT platform in a way that only a handful of NFT assets are available at a time.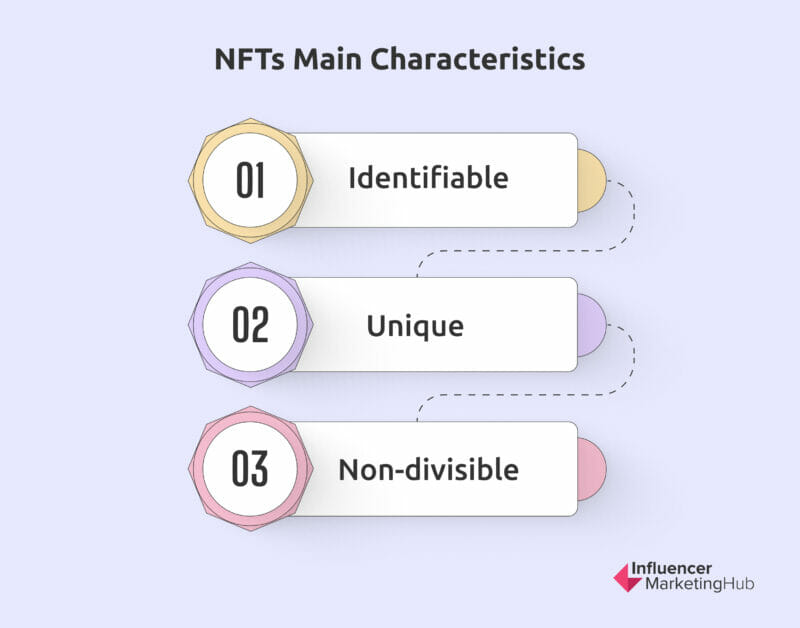 Non-fungible tokens have distinct characteristics. NFTs are:
Identifiable
Smart contracts record identifying information in NFTs. The token's integrated metadata shows pertinent information visible and stored on the blockchain. The smart contracts include data like verification of ownership, transferability (if applicable), links to other digital assets, royalties, and license fees.
Unique
Specific attributes link NFTs with certificates of authenticity. As such, they can't be swapped out or interchanged. Unlike bitcoins, which are exchangeable, NFTs are one of a kind, in both literal and figurative senses.
Non-divisible
You can't divide NFTs into parts, much like you can't split a movie ticket between two people. The worth of an NFT asset is correlated in its entirety. If you divide it into pieces, it becomes worthless and unredeemable.
---
What Distinguishes NFTs From Cryptocurrencies?
Both NFTs and cryptocurrencies use blockchain technology and follow similar standards. Thus, they usually draw the same players. Trading NFTs frequently entails the usage of cryptographic forms of money.
The name emphasizes the fundamental difference between the two. Cryptocurrency is fungible and has the same value as other currencies. A dollar is a dollar, and in the same way, one Bitcoin is equal to another. This is because cryptocurrency is transposable. And because of this feature, it is a secure way to complete blockchain transactions.
But NFTs are different. They stand out because their value goes beyond economics. Like any other valuable item, the worth of crypto art is ascribed by those who deem it prized and worthwhile.
Let's say you're a football fan and want a Crypto Strikers trading card of your favorite footballer. Despite being all NFTs, Crypto Strikers 2018 FIFA World Cup trade cards are different from one another. The artwork and rarity of the trading cards vary. The card's value also depends on the prominence of the footballer in it. But also, the value you – as the buyer – put on the trading card completely changes its importance. In that respect, the "worth" of the footballer dictates the value of the crypto art.
---
How Can Creators Make Money Through NFTs?
NFTs have provided new avenues for people to access various forms of crypto art. Artists and creators mint NFTs using digital items which include, but are not limited to:
Artwork like paintings

Collectibles like memorabilia

Fashion items like designer sneakers

Reels like sports highlights

Gaming add-ons like skins and virtual avatars

Entertainment bits like music, GIFs, and even tweets (

that's worth over $2.9 million

!)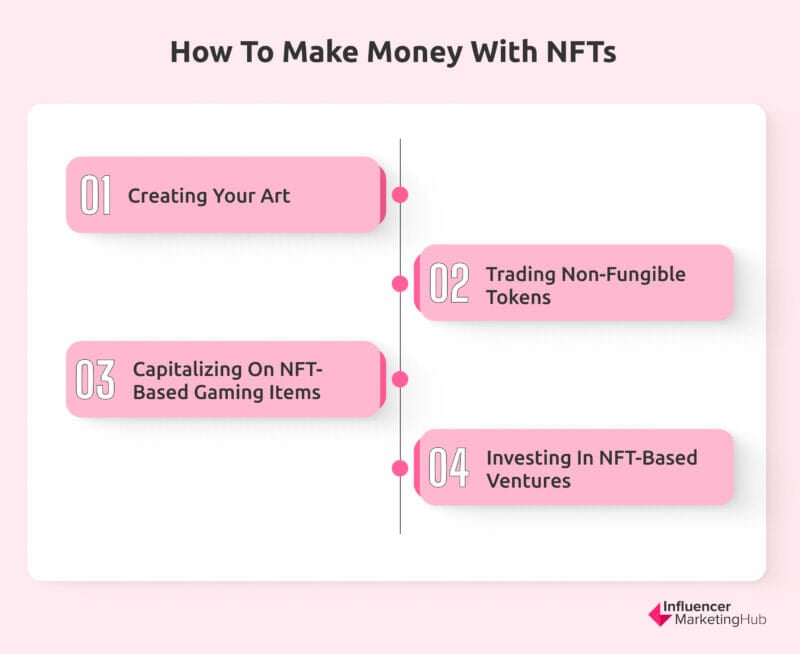 If you're a creator, there are various ways you can profit from NFTs, including:
Creating your art
You can market your work as NFTs, which can significantly increase its monetary value. If you own collectibles, you can also turn them into NFT assets.
Trading non-fungible tokens
You can buy and sell NFTs for profit. Much like with real-life trading, this requires you to do in-depth research in choosing NFTs that can potentially yield substantial returns.
Capitalizing on NFT-based gaming items
Gamers spend a fortune on in-game accessories like skins and loot boxes. In-game NFTs are considerably more innovative, sophisticated, and interactive than digital trading cards. If you create cool avatars and skins, you can market them to gamers.
Investing in NFT-based ventures
You must keep abreast of statistics, sales, and trends in the industry. There are currently several promising projects showing significant advancements in the crypto industry. Investing in them can be advantageous.
---
What is NFT Marketing?
NFT market reached a market cap of more than $11.3 billion in 2022. Brands are marketing NFT assets left and right and profiting from them considerably. NFT marketing enables creators and businesses to promote their NFT assets effectively to gain a larger number of consumers and investors to their network.
The level of hype produced by your NFT marketing strategy sets the value of your crypto art. You can use five different types of NFT marketing for your work.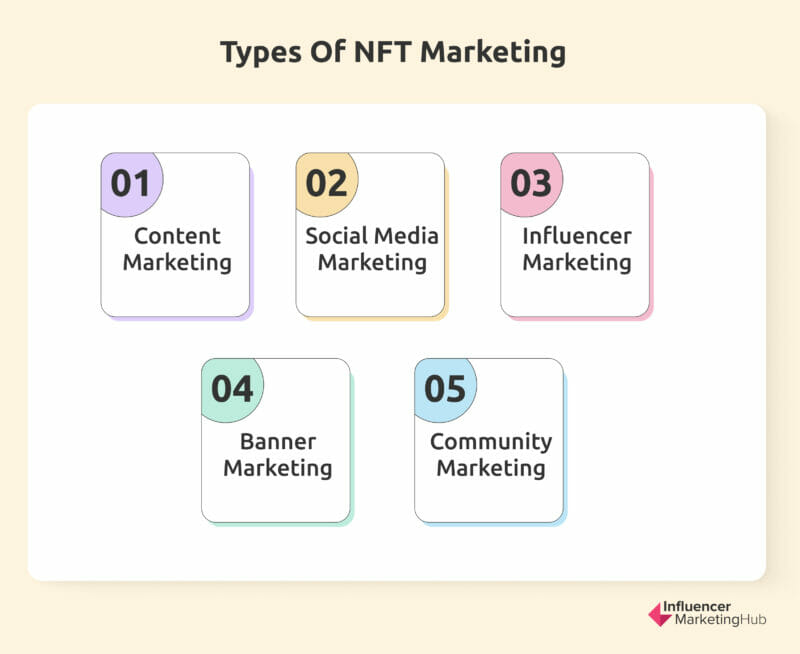 Content Marketing
Virtually every major blockchain agency uses content marketing to promote NFT. Content marketing links the agency and the client. It specifies the complete technical process, which is necessary not just for marketing but also to understand how the agency promotes your asset entirely. This marketing strategy is unique because it provides both commercial and technical data on your work.
Social media marketing
Due to its notable dependability, social media is a networking frontrunner in aiding NFT-based projects. Social media giants like Facebook, Instagram, Twitter, YouTube, and TikTok produce massive venues for NFT creators to sell their tokens and rapidly expand their brand. A successful social media buzz about your crypto art normally snowballs into spectacular sales.
Influencer Marketing
Influencer marketing is an innovative strategy in which social media influencers promote the NFT to their fans and followers. To ensure the success of this marketing campaign, work with an influencer that is well-known across different social channels.
Banner Marketing
Companies can use banner marketing to promote on various crypto and NFT websites. The price of the banner varies depending on the reach of the domain.
Community Marketing
Community marketing turns forums like Discord and Reddit into interaction hubs for creators and prospects. Because there is a direct line of communication, creators can answer queries faster and more precisely. This marketing method also builds trust between the seller and the bidders.
---
Final Thoughts
There's a chain reaction associated with NFTs. As the crypto subset gains more traction, creators make more complex and sophisticated tokens. Developers likewise expand NFT applications, showing that NFTs are more than just hype. The industry is booming and will likely stay and evolve for a long time.
Because the general public is starting to look closely into it, many industries are testing campaigns to get themselves into the game. Artists and creators are also having a moment turning their creations into profitable NFT assets.
To fully grasp the potential of crypto art, creators must work with a reputable NFL marketing agency.