With cryptocurrency becoming more mainstream as time goes by, it's crucial for crypto projects to come up with and maintain effective marketing strategies in order to set themselves apart from the competition. It's also important to keep in mind that marketing for the crypto and blockchain industry is different from the rest.
There are various factors that crypto marketers have to consider when it comes to setting a solid marketing campaign. Some of these factors include the "newness" of the technology used for crypto, high market volatility, and the crypto crash in early 2018.
Despite the challenges, you can still get your marketing done right and make your brand go viral. Here are some of the top crypto marketing strategies that you will need to get ahead of the competition.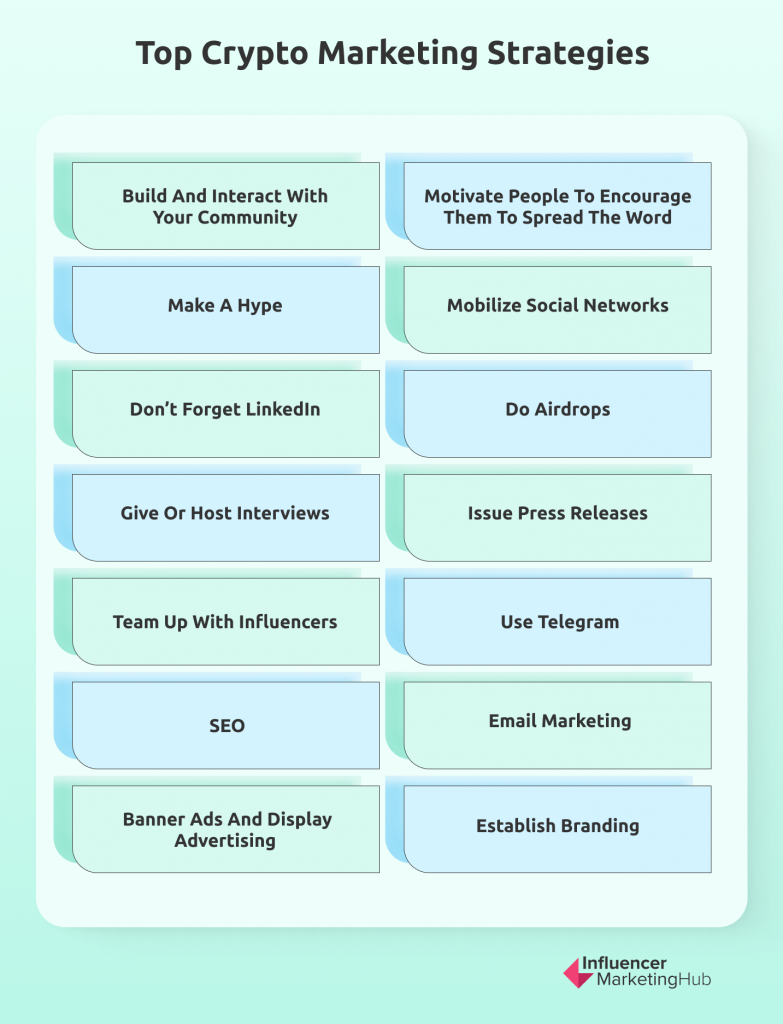 ---
Top Crypto Marketing Strategies to Beat Competition:
---
1. Build and Interact With Your Community
One should not underestimate the importance of building and interacting with a community. Engagement is all about creating a new environment and communicating with the people as much as possible, making sure that you will be able to address the concerns of the community members.
This is a challenge that community members should be able to take on—to be always available at any time of day to show care and concern for the community. You have to be as transparent as possible and be able to accept suggestions and criticisms, especially when it comes to dates, roadmaps, and others.

---
2. Motivate People to Encourage Them to Spread the Word
Establishing and maintaining a community is just one part of the job—the tricky part is to make it grow by adding members into it. One way to do this is to create a referral program that will reward current members when they bring in new members to the fold.
Of course, this comes with certain risks. Some of your members will just bring in new members indiscriminately just for the sake of being rewarded. Also, some people will just join even if they have no real interests in your community. What you can do to avoid this is to find ways to motivate members internally aside from just handing out financial incentives.

---
3. Make a Hype
Hype is one of the most used marketing moves in the crypto community. For this, you have to create hype for your project, no matter what kind it is, in order to encourage more people to join your community. And in order for your hype to become effective, you have to stroke people's feelings of FOMO—fear of missing out. You can do this by putting out special offers, deadlines, and more.
The most ideal time to create a hype is before the pre-sale period. Sure, this may be temporary since all hypes will have to die down after some time, but at least it will help establish a foundation for your project.
---
4. Mobilize Social Networks
Social media is the backbone of every digital marketing campaign. You need to create accounts for all the popular platforms: Facebook, Twitter, Reddit, Telegram, Discord, etc. This lets you reach out to all types of audiences. You have to use your social media to keep your audience up to date with everything that's happening with your project.
This means you have to post updates, news, milestones and the like. Aside from communicating with your audience, you can use social networks to create the brand that you envision for your project.
Nowadays, every cryptocurrency marketing team has these essential accounts:
The platform has always been considered as the "water cooler of the Internet," which is definitely accurate. Using the platform is a great way to capture the attention of your community, which should be more than enough reason to include it in your crypto marketing strategy.
The Stories feature lets you showcase the latest updates in your company and showcase its personality. Your Instagram feed should always have fresh content about news and market updates.
There's no other platform that is better at serving long-form video content. YouTube is still the best one to dish out content that will connect, inform, and educate the virtual asset industry. A YouTube video is still the most effective when it comes to long-form content that explains your project or product.
As the 15th most visited website in the world, you definitely can't afford to neglect Reddit. The platform is especially effective for decentralized finance or DeFi projects since the DeFi community spends a lot of time on Reddit.
Because crypto folks tend to be on the busier side, it's no surprise that they love podcasts—they are easier to access and people can listen to them casually while they are driving or relaxing. You can market using your own podcast or other people's podcasts. If you have no time to do so, another option is to sponsor a popular podcast so that your script or sound bite can be played or read by the host.
---
5. Don't Forget LinkedIn
LinkedIn tends to get underestimated as a marketing method, which shouldn't be the case. LinkedIn is actually the best medium to create networks to build powerful connections with people who can help you with your project.
Remember that LinkedIn has millions of investors who are active on the platform on a daily basis. This means you can connect with as many people as possible and, in the process, catch the eye of investors, even the institutional ones.

---
6. Do Airdrops
Airdropping is another way to provide incentives for community growth. Doing token airdrops, which will serve as gifts to random lucky winners, will help gain more support for your project from different audiences. This will motivate community members to become more active and take on more tasks. Airdropping is a way to give these members their rewards.

---
7. Give or Host Interviews
Make collaboration with a considerable fanbase—YouTubers are the perfect examples of this. Set up an interview where you can talk about your project or vice-versa. This is a great way to connect with credible crypto analysts on YouTube and reach out to a larger audience.
---
8. Issue Press Releases
Press releases tend to be forgotten given the many platforms available online, but remember that it counts as a pillar of crypto publishing. By writing and issuing press releases, you can show the public that yours is a legitimate project and you can share more details about it.
The process of creating PR involves building your media lists, coming up with inspiring and creative pitches, and pitching them to journalists, influencers, and podcasters.
The best way to do this is to create cryptocurrency guest posts. Look for an expert to teach you how to do them, or even make them for you.
---
9. Team Up With Influencers
Influencers are still a big thing today and you should use them to promote your project. They are actually very helpful in furthering the lifespan of a cryptocurrency. The majority of marketers are allocating more to their influencer marketing budget, given the healthy ROI expected from it. The effect of influencers is such that a lot of people actually trust them more than traditional paid media. For crypto brands, the most popular avenues for promotion are YouTube, Twitter, and Instagram.
By teaming up with influencers, you can expand your community immediately by reaching millions of new followers. Start by finding influencers that are a perfect fit for your project.

---
10. Use Telegram
Telegram has become the default communication tool for a lot of crypto users. Reaching out to Telegram accounts that specialize in crypto is a great marketing strategy that is actually cost-efficient and allows you to reach a multitude of crypto holders.
A proper Telegram account is immensely beneficial for your project, specifically for interacting smoothly with your community. You can enhance your community even more by promoting your project in different crypto-related groups.
Telegram gives you the means to create a solid online community that is active practically 24/7. Another big plus is the platform's security. Telegram is considered as one of the safest platforms around because of its end-to-end encryption. Your privacy will always be prioritized when you use Telegram.
---
11. SEO
Search engine optimization does take a lot of time and effort to execute masterfully, but it's definitely worth it. You need to grow your reach organically, which is what SEO is all about.
Keyword optimization is the key to the time you will spend on ensuring SEO growth. This shouldn't be a problem given the tools available for this purpose—Google Keyword Planner, SEMRush, and Ahrefs, to name some. With these tools, you can get the best keywords that will work best with your website's content.
Patience is crucial, however. You may have to wait around three to eight months before you can see the results of your SEO efforts.
If you can't do it yourself, you can just hire an crypto marketing agency to do the work for your ranking. The goal is to rank as high as possible on Google to make it easier for new users to get to know more about your project and sign up in your community.
---
12. Email Marketing
In 2018, brands have earned an average of $32 in sales or revenue for every $1 spent on email marketing. That's enough to make you stop and consider email marketing as part of your crypto marketing strategy.
What makes it a worthwhile avenue to explore is the fact that email marketing is crazy inexpensive. You only need to shell out under $50 a month on average for basic email marketing plans. Data reports suggest that you can count on an open rate of around 17.92% for this one.
If you don't know how to run an email marketing campaign, you can just hire an agency to do it for you and help you earn the best yields possible.
---
13. Banner Ads and Display Advertising
This may be one of the oldest methods in internet marketing, but you can still get a lot from it for your crypto project. The main obstacle is to get through the ad blockers installed on most people's browsers so that you can get your brand in front of as many users as possible.
Regardless, banner advertising can still become beneficial for certain brands. As a blockchain brand, you have to pay the cost per thousand impressions in order to get your banner ad on a crypto-focused website.

---
14. Establish Branding
Having a powerful brand will make your project look as legit as it should be and will help you get ahead of your competition. A potential investor tends to look at branding, so you need to make the effort to achieve the best outcome for your project.
Tools to Measure Your Marketing Success
Once you've put your marketing strategies in place, it's time to monitor the results of your efforts. For this, you have to use a set of tools that will measure your success. Here are the ones you will need to complement your crypto marketing initiatives:
This is the first and most likely the most important tool for measuring the yields of your hard work. Google Analytics has all the information you need to check your website's traffic and see who is visiting your site and where the traffic is coming from.
The Urchin Tracking Modules or UTMs have a URL builder, which you can use to create UTMs that will let you trace links across the internet. You can customize UTMs so that you can easily monitor all kinds of tracks directed to your website. There's no denying that cryptocurrency marketing can be difficult for some—it can be a risky and expensive process. If you're just a beginner in this regard, you have the option to get the services of a crypto marketing agency and let them work their magic on your crypto project or website.
Finding one that you can trust shouldn't be hard since there are lots of agencies that specialize in blockchain marketing and can give you the results that you need.