While bitcoin and crypto assets are becoming more mainstream, blockchain technology is still considered in its infancy and the crypto industry is still in a constant state of flux. With the crypto landscape rapidly evolving, it is crucial for people, especially investors, to stay on top of news and trends in the industry. Fortunately, access to the latest information is easy nowadays. You can read articles online, access journal publications, subscribe to newsletters, watch webinars on YouTube, or listen to podcasts.
For many people, listening to podcasts is the most convenient way to keep up to date with the latest news on cryptocurrencies and the blockchain. Most podcasts are free and can be downloaded, so you can listen to them even in places where there is no internet connectivity. You can also listen to them while going about your daily activities. Just pop your earphones to tune in to your favorite podcasts while commuting to work or school, cleaning the house, jogging, or whatever else you often do.
However, with dozens and dozens of podcasts on cryptocurrencies and the blockchain, it can be daunting to choose which ones to listen to. To help you find the most informative and entertaining ones, we have narrowed down the list to the top 30 crypto podcasts you must have on your playlist this year.
---
Top 30 Crypto Podcasts to Follow:
---
The World's Top 30 Crypto Podcasts to Follow

Get your daily dose of crypto news from the top news site that delivers the latest stories in the world of blockchain. The CoinDesk Podcast Network highlights stories from some of the best podcasts in the industry. This media outlet is your primary go-to site for information on anything and everything that has to do with digital assets, cryptocurrencies, and blockchain technology.
---

Fungibility, anonymity, bitcoin as legal tender, the inflation-deflation debate – these are just some of the recent topics that Guy Swann tackles in the latest podcasts on Bitcoin Audible. This cryptocurrency podcast shares knowledge on the Bitcoin and explores it from the perspective of an investor and economic analyst. If you want to have a more in-depth understanding of Bitcoin, include this podcast in your playlist.
---

Hosted by Justin Verrengia, the Crypto News Alerts delivers breaking news on the most popular cryptocurrencies every day, seven days a week. If you're an investor, listening to Justin talk at lightning speed about cryptos helps you catch up with all the latest information in the crypto world. Gain an edge on trading and investing by being the first to know what's happening in the industry.
---

Get unbiased news and insights as journalist Laura Shin discusses the latest issues with industry pioneers and experts. On Tuesdays, Unchained airs interviews with noteworthy thinkers and doers in the field. Every other week, it features "The Chopping Block" where four early-stage crypto investors talk about the latest news in the industry. On Fridays, it recaps the week's events and opens a Q&A for the hottest news of the week. Tune in to hear what pioneers have to say about the future of cryptos and blockchain.
---

Anyone new to crypto will find CryptoCasey's Cryptocurrency for Beginners a veritable trove of information noobs need to understand cryptocurrencies and the blockchain. Casey provides witty commentaries about current issues and makes crypto investing easier to understand even for non-techie people. While she makes crypto news digestible for beginners, Casey also has plenty of clever insights that crypto enthusiasts will find valuable. Her most recent podcast topics include understanding Web3, trading cryptocurrencies tax free, and weighing stocks vs. cryptos.
---

Twice a week, Peter McCormack broadcasts in-depth interviews with Bitcoin luminaries through What Bitcoin Did. He invites experts in Bitcoin to discuss controversial topics including libertarianism, the Lightning Network, censorship, and SegWit2x. At times, they even discuss topics that are seemingly unrelated to Bitcoin such as cannabis use and the plight of sex workers. With their no-holds-barred conversations, they make every podcast engaging and riveting.
---

Bankless touts itself as the ultimate guide to crypto finance for entrepreneurs and investors. And it doesn't fall short of this claim.
Bankless is the podcast to listen to if you want to get more from your investments in cryptocurrencies, NFTs, and other digital assets. It also gives insights on DeFi and blockchain technology, so you can better understand what the crypto space has to offer.
If you want to learn new tactics and strategies or discover new opportunities for crypto finance, add this podcast to your list.
---

Crypto concepts too complicated for you? Let Bryce Paul and Aaron Malone help you understand everything you need to know about cryptocurrencies and the blockchain.
Crypto 101 targets the average folks who want to get in on the crypto craze but are confounded with all the tech lingo and financial slang. The hosts invite guests from the crypto community to break down complex ideas into simple actionable thoughts for novice investors.
---

Here's another helpful podcast from the CoinDesk team. Listen to Adam Levine and Adrian Blust give a daily rundown of what's happening in crypto markets.
Keep abreast with the recent developments in the industry and gain valuable insights from the hosts' expert analysis. Adam and Adrian maintain their objectivity as they deliver news stories but make their stand clear when it comes to important issues. If you're invested in the crypto market, start your day by hearing the latest news on Markets Daily Crypto Roundup.
---

The new roundtable debate format of Opinionated will have you riveted to the discussions on controversial topics and news on the crypto space.
Hosts Ben Schiller, Anna Baydakova, and Danny Nelson engage in candid banters with their guests as they each take and defend their respective stands on the latest issues. Their often-opposing stances give you a wider understanding of issues as you hear from their varying perspectives.
---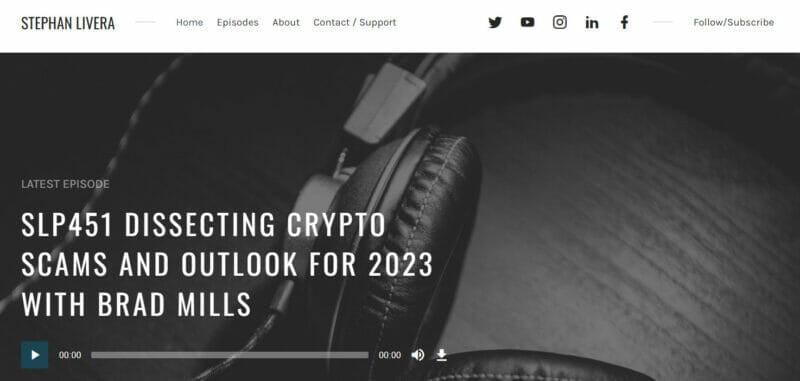 Gain a deeper understanding of the economic impact of Bitcoin as Stephan Livera interviews high-profile guests in his podcast.
Stephan discusses important aspects of digital life and varied topics in crypto finance including libertarianism, Austrian economics, Bitcoin technology, and the Macro. His stellar list of guests includes Andreas M. Antonopoulos, Elizabeth Stark, and Jack Dorsey. Through his podcasts, Stephan opens opportunities for you to learn and gain knowledge from the sharpest minds in the field of economics and technology.
---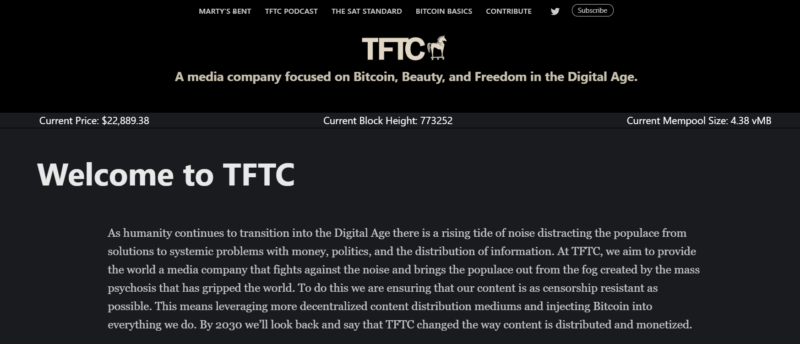 Five years and over 300 episodes after its first broadcast, TFTC continues to engage its audience with relevant and interesting topics in the Bitcoin space.
Host Marty Bent tackles the economic and political implications of bitcoin and the changing monetary landscape. He invites experts and fascinating guests to discuss Bitcoin, Liberty, economics, blockchain, crypto mining, and other interesting topics.
---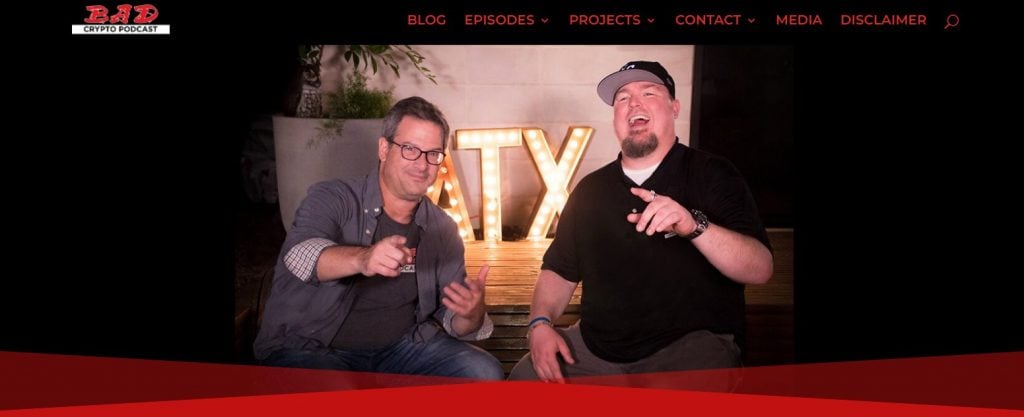 Looking for a fun way to learn more about crypto? Look no more. The crazy bad duo Joel Comm and Travis Wright demystify the world of crypto and blockchain in the most entertaining yet informative way.
Both well-versed in technology, the two crypto-enthusiasts definitely know what they are talking about when they discuss cryptocurrencies, token generation, blockchain, and other topics in the space. Their latest podcasts include discussions on NFTs, democratization of talent, and the feared economic collapse in the west.
---

The Breakdown with NLW is part of the CoinDesk Podcast Network. In this daily podcast, Nathaniel Whittemore shares insights and in-depth analyses of bitcoin, cryptocurrencies, macroeconomics, and geopolitics.
His concise manner and eloquent way of delivering his daily crypto updates make understanding complex issues easy for laypersons. Yet his deep insights bring immense value to crypto pros. Get the breakdown on crypto politics, market outlook, and bitcoin taxation in his latest podcasts.
---

Get daily updates on the crypto market and be the first to learn about breaking news in the crypto space. Make listening to Decrypt Daily part of your schedule every day.
Matthew Diemer airs his conversations with various guests who share their unique perspectives on issues in the world of crypto. He also shares his own experiences in handling his substantial interests in Bitcoin, Ethereum, Litecoin, and other cryptocurrencies.
---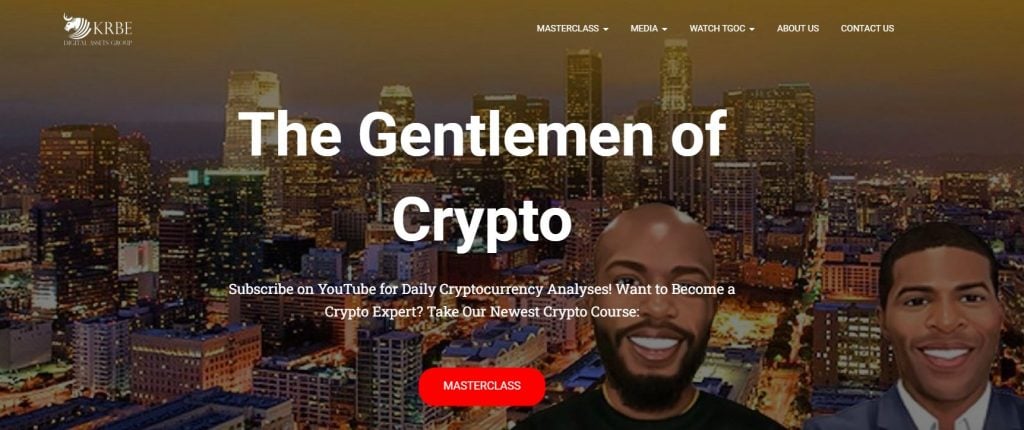 Get the real deal on cryptos from King Bless and Bitcoin Zay. These two gentlemen won't fool you with get-rich schemes or overinflated gains from crypto investments.
The Gentlemen of Crypto brings the world of cryptocurrency closer to the community. The two hosts harness their expertise on the blockchain and digital currencies to create engaging podcasts that bring value to their audience. They discuss international market analysis, the daily news on Bitcoin, and everything else related to the crypto space.
---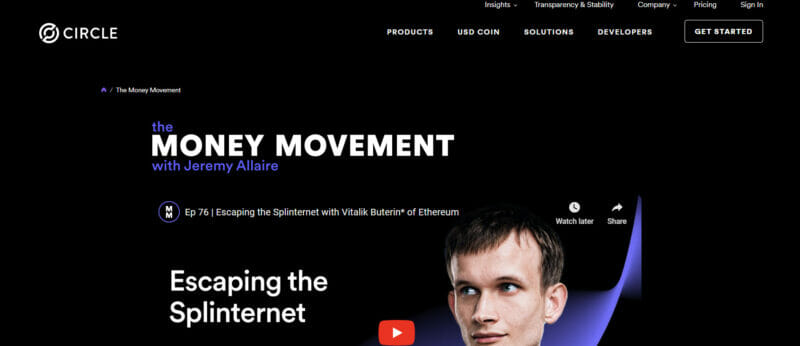 Learn more about digital money, frictionless exchange, and the emerging fintech industry directly from a practitioner and innovator in the stablecoin space, Jeremy Allaire.
Through The Money Movement podcast, Jeremy answers controversial questions, shares fresh perspectives, and proposes real-world applications for navigating through the new world of digital money. He explores issues and dissects ideas that can help raise economic prosperity on a global level.
---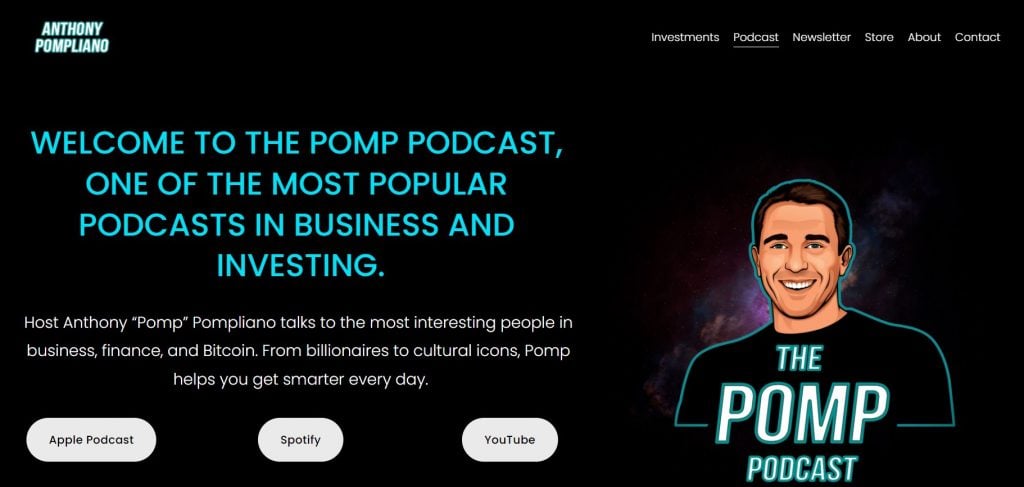 Anthony "Pomp" Pompliano brings the pomp to the crypto world as he talks to cultural icons, billionaires, and remarkable personalities engaged in finance, business, and, of course, cryptocurrencies.
Go through old episodes to listen to Robert Kiyosaki talk about the global economy or learn about BTC investment from notorious investor Plan B. Check out the latest ones where Mark Cuban discusses the current health and economic crises or where Tony Thomas lets us in on the impact of technology on defense and the Space Force. Add The Pomp Podcast to your playlist to learn something new from the latest issues in crypto.
---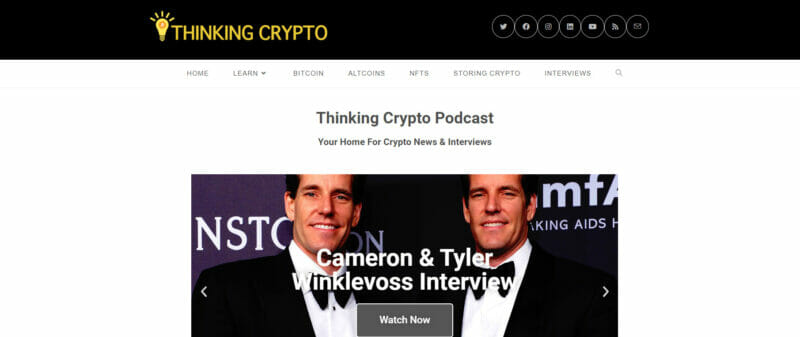 Thinking Crypto gives you the latest crypto news and enlightening interviews with seasoned investors, successful entrepreneurs, and thought leaders in the world of cryptocurrencies.
Hosted by Tony Edward, every episode gives you a lot of key takeaways that enhance your knowledge on blockchain adoption, crypto market outlook, the rise of the metaverse, decentralized finance, and other industry issues.
---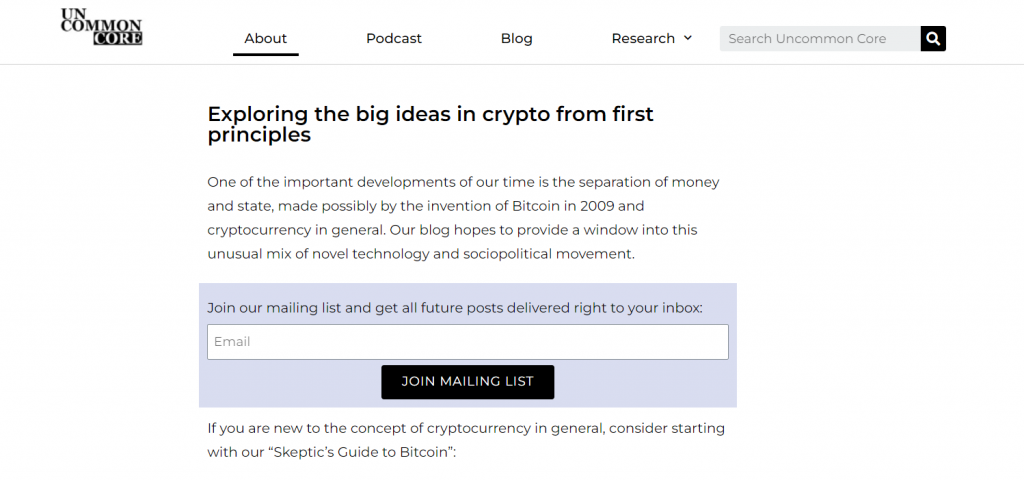 Su Zhu and Hasu team up to explore the big ideas in crypto by delving into its fundamental principles. The two crypto veterans engage in fun and entertaining conversations on diverse topics in and beyond the crypto space.
Uncommon Core plunges into the unusual mix of sociopolitical movement and novel technology. Along with Su Zhu and Hasu's occasional guests, they look at how cryptocurrency and trust-minimized financial services can transform the world we live in. They're also known for their alpha leaks, so stay tuned to their new episodes.
---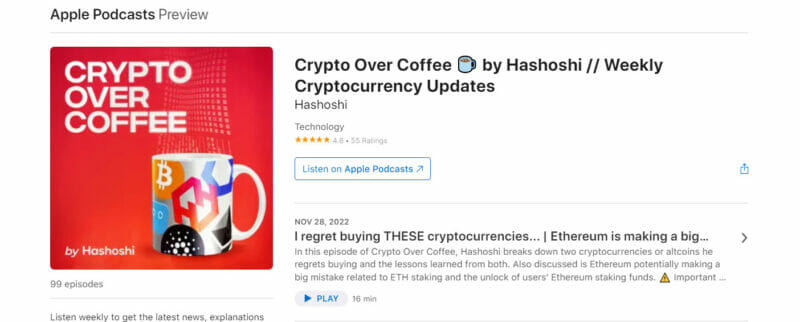 If casual talks are more your thing, you'll enjoy tuning in to Hashoshi's podcast, Crypto Over Coffee. Spend your Saturdays productively by making them days for learning as you listen to well-curated content on blockchain and cryptocurrency.
Crypto Over Coffee offers a wide range of topics for beginners to pros. You can get the latest news, and find educational content, product reviews, and in-depth discussions. You'll also have a fun time learning from Hashoshi's interviews with industry leaders and startup founders.
---
Bitcoin Magazine is one of the oldest media outlets that focus on bitcoin and cryptos. Its podcast makes information even more accessible to and digestible for everyone, even for people with a little technical background. These are among the topics discussed in this podcast: how to bring bitcoin to casual investors, the accelerating adoption of the bitcoin, personal finance, and how to build a bitcoin company.
---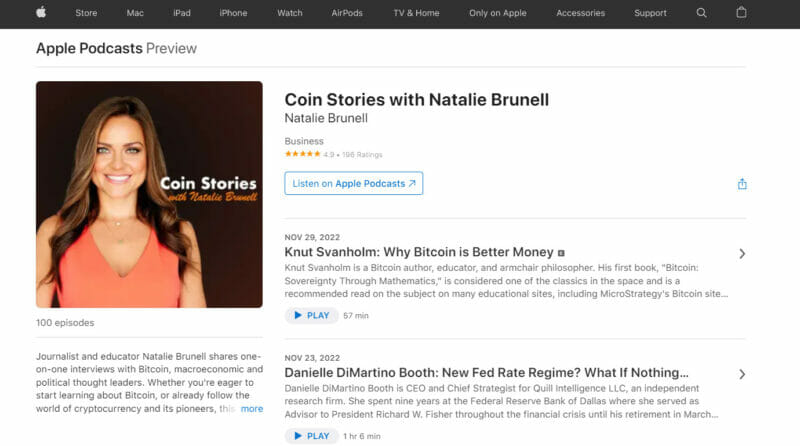 Launched in 2021, Coin Stories is already winning the hearts of crypto noobs and enthusiasts. Learn more about Bitcoin and the macroeconomy as you listen to one-on-one interviews with key industry people.
Natalie Brunell, an investigative journalist and educator, invites thought leaders from the spheres of economy, politics, technology, and cryptocurrency. Natalie creates a genial atmosphere as she asks well-framed intensive questions on digital currencies, monetary policies, economics, the blockchain, and other interesting topics in the crypto space.
---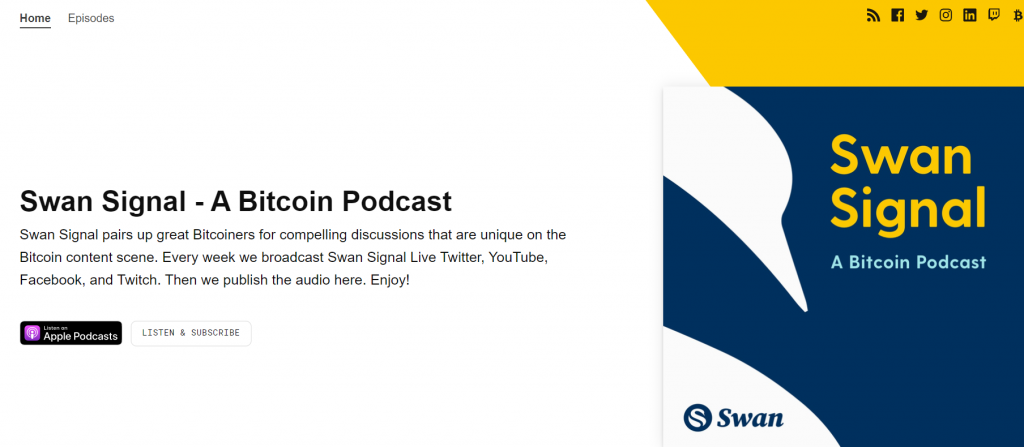 Why Bitcoin? Get your answer to this question and others from thought leaders and influencers in the space. Swan Signal brings together people from the Bitcoin community to spark compelling conversations on issues and events in the world of crypto.
Its weekly broadcasts discuss various aspects of cryptocurrency including the pros and cons of investing in it. It also shares useful information and insightful advice with those who are interested in cryptos.
---
No hype, no senseless chatter, and no obstinately opinionated people. Epicenter explores technological developments, social and economic implications, and controversial issues without the drama and unnecessary hype.
Focused on educating the crypto community, Epicenter strives to be the starting point for game-changing ideas. For almost a decade now, it has been churning informational content through in-depth conversations and meaningful interviews with builders, developers, and founders.
---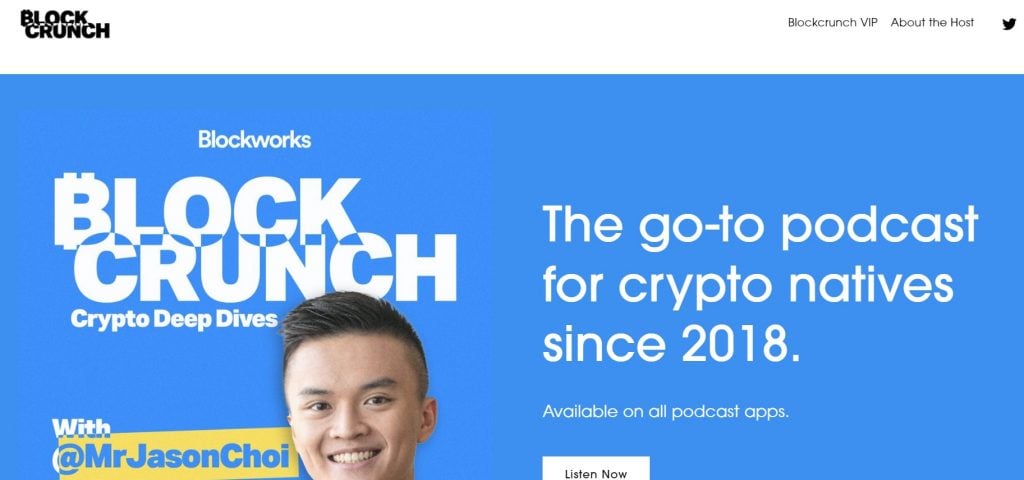 A seasoned crypto investor, Jason Choi, shares his first-hand experiences in cryptocurrency investment. He analyzes trends and provides valuable insights on the latest developments in the world of crypto.
Jason often invites people behind crypto projects to discuss the technology and economics that work behind their undertakings. He also invites key people from the crypto space to share knowledge and offer advice to his audiences. With his focus on crypto investing, his podcast is frequently watched by founders, fund managers, and Web3 operators.
---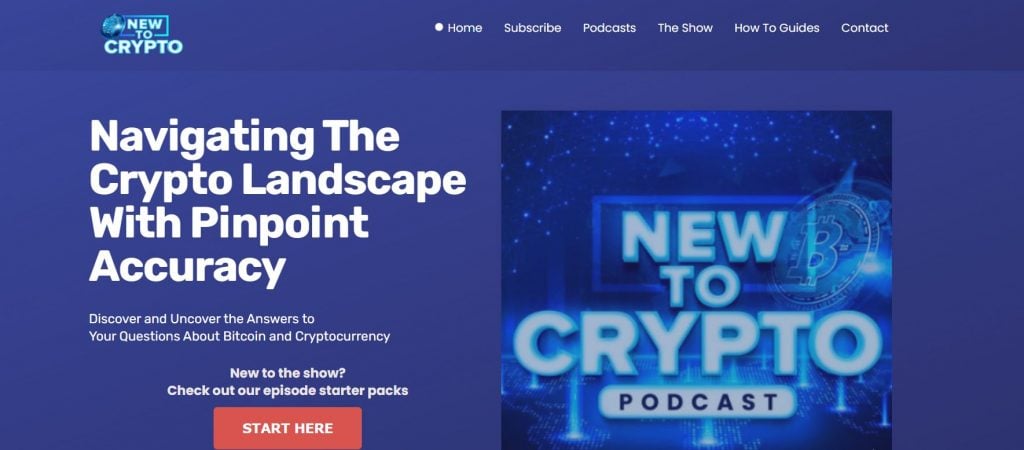 Got questions about bitcoin and other cryptocurrencies? Find the answers as you listen to New to Crypto. Hosted by Crypto Travels Michael, this podcast walks you through the ins and outs of the crypto world.
New to Crypto broadcasts new episodes every day during weekdays, so you can stay up to date with the latest news and events in the industry. Set notifications for its podcasts, so you won't miss bonus episodes it sometimes airs on weekends.
---
Craig Cobb is a renowned business leader with vast experience in stock markets, currency exchange, commodities, and crypto trading. He shares the knowledge he has accumulated over the years through The TraderCobb Crypto Podcast. Over the years, he has earned a following of traders and investors who look forward to his insights and sound advice on trading, investing, and risk management.
Subscribe to The TraderCobb Crypto Podcast if you want to learn more about the cryptocurrency marketplace.
---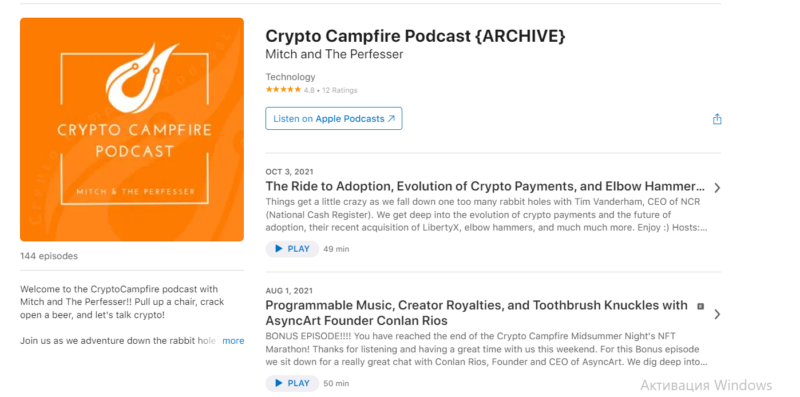 This laid-back weekly podcast is best enjoyed with a glass of beer in your hand. Hosted by Mitch and The Perfesser, Crypto Campfire brings a dose of humor to discussions on the world of crypto. Listening to them feels like hanging out with the gang on a Friday night. While the show is pretty chill, it tackles serious issues about cryptocurrencies, digital assets, tokens, and even life itself. It's a truly enjoyable way to learn more about the crypto space.
---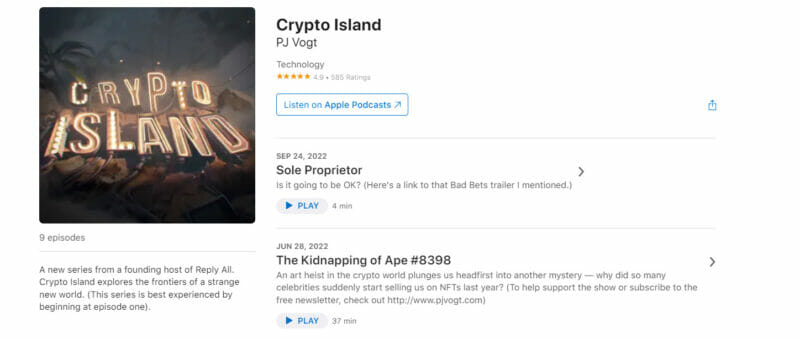 Take a break from the complexities of the blockchain and cryptocurrencies. Tune in to Crypto Island for highly entertaining stories about a fictional yet seemingly realistic world.
The strange new world of Crypto Island explores the world of crypto in a unique way. You'll hear about how Dogecoin princelings and Bitcoin dynasts live together on the mysterious island. Find out how a baker turned into a skeptic or why a Spanish teenager wants to buy the US constitution. While the stories are fictional, the ideas behind them reflect the actual happenings in the crypto world.
---
Stay Informed to Make Smart Decisions
Understanding the blockchain and navigating through the world of cryptocurrencies pose many challenges. With the ever-evolving crypto landscape, even seasoned crypto enthusiasts must stay up to date with the latest news. So, make sure you tune in to the most reputable crypto podcasts.