Finding a star UK digital marketing agency is about more than a list of services. For brands to break the mold and gain traction online today, they need a solid strategic approach, one that digs deep and makes a real difference. And that's what our list of top digital marketing agencies in the UK is all about. We've curated a collection of UK digital agencies that help clients generate growth.
Our list features agencies that have a single office and those with branches across the globe. We've also taken the time to share more about what makes them worth looking at. We've gathered research on the services and skills they offer, including a glance at the clients and sectors they serve and the work each agency has done to make our list.
If you're looking for UK-based agencies and want to find those that have a proven track record, this is the best place to start. Here's our list of UK agencies.
---
Top UK Digital Marketing Agencies:
---
Top UK Digital Marketing Agencies


SQ Digital is a Lancashire-based UK digital marketing agency. The firm has been around for 20 years, a feat few companies realize. Catering exclusively to SMEs, SQ Digital has an approach that makes them as nimble as their clients need to be. There's a strong focus on gathering actionable intelligence that feeds strategy. This includes digging deep to understand brand goals and why you serve your market.
SQ Digital also pulls the curtain back and examines how what your brand offers directly influences your ideal customers. All of this work is backed by strong project management
and meeting expectations with big-picture thinking and attention to performance to drive valuable brand direction, especially in noisy online spaces.
SQ Digital offers SEO, content marketing, social media marketing, paid search, digital PR, and website design. They've helped SMEs across the board make waves. For Gorilla Accounting, SQ Digital generated a boost of 76% in traffic, 470% more goal completions, and managed to rank 61% of all target keywords on the first page of Google. Customers also include jewelry retailer Banks Lyon, high-end wall and floor tile retail Roccia, and scrap metal family-owned Morecambe Metals.
---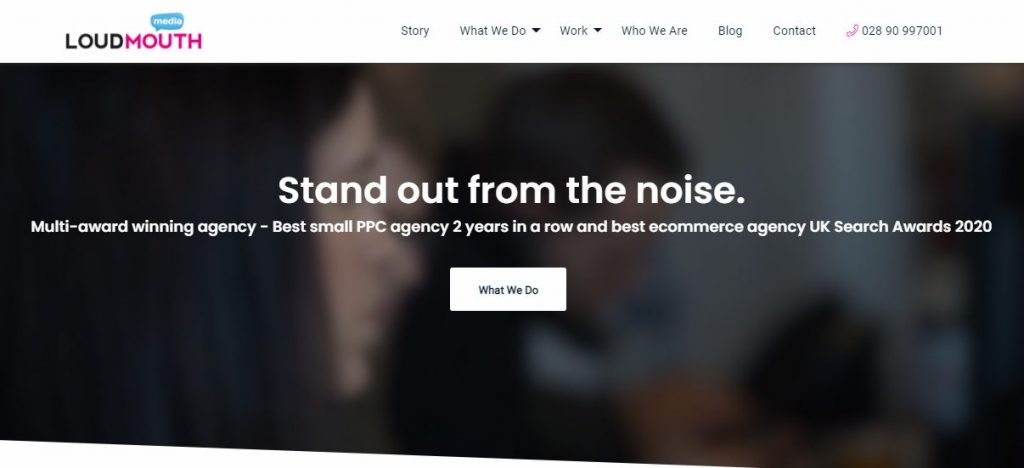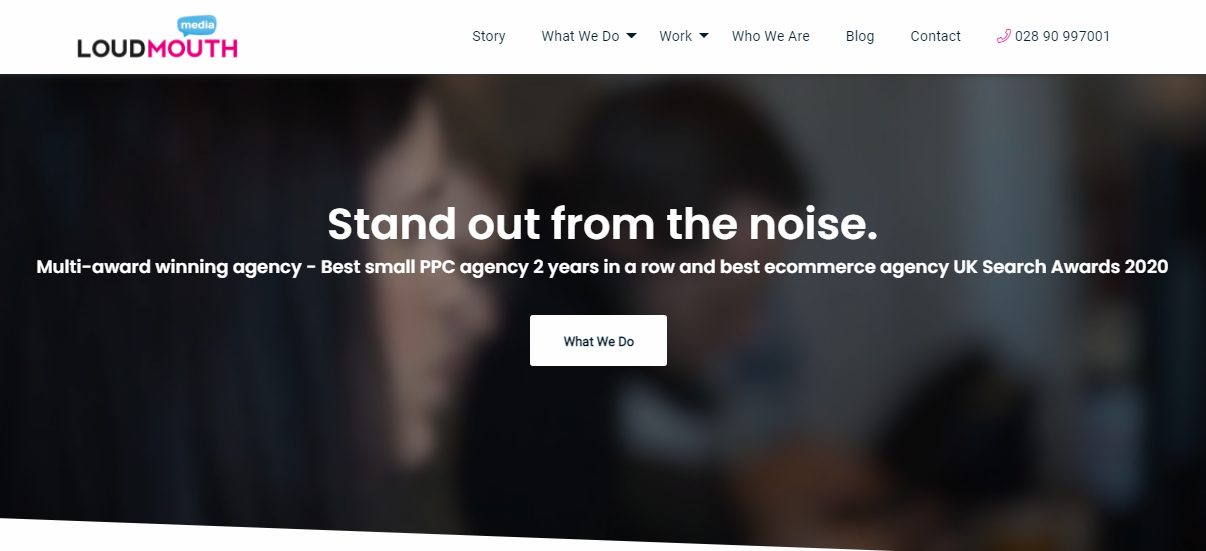 Loud Mouth Media is an apt name for a digital marketing agency and this firm has proof to show it's earned its name. The brand is the recipient of multiple awards. These include a UK Biddable Media Award in 2019 and a UK Search Award in 2018.
The agency's work is powered by a team of digital marketing professionals. Their take on digital involved strategy, the right amount of client insight, and a complete go-to-market action plan for domination. Loud Mouth Media offers digital strategy, paid search, display advertising, search advertising, SEO, performance creative, e-Commerce marketing, and Amazon shopping.
In its time, the agency has delivered impressive results. For Speedy Reg, a number plate registration company, Loud Mouth Media was able to drive a conversion rate increase of 22% and decrease ad spend by 21%. Other wins include a CPC decrease of 35% and over 36 million impressions.
Loud Mouth Media's work has been appreciated by some of the most well-known brands today. They've worked with the BBC, Volvo, and Auto Line Insurance Group. The agency has offices in Belfast, Dublin, Glasgow, and London.
---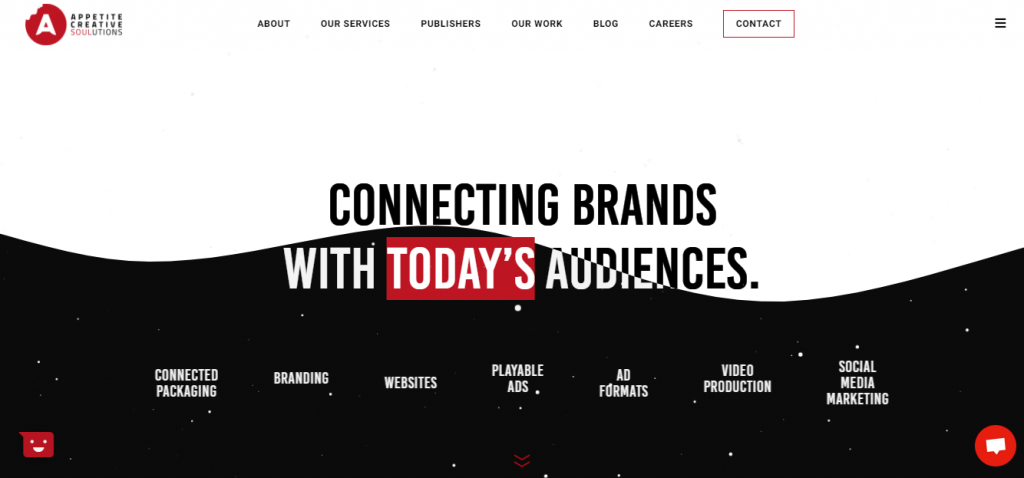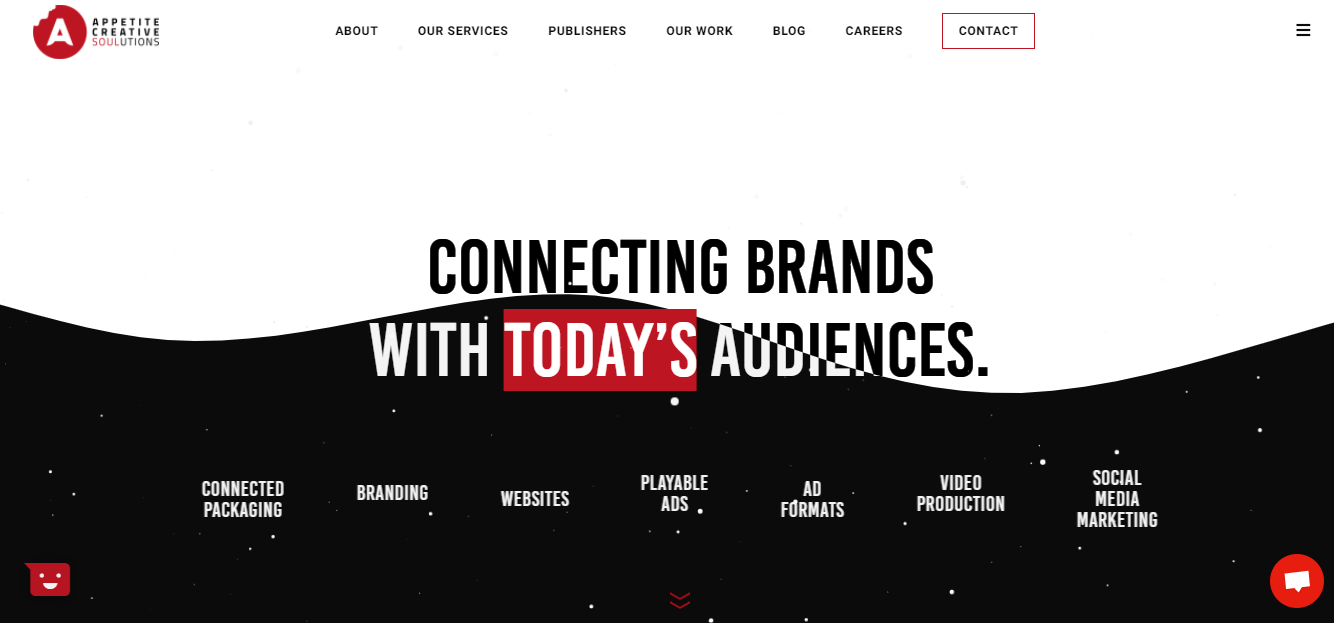 Appetite Creative Solutions is cut from a different cloth. They aren't just a digital marketing agency, they offer creative technology, transforming typical creative work into data-backed and performance-driven results. They've also made a name for themselves but winning awards.
They have received Clutch's Top B2B Companies Global and Top B2B Companies UK awards in 2020. And in 2019, they walked away with Clutch's Top Creative and Design Agencies UK and Top B2B Companies UK awards, along with The Drum 2019 award for Turnover Percentage Growth.
The firm's services include connected packaging, branding, web design, playable ads, ad formats, video production, and social media marketing. Appetite Creative Solutions' impact has seen them grow to work with big names. These include Apple Computers, Lego, Armani, Adidas, Mercedes-Benz, and more.
Result-wise, Appetite Creative Solutions has been a pillar of strength for many brands. Take Spotahome, a mid-to-long-term online home rental bookings platform. Realizing the need to develop a stronger social presence, the brand trusted ACS to build a stronger following by developing a more engaged audience on Facebook and Instagram.
ACS delivered 26405.4 average daily page engagement, 383.3 Instagram Stories reach, and
1961.4 average Instagram Post Reach. The agency has offices in London, Madrid, and Dubai.
---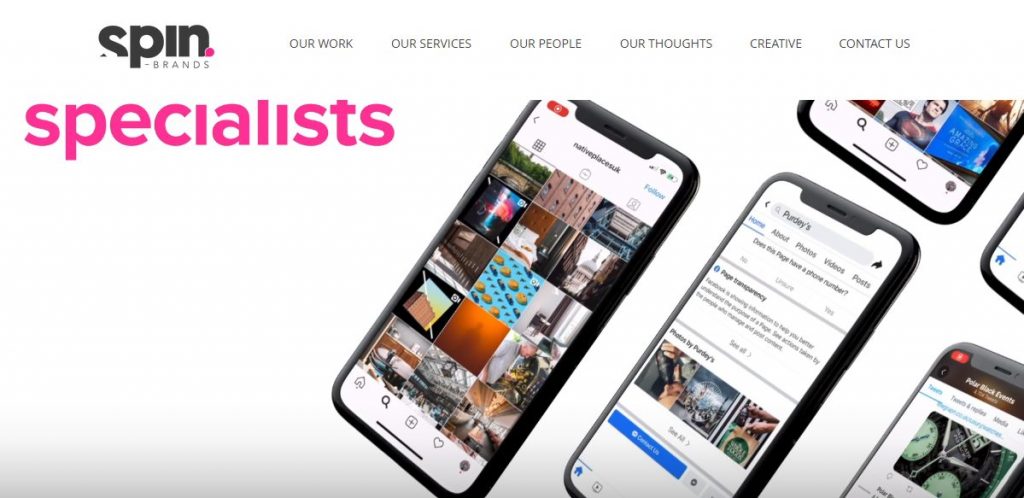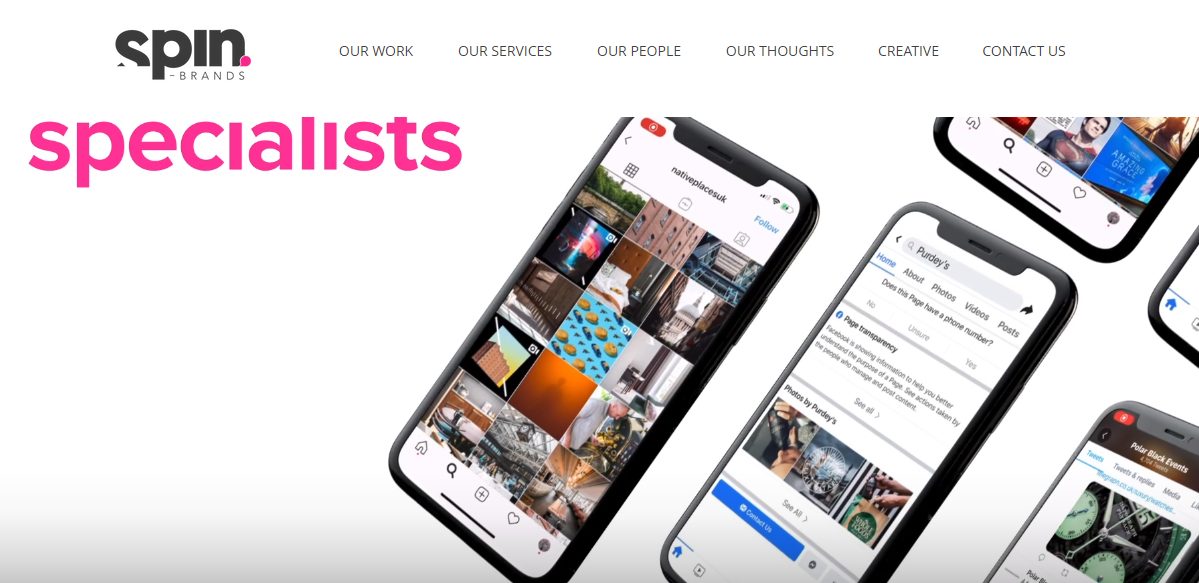 Spin Brands is a London-based digital marketing agency. They help brands evolve with the changing digital landscape by playing to a set of core strengths. These include paid, organic, and creative, and the use of ambassadors. And this has proven a powerful and effective approach. The firm helped Vivobarefoot achieve 230k more social sales growth and a 12x return on investment.
Spin Brands has also worked with companies like Viacom, Aspinal of London, Merrell, and Candy Kittens. Along the way, the firm picked up a few awards. These include four Clutch awards: the design, B2B service provider, creative agency, and advertising and marketing agency categories.
---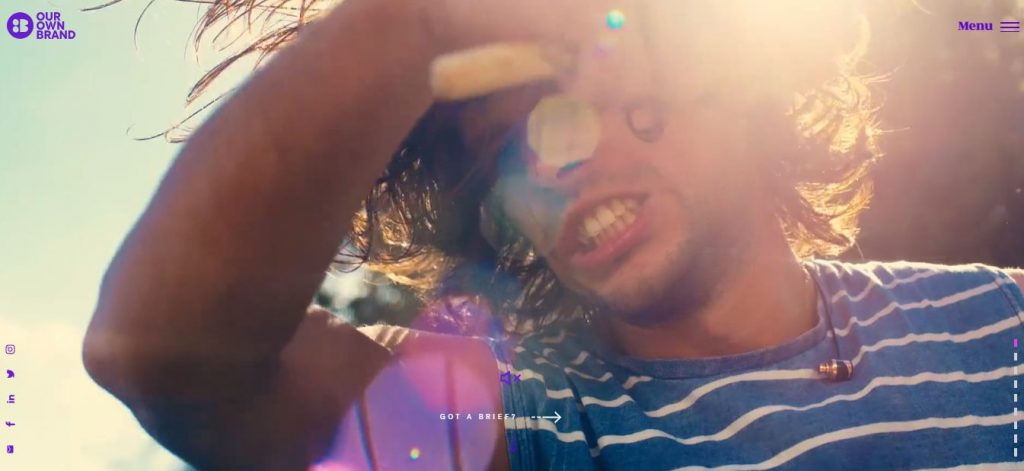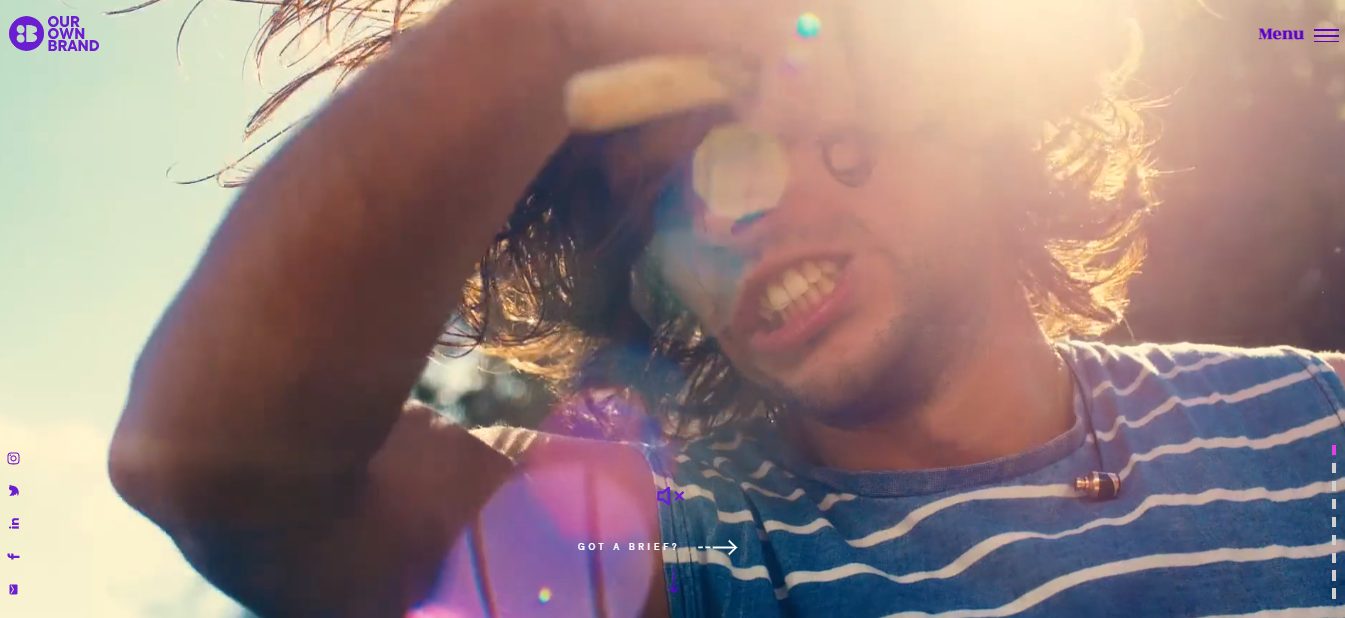 Our Own Brand is a Twickenham-based digital marketing agency. The firm offers video productions, design and development services (think web, graphic, and application development), social and digital marketing, and branding. Like other top agencies on our list, Our Own Brand is driven by a strong client-centric approach to getting things done. And this ethos has seen them attract big names. They've worked with Red Bull, Asos, YouTube, Barclays Digital Eagles, and more.
Their work is nothing shy of impactful. For Meadows in The Mountains, an annual performance art festival, the agency helped boost key metrics and event attendance. Using community management, social and advertising campaigns, content creation, and PR, the festival realized a 223% increase in impressions, a 53% increase in engagement, 31% faster ticket sales, and a bump of 43% in audience growth.
---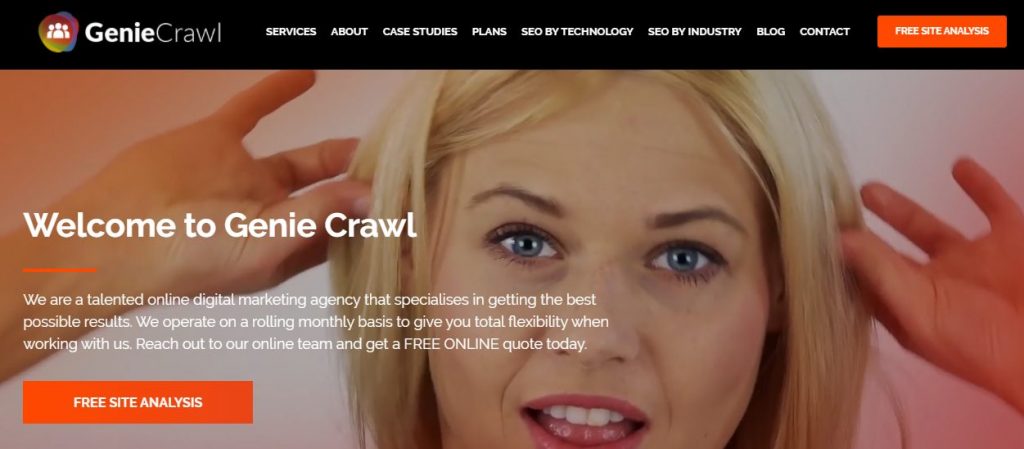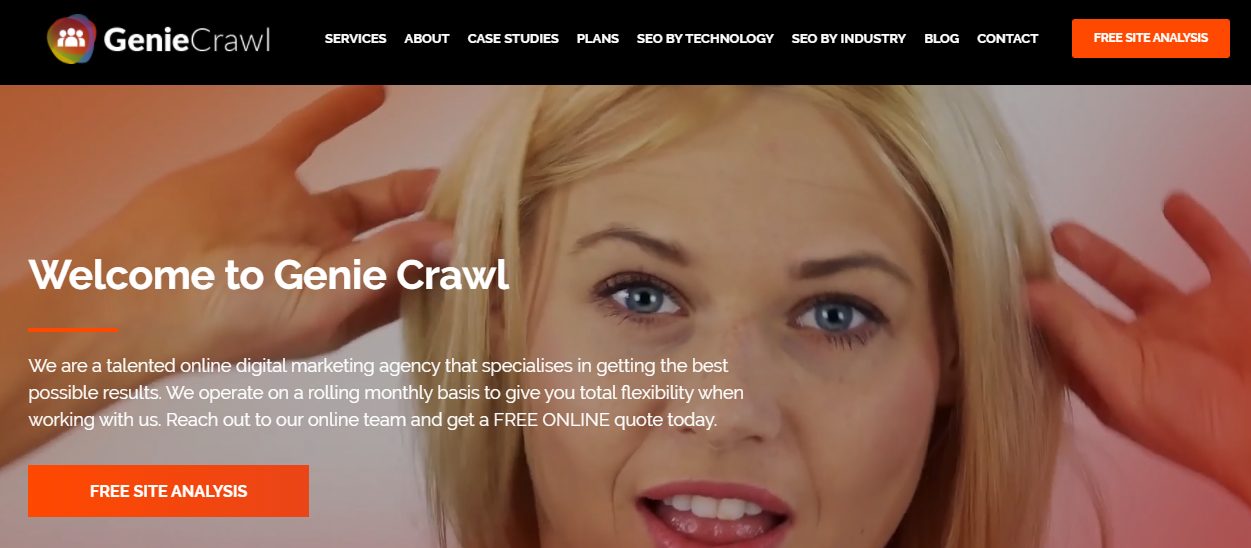 When one thinks about performance-based digital marketing, often that is associated with paid advertising. In Genie Crawl's case, that's how they operate across the board. They offer a rolling monthly engagement, leaving the door open for you to exit if you don't experience the results you're after.
And for brands with great expectations and little time to lose, this is as attractive it gets when shopping for a UK digital marketing agency. Genie Crawl provides an SEO service that spans beyond just Google search, they extend SEO to Google Maps and mobile app store optimization. The firm also offers PPC advertising, reputation management, video marketing, lead generation, mobile app design and development, UX and UI design, branding, and social media marketing.
To date, the firm has completed over 500 projects with a 96% satisfaction rate -- something very few agencies can attest to. While those numbers seem staggering, what's more amazing is that the firm has done so much in just five years.
Genie Crawl's client list is just as broad as its service offerings. Brands include Subway, Papa Johns, Adventure Safari, BestMover.ae, and more. For Subway, Genie Crawl worked with 7 retail outlets to increase in-store sales. The agency's work resulted in a 20% boost in total turnover in a period of 9 months. For BestMover.ae, the agency was able to rank for 163 terms and make the first page of Google for important terms that generate more business. Spin Brands is based out of Twickenham.
---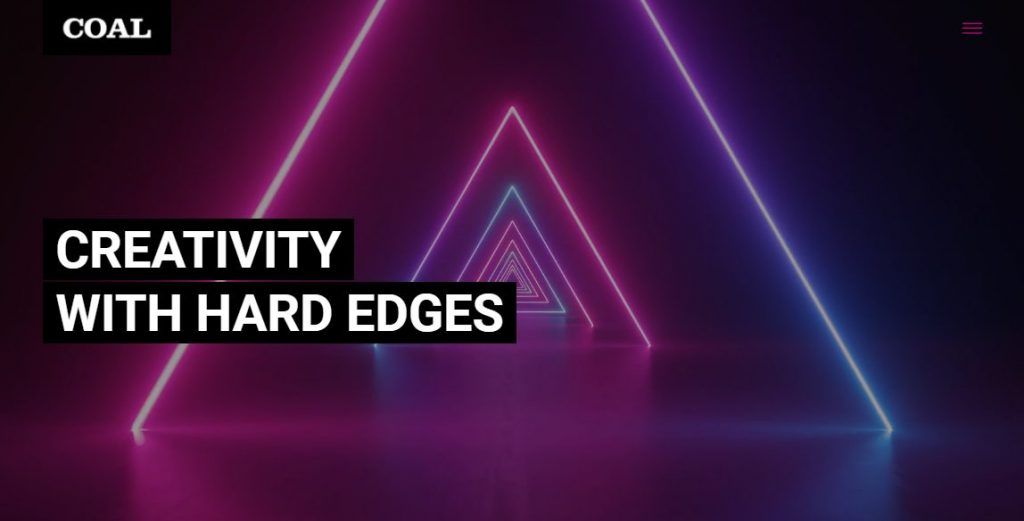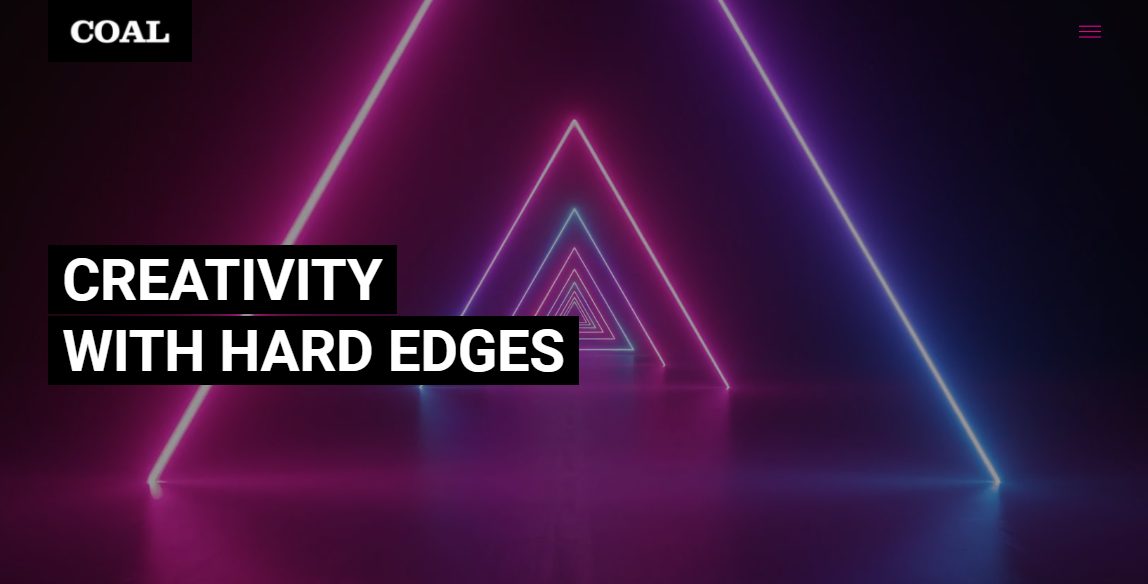 Coal is a digital marketing, video, website design, and advertising agency. With offices in London, Birmingham, and Hong Kong, it's easy to see that they are set on making waves. In addition to the above services, Coal also provides PR and influencer marketing solutions. Its influencer marketing offering includes talent management, contract negotiation, creative concept development, strategic planning, and reporting.
Their footprint is an indicator of how powerful the agency is. Clients include runaway mobile app TikTok, investment management firm AIM, tire manufacturer BFGoodrich, and more. And given the scope of Coal's skill set, they help brands stretch boundaries by delivering powerful content.
Coal's work hasn't gone unrecognized either. They have a long line of awards and nods from the industry. From being a Social Buzz finalist to making The Drum's Design 100 list.
---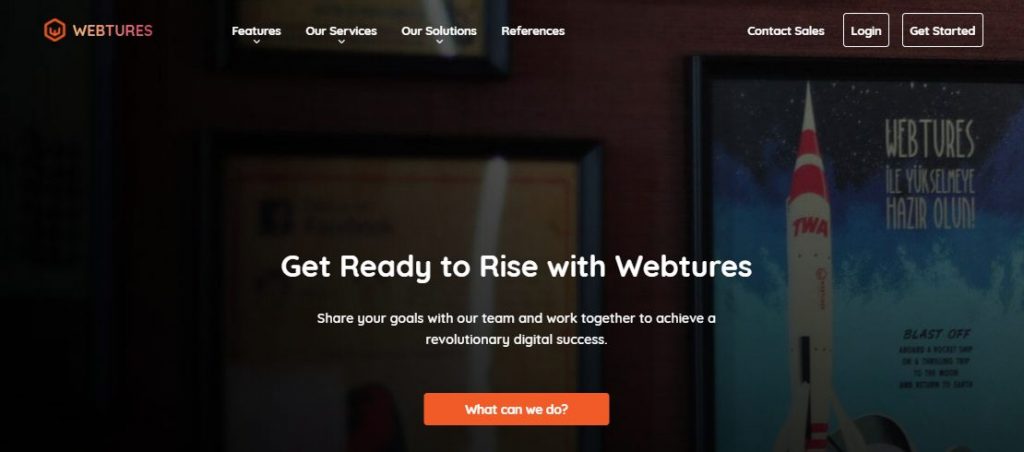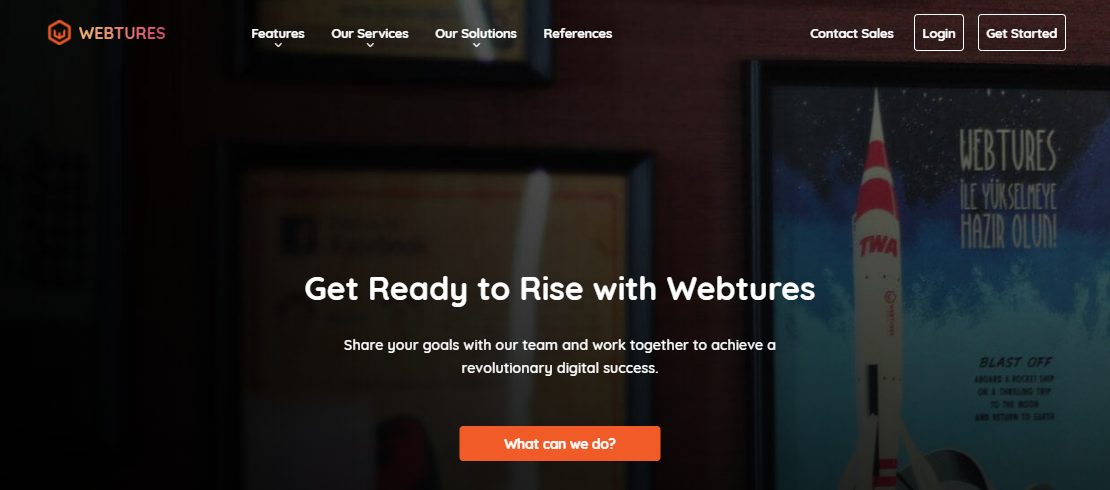 Webtures has done something few agencies have. It has served over 4000 brands across sectors. The firm's experience includes work with renowned names like clothing brand U.S. Polo Association, auditing giant PWC, vehicle manufacturer Ford, and electrical appliance manufacturer Bosch.
While having worked with large brands, they offer solutions tailored to entrepreneurs, SMEs, and agencies, too. Theirs is a strategic approach to offering an SEO service, paid advertising, and online reputation management.
And their results speak volumes. For Turkish battery manufacturer, İnci Akü, the agency helped generate 222% in organic SEO growth in 12 months. In the paid advertising space, Yargi Yayinevi, a publishing firm that produces student exam preparation guides was able to realize a 47% savings on its advertising spend in just one month while meeting its revenue targets. Webtures as a head office is in London and offices in Istanbul.
---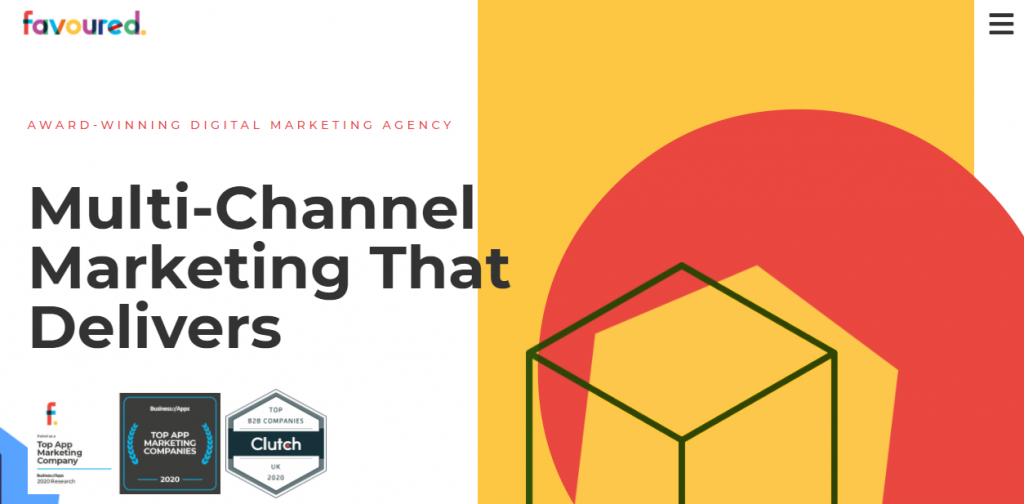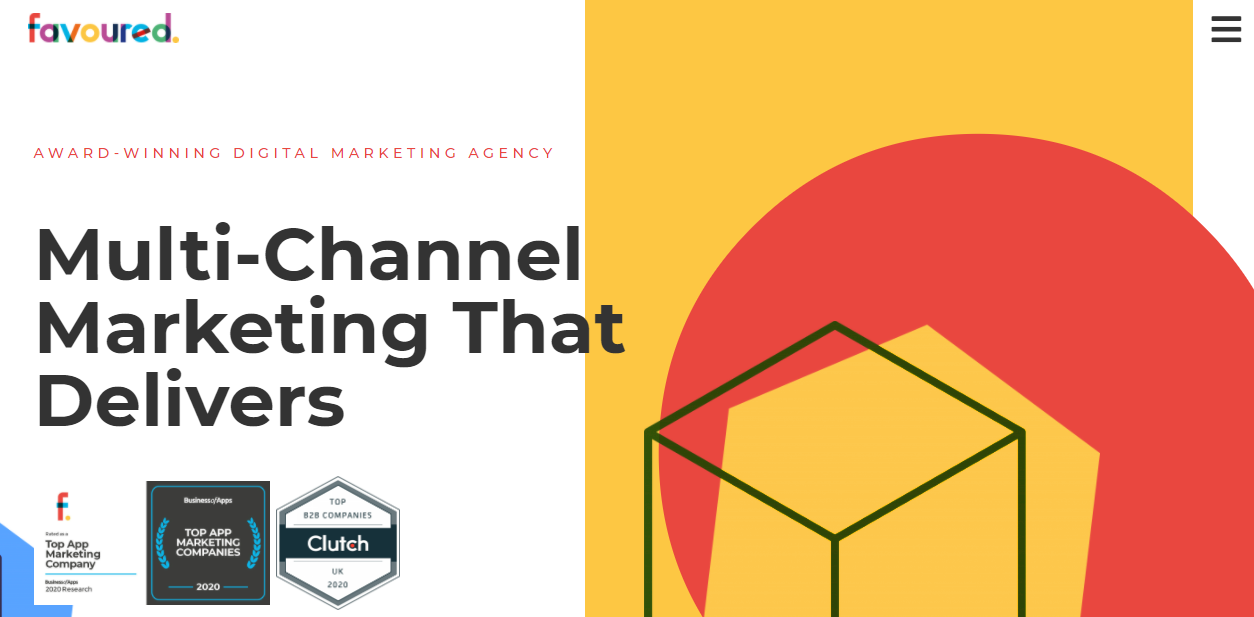 Based out of London and Leeds, Favoured is a multi-channel digital marketing agency that's also multi-award winning. In 2020, they were recognized as a Top Marketing Company by Business of Apps, and as one of Clutch's Top B2B Companies. The firm helps brands navigate the digital marketing landscape by transforming marketing, creative, and content into results.
They achieve this by offering paid advertising, micro-influencer marketing, content marketing, video and motion graphics, web design, and developing strong and effective brand guidelines. They also provide email marketing, search marketing, branding copywriting, and graphic design.
Favoured clients include brands like Durex, Elvie, Wombat Invest, and more.
What makes Favoured effective is their multi-channel approach. Being online requires more than a Facebook and Instagram account, You need a strategic digital approach that is consistent and driven to create lasting brand experiences that translate into results.
This is evident in their work with Elvie, the makers of multiple smart devices, including a floor exerciser and mobile app that visualizes your pelvic floor movements in real-time with biofeedback. Favoured developed a plan that helped reduce the brand's CPA by 60% and boot sales by 900%.
---
Over to You
Finding the right UK digital marketing agency may not be a quick and easy task, but we hope this list helps narrow your options. That said, your search should be informed by more than just accolades and big brand names. The perfect pairing between client and agency is one that requires honest communication and the ability to plan and execute swiftly to enjoy positive results.
As you shop for your next agency, think about your goals, but also consider the type of people you want to work with. Every brand has a unique culture and finding a digital marketing partner that will compliment your brand is essential.