We have written in the past about the advantages of using influencers on Facebook, partly as a way to beat their algorithm. We even released our guide to the essentials of Facebook influencer marketing. But let's be honest, most brands that work with influencers on Facebook run their own account as well – even if it is simply used as a place for influencers to send traffic to. If you want the highest reach, however, you should mix paid Facebook ads in with your organic efforts and influencer activity.
Organic marketing on Facebook can be an incredibly painful experience. Over the last few years, Facebook has made a series of changes to its algorithm that have sent organic posts by brands to the back of the priority queue. You might be lucky if two or three out of every 100 of your followers ever get to see your organic posts. This is particularly the case if your posts include links back to your own website. Facebook prefers to keep its users on the platform and now actively discourages posts linking to landing pages or blog posts, unless you pay for the "privilege."
Facebook ads can be profitable for marketers and brands, however. Their ad platform is now sophisticated, intuitive, and easy to use. And unlike organic posts, Facebook has no qualms about spreading paid posts, even ones with Calls to Action leading people offsite.
Of course, not every ad is going to encourage people to act. Some are clearly better at attracting customers than others. There are four main components of a successful Facebook ad:
They're highly visual and attractive to the eye

They're relevant to the target audience

They clearly state what's in it for the ad viewer

They entice you to take immediate action. They include a clear call to action, so the ad viewer knows what to do next
We look at some promising Facebook ads here.
---
Facebook Ads That Work:
---
1. Dollar Shave Cub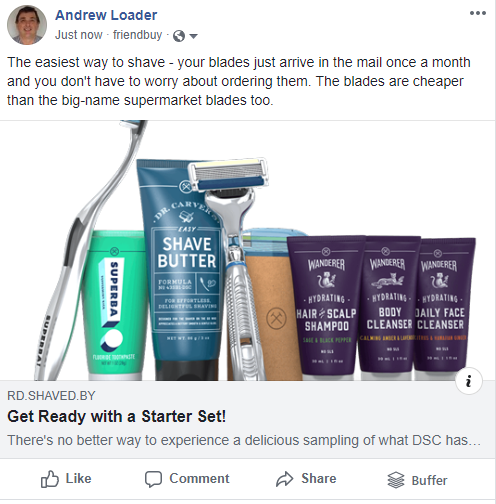 Dollar Shave uses a potent combination of Facebook ads that follow you around, once you've made "first contact" with the company, allied with customer advocacy. Their campaigns are straightforward and target the "everyday bloke." The customer advocacy works because their product is popular with their customers, who are happy to share Facebook messages promoting Dollar Shave.
Whenever you go to Dollar Shave's website, they give you a suggested post to share. Simple, smooth, with a clear-cut message.
Their paid ads are even more straightforward than this (as they have control over the copy in the paid ads, whereas customers can change the text in the customer advocacy posts). This means that Dollar Save Club usually receives far more comments than the typical paid ad.
---
2. Shopify Plus
Shopify Plus has managed to create a simple carousel that delivers its message clearly.
Shopify uses a simple four-step Google Carousel ad to demonstrate the benefits of using their product. Each slide focuses on a single focus point:
Focus on marketing

Focus on experience

Focus on leading

Automate the rest
Like most Facebook advertisers, Shopify will have used a combination of demographics (people like to use Shopify to help sell items through a website) and behavior (people who have previously demonstrated an interest in Shopify or competing products) to target who will see this ad.
The ad's message is clear – use Shopify to simplify your website sales process, so you can concentrate on the critical items, without being bogged down attending to the everyday nuts and bolts.
---
3. Amazon Event Ad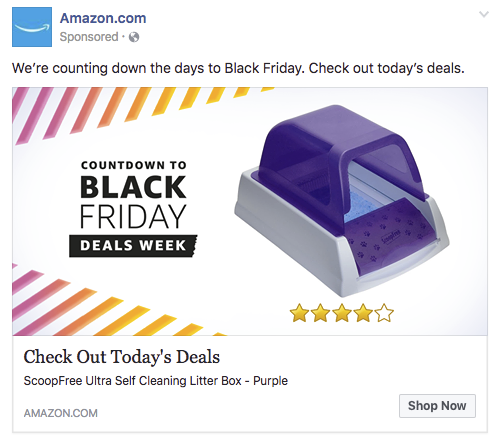 If you buy products from Amazon, you will frequently see their ads in your Facebook feed. Often these will be for books or other items you just happened to be looking at recently. It almost seems like they were spying on you, although it is merely the use of good retargeting software
Amazon also produces good "event" ads, for example, this ad they used in the days before Black Friday.
Although the ad is for a low-value everyday item for a pet owner, a litter box, the main emphasis is on the forthcoming Black Friday Deals. These stand out clearly.
The ad is bright and attracts the eye in a busy Facebook feed. It uses bright color and white space to draws the eye to its message. It uses minimal copy, just enough to highlight the essential points.
Presumably, Amazon has a selection of these Black Friday posts that it places into the feeds of different demographics. This would attract the eye of a cat owner. Similar ads with different products would focus on other groups of potential customers.
Like all good ads, this one includes a clear Call to Action.
---
4. Patagonia
Patagonia does an excellent job of matching its Facebook ad with its target audience.
This is an example of a video ad promoting boardshorts to surfers. The video shows an exciting clip of surfers powering through a wave, presumably wearing their Patagonia Hydro Series boardshorts. The copy refers to "dynamic movement" directly above a video showing precisely that. Small images beneath showing a range of boardshorts styles add to the effect.
This is an excellent example of how firms can create a targeted Facebook Collection ad.
---
5. Grammarly
Meet Kaz Matsune: a sushi chef, a teacher, an author, and a Grammarly user.

Posted by Grammarly on Wednesday, November 7, 2018
A Grammarly campaign has the English language grammar app telling a story of one of their users. The Grammarly product plug that comes with it seems almost natural and a suitable part of the story.
This is a Facebook video ad showing a Grammarly client (a Sushi chef) operating a Sushi class. The focus of the ad is on the sushi class, but the voiceover changes into how the sushi chef chose to write a book on his experiences and connections with people – he, of course, used Grammarly to help him write his book.
Effectively this ad is one great testimonial from a happy Grammarly user – with most of the visuals connecting to the person giving the testimonial, rather than the product.
Grammarly chose to tell a story using a video, close to 2 minutes long. The video finishes with an important message, "write the future," which ties back in with the Grammarly product. The ad includes further social proof, linking to a review on Forbes.
Because Grammarly targeted this ad at people near the top of the purchasing funnel, they presented it to more than 5 million people.
---
6. HelloFresh
Forget the hassle of planning what to cook today! We'll deliver a delicious meal kit with farm fresh ingredients and our easy-to-follow recipes straight to your door.

Posted by HelloFresh on Monday, April 9, 2018
Both video and still photography are perfect for food companies to make their mark on social media. A well-shot image can make or break an ad, and literally make the reader salivate in hunger.
In this case, you have a double video showing you both the tasty finished product and the box of ingredients that HelloFresh will send you, so you can make the recipe. The emphasis here is on fresh and healthy
It's a simple concept – two videos filmed in stop-motion – as an item is added to the dish, it is placed in the box. In the end, you have the complete box ready to take home. This ad even minimizes the Call to Action, to just be a discount offer in small (but bold) print at the top of the videos. The one indulgence is a large logo at the end of the presentation.
---
7. Allbirds
Footwear company, Allbirds, demonstrates how a simple video ad with lots of white space can be highly effective.
All the video shows are a pair of snug, comfortable feet in their Allbirds shoes, with complementary copy saying, "I can't say enough about how comfortable these shoes are." Free shipping and free returns. At the bottom of the ad, there is a clear Call to Action, telling the viewer to Shop Now.
You might think that a still photo would give the same effect, but something about this short video oozes comfort (perhaps the flexible movement of the feet).
---
8. University of Washington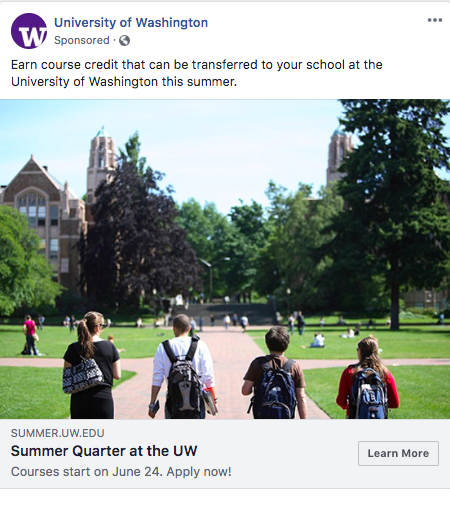 While there are probably many similar types of ads for educational institutions, this University of Washington ad gains points for clarity of purpose. It includes a vivid photo showing students on their campus (they are helped by not being a concrete jungle, so can emphasize their leafy green surroundings). Most importantly, the ad tells a clear message. It highlights the upcoming Summer Quarter, gives the date when courses start, tells the presumably targeted audience to Apply Now, and includes a Call to Action button offering that the reader will Learn More by clicking on it.
The text at the top of the ad answers a commonly asked question – can you transfer course credits?
---
9. Jon Loomer Digital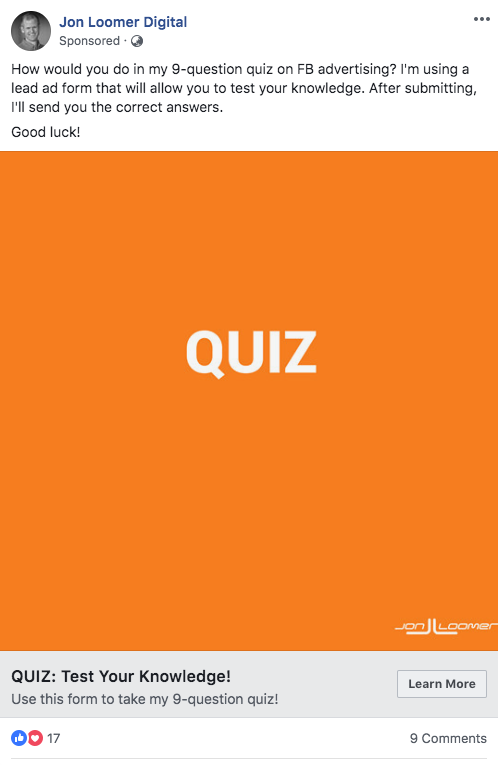 Alright, Jon Loomer Digital should know how to create Facebook ads – the company educates and sells services to advanced Facebook marketers. If they couldn't create good Facebook ads themselves, you would be somewhat skeptical about using their services for your Facebook campaigns.
But there's nothing like teaching by example, and Jon Loomer has produced a range of innovative and original ads over the years.
I'm not sure whether the idea of sharing images of an orange box originated with Jon Loomer, Fyre Festival, or somebody else first. But it has now proven to be a highly effective technique.
Jon Loomer turned a Facebook Lead Ad into a quiz. This means that he effectively gamified the Facebook advertising system.
Unsurprisingly, more people chose to click on this ad's Call to Action, than would a typical Facebook marketing campaign. The first question the participants were asked was for their email address, meaning that Jon Loomer had another way to contact potential leads.
Of course, for this to be successful, we assume that Jon Loomer carefully selected the types of people who Facebook served with this ad.
---
10. InSinkErator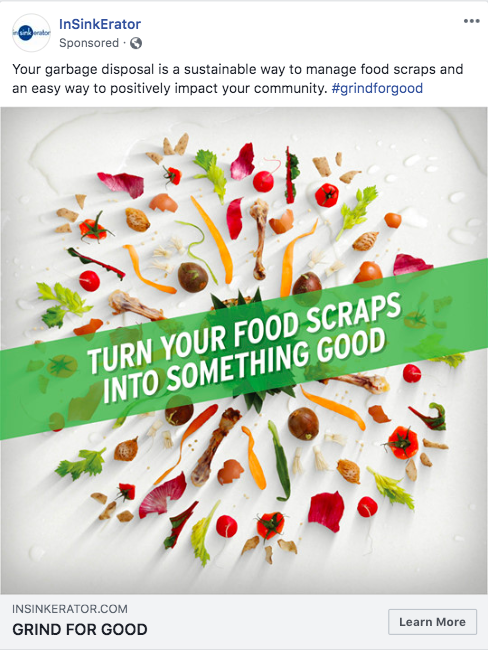 When you think of beautiful eye-catching imagery, you don't normally imagine that it will involve an in-sink garbage disposal unit. Yet InSinkErator has managed to do precisely that.
This ad takes your vegetable waste you've put down your sink and turned it into a work of art. It certainly reaches out and grabs your attention. The copy also emphasizes the product's clean green benefits and encourages you to push the Learn More call to action button.
---
11. Jim Kwik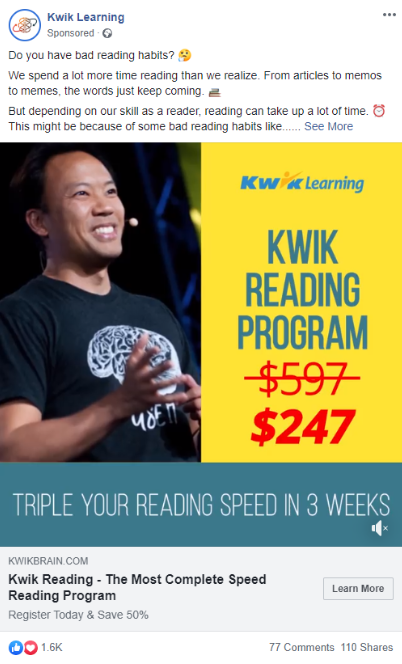 Jim Kwik has made a name for himself as the foremost speed reading expert in the world. And if you think he looks familiar, it's because his almost everywhere you turn on social media. He's known for his positive yet practical outlook on life and why creating optimal habits, like speed reading, can help improve yours. In this video ad, Kwik has leveraged content from one of his keynote addresses. He focuses on the key benefits of learning how to read faster, coining the phrase "knowledge isn't only power, knowledge is profit", which is enough to catch the attention of anyone looking for an edge. The ad also uses effective post copy where Kwik covers various real-life application where speed reading is valuable. It ends with a smart contrast of colour and an offer to get his Kwik Reading Program at half the original price, and a powerful idea: triply your reading speed in three weeks.
---
12. DataCamp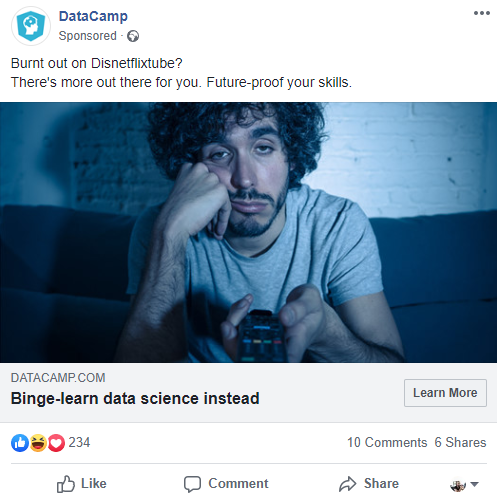 DataCamp's got a very clear handle on who their audience is and what moves them. Today, as the online learning space booms, they've entered the market with a smart and buyer-aligned ad that's hard to miss. As more people turn to online streaming services like Netflix, Disney+ and YouTube, DataCamp offers it's buyers an alternative. They can still watch something online, and make it worthwhile. They also hit the nail on the head with a term the internet has become all too familiar with, but also made it their own. By offering the chance to "binge-learn", they effectively pose a challenge to people who want a change.
---
13. Netflix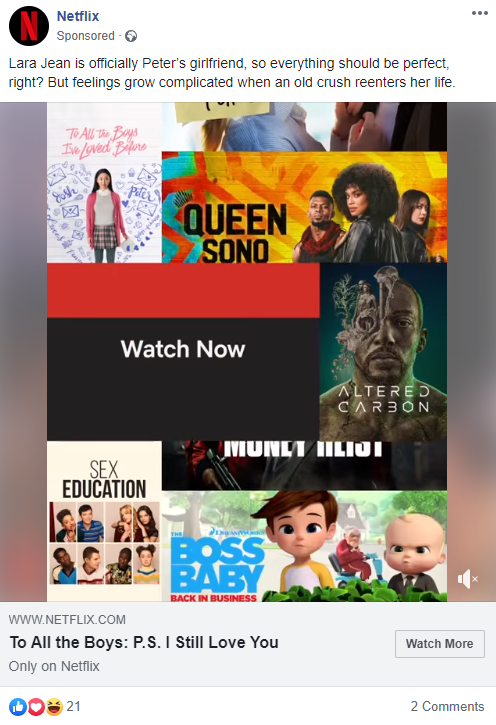 Everyone knows about Netflix. Everyone also knows about how hard it can be to find something interesting or entertaining to watch on Netflix. To get warm-up to audience, Netflix's slideshow ad positions various programs, showing a wide variety of content for everyone in the family to enjoy. It also makes a point of touching on one of its most successful movies, "To All the Boys I've Loved Before", by hinting at a sequel and Lara's next challenge.
---
14. Rugged SA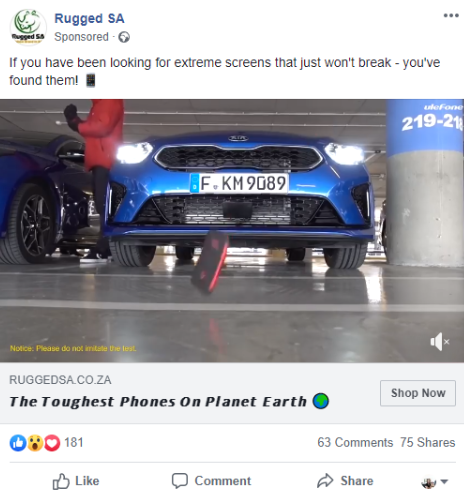 The idea of dropping your smartphone is likely one of the most cringeworthy experiences you'll have in a lifetime. But Rugged SA decided to put its product out there in a big way. Its video ad shows a phone going through almost every kind of fall and crash one could possibly imagine, without the screen cracking or the phone coming apart. What's more, the phone isn't just dropped, it's thrown onto escalating stairs, submerge in beach sand and water, and more. What makes this Facebook ad incredible is that it immediately captures attention as you scroll through a busy feed. The use of bold and italicised text in the call to action section also begs your attention, making it a moment you can't miss as you search for something interested on Facebook.
---
15. Bloomberg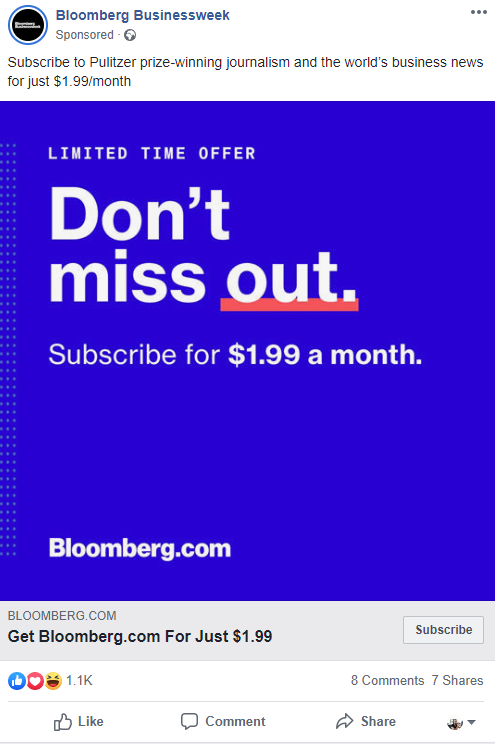 Bloomberg is a world-renowned brand. But growing a renowned brand requires leaning into territory that helps people recognize why your brand is the best choice. Their limited subscription offer is a smart play on scarcity. It's designed to trigger a psychological response related to the fear of missing out, prompting would-be audiences to get high-quality news content at just $1.99. The ad also stands out due to the high-contrast colour combination used in the text and background, and a simple, yet easy-to-follow call to action to subscribe. On a deeper level, the look and feel of the offer also emphasises a no-nonsense approach to information. Today, as the web is filled with greater volumes of noise, finding a clear and objective news source is critical. Bloomberg's simplistic approach, one with limited imagery, communicates a strong and resounding message that their news is all about facts.