Advertising Disclosure
Advertising disclosure:
Our partners compensate us. This may influence which products or services we review (also where and how those products appear on the site), this in no way affects our recommendations or the advice we offer. Our reviews are based on years of experience and countless hours of research. Our partners cannot pay us to guarantee favorable reviews of their products or services.
The beauty industry is an ever-evolving and highly competitive space. With an increasing number of brands and products vying for consumer attention, it has become essential for businesses to invest in effective digital marketing strategies. Choosing the right beauty marketing agency can be the difference between your brand's success and obscurity.
In today's digital age, the beauty marketing strategy goes beyond creating visually appealing content. It encompasses several core services, such as search engine optimization (SEO), pay-per-click (PPC) advertising, social media management, content marketing, and more. With the right mix of these services, your brand can attract a wider audience, generate leads, and drive sales.
To help you navigate the complex world of beauty marketing and make an informed decision, we've compiled a list of the top 17 beauty marketing digital agencies. These agencies boast a proven track record of success, expert teams, and a wide range of services tailored to the unique needs of the beauty industry. Let's dive in!
---
Beauty Marketing Agencies That Understand Your Industry:
---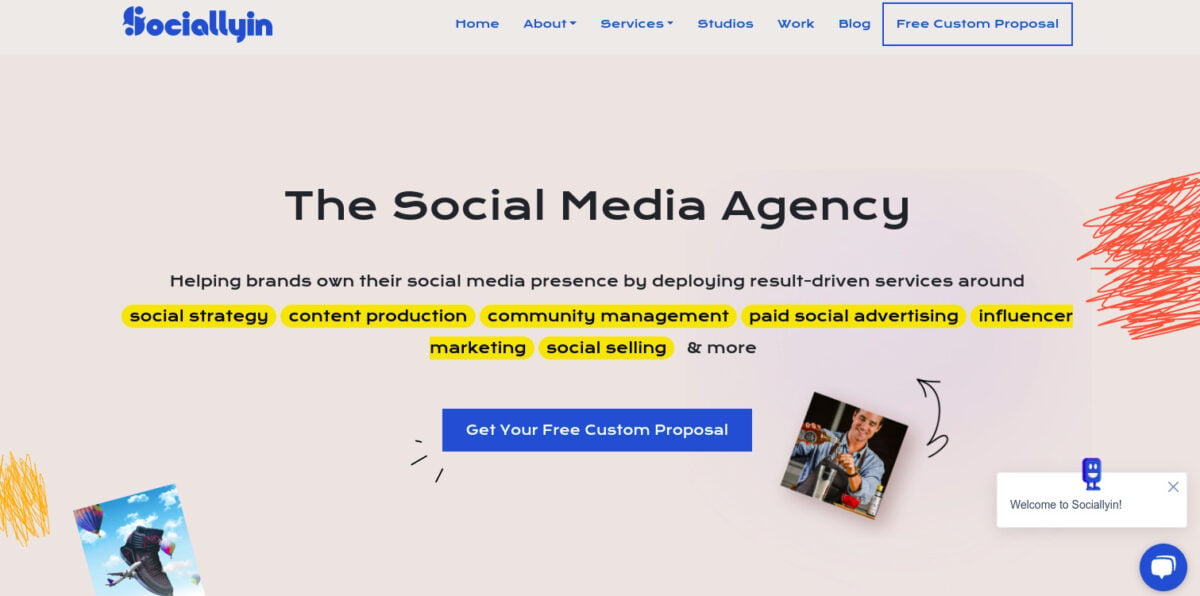 Next up is Sociallyin, a full-service beauty marketing agency focused on delivering creative and results-driven social media campaigns. Sociallyin's team of experienced professionals understands the importance of developing a strong online presence in the beauty industry, where visuals and storytelling are key.
From influencer marketing to community management, Sociallyin offers a wide range of services that cater specifically to the needs of beauty brands. They specialize in creating compelling content that resonates with your target audience, while also optimizing your social media channels to drive engagement and sales. In a remarkable turnaround, Sociallyin elevated Geneo's Facebook following from a mere 129 to an astounding 13,100 in under three months, and gained over 850 followers on Instagram. Geneo also benefited from over 800 leads and an impressive 64,628 impressions during this period.
Check out this cool social ad we created for @geneo_us ! It's always fun working with clients across various industries. Who should we work with next? Tag them below. 👇🏾
•
•
•#socialadvertising #socialmediamarketing #socialmediaadvertising #beauty #beautycare #geneo pic.twitter.com/oM9eRIns8K

— Sociallyin (@Sociallyin) July 8, 2019
Services:
Social Media Management
Influencer Marketing
Content Creation
Paid Advertising
Branding and Design
Strategy and Consultation
---
---
---
---
---
---
---
---
---
---
---
---
---
---
---
---
---
Conclusion
Choosing the right beauty marketing digital agency is crucial for your brand's success in today's highly competitive market. By partnering with one of the top 17 beauty marketing agencies mentioned in this listicle, you can be confident that your brand will receive expert guidance, tailored strategies, and measurable results. Take the first step towards elevating your beauty brand today by reaching out to one of these agencies and exploring their range of services.
Frequently Asked Questions
What makes a beauty marketing agency unique compared to other digital marketing agencies?
Beauty marketing agencies specialize in the specific challenges and opportunities faced by beauty influencers and brands. They possess a deep understanding of the industry, enabling them to create tailored marketing strategies that resonate with target audiences. These agencies often have expertise in areas such as branding, packaging design, content creation, influencer marketing, and social media management, all of which are crucial for success in the beauty industry.
How do top beauty marketing agencies measure the success of their campaigns?
Top beauty marketing agencies use a variety of key performance indicators (KPIs) to measure the success of their campaigns. These may include metrics such as website traffic, conversion rates, social media engagement, click-through rates, return on ad spend, and more. By tracking and analyzing these metrics, agencies can make data-driven decisions to optimize and refine campaigns for maximum impact and return on investment (ROI).
Can a beauty marketing agency help with packaging design and branding?
Yes, many beauty marketing agencies offer services that include packaging design and branding. They understand the importance of creating a cohesive brand identity, from logo design and color schemes to packaging and promotional materials. By working with a beauty marketing agency, you can ensure that all aspects of your brand's visual identity are aligned with your target audience's preferences and expectations.
What are the typical services offered by beauty marketing agencies?
Beauty marketing agencies offer a wide range of digital marketing services tailored to the needs of beauty brands. Common services include search engine optimization (SEO), pay-per-click (PPC) advertising, social media management, content marketing, influencer marketing, web design, branding, and packaging design. Each agency may have its unique offerings, so it's essential to discuss your specific needs with potential agencies to find the best fit for your brand.
How do beauty marketing agencies stay current with industry trends and best practices?
Top beauty marketing agencies are committed to staying up-to-date with the latest trends, technologies, and best practices in the beauty industry. They achieve this by conducting ongoing research, attending industry events, and engaging with thought leaders in the beauty space. By staying informed and adapting to new developments, these agencies can create innovative and effective marketing strategies that help beauty brands thrive in a constantly evolving landscape.
How do I choose the right beauty marketing agency for my brand?
Choosing the right beauty marketing agency involves considering factors such as the agency's industry experience, portfolio of work, range of services offered, and communication style. It's important to find an agency that understands your brand's unique goals and challenges and can develop tailored strategies to help you achieve success. Schedule consultations with potential agencies to discuss your needs, ask questions, and get a feel for how well they align with your brand's vision and objectives.