Advertising Disclosure
Advertising disclosure:
Our partners compensate us. This may influence which products or services we review (also where and how those products appear on the site), this in no way affects our recommendations or the advice we offer. Our reviews are based on years of experience and countless hours of research. Our partners cannot pay us to guarantee favorable reviews of their products or services.
Finding an agency that not only speaks the innovative language but also delivers results is akin to finding a gem in a myriad of stones. The realm of creative digital marketing is teeming with contenders, yet only a select few have proven their mettle, marrying creativity with efficacy and innovation with precision.
In this article, we unveil the top 10 agencies that have mastered this art, those that have etched a narrative so powerful that it transcends traditional marketing rhetoric. We unravel the strategies employed by these agencies, decoding the magic that places them a cut above the rest.
---
Top Digital Marketing Agency Choices
Top
creative digital marketing agencies
2024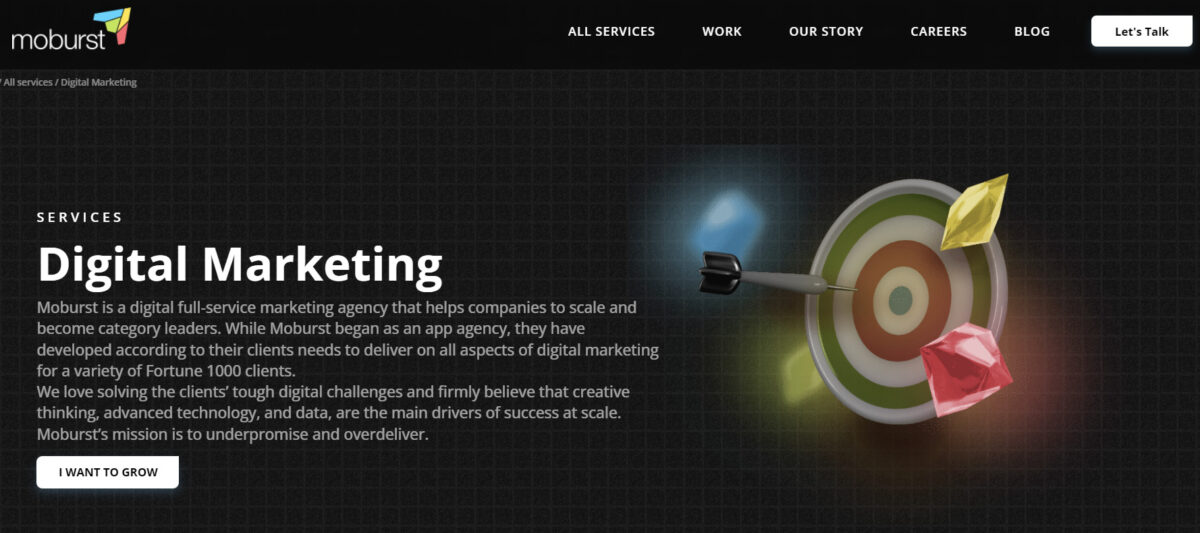 Moburst is a seasoned player in the domain of creative digital marketing, epitomizing a blend of creativity, strategy, and results-driven approaches. Renowned for turning visual and conceptual artistry into tangible business outcomes, Moburst delineates its service offerings into strategic paradigms, each tailored to boost brand visibility, engagement, and conversion rates. One of its core services is video production, an offering rooted in their findings that a well-crafted marketing video can augment conversion rates by 80%. Moburst leverages this insight, crafting videos that aren't just visually appealing but are strategic assets that enhance the overall marketing matrix.
The agency's prowess extends into the realm of campaign concept and design, where the fusion of creative research and actionable insights is pivotal. Each campaign is a bespoke creation, meticulously crafted following an in-depth analysis of previous campaign data and contemporary market trends. This ensures every campaign is a visual spectacle and a strategic tool engineered for optimal performance. Social media management is another sphere where Moburst has marked its excellence. Navigating the constant cycles of social media trends, the agency has mastered the art of blending client audience preferences with content that captivates and retains attention.
Moburst's expertise is further exemplified in its approach to App Store Assets and User-Generated Content (UGC). With the acknowledgment that most users decide on an app within the first few seconds of landing on its app store page, Moburst has honed the craft of creating app store creatives that not only retain attention but drive conversions.
---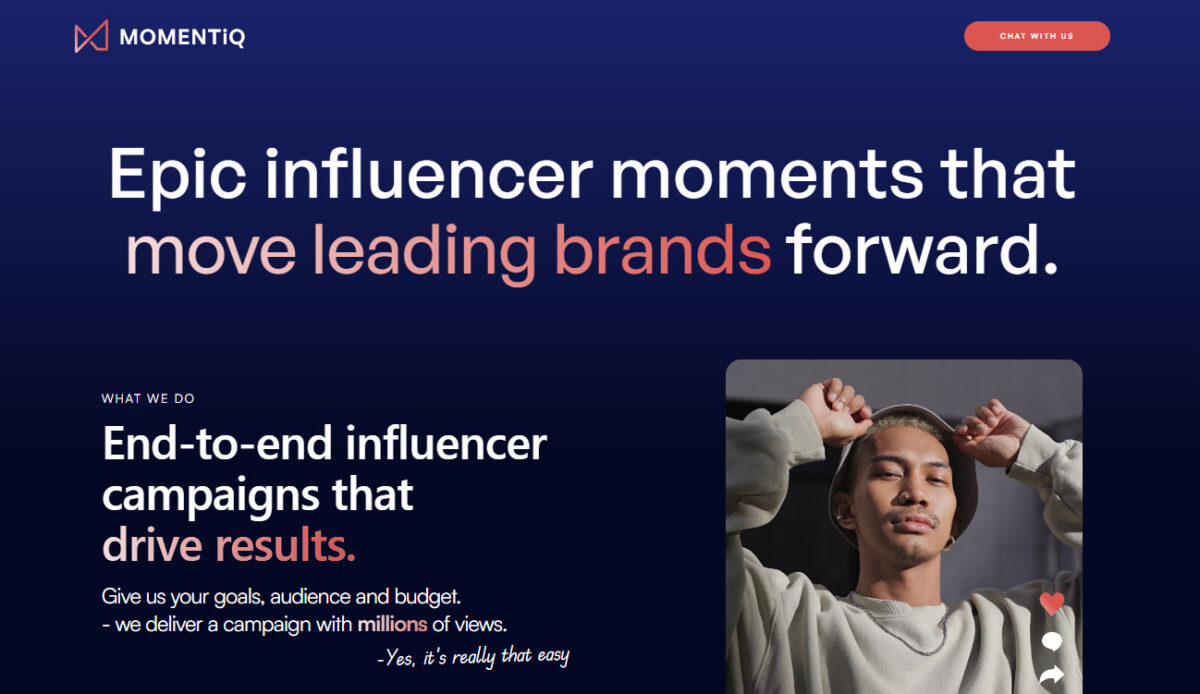 Momentiq Inc is a dynamic and results-driven creative digital marketing agency that specializes in crafting epic influencer moments to propel leading brands forward. What sets Momentiq apart is its unwavering commitment to delivering end-to-end influencer campaigns that consistently yield tangible results. The agency's approach is refreshingly straightforward: provide them with goals, target audience, and budget, and they will orchestrate a campaign that garners millions of views.
One of Momentiq's notable features is its expertise in YouTube and TikTok, where they excel in creating content that resonates with audiences. But what truly makes them exceptional is their ability to make brands linger in the minds of consumers beyond the average 7-second attention span. They go the extra mile to develop stronger brand awareness, ensuring messages stick.
Momentiq Inc is not in the business of participation trophies. They firmly believe in driving real impact for their clients. With a portfolio that boasts collaborations with prominent businesses, Momentiq has a track record of bringing the eyeballs of the world to brands. Their forward-thinking approach attracts companies that are poised to embrace the future of marketing.
---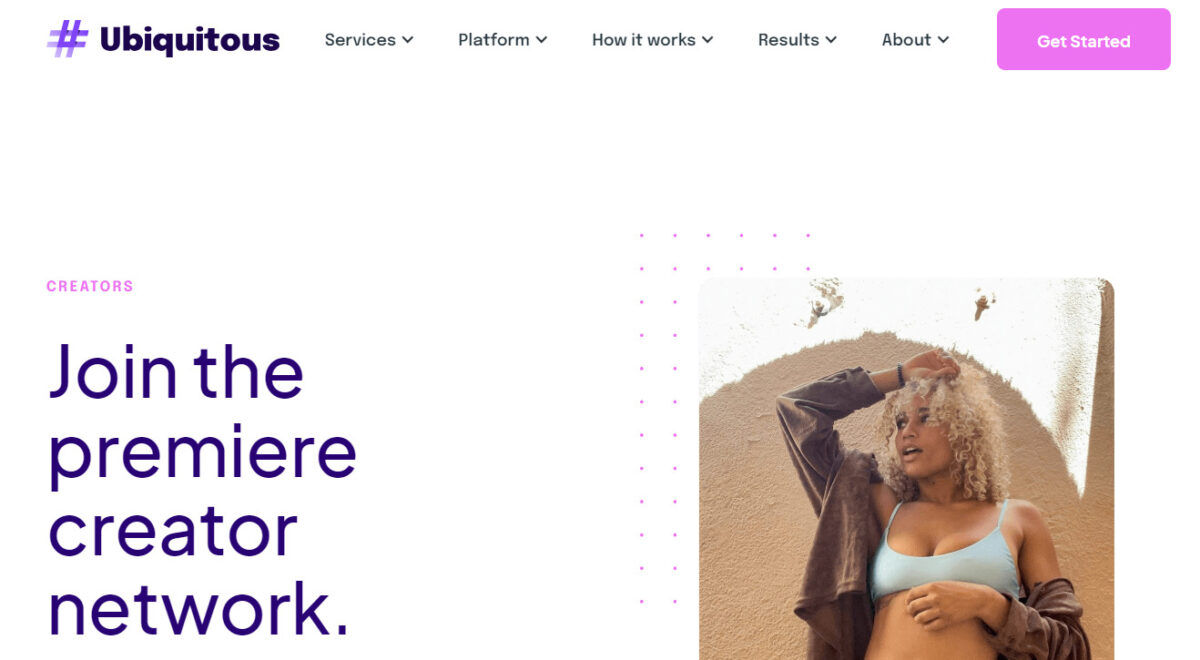 Ubiquitous, a trailblazing creative digital marketing agency, distinguishes itself through its unwavering dedication to influencer marketing. With a clear mission to elevate brand recognition to household-name status, Ubiquitous excels in orchestrating influencer-driven campaigns. They directly collaborate with TikTok, Instagram, and YouTube creators, resulting in viral, compelling, and data-driven campaigns that yield tangible results. Unlike many agencies, Ubiquitous focuses on outcomes rather than superficial metrics, boasting a prestigious client roster spanning companies across various industries and sizes.
Ubiquitous prides itself on being a matchmaker between businesses and social media influencers, affectionately known as "creators." They streamline the influencer marketing process, eliminating the usual hassles of ghosting, no-shows, or awkward interactions. They also offer a self-service influencer marketing platform that empowers brands to identify creators, conduct competitive research, and track campaign performance—all in one accessible space and at no cost. Ultimately, Ubiquitous is dedicated to making influencer marketing scalable and manageable for businesses.
With extensive proficiency in Instagram influencer marketing, Ubiquitous offers a refreshing focus on quality brands desperately need. With a seasoned team, many of whom have been influencers, they deeply understand each social platform's distinct influencer capabilities.
---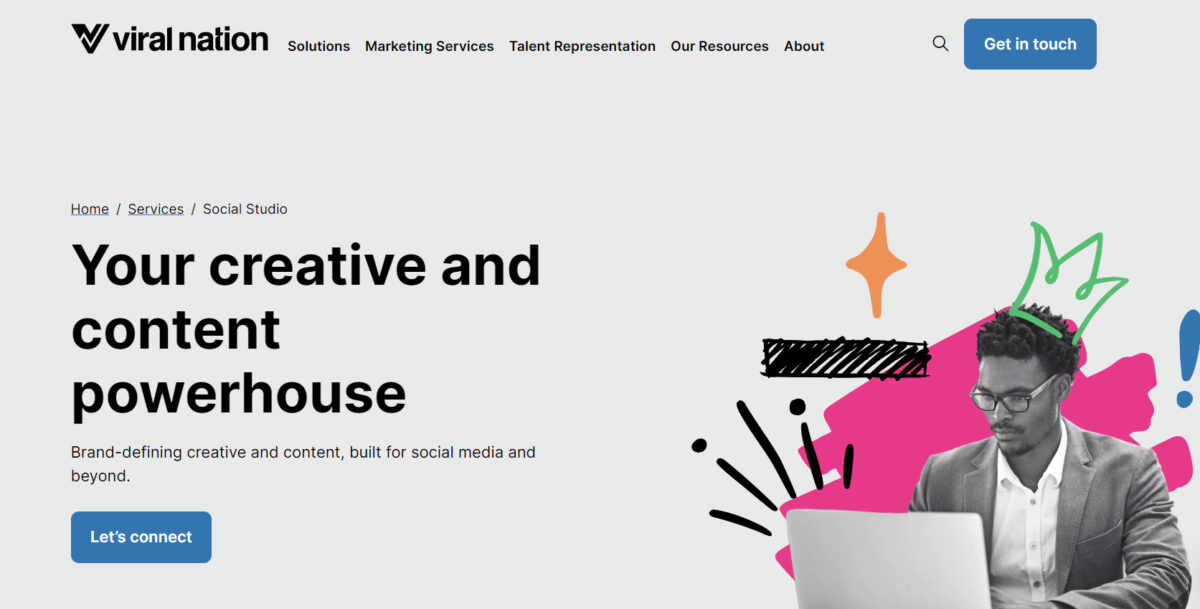 Viral Nation, a well-versed creative digital marketing agency, transcends conventional boundaries. It proudly positions itself as the global leader in Social Media Transformation and Social Commerce, and it's not without reason. Viral Nation blends Marketing, Talent, and Technology into a potent combination, empowering remarkable brands to thrive in the Attention Economy.
At the heart of Viral Nation's offerings is its status as the #1 Influencer & Social Media Marketing Agency. Their strength lies in seamlessly integrating Influencer Marketing, Paid Performance, Owned Social, and Creative and Content Services. This convergence allows brands to embrace a social-first approach and drive measurable social commerce. With a commitment to innovation, Viral Nation continues to shape the creator economy, consistently uncovering opportunities and delivering unprecedented success for its brand partners.
Viral Nation's dedication to Talent is equally noteworthy. As the #1 Creator Talent Agency, they open doors of opportunity for digital stars and brands across 11 industry sectors, representing over 600 creators. Whether an aspiring creator, established influencer, or celebrity creator, Viral Nation's team is committed to helping achieve business goals. From brand deals and partnerships to talent publicists, creator studios, and ventures, they provide comprehensive support to elevate your digital presence.
---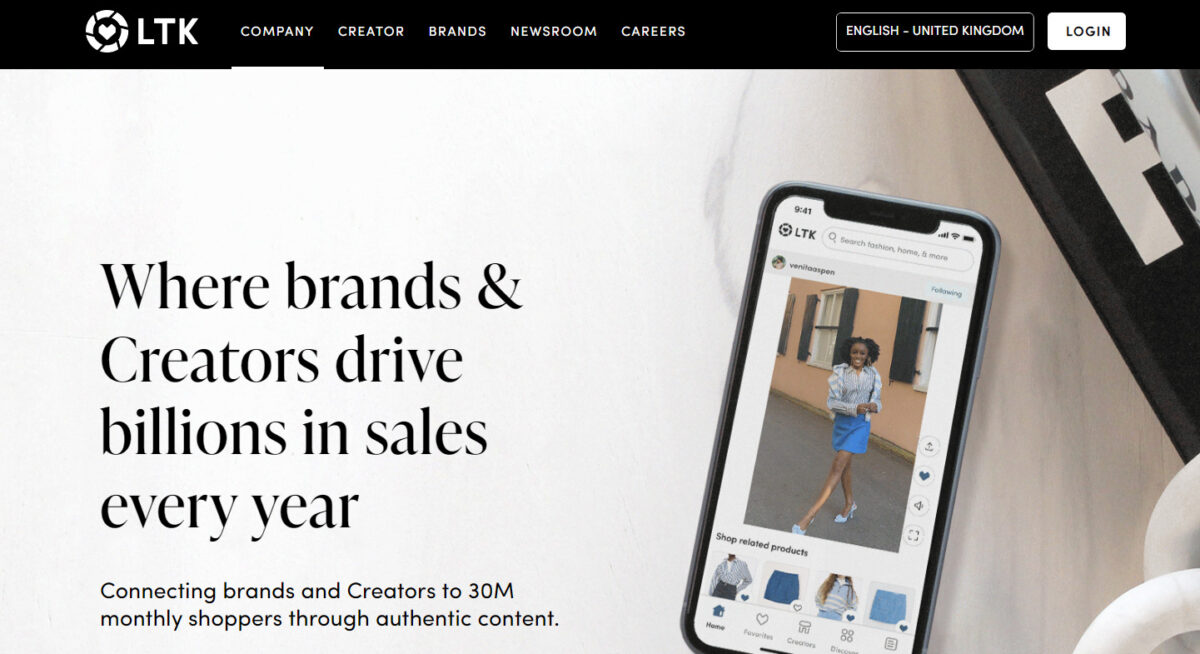 LTK is a powerhouse in the domain of results-driven digital marketing agencies. This brand has firmly established itself as an innovator in the industry, where Brands, Creators, and Shoppers converge through the magic of distributed original content, driving an astonishing $4.1 billion in annual brand sales.
LTK has evolved from a visionary concept into a global community comprising over 650 team members, 200,000 top-tier Creators, 7,000 retailers, and 1 million brands, spanning 150+ countries. Their success is driven by a proprietary ecosystem that leverages innovative technology, strategic growth consulting, global brand partnerships, and extensive shopper distribution. LTK didn't just monetize Creator Marketing; it pioneered and continues to define the industry.
LTK's holistic approach ensures brands receive end-to-end strategic guidance and in-depth data to maximize their impact. Creators are at the heart of LTK's mission, as they authentically inspire shoppers through curated messaging. LTK also empowers shoppers by enhancing their buying experience through strong relationships between Creators and Brands, resulting in more curated content and efficient purchasing processes. With $4.1 billion in annual online sales and 30 million monthly shoppers, LTK has made a profound impact on the e-commerce landscape.
---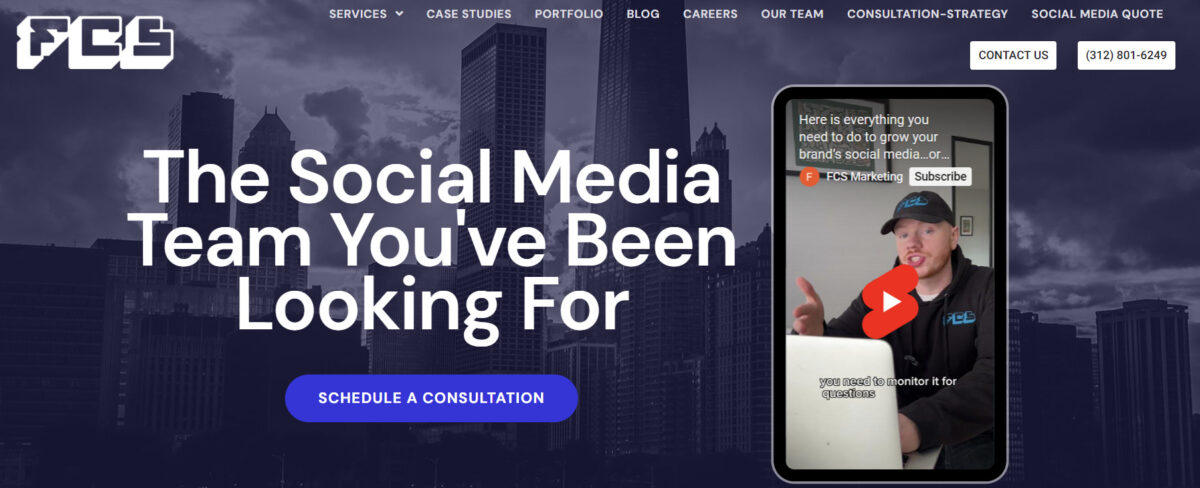 Fresh Content Society is an exceptional creative digital marketing agency that stands out for its expertise in creating thumb-stopping social media content. Whether it's on Instagram, TikTok, Twitter, or YouTube, they have a proven track record of creating content that stops the scroll and drives meaningful interactions.
Fresh Content Society takes a tailored approach to content creation, recognizing that content strategies must vary across different social media channels. They produce a wide range of content, including short and long-form videos, photos, graphics, memes, and copy. This versatility makes them a full-service creative agency capable of meeting diverse content needs.
One of their key strengths lies in their approach, which combines insight, creativity, and technology. They begin by gaining a deep understanding of their client's business goals and marketplaces, enabling them to craft research-backed ideas and strategies. Fresh Content Society's commitment to transparency and proactive execution also sets them apart. They work according to a pre-determined plan, allowing clients to track their efforts easily. Their emphasis on testing ensures that strategies deliver the best results and optimize marketing ROI.
---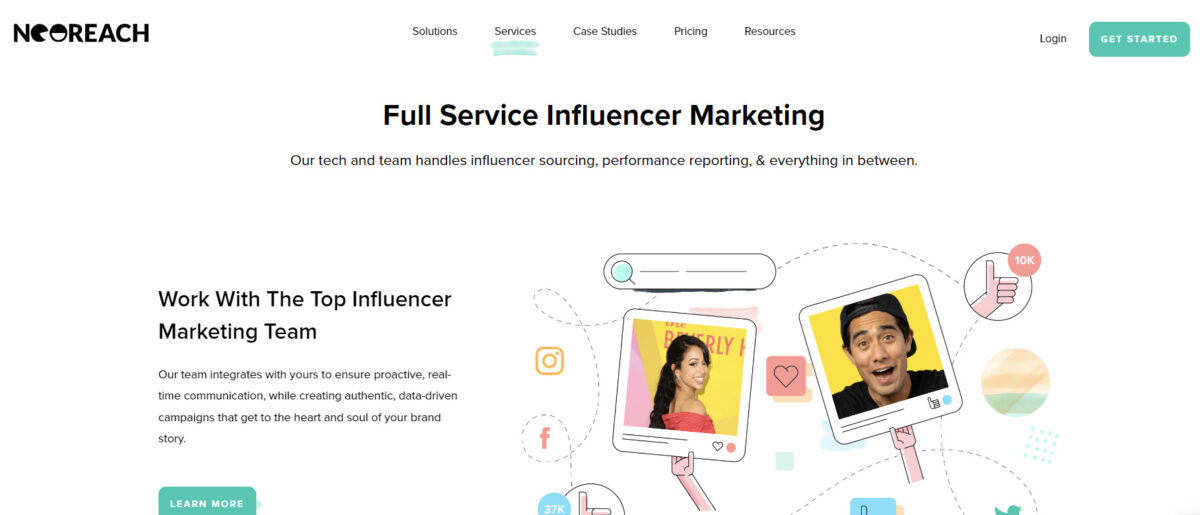 NeoReach Agency offers a wide range of creative digital marketing services, specializing in running world-class influencer marketing campaigns. What sets NeoReach apart is its unwavering commitment to enabling original and impactful influencer campaigns for leading brands and Global Fortune 500 companies. At the heart of NeoReach's success is its ability to integrate seamlessly with client teams, ensuring proactive, real-time communication. The agency's campaigns are not just data-driven but also authentic, delving deep into the essence of the brand story. NeoReach's extensive network of influencers, bloggers, and creators, built over years of campaign execution, ensures the perfect fit and relationship.
NeoReach's expertise extends to every phase of influencer marketing. They start by developing a data-backed strategy, reverse-engineering a launch plan from your goals, and harnessing competitor audits, audience demographics, and channel-specific opportunities. The agency's platform experts help select the perfect influencers for campaigns, no matter the niche or size. NeoReach also manages the entire influencer campaign process, from introductions to contract negotiations, deployment, payments, and ongoing relationships.
What's truly exceptional is NeoReach's ability to amplify influencer content through paid media with a focus on ROI. They cover all major ad auctions and channels, including Facebook, Instagram, Google, TikTok, and Snapchat. Moreover, their experiential activations connect brands to online and offline experiences, creating memorable and meaningful connections.
---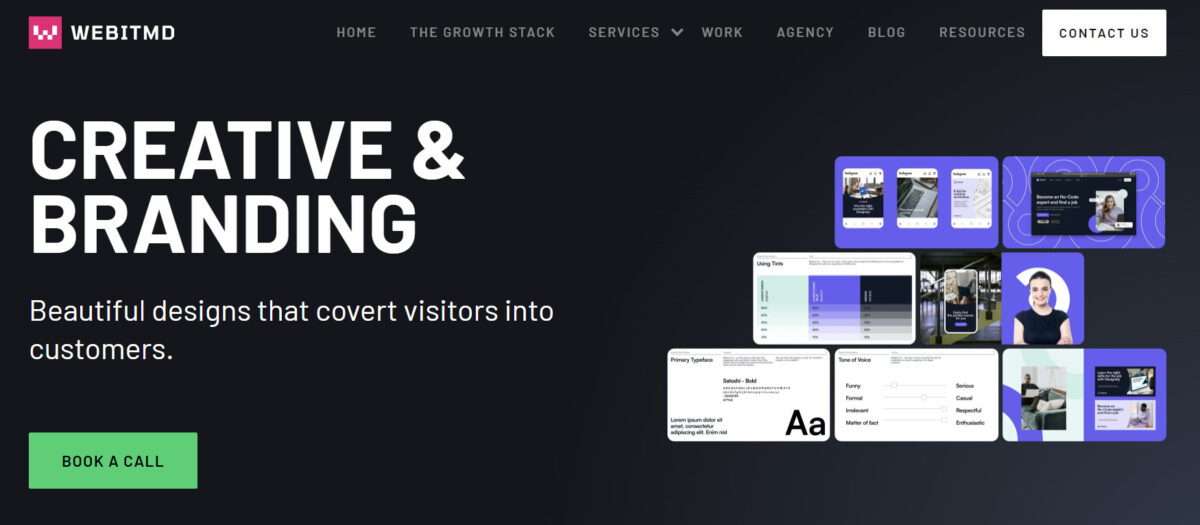 WEBITMD is a standout creative digital marketing agency that excels in crafting beautiful designs that convert visitors into customers. They understand the importance of a strong visual identity and how it contributes to building trust, increasing revenue, and helping brands stand out in a competitive market. They emphasize the significance of building trust, with 46% of consumers willing to pay more for brands they trust. Moreover, WEBITMD recognizes that using a signature color can significantly boost brand recognition.
WEBITMD's services extend across various touchpoints in the customer journey. They work with both new and established brands to develop consistent and outstanding creative solutions. This includes branding and logos, ensuring brands are instantly recognizable. They also excel in crafting compelling advertising, including Google Display Ads, video ads, and LinkedIn ads, which can help win clicks and conversions.
Furthermore, WEBITMD focuses on marketing materials such as CTAs, email templates, ebooks, whitepapers, and infographics to help brands tell their stories effectively. They understand the importance of sales collateral, offering services like pitch decks, proposals, and case studies to empower sales teams and drive revenue.
Their holistic approach to creative design and branding, coupled with their commitment to driving measurable results, makes them a go-to choice for organizations looking to boost their visual identity and overall brand performance.
---
Theshelf specializes in data-driven influencer marketing. They have a comprehensive approach and their own proprietary SaaS platform. With a remarkable nine years of experience and access to a vast database of 1 billion collected posts, they excel in over-delivering on KPIs for clients across various industries.
As an influencer marketing advertising agency, Theshelf uses data to identify the perfect influencers on Instagram, TikTok, Facebook, Pinterest, and YouTube. These influencers not only promote products or services but also help build brand awareness and achieve business goals. But what truly distinguishes Theshelf is their custom-built influencer marketing campaigns. They carefully match tactics with storytellers to deliver the highest ROI. By connecting clients with authentic leading influencers and implementing influencer marketing strategies, they bring brand stories to life and activate target audiences on a global scale.
Their global network of talented storytellers is changing the way creatives and companies collaborate, producing exceptional results. With their professional and data-driven approach, they guide customers through every stage of the decision-making process, from activation to conversion.
---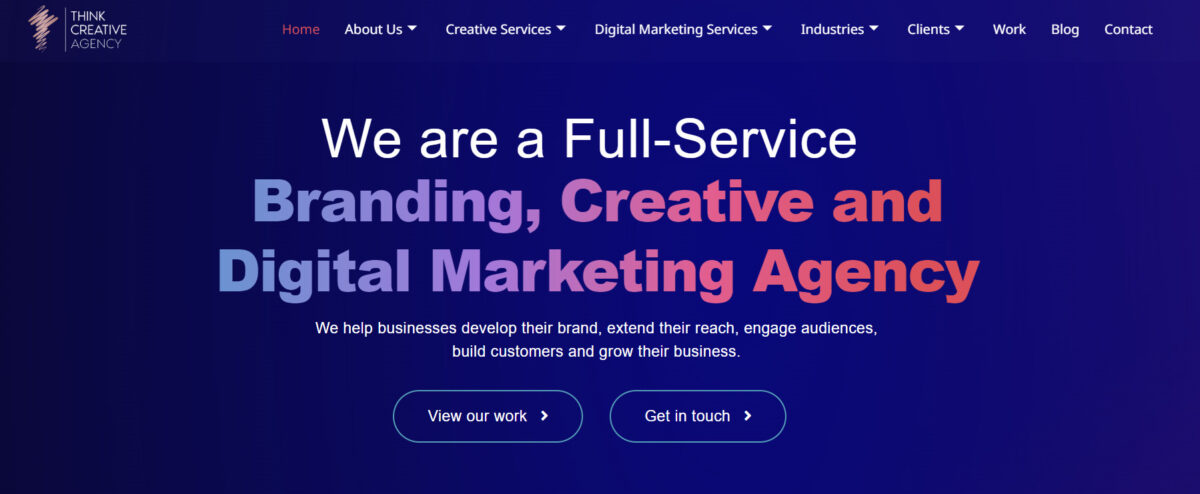 Think Creative Agency boasts an impressive repertoire of design, communications, and branding expertise. What truly distinguishes this agency is its holistic approach to creative services. Think of them as more than just a marketing agency; they are strategic partners who seamlessly weave various elements under a unified brand. With a strong focus on strategic brand design, brand strategy, and brand identity development, they possess the unique ability to capture a brand's essence while imagining captivating solutions.
At the core of Think Creative Agency's success lies their unwavering commitment to comprehending their clients' distinct objectives and forging a pathway to success. They begin by immersing themselves in their client's brand, listening intently, and learning intricacies. The result is nothing short of exceptional – from concept to execution, Think Creative Agency's professional team dedicates itself to ensuring your brand leaves a lasting, captivating impact.
Think Creative Agency's suite of creative services is comprehensive and includes branding, digital marketing, web design, print management, and social media marketing. They bring these services together seamlessly, ensuring that every facet of your brand's presence aligns cohesively.
---
Popular Creative Digital Marketing Trends
The convergence of technology and creativity has been a hallmark of recent advancements in digital marketing. Artificial Intelligence (AI), augmented reality (AR), and machine learning are not mere buzzwords; they are at the forefront of this transformative journey.
Artificial Intelligence in Digital Marketing
Personalization: 76% of consumers were more likely to make a purchase when brands offered personalized experiences. AI played a crucial role in this through data analysis and tailored content suggestions.
Cost Savings: A staggering 54% of surveyed businesses said AI is cost-effective and provides cost-saving benefits. 
Usage: 76% of marketers use AI for content creation, 71% for creative thinking, and 63% for analyzing market data. 
---
VR/AR in Digital Marketing
---
Conclusion
In this article, we unveiled the top 10 agencies that have mastered this art, blending creativity with precision to transcend traditional marketing. These agencies are strategic partners, weaving together various elements to create cohesive brand identities. They excel at understanding unique business objectives, ensuring every campaign leaves a captivating impact. With expertise spanning branding, design, digital marketing, web, print, and social media, they offer holistic solutions.
As the digital landscape evolves, these agencies provide insights from industry leaders, emphasizing data-driven strategies and the emergence of new platforms. They showcase that creative digital marketing isn't just visually appealing but a strategic investment, delivering tangible financial gains and enhancing brand prominence. These agencies have mastered the art of blending creativity with strategy to create compelling digital narratives.
Frequently Asked Questions
How Do Creative Digital Marketing Agencies Stay Updated With the Latest Trends?
Agencies prioritize continuous learning and innovation. They invest in ongoing training, attend industry conferences, and follow influential figures in the digital marketing sphere to stay abreast of the latest trends, tools, and strategies.
What's the Role of AI in Creative Digital Marketing?
AI plays a pivotal role in personalizing customer experience, automating tasks, and analyzing data. It helps agencies deliver tailored content, enhance user engagement, and make informed decisions to optimize marketing campaigns effectively.
How Do Agencies Measure the Success of a Creative Digital Marketing Campaign?
Success is measured using various metrics like website traffic, conversion rates, customer engagement, and ROI. Agencies use analytics tools to track these metrics, providing insights into campaign performance and areas for improvement.
Can Small Businesses Benefit from Hiring a Creative Digital Marketing Agency?
Absolutely. These agencies tailor their strategies to fit businesses of all sizes. For small businesses, they can effectively amplify online presence, reach a wider audience, and drive sales without the need for a massive budget.