Advertising Disclosure
Advertising disclosure:
Our partners compensate us. This may influence which products or services we review (also where and how those products appear on the site), this in no way affects our recommendations or the advice we offer. Our reviews are based on years of experience and countless hours of research. Our partners cannot pay us to guarantee favorable reviews of their products or services.
Today, more than ever, businesses require the profound capabilities offered by Digital Media Marketing Agencies. The rapid growth in the industry testifies to the burgeoning importance of digital marketing as a requisite tool for business success.
Digital Media Marketing Agencies serve as the nexus between the realm of technology and the world of marketing. They employ a range of strategies and techniques, from SEO optimization to content marketing, social media campaigns to data analysis, aimed at enhancing a brand's online visibility, fostering customer engagement, and ultimately driving sales. In a world where roughly half of the global population uses social media, it's no surprise that digital marketing is an integral piece of the business success puzzle.
Harnessing the power of online channels, these agencies help businesses connect with potential customers across various digital platforms. They deploy innovative and creative content designed to captivate audiences, while also utilizing cutting-edge data analytics tools to measure performance and ensure marketing efforts are on track. The ability to analyze customer behavior in real-time gives businesses an unprecedented level of insight, enabling them to tailor their products and services to meet changing customer needs and preferences.
---
Top 10 Digital Media Marketing Agencies to Influence and Engage Audiences:
---
Top 10 Digital Media Marketing Agencies to Influence and Engage Audiences
Average Hourly Rate: $100-$149
Average Project Cost: $10,000+
Located in New York, NY, 5W Public Relations stands as a front runner in AdTech and Digital Media services. They specialize in a broad spectrum of services including Public Relations, Digital Strategy, and Social Media Marketing. Their team brings a wide range of skillsets and insights to each campaign.
5W Public Relations is renowned for creating next-generation digital experiences, utilizing its deep understanding of digital media consumption trends. They cater to an extensive variety of brands, providing strategic PR campaigns specifically tailored to AI-powered and data-driven marketing companies. Their data-centric approach informs and shapes the strategic trajectory of campaigns, leveraging insights to maximize customer engagement and brand visibility.
The agency's key offerings include comprehensive media relations strategies, omnichannel marketing tools, programmatic media measurement, ad verification, and brand development, among others. They also pride themselves on their industry knowledge and agility in staying ahead of digital marketing trends. Client testimonials highlight the agency's focused approach and business partner attitude, validating their role in the growth of numerous high-growth pre-IPO and public companies.
Services:
Public Relations
Digital Strategy
Data-driven Marketing Campaigns
AI-powered Marketing Solutions
Influencer Marketing
Ecommerce Solutions
Publisher Monetization
---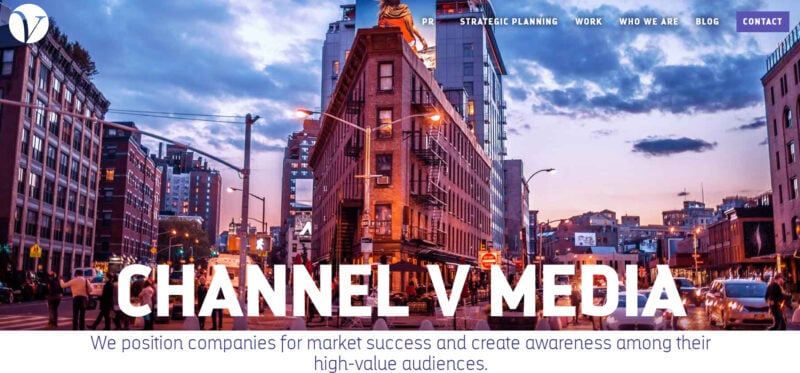 Average Hourly Rate: $150-$199
Average Project Cost: $10,000+
Channel V Media, based in New York, NY, is a boutique agency with a team size ranging from 10 to 49, focusing on Public Relations and Web Design. They are particularly skilled in developing and implementing digital marketing strategies for late series, venture-backed startups, and pre-IPO companies, as well as Fortune 500 market leaders.
Their approach involves transforming a brand's online presence into destination media, which continuously works to enhance brand visibility and engagement. The agency's specialty lies in creating a company's own media channels, built to resonate with their target audience and bolster their brand message.
Channel V Media's services also encompass Social Media Strategy & Training, identifying crucial social channels for clients, defining the voice and content style for posts, and training internal teams in account management and audience engagement. Clients appreciate Channel V Media for their quick grasp of business operations and technologies and their integral role in thought-leadership strategies.
Services:
Public Relations
Web Design
Digital Marketing Strategy
Social Media Marketing
Audience-focused Content Creation
Brand Website and Product Microsite Development
---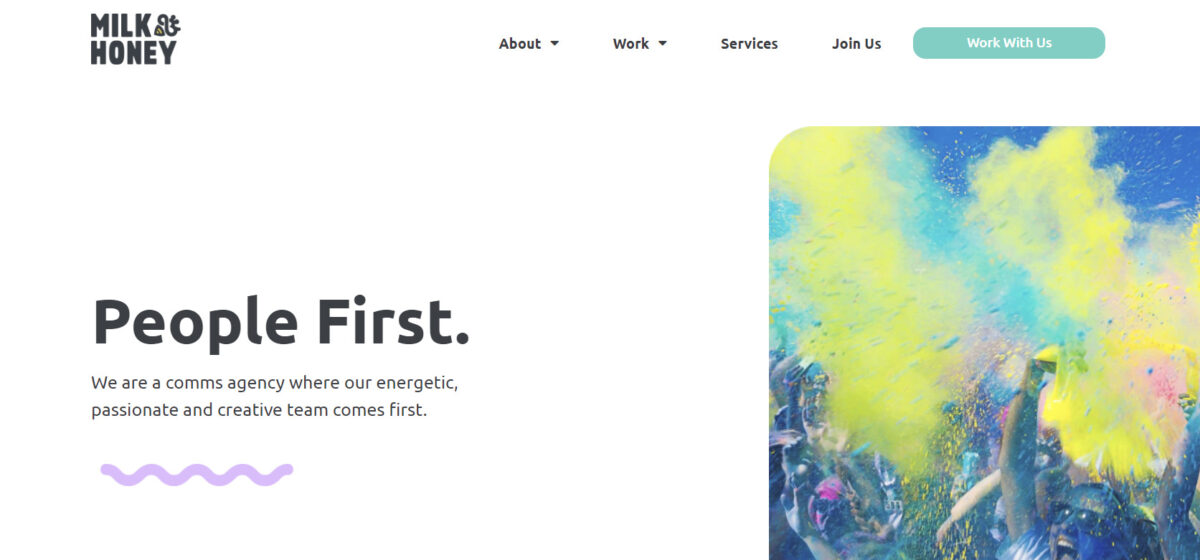 Average Hourly Rate: $150 – $199
Average Project Cost: $10,000+
Milk & Honey PR is an energetic, multi-award-winning PR agency based in London, United Kingdom, with a global offering. They focus majorly on Public Relations and have a robust team handling Digital Strategy and Marketing Strategy, Branding and Content Marketing.
Milk & Honey PR tailors its approach around the idea of enriching messaging. They manage and nurture reputations for ambitious growth companies through their well-crafted and intelligent campaigns. Their digital marketing team, led by the Global Head of Digital, has a comprehensive offering, including activating paid strategies across social media verticals, managing client-owned channels, generating digital content, and building lead funnels for business growth.
Their in-house strategists and planners can help build compelling messaging hierarchies, creative platforms, and perform thorough analysis of the competitor landscape. Whether you're an established brand or a fast-growth startup, their corporate reputation and brand management services can shape a narrative that delivers significant impact.
Services:
Marketing Strategy
Creative Idea Generation
Corporate Reputation
Brand Management
Strategic Positioning
---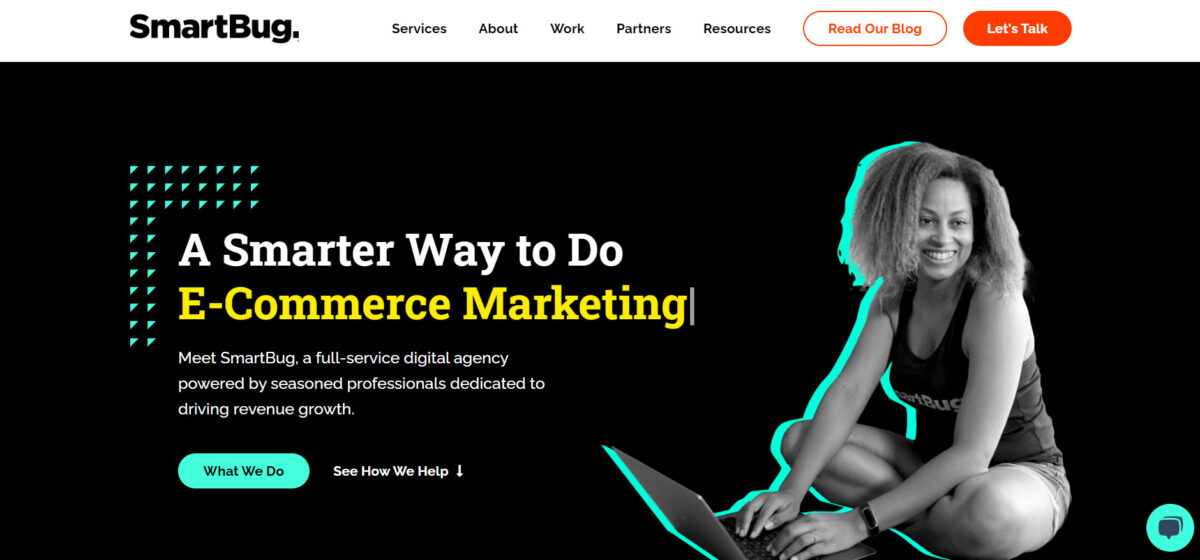 Hourly Rate: Undisclosed
Average Project Cost: $5,000+
Based in Newport Beach, CA, United States, SmartBug Media® is a full-service digital agency that focuses on Ecommerce Marketing and Marketing Strategy. They also offer Conversion Optimization, Email Marketing, Advertising, and Branding services.
The professionals at SmartBug Media® are dedicated to driving revenue growth through well-coordinated digital campaigns that connect sales, marketing, and customer satisfaction. They are particularly adept at creating branded content steeped in SEO and placing it in front of the right audiences, thereby driving demand generation.
For e-commerce marketing, they have all the right tools, skills, and strategy. This includes developing and fine-tuning strategy for email, SMS, and affiliate marketing while ensuring everything is optimized for the web. Their expertise extends to paid media, inbound marketing, SEO, public relations, HubSpot implementations and migrations, integrations, video marketing, and one-time projects.
Services:
Marketing Strategy
Conversion Optimization
Advertising
Branding
Demand Generation
Revenue Operations
Paid Media
Inbound Marketing
SEO
Public Relations
HubSpot Implementations and Migrations
Video Marketing
---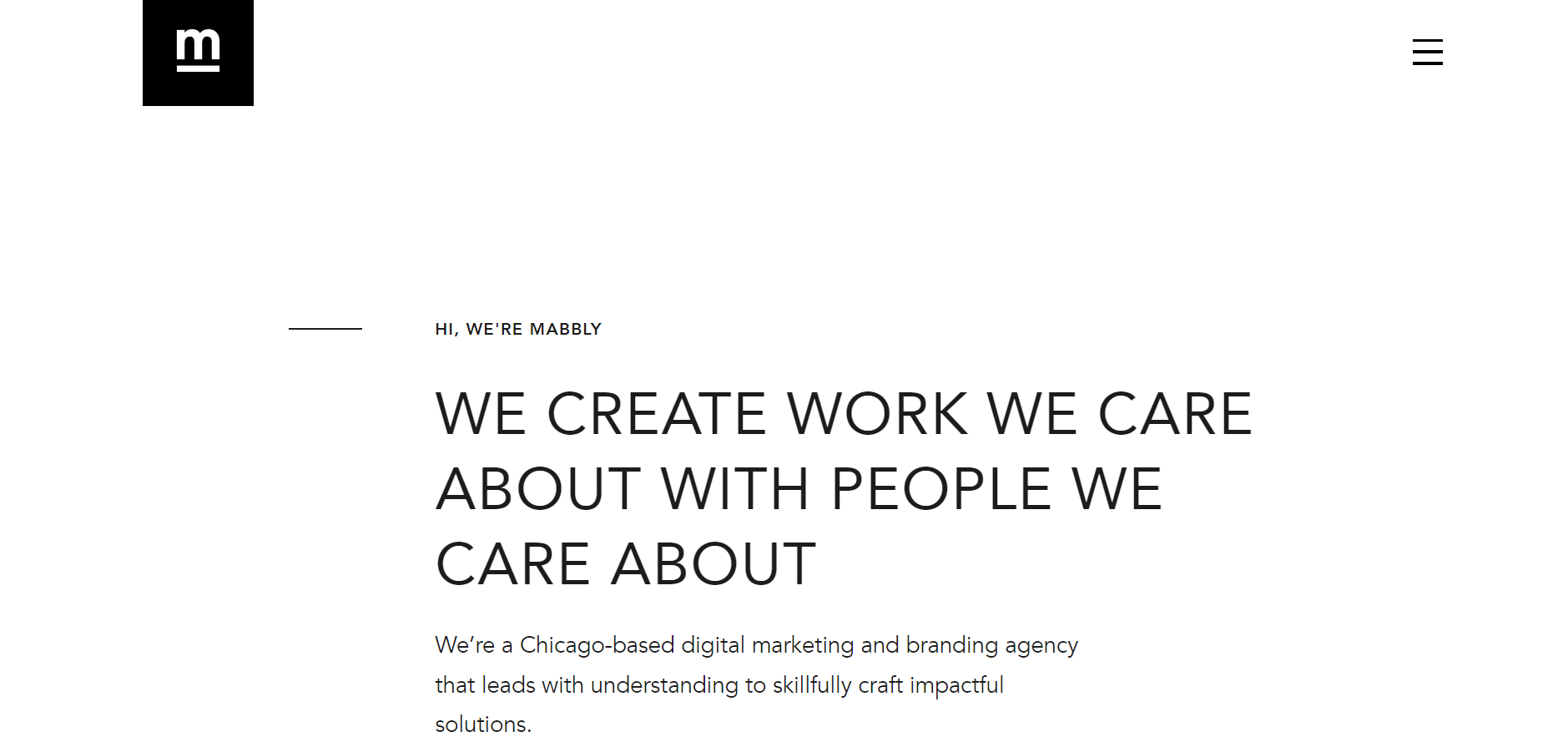 Average Hourly Rate: $150-$199
Average Project Cost: $25,000+
Based in Chicago, Illinois, Mabbly has made its mark in the media digital marketing industry by creating impactful digital experiences powered by data analytics, market research, and digital technology. Their diverse team combines various perspectives and experiences to develop world-class digital solutions that foster business growth.
The agency excels in crafting human connections through digital mediums. Mabbly's approach begins with comprehensive market research and data-driven strategies. Their efforts are highly praised by clients for being meticulously researched, which sets them apart from the proposal stage onward. Clients have consistently expressed appreciation for their unique creative platform backed by a talented and passionate team. This platform has enabled businesses to execute tasks that aren't typically available in the market.
Each project Mabbly undertakes is tailored to the unique business challenge at hand, resulting in a bespoke pathway toward enterprise value. They are recognized for bringing life to strategies through beautifully designed digital experiences that connect brands to the right targets at the right time.
Services:
Branding and Digital Strategy
UX/UI Design
Custom Software Development
Data Analytics and Market Research
---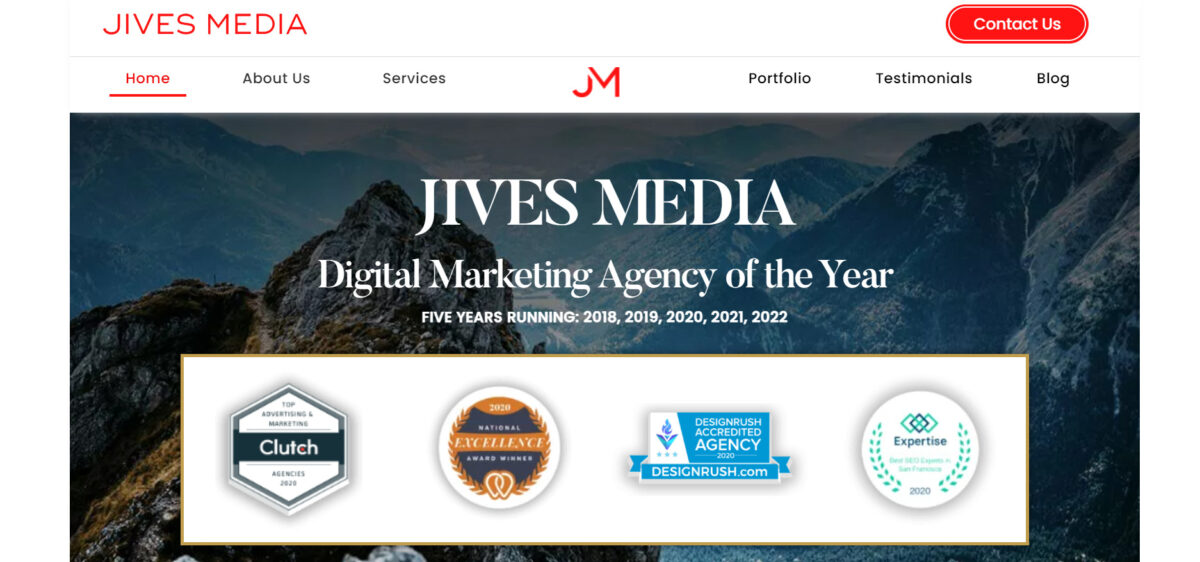 Average Hourly Rate: $100-$149
Average Project Cost: $1,000+
Located in San Francisco, California, Jives Media is a renowned digital marketing agency that has completed more than 500 projects and serves global customers from over 16 offices nationwide.
Jives Media's main focus areas include advertising, branding, pay-per-click, search engine optimization, content marketing, and email marketing. The agency distinguishes itself by working together as a team with its clients and taking the time to listen to their unique needs, executing seamlessly and effectively.
Their web design team analyzes website metrics and insights to build optimized websites that drive business. In advertising, they strategically use Google Ads to target potential clients and increase leads and site visits. Their content marketing and SEO efforts focus on driving organic website traffic, enhancing brand visibility, and attracting more customers. They also offer personalized marketing consulting to share the best marketing tips and strategies tailored to your business.
Jives Media continues to impress clients with its comprehensive suite of services, commitment to client needs, and successful project outcomes. Their consistency in delivering results has made them a preferred choice for businesses seeking robust digital marketing solutions.
Services:
Advertising
Branding
Web Design
1V1 Marketing Consulting
Video Marketing Production
---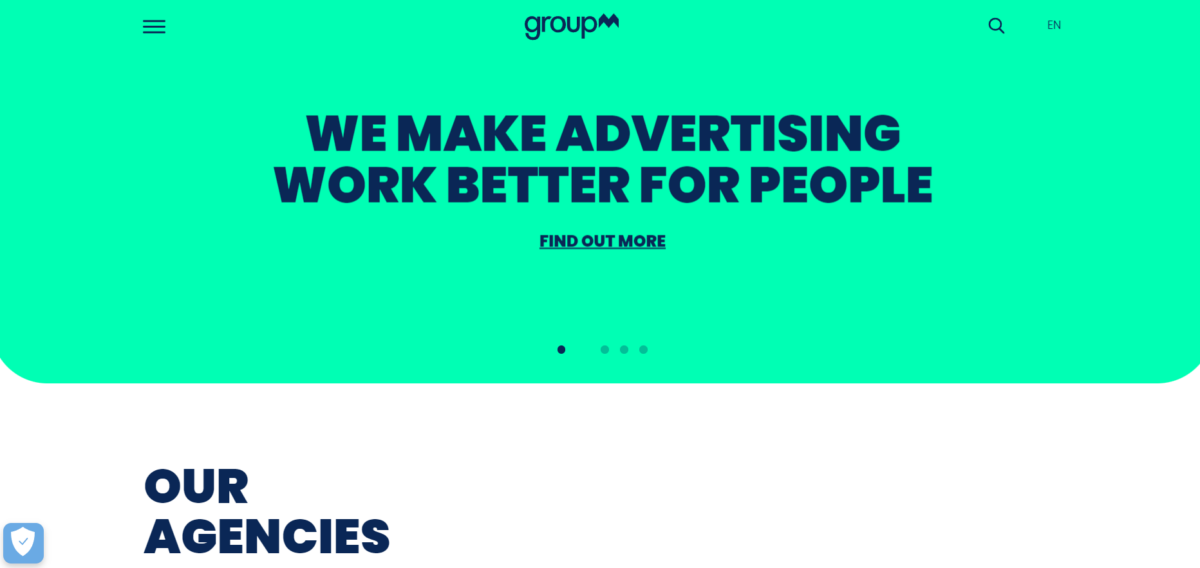 Average Hourly Rate: $100-$149
Average Project Cost: $1,000+
GroupM is a globally recognized media digital marketing agency with over 10,000 employees and is headquartered in Gangnam-gu, South Korea. Their core focuses lie in Media Planning & Buying, Social Media Marketing, and Search Engine Optimization.
GroupM emphasizes purposeful and transparent client services, strategic media planning, media investment, and data science. They believe that their success is tied to their clients' success, focusing on providing value to consumers through sound media strategies backed by cultural and data-based insights. Their large scale allows them to have a significant impact on the global marketplace, with their media investments representing one out of every three ads worldwide.
Services:
Media Strategy
Media Investment
Data Science
---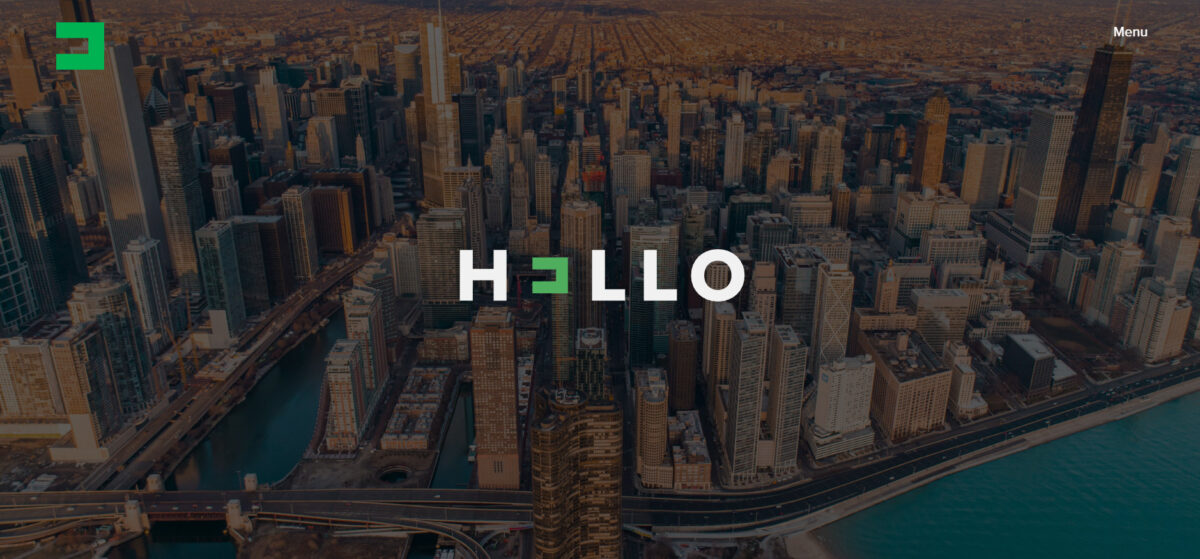 Average Price: $250,000+
Hourly Rate: Undisclosed
Empower® is based in Cincinnati, OH, United States, and has between 50-249 employees. The agency excels in Media Planning & Buying, Marketing Strategy, Graphic Design, and Social Media Marketing.
Empower® is known for being America's largest woman-owned media agency, and their capabilities span across Media, Creative, Analytics, and Influencer marketing. They take pride in driving return on $800MM in media investments and using a data-driven approach for their planning. The agency also uses CultureTap, a trend identification platform, to help brands participate in culturally relevant moments. Additionally, they are preferred partners with both Google and Amazon Ads.
Services:
Marketing and Data Science
ClearTrade® (Programmatic Media)
Data Strategy and Management
Brand Activation
Content Studio
Podcast Studio
Social Media Management
Influencer Marketing
Experiential Marketing
Public Relations
---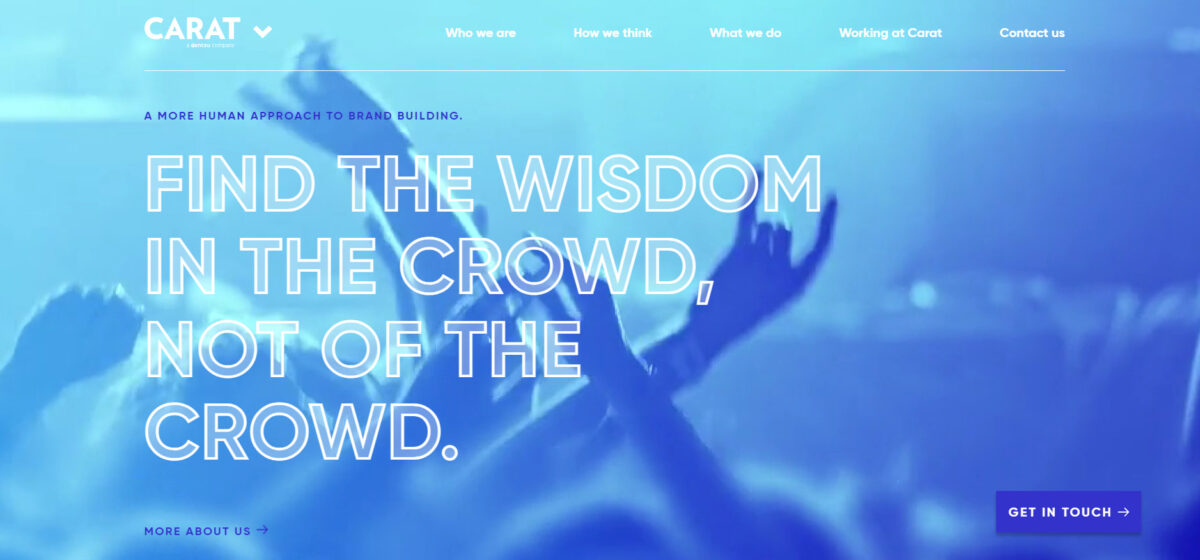 Average Hourly Rate: $100 – $149
Average Project Cost: $10,000+
Carat, a media digital marketing agency based in London, United Kingdom offers a balanced focus across Advertising, Branding, Digital Strategy, Social Media Marketing, and Web Design.
Being the world's first media agency, established over 50 years ago, Carat maintains a unique position in the industry, with over 12,000 experts worldwide. The agency is inspired by human understanding, which drives their commitment to forming deeper relationships and delivering growth through innovative strategies.
Carat's approach involves an intimate understanding of people and their needs in the rapidly changing cultural context. They use proprietary tools to map consumer experiences, helping clients understand consumer journeys, category needs, and brand performance at each stage. They create meaningful media experiences through partnerships and innovation, designing personal and immersive experiences that connect with people at every journey stage.
Services:
Business Planning for Growth
Understanding People & Culture
Consumer Experience Mapping
Partnerships & Innovation
Designing & Optimising Media-led Experiences
Investment & Activation at Scale
Performance Marketing & Commerce
Marketing Effectiveness
---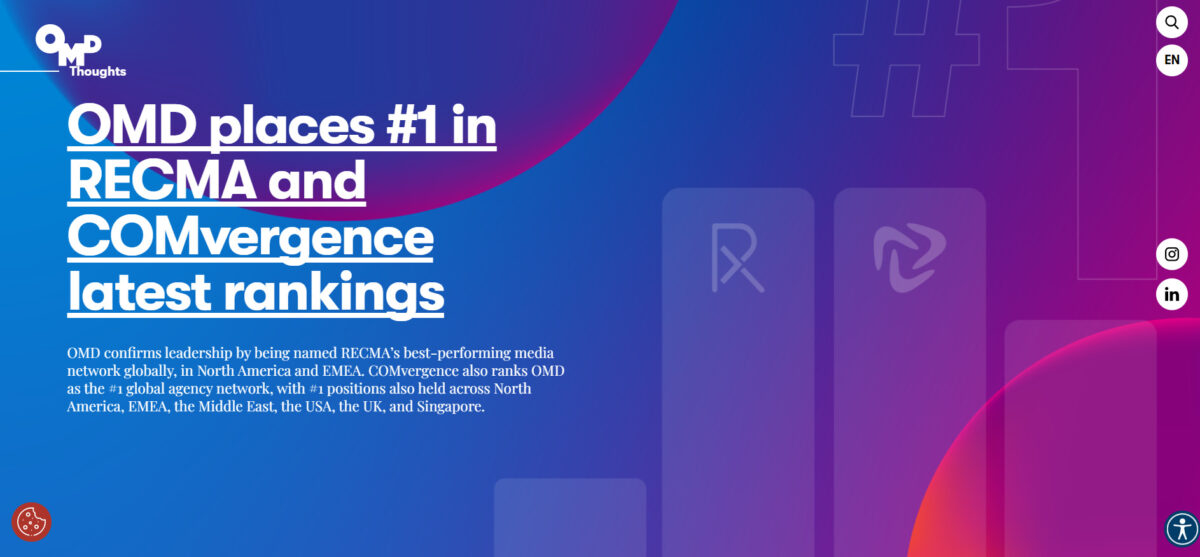 Average Hourly Rate: $100 – $149
Average Project Cost: $10,000+
OMD is a London-based agency that concentrates on Advertising, Branding and Digital Strategy. Recognized as the best-performing media network globally by RECMA (the only research company that evaluates media agencies worldwide), OMD also holds #1 positions across North America, EMEA, the Middle East, the USA, the UK, and Singapore. Their success is largely attributed to their people-obsessed and outcome-focused business model.
OMD applies evidence and data-driven insights to make faster decisions that drive performance and growth. They are committed to delivering actionable insights, examples, and case studies that help clients navigate the future with their digital book, 'Responding Rapidly 22/23'. Their emphasis on empathy and inclusion, alongside their data-driven approach, contributes to their effective digital and performance marketing strategies.
Services:
Web Design
Business Transformation Services
Talent Development
Performance Marketing
---
---
Choosing Your Digital Marketing Partner
Selecting the right Digital Media Marketing Agency for your business requires careful consideration. Each agency we've discussed brings its own unique strengths to the table - whether it be in SEO optimization, social media campaigns, content marketing, or data analytics.
Take into consideration the size of the agency, their location, and whether they've previously worked with companies in your industry. An agency's culture and their approach to client relationships is also a key consideration. Look for agencies that view their clients as partners, and that demonstrate a clear understanding of your business goals and brand identity.
Review the agency's case studies and client testimonials for a clear picture of what they've achieved in the past. This information will give you insight into their track record of success, and the depth of their expertise. Their range of services is also worth noting. Do they provide comprehensive digital marketing solutions, or do they specialize in a particular area?
Remember, your chosen agency will play a pivotal role in shaping your business's digital journey. Therefore, the selection process should be thorough and thoughtful. As your trusted partner, the right Digital Media Marketing Agency will not just help you navigate the digital landscape but will also empower you to reach your full potential, creating lasting, engaging connections with your audience.
As you begin this decision-making process, keep our top 10 list in mind. These agencies have distinguished themselves in the field and could be the partner you're seeking to elevate your business in the digital landscape.
Frequently Asked Questions
What services do these Media Digital Marketing Agencies offer?
These agencies offer a wide range of services including Advertising, Branding, Digital Strategy, Social Media Marketing, and Web Design. They help businesses grow their online presence, engage with customers, and drive sales through online marketing channels, data analysis, and creative content production.
Can these agencies provide services for my specific industry?
Yes, these agencies work with clients across various industries. They have the skills and expertise to understand the unique needs and challenges of your industry and tailor their strategies accordingly.
What does a typical engagement with a media digital marketing agency look like?
An engagement typically starts with a discovery phase where the agency learns about your business, goals, target audience, and current marketing efforts. Based on this, they create a tailored marketing strategy. Once the strategy is approved, they execute the plan, monitor the results, and make necessary adjustments for optimal performance. The engagement continues with regular reports and strategy tweaks to ensure ongoing success.
What if I'm not satisfied with the results of a digital marketing campaign?
Reputable agencies prioritize client satisfaction and work collaboratively to address any concerns. If a campaign isn't delivering as expected, they will reassess the strategy, make necessary adjustments, and optimize it to improve performance. It's important to maintain open communication and give feedback to help your agency better understand your business needs and expectations.