Beauty is one of the leading sectors to have embraced influencer marketing. One of the main reasons for this is that beauty is incredibly visual, and influencer marketing (and, indeed, social selling) works best in a visual medium. Therefore, it shouldn't be surprising that Instagram is the social platform where you find most beauty influencers. However, you will also discover many beauty influencers who love sharing videos across YouTube and, to a lesser extent, TikTok.
In this post, we look at the state of influencer marketing in the beauty industry, with particular reference to a study conducted by our partner, Upfluence.
---
The State of Influencer Marketing in the Beauty Industry:
---
Over 1,000 Beauty Influencers Operate Across Instagram and YouTube
Upfluence's survey (in May-August 2022) found that 1,288 beauty influencers were active on Instagram, 1,090 on YouTube, and 167 on TikTok. There was considerable overlap between the platforms, however, with 1,034 influencers appearing on both Instagram and YouTube, 165 on Instagram and TikTok (meaning nearly every TikTok influencer also operates an Instagram account), and a smaller 123 creating content on YouTube and TikTok. Unfortunately, Upfluence's report didn't report the number of influencers popular on all three platforms.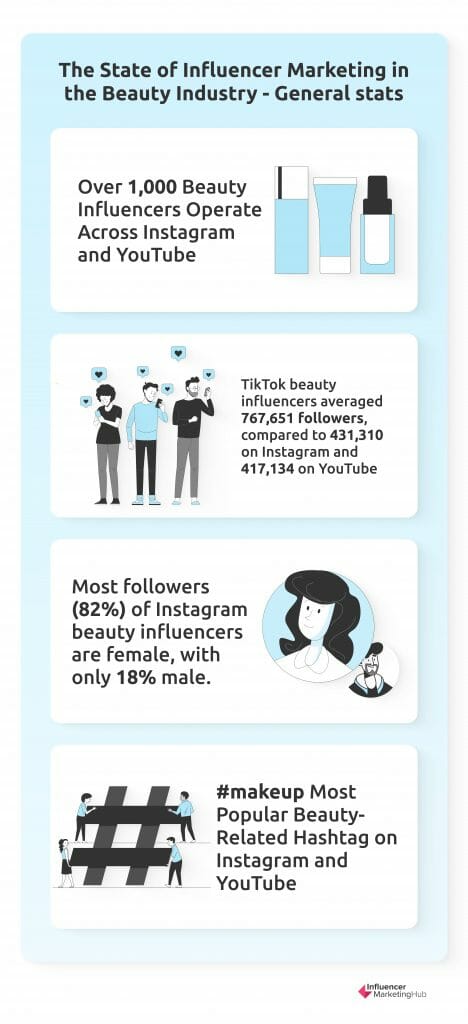 ---
Although There Are Fewer Beauty Influencers on TikTok, They Have the Most Followers on Average
As we have seen, there are considerably fewer beauty influencers on TikTok than on Instagram or YouTube. However, the TikTok influencers have the highest average follower numbers.
Upfluence found that TikTok beauty influencers averaged 767,651 followers, compared to 431,310 on Instagram and 417,134 on YouTube.
---
The U.S. Has More Beauty Influencer Followers Than Anywhere Else
Upfluence broke down beauty influencer follower numbers by location (although they only showed results for the U.S., UK, Canada, France, and Brazil.) It's important to remember that you can't access Instagram, YouTube, and TikTok in some countries, including China. TikTok is also now banned in India, and Instagram is banned in Russia.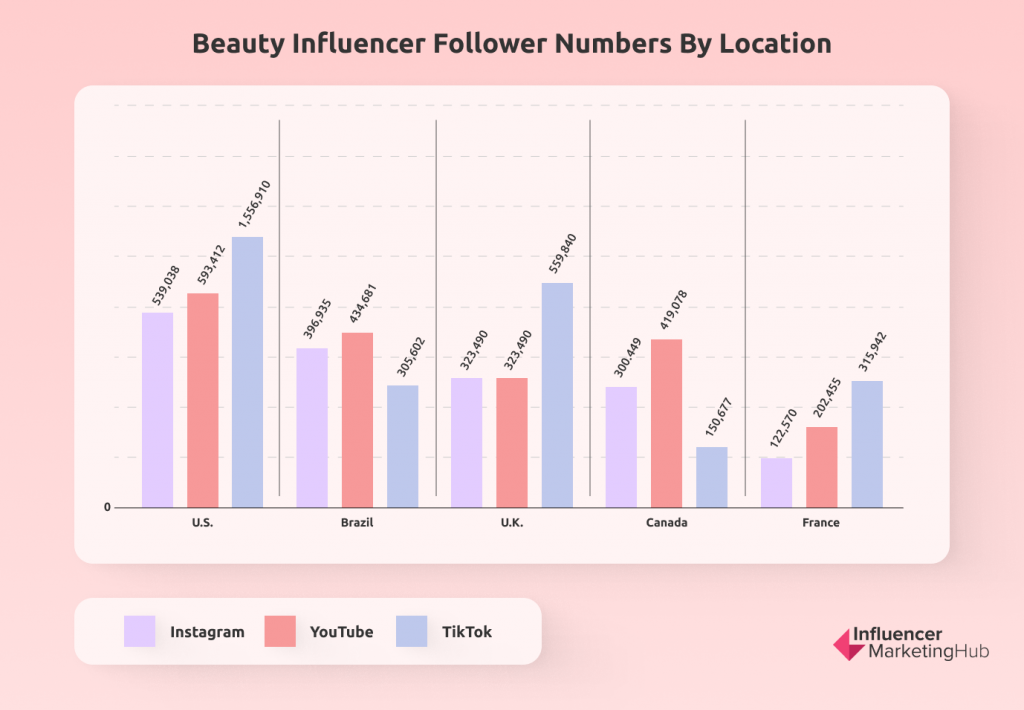 Beauty influencers in the U.S. average 539,038 followers on Instagram, 593,412 on YouTube, and 1,556,910 on TikTok. Clearly, former President Trump would have upset many fans of beauty influencers if he had carried out his threat to ban TikTok from the U.S.
Brazil averages 396,935 beauty influencer followers on Instagram, 434,681 on YouTube, and 305,602 on TikTok. Overall, this shows a considerably different profile to the U.S., with TikTok much less used in the Latin nation in particular.
The U.K. averages 323,490 beauty influencer followers on Instagram, 323,490 on YouTube, and 559,840 on TikTok.
Canada averages 300.449 beauty influencer followers on Instagram, 419,078 on YouTube, and just 150,677 on TikTok.
France averages 122,570 beauty influencer followers on Instagram, 202,455 on YouTube, and 315,942 on TikTok.
These figures are interesting when you compare them with the percentage of adult internet users in these countries who follow all types of influencers. According to the July 2022 Global State of Digital Report, 41.1% of Brazilians claim following influencers as a main reason for using social media, as do 21.0% from the U.S., 20.0% from France, 19.5% from Canada, and 18.3% from the U.K.
---
TikTok Has by Far the Highest Engagement Rate for Beauty Influencers
There may not be as many beauty influencers on TikTok as on Instagram or YouTube. Still, the TikTokers have considerably higher engagement with their followers than those on the other platforms. Is this an indication of the intensity of interest on TikTok compared to more traditional social apps?
The average engagement rate for beauty influencers on TikTok is 7.52%, compared to 1.87% for those on Instagram and a mere 0.56% for YouTube beauty influencers. Is this a sign that YouTube is the younger generation's television, where people passively watch their favorite beauty "programs" and participate less?
---
Engagement With Beauty Influencers Highest in Canada
As we mentioned, Upfluence focused its report on social media users in the U.S., UK, Canada, France, and Brazil. Canadians had the highest engagement rates on Instagram and TikTok and the highest-equal on YouTube. Conversely, Brazilians had the lowest engagement rates on all three platforms, possibly reflecting language differences.
The average engagement rate on Instagram for Canadians was 2.3%. This was followed by France and the U.S. (2%), the U.K. (1.8%), and Brazil (1.4%). Results were very close on YouTube, with 0.5% engagement in the UK, Canada, and France and 0.4% in the U.S. and Brazil.
Engagement on TikTok varied markedly, however. For example, Canadian beauty influencers had an incredible 17% engagement rate, followed by France (10%, and disproving that language differences always matter on TikTok), the U.S. (9.1%), the U.K. (6.2%), and Brazil (4.1%).
---
The U.S. Has by Far the Highest Audience for Instagram Beauty Influencers
With Instagram being a US-based Meta-owned social network, it is probably not surprising that nearly a third (32%) of followers of Instagram beauty influences come from the USA. This dwarfs the other counties that Upfluence highlighted in their report: Brazil (11%), the United Kingdom (4%), Canada (3%), and France (3%).
---
The Vast Majority of Those Who Follow Instagram Beauty Influencers Are Female
This is probably the least surprising finding from Upfluence's research. Most followers (82%) of Instagram beauty influencers are female, with only 18% male.
---
Nearly Half of Instagram Beauty Influencer Followers are Aged 25-34
We have noticed for some time that the average Facebook user has aged with the growth of that platform. People who set up Facebook accounts in the early days of the social network still have them, while their kids prefer something out of their parents' view. It appears we may be beginning to see a similar trend on Instagram.
An incredible 49% of all followers of beauty influencers on Instagram are aged 25-34, with 34% aged 18-24. However, only 10% of followers are aged 0-17, suggesting that Instagram is less popular than it used to be with today's teenagers (or this group hasn't yet developed an interest in beauty).
Interestingly, despite the most significant number of followers being aged 25-34, only 7% are aged 35-54. So, will this cohort even take to Instagram for their social needs, or have they missed taking an interest in the image-sharing app forever?
---
Beauty Micro-Influencers Have the Best Engagement Rates on Instagram
This is another case where the results for beauty influencers roughly mirror those for the population as a whole (just slightly higher at most levels). The general rule on Instagram is that the larger the influencer, the lower the engagement rate.
However, there isn't as obvious a pattern with beauty influencers as the general population, and confusingly Upfluence uses different terminology from what we usually see. For example, it defines Micro-influencers as having <15K followers (these are often referred to as Nano-influencers elsewhere) and has a category it calls Regular influencers (15K-50K). In addition, Upfluence describes influencers with 50K-100K as Rising, those with 100K-500K Mid-Size, 500K-1M Macro, and >1M followers Mega.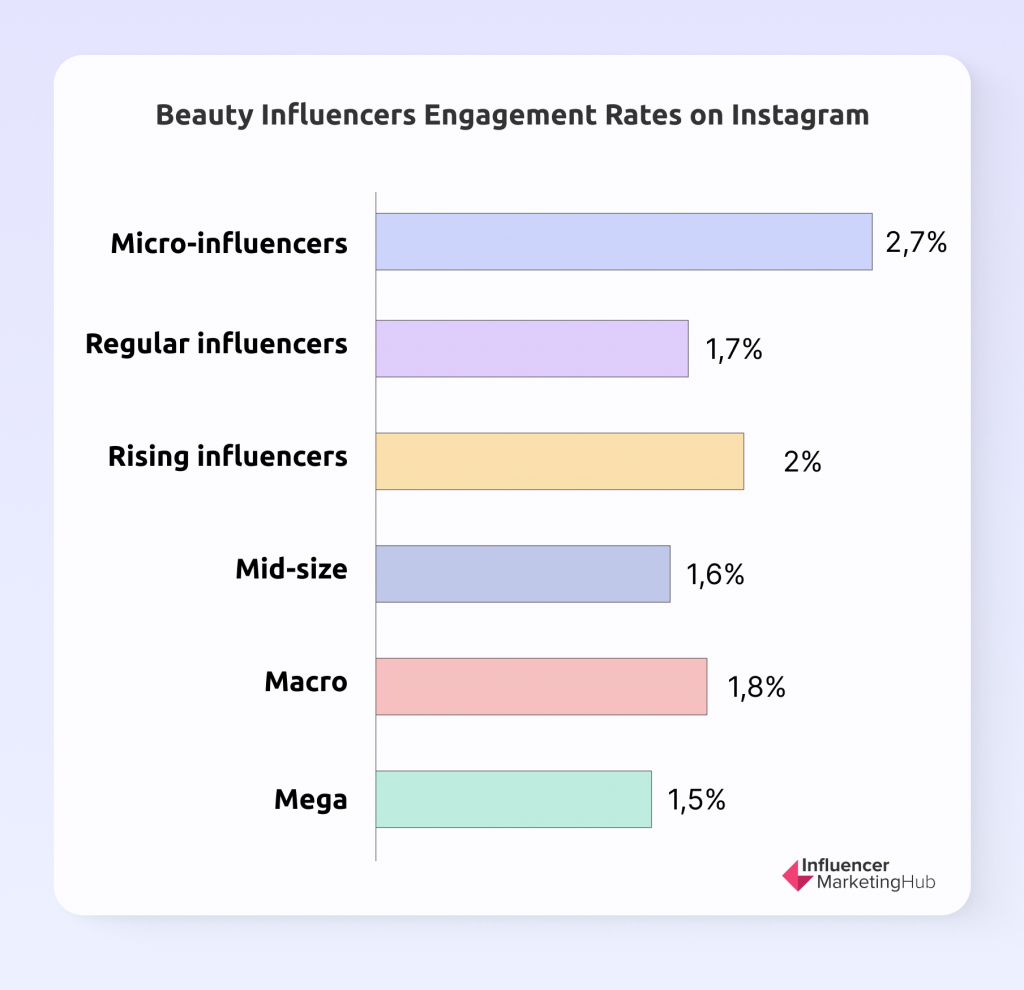 According to Upfluence's report focusing on beauty influencers, Micro-influencers have an average engagement rate of 2.7%, Regular influencers at 1.7%, Rising influencers at 2%, Mid-size at 1.6%, Macro at 1.8%, and Mega at 1.5%.
---
Male Beauty Influencers Have Higher Engagement on Instagram, as do Older Influencers
The vast bulk of beauty influencers and their audiences are female, and female beauty influencers have an average engagement rate of 1.8%. Although there are far fewer male beauty influencers on Instagram, they have a higher (2.3%) average engagement rate.
Similarly, although there aren't all that many older beauty influencers and audiences on Instagram, the 35-54% age bracket has the highest engagement rate (3.3%), compared to 25–34-year-olds (2.5%), 18-24 year-olds (2.8%), and 0-17 year-olds (2.8%).
---
Male Brazilian Instagram Beauty Influencers Average 6.3% Engagement
When you break down the average engagement rate by influencers' gender across the five nations analyzed by Upfluence, you can see exceptionally high engagement with male influencers in Brazil (6.3%) and Canada (4.2%). However, this isn't consistent for all male influencers, with French male beauty influencers only receiving 0.4% engagement, far smaller than any female cohort.
---
YouTube Beauty Influencers Have Views Proportional to their Follower Size, Except for Micro-Influencers
On the surface, you might think that the most crucial statistic relating to average views of videos created by beauty influencers is that mega-influencers have dramatically more average views (518,560) than anybody else. But when you think about it, this is pure logic. Mega-influencers have at least 1 million followers by Upfluence's definition, so that statistic merely tells us that about half of their followers watch each video they release.
Average views per video generally reduce as follower numbers reduce: Macro (112,260), Mid-Size (43,365), Rising (11,442), and Regular (9,414).
However, looking at the views for beauty micro-influencers on YouTube gets interesting. Remember, Upfluence defines micro-influencers as having fewer than 15,000 followers. Yet they break the pattern and average 88,301 views per video. In other words, a typical micro-influencer (if we use follower numbers from the upper end of the range) averages nearly six views per follower. So you'd think they might almost not want too many viewers to follow them and turn them into lower-performing Regular Influencers.
---
Viewers of YouTube Beauty Influencer Videos Are Older Than Those on Other Platforms (And There Are Many More Males)
YouTube, as a platform, is more popular with males than females overall. This trend also shows in statistics relating to beauty influencers on the platform, where average viewing figures by gender are almost identical, with an average of 107,065 female views per video and 106,423 views by males.
Interestingly, average views by 35–54-year-olds (427,122) are almost equal to those by all younger cohorts combined: 0-17 year-olds (201,432), 18-24 year-olds (76,720), and 25-34 year-olds (86,335).
---
Average Number of TikTok Likes Proportional to Following
When it comes to the average number of likes for beauty influencer videos on TikTok, things are very much proportional to size. Mega-influencers average 218,915 likes on their videos, Macro-influencers 47,917, Mid-size influencers 30,739, Rising Stars 12,986, Regular influencers 8,838, and Micro-influencers 4,289. Notably, beauty micro-influencers don't get the massive engagement boost of their YouTube counterparts.
Unsurprisingly, younger viewers give far more likes to beauty influencers than older people on TikTok. Those aged 0-17 average 101,449 likes, 18-24 28,130 likes, and 25-34 34,430 likes.
---
More Likes by Females on TikTok Beauty Influencer Posts
Unlike YouTube, there is a notable difference between average likes by the genders on TikTok beauty influencer posts. Females average 46,027 likes per post, compared to just 25,397 likes from males.
---
#makeup Most Popular Beauty-Related Hashtag on Instagram and YouTube (Popular on TikTok Too)
Upfluence analyzed the hashtags used on posts made by beauty influencers on the three platforms. #makeup came top on Instagram and YouTube and was third on TikTok. The more generic #foryou and #fyp beat #makeup on TikTok.
Other popular hashtags used by beauty influencers on Instagram are #makeuptutorial, #makeupartist (spot a trend here), #beauty, and #skincare. Popular hashtags on YouTube included #skincare, #makeuptutorial, #naturalhair, and #haul. In addition to their top three, TikTokers used the generic #foryoupage, along with #beauty, #makeupartist, #hudabeauty, #learntiktok, and #makeupartist.
---
Hair is the Most Used Keyword Used by Beauty Influencers on Instagram and YouTube
Although many of the hashtags used by beauty influencers on the platforms (particularly TikTok) were relatively generic, they used more targeted keywords in their posts.
Popular Instagram keywords included hair, skin, makeup, palette, curl, style, lash, eye, foundation, powder, and skincare.
The most popular keywords used on YouTube by their beauty influencers were hair, makeup, haul, skincare, summer, skin, routine, try, and tutorial.
The TikTok keyword breakdown favored makeup, skincare, hair, braid, hairtutorial, look, hairstyle, styles, tutorials, and whip.
---
Kylie Cosmetics is the Most Popular Beauty Brand on Instagram
Statista highlights the leading beauty brands ranked by the number of Instagram followers as of March 2022. Kylie Cosmetics topped this list with 25.37 million followers at the time. Also extremely popular were Anastasia Beverly Hills (20.01 million), Benefit Cosmetics U.S. (10.17 million), NARS Cosmetics (7.96 million), and Ultra Beauty (6.84 million).
Of course, remember all we have seen above about how influencers with higher follower numbers tend to have lower engagement than their less followed/viewed counterparts.
---
The Ordinary - Most Popular Skincare Brand in the U.S on TikTok, by Follower Count
Statista also reported on the most popular skincare brands on TikTok in the United States in July 2021 by follower count. The Ordinary topped this list with 288,000 followers. Also popular were CeraVe (252,600), L'Oréal (232,200), and Glossier (114,800).
Frequently Asked Questions
Why are influencers important in the beauty industry?
Influencers are absolutely essential in the beauty industry. Research shows that more than 65% of consumers decide to buy a cosmetic product after hearing reviews from influencers on social media.
Which industry uses influencer marketing the most?
Influencer marketing is so successful in the beauty industry. Consumers follow beauty influencers specific to them, and they are highly engaged with their content.
What do beauty influencers do?
A beauty influencer is a social media content creator known for their expertise with skincare, haircare, makeup, nails, and other beauty-related topics. Beauty influencers will often use Instagram, TikTok and YouTube to share content.
Who is the biggest beauty influencer?
Some of the biggest beauty influencers include:
Safiya Nygaard with an estimated earning around $196,000

Huda Kattan with an estimated earning around $177,000

James Charles with an estimated earning around $145,000