Advertising Disclosure
Advertising disclosure:
Our partners compensate us. This may influence which products or services we review (also where and how those products appear on the site), this in no way affects our recommendations or the advice we offer. Our reviews are based on years of experience and countless hours of research. Our partners cannot pay us to guarantee favorable reviews of their products or services.
Within the social media epoch, influencer marketing has seized the spotlight as an innovative catalyst in the territory of brand promotion. It harnesses the power of relatable, trusted personalities to create genuine connections with their followers, turning casual browsers into loyal customers. The perfect influencer marketing campaign demands finesse, strategy, and, most importantly, a skilled partner to lead the way.
The best influencer marketing agencies in Chicago are seasoned professionals, equipped with the know-how to craft a winning strategy that reflects the true essence of your brand. They're passionate experts who understand the intricacies of the social media world, and know the ins and outs of the local scene.
---
Top Influencer Marketing Agencies in Chicago:
---
Top Influencer Marketing Agencies in Chicago
Top
influencer marketing agencies chicago
2024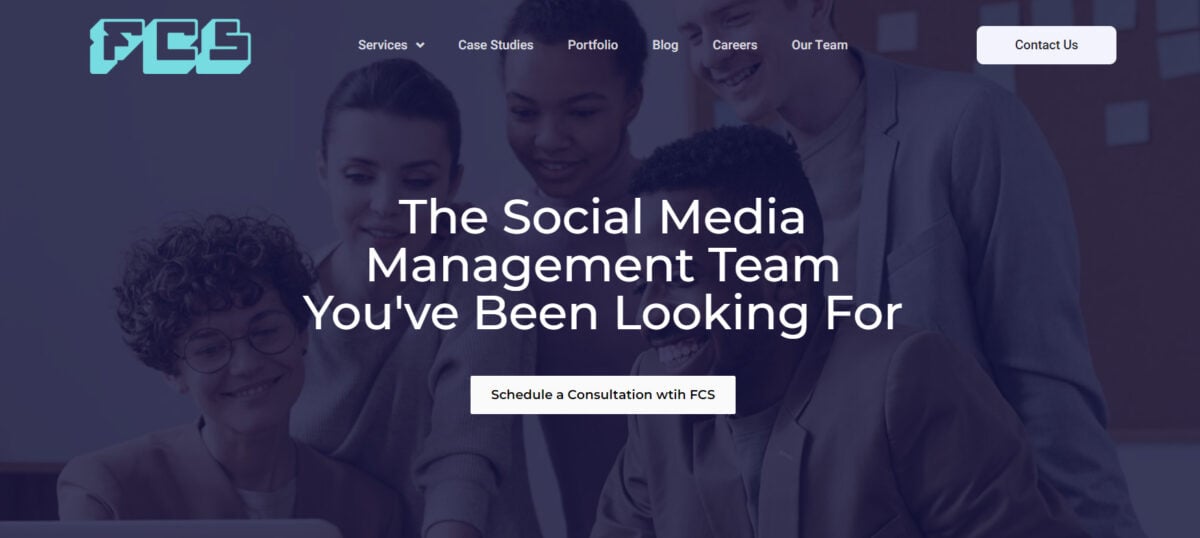 In Chicago, Fresh Content Society (FCS) is known for its exceptional influencer management services that enhance brand reputation, boost conversion rates, and raise brand awareness.
FCS's influencer marketing services emphasize creative and impactful social media campaigns that resonate with target audiences long after they've scrolled away. They utilize tailor-made strategies backed by data to ensure effective brand message delivery and act as an end-to-end influencer management partner, handling everything from strategy brainstorming to execution and reporting.
In collaboration with PEAK Auto, Fresh Content Society demonstrated its expertise by driving a 2,000% increase in TikTok following. This case showcases FCS's ability to generate organic social media views and engagements amidst a paid media-dominated landscape.
📍 Chicago location: 900 Chicago Ave UNIT 104,Evanston, IL 60202
💼 Employees: 11-50 employees
🗓️ Founded: 2015
---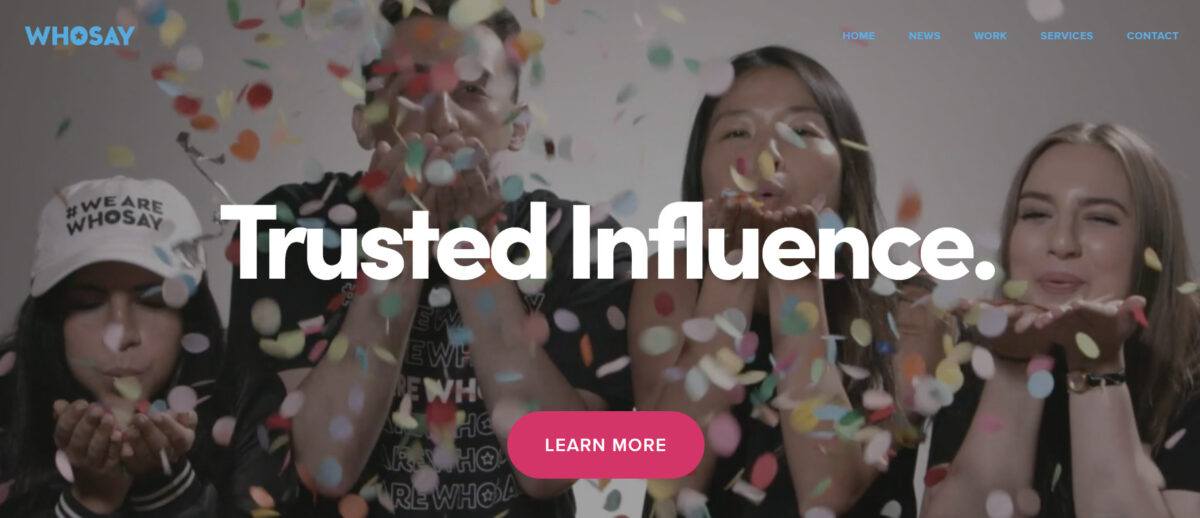 Offering a complete and potent approach to influencer marketing, WHOSAY has made a name for itself as one of Chicago's premier agencies in the field.
WHOSAY's expertise is evident in its work with over 100 different brands, executing more than 400 influence marketing campaigns. These campaigns have generated more than 5 billion impressions, 800 million video views, and 900 million engagements, showcasing the agency's ability to drive success for its clients.
One of the key differentiators for WHOSAY is its commitment to working with professionally vetted talent, ensuring that brands are matched with the most suitable celebrities, influencers, and micro-influencers. The agency meticulously analyzes each talent for fraudulent activity and brand safety, providing clients with the assurance that their campaigns will be in capable and trustworthy hands.
In addition to its focus on talent, WHOSAY takes a data-driven approach to influencer marketing by setting detailed campaign objectives in awareness, engagement, sentiment, and action. These metrics guide the creative direction, talent matches, distribution, paid media plans, and overall success metrics of each campaign.
📍 Chicago location: 401 N Michigan Ave # 1500 Chicago, IL 60611
💼 Employees: 51-200 employees
🗓️ Founded: 2010
---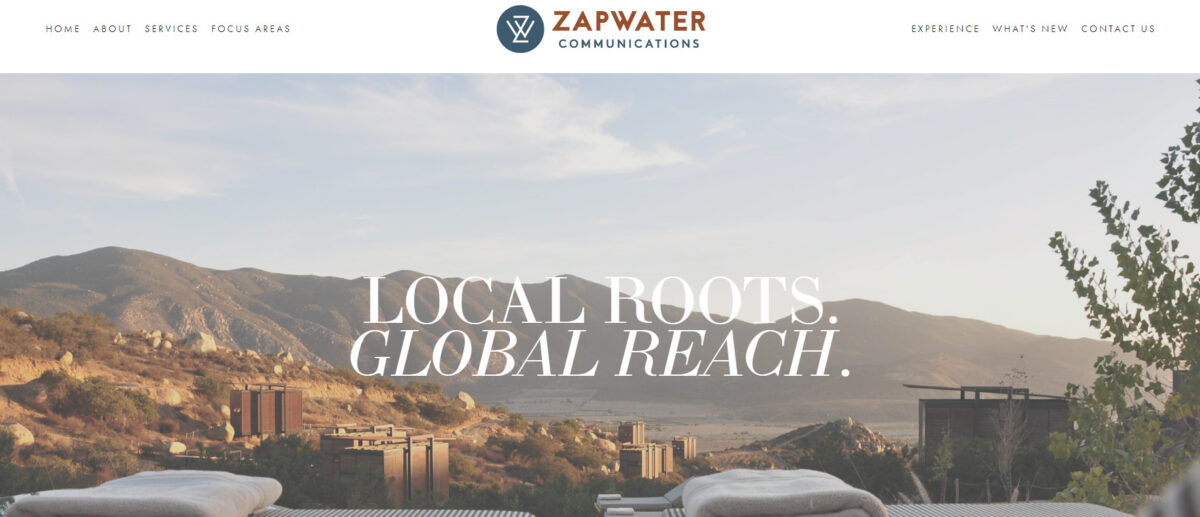 Known for its expertise in lifestyle brands, Zapwater Communications has established itself as a premier integrated communications agency in Chicago. With a comprehensive suite of services, Zapwater excels in assisting businesses to grow and thrive, particularly through its innovative and effective influencer marketing strategies.
Zapwater's specialists possess a deep understanding of platforms, media, and influencers in five primary lifestyle categories: Consumer Services and Products, Design and Real Estate, Fashion, Beauty and Retail, Hospitality, and Travel. This expertise allows them to design customized strategies that directly address their clients' objectives, leading to measurable results.
Zapwater's multidisciplinary approach to marketing combines digital engagement, experiential tactics, influencer and media relations, and strategic partnerships, all aimed at driving bottom-line results. This integrated approach has led to their recognition with over 275 industry awards, a testament to their ongoing commitment to excellence.
📍 Chicago location: 118 N Peoria St, Chicago, IL 60607
💼 Employees: 11-50 employees
🗓️ Founded: 2005
---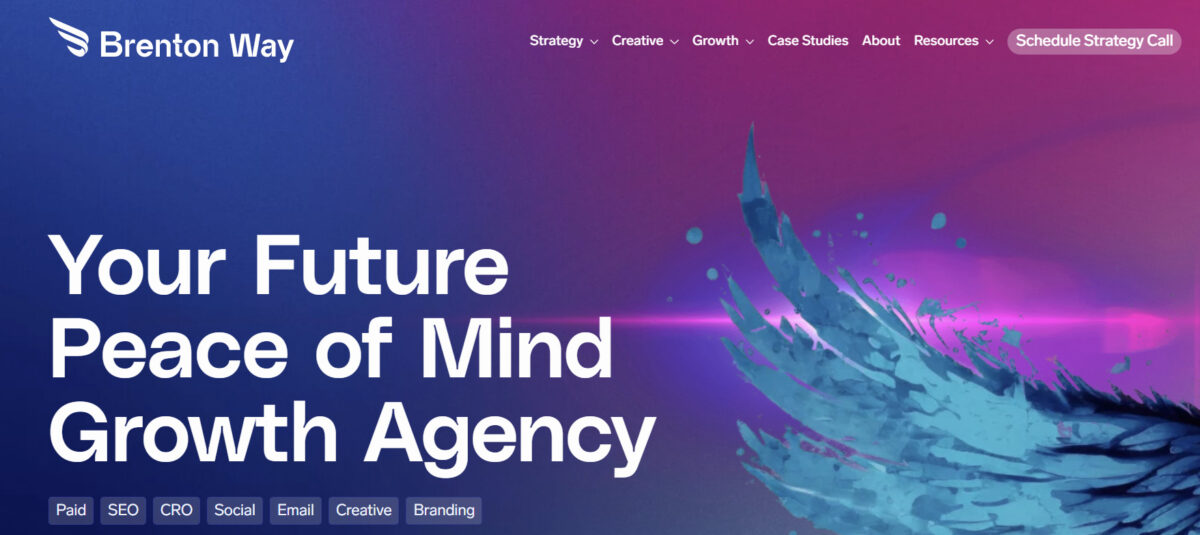 Brenton Way has positioned itself as one of the best influencer marketing agencies in Chicago by offering businesses a comprehensive approach to influencer marketing.
One of the key strengths of Brenton Way lies in its meticulous analysis of influencers' brand reach. The agency identifies and creates relationships with individuals who have the potential to significantly increase a client's brand awareness. By tapping into influencers' audiences through a clear strategy and plan, Brenton Way ensures that businesses can effectively engage with new target markets.
Another feature of Brenton Way's offering is its extensive influencer database, which spans over 5 years of data and includes more than 80,000 unique influencer relationships across various verticals. Clients can leverage the agency's connections or work with them to create new ones through personalized outreach strategies, ensuring maximum impact for their campaigns.
Notable case studies include the success story of OpulenceMD, a beauty brand that went from being an initial startup to securing a deal on Shark Tank. This achievement was made possible by Brenton Way's influencer marketing strategy, which garnered support from over 80 key influencers. In another case study, the agency helped Serendi increase their digital PR presence in the US market, resulting in over 250,000 monthly social impressions and partnerships with 40 new brand influencers.
📍 Chicago location: 22 W Washington St Suite 1510, Chicago, IL 60602
💼 Employees: 2-10
🗓️ Founded: 2017
---

Socialite Media is a boutique digital marketing agency based in Downtown Chicago with additional offices in Las Vegas. Founded in 2019, this agency has quickly positioned itself as one of the best influencer marketing agencies in Chicago, catering to clients nationwide.
Specializing in social media management, influencer marketing, content creation, and public relations, Socialite Media focuses on ensuring a seamless alignment between their clients and the influencers they work with. By carefully selecting influencers that resonate with each client's specific niche, the agency guarantees an authentic promotion and an increase in engagement. For instance, a beauty guru influencer would be chosen to represent a wellness spa client, ensuring that the influencer's audience is genuinely interested in the subject matter.
Socialite Media's Director of Influencer Marketing handpicks influencers who have proven their ability to deliver a high return on investment (ROI) for businesses. All influencers are required to have a reach of over 10,000 people, allowing them to effectively promote clients' products or services to their niche audience. Utilizing user-generated content, these influencers create videos and photos that showcase the clients' business or products in a natural and authentic manner.
The agency also recognizes the potential of nano-influencers, who typically have a following between 1,000 and 10,000 followers. These individuals are not seeking fame but are passionate supporters of brands they love. Their smaller, loyal following and higher engagement rates make them valuable assets in the influencer marketing strategy.
📍 Chicago location: 159 N Sangamon Ste 204 Chicago, IL 60607
💼 Employees: 2-10
🗓️ Founded: 2019
---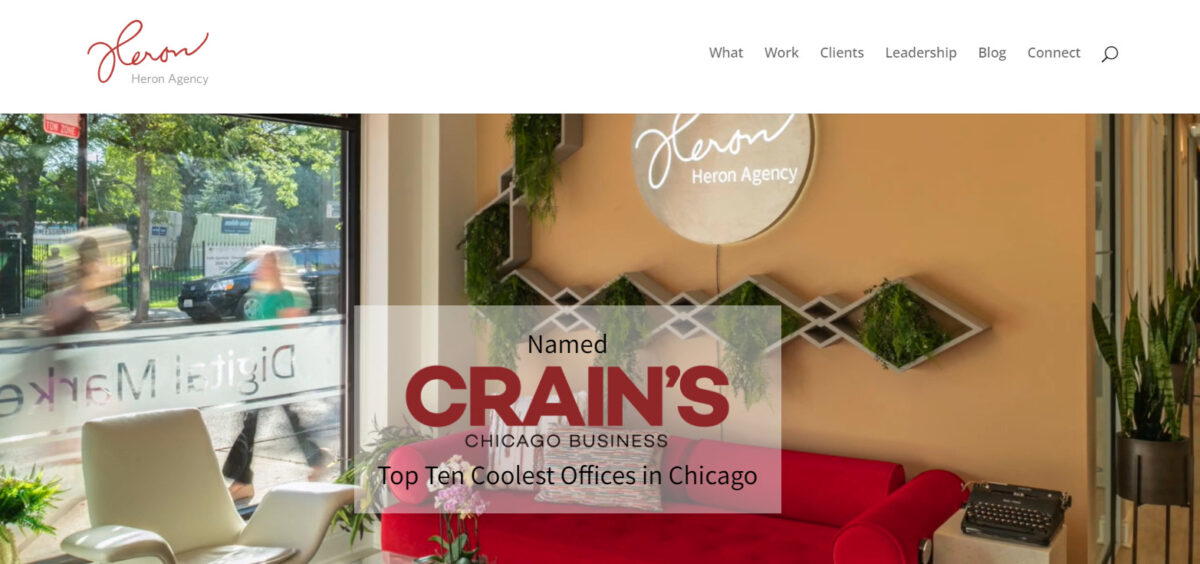 One of the top influencer marketing agencies in Chicago, Heron Agency has built a reputation for providing a wide array of services that enable businesses to thrive in the current digital landscape. Their expertise in Public Relations, Marketing, Digital Strategies, and Social Media has allowed them to create strong local, national, and global campaigns for their clients. Heron Agency excels in influencer relations and the development of strategic alliances and promotions, including non-paid influencer campaigns and influencer-focused events.
One of the notable success stories of Heron Agency's non-paid influencer campaigns is Rhapsody Spa, which accumulated over 16,000,000 social media impressions. Heron Agency is a valuable investment for businesses looking to enhance their online presence and engage with consumers through influencer marketing, offering integrity, competency, connections, influence, and tangible results.
📍 Chicago location: 2626 N. Lincoln Avenue
💼 Employees: 11-50 employees
🗓️ Founded: 2000
---
Talent Resources, founded in 2007, has earned the place among the best influencer marketing agencies in the industry. With over a decade of experience, the company excels at bridging the gap between brands and influencers, offering holistic marketing solutions and full-service social platform management.
Key to Talent Resources' success is their elite management team, which ensures fast and efficient turnaround times for their clients. The agency grants businesses access to top talent from around the world and utilizes cutting-edge data and analytics tools to connect brands with the most suitable influencers.
One exemplary case study highlights Talent Resources' expertise in influencer marketing. In partnership with Dunkin' Donuts, the agency successfully executed the #DunkinCastingCall initiative using the popular social media platform TikTok. Talent Resources was responsible for securing 10 influencers to participate in the campaign, creating unique content and encouraging their followers to audition for a chance to be part of the Dunkin' launch ad. This innovative approach led to the campaign going viral, amassing over 9 million views on the hashtag #DunkinCastingCall on TikTok.
💼 Employees: 11-50
🗓️ Founded: 2007️
---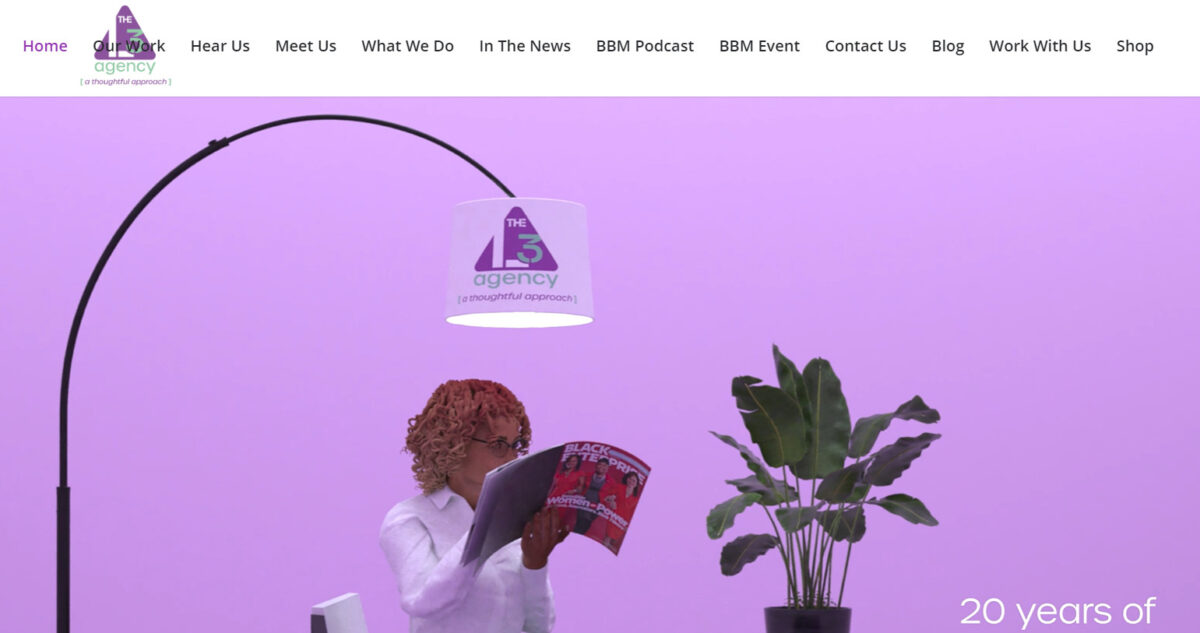 Once operating under the name L3 Eventeurs, The L3 Agency now stands out as an industry-leading integrated influencer marketing and communications consultancy offering a full range of services.
Boasting decdes of combined experience in marketing and public relations, the agency's team of experienced consultants are well-equipped to leverage relationships and insights to tell their clients' stories effectively. These professionals are storytellers, brand builders, thought leaders, social ambassadors, producers, and strategists who drive impact and access for every client they serve.
A key element that sets The L3 Agency apart from other influencer marketing agencies is its commitment to authenticity. The agency focuses on delivering genuine content that resonates with its clients' target audiences, ensuring that brand-building and engagement efforts are both meaningful and effective. This is made possible through The L3 Agency's extensive database of talented influencers who are known for creating impressive content that aligns with their clients' goals.
In addition to its influencer marketing services, The L3 Agency works with a variety of brands and public relations/advertising agencies to streamline their marketing and communications systems. This partnership approach allows influencers to concentrate on what they do best: creating engaging content and connecting with their community. As a result, clients can expect a seamless and well-coordinated marketing strategy that delivers optimal results.
📍 Chicago location: 5113 S Harper Ave Suite 2C, Chicago, IL 60615
💼 Employees: 2-10
🗓️ Founded: 2000
---

Reilly Connect is an influencer marketing agency that has earned its reputation as one of the best in the industry. The agency specializes in creating, strategizing, and managing influencer campaigns from end-to-end while focusing on providing the most value within established budgets.
Their expertise lies in working with high-profile influencers on behalf of global brands, as well as helping mid-sized and emerging brands maximize their exposure. Reilly Connect is particularly knowledgeable in the health and wellness sector, adhering to regulatory rules and delivering campaigns that respect them.
One notable case study showcases Reilly Connect's exceptional ability to translate strategic brand insights into powerful micro-influencer content within the beauty and skincare industry. Faced with the challenge of increasing consumer awareness for a #1 dermatologist-recommended moisturizer in the highly competitive $1B+ skincare sector, the agency employed a multi-pronged approach.
Reilly Connect focused on engaging beauty and lifestyle influencers who target women over 35, testing, measuring, and refining various storylines. The campaign centered on a common skin condition, Keratosis Pilaris, and the results were impressive. The influencer campaign generated more than 5.9 million views, 273,000 engagements, and 12,000 clicks to e-commerce and brand channels, boasting an ROI of 548%. The engagement rate reached 4.61%, and the influencer campaign accounted for 20 of the top 100 referral sites to the brand's website, driving higher quality traffic compared to other referral sources.
📍 Chicago location: 1358 W Wrightwood Ave, Chicago, IL 60614
💼 Employees: 11 -50
🗓️ Founded: 1996
---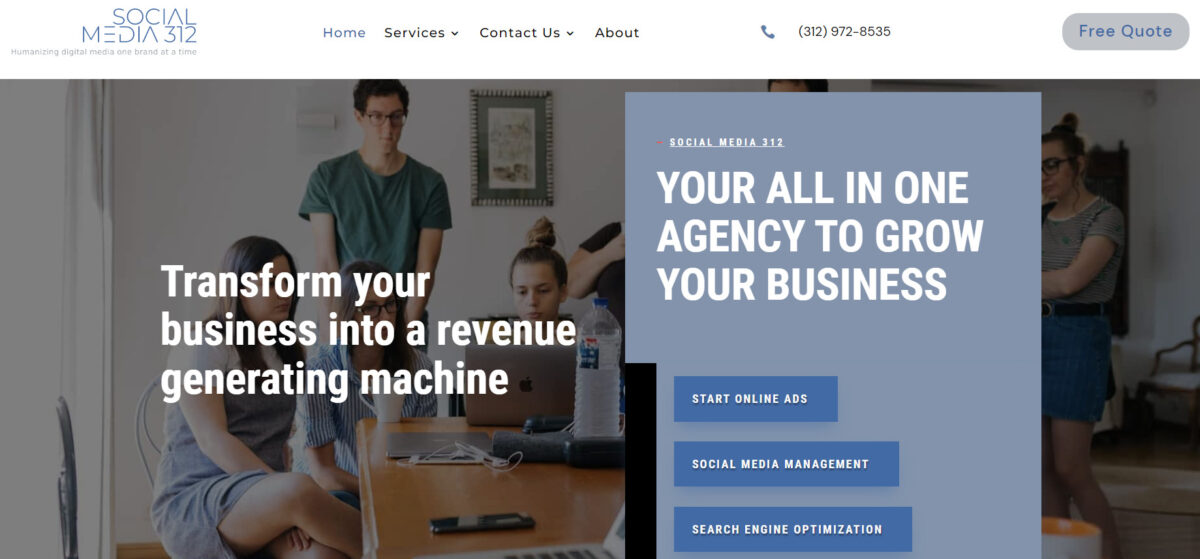 In the fast-paced and ultra-competitive world of digital marketing, Social Media 312 has emerged as one of the top influencer marketing agencies. Businesses seeking to harness the power of social influence will find that Social Media 312 brings a comprehensive and professional approach to the table, ensuring that influencer collaborations are successful, authentic, and impactful.
What sets them apart from other influencer marketing agencies at this level is their meticulous approach to influencer selection. They take the time to examine the followers of each influencer, ensuring that their views align with the brand's values and identity. This thorough evaluation prevents potential brand compromise, which is crucial for maintaining a business's reputation.
Furthermore, Social Media 312 prioritizes influencer engagement. By ensuring that the influencers they work with generate genuine audience comments and engagement, the agency helps businesses connect with their target audience in a more meaningful way. This translates into stronger brand awareness, better customer loyalty, and ultimately, increased sales.
To maintain a high level of authenticity, Social Media 312 employs powerful software and tools to identify genuine social media influencers. This commitment to authenticity means that businesses working with Social Media 312 can trust that their campaigns are backed by credible and influential leaders.
Social Media 312 also takes a strong stand against the use of bots or other low-quality traffic generation techniques. They understand the negative impact these tactics can have on a brand's reputation, and therefore ensure that their influencer campaigns are free from such practices.
📍 Chicago location: 203 N La Salle St #2100, Chicago, IL 60601
💼 Employees: 11-50 employees
🗓️ Founded: 2019
---
Frequently Asked Questions
How much does it cost to work with an influencer marketing agency in Chicago?
The cost of working with an influencer marketing agency in Chicago can vary greatly depending on factors like the size of your campaign, the level of services required, and the agency's reputation. Prices can range from a few thousand dollars for a small campaign to hundreds of thousands for larger, more comprehensive campaigns. It's essential to discuss your budget and requirements with the agency to determine the best fit for your needs.
How can I measure the success of my influencer marketing campaign?
To measure the success of your influencer marketing campaign, track key performance indicators (KPIs) such as:
Reach and impressions
Engagement metrics (likes, comments, shares, etc.)
Click-through rates (CTR)
Conversion rates
Return on investment (ROI)
Brand sentiment and awareness
Can influencer marketing agencies in Chicago guarantee results?
While influencer marketing agencies in Chicago can offer their expertise and implement best practices, they cannot guarantee specific results. Campaign outcomes depend on various factors, including the influencers chosen, content quality, target audience, and overall market conditions. However, by working with a reputable agency, you can improve your chances of success and maximize the return on your investment.
How long does it take to see results from an influencer marketing campaign?
The time it takes to see results from an influencer marketing campaign can vary depending on factors such as campaign objectives, influencer choice, content strategy, and audience engagement.
Some campaigns may yield immediate results, while others might take weeks or months to show a measurable impact. A reputable influencer marketing agency will monitor campaign performance and adjust strategies as needed to optimize results.
What is the difference between macro-influencers and micro-influencers?
Macro-influencers are individuals with a large following, often upwards of 100,000 followers. They tend to have a broader audience reach and can boost brand visibility on a larger scale. Micro-influencers, on the other hand, have a smaller following, typically between 1,000 and 100,000 followers. While their audience reach may be smaller, micro-influencers often have higher engagement rates and a more dedicated, niche audience, making them valuable partners for brands targeting specific markets.
Can influencer marketing agencies in Chicago work with micro-influencers?
Yes, many influencer marketing agencies in Chicago work with micro-influencers, who typically have a smaller but highly engaged following. Micro-influencers can offer several benefits, including higher engagement rates, increased authenticity, and a more targeted audience. Depending on your brand's goals and target market, an agency may recommend partnering with micro-influencers to maximize the effectiveness of your campaign.
What types of industries do influencer marketing agencies in Chicago work with?
Influencer marketing agencies in Chicago work with a diverse range of industries, including but not limited to:
Fashion and beauty
Health and wellness
Technology and electronics
Travel and hospitality
Food and beverage
Home and lifestyle
Their expertise allows them to cater to the unique needs and requirements of each industry, ensuring effective and targeted influencer marketing campaigns.