Advertising Disclosure
Advertising disclosure:
Our partners compensate us. This may influence which products or services we review (also where and how those products appear on the site), this in no way affects our recommendations or the advice we offer. Our reviews are based on years of experience and countless hours of research. Our partners cannot pay us to guarantee favorable reviews of their products or services.
The influencer marketing industry is worth $21.1 billion. As we step into 2024, brands looking to harness the potential of this marketing medium should invest time and effort into finding the right influencer agency.
Luckily, this article delves into the best influencer agencies of the year, offering you a detailed review of their services, successes, and unique approaches. Whether you're a small startup or a large corporation, these agencies have proven their ability to amplify brand messages and drive remarkable results. Read on to discover which agency aligns best with your brand's vision and goals.
---
Best Influencer Agency Picks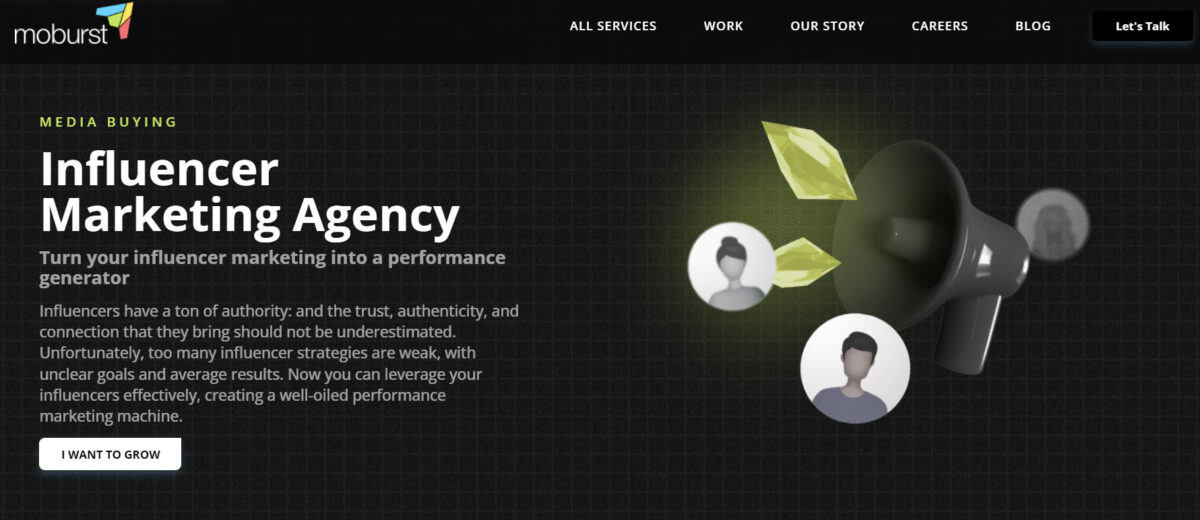 Best for: Medium to Large Companies
Location: New York, USA | London, UK | Tel Aviv, Israel | San Francisco, California
Year Founded: 2013
Pricing Info: Minimum Project Size is $20,000 | Most Common Project Size Between $50,000 and $199,999
Moburst is a powerhouse in formulating tailored influencer marketing strategies with a mobile-first approach. Their expertise in influencer app marketing and user acquisition is especially beneficial for enhancing your mobile presence. With Moburst, you can expect data-driven campaigns and creative content that effectively engage your target audience.
Their services, including influencer identification, campaign management, and performance analytics, offer a holistic approach to influencer marketing. If leveraging influencers to boost your mobile app or digital product is your goal, Moburst's innovative and results-oriented approach will be invaluable. Their campaigns are designed to drive real engagement and conversions, positioning them as a leading agency in the influencer marketing sphere.
---
---
---
---
---
---
---
---
---
---
---
---
---
---
---
---
---
---
---
---
Can Small Businesses Benefit from Working with Large Influencer Agencies?
The synergy between small businesses and large influencer agencies can be surprisingly beneficial. Small businesses often hesitate to approach large agencies due to perceived high costs and a focus on big brands. However, this collaboration can yield significant advantages.
Tailored Strategies and Diverse Networks
Large influencer agencies possess extensive networks of influencers, both micro and macro, across various niches and platforms. This diversity allows them to tailor strategies that align with the unique needs of each client. For small businesses, they can connect with influencers who have a genuine affinity for their products or services, ensuring more authentic and effective promotions. In such cases, working with micro-influencers might be more beneficial for them. According to a Forbes report, micro-influencers have a 60% higher engagement and 20% higher conversion edge over macro-influencers. This means small businesses can work with smaller creators and extract more for less.
---
Targeting the Right Platforms
Selecting the appropriate platforms is a pivotal step in orchestrating a successful influencer marketing strategy. For small businesses, this decision could be streamlined and substantiated by collaborating with large influencer agencies. These agencies possess the acumen and data-driven insights to identify which platforms harbor the most potential for a brand's specific audience and goals. From a platform-wise perspective, Instagram reigns supreme as the highest-yielding ROI platform for influencer marketing, with 30% of marketers identifying it as their go-to platform for engaging with influencers. This propensity toward Instagram is not just a trend but an informed choice backed by substantial data showcasing the platform's high engagement rates and expansive reach, especially among younger demographics like Gen Z and Millennials.
---
Large agencies bring a wealth of experience and a deep understanding of market trends, consumer behavior, and effective campaign strategies. This expertise can be invaluable for small businesses looking to navigate the complex world of influencer marketing. Agencies can guide them in making informed decisions, from selecting the right influencers to crafting compelling content.
---
Cost-Effectiveness and ROI
Contrary to popular belief, partnering with a large agency can be cost-effective for small businesses. This is mainly due to influencer marketing's high ROI, which comes down to making $5.20 for every dollar spent. Moreover, these agencies often have the resources to negotiate better rates with influencers and can offer more comprehensive packages that deliver an even better ROI.
---
Access to Advanced Tools and Analytics
Large agencies have access to advanced tools and analytics platforms, which can be leveraged to track campaign performance, audience engagement, and other key metrics. This data-driven approach helps in fine-tuning strategies for better results, something small businesses might struggle with on their own.
Small businesses can indeed benefit from working with large influencer agencies. The key is to find an agency willing to understand their unique challenges and goals and tailor their services accordingly. This partnership can provide small businesses with the expertise, tools, and networks they need to effectively leverage influencer marketing for growth and brand recognition.
---
Exploring the Different Influencer Marketing Campaign Strategies
Influencer marketing has become a pivotal strategy for brands aiming to increase their online visibility and connect with target audiences. Broadly, influencer agencies offer three types of influencer marketing campaigns: Brand Awareness Campaigns, Content-Focused Campaigns, and Click-Focused Campaigns.
Brand Awareness Campaigns
These campaigns are employed when the primary objective is to introduce a new product, undergo a rebranding process, or shift consumer behavior. For instance, if a brand wishes to convince consumers to switch to their newer product, a Brand Awareness Campaign is the way to go. To run these campaigns, influencer agencies will utilize giveaways, which are beneficial for growing social media followings and enhancing engagement.
Another tactic is gifting or product seeding, wherein influencers receive products and share their experiences online. This approach fosters relationships with influencers and provides brands with authentic product reviews. Additionally, social media takeovers, especially on platforms like Instagram, can dramatically enhance brand exposure by allowing influencers to create content directly for a brand's feed.
---
Content-Focused Campaigns
Influencer agencies specialize in running UGC (User-Generated Content) campaigns. These campaigns aim to harness content created by influencers for a brand's promotional activities. This content can be repurposed for ads, social media posts, websites, and even in-store displays. The core advantage of a UGC campaign is the acquisition of high-quality, authentic content that can also be reused. Sometimes, brands engage in such campaigns solely for the content, with the added benefit of influencers posting the content on their channels.
---
These campaigns are designed to drive website traffic, expand mailing lists, boost sales, and support retargeting efforts. Influencer agencies will stimulate user actions through affiliate marketing, wherein influencers earn commissions by promoting products through customized links. Unboxing videos are another popular approach, offering viewers raw, unfiltered first impressions of products.
These videos can be tailored to resonate with various demographic groups, such as Millennials or Gen Zs, each having distinct preferences. Finally, sponsored blog posts present a long-term solution, with the potential to generate consistent traffic for brands over extended periods.
---
Conclusion
As we navigate the ever-evolving realm of digital marketing, the significance of choosing the right influencer agency becomes increasingly apparent. The agencies reviewed in this article represent the pinnacle of innovation, creativity, and strategic prowess in the influencer marketing industry as of 2024.
They not only offer diverse and adaptable strategies but also bring a depth of expertise and insight that can transform your brand's digital presence. Remember, the effectiveness of an influencer campaign lies not just in the reach but in the resonance of the message with the target audience. The right agency can be the catalyst for your brand's growth, helping you forge meaningful connections and achieve measurable results.
Frequently Asked Questions
How do influencer agencies adapt to changing social media algorithms?
Influencer agencies adapt to changing social media algorithms by staying informed about updates and trends. They continuously analyze algorithm changes to understand how content is ranked and displayed. Agencies then adjust their content strategies, focusing on creating high-engagement content that aligns with the new algorithm criteria. They also diversify their presence across multiple platforms to mitigate risks associated with algorithm changes on a single platform.
How do influencer agencies measure the success of a campaign?
Influencer agencies measure campaign success using a variety of metrics, including engagement rates (likes, comments, shares), reach, impressions, and conversion rates. They also consider the quality of audience interactions and the alignment of content with brand messaging. Advanced agencies may use specific KPIs like cost per engagement or ROI to evaluate the financial effectiveness of campaigns, ensuring they meet the brand's objectives.
What is the typical cost of hiring an influencer agency?
The cost of hiring an influencer agency can vary widely depending on factors like the agency's reputation, the extent of services provided, the influencer's reach, and the campaign's complexity. Typically, small to mid-sized agencies may charge anywhere from a few thousand dollars to tens of thousands per campaign, while top-tier agencies working with high-profile influencers can demand much higher fees, often reaching into the hundreds of thousands.