Influencer marketing is now a mainstream form of marketing. It's one of the most popular ways for businesses to distribute content on social media to a far wider audience than their own. As long as brands select suitable influencers, they receive very positive rates of return on their influencer marketing expenditure.
However, like all industries, influencer marketing is evolving. The world of influencer marketing is very different now from what it was a couple of years ago. Even if you have successfully tried influencer marketing in the past, it makes sense to upskill and learn what's happening in the world of influencer marketing right now.
There are now many influencer marketing events planned around the globe for 2023. Many of these cater to a broader audience, for example, social media marketing, but they include influencer marketing in the topics they cover.
You'll also notice that there are a number of podcast events included. Over the years, podcasts have really increased in popularity and, as a result, several influencers, like Logan Paul and YouTube star Joe Santagato, have started to explore this medium and are also now the voices behind some of the most popular podcasts showing that the power of influencers is far-reaching.
From podcasting to events aimed at food bloggers, here are the leading events that should help you in 2023 to learn more about the latest trends in influencer marketing and how the industry is changing to meet the demands of marketers and brands. A number of these events will be held exclusively online, while others will be in-person events. Though, if the Omicron variant has taught us anything so far it's that things can literally change overnight. While we hope that 2023 will be the year that in-person events return in all its glory, just keep in mind that dates and venues might change.
---
Top Influencer Marketing Events and Webinars to Attend in 2023:
---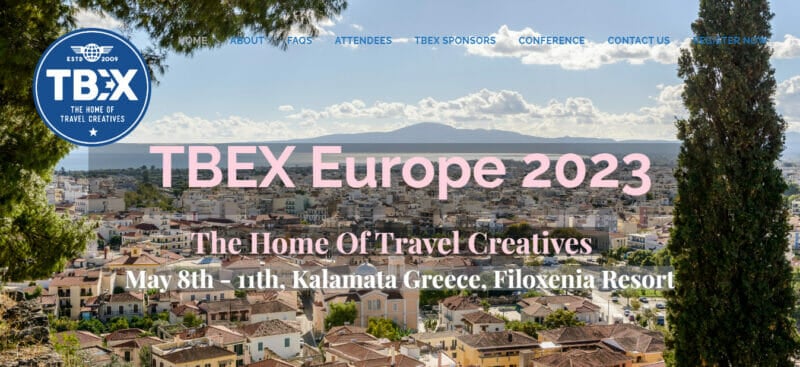 May 8 – May 11, 2023
Kalamata, Greece
TBEX is the biggest conference and networking event aimed at travel brands, DMOs, travel influencers and bloggers, online travel journalists, and content creators. It's a place where some of the most creative minds in the travel industry come together to learn and network. Each year, conferences are also held in the US and Asia Pacific with each conference attracting about 800 delegates from across the globe.
Previous participating sponsors have included:
BBC

Travel Channel

Food Travel Network

The Huffington Post

National Geographic Travel

The New York Times

The Social Media Monthly

Ogilvy Public Relations
Speakers for 2023's line-up include:
Anton Diaz, digital creator and video storyteller

Kei Shibata,

CEO at Venture Republic

Martinique Lewis,

President of the Black Travel Alliance and creator of The ABC Travel Greenbook

Caroline Makepeace,

co-founder of Y Travel Blog
---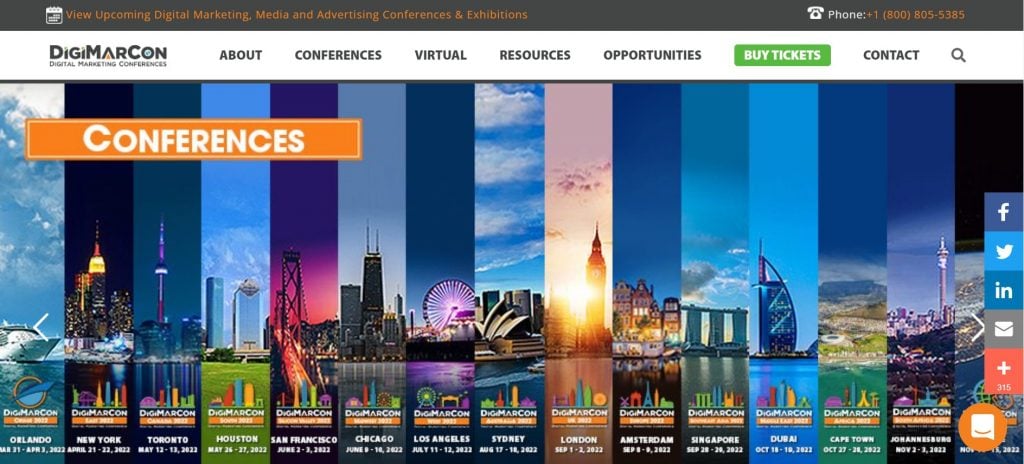 2022-2023
According to their website, DigiMarCon is the biggest digital marketing, media and advertising conference and exhibition series in the world. It gives attendees the chance to enjoy an intimate gathering with leaders and professionals in marketing during which they can gain insight into emerging strategies, best practices, and innovative technologies.
More than 40 conferences are held annually across nearly 20 countries.What's more, there will also be a Royal Caribbean Cruise in April 2023 if you want to explore uncharted waters with your marketing campaigns, so to speak.
Cities that will play host to DigiMarCon conferences in 2022 and 2023 include:
Sydney

New York City

Toronto

London

Amsterdam

Dublin

Cape Town

Singapore
In addition to influencer marketing, in 2022, they also plan to tackle topics like:
Growth hacking

Podcast marketing

Social commerce

Inbound and outbound marketing

PR and cause marketing

Conversion rate optimization

Visual and voice search

User-generated content
To give you an idea of what you can expect, previous speakers have included:
Ashley Faus from Atlassian

Megan Toth from NBC Universal

David Fallarme from HubSpot

Mike Hines from Amazon

Loni Stark from Adobe

Fernando Angulo from SEMrush
---

February 27 – March 2, 2023
Barcelona, Spain
As connectivity plays a key part in digital marketing, influencers, creators, innovators, and leaders get together at this popular mobile event to help shape the future of tech. Described on their website as the most influential event for the connectivity industry, Mobile World Conference (MWC) is a great place to network with influencers in the tech and mobile industry. The MWC23 will revolve around five themes, which will be announced at a live event on September 20.
Keynote speakers for 2022's line-up included:
Cher Wang, co-founder and chairperson of HTC Corporation

Caroline Casey, founder and creator of The Valuable 500

Nick Read, CEO of Vodafone Group
Highlights of 2021's event have included:
A discussion about what the new consumer looks like

A virtual interview with Elon Musk

A discussion about AI for telecoms

A look at the benefits of 5G in manufacturing
---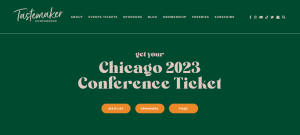 March 2 – March 3, 2023
Revel Motor Row, Chicago
The Tastemaker Conference offers more than 20 classes, workshops, panels, and keynotes that concentrate on topics like SEO and tech, revenue and business growth, and content creation. It's anticipated that over 400 food bloggers, influencers, and brands will attend, making it an amazing opportunity to network with not only other food influencers, but also brands that are looking to collaborate with content creators.
Speakers for 2022's event included:
Aleka Shunk, creator of the

Cooking With Keywords

course dedicated to food blogging

Jenny Melrose, author of

Influencer Entrepreneurs: The 4-Step Framework to Building Your Audience

Shishir Malani, Web Ecosystem Consultant at Google

Arsen Rabinovich, founder of TopHatRank

Laurie Buckle, founder of CookIt Media
---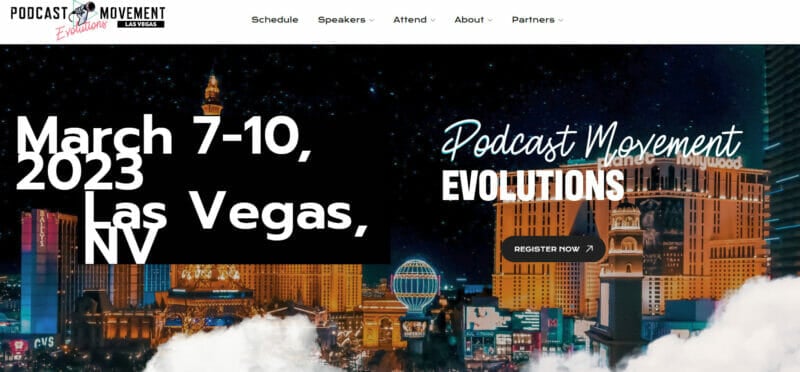 March 7 – March 10, 2023
Westgate Resort, Las Vegas
While the featured speakers of the event haven't been announced yet, it promises to be an exciting event. For a glimpse into last year's highlights, you can check out a short video clip on its landing page.
Basically, Podcast Movement Evolutions is three single-track events that all take place at the same time. There will be combined keynote talks, parties, and networking events. Each track has been curated in such a manner to offer attendees balanced discussions that tackle every aspect of podcasting.
The first track is aimed at the creator – those who are brand new to podcasting or looking to monetize a podcast that they're currently running as a hobby. The second track is aimed at experienced and/or full-time podcasters. The last track is aimed at podcast or radio industry professionals and audio ad buyers and sellers. You can pick just one track to attend or get a Podcast Pass for all three tracks. Passes start at $149.
---

March 22 – 23, 2023
153 26th Street, Brooklyn, New York
Youth Marketing Strategy (YMS) is America's biggest youth marketing festival. It focuses specifically on how brands can reach Gen Zers better. Boasting more than 80 speakers from leading as well as emerging brands, 2023's event promises to be even more diverse and exciting than the previous five YMS festivals. If you're wondering about what 2023 has in store regarding lifestyle, tech, and content, this event will ensure that you'll understand the latest trends so that you can speak to Generation Z in an authentic brand voice.
Other questions that you'll learn the answers to include:
What are the entertainment trends among Gen Z for 2023 and beyond?

How can you prepare your brand for Gen Alpha?

What are the lifestyle, digital, and tech trends that play a role in the lives of consumers in their late teens/early 20s?
Speakers for 2022's line-up included:
Ken Gibbs Jr. of Spotify

Megan Toth of NBC Universal

Quentin Moreau-Defarges of Gameloft

Dave Dickman of

Tagger Media
Tickets start at $325.
---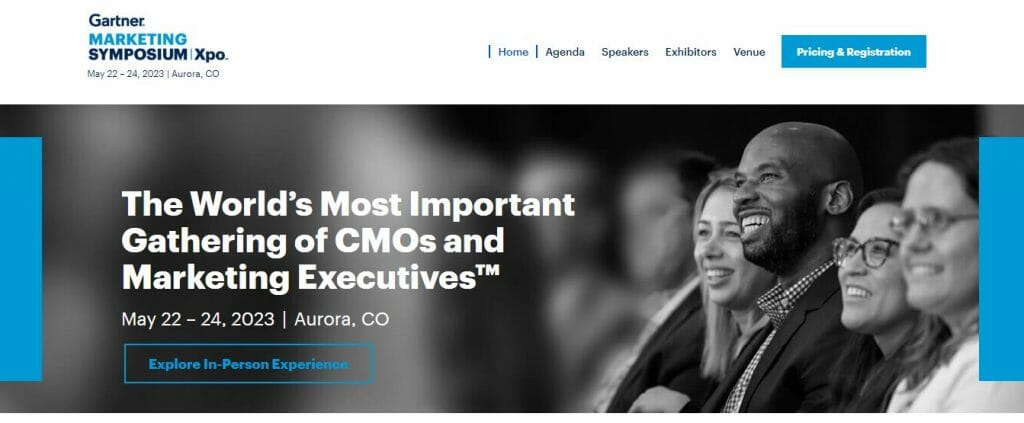 May 22 – 24, 2023
Aurora, CO
The Gartner Marketing Symposium/Xpo is aimed at CMOs and marketing execs. At the 2022 virtual conference, over 60 sessions were divided into several tracks, each with a specific area of focus that enabled marketing leaders to harness marketing's power and purpose.
The tracks included the following topics:
Shaping the future of marketing with insight, data, and analytics

Defining marketing's role in driving commercial growth

Orchestrating multichannel marketing to support the customer journey

Extending the impact of your MarTech ecosystem

Asserting marketing's relevancy and the relevancy of your marketing
While the agenda for the 2023 conference is still underway, we can expect it to be filled with strategic advice, marketing leadership, and marketing innovation just like the previous symposiums.
---

June 7 – June 8, 2023
The Old Truman Brewery, London
If you're searching for ways to improve your marketing strategy aimed at Gen Z specifically, this is a great event to attend. Organized by Voxburner, Youth Marketing Strategy (YMS) promises to offer the latest insights and networking opportunities. While the focus of the event might be the youth, the event is not new with the 2023 conference marking its 11th year.
The two-day event will start with in-person events, keynotes, panels, exhibition halls, live performances, and networking. Attendees can also look forward to more than 150 speakers and Q&A sessions with top brands and advertisers like Apple, Tesco, UNICEF, Visa, and Amazon. In addition to influencer marketing, topics that will be explored in detail include digital innovation, higher education, marketing to students, retail, and eCommerce.
Previous attendees have included:
Apple

Starbucks

Spotify

Pizza Hut

Playstation

Redbull
Tickets start at £420.
---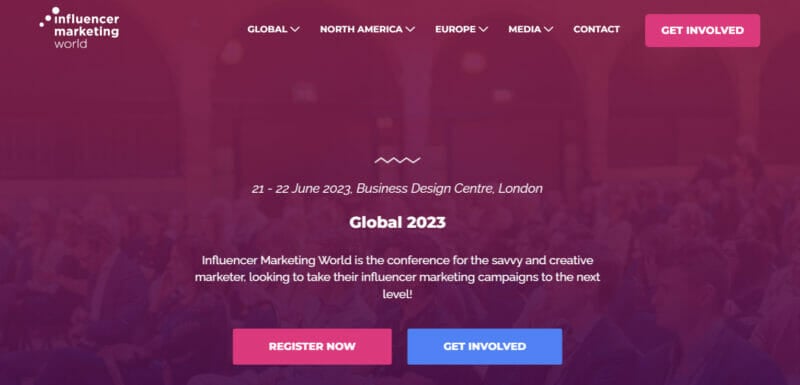 June 21 – June 22, 2023
Business Design Centre, London and online
This two-day conference is aimed at savvy and creative marketers who want to improve their influencer marketing campaigns. A line-up of more than 35 visionary speakers will equip, empower, and inspire marketers with new engagement techniques and growth opportunities.
The roster of speakers includes:
Flora Noble,

Social Media and Student Partnerships Manager, Group GTI

Yenan Wang, Head of TikTok Live

David Shadpour, CEO & Founder, Social Native

Ruby Soave, Head of Influencer Marketing, Student Beans

Paul Randall, Creator Development HP Custom Content, HP Inc.
---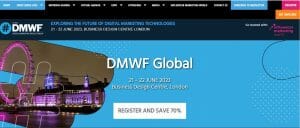 June 21 – June 22, 2023
Business Design Centre, London and online
For more than 13 years, DMWF has been bringing together the global digital marketing community to address the issues that the digital future offers. During the two-day hybrid conference, the latest trends and strategies within the industry will be covered by means of live demos, practical how-to sessions, product launches, and online networking.
The two-day event will cover five tracks
Content and Digital Brand Strategy

Data and Insights

Digital Experience and eCommerce Strategy

Digital Transformation and Innovation

Social Media and Community Marketing
Among the topics to be covered in dedicated conference tracks are:
Digital marketing technologies

Virtual reality (VR)

Artificial intelligence (AI)

User experience (UX)

Customer experience (CX)

eCommerce

Content marketing

Data and analytics
The global brand speaker line-up includes:
Abhi Juneja, VP Enterprise Digital & Analytics, American Express

Sam Hughes, Client Partner, Reddit

Svetlana Tokunova, Customer Marketing Manager BeNeLux region, Bayer Crop Science

Hamaad Sayyed, Measurement & Attribution Lead, Google

Gabriela Torres, Head of Social Media, BBC World Service
---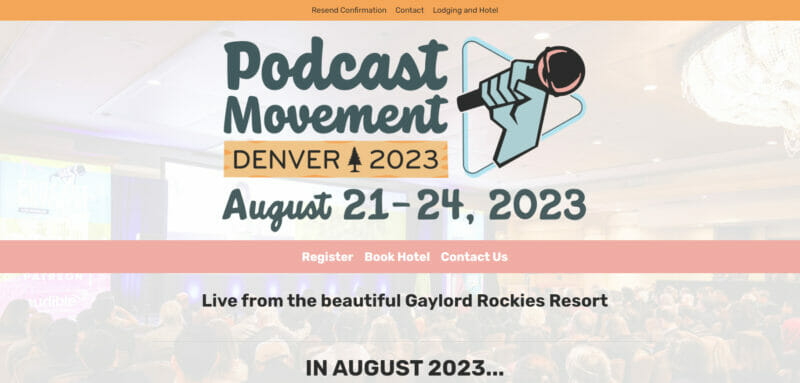 August 21 – 24, 2023
Gaylord Rockies Resort, Denver, Colorado
Podcast Movement is heading to the Mile High City of Denver in August 2023. Over the years, it has brought together thousands of podcasters and industry experts helping them to grow professionally and better the wider podcast community.
The four-day event will offer more than 150 educational sessions and workshops. Attendees can also look forward to networking events, parties, and the largest expo and trade show the industry has to offer.
Register early to grab the Super Duper Early Bird Sale passes, starting at $199 for a standard pass.
---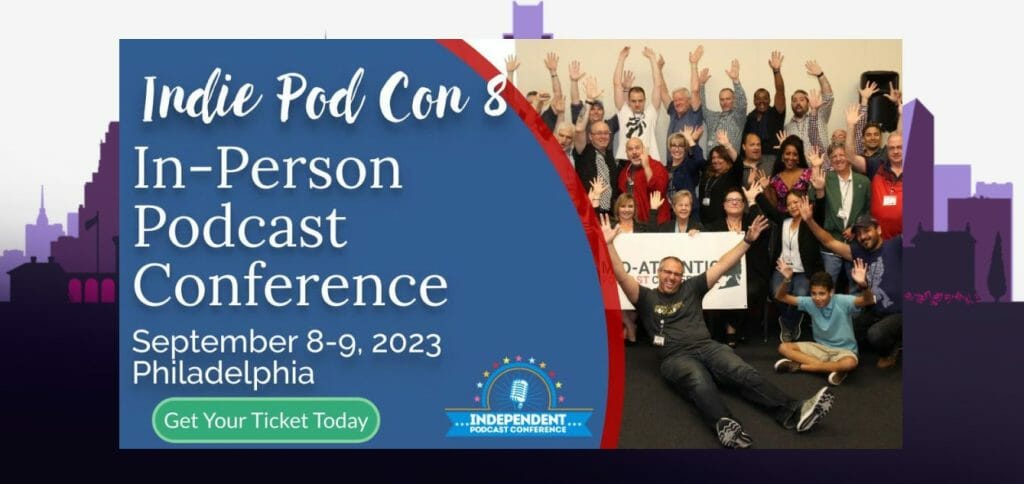 September 8 – 9, 2023
Holiday Inn Philadelphia South-Swedesboro New Jersey
Indie Pod Con is aimed at indie podcasters who want to grow their audience. It originally started as a community on Facebook that was founded by Super Joe Pardo, a business coach based in New Jersey. Fast-forward eight years and it has grown into an active community of podcasters. From technology to technique, you'll learn tips to help secure your position in a niche.
ICON 8: Podcast Conference brings together business owners, entrepreneurs, and creatives and enables them to empower each other through powerhouse discussions on:
Navigating technologies used to run podcasts

Utilizing resources and techniques to get started
Thriving in a competitive industry by obtaining a foothold in a specific niche
---
Past 2022 Events
Below are some of the past Influencer Marketing Events and Webinars that are still worth checking out.

March 31, 2022
Online
If you prefer webinars over events, be sure to mark this date on your calendar. This webinar will look at Voxburner's Diversity and Inclusivity: Focusing on Gender and Identity report.
A panel of young people will share their thoughts on which brands are truly diverse among other things. It's a great learning opportunity if you want to find out how you can ensure diversity and inclusivity in your branding and campaigns, particularly with regards to gender and identity.
---

May 2 – May 3, 2022
Microsoft describes the AdWorld Conference as the "event for visionary advertising ideas". Over the course of two days, AdWorld will stream more than 10 digital advertising tracks that include speeches, live Q&A sessions, and panels. Described on their website as the networking event of the year, this two-day online all-in-one advertising event will help you to connect with some of the leading marketers and brands.
Past speakers have included the likes of Neil Patel (co-founder of Crazy Egg), Rory Sutherland (Vice Chairman of Ogilvy UK), Oli Gardner (founder of Unbounce), and Loren Baker (founder of Search Engine Journal). And, the line-up that's been shared for 2022 so far won't disappoint either.
Speakers for 2022's event include:
Arianna Huffington, Founder of The Huffington Post

Kipp Bodnar, CMO of HubSpot

Brandon Smithwrick, Senior Content Strategist at Squarespace

Tatiana Holifield, Head of Brand Social at Disney Streaming
While no information about 2022's tracks is available yet, past tracks included:
Content marketing

The future of advertising

Lead generation

Ad creatives and design

Media buying

Conversion optimization

Social media marketing

Growth hacking

Email marketing
What's more, as it's an IAB-approved event, it will count towards IAB Certified Professional's Continuing Education credits.
Frequently Asked Questions
What is an example of influencer marketing?
Numerous brands use influencer marketing to reach target audiences on social media. Brands like Dyson, Pepsi, Lululemon and Dunkin' Donuts all use influencer marketing to promote their products to a younger audience on platforms like Instagram or TikTok.
What is event influencer?
Influencer events are set up and organized by brands and companies alike for the primary purpose of connecting with influencers on a more meaningful level.
What are the three main goals of influencer marketing?
Your influencer marketing campaign should aim to achieve one of these 4 tactics: brand awareness, brand image, social engagement interactions and conversations.
What is the most popular platform for influencer marketing?
Instagram is the most popular influencer marketing platform. This growth is expected to grow through at least 2024.