With TikTok being one of the most engaging social platforms, people no doubt spend a lot of time on the app. In fact, 167 million videos are watched on the platform in a single internet minute. This makes it the perfect platform for brands and creators alike to engage their audience and establish their social media presence.
That's where TikTok comments enter the picture, playing a major role in driving engagement and visibility for your content. Let's find out more about the importance of TikTok comments and how you can drive more engagement.
---
Ultimate Guide on TikTok Comment:
---
The Importance of TikTok Comments
The way that TikTok suggests content to users is pretty similar to other platforms in that it uses engagements to determine the popularity of the content. Although the TikTok algorithm is extremely robust and considers a bunch of factors to determine what content to display to which users, it prioritizes engagement rates to finalize its decision.
Even when it comes to engagements, comments play a more significant role than views or likes. This is because viewing and liking a video doesn't require much effort while you have to actually put in some effort to leave a comment. People have to spend at least a few seconds thinking of something to comment, opening the comment section, and then typing in their comment. This involves a lot more action that simply liking or viewing a video, which suggests that someone cared enough about the content to comment on it.
That means the more comments you get for your video, the better TikTok will understand that your content is worth displaying to more people. So, when you get a lot of comments on your videos, the better your chances of attracting more followers and growing your presence.
---
Controlling Your Comments Settings for TikTok
TikTok offers plenty of features to help you take control of your comments. This includes controlling who gets to comment on your videos and even filtering comments before they're displayed to everyone.
Choosing who gets to comment
From your account privacy settings, TikTok lets you control who can comment on your videos. The different options are:
Everyone (only for public accounts), which will allow everyone to leave a comment

Followers (only for private accounts), which will allow only your followers to leave a comment

Friends, which will allow only those followers you follow back to leave a comment

No one, which will turn off your entire comments section and prevent everyone from leaving a comment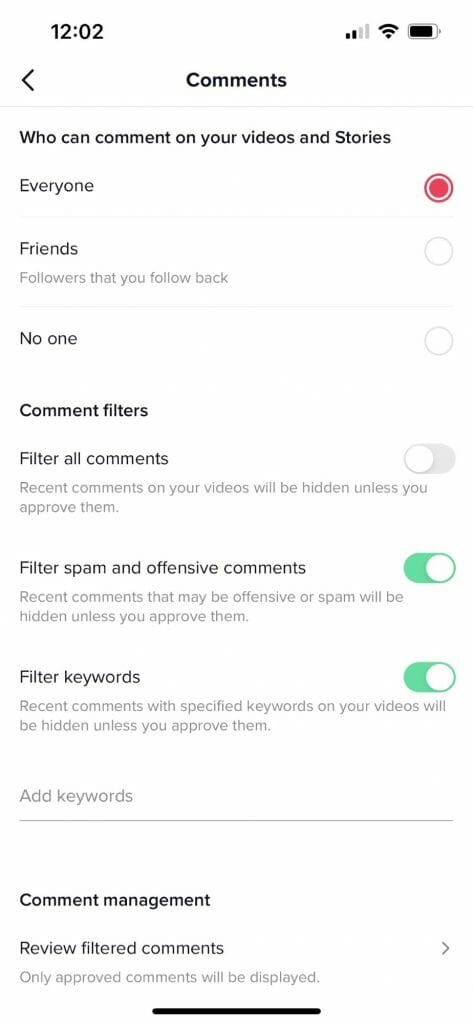 These settings will be applied for all your videos by default. You can also customize the settings for each video before posting it. Additionally, you have the option to manually change the settings for a single existing video.
Filtering comments
The comment filtering feature of TikTok is much more robust than any other platform. It provides you with three different ways to filter comments:
Filter all comments, which will hide recent comments on your videos unless you specifically approve them

Filter spam and offensive comments, which will hide comments that may be spam or offensive unless you specifically approve them

Filter keywords, which will hide comments containing certain keywords unless you specifically approve them. TikTok lets you add the keywords you want to filter from your comments section.
If you have any of these comment filters on, you can go to the comment management section to review your filtered comments. You can then manually approve the comments you want to display in your comments section.
---
8 Tips to Drive Engagement with TikTok Comments
Now that you know how comments on TikTok can benefit you, it's time to find out how to get more comments and use them to boost your TikTok engagement. Let's take a look at some of the best ways to drive engagement using TikTok comments.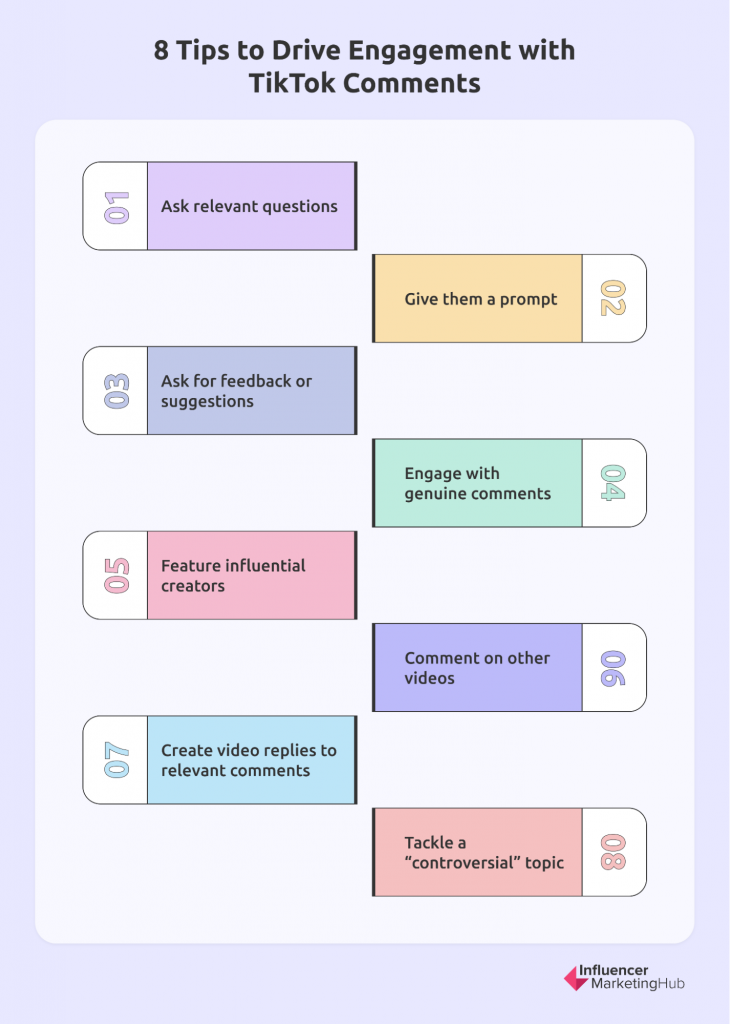 1. Ask relevant questions
Questions are a great way to get people to interact with your TikTok videos. They serve as a prompt, guiding the audience about what to comment. This is perfect because it inspires your viewers and makes it easier to come up with a comment since they basically just have to answer the question. As such, people who may not have thought of commenting before might feel compelled to leave a comment answering your question.
For example, you could share different ways to style a single piece of clothing and ask the audience how they'd style it. Or you could post a video of your favorite meal and ask them what theirs is. It's a super easy way to build a connection with your audience and get them to engage with your videos.
Baskin Robbins, for instance, shared a video of the different ice cream flavors customers should try in July. They included a simple caption asking viewers which one they'd try first. As you can expect, there are plenty of comments answering the brand's question.
Alternatively, you could make it a little bit more challenging by asking people to take a guess about an upcoming product, partnership, or announcement. Mario Badescu shared the following TikTok in which they teased an upcoming product. In the caption, they asked the audience if they have any guesses as to what the product might be.
---
2. Give them a prompt
Giving some kind of prompt as a call to action is another effective way to drive comments in your TikTok videos. Unlike the first tip, you won't be asking a direct question but instead, providing the audience with instructions on what comments they should leave.
The instruction doesn't necessarily have to be very detailed. It can be something simple as asking them to drop their emoji reaction. Or it could go a bit further, asking them to share an experience relevant to what's shown in the video.
For example, Google shared a video with a "hack" for using Google Docs and asked people to Stitch it with a video of their own Google hacks. In the caption, they also included a prompt asking people to comment their favorite Google tricks.
---
3. Ask for feedback or suggestions
One of the best ways to get people to comment on your TikTok videos is by asking them to share their feedback or suggestions. You'll be able to collect tons of comments from people who want to share their experiences or express their unmet needs.
Moreover, it'll also help you gauge your audience's needs and preferences, especially when it comes to the way you conduct your business or create your TikTok content. Be sure to pay close attention to those comments and try to implement their feedback and suggestions whenever or however possible. This shows your audience that you're serious about their opinion, which could convince them to share more suggestions in the future.
You could simply ask them if they liked a specific product. Or you could ask them what video they'd like to see next, which also saves you the trouble of having to brainstorm new content ideas.
For example, in a video about a diamond Kakashi pendant, Icebox asked their viewers which character they should ice out next. The video received thousands of comments with many people adding their suggestions for the next character they'd like to see in the brand's videos.
---
4. Engage with genuine comments
The comments section is usually where people express their appreciation for you–whether it's how much they love your content, your products, your sense of style, or even your entire brand. It's also a place where they ask questions–such as what products you're featuring in the video or where they can get the same thing.
It's crucial that you engage with these comments to acknowledge your audience or even answer important questions. When people feel acknowledged, they're likely to feel more welcome and therefore, likely to keep engaging with your content in the future. Moreover, seeing your responses may inspire others to add their own comments in your next video.
So, make sure you're taking the time to engage with genuine comments. You could even pin certain comments that you consider important for others to see. This is also an effective way to guide the trajectory of conversions on your TikTok videos. See how Laura Mercier takes the time to answer important questions and even acknowledge viewer suggestions.
---
5. Feature influential creators
Seeing a face they know and love could encourage many viewers to comment on your video. That's why you should consider featuring influential creators from time to time to boost the engagement on your TikTok videos. It's also a great way to attract more viewers as people might feel inclined to watch the video when a familiar influencer's face shows up in their For You pages. The more viewers you attract, the better your chances of driving comments.
So, if you notice an influential TikTok creator using your product or mentioning your brand (in a positive light, of course), be sure to reach out and ask permission to share the video with your followers. You could also partner with influencers and create new content exclusively for your TikTok page.
For example, Adobe regularly shares content featuring artists and creators who are a part of the Adobe community. The following video features artist couple Jack and Bec, who have a solid TikTok following of their own. Follow the link below to see the comments section flooded with appreciation for the couple.
---
6. Comment on other videos
While the goal is to get more people to comment on your TikTok videos, you shouldn't just limit yourself to your videos. Engaging with other brand or creator accounts is an effective way to get your brand in front of a new audience. That means you could also drive new followers (and potential commentators) to your page.
Leave witty, humorous, or informative comments that might get people to click on your profile to see what type of content you're creating. Focus on accounts that align with your brand's personality so you can reach an audience similar to yours. Additionally, you could also ride the coattails of videos that are currently viral across TikTok, which will help you get a lot of eyes on your brand. If you manage to get the top comment in the video, that means you stand a chance at being noticed by millions of people.
For example, Blue, the official mascot of the Indianapolis Colts, commented on a popular Duolingo TikTok where Duo, the brand's mascot, is jokingly forcing a linguistic influencer to apologize for something he said. The quick interaction between the two accounts received a ton of eyeballs as the video alone has garnered a million views.
---
7. Create video replies to relevant comments
TikTok gives you the ability to create content to respond to specific comments from your previous videos. The original comment will be highlighted in the response video to give viewers some context. Make the most of this feature to provide your audience with content that answers their top questions or addresses their major concerns.
This is a great way to get people interested in what you have to say because you're addressing something that another member of the audience has brought up. Chances are the comment is similar to their experience or related to the question they had in mind. So, you might get people commenting about how the video is helpful to them.
Moreover, seeing you answer people's comments through video may compel many users to leave their own comments in the hopes of getting a video response from you. Glossier, for instance, regularly creates videos responding to interesting comments about how to use their products.
In the following video, they responded to a user who didn't realize that a specific product was supposed to be used a certain way. The brand highlighted all the different ways the product can be used and included a caption asking others how they use it.
As you can expect, lots of users shared how they used the product while others talked about how "this makes sense." You can also find plenty of questions from other users who have seen how the brand is responsive to people's questions.
---
8. Tackle a "controversial" topic (with caution)
If there's anything that gets people commenting, it's a controversial topic. Create content around topics that are likely to spark a debate so you can get more comments on your video. However, that doesn't mean you should create enmity between your audience by bringing up a divisive topic that challenges their values and viewpoints such as politics.
Try to keep things fun and lighthearted by tackling less serious topics such as pineapple on pizza, toilet paper over or under, milk before or after cereal, and so on. You get the gist. The debate could also be specific to your industry to make it even more relevant to your audience.
For example, Zendesk created a video tackling the topic of chatbots in customer service. Naturally, customer service reps and consumers who follow the brand on TikTok flooded the comments section to share their thoughts on the use of chatbots.
---
Get People Commenting
The TikTok comments section serves as the perfect place for brands, creators, and users to connect. Make the most of the tips shared above to get people to comment on your posts and boost your engagement rate.
Frequently Asked Questions
Does commenting boost TikTok videos?
The TikTok algorithm counts comments as engagement, which is used to determine the popularity and relevance of a video among a certain audience. That means it decides which videos to show to certain users based on the number of comments and likes in each video. As such, commenting can help boost the visibility of TikTok videos.
Do comments get you more views on TikTok?
Comments are used to determine the popularity of a video so TikTok can decide which videos to display in relevant For You pages. So, the more comments you receive, the more popular it'll deem your video. That means your video will be displayed to more people, which will result in more views.
How do I control comments on TikTok?
You can control comments on TikTok from your account privacy settings. TikTok lets you control who can comment on your videos. You can also turn off commenting altogether. TikTok also has comment filtering features, which allows you to hide all or specific comments unless you specifically approve them.
What does limited comments mean on TikTok?
Limited comments on TikTok means that the creator has restricted who can comment on their videos. They may restrict it to only their friends (followers they follow back) or even turn off comments entirely.
Can the creator delete comments on TikTok?
Yes, TikTok lets you delete comments on videos that you've created. That means you can better moderate your comments section and get rid of anything that could be considered offensive or hateful towards you or specific groups of people.