Are you still baffled by TikTok? Do you feel overwhelmed when you open the app and fail to figure out how it works? As TikTok's user base expands outside Gen Z, it's understandable that more users are confused by how the app works. This beginner's guide is designed to give you the basics of how Tiktok works and help you become a power user in no time.
---
The Ultimate Beginner's Guide to Using Tiktok in 2024:
---
What's Tiktok?
Tiktok is a video-sharing app where users create short-format videos and upload them to the platform. It's owned by a Chinese company, Bytedance, which acquired Musical.ly in 2016 and rebranded it as TikTok.
It's now the fastest growing social media app with over 1 billion monthly active users to date. In the 4th quarter of 2021 alone, it had over 160 million installs. More than 60% of TikTok's users are aged 10-29, but there has been a steady rise in older users. TikTok's popularity soared when people locked in their homes during the pandemic turned to the platform for entertainment.
What makes TikTok a popular platform for influencers and content creators? Check out these amazing features.
Unique TikTok Features
Access to thousands of popular free music

Hundreds of free emoji, stickers, and filters to make your video stand-out

Built-in free and easy-to-use video editing tool

Tons of free videos to inspire you with your next one

Available in 154 countries and 39 languages creating a global community

TikTok challenges and duets that help your video get quickly discovered

A

powerful algorithm

that shows you more of the same videos you like
---
Getting Started with TikTok
Creating A TikTok Account
Go to Google Play or the App Store and download TikTok. As soon as you're done installing and opening the app, it will start displaying videos. In TikTok, you don't need an account to start browsing videos.
But to start recording and posting videos, you need to create one.
TikTok makes it easy to sign up by allowing you to connect your existing accounts like Facebook, Gmail, or Twitter. You can also create a standard username and password using your email or phone number.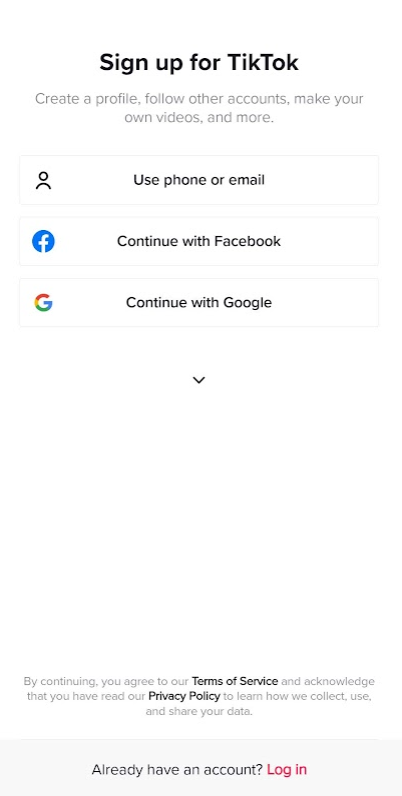 If you decide to use your phone number, TikTok will assign a generic username like user1234567. If you use your email address, you get a personalized ID. Don't worry—you can always change your username later.
TikTok will also ask for your birthday (you need to be 13 years old to use the app). In the US, users under 13 years old are placed in a Younger Users experience where guardians can monitor their online experience.
---
Editing Your TikTok Profile
Once you've created your account, you can edit your profile. Just tap the icon at the bottom right corner that says Profile. This will display your photo, the number of users you're following, your followers, and the total number of likes your posted videos received. It also shows the videos you've posted and liked.
To begin editing your profile, just tap the Edit Profile button. You can upload your photo or use a profile video. You can change your name and username, write an 80-character bio, and link your Instagram, YouTube, and Twitter profiles.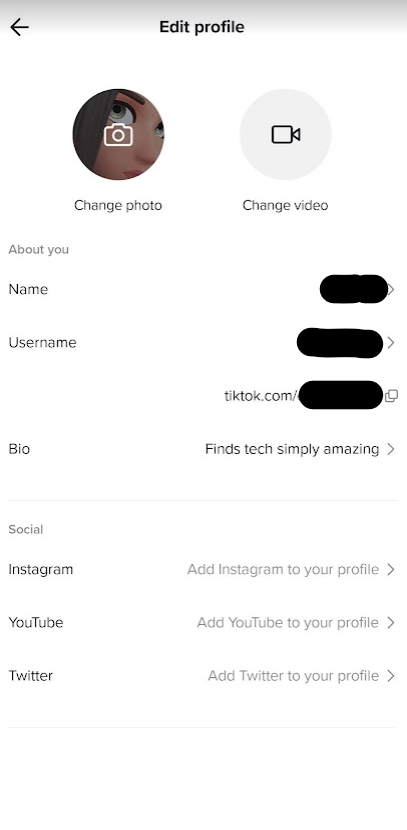 For influencers with established followings on other platforms, a great way to boost your TikTok account is by associating it with your more popular channels. Linking your other accounts also makes it easier to share TikTok videos across different platforms.
TikTok accounts, by default, are public. Anyone can see your profile and the videos you post. You can adjust this by clicking the three lines in the top right corner of your profile. Select the Settings and Privacy option and toggle the option for Private Account. Remember that when you make your account private, you need to manually approve every user request to follow.
Alternatively, when you start posting videos, you can also set individual videos' privacy settings to private.
---
Navigating Tiktok
Browsing Videos
TikTok has a very intuitive and powerful algorithm. There are two main feeds on the main page: For You and Following. The For You tab shows random videos from any TikTok users globally. TikTok predicts the videos you'd find interesting and presents a steady stream of these. It's like a never-ending variety show. The more you watch these videos, the more TikTok will keep showing similar ones.
The Following tab shows videos uploaded by users you choose to follow. There's also a magnifying glass beside these two tabs, which lets you search for user accounts so you can browse their videos.
Every time you watch a video, you'd notice these five icons at the right:
A circle with a photo

A Heart

A speech bubble (sometimes with a gift icon)

An arrow pointing to the right

A spinning record with emanating music notes
The 1st icon shows the profile photo of the creator with a plus sign at the bottom so you can easily follow them. Once you follow a creator, you'd see more of their videos on the Following tab.
The heart option underneath shows you how many users have liked the video. When you heart a video, TikTok will know that you prefer similar videos and will start showing you more.
TikTok has expanded the comment option so you can already use it to send gifts to your favorite creators. However, only comments with the gift icon activate this function. You'd also need coins to purchase virtual gifts for your favorite creators.
One of TikTok's earlier strategies to increase its user base was to make sharing to other platforms easy. Under the comment option, you can click the arrow icon to open the Sharing Settings. TikTok allows you to send the video to other TikTok users or share it across various social media channels like Facebook, Instagram, Twitter, WhatsApp, or Telegram. You can also copy the video link to share across any platform. You'd also see other options here to download the video, use it as wallpaper, or add it to a favorite collection.
Finally, in every TikTok video, you'd find a spinning record-like icon at the bottom right. This allows you to see the music used by the creator. If you click on it, you'll discover more videos that use the same sound. You can then use the same sound to create your video.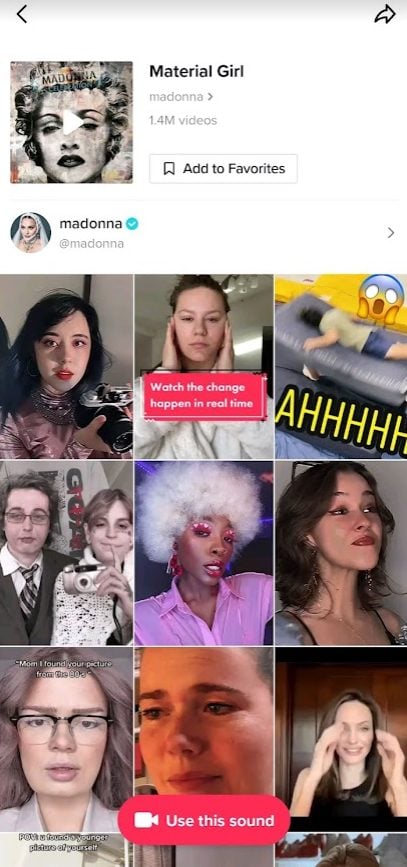 In case you're not interested in a video you see on your feed, you can hard press anywhere in the video. A menu pops up with a broken heart icon that says "not interested." This refreshes your For You Page with a new stream of videos and ensures you see less of the videos and topics you don't want.
---
Discovering More Videos
Aside from the main feed, TikTok also makes it easy to discover other video content. At the bottom of the app, there are 5 options:
Home

Discover

A plus sign

Inbox

Profile

The Home icon shows the main page with the For You and Following feeds. TikTok has also started showing Live videos. You can find the Live option at the top left corner of the Home page. Tapping this option opens a whole new stream of live videos. You can watch a creator and interact with them in real-time.
The Discover icon allows you to see trending hashtags, sounds, and effects on TikTok. This is also where TikTok advertises ongoing and upcoming Challenges that you can participate in.
Tapping the plus icon opens your camera and allows you to start recording a TikTok video.
TikTok allows you to send DMs (or private messages) to other users as long as you follow each other. These messages will appear in the inbox option.
The profile icon opens your profile and shows videos you've created and liked.
---
Filming TikTok Videos
Navigating the Record Interface
When you click the plus icon at the center, it opens your phone's camera and allows you to start recording a TikTok video. You can create a 15sec, 60sec or 3-minute video. There's also a Quick option that lets you quickly record a video and a Template option that shows pre-made templates you can use for photo slideshows.

In the top right, there are several icons to help enhance your recording experience. There's a flip option at the very top to help you use either your back or front camera. The other icons are:
Speed: Helps you record slow motion or fast forward videos.

Filters: Allows you to apply filters to your video.

Beauty: An AR filter that allows you to correct skin blemishes, apply makeup and even adjust the shape of your face.

Timer: Let's you set an auto-record countdown to help you film hands-free.

Reply: Shows comments or questions you're replying to with the video.
---
Using Music and Effects
A huge music library of free popular music sets TikTok apart from other social media platforms. Music is the soul of TikTok. You can always find a popular song to lip-sync or dance to or simply use as background music. Using a popular song also increases the chance of your video becoming viral.
However, TikTok doesn't have full-length music and mostly contains only snippets of sound that you can't edit. This may be a problem if you're looking for a specific portion of a song that's not very common. A workaround is to play the song on an external device while you're recording. TikTok will register this as an original sound. A warning though–using this loophole can result in copyright violations.
When you want to add a sound to your video, simply tap the top center of the recording interface to show the list of all the sounds available. These are categorized per genre, trending status, and recommended sounds for you.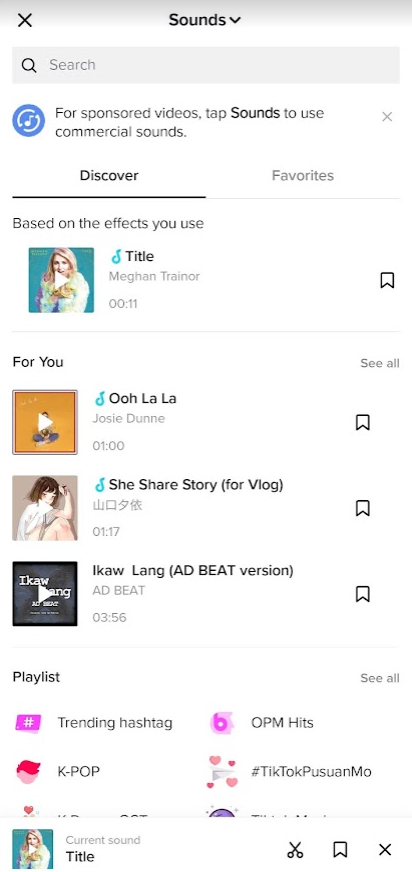 When browsing videos, you can also click on the spinning record icon to see the videos also using the sound. You can also add it to your favorites list to use later. You can also click the "Use This Sound" option at the bottom, which will lead directly to the recording screen.
Your creativity has no boundaries on TikTok. The app has everything from the most subtle to the most grandiose effects that you can use to make your video interesting. It even has effects specific for cats and dogs!
---
Editing Your Video
After recording your video, you can make final edits before publishing it. Post-recording, TikTok allows you to do the following:
Add text overlays, stickers, and more effects

Apply filters

Adjust the clips' length

Add a voice-over and apply voice effects to it
When you're satisfied with your edited video, just click next, and you'll see a post interface similar to Instagram.

---
Publishing Your Video
Now that you've recorded your video, it's time to publish it. On the post page, you can add captions and hashtags and mention another user on your video. Adding hashtags increases the chances of your video being discovered. Participating in trending hashtags helps your video reach a wider audience quickly. Mentioning popular users also helps your video get noticed. It's also possible to add a link to another of your existing videos right within the caption.
TikTok has also released a new feature that allows you to tag other users in your video. This helps the caption space appear clutter-free since you can just tag users you want to mention.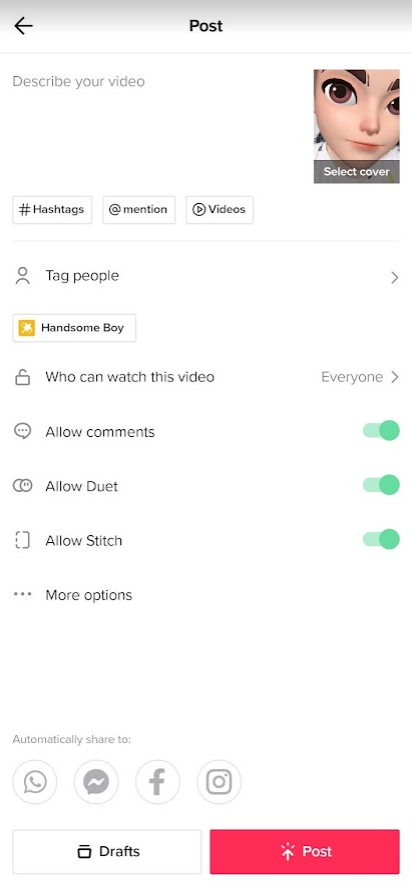 Before publishing your video, there are a few more settings you can control.
You can control the privacy settings by choosing who can watch your video.

You can enable or disable comments.

You can allow a duet or stitch of your video.

You can choose to share your video to your other social media platforms.
When you're ready, click post, and the video will automatically be published. Posted videos are saved on your device by default.
---
Joining TikTok Challenges
Challenges unite the TikTok community. Anyone can create and participate in a challenge. Challenges often involve performing a specific action and using a required hashtag. Challenges can be organic or brand-sponsored.
Brands use challenges to create hype over their marketing campaigns. For example, Chipotle has been running their #Boorito challenge twice in a row. They partnered with influencers to kickstart the challenge for them, then watched as various TikTok users joined the bandwagon. Brand challenges usually have prizes for winning users.
Any individual can start organic challenges. People participate for the fun of the challenge even if there's no winner. Examples of viral organic challenges are the #LevelUp Challenge, that's reached 16.3 billion views, and the #DJAtHome challenge with 2 billion views.
Participating in these TikTok challenges, even if you don't win any prize, is a way for your videos to gain more exposure and your account to get more followers. Challenges help your account grow. If you're just starting on TikTok, participate in as many challenges as you can.
To start finding challenges, go to the Discover section where TikTok shows the trending hashtags and brand-sponsored challenges in your area.
---
Exploring TikTok Duet and Stitch
Another fun way to use TikTok is through duets and stitch. A TikTok duet is when you join in another user's video. TikTok stitch lets you use another user's video as part of your own.
To use the TikTok duet, find a video you'd interact with, and tap the share icon. Select Duet. Your recording screen will appear as two side-by-side videos. The other video will play as soon as you press record. You can also use the same recording and editing tools.
TikTok Stitch is great for creating reaction videos. To use this feature, tap the share icon on the original video, and select stitch. Wait a few moments for the video to be processed, and once done, it'll show a screen where you cut up to 5 seconds of the original video to use for your own. Tap next, and you'll see the regular recording screen where you can create a new ending for the video.
Using TikTok Duet and Stitch, creators can come up with endless creative ideas that can make them viral and overnight sensations. One great example is Khaby Lame, who became an instant TikTok celebrity with his funny video stitches where he debunks ridiculous TikTok videos.
---
Earning in TikTok
TikTok influencers earn anywhere from $200 to $5,000 monthly, depending on the size of their following. Like other social media platforms, TikTok offers great ways for its top creators to monetize their accounts. Here are some ways you can earn on TikTok:
Join the

TikTok Creator Fund

and TikTok's Creator Marketplace

Create sponsored content

Become a brand ambassador

Accept virtual gifts

Place affiliate links
If your account reaches 10,000 authentic followers and has at least 100,000 authentic video views within 30 days, you can join the TikTok Creator Fund. Available in selected countries, this is TikTok's way of encouraging creators to keep making incredible videos and attracting more users to the platform.
If you'd like to collaborate with brands and receive sponsorship opportunities, you can join the TikTok Creator Marketplace. This is where brands meet creators who fit their campaign needs and reach out to them. Once your account meets eligibility criteria, TikTok will send you an invite to join.
Outside TikTok's official channels, you can still earn by directly working with brands to create sponsored content or become a brand ambassador. Brands are always looking for influencers who can help them reach their customers by endorsing their products, boosting their social media presence, and spreading positive messages about them.
Aside from representing other brands, you can also create your influencer merchandise and sell them to your followers. You can become an affiliate for products you believe in and place your affiliate links in your bio and video captions.
Lastly, TikTok now allows followers to directly send virtual gifts to their favorite creators. You can get these virtual gifts when you go Live or through the comments section. Virtual gifts can be exchanged for actual currency that you can withdraw.
---
Growing Your TikTok Audience
A large audience is important to get monetized in TikTok. Fortunately, TikTok's algorithm makes it easy for your videos to get discovered quickly. Here are ways to get more followers on TikTok.
Know your

target audience

.

Participate in

TikTok trends.

Create and join TikTok challenges.

Collaborate

with other TikTok influencers.

Post videos regularly and at the right time.

Use the right hashtags.

Cross-promote your TikTok videos to your other channels.

Engage with other videos.

Use TikTok Promote
When you know your ideal audience, you'd be able to create content that they love. This will attract them to your videos and follow your account.
The best way to gain visibility on TikTok is by participating in challenges and trending hashtags. This lets other users discover your videos. Just remember to always use the right hashtags and avoid any typo errors.
Just like other social media apps, engaging with other people's content and collaborating with other influencers expands your network. Because of TikTok Duet and Stitch, engaging with other videos – especially popular ones – is easy.
Consistency is also important when building an audience. You want your followers to always see your videos. Statistics show that the average user spends 52 minutes per day on the app, with younger demographics spending up to 90 minutes. That's a lot of videos to watch, and if you're not posting content regularly, your videos may get lost in the feed.
TikTok Analytics lets you know when your followers are most active, so you can post during those times.
Don't neglect your audience on other social media platforms. Let them know that you're now on TikTok and invite them to follow you. Cross-post your TikTok videos to your Instagram, Facebook, and other social media accounts. Include links to your TikTok profile so they can easily visit your account.
If you still want to reach a wider audience base, you can always pay to promote your TikTok videos. TikTok allows creators to promote their videos using the promote option, available in the settings section from your Profile, or the … option in your videos.
---
Understanding TikTok Analytics
Once you've posted several videos and started to gain followers, you'd want to know how well your account is doing. You can always see how many times your videos have been viewed by checking your profile. Underneath your photo, you'd see how many followers, likes, and views all your videos have received.
You can also see who viewed your profile or followed you. Even new accounts can access TikTok's Analytics Tools from the Creator Tools settings. It contains the following:
Overview of your overall engagement

Per Content Metrics

Follower Demographics

Live Video Analytics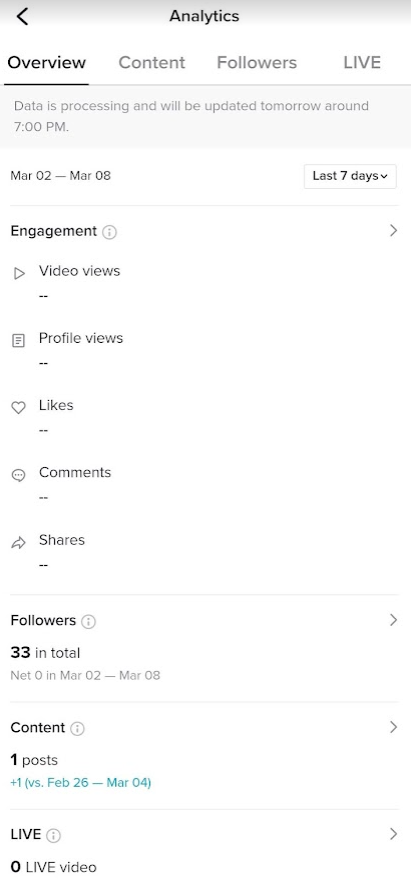 With this data, you can analyze how well your videos are performing and determine if you need to tweak anything in your current strategy.
---
Additional Tips to Become a TikTok Pro User
Here are extra tips and hacks to master TikTok and become a power user in no time.
1. Upload videos recorded outside TikTok
Sometimes, you record a video on your phone and edit using video editing software. You post this video on YouTube and Instagram and would like to do the same on TikTok.
To accomplish this, tap the plus icon in the middle to open the recording screen. Select the Upload button on the lower right corner beside the big record button. You'd open your phone's gallery and select the video you want. You can add more than one video by selecting the first video, then tapping Upload and selecting the next one.
When you've selected all the videos you want, just hit Next and proceed to edit the video using TikTok's editing tools.
2. Create engaging photo slideshows using Templates
When you open the recording screen, swipe to choose the Templates option. Select the slideshow template you want, and each template requires a different number of photos. Once you select a template, it opens your phone's gallery, and you can select the photos you want.
Remember that the order of the photos in the slideshow will depend on the order you select them. When done, click OK at the bottom of the screen to proceed to the editing stage.
3. Delete Your TikTok Videos
If you've accidentally uploaded a video, you can still delete it. Just go to your profile and open the video. Select the three dots below the Share option, and choose delete.
4. Create GIFs from Any TikTok Video
You can turn any video you like into a GIF and share it with others. Simply tap the arrow button on the right side of the video and select the Share as GIF option.
It will open an editing page where you can edit the length of the GIF. When done, select Generate to create the GIF.
TikTok is famous for meme content, and creating GIFs is one way to capitalize on this trend.
5. Share your Profile using your TikTok QR Code
Every TikTok user has their QR code from the moment they sign up. You can find this by going to your profile, tapping the three dots at the top right corner, and selecting the QR code. You can download your QR code and post it on other social media channels.
To scan someone else's QR code, just tap Scan in the top-right corner of the main screen.
---
Final Thoughts
TikTok is a great social media app to explore. It's constantly innovating and releasing new features that make the user experience fun, engaging, and immersive. While it started as a lip-syncing app, it has evolved and catered to various kinds of entertaining video content. You can now find comedy skits, instructional videos, and even news briefs on TikTok.
As more brands realize the power of TikTok, they'd be on the lookout for more influencers they can partner with to promote their products and reach their audience. By creating a TikTok account today, you'd start building a following and be able to offer brands your influencer services.
With the tips shared here, it's never too late to jump on the bandwagon. Who knows, you can be the next big TikTok star.
Frequently Asked Questions
How do you use TikTok step-by-step?
To use TikTok, you should:
Download the app and create an account.
Browse videos and engage with other TikTok users through likes and comments.
Identify your target audience and content strategy.
Record your videos using your phone or TikTok's native recorder.
Edit your videos using TikTok's built-in editing tools.
Use hashtags in your video's captions.
Post your video.
Cross-share your video to other social media platforms.
Can you stitch a TikTok with a video from a camera roll?
Unfortunately, as of this time, you can only use a recorded video shot with the TikTok camera to stitch. TikTok doesn't allow uploading a previously recorded video from your phone's gallery and attaching it to a stitch.
What is the best hashtag to use on TikTok?
Using the right hashtags will grow your views drastically. Some users believe that using hashtags like #foryou or #fyp will increase their video's chances of being pushed in a feed. TikTok has never confirmed this.
Here are the best practices when using hashtags in TikTok:
Use hashtags relevant to your content.
Mix popular and less popular hashtags.
Always check trends and use those that are relevant to your content.
Use branded hashtags and hashtag challenges.