If you want to show to other TikTok users that you're the real deal and worth following, it's a good idea to get verified on TikTok. That blue check mark next to your username is much more than just an icon. It can help you to boost your exposure and credibility. Then, once you've become internet famous, it will help to set your account apart from others trying to impersonate you.
So, there's a reason why all the most popular creators and public figures on TikTok have that verification badge. Not just to elevate their status further, but also for security reasons.
---
How to Get Verified on TikTok: What Can You Do to Increase Your Chance:
---
What's the TikTok Verification Badge?
In short, the verified badge (it looks like a blue tick) means that TikTok has determined that a specific TikTok account does indeed belong to the person that it represents. It can only be given by TikTok and will always show up in the same place – next to the account name of a user. Blue ticks that appear in places like TikTok bios aren't the same and shouldn't be interpreted to mean that TikTok has verified that user's account.
---
The Verification Process Explained
The process for verification on TikTok works differently to the steps that Twitter, Facebook, and Instagram use. Firstly, your follower count doesn't play a role. Secondly, and more importantly, there's no application process.
In order to get verified, TikTok's dedicated team needs to select your account. In other words, you can't apply.
While you can't initiate the process from your side, there are some things that you can do to increase the chances that you'll get selected. According to TikTok's official newsroom, the following are criteria that are said to help you get verified:
Authenticity

Activity

Uniqueness
In short, you need to make sure that you create a brand voice that you use consistently. Then, when you post, your content should be different to what others are sharing, yet relevant to your target audience.
Not only should you regularly share unique content that uses your brand voice, but you should also make a point of engaging with your followers and other users. Whether it's simply by adding a comment or starting your own challenge, there are many ways to show to TikTok that you're indeed active.
In fact, authenticity and integrity are so important to TikTok that the platform has dedicated an entire section to this in their Community Guidelines. Any content or accounts that are connected to fake engagement, spam, impersonation, or misleading information will be removed.
Needless to say, you'll also need to stick to the other guidelines and Terms of Service if you want to be considered for verification. As the platform updates its Community Guidelines from time to time, it's best that you check it regularly to make sure that you still meet the requirements.
Here's a quick summary of the guidelines:
You may not use TikTok to threaten or incite violence or promote dangerous organizations or individuals.

Content that contains hate speech or hateful behavior isn't allowed and will be removed. Abusive content or behavior will also be removed from the platform.

Content that links to goods or activities that are regulated or illegal in most parts of the world will be removed.

You may not share posts that are violent or graphic in nature. This includes content that depicts, promotes, glorifies, or normalizes activities that could result in suicide, self-harm, or eating disorders.

Content may not include any nudity, pornography, or be sexually explicit.

Content (including animation) that depicts nudity, abuse, or exploitation of minors will be removed.
---
How Many Followers Do You Need?
While you'll need at least 10,000 followers to join the TikTok Creator Fund, the platform has no follower requirements for getting verified. That being said, focusing on getting more followers can't hurt (but we'll look at how you can improve your daily follower growth in more detail in the next section). On the other hand, it's important that you keep in mind that just because you have 10,000+ followers doesn't mean that you'll definitely get selected for verification. There are many accounts with a substantial following that aren't verified (yet).
---
Strategies for Getting Verified on TikTok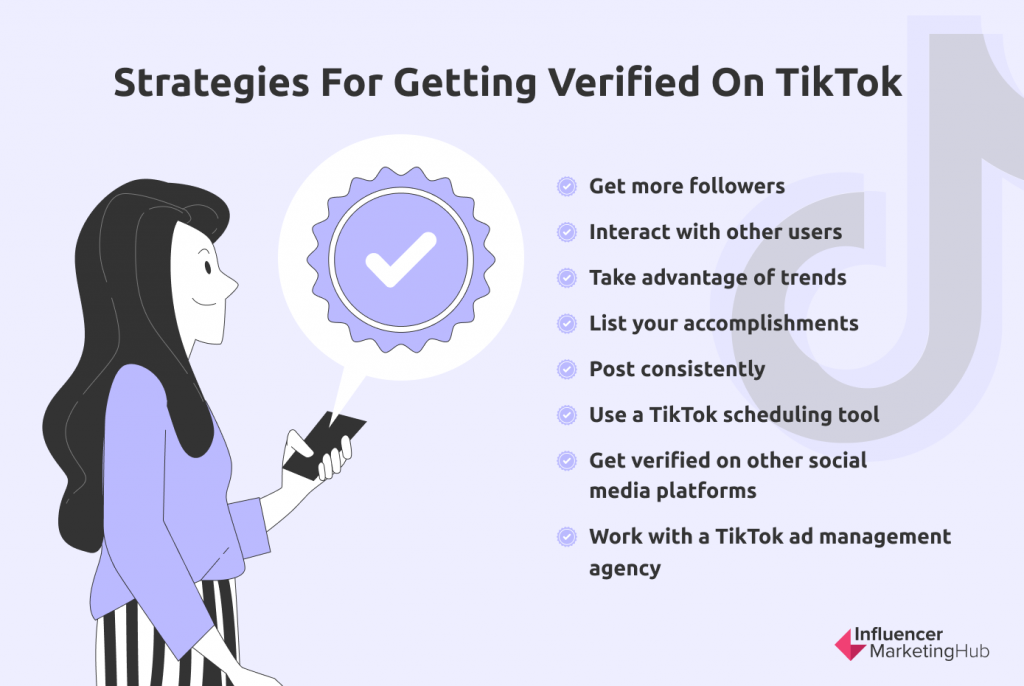 So, apart from being active, authentic, and adhering to the rules, there are a few other strategies that you can try to improve the chances that TikTok will select you for verification.
Get more followers
Before you can focus on growing your follower base, you first have to figure out who exactly your target audience is. What does your target audience typically do on TikTok? Participate in dance challenges? Or, do they prefer something more serious like quick makeup tutorials? Once you know why they're on TikTok, you'll know which types of content they will respond to the best.
After all, your real goal should be to get followers who are actually interested in your brand. In short, while you should focus on getting more followers (and not just for the sake of getting verified), it should be the right type of followers.
Interact with other users
As mentioned earlier, you'll need to engage with other users on TikTok. You can, for example, start by following other accounts that focus on a similar niche or use its duet and stitch features. If a post catches your attention, make a point of commenting. Showing that you enjoyed other creators' creative content can also work in your favor. Then, also make sure that you interact with your own followers by replying to comments.
After all, TikTok remains a social media platform. Engagement is at its core.
Take advantage of trends
By leveraging trends, your post could possibly go viral which can result in a huge spike in followers and views in a short time. Plus, it can make it easier for your content to get featured on the For You page. Not only will this help you to get even more followers, but it will also show to the platform that your content is authentic and unique (the same criteria that we mentioned earlier and will mention multiple times again).
That said, you should be selective about the trends that you decide to leverage. It should fit the personality of your brand and be something that your target audience can actually participate in.
List your accomplishments
If you've been featured in a media source, why not create it into a TikTok post? It's common practice for businesses to dedicate a section on their websites just for press mentions. This type of social proof can help to show that you're credible and that's what TikTok wants to see.
Post Consistently
As mentioned earlier, TikTok rewards active users with verification badges. In addition to engaging with other users, you should also make sure that you post according to a schedule. This way, you'll show to the team dealing with verifications that you're active.
Use a TikTok scheduling tool
To add to our previous point, it can help to invest in a TikTok scheduling tool. Not only will it help you to post consistently, but the analytics will also help you to figure out which type of content attracts better engagement which is also important if you want to get verified.
You can, for example, check out SocialPilot which offers integration with TikTok. With it, you can create videos and streamline your posting schedule so that your content gets posted at the best time for engagement. If you're working as part of a bigger team, it also offers team collaboration features. This way, you can ensure that posts can only get scheduled after an admin has ticked it off. Also, as it offers a visual content planner, you'll get a good general view of which days there might still be open spots. You can then add posts last minute to ensure that your followers will have a continuous stream of videos to watch.
If you don't want to invest in a TikTok scheduling tool, you should at least pay attention to the best times to post on the platform. After analyzing over 100,000 global TikTok posts and engagement rates, yours truly have identified the following as best times (expressed in Eastern Standard Time) to post:
Monday: 6 a.m., 10 a.m., 10 p.m.
Tuesday: 2 a.m., 4 a.m., 9 a.m.
Wednesday: 7 a.m., 8 a.m., 11 p.m.
Thursday: 9 a.m., 12 a.m., 7 p.m.
Friday: 5 a.m., 1 p.m., 3 p.m.
Saturday: 11 a.m., 7 p.m., 8 p.m.
Sunday: 7 a.m., 8 a.m., 4 p.m.
In fact, Tuesday at 9 a.m., Thursday at 12 a.m., and Friday at 5 a.m. in particular offer particularly high engagement rates.
After studying these times and realizing that you'll need to get up in the wee hours of the morning in order to post at the optimal times, getting a tool to help doesn't sound like such a bad idea now, right?
Get verified on other social media platforms
While you're waiting for TikTok to select you for verification, you can work on your verification status on other social media platforms like Instagram. As a matter of fact, getting verified on Instagram might be easier as you can request a verification badge.
All you need to do is log in to your Instagram account and tap on Account Verification in the settings. You'll then need to enter your full name and upload a form of identification. That's it. However, the final decision is still up to Instagram. An application doesn't mean an automatic verification.
Work with a TikTok ad management agency
If all of this sounds a bit overwhelming (we won't judge), you can also hire the help of a TikTok ad management agency. You might not be able to pay TikTok to get verified, but there's nothing wrong with paying an agency to help you with tasks like TikTok ads creation, video production, paid social, data analytics, and overall social media marketing.
Here are some of the top TikTok ad management agencies that you can check out:
The Influencer Marketing Factory

Sociallyin

AdvertiseMint

Unicorn Digital Studio

Voy Media
---
Wrapping Things Up
You might be able to apply to get a verified account badge, but there are a number of things that you can do to make the team responsible for verifications sit up and take notice of your account. As a matter of fact, the criteria for verification are actually pretty straightforward. Follow the rules and share content that's authentically you. Sure, viral content will help and so too getting thousands of followers. Though, if you simply focus on creating authentic content continuously, you'll be successful on the platform (even if it doesn't mean getting verified right away).
That said, while getting verified on TikTok (and the other social platforms for that matter) is a good goal to have, you shouldn't allow it to let you lose sight of your main goal – posting high-quality videos on a regular basis. Do that and everything else will automatically fall into place.