Like the majority of social networks, TikTok is a great platform to use for influencer marketing and the highest paid users on TikTok make as much $5 million in a year. To help others get a slice of the pie, TikTok introduced another avenue for creators to make money.
In July 2020, TikTok launched its Creator Fund as a way to show its appreciation for its community of creators and empower them to earn money for doing what they enjoy. Early participants included the likes of Michael Le (who's already one of the highest paid stars on TikTok), Cheyenne Jaz Wise, and Justice Alexander. What's more, according to TikTok's website, as of March 2021 half of all eligible creators in Europe have already signed up. This is a huge growth in less than a year (only 19 accounts were chosen by TikTok as the first recipients from the fund).
Should you join too? Here's everything you need to know about the fund. The logistics, the good, and the bad.
---
The TikTok Creator Fund: Your Questions Answered:
---
What's the TikTok Creator Fund?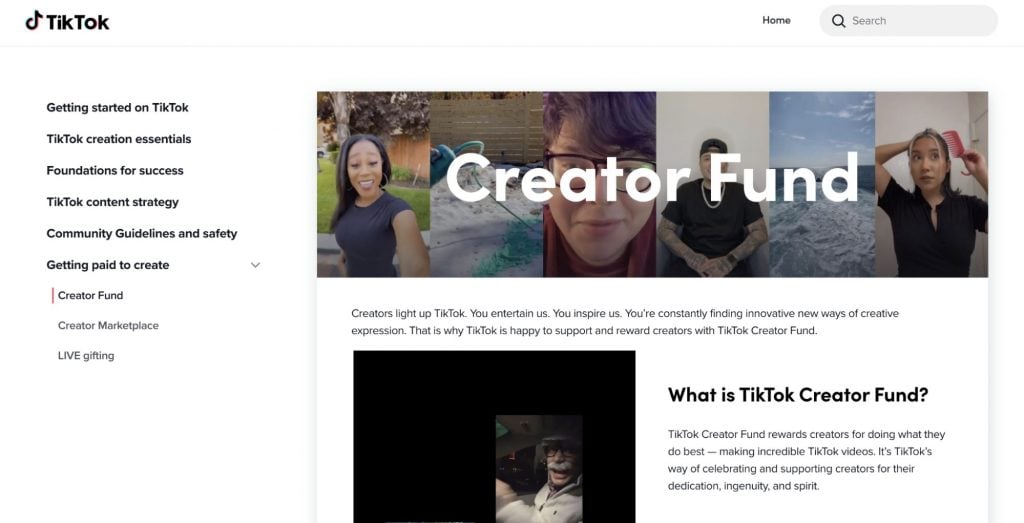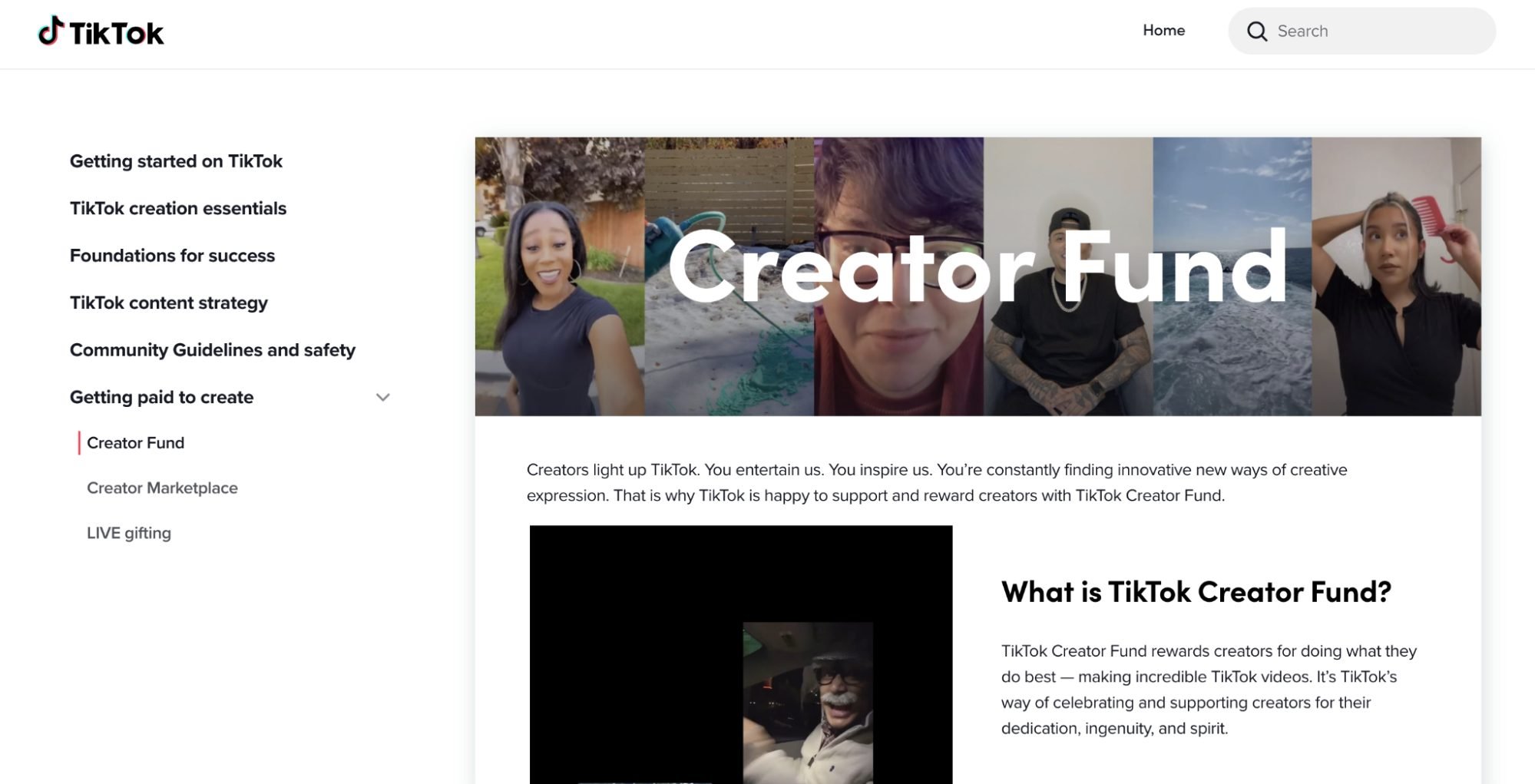 The TikTok Creator Fund is a relatively new monetary program that the platform started to help reward the top TikTok influencers financially. According to its website, in the next three years, the platform has committed to more than £230 million.
This feature is another way how the platform can be used to enter the world of social commerce. In short, if you qualify, the amount that you'll earn will depend on how much engagement your content gets. For this reason, TikTok chose to refer to it as a fund instead of a grant or an ad revenue sharing program.
---
Who Can Join?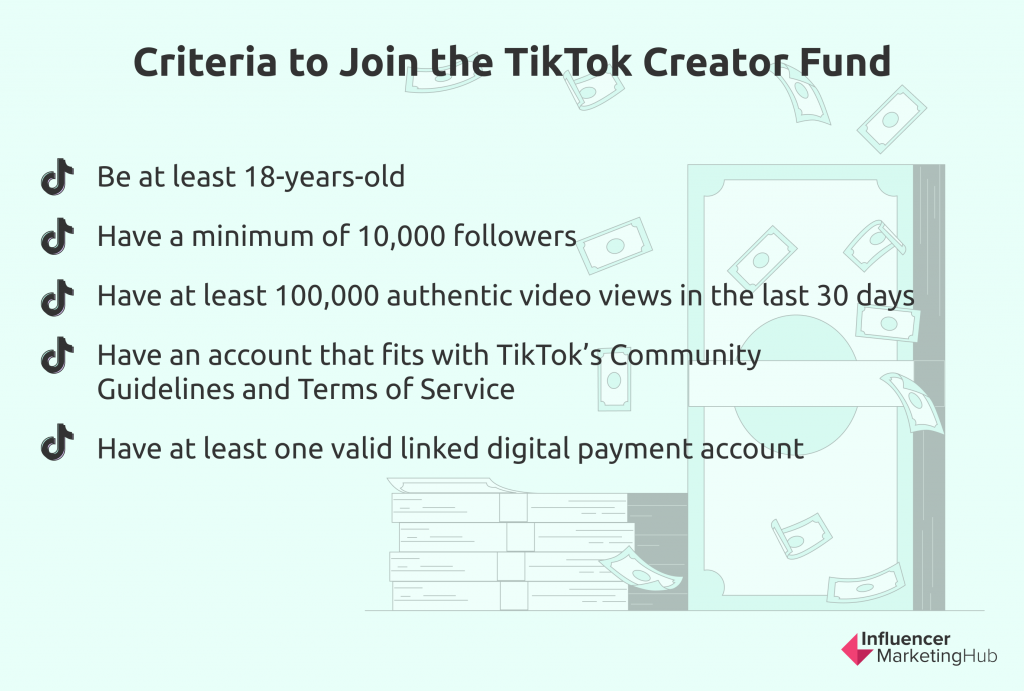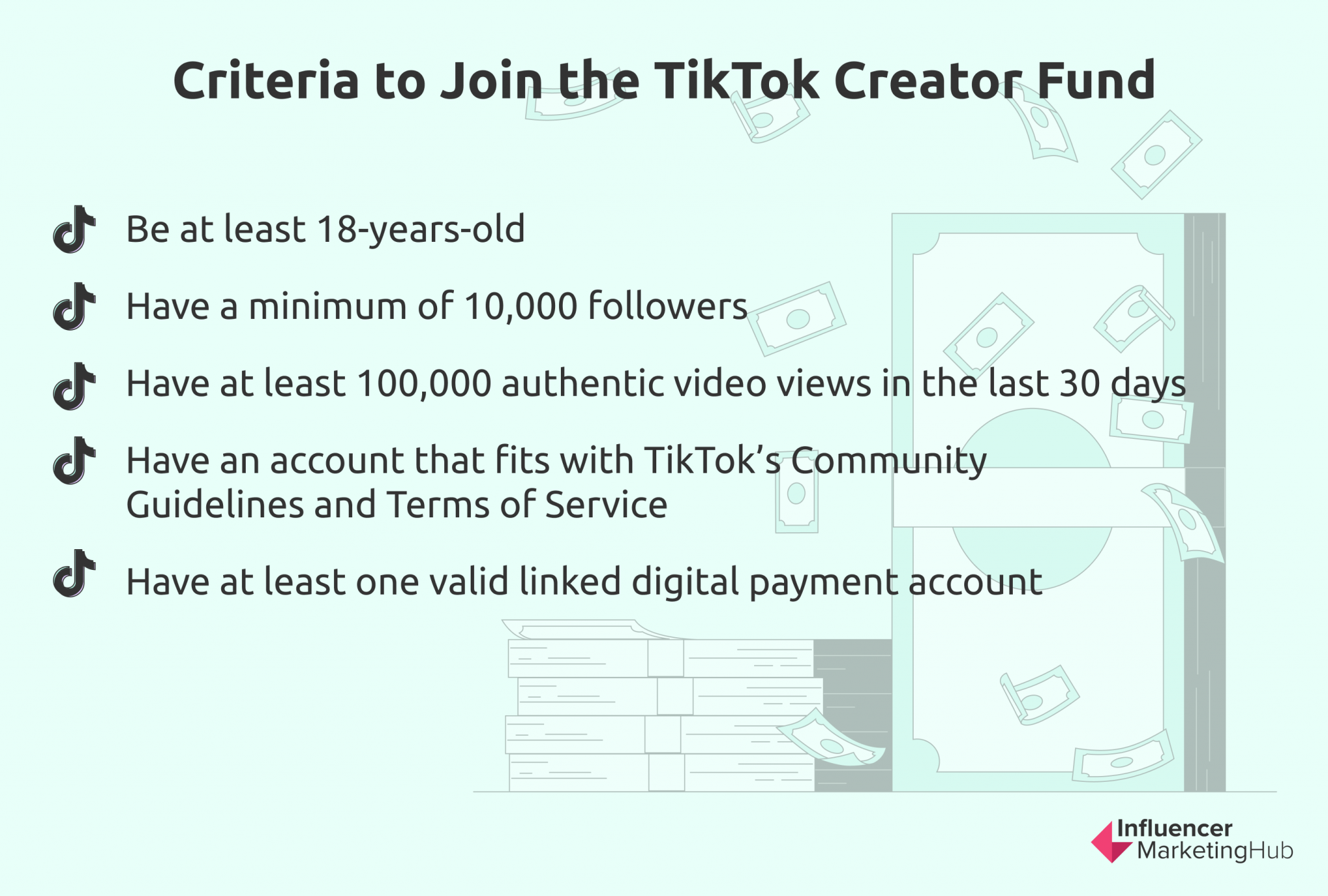 While there's no limit on the number of creators that can join the fund (and perhaps therein lies the rub), there are a few criteria that you need to check to be able to join the TikTok Creator Fund. For starters, it's not open to everyone. If you're based in France, Germany, Spain, Italy, the United Kingdom, or the United States, you're eligible. Creators must also:
✅ Be at least 18-years-old
✅ Have a minimum of 10,000 followers
✅ Have at least 100,000 authentic video views in the last 30 days
✅ Have an account that fits with TikTok's Community Guidelines and terms of service
✅ Have at least one valid linked digital payment account (such as PayPal) which can be used as a payment method
---
How Can You Join the TikTok Creator Fund?
---
Get a Pro account
Your first step is to make sure that you have a Pro account. If you don't have one yet, you simply click on "Me" and then on the three horizontal lines in the top right-hand corner. A drop-down menu will appear. Next, select "Manage account" and below "Account control", you'll see the option switch to a Pro account.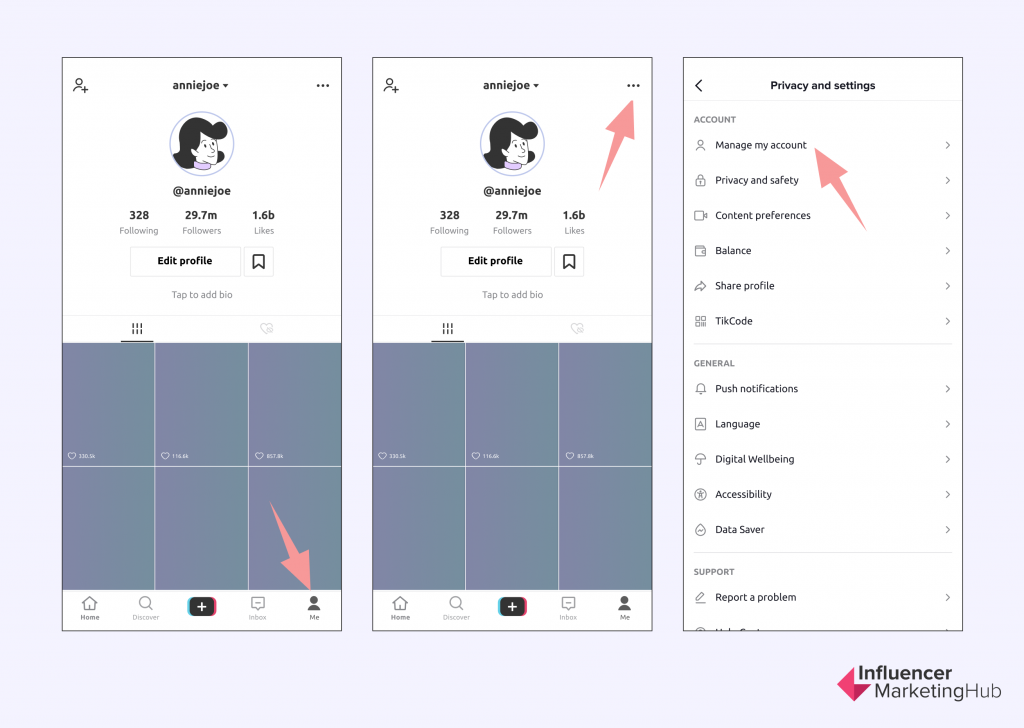 ---
Open your account settings
If you already have a Pro account, you can ignore the first step and start here.
Open your account settings and click on "Creator tools". Next, select "TikTok Creator Fund".
Confirm that you're 18 or older and agree to the TikTok Creator Fund Agreement (after you've read all the Ts and Cs, of course).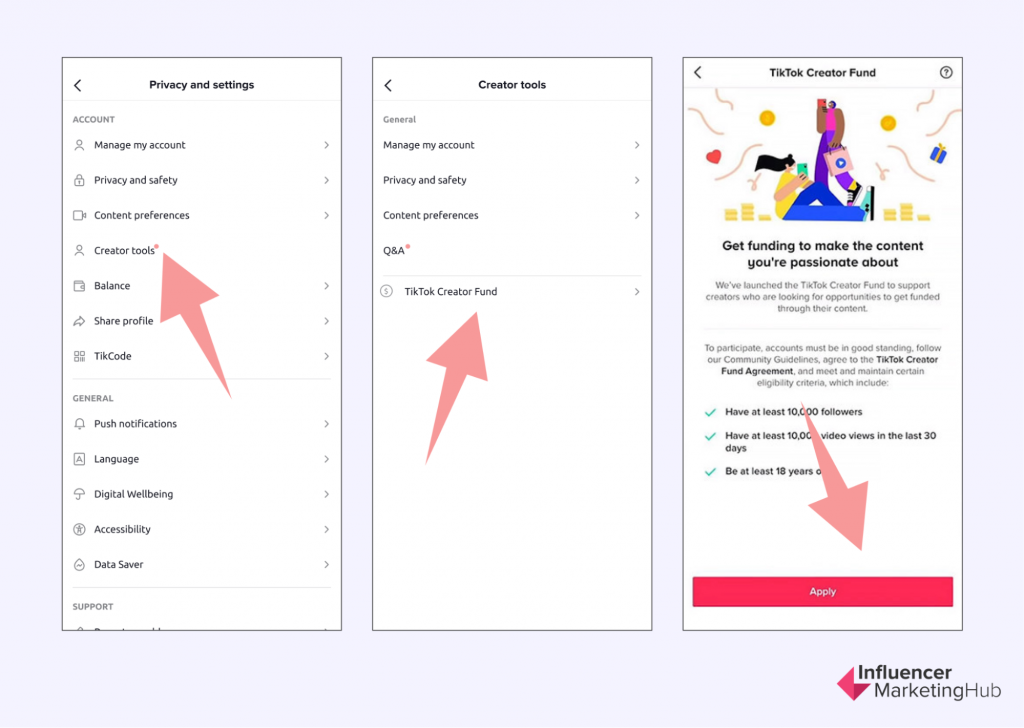 ---
Wait
Now for the most difficult step of the process - wait for approval. Once TikTok has processed your request to join, they'll let you know if you've been successful. The good news is that if you were declined the first time around, you can always try again after 30 days.
---
How Are the Payments Calculated?
There are various factors that will impact how much creators can potentially earn. On its website, TikTok mentions factors like the number of views, authenticity of those views, and the level of engagement. The content itself should also adhere to TikTok's Terms of Service and Community Guidelines. According to Business Insider and VICE, even the region in which the creator's videos were viewed can be used as a factor.
Basically, the more engaging your video is, the more money you'll receive. As your videos don't perform the same, this means that your reward will also vary.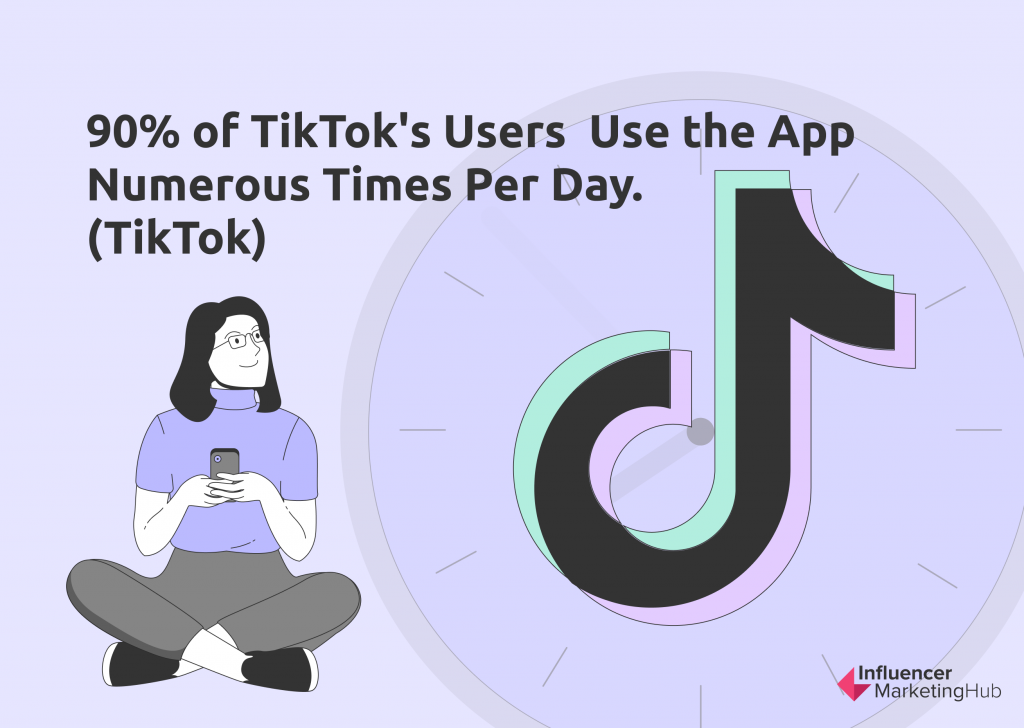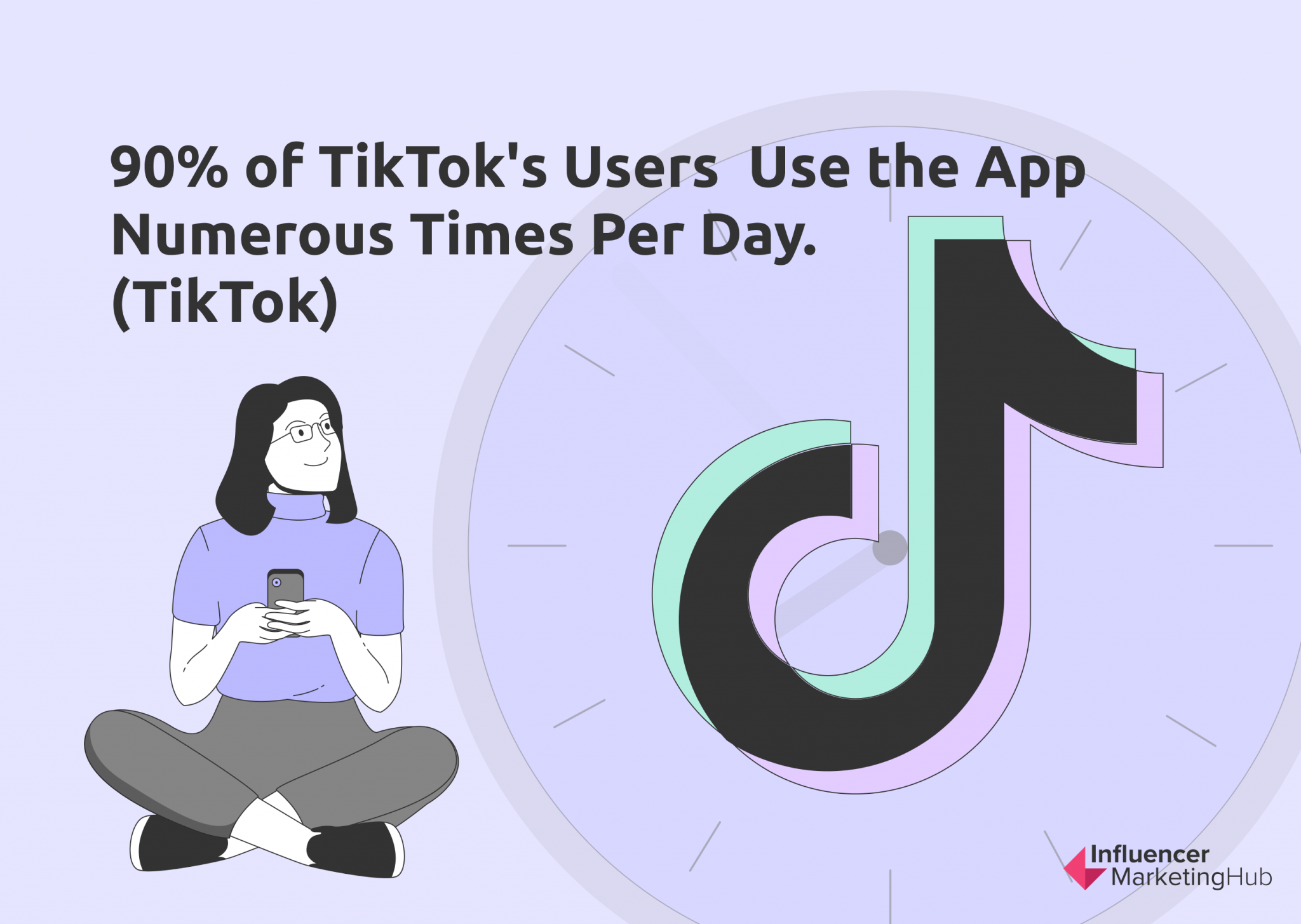 Three days after your views were added up, you'll be able to view the funds in your creator dashboard. Creators will then have up to 30 days after the video was posted to withdraw the payment.
The good news is that the platform hasn't capped the amount of money that it will release per day. Also, there's no maximum amount that a creator can earn. The earning opportunities are practically infinite.
---
What Are the Risks?
As this fund is still in its infancy, not that much is known about it and how it will play out. Plus, according to its agreement, creators must keep details like the reporting metrics and other non-public information strictly confidential. So, there's really not loads of information available about it at this stage.
While there aren't any glaring risks, there have been complaints about how the fund lacks transparency. The platform hasn't offered a clear explanation of how exactly payouts are calculated, leaving their brightest influencers in the dark.
Also, a couple of creators who shared their thoughts with WIRED magazine mentioned that they've noticed a drop in their video views after they signed up to the fund. Though, TikTok shares on its website that joining the fund won't impact your followers or views negatively. If you do see that the number of views you've received dropped after you've joined the platform, it's because of in-app fluctuations which you'll know by now are normal.
It's still too soon to tell whether it's just a ploy to prevent influencers from leaving TikTok and focusing all their attention on platforms like Instagram instead or an earnest attempt to reward the best-performing creators fairly.
---
How Much Money Can You (Really) Make?
In October 2020, only a few months after the fund was launched, WIRED interviewed a number of TikTok influencers to find out more about how the fund has turned out. The initial reaction didn't bode well. On social media, creators shared that they were paid only a couple of dollars per day, even though their content received as much as 100,000 views.
In an interview with Business Insider, one TikTok influencer, Victory Rhyder, revealed that she earned only $2.89 per day by means of the fund for a period of five days in August 2020. This worked out to about $0.04 for every 1,000 video views during that time.
Compared to what YouTubers can make with more or less similar view counts and same size of audience, the TikTok Creator Fund falls far short. For example, when Business Insider interviewed a couple of YouTube creators, they revealed that they made anything from $500 to five times that amount for a video with about 100,000 views. That works out to as much as $25 per 1,000 views – more than 500 times the amount that Victory Rhyder claimed to earn.
When VICE interviewed a couple of users who joined the TikTok Creator Fund at the beginning of 2021, their findings weren't much different. Take the case of Anika, for example. In an interview with VICE, she shared that a video with more than six million views and over a million likes generated only about $70. In five months, she made slightly more than $200 via the fund.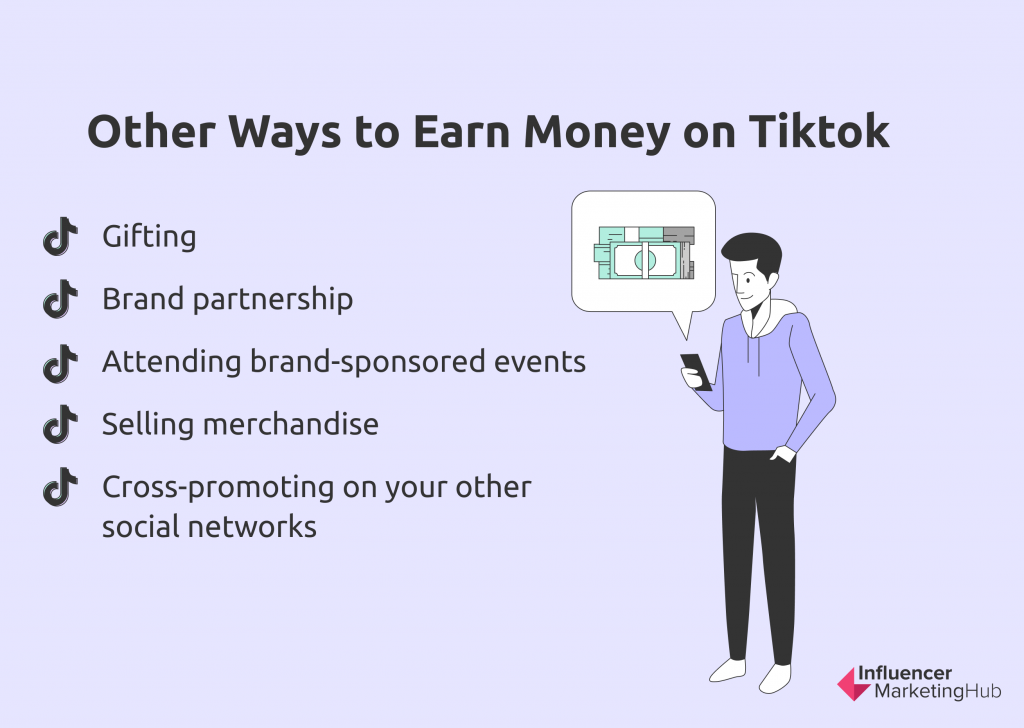 Taking all of this into consideration, it's best to make use of the other monetization opportunities that TikTok offers and other revenue streams such as merch sales, brand deals, crowdfunding via your community on TikTok, and the creator marketplace where influencers and brands can connect. All in all, the easiest way to generate revenue is by working out a direct arrangement with a brand. Brands have been known to pay influencers anything from $200 to 100 times that amount per branded video that they promote.
So, don't dismiss TikTok altogether just because its Creator Fund isn't that profitable at this stage. After all, we've seen that many young influencers are making a pretty decent living by means of their activities on the platform. You can, for example, take a look at our TikTok Money Calculator to calculate your estimated earnings from your TikTok account. One of the most successful strategies is to use TikTok in conjunction with another network. For example, if you're active on YouTube as well you can take advantage of the video-sharing platform's established advertising system.
---
Wrapping Things Up
Whether you prefer to stick to storytelling or dare to dance, joining the TikTok Creator Fund can be a rewarding experience, but possibly less literally than many creators would hope. At this stage, perhaps it's better to take the approach of Jillian Butler who in an interview with Business Insider shared that she was going to continue posting regardless of if they pay her or not. For her, it was all about simply having fun. Even better if you can have fun on TikTok, YouTube and Instagram. It might be 2021, but the old proverb about not placing all your eggs in one basket (or in this case one platform) still rings true.
Frequently Asked Questions
How can you work out how much money you can earn with TikTok?
To work out your earning potential on TikTok, you can, for example, check out Influencer Marketing Hub's TikTok Money Calculator. This tool was created to provide potential earning guidelines to influencers. Ultimately, a brand and an influencer negotiate what they consider to be fair value. While it's not an official TikTok tool or endorsed by TikTok, it's one of the easiest ways to work out how much you could potentially earn from TikTok. All you need to do is add your username, total likes and followers.
How many followers do you need on TikTok to make money?
There's no set number of followers that you need to make a living on TikTok. What's more important is the strength of your following. Yes, it's more likely that someone will buy a brand's products if you have more followers, but engagement and authenticity are crucial. Your followers will only take notice of your content if you're a genuine influencer. Generally, TikTok accounts with 500,000 to one million followers have the highest average engagement rate overall.
Can you make a lot of money by joining the TikTok Creator Fund?
The TikTok Creator Fund is still relatively new and, at this stage, not a lot of information is available. Though, a number of TikTok users who've joined shared that they haven't made nearly as much as they had hoped. For example, one user claimed that she made just slightly over $200 in five months by means of the fund. So, while you can for sure make money by posting on TikTok, you'll need to use other monetization opportunities like brand deals too.
How can you get more followers on TikTok?
It's key that you have loads of active and engaged followers if your goal is to make money on TikTok. To help you get more followers on TikTok, here's what you need to do:
- Get to know your audience
- Perfect your profile
- Create relevant content consistently
- Engage with your followers regularly
- Share your TikTok videos on other social media platforms
- Take advantage of trends
- Use hashtags
- Post at the right time
- Create and participate in challenges
- Use user-generated content (UGC)
- Engage with other creators on TikTok
What types of videos are popular on TikTok?
There are many different types of videos that get good engagement on TikTok (not just funny dance and lip-syncing videos). The following are some of the types of videos that you can create to help you get more followers and increase your chances of getting accepted into the TikTok Creator Fund:
- Social media challenges
- Videos using trending hashtags
- Song imitations
- Dialogue re-enactments
- Cute animal videos
- Videos of your daily life
- Science experiments