TikTok is a tale of two apps. The Chinese company, Bytedance, released a video-sharing social network app called Douyin in 2016. That app still exists separately in China. They named the international version of their app TikTok when they released it in 2017. Much of TikTok's Western audience initially followed Musical.ly, which Bytedance merged into TikTok in 2018. Although TikTok and Douyin feature similar user interfaces and features, they are not identical, being customized for their respective markets.
TikTok has become exceptionally popular in recent years, particularly with the younger Millennials and Generation Z. It hasn't grown without controversy, however. For example, then-President, Donald Trump, threatened to ban TikTok in the United States in 2020 unless Bytedance let an American company, like Microsoft, buy TikTok in that country. A proposed ban was, however, blocked by a federal judge. In addition, despite TikTok being very popular with India's youth, the country's government banned the app in June 2020 due to a border clash between India and China. Its ban became permanent in January of the following year.
Neither TikTok nor its forerunner, Musical.ly, provide many statistics publicly. For example, it is much harder to find follower lists than for most other social networks. However, with such a convoluted history, it is not too challenging to discover quite a few TikTok statistics that others have independently collated.
---
36 Vital TikTok Stats to Inform Your Marketing Strategy:
---
1. Time Spent on TikTok is the Highest
TikTok sees the highest average time spent compared to any other social media platform. In 2023, social media users were spending an average of 55.8 minutes on TikTok. In comparison, the second most used platform, YouTube, saw an average time spent of 47.5 minutes. This is followed by Twitter, where people spend an average of 34.1 minutes.
---
2. 1.6 Billion People Now Use TikTok
TikTok usage has seen massive growth over the years. In 2023, according to a report from Business of Apps, TikTok's user base reached 1.7 billion people.
---
3. It Has a Total Potential Ad Reach of 1.09 Billion
According to the Global Digital Report from Kepios, marketers have the potential to reach 1.09 billion users with ads on TikTok. This is a 12.6% year-over-year increase in ad reach for the platform. The calculation is based on users over the age of 18 who can be targeted with advertising on the app.
---
4. The United States Has the Most TikTok Users
The same Kepios report also found that the United States has 116.5 million TikTok users who are active on the platform and are aged 18 and above. This makes it the country with the most number of TikTok users.
---
5. It Surpassed 3 Billion Installations
TikTok has been installed on devices over 3.5 billion times worldwide. It passed the one billion milestone in February 2019 and the two billion figure in April 2020. It reached three billion in Mid-2021. TikTok became only the fifth non-gaming app to reach the 3-billion level and the first not owned by Facebook (now Meta). It topped the list for both downloads and revenue for non-game apps in the first half of 2022.
---
6. Entertainment Most Popular Category on TikTok by Hashtag Views
From its modest origins as a dance app, TikTok has evolved into a platform for a wide range of content, including business, fashion, self-care, fitness, and more.
Now, let's dive into the current top TikTok trends:
ASMR - 949.9 billion
Fashion - 340.6 billion
BookTok - 190.4 billion
TikTok Made Me Buy It - 74.8 billion
Gymrat - 47.3 billion
Adopt Me - 32.7 billion
Dropshipping - 8.4 billion
The Pink Stuff - 986.7 million
TikTok Ads - 653.7 million
Mighty Patch - 484.6 million
---
7. TikTok Downloads Exceeded 272.2 Million
During the third quarter of 2023, TikTok amassed approximately 272.7 million global user downloads. Originally introduced as Douyin by ByteDance in China, TikTok later popularized the short-video format, dominating the global social media landscape in 2020. In the initial quarter of 2020, TikTok downloads surged, exceeding 313.5 million worldwide, marking a remarkable 62.3% increase compared to the first quarter of 2019.
---
8. TikTok Was One of the Most Downloaded Apps in the United States
In March 2023, TikTok, the social video platform, secured the second position among the most downloaded Chinese apps in the United States. It accumulated 7.4 million downloads across the iOS App Store and Google Play Store. Temu, an online marketplace app, claimed the top spot with 10 million downloads, followed closely by CapCut, which received 6.7 million downloads during the same period.
---
9. TikTok is the Most Downloaded App Globally
According to data from Q1 2023 by data.ai, TikTok has notably climbed to the top spot, surpassing Instagram as the most downloaded app globally. Additionally, the app ranks as the leader in consumer spending.
---
10. TikTok is Available in 150+ Countries
The official TikTok Creator Marketplace now claims that TikTok is available in over 150 markets. It's also one of the most downloaded apps in 40+ countries.
With these numbers in mind, brands can understand the kind of global impact they can make by leveraging TikTok. If you plan on expanding your reach globally, make sure to develop a strategy keeping these global users in mind.
---
11. You Can Access TikTok in 50+ Languages
According to the official Creator Marketplace, the app is available in 50+ languages. There have been some discrepancies in reports about the number of languages it supports. It's possible, with TikTok now being banned in India, that TikTok has removed support for some regional Indian dialects.
---
12. It Has the Highest Social Media Engagement Rates Per Post
According to the Social Insider industry benchmarks for 2023, TikTok is now the most engaging social media platform with an average engagement rate of 4.25%. While this translates to a 28% year-over-year decrease, TikTok is still significantly far ahead of other platforms when it comes to engagement rates. For comparison, the second most engaging platform, Instagram, only sees an average engagement rate of 0.60%.
---
13. It's Highly Popular in Many Asian Countries
TikTok's support has grown dramatically in most Asian countries. According to the Kepios report from earlier, it's particularly beloved in Indonesia (113 million users), Vietnam (50.6 million), the Philippines (41.4 million), and Thailand (41.1 million).
TikTok has a total reach of 276.1 million in Southeastern Asia, 110.2 million in Western Asia, 31.9 million in Eastern Asia, 27.5 million in Southern Asia, and 11.1 million in Central Asia. These numbers only consider users aged 18 and above, and there are undoubtedly many more TikTok users younger than that.
Many young users have used TikTok for political activism. For example, they used it in Indonesia to protest a controversial new labor law.
---
14. TikTok's Chinese Version (Douyin) Expected to Reach 835 Million Users
Experts project that the number of Douyin users will likely surpass 835 million by 2025. Douyin has established itself as the largest knowledge, culture, and art platform in China.
---
15. TikTok's Highest Reach (for Adults) is in Saudi Arabia
Somewhat surprisingly, TikTok has its highest reach (for those aged 18+) in the Arab world, according to the Kepios report. TikTok is seeing phenomenal growth across the Gulf Cooperation Council (G.C.C.), with the app ranking among the top downloads in regional Apple and Google Play Stores.
In 2023, TikTok had 26.39 million users over the age of 18 in Saudi Arabia. TikTok's ad reach rate in Saudi Arabia was a whopping 103%, which likely accounts for individuals with more than one account. The platform's ad reach was comparable to 72.7% of the total population. In Saudi Arabia, 34.2% of people who saw TikTok ads were women, while 65.8% were men.
Of course, this ignores the vast number of younger TikTok users. But TikTok's ad tools only publish data for audiences 18+.
---
16. The Most Followed User Has 162.1 Million Followers
Social media personality Khabane Lame (@khaby.lame) is now the most-followed account on TikTok, with 162.1 million followers and over 2.4 billion likes. He surpassed @charlidamelio (Charli D'Amelio), who now has 151.5 million followers and over 11.5 billion likes. Rounding out the top three spots is singer @bellapoarch (Bella Poarch) with 93.3 million followers and 2.3 billion likes.
---
17. TikTok is the Top Followed Brand on the Platform
According to Statista, TikTok's own brand was the most followed brand on the app in 2022 with roughly 62 million followers. Netflix is the second most popular brand with 23 million followers, followed by NBA with 15 million followers. Marketers could check out these popular brands to see what's working for them and replicate those strategies for their own TikTok marketing efforts.
---
18. TikTok Was the Top-Grossing App in 2022
With $2.05 billion in revenue, TikTok was the top-grossing app globally in 2022. All the other apps in the top 5 spot were all games, except for YouTube, which generated $1.05 billion and ranks fifth. In the U.S., TikTok ranks fourth among the top grossing apps with $468 million in revenue.
---
19. It Has Hit $6.3 Billion in Lifetime Consumer Spending
By late 2022, lifetime consumer spending on TikTok had reached $6.3 billion. This shows that users aren't hesitant to spend money on the platform, which is brilliant news for marketers that want to leverage TikTok marketing.
---
20. TikTok LIVE Boosts Sales
It's not just regular TikToks that are attracting views on the platform. Live broadcasts could also be a great way to engage your TikTok audience.
Fifty percent of TikTok users are more interested in sponsored LIVE content than non-TikTok users, according to a report by Ipsos. The company reports that one out of three TikTok LIVE users go beyond their initial interest and say that the app is their go-to platform to interact with brands. The survey revealed that TikTok users are more social than non-users in every measurable way. They are 1.6 times more likely to watch branded LIVE to discover new brands, 1.7 times more likely to watch branded LIVE to buy a product, and 2 times more likely to claim LIVE is the most reliable medium to use while shopping.
---
21. There are 150 Million Monthly Active Users in Europe
By February 2023, TikTok reported 150 million monthly active users in Europe. This puts it behind other leading platforms such as Facebook and Instagram, which reported 255 million and 250 million MAUs respectively.
---
22. TikTok is the Most Popular Among Users Between the Ages of 18 and 34
According to the Kepios report from earlier, users between the ages of 18 and 24 years old make up 38.5% of the platform's advertising audience. Meanwhile, 32.5% of its advertising audience was between 25 and 34 years old. This makes the platform most popular among a younger audience, although there's reasonable usage among people in their late 30s and early 40s.
---
23. The Most Popular Activity is Watching Someone Else's Videos
Engaged TikTok users typically spend their time watching videos from other creators. Sixty-eight percent of engaged users on TikTok interact with the platform by watching someone else's video.
---
24. 63% Liked Someone Else's Video
According to the same study as above, 63% of engaged TikTok users claim to have liked a video in the last month. This shows that people aren't simply watching videos but are also engaging with content on the platform.
---
25. 63% Followed Someone in the Last Month
Additionally, 63% of engaged TikTok users claim to have followed someone in the last month. This suggests that people are willing to follow other users on the app, as long as said users provide value.
---
26. 55% Uploaded a Video in the Last Month
That's not all–most users are also creating content on the platform. Fifty-five percent of users had uploaded a video to the app in the last month.
For brands, this means that there's an opportunity to grow your reach by encouraging user-generated content. Read branded hashtag challenges and branded effects that might entice your followers to create content based on your prompt.
---
27. 92% of Users Take Action After Watching a TikTok
Continuing with the same study, 92% of users take some sort of action after watching a TikTok. The action might involve liking the video, commenting on it, or sharing it with others. This explains why the platform sees such a significantly higher engagement rate than other social media platforms.
---
28. The TikTok Website Sees Over 2 Billion Visits
According to Similarweb, the global website rank of TitTok.com is 14, and it earned the 23rd spot in the U.S. So far, the website has attracted 2.2 billion visits, with an average of 7.38 pages per visit. The bounce rate is 36.92% and the average visit lasts about 3 minutes.
---
29. 37% of US Teens Said TikTok Is Their Favorite Social Media App
In March 2023, TikTok emerged as the favorite social media app for 37% of US teenagers, up from 30% two years ago. Snapchat slipped to the second spot, declining from 31% to 27% over that period. Instagram secured the third position, with 23% of teens designating it as their top choice.
---
30. 20% of Americans With a Household Income of More than $75,000 Have Used TikTok
18% of American TikTok users have reported an annual income of less than $25,000, while the majority, at 40.2%, fall into the income bracket of $100,000 or more.
Usage of TikTok appears relatively balanced across income groups, with approximately 20% to 30% of users from various income brackets indicating they have used the platform. Specifically, 20% of users with household incomes exceeding $75,000 have engaged with TikTok content.
---
31. More Females Use TikTok Than Males in Most Markets
The Keipos report from earlier also looked at the gender balance of (adult) TikTok users worldwide. Overall, TikTok has more female users (53.4%) than males (46.6%).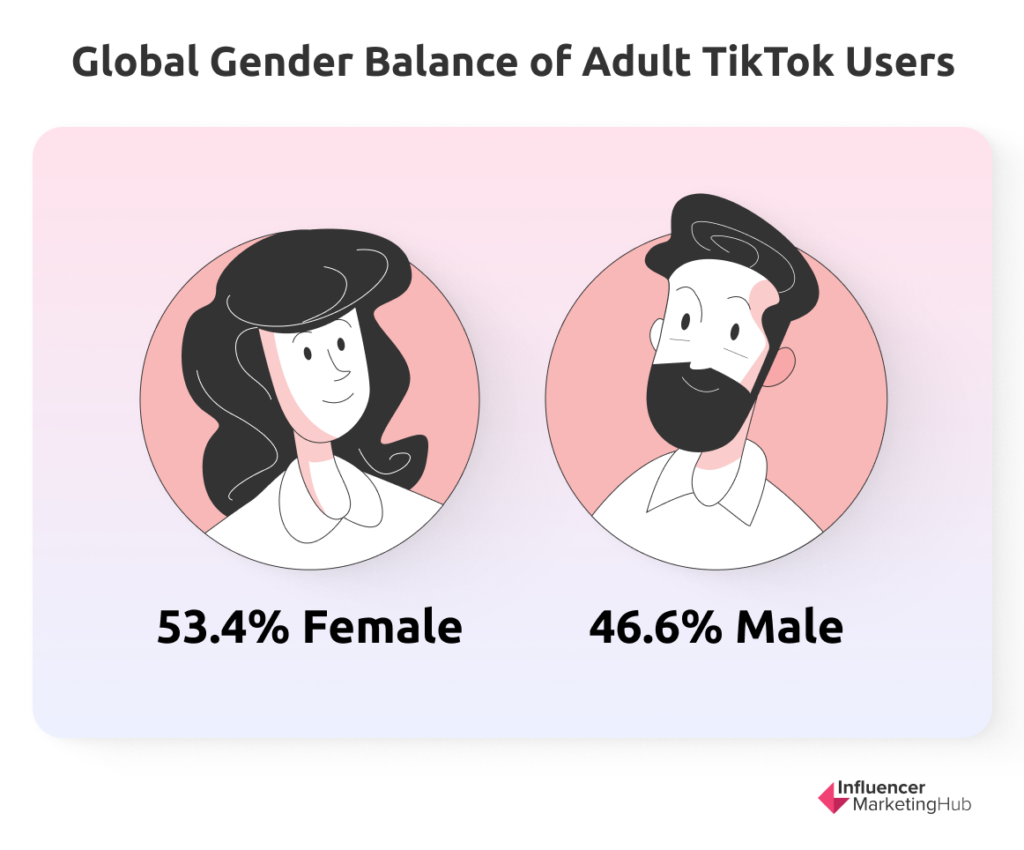 ---
32. TikTok Ads Have a Higher Break Through than TV Advertising
An independent study by Neuro-Insight found that TikTok ads break through much more effectively than TV advertising. This means that they're more memorable and linked to in-market sales. TopView ads on TikTok have 40% more break through than TV while in-feed ads have 23% more break through.
---
33. TikTok Ads Cost Less than Other Social Media Ads
To add to the above benefit, advertising on TikTok tends to be a lot cheaper than advertising on other social media platforms. An analysis by Wolfgang Digital found TikTok ads to have a 30% cheaper cost-per-click than Meta. In terms of reach, you can expect to spend 2.5 times less on TikTok to reach the same number of people as on Meta.
---
34. Entertaining TikTok Ads See a Much Better Performance
With entertainment being a key appealing factor to TikTok users, it's no surprise that these users would also respond well to entertaining ads on the platform. According to the platform's official report, ads with a high entertainment value result in 25% more brand love and 15% higher purchase intent compared to ads with low entertainment value.
So when developing TikTok ads, focus on developing ad creative that will entertain your audience and help them to make a positive association with your brand. Find creative and comedic ways to share your message so that it can better resonate with the platform's audience.
---
35. TikTok Users Seek Positive Mood-Lifting Content
The same report as above also found that 41% of community members felt motivated to make a purchase if their moods are lifted. This indicates the desire for many TikTok users to seek out positive, mood-lifting content.
Brands could take advantage of this to develop content that will lift people's spirits and eventually drive purchases. In line with the above statistic, going heavy on the entertainment factor could be a great way to achieve the desired results.
---
36. The Most Used Sound in 2022 Had 38.6 Million Plays
Love You So by The King Khan & BBQ Show was the most played sound on TikTok in 2022. Within the first half of the year, it had been played 38.6 million times. In comparison, Monkeys Spinning Monkeys by Kevin MacLeod & Kevin was the second most played sound with a total of 18.51 million plays.
Brands need to be on the lookout of trending sounds and songs on TikTok as using them in your videos could give you leverage in terms of visibility. They significantly improve your chances of showing up in relevant For You pages of TikTok users.
---
Wrapping Up
From the above TikTok statistics, it's clear to see that the platform's popularity is only going to grow bigger over the years. Brands can take advantage of it by developing entertaining content and creating real-time engagement opportunities through LIVE sessions. Use the insights shared above to adapt and develop your TikTok marketing strategy and boost your returns.
---
Check out the leading TikTok Marketing Agencies Here