We have written extensively about marketing on TikTok in recent years, including our Ultimate Guide to Marketing on TikTok white paper. But it is still an unfamiliar platform to many people, particularly if you are over 25.
Whether you are a brand building a presence on TikTok or one of its young everyday users, there's a reasonable chance that you will one day be unhappy with the username you selected when you created your account. Our thoughts and interests change over time, and that snazzy play on words you once thought made the perfect username, may seem cheesy and embarrassing a few years on.
If that's the case, you might be considering changing your username on TikTok to something more relevant to the "you" of today.
---
How to Change Your Username on TikTok in 5 Easy Steps:
---
Can You Change Your Username on TikTok?
Luckily, TikTok does make it possible to change your username.
We can't take this for granted, however. Some sites and apps hardwire your username, making it difficult, if not impossible, to change your username, no matter how much your life had circumstances have changed.
---
Why is Your Username Important?
Of course, one of the real purposes of having a username is as part of your online security. Therefore, TikTok and, indeed, most online sites, don't make it too easy to change your username. They need to make sure that it is really you and not some imposter trying to gain access to your account.
Site administrators typically use usernames to help keep their site in order, helping to keep appropriate conversations and other posts in and spam out. While you may find it annoying having to log into TikTok and your other accounts often, particularly with a new or updated device, it at least ensures that everything runs smoothly and keeps those trying to commit online mischief away from your account.
Of course, there is another reason why usernames are essential. They are an insight into you as a person. They represent your online persona.
Some people put much time and energy into coming up with the ideal username for their personality. This can be particularly challenging when you consider that everybody has to have a unique username.
Other people don't care less, and are happy to accept TikTok's suggestions – Mike789 or Miley567 are typical examples of this.
Of course, some people deliberately go for enigmatic usernames, perhaps even a random jumble of letters and numbers to confuse those people who prefer a neater, tidier approach to name their accounts.
The most followed TikTok accounts, however, tend to demonstrate familiar naming patterns. The most popular TikTok account at the time of writing belongs to Loren Gray, whose username is @lorengray. Similarly, most top TikTok influencers either incorporate their name in their TikTok username, or a nickname that they regularly use (such as @babyariel). Arishfa Khan (who has 21.9 million followers added some originality to her username by adding underscores both before and after her name: @_arishfakhan_.
---
Steps to go Through to Change Your Username
TikTok makes it relatively easy to change your username if you have outgrown your current one. You simply go through the following steps if you want to change your username:
Open your TikTok app, logging in with your existing username and password.

Select Me to go to your profile page. You will see this located in the bottom right corner of your screen. Select the red Edit Profile button beneath your profile picture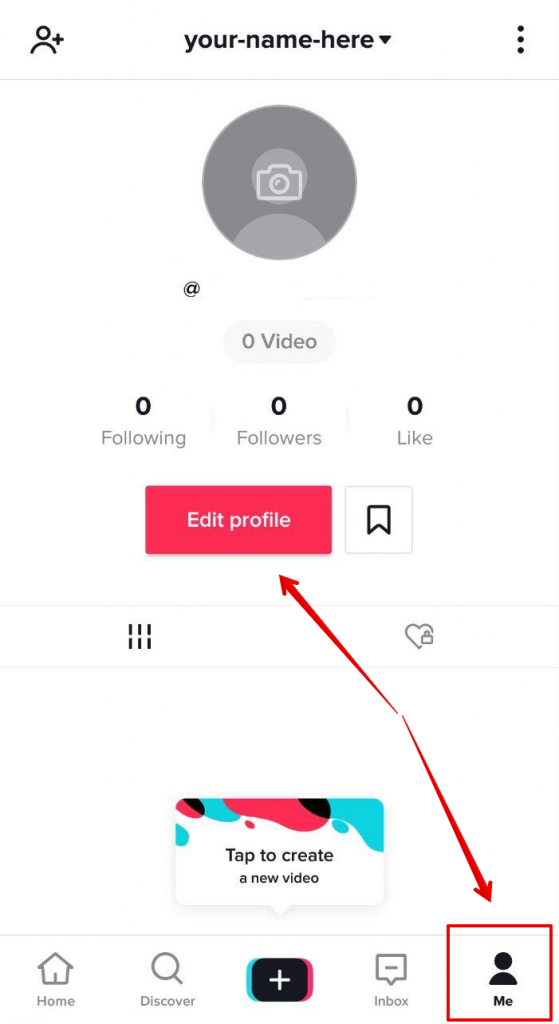 Select your existing username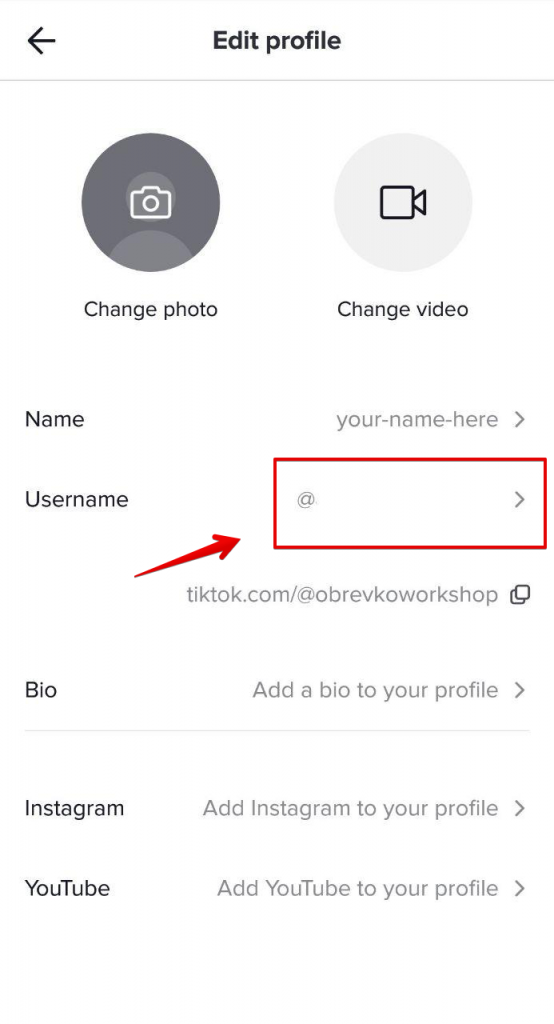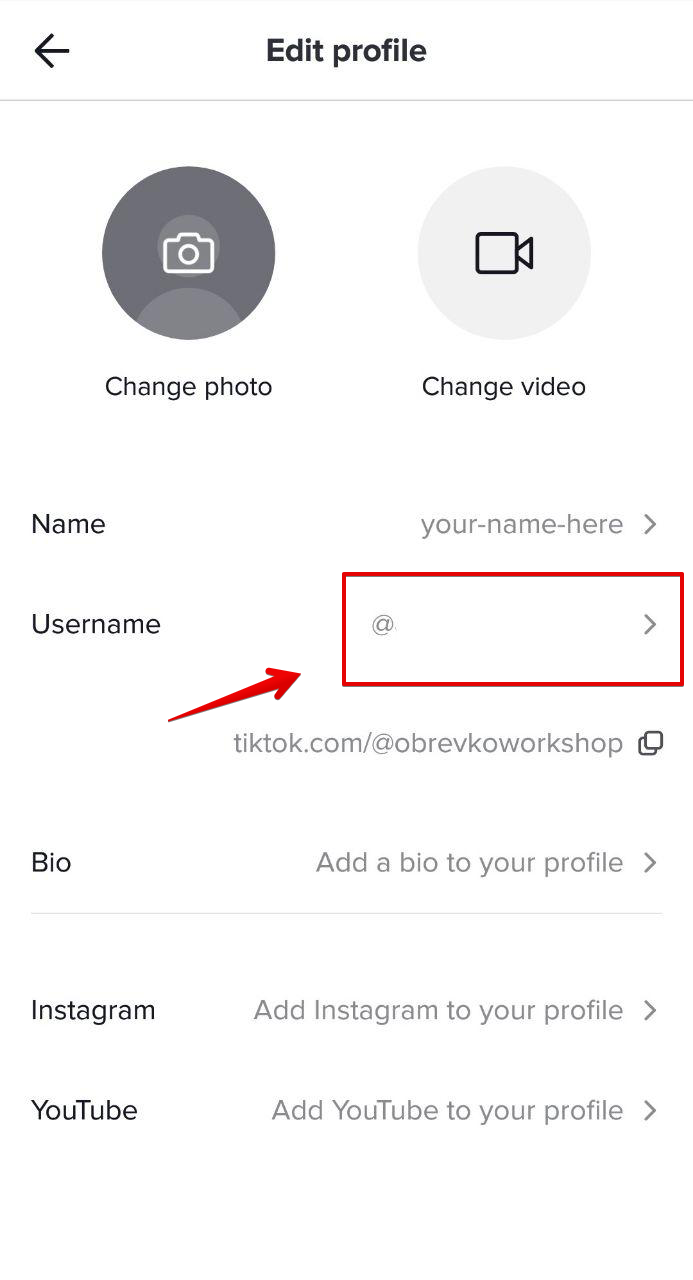 Delete your current username, and then type your new username into the space provided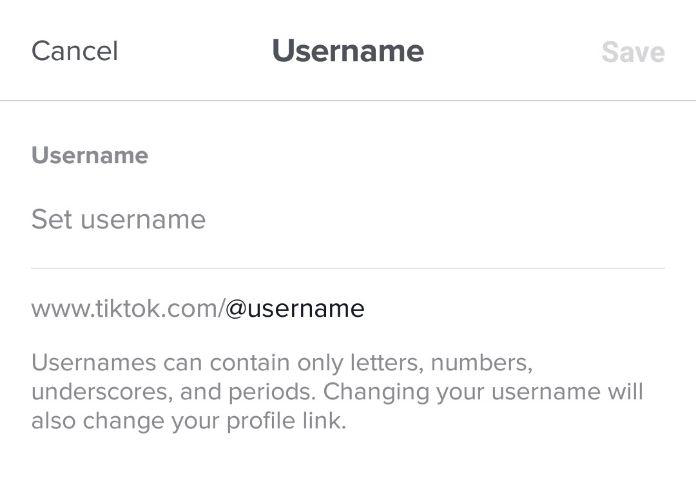 Tap Save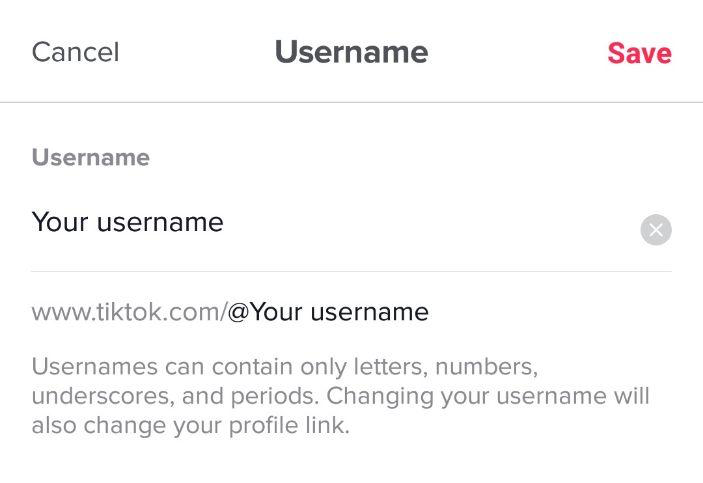 At this point, TikTok will do a quick check through its database of billions of existing usernames. If it finds that your suggested username is unused, it will allow you to save your new name, and begin to use it.
If somebody has already used your username, however, TikTok will give you a notification at the top of your "Edit Profile" page that your preferred name is unavailable, and you will have to make another choice.
TikTok sets one major limitation to changing your username, however. You can only do this once every 30 days, so make sure that you don't make an unfortunate typo, or change your mind in the next few days, because you are stuck with your choice for the next month.
---
Tips for a Good Username
As we referred to above, people take very different approaches to setting their TikTok (or indeed any other online) usernames. Some put considerable thought into having the perfect username for them. Others take the first one that comes to mind, or where relevant, simply take a suggested username.
One thing you should consider is the usernames you use in your social accounts. You often run accounts across multiple platforms, and it makes it much easier for them if you use a consistent naming approach across all of your social accounts. This is just as relevant for businesses that have a TikTok presence as well as on other social platforms.
Interestingly, the previously mentioned Arishfa Khan breaks that pattern. She is @_arishfakhan_ on TikTok and Twitter, arishfakhan138 on Instagram, Arishfa Khan on YouTube, Arishfakhan on Snapchat, and @Iarishfakhan on Facebook.
If you see yourself as potentially becoming an influencer (or you are trying to brand yourself, perhaps for business reasons), you will need to consider that when coming up with a username. You are going to want a name consistent with your branding across all of your online properties.
This is particularly so if you feel tempted to come up with a joke name that may not fit in with the image you are trying to portray. Some people who may be rebellious in their youth pick names that they feel emphasize that, e.g., Stoner123 or even Smackhead456. Remember that many potential employers now look at job candidates' social postings. They are unlikely to be impressed with rebel or joke-type usernames.
If you wish to completely ignore your actual or business name when creating a TikTok username, you could focus on another area of your life. Perhaps you could create a name relating to one of your hobbies, interests, or even pets. You could make a name that highlights a key facet of your personality or even appearance (but don't be self-deprecating).
Just make sure that whatever username you select stays true to your personal values and the image you want to reveal online, as long as you avoid those names that could embarrass you later in life.
---
Basic Rules for Any Username
In addition to our suggestions, we made above there are a few rules you should consider having for any username you make. Most of these are for account security, not just for TikTok, but for everywhere you use a username.
Don't use your email address as a username. Sure you use it to log into some platforms (not TikTok), but usernames and email addresses are intentionally different

Don't give too much away about yourself by using your full name, phone number, or address as a username. You could include your country or city, but don't go more granular than that

While you want some consistency between usernames for branding purposes, don't reuse a clearly unique username everywhere. Sure it's fine where you need branding, but don't use it on accounts you don't intend to use publicly

Don't use a username that gives a clue to your password, e.g., the first part of a two-part statement

Don't use an inappropriate username for the situation – TikTok is public, with a young audience, and anybody can see your username
---
Stuck for Ideas? Use a Username Generator
Sometimes no matter how many attempts you make to come up with a username, you might keep on seeing the red notification banner, saying that your intended username is already in use. If you don't have any reason to brand yourself, you might be happy to use a randomly generated username, at least until you can think of something better.
In that case, there are several sites online that will generate a username for you. These include:
Just remember, that although these will give you a unique, original, username, it will not be particularly much use for your branding. You may want to use one of these random username generators to get you a quick temporary username and then spend more time coming up with one better for your needs. You will, of course, have to wait 30 days until you can change to your next username, however.
---
How to Edit Your TikTok Profile
If you have decided to change your username, you may also wish to change other sections of your TikTok profile. You can edit your profile details by again going to the Me section on TikTok's main screen. Tap on the "Edit Profile" big red button. This will bring you to a screen where you can change most of your profile details.
As well as changing your username, you can also change your name and bio, and connect with your Instagram and YouTube accounts.
It isn't just your username that you want to keep consistent across platforms. It makes sense to keep consistent branding across all of your social accounts, with the same basic color schemes, bios, and general overall look.