If your target audience is millennials and Gen Zers, TikTok should be the social media platform you choose to promote yourself and your brand. With 800 million active users, TikTok has an unmatched reach and penetration in these demographics.
TikTok offers a goldmine of opportunities for marketers and influencers. However, one place that it fell short was live videos, which are offered by competitor platforms like Facebook, Twitch, and Instagram.
In 2019, TikTok launched their Live feature by which content creators can live stream their videos from the platform.
Live video streaming allows TikTokers to connect with their followers in real-time using comments. It can also help you monetize your account if your live stream audience sends you virtual "gifts." The best part about live videos is that you can cover a lot of content through them since TikTok hasn't yet restricted their duration.
In this article, we will walk you through the process of creating live streams. Along with that, we will also share tips and tricks that you can leverage to maximize the results of your live videos.
---
TikTok Live Video: A Walkthrough for Marketers:
---
How to Go Live on TikTok
Going live on TikTok is as easy as recording a regular video on the platform. For the purpose of this article, we are assuming that you already have an account on TikTok. If not, download the latest version of TikTok from the iOS or Google Play Store, and create an account for yourself.
Once you've done that, just follow the steps mentioned below to go live on TikTok.
1. Unlock TikTok Live
If you're new to TikTok, going live may not be available to you. It's a capability you can unlock only after you fulfil a number of conditions, including:
You should be at least 16 years old.

You should be above 18 years of age if you want to receive "gifts" when you're on a live stream. Gifts are virtual offerings from your followers, that you can convert into real cash (although the rate of exchange is quite low at this time).

You should have a minimum of 1,000 followers, though this number is different for different countries.
Gaining the first 1,000 followers is a challenging milestone to reach on TikTok. After that, you are likely to see steady organic growth in your follower count. There are a number of things you can do to become TikTok famous:
Create disruptive content

Piggyback on influencers in your niche

Invest in paid ads
Once you've reached the magic number of 1,000, proceed to the next step.
---
2. Set Up a Live Stream
Click on the + button at the bottom of the screen. Your camera will open in selfie video mode.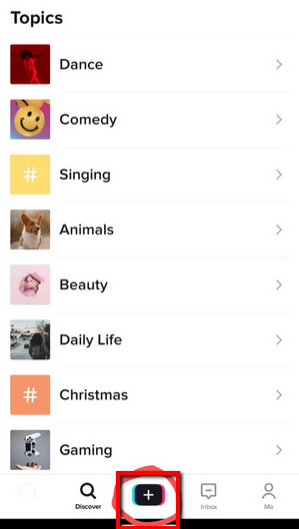 Below the round record button at the bottom of the screen are many options like 60 seconds, 50 seconds, and Photo Templates.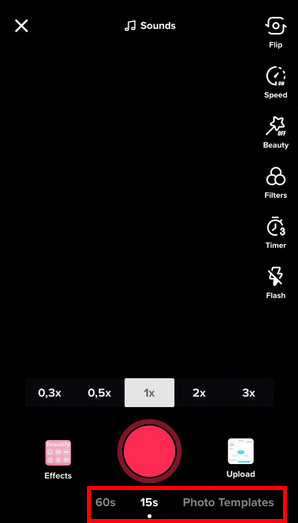 Scroll right till you reach the LIVE option and click on it.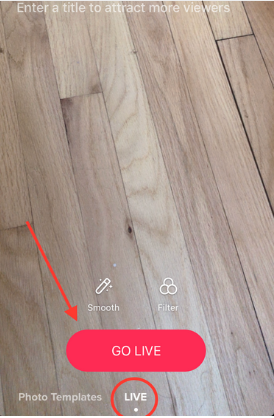 Click on the Go Live button at the bottom of the screen to start streaming your video.
You can't see the Go Live button?
It's probably because you haven't met the conditions laid down by TikTok for live streamers.
Or, perhaps too many people are using the Live feature at that time. TikTok restricts the number of people that can go live at a time. If you suspect that's the case, you can just wait for a few minutes for the Go Live button to be available.
There have been cases when TikTokers with all the right credentials are not able to use the Go Live button. For that, TikTok's only explanation is that your previous content does not qualify their quality parameters.
If you choose to report to the platform about this, you're most likely to get a reply that says TikTok is optimizing the Live feature in order to make it available to more and more creators in the future.
But if you're qualified to go live, you can start rolling.
---
3. Add a Cover Photo and Video Title
When you click on the Go Live button, your screen should look like this: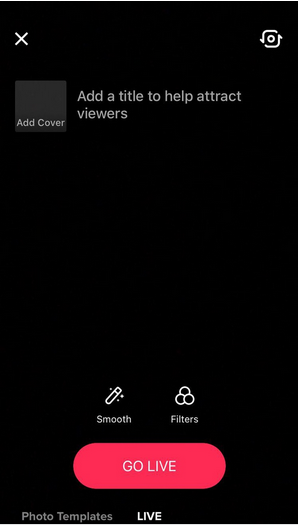 After a three-second countdown, you will be live. Don't have any music playing in the background, or you can invite copyright disputes.
You can write a 32-characters long caption or title for your video.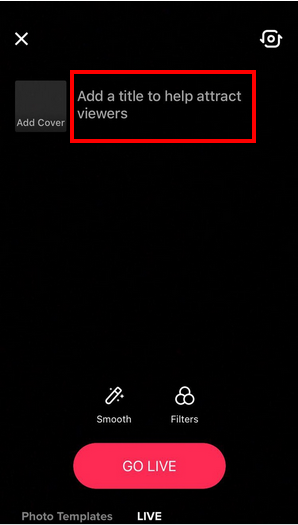 Your caption should be enticing enough to get people to join your live stream.
For instance, the caption below includes "IVR-Follow" which stands for "I'm very rich" to tell that the streamer would like to exchange virtual gifts or followers during the stream.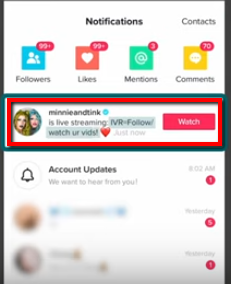 You can include popular and relevant hashtags in your captions.
Hashtags are a great way to make your live stream more discoverable. The right hashtags will show your video in the notifications of people who are interested in the type of content you are producing. Naturally, there is a good chance that these people will join your broadcast and may even give you gifts.
You can use our Tiktok Hashtag Generator to identify the right hashtags for your content, niche, and audience.
If you want to discover hashtags on your own, you might find these tips helpful:
Scroll through the videos being posted in your category. You can use the hashtags that these video titles contain. We don't recommend this method since it's quite time-consuming. You can also use our curated

120+ trending TikTok hashtags

to save your time and effort.

Pick the hashtags that your competitors are using.

You can also curate hashtags being used in popular

TikTok challenges

in your industry or niche. Click on the Discover tab of the homepage to find relevant challenges.

You can steal the hashtags that prominent

TikTok influencers

are using.

Use hashtag finder tools like TikTokHashtags.com that are designed to find hashtags for TikTok.
You will need to enter a topic, keyword, or industry name that is relevant to your video. The tool will generate a number of relevant hashtags that you can simply copy and paste in your video caption.
Using popular hashtags is good, but creating your own branded hashtags can take your TikTok marketing up several notches. Customized hashtags can make your content stand out on the competitive platform.
If you decide to create a branded hashtag, take care of the following things:
Your hashtags should resonate with your content, niche, or brand values.

Don't create too many hashtags since you are allowed only 32 characters in captions.

The hashtags should be intuitive. People should be able to understand the context of your video just by looking at the hashtags.

Keep your hashtags easy to spell. Don't use special characters or mixed casing, since these are difficult for people to remember and reuse.

If you plan to create a series of videos with a common theme (maybe for a campaign), use the same hashtag in all the captions to tie the videos together. This will also enable you to track the campaign analytics properly.
Next, we come to optimizing your video's cover photo.
Your profile picture is the default cover photo for your live videos. It appears as a thumbnail in a small square above the Go Live button. You can update the picture by clicking on the Change option that appears in the square.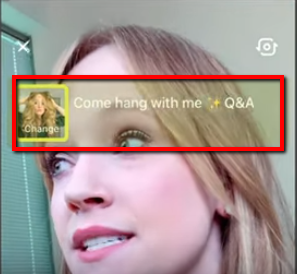 ---
4. Add Filters to Your Video
To enhance your video's quality, you can click on the Smooth and Filters buttons located above the Go Live button.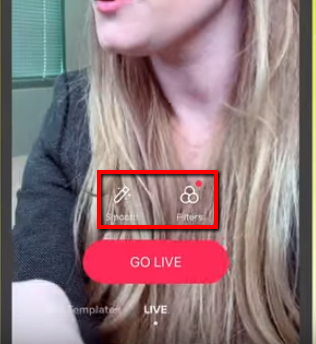 ---
5. End Your Broadcast
As of now, there is no limit on the duration of live streams on TikTok. When you're done recording your video, click on the X at the top-left of the screen.
You must pay heed to TikTok's community guidelines while creating content for the platform. Just like your other TikTok content, your live stream should not include the following:
Hateful content that targets particular communities

Terror-laced content

Violent extremist acts on humans or animals

Homicidal acts

Underage delinquent behavior

Fraud, cybercrimes, or money laundering

Kidnapping or extortion

Drug trafficking or consumption

Human or organ trafficking

Self-harm or suicidal actions
That's it! You are effectively "live" on TikTok.
---
Great Ideas for Your Live Stream
You have a lot of scope to be creative on TikTok Live since there is no restriction on its duration. Here are some ideas you can explore in your live broadcasts:
Busting myths about your brand/product/industry

Behind-the-scene (BTS) coverage of branded events

How-to demos about using your products or services

Ask-me-anything (AMA) sessions with followers

Interviews with industry experts, thought leaders, or influencers

Playing interactive games with your followers. You can exchange gifts with participants to incentivize them to join in the game and follow your account.
---
Are You Ready to Go Live on TikTok?
TikTok is a great platform to connect with your audience and grow a fan base. TikTok Live is another opportunity for influencers and marketers to build their brands. The information in this post will help you create engaging and optimized live broadcasts on the platform.
Frequently Asked Questions
Can you save live streams on your feed?
As of now, you can't save live streams on TikTok. There is no way for people to replay your videos. They disappear as soon as you're finished broadcasting them.
What is the best time to go live?
The best time to go live is the same time that your followers are most active on the platform. Check out your TikTok analytics for this information.
What is a good call-to-action (CTA) for ending your live broadcast?
It's a good practice to add a CTA when you're about to end your live stream. You can tell your audience to go and follow your profile so that they don't miss the follow-up video in the series. Or, give a teaser about your next video and encourage your audience to share your profile link with their friends so that they can join your next broadcast.
Is there any etiquette you should follow while going live?
If you receive a gift during the live stream, make sure to give the gifters a shoutout.
Don't be too pushy about telling your audience to follow you or invite their friends to join your broadcast. It's best to first deliver value through your content, and perhaps add a CTA about this mid-video.