Like most social apps, TikTok has evolved over time. Indeed, in the Western world at least, today's TikTok is a merger of two previous apps, the original TikTok and Musical.ly.
TikTok began growing in popularity in late 2018, with this growth continuing through 2019 into 2022. The developers have helped foster this growth by continually adding new features to the social video platform. One of 2019's new features was the ability to add text to your videos.
Despite TikTok being a free social app targeting a younger demographic, it has surprisingly sophisticated video editing and effects capabilities. They have carried this through to the text generation, allowing you to alter quite a few variables, including the fonts you use (although you can't use full font families like in word processors, yet). However, unlike Instagram, TikTok gives a name to the fonts you can add to your videos, making it much easier to include specific font types in your video captions.
---
How to Customize TikTok Fonts:
---
TikTok Font Generator by Influencer Marketing Hub
This is a simple, web-based font-generator tool that you can use to create TikTok-compatible fonts. All you need to do is go to the website, type in the box, and select from the list of fonts that show up below the box. You can then cut and paste your text in the font of your choice into your TikTok bio or username. Try it free below.
Fancy fonts will appear here
---
Using Text in TikTok
There are two distinct places where you will want to add text in TikTok. The first is behind the scenes, for example, where you enter your username or write your bio. You can cut and paste any text here, including text created in fancy fonts. The second, more complex, place you use text in TikTok, is that you can add it as an overlay to the videos you create.
You add text to your video in the second stage of video creation – after you have already shot your video footage.
Begin the video-creation process by clicking on the + icon in the center bottom of your TikTok screen. This brings up your camera view. This is where you record your video clips and make quite a few other adjustments.
You have a couple of fundamental decisions to make at this point, like whether to take videos live using the TikTok camera app, or whether you upload other video clips. Assuming you are filming within the app, you also have to decide which camera you're using on your device – the usual camera on the back of your camera pointing away from you, or your "selfie" camera. You also must decide whether to use your flash, and whether to record by pushing the big red Record button or instead set a timer.
The video record screen also provides a way for you to set some more creative options, such as adding filters, effects, and music to the scenes you're about to record. However, you can't add text to your TikTok videos just yet.
Instead, you need to record at least one video clip. You can record more, which you would trim and add together at the editing stage.
And it is at this editing stage that TikTok provides you with the opportunity to use text in your videos. The third button along the bottom of the editing screen allows you to add text to your videos.
Tapping this takes you to the text editing screen. You will notice that this brings up your device's keyboard, and a whole lot of formatting options. If you look closely, you will also now see a cursor flashing in the middle of your video.
You can choose whether you place your text directly onto the background, or whether you want a box behind your text. You can think of this as TikTok's way of letting you highlight your text. You can select from a couple of levels of box opaqueness, i.e., how easily you can see through the box to the video behind. You can also choose the colors of your text or background box.
TikTok lets you change the text alignment and font you prefer for your text. By default, TikTok comes with a series of distinctive fonts: Classic, Typewriter, Handwriting, NEON, and Serif. While these don't follow the naming conventions of traditional font families, it is clear which fonts they're trying to emulate.
You might wonder about the placement of your text on your screen. While TikTok initially places the text in the same place the cursor was flashing, you can later move it to another location on your screen with your fingers. Indeed, you can even use two fingers to rotate text on your screen to go wherever you want. You can enlarge or shrink your text by pinching two fingers together, inwards to make it smaller or outwards to increase your font size.
You can also set the duration of the text on the screen at this point. Click on any text element, and the Set Duration option will pop up. Tap this, and TikTok brings up a slider where you can set the exact parts of the video where your text will show.
---
Other Ways to Get More TikTok Fonts
---
Tik Fonts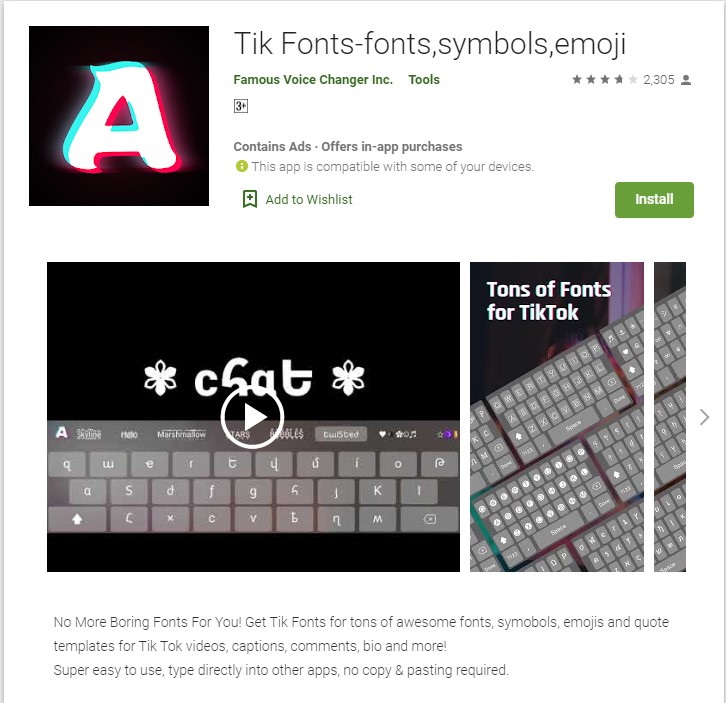 Tik Fonts is an app that promises to provide you with tons of awesome fonts, symbols, emojis, and quote templates for Tik Tok videos, captions, comments, bio, and more.
Once you download the app, you will initially see an upsell to Tik Fonts Pro – the upgraded paid version of the app. However, you can still add some fonts in the free version.
You begin by enabling the Tok Fonts Keyboard. Once you have given the necessary permissions, you then tap on a button to switch to the Tik fonts keyboard.
Be aware that you are substituting Tik Fonts for your usual keyboard in all your apps, not just TikTok.
You now have access to many more fonts and emoji arts, even in the free version.
The Pro version offers you more than 30 additional fonts, 300+ symbols, 300+ Facemojis, 100+ emoji arts, and 100+ quotes.
---
TikTok Fonts Generator

Fontalic's Tik Tok Font Generator has a somewhat different purpose. It is used to generate fonts that can help people use characters in their nicknames as TikTok does not allow them in the names.
TikTok Fonts Generator uses a split-screen to turn a section of text that you type into multiple font variations. To copy the text from the font generator, simply right click on the text that you want to copy and then select Copy. Then right-click on the box and then select Paste to place the text into your TikTok bio.
The Fontalic TikTok Fonts generator gives you more than 100 unique fonts.
---
Fonts Keyboard for TikTok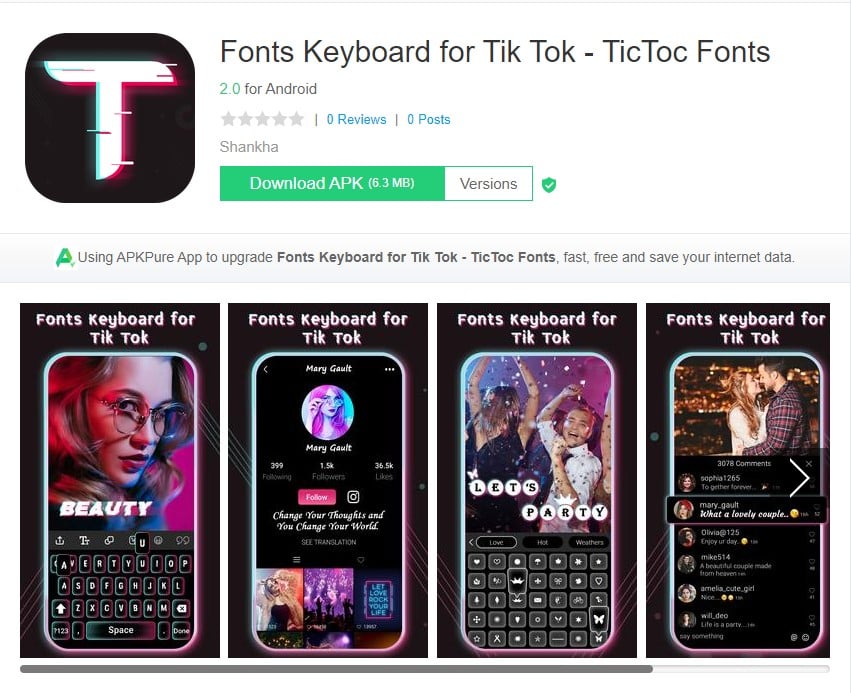 Fonts Keyboard for Tik Tok provides you with another keyboard you can use to replace the standard keyboard on your device. You can use it to personalize your text in TikTok and other apps. It allows you to share cute emoji, text stickers, stylish font styles, and much more.
All you must do is to install the app, tap on the app's request to start and enable the new keyboard, set the keyboard, and select a keyboard theme from the collection.
---
LingoJam TikTok Fonts Generator

LingoJam also provides a way for you to create a different look and feel to your username. It is straightforward to use. You simply enter the text you want to convert into a different font in the first box. The LingoJam TikTok Fonts Generator then shows multiple versions of that text in the second box. Scroll through that box until you find something that you like. You can then copy that relevant section of the text.
Go into your Me page and tap on Edit Profile. Click on your username (or bio) and paste your text in your preferred font into that spot.
---
Cool Fonts Online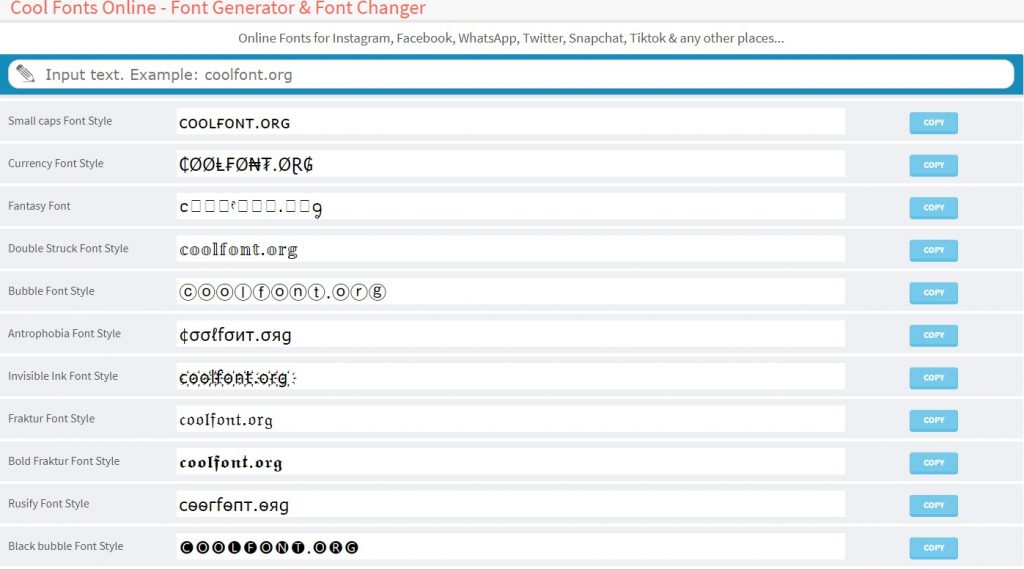 Cool Fonts Online provides a font generator and font changer. You can use these online fonts in TikTok, as well as Instagram, Facebook, WhatsApp, Twitter, Snapchat, and many other places.
The app works similarly to many of the other apps here, in that you type in your preferred text, and then copy the version in the font you most like, before pasting it into your TikTok bio or username. One difference compared to many of the others is that Cool Fonts Online names the font style of all the fonts it uses. These are descriptions of the font style, however, not officially licensed fonts.
---
Fonts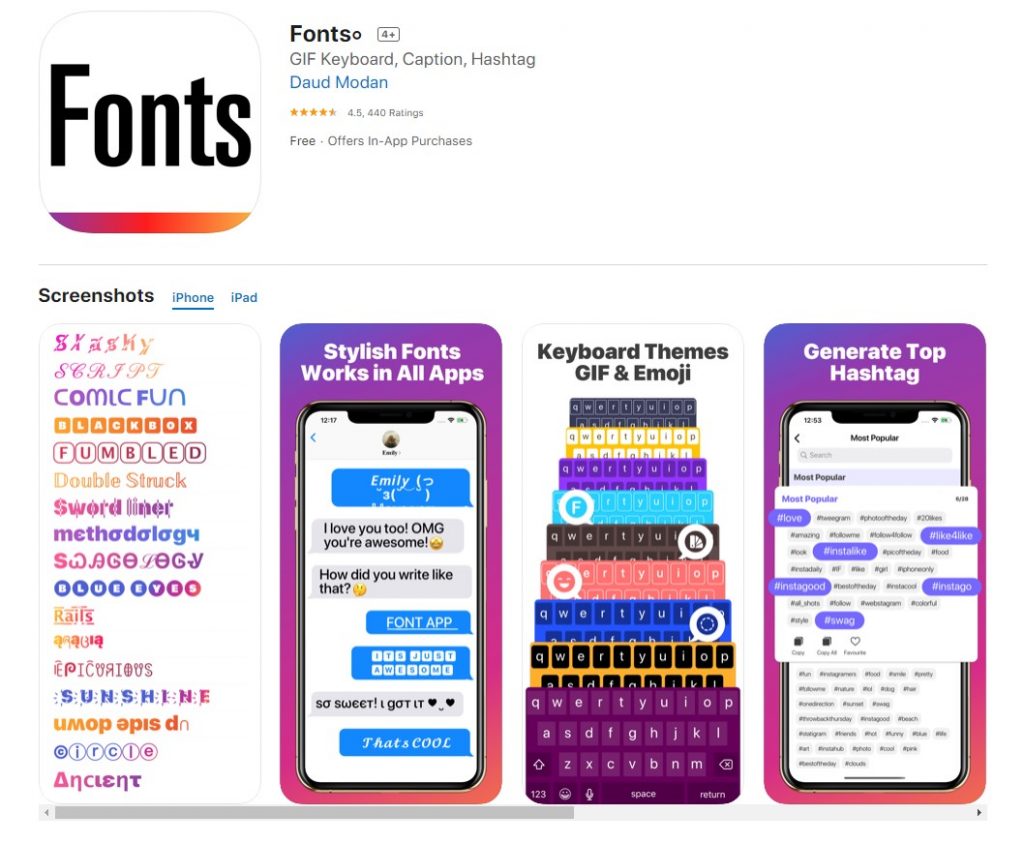 We included this Fonts app in our Instagram Fonts Generator post, where we called it Fonts for Instagram. Well, it certainly has much wider capability than just providing fonts for Instagram, however.
It is available for both Android and iOS platforms. This is a useful tool for making social bios using different fonts. You can also add text decorations and emojis using this tool. It is an all-in-one tool to create engaging bios and usernames. You can try out a variety of different fonts according to your moods, style, and choice of taste. Express yourself better using great quality GIF's, best font style, sassy and savage captions, appropriate hashtags, and much more to lit up your social media game.
It isn't a replacement keyboard; however, so although you can create text in multiple texts for your bio or username, you can't use it to alter the text you include in your videos.
Like many of these apps, there are both free and paid versions. Obviously, the paid version offers many more features. In many ways, you can consider Fonts to be a Freemium product. It gives you a certain number of fonts in the free version; however, you must either upload to the paid version or watch videos to upload additional fonts.
---
Best Practices for Using text in Your TikTok Videos
One thing to be aware of when adding text to your TikTok videos is that TikTok uses the standard Android (and presumably Apple) keyboard unless you have downloaded an alternative. This does mean that not every button on your keyboard will necessarily work as you expect. Although the keyboard suggests you can add stickers and emoji, TikTok uses a separate interface for this. Instead, TikTok comes up with the message, "TikTok doesn't support image insertion here."
You need to ensure that any text adds to your video and doesn't detract from it. You don't want it to take up too large a portion of the screen – nobody wants to read a wall of text in a TikTok video.
Finally, remember that TikTok has an extensive list of community guidelines regarding the material you can upload to the platform. These obviously apply to your entire video, not just the text you use. However, make sure that you don't add text to your videos that would breach their guidelines.