Want to get more followers on TikTok? You've come to the right place. Here, we're going to show you how to grow your TikTok followers with 10 simple things you can do right away. With more than 138 million monthly active users in the United States alone, TikTok is a great platform to focus some marketing attention on—especially if your target audience falls solidly into the Gen Z and Millennial markets.
TikTok is one of the newest social media platforms and despite having gotten its start in 2016 (more than seven years ago), 2020 was a banner year for the platform. As a global pandemic kept people indoors and away from their friends, Tiktok skyrocketed in popularity. And it seems the novelty of the platform hasn't worn off. In fact, as the platform continues to grow, the user base continues to include users outside of the platform's target Gen Z demographic, first expanding to Millennials and then becoming increasingly popular among Gen X and Boomers (though the Gen Z and Millennial bases are still the most represented).
Ready to grab the attention of the more than 1 Billion TikTok users worldwide?
---
How to Grow Your TikTok Followers in 2023:
---
How to Grow Your TikTok Followers
If you want to succeed on TikTok, you need to nurture an extensive presence on the platform. When you have a larger audience, you'll get more attention for your brand so you can increase brand awareness, boost sales, and create lasting relationships with your target audience. While there are platforms you can use to help you get more followers fast, that's really only going to help you short-term. To use the platform to its fullest potential, you need genuine TikTok followers that actually care about your brand and what you have to say.
Fortunately, there are several ways to grow your TikTok followers in 2023: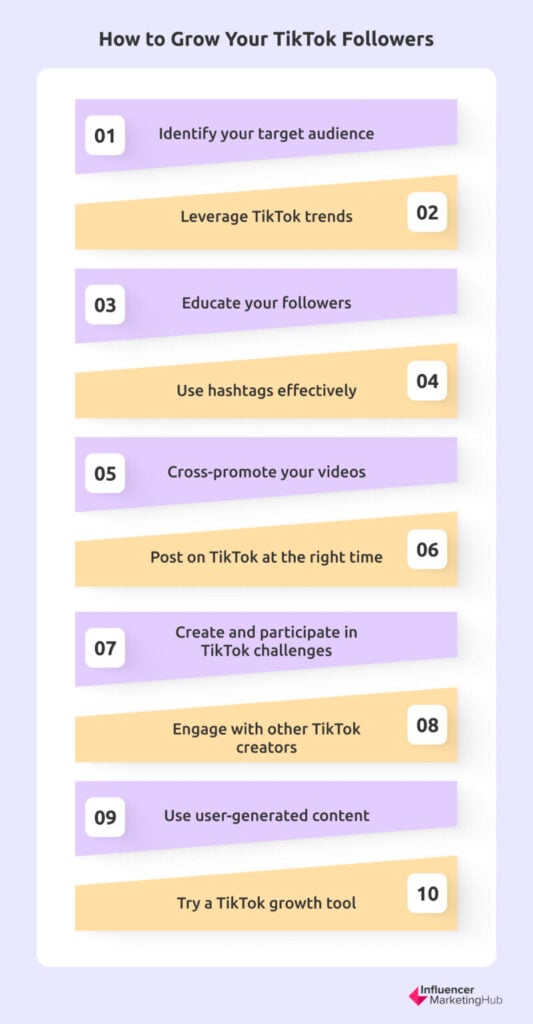 Let's take a closer look at these tips to grow your TikTok followers so you can start implementing today!
To get more insight into your audience, you can use Beacons, a powerful tool for Creators. Not only does it give you new ways to interact with your TikTok audience, but also access to powerful analytics.
---
Get More TikTok Followers With Creativity and Persistence
TikTok continues to increase in popularity so if you're interested in getting more followers on TikTok, there's no time to waste. Using the tips in this article, you'll be well on your way to getting more TikTok followers, increasing engagement, and building a vibrant community on the platform. With more than 800 billion monthly active TikTok users worldwide, it's pretty much a guarantee that you'll find your target audience on the platform—you just need to create the content they want to see.
TikTok's primary feed, the For You page, offers up highly personalized content for each user based on videos they've watched and liked as well as the TikTok creators they follow. Getting your content on TikTok's For You page is key to success on the platform but without the other tips on this list, your likelihood of getting to the For You page, or featuring consistently on the page, is slim.
Each of the tips in this article is important, but don't get overwhelmed. You don't have to implement every single tip all at once. Start by focusing on finding out what your target audience watches on TikTok and when they're most active on the platform. Then, create high-quality content (with a CTA) and publish it during peak times. From there, you'll be in a better position to work on the other ways to grow your TikTok followers that we've included here.
Most importantly, don't be afraid to engage with your target audience and try creative ways to get attention on your TikTok content. Over time, you'll build a powerful following on TikTok that helps you meet your marketing goals.
Frequently Asked Questions
How can you grow your TikTok followers?
If you are just beginning on TikTok, you can use a TikTok growth tool like Social Buddy or FeedPixel. While using such a tool is not the ideal way to get more followers on TikTok, a big follower boost can help to increase your signal with the TikTok algorithm. Then, to get more engaged TikTok followers, it is important that you leverage trends, identify your target audience, use hashtags, post at the right time and create and participate in challenges.
What is user-generated content?
User-generated content (or simply called UGC) is content that was created by actual users. It can help to boost trust in your brand, create more engagement and boost your number of followers. You can, for example, use TikTok to collect user-generated content by beginning your own challenge, hosting a contest or beginning a hashtag trend.
Should you use hashtags on TikTok?
It is a very good idea to use hashtags on TikTok as it can help to grow your TikTok audience. Ideally, you want to use a combination of trending hashtags, business-specific hashtags, branded hashtags as well as general hashtags. As hashtags make it easy to find collections on social media platforms that you are actually interested in, they are very popular.
How can you cross-promote TikTok videos?
You can use your online presence and share your TikTok content on other social media platforms like Instagram Reels. Numerous Instagram Reels users also share their TikTok content on Instagram. You can either simply add your TikTok video with the TikTok watermark to Instagram or first remove the TikTok watermark. By opting to keep the watermark, you can send followers to your TikTok profile and get more TikTok followers.
How can you engage with other creators on TikTok?
It is key that you engage with other creators on TikTok by making use of the stitch and duet features on TikTok to boost engagement. Without being overly promotional, you can try to include information about your services and products when you engage or simply engage with fellow creators because you enjoyed their content.