Social media's significance continues to skyrocket, with a staggering 4.8 billion users as of April 2023, encompassing nearly 60% of the global population. The engagement level is robust, with individuals dedicating an average of 2 hours and 31 minutes daily on these platforms. Remarkably, the usage trend is upward, with a consistent annual rise in social media users since 2012, emphasizing its entrenched role in our daily routines.
This digital arena is not just a social hub but a thriving marketplace. About 25.3% of internet users leverage social media channels to discover products to purchase, revealing a vibrant consumer base awaiting businesses. Moreover, the diverse nature of social platforms is evident as on average, people are active on 6.6 social platforms monthly, providing a fertile ground for brand visibility across different social media landscapes.
In 2023, most companies spend 15% to 25% of their digital marketing budget on social media marketing efforts (organic and paid). As social media continues to be a critical part of the marketing strategy for businesses, the need for professional assistance in navigating this dynamic environment is paramount. Social media agencies are the go-to experts in enhancing your brand's online presence, engagement, and ultimately, its market share in this digital age.
---
Top Social Media Agencies:
---
---
---
---
---
---
---
---
---
---
---
---
---
---
---
---
---
---
---
---
---
---
---
---
Future Trends in Social Media Marketing
This year, we've seen the rise of AI, VR, and other emerging technologies as social media marketing trends. Will they influence the trends we might see in 2024?
Here are some of our predictions for next year's social media marketing trends.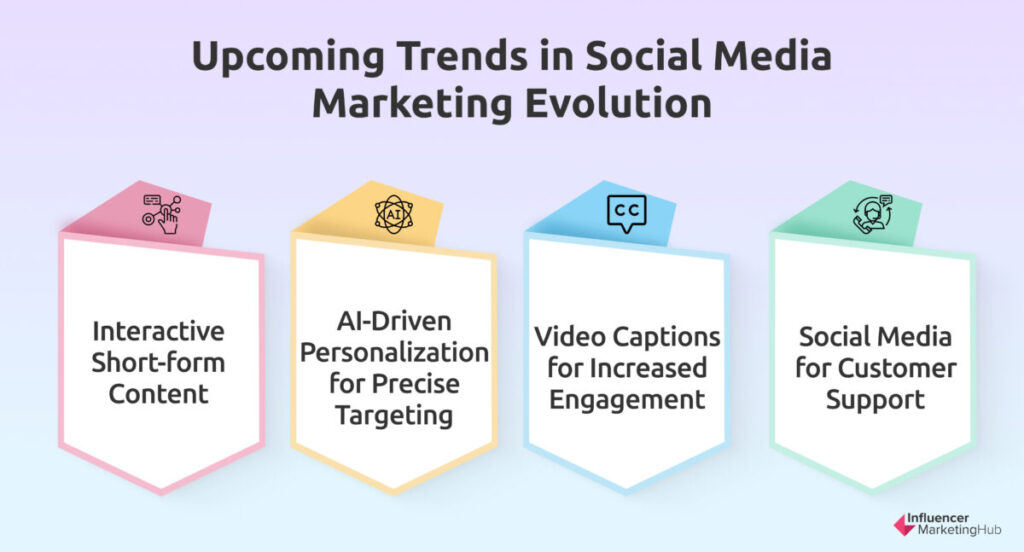 Interactive Short-form Content
Given the rapidly growing popularity of YouTube Shorts, short-form videos will continue dominating social feeds in 2024. This time, they could be enhanced with interactive eCommerce features, allowing users to buy products through links within a video. They could also leave real-time reactions and enjoy augmented reality (AR) experiences.
AI-Driven Personalization for Precise Targeting
AI algorithms in 2024 could make ad retargeting for marketers more precise and authentic to ensure that campaigns reach their target audiences with tailored messages.
Video Captions for Increased Engagement
Captions let users get information without intrusive audio, allowing brands to draw higher engagement, interactions, and possibly followers. 
Additionally, captions may boost your content's chances of getting discovered since viewers may use the keywords from your captions to search for products or services.
Social Media for Customer Support
Marketers are already using Instagram DMs and Facebook Messenger for urgent customer support tasks. According to Invesp's State of Social Media Customer Support, 51% of consumers were "very likely" to become repeat customers of a brand that answers questions on social media, so tap an agency to set up your customer support on social media in 2024.
---
Success Stories and Case Studies
To help you understand how social media agencies empower brands, here are examples of success stories from some of the agencies we've listed above.
Moburst: Reddit
Even though Reddit was an extremely popular website, its mobile app didn't have the same success. Reddit tapped Moburst to enhance its app conversion optimization, especially in the area of the most competitive keyword and phrase.
Moburst conducted thorough keyword research, emphasizing mobile searches to identify which content themes had the highest search volume on the App Store and Google Play. The agency continuously monitored and optimized keyword and download metrics, resulting in steady monthly growth.
In less than a year, Reddit noted a 90% increase in organic downloads. Additionally, over 700 phrases were indexed on the App Store's top five rankings, and Reddit ranked for popular keywords, such as "meme," "memes," "GIF," and "GIFs." It's also worth noting how Reddit's content has spread over other social media platforms like TikTok and Instagram.
---
The Goat Agency: Saints Row
Deep Silver, the publisher of the video game Saints Row, aimed to generate excitement and increase awareness for the game's relaunch. They targeted millennials who would've played Saints Row as teens and Gen Z-ers who are the most active gamers across all generations.
Using influencer marketing, The Goat Agency partnered with creators who shared their creative vision to bring Saints Row to life. Six YouTubers posted videos with unique themes, from an in-game car come to life to the UK singles chart featuring the Saints Row theme song. These efforts led to two meet-and-greet events in London and LA, where gamers could play Saints Row with the creators themselves.
When the game was finally relaunched, influencers across three territories streamed their gameplay content on Instagram, Twitch, YouTube, and TikTok, driving more awareness. The Goat Agency developed different creative strategies for each influencer, making sure that every content was fresh and engaging.
As a result, Saints Row garnered 12.2 million impressions, 9.2 million video views, 15k clicks, and over 1 million players.
---
Ignite Social Media: Crocs
Crocs aimed to increase awareness of their white clogs and build brand affinity among the teenage sports community. They approached Ignite Social Media and the agency implemented a user-generated content strategy, enlisting school sports teams to create and share content featuring white Crocs.
As part of the campaign, participants had the opportunity to enter a sweepstakes where they could win white Crocs for their team and raise money for their school. The campaign successfully generated 3.3 million impressions and received a total of 11.1k entries.
---
Sculpt: NETSCOUT
Tech company NETSCOUT needed to improve its distribution, message resonance, and visibility over competitors. It partnered with Sculpt to meet its goals through social media marketing.
Sculpt's approach was to develop social-friendly creative assets for all brand, solution, and event campaigns. They designed and posted organic and paid videos, infographics, and other promotional visuals on various social channels. The campaign succeeded, resulting in NETSCOUT's partnership with Sculpt evolving into a multi-year relationship supporting various demand generation campaigns.
---
Tips for Choosing a Social Media Agency + Mistakes to Avoid
With so many agencies to choose from, deciding on who to partner with can take time. However, it's crucial to assess your options carefully and to consider various factors before making a decison.
Here are some helpful tips for choosing the right social media agency.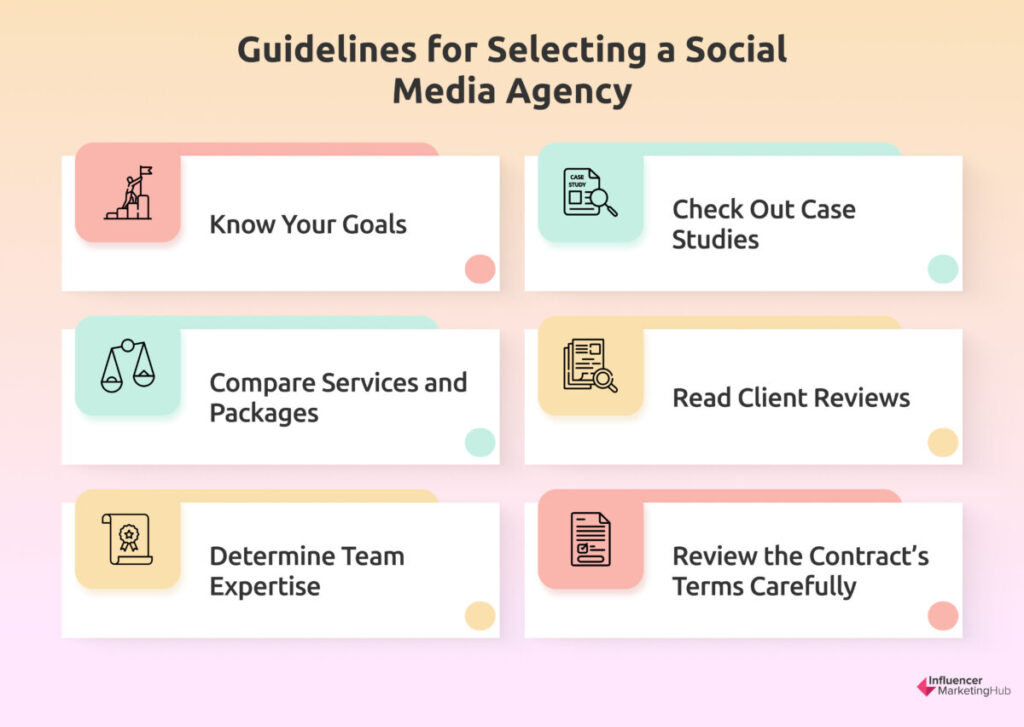 Know Your Goals
Your goals play a crucial role in determining the appropriate social media strategy for your business. They not only help you identify the key metrics to focus on but also influence your budget and available resources.
Examples of realistic goals include increasing leads, engagement, sales, and conversions. By quantifying these goals, you can effectively communicate your desired outcomes to a social media agency, enabling them to devise the most suitable approach to achieve them.
Compare Services and Packages
Not all social media agencies offer the same services. The scope of their packages also differs from one another. To ensure you get the most value, it is important to choose an agency that provides a wide range of services and customizable packages. This way, you can tailor their services to meet your specific needs.
Determine Team Expertise
Ensure that you enlist experts to handle your campaigns. You can check out their portfolios to identify which agency specializes in the campaign you want to build.
Check Out Case Studies
Most social media agencies have case studies on their websites. Be sure to check them out to discover if an agency has a stable track record of reaching or exceeding their clients' goals.
Read Client Reviews
One common mistake to avoid is overlooking client reviews. You can read reviews on Google, Clutch, Capterra, and UpCity. You can also visit the agency's website since they display feedback from prominent clients.
You can also try reaching out to some of the agency's clients to gauge its track record, strategies, and results.
Review the Contract's Terms Carefully
Once you've chosen an agency, don't simply skim over the contract and sign it. Take time to study the terms to avoid unexpected complications. Ensure that you understand the terms and conditions and have a backup plan ready in case the agency doesn't meet your expectations.
---
Conclusion
Hiring the right social media agency is essential for your business growth. If, for instance, you run an eCommerce store and need to promote your products on social media, you'll have to hire an agency that has the resources to create (or edit) product images (or videos).
Start by assessing your needs and social media marketing objectives. Ask yourself: What exactly do you want to achieve from social media marketing?
And then choose a social media agency that will help you achieve these objectives. If you'll work with any agency, it will take you nowhere.
Think. Decide. Act.