Social media has made it possible—even easy—for all businesses to get their message out to a large, growing audience. It's a true leveler of the marketing playing field and gives small and mid-sized businesses a chance to increase brand awareness, get more followers, boost traffic, and get more conversions or qualified leads without spending tons of money to do it.
Fortunately, it's not hard to get started building engagement and sales using the broad reach offered with social media. In this article, we're going to cover 10 social media services you need. These social media services are things you can do yourself if you have the resources and capacity, but they also give you a great starting point for evaluating the social media services offered by a digital marketing agency so you know if they have what you need to achieve marketing success on social media.
10 Social Media Services You Need
If you're a digital marketing agency or social media marketing agency who wants to offer the best social media services to your clients OR if you're trying to get social media started for your brand all on your own, keep reading. Here, we're providing details about the 10 social media services any business will benefit from.
---
10 Social Media Services You Need to Increase Engagement and Sales:
---
1. Full-Service Social Media Package
Let's start out our list with something just for the social media marketing agencies out there. There are tons of ways to bundle up the services your agency provides but before you just start bundling randomly, take a look at your buyer personas. They will give you information about your target audience, what they're struggling with, and what they're looking for. From there, you can create a full-service social media package that they actually want.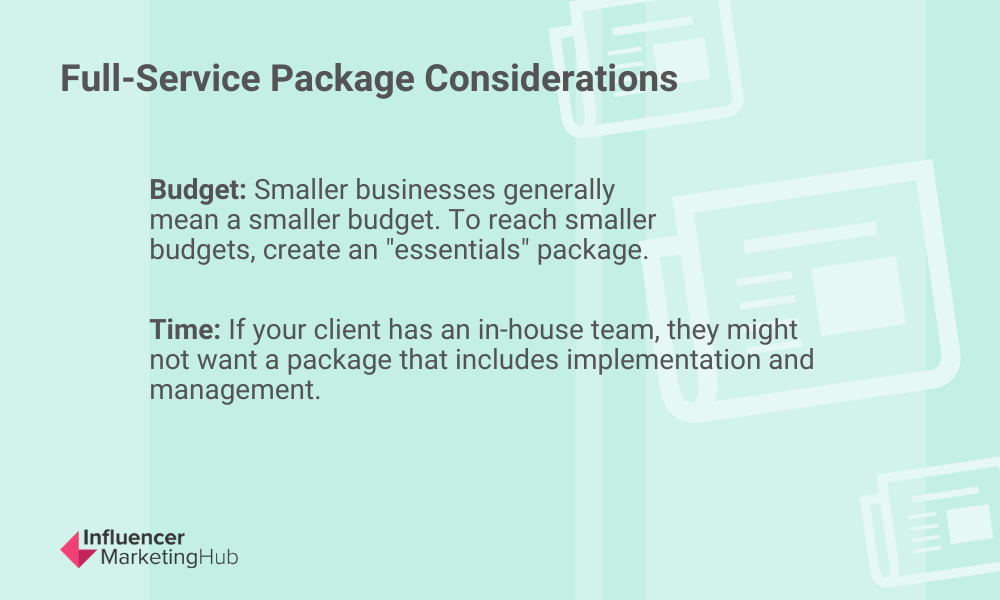 There are several things to consider when building social media service packages. For starters, the budget will play a large role in what your clients are looking for. Smaller businesses probably won't have the budget for many of your higher-end services, so create an "essentials" type package that covers the basics that these smaller brands need for a smaller cost. On the other hand, if you have mid-to-large-sized clients, they'll probably have a larger marketing budget so you can offer them higher-end packages.
After budget considerations, you'll want to consider the amount of time your clients have to devote to implementing their own social media services. Do they have an in-house marketing team to rely on? They probably won't want a full-service package that includes implementation because they can do it themselves. If they don't have an in-house marketing team, offer them a package that includes implementation and management.
We caution against creating custom packages for each client because it's time-consuming and requires in-depth conversations with every client to pull together a contract. Instead, we recommend creating packages for managed social media clients and non-managed social media clients.
---
2. Platform-Specific Social Media Management
Along the same lines as the full-service packages we just covered are the platform-specific social media services. This type of package focuses on a single social media platform and would include everything your clients need for marketing on that platform without having to do a single thing themselves.
Every social media platform offers something a little different, so it's important for you to consider which social media platforms you're going to offer. You will need to be an expert in each platform you offer, so make sure that the platforms you choose to offer are worth the investment for you and your clients.
Now that we've covered the agency-specific social media services, let's get into the specific social media services that agencies should offer and brands should plan on hiring for or doing themselves.
---
3. Develop a Social Media Content Strategy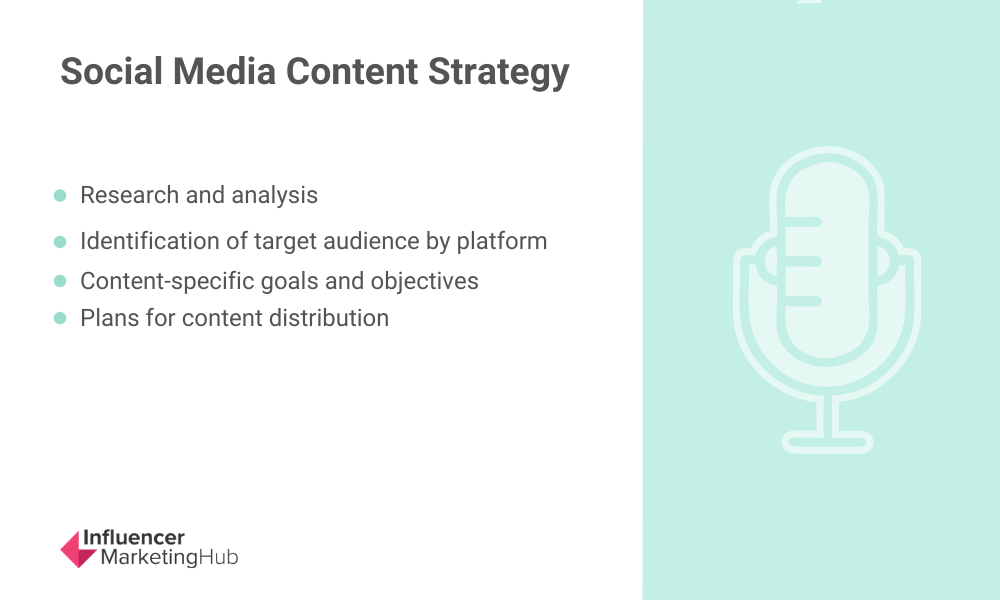 A social media content strategy is mandatory. Sure, some brands just pick a platform and start to throw content out there. They may even see a little success. But without a solid social media content strategy, these brands are naturally limiting how far they can go. Developing a social media content strategy is a vital social media service that helps brands focus on the right audience, the right keywords, and the right message to get followers excited and ready to buy.
So, what goes into a social media content strategy? For starters, all content strategies need to include an editorial calendar that brands can follow to achieve the social media marketing goals they've set. There are several different types of content brands can use and you should definitely mix it up to keep things interesting for your followers. Of course, some types of content work best on certain social media platforms, like video on YouTube, text on Twitter, images on Instagram, short-form to long-form text on LinkedIn, and short-form-video content on TikTok. But that doesn't mean you can't get creative with the types of content you use. Plus, there are other types of content like visual campaigns, contests, and more that can really encourage engagement.
The point of your social media content strategy is to plan out what you're going to share and when. This also makes it a lot easier to use social media analytics tools to find out what types of content work best on each platform for your specific audience.
---
4. Profile Creation and Branding
There are so many brands that don't put any thought into their social media profiles and branding—don't be one of them. If you're a brand hiring an agency to handle your social media for you, make sure that one of the social media services they offer is profile creation and branding. This service helps brands get started off right on social media with a profile that reflects who they are as a brand, making it easy for potential customers to find them on different platforms and know what they're going to be getting when they engage.
Profile creating and branding is also a great social media service for agencies to start with since it's such an easy way to familiarize brands with your agency and how you work. Agencies can help brands create profiles on the right social media platforms and get them set up with SEO-friendly profiles that will make them easily discoverable.
---
5. Social Media Content Management
There are brands who like managing their own social media content, but this is also one of the most common social media services offered by agencies, so brands need to really think about how hands-on they want to be. Wanting to control your social media content makes sense. It's your account and your name and when it comes down to it, your reputation.
If you want to maintain control of your content but don't have to do the work of posting or scheduling your social media content, you can always hire a social media marketing agency to schedule the content and maintain your social media presence for you. In this case, you'd provide the content to your agency and they would then create the calendar and do the scheduling. This means that your brand will still have control over your social media content without the time investment of handling account management.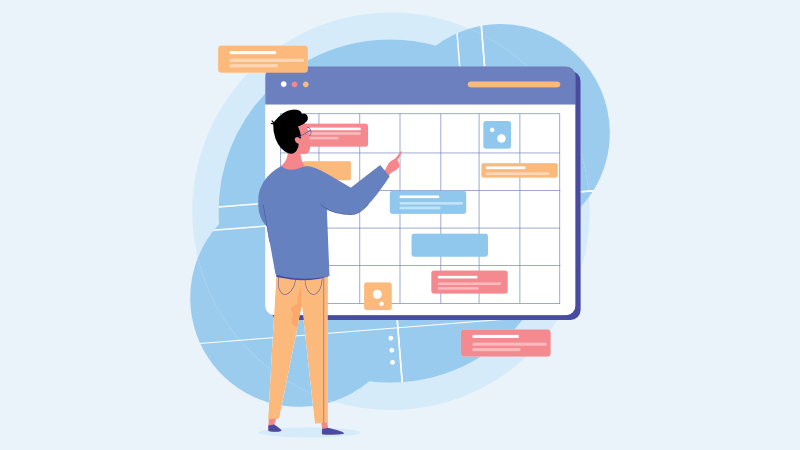 Of course, there are many ways you can share the workload between brands and agencies. Brands could provide just a general idea of what they want to share and offer final approval on the content before it gets scheduled, for example. Or, brands could provide a complete post (with visuals and copy) that the agency then schedules and monitors. Regardless of how brands share the work with their agency, your social media content has to be valuable to followers, able to grab attention, and act as a conversation starter.
In addition to creating the right type of content with the right message, the content needs to be posted at the right time to get the best engagement. When brands use multiple social media platforms, as many do, it can be complicated to find the right time to post on each of those platforms. The best time to post on Instagram, after all, may be entirely different than the best time to post on Facebook. This can be further complicated if brands have an international audience.
Brands look for agencies that offer social media services to make their lives easier and simplify their social media management. As we mentioned earlier, a content calendar is one of the best ways to keep everything organized while still offering flexibility to change things up in response to current events as needed.
---
6. Influencer Outreach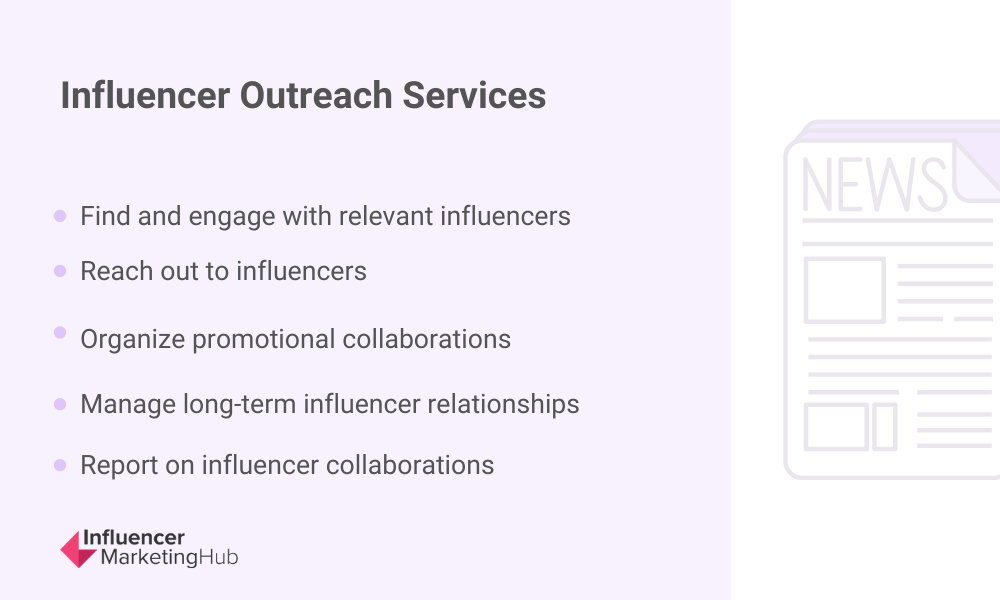 Influencer marketing is another social media service that can have an enormous impact. According to a report by Rakutenmarketing (2019), 80% of consumers have made a purchase after having seen it recommended by an influencer. Clearly, influencer marketing works. But 61% of marketers say that finding relevant influencers for a campaign is difficult.
Agencies can make this process a lot easier by offering influencer outreach social media services like:
---
7. Community Management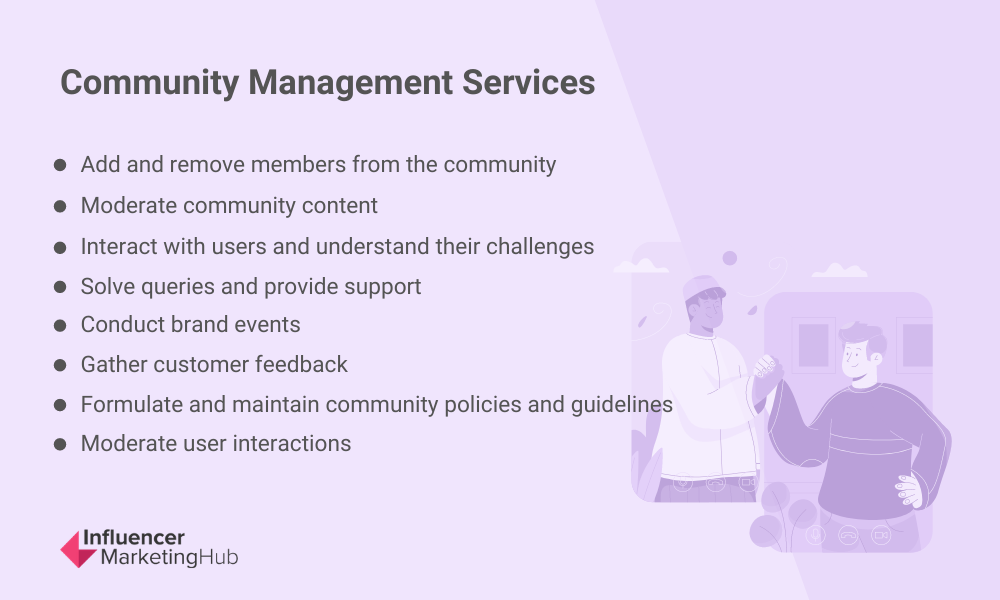 Community management is another social media service that can be highly valuable to brands. A strong online community is shown to increase customer spend as well as increasing brand affinity and loyalty. Here are some of the community management activities that agencies can offer:
Adding and removing members from the brand's community

Moderating the community content for the brand

Interacting with users and understanding their challenges

Solving queries of community members and providing support

Conducting brand events for community members

Gathering customer feedback for the brand

Formulating and maintaining community policies and guidelines

Moderating the user interactions within the community
---
8. Social Media Advertising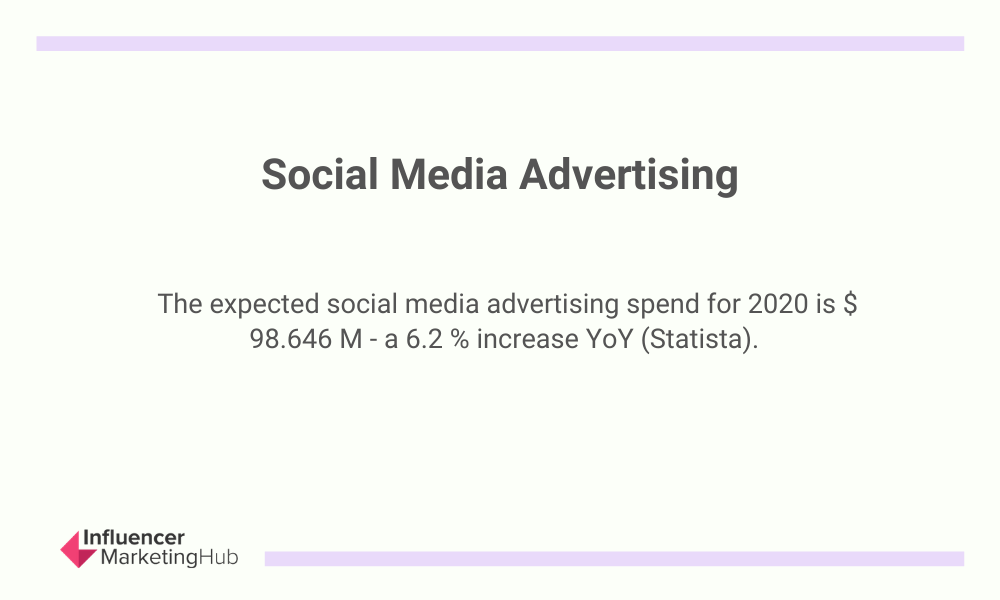 Social media advertising spend is expected to hit $98.646 million worldwide in 2020, a 6.2% increase year-over-year (Statista). Facebook advertising is one of the most popular social media advertising platforms, but it's important to focus on social media advertising for the platforms that make the most sense for your brand. For example, if you're a B2B business, your best bet might be LinkedIn advertising. If your target audience is predominantly Gen Z, TikTok advertising might be right for your brand.
Either way, expect to spend 10%–15% for advertising management fees on top of your actual ad spend if you go with an agency to manage your social media advertising.
---
9. Research and Analysis
Vital social media services don't end one content is posted and ads are run. Research and analysis are important to ensure that brands are reaching their full potential on social media. This includes reaching the right audience, keeping up with and outperforming competitors, how influencer marketing campaigns, content, and ads are performing, and the general sentiment about a brand.
There are several social media listening tools and analytics tools that can help brands track campaigns, identify topics they should be talking about, hashtags they should be using, and where they should be engaging with followers. Keeping track of your performance will provide the data you need to adjust your campaigns to have a great impact so you're not just spinning your wheels.
---
10. Social Media Training
Despite the rise of social media over the past several years, some business owners may not be familiar with it. While they probably use it in their personal lives, that's a very different use than social media marketing for business. To bridge this knowledge gap, many agencies are now including social media training in their social media services. This training could include teaching brands how to engage with followers using conversational language instead of industry buzzwords and jargon. Other areas of social media training include creating a company social media policy, teaching employees how to become brand advocates, or even teaching brands how to build an in-house social media team.
---
Give Your Clients the Social Media Services They Need
The social media services we've outlined here can help brands increase engagement and sales. If you're an agency, offering these services will help your clients reach their business goals; for brands, these are areas you need to consider when building your own social media marketing strategy or when hiring a social media marketing agency to manage your social strategy for you.