Advertising Disclosure
Advertising disclosure:
Our partners compensate us. This may influence which products or services we review (also where and how those products appear on the site), this in no way affects our recommendations or the advice we offer. Our reviews are based on years of experience and countless hours of research. Our partners cannot pay us to guarantee favorable reviews of their products or services.
Ever wondered why some brands resonate so powerfully online while others barely make a ripple? In the vast ocean of the digital realm, where every click, like, and share holds potent value, the secret often lies in mastering the nuances of social media optimization.
As businesses scramble to carve their niche in this bustling virtual marketplace, the right marketing strategy and partnership can make all the difference. This is where Social Media Optimization Services (SMOS) step in, turning potential into palpable results. But with a plethora of agencies vying for your attention, how do you choose the best? Dive in as we unravel the expertise, strategies, and unique offerings of 11 leading providers, ensuring your brand doesn't just navigate but thrives in the dynamic waters of the digital age.
---
Best Social Media Optimization Services Providers
Top
social media optimization services
2024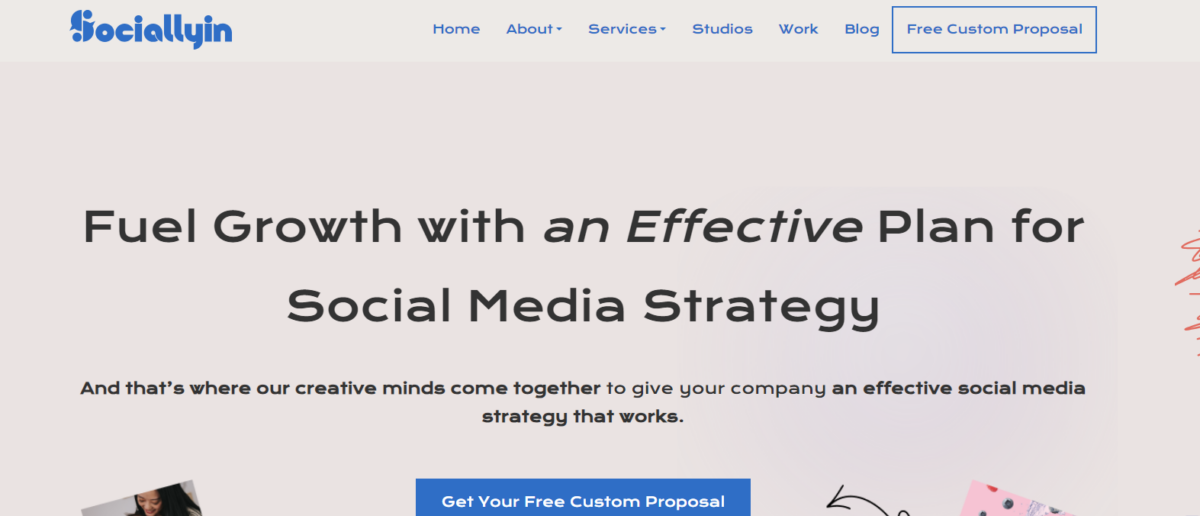 Recognized for its next-generation social media management and optimization, Sociallyin distinguishes itself by blending in-depth research-based strategies with innovative content that ensures brands remain in vogue. With an unwavering commitment to success, the agency sets the gold standard by initiating each partnership with a comprehensive kickoff call, followed by the launch of impactful social media posts. Employing a data-driven approach, Sociallyin's strategies are meticulously calculated, ensuring every marketing move is informed and effective. This allows brands to enhance identity, message, and values so they resonate seamlessly through powerful, engaging content.
Yet, what truly sets Sociallyin apart is its emphasis on clear and concise reporting. Understanding the imperative nature of transparency, the agency offers clients real-time access to performance dashboards, ensuring they're continually apprised of campaign progress. Their strategy also encompasses a holistic understanding of the evolving digital landscape. From creating tailored strategies to monitoring conversations around brands and distributing compelling content across platforms, they foster comprehensive brand visibility.
Notable Clients:
Angi
Lenkensdorfer
Shokz
Gift Card Shop
---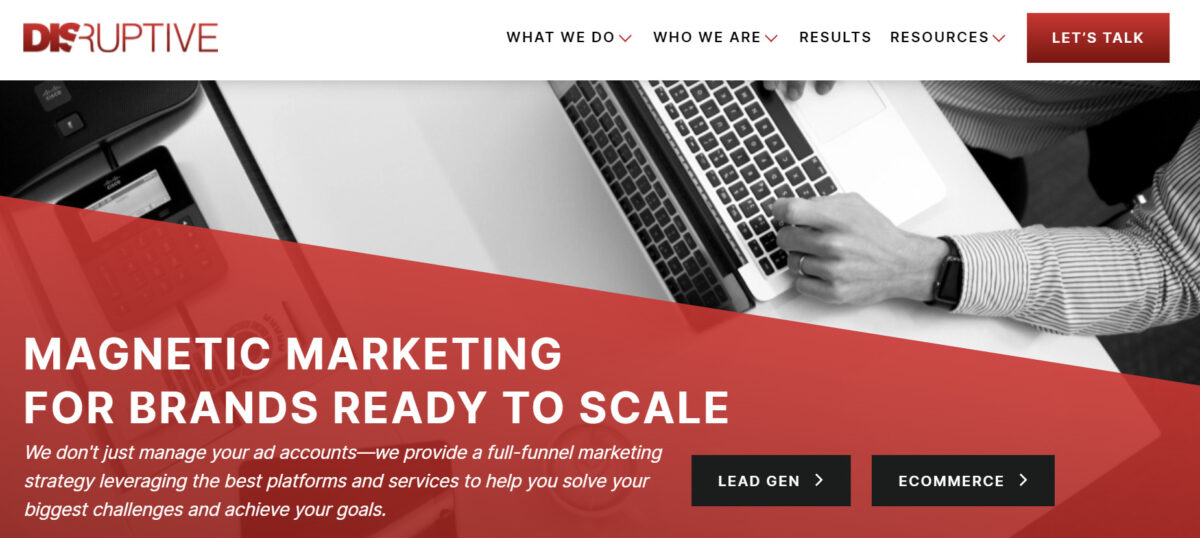 In the bustling domain of social media optimization, Disruptive Advertising has carved out a name for itself by offering a comprehensive and strategic approach to digital marketing. As a full-service agency, Disruptive ensures businesses remain relevant amidst the ever-evolving social media landscape. Their claim to mastery is backed by an impressive ad spend of over $1 billion and a growing list of satisfied clientele. Emphasizing the pivotal role of Social Media Advertising, Disruptive incorporates innovative tools and practices to guarantee results, with a 2022 record showing a 20.1% growth in social media video ad spending. Their comprehensive suite of services encompasses Facebook & Instagram Ads, TikTok marketing, Snapchat's Ads Manager usage, LinkedIn Ads lead generation, and a goal-driven Twitter advertising strategy, making them a one-stop-shop for businesses looking to elevate and optimize their online presence.
What further distinguishes Disruptive is their commitment to personalized marketing, brand authority, and expanding client reach. Their methodologies not only augment brand visibility but also foster a trusting relationship between brands and their audience. Bolstering their credentials, they boast partnerships with major platforms like Facebook and Twitter, ensuring they're not only familiar with but are ahead of the curve. With Disruptive Advertising, businesses are assured of a tailored, ROI-driven approach that transcends traditional social media advertising and optimization paradigms.
Notable Clients:
Xactware
PoliteMail
Scotts Miracle-Gro
---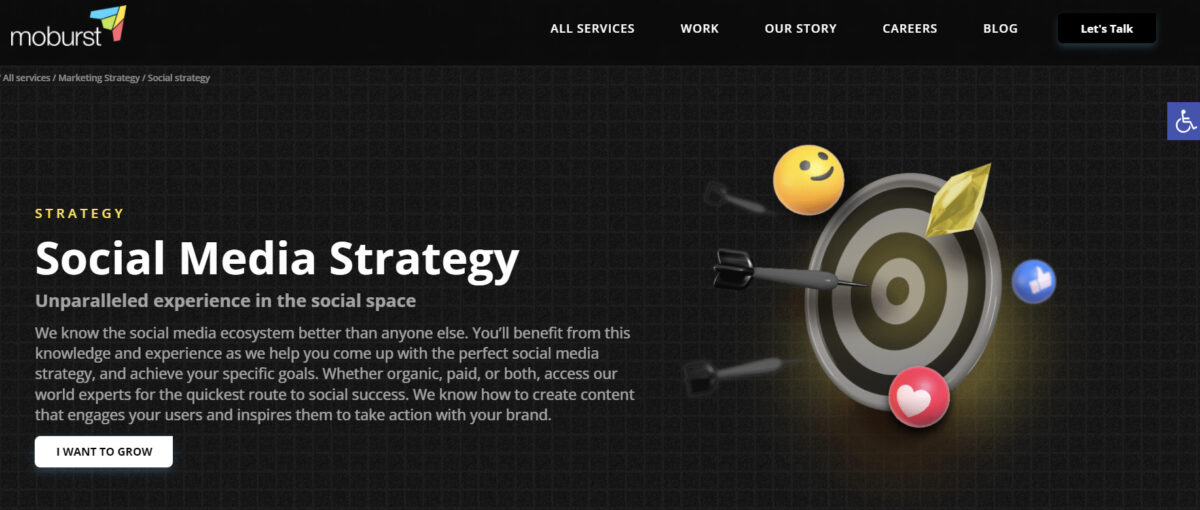 Moburst stands as a paragon in the arena of social media optimization, bringing to the fore a comprehensive blend of organic and paid social media strategies. At its core, Moburst emphasizes the significance of a holistic digital presence, offering a suite of services spanning strategy formulation and brand positioning to impeccable design, copywriting, and app store optimization solutions. Their approach is firmly anchored in performance-driven methodologies; every month, they delve into empirical data, gauging the optimal times to post, evaluating content types that resonate the most with audiences, and recalibrating their strategies based on these insights.
Distinguishing them further, Moburst's process for social media success is meticulous. It commences with research to pinpoint the aptest channels for campaigns, followed by the development and execution of a unique content strategy and concludes with a rigorous analysis and optimization based on results. Their expertise encompasses an array of content forms, including posts, reels, influencer videos, and even YouTube shorts, catering to a wide spectrum of platforms. With a keen grasp of the intricate nuances among different social media platforms, Moburst ensures that the broadcasted message is always pitch-perfect. Their portfolio, highlighted by significant case studies, stands as a testament to their prowess in amplifying brands in the digital age.
Notable Clients:
Samsung
Uber
Mailwise
Discovery
---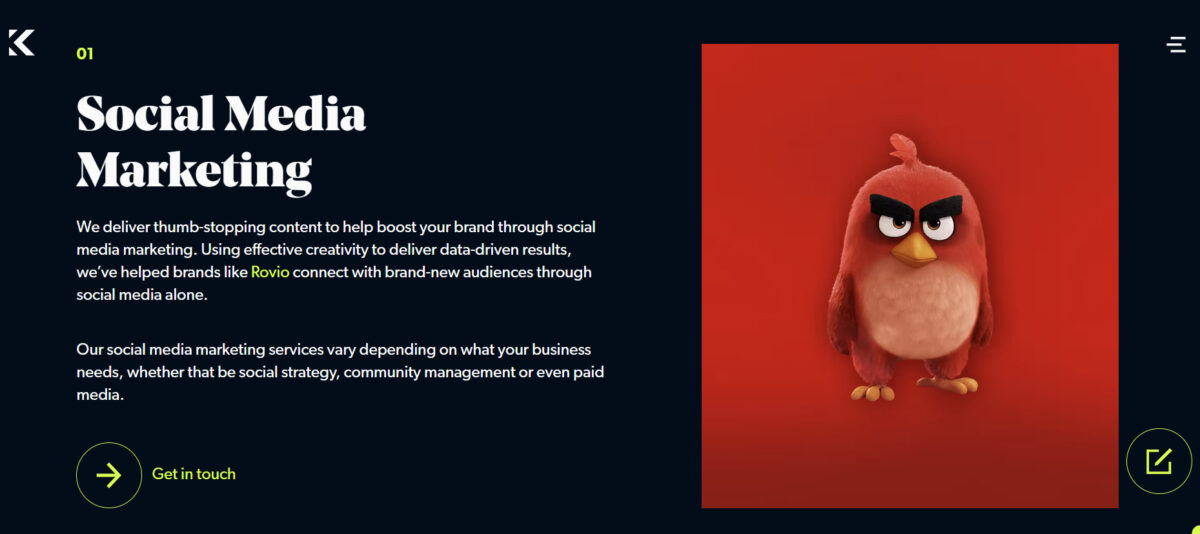 Kairos presents a harmonious blend of art and science in the realm of social media optimization, setting new benchmarks with its innovative approaches. The agency's expertise in social media marketing and optimization is evident through its commitment to deliver 'thumb-stopping content,' a testament to their knack for crafting captivating visuals and messages. With a proven track record, evidenced by successful campaigns for brands like Rovio, Kairos doesn't just offer generic social media strategies; they tailor their services, encompassing social strategy, community management, and paid media, to meet specific business needs.
Further solidifying their dominance in the digital space, Kairos has etched a significant mark in influencer marketing. With the advantage of being born in the creator era of social media and housing over 45 exclusive creators, they expertly link brands to creators, making their campaigns resonate deeply with target audiences, as seen in their collaboration with Revolut. Moreover, their prowess extends to content production and gaming marketing, tapping into the pulse of the digital generation. The unique offerings of KLabs™ and VERSUS demonstrate Kairos' commitment to innovation and their drive to provide brands with bespoke solutions. With a diverse portfolio and a slew of satisfied clientele, Kairos emerges as a beacon in the vast expanse of social media optimization agencies.
Notable Clients:
KFC
Revolut
Porsche
Samsung
---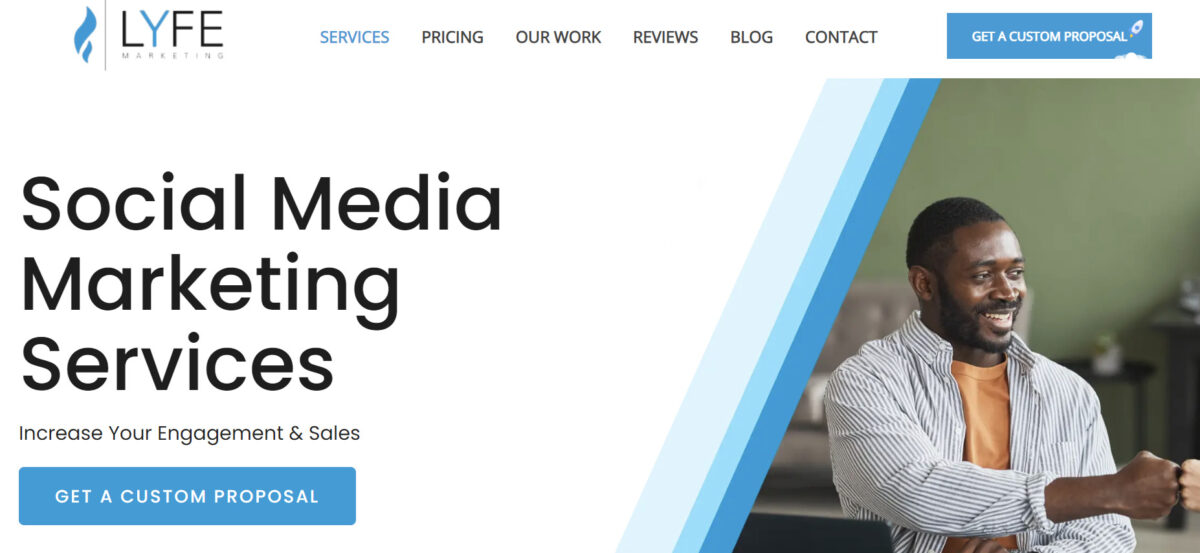 Lyfe Marketing stands out as a comprehensive social media optimization agency committed to enhancing brand visibility and fostering meaningful engagement. They position themselves as an end-to-end solution for businesses seeking to augment brand awareness, elevate website traffic, and cultivate lasting relationships with their audience. Central to their offerings is the focus on curating a tailored social media presence for brands. Their diverse suite of services, ranging from image posts to vertical video content across platforms like Facebook, Instagram, and TikTok, underscores their versatility and comprehensive approach.
The agency's systematic methodology, starting with dedicated account management, strategy formulation, content calendar creation, and growth optimization, ensures businesses receive a holistic service tailored to their unique needs. The emphasis on client collaboration, where every strategic move is mutually agreed upon, reinforces transparency and alignment with the brand's vision. Additionally, Lyfe Marketing's real-time reporting and daily management ensure businesses remain in the loop, witnessing their brand's growth trajectory. In the realm of social media optimization agencies, Lyfe Marketing emerges as a holistic partner, bridging the gap between brand aspirations and digital milestones.
Notable Clients:
Streamshift
PoolTree
Dime
Vulcan
---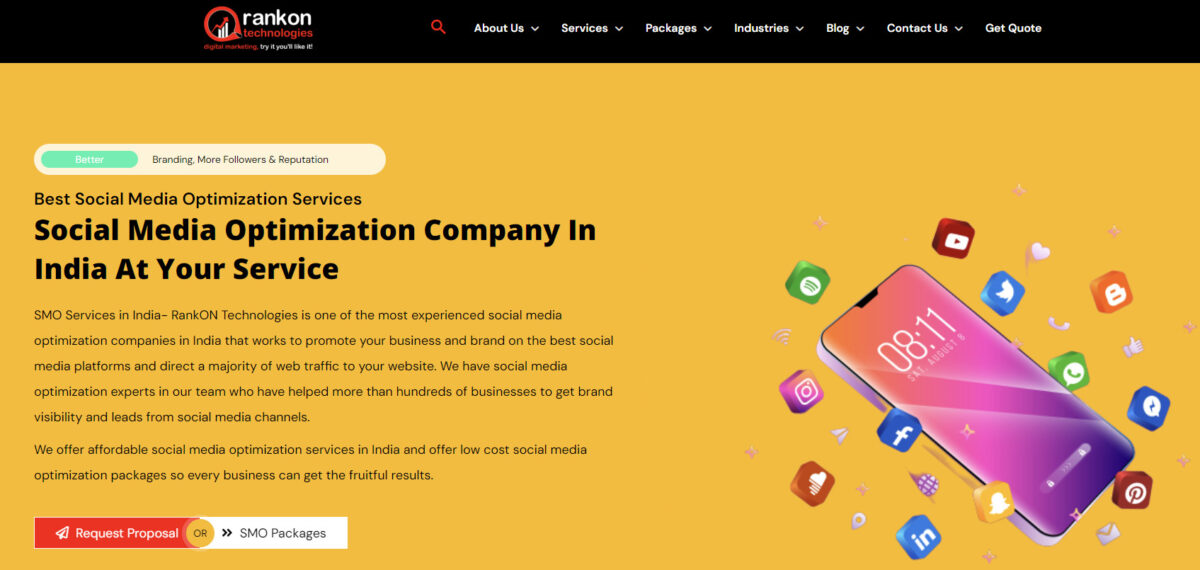 Rankon Technologies firmly establishes itself as one of India's premier social media optimization agencies, offering a comprehensive array of services designed to magnify a brand's online visibility and engagement. Recognized for its deep-rooted experience in the domain, Rankon Technologies' expertise is evident in their commitment to tailoring strategies to the unique objectives of each business they collaborate with. This adaptability ensures that the promotion of a brand on essential social media platforms leads to increased web traffic and brand recognition.
The diverse suite of services provided by Rankon Technologies includes optimization for major platforms such as Facebook, Instagram, YouTube, LinkedIn, Twitter, Pinterest, Snapchat, and Tumblr. This widespread coverage ensures brands tap into various audience demographics. Another notable strength is their focus on delivering affordable packages so businesses of all sizes can reap the benefits of a robust online presence. By using competitor analysis software, strategic planning, high-quality content creation, and active customer engagement, they maintain an edge over many of their contemporaries. The testimonies from a myriad of satisfied clients further attest to Rankon Technologies' prowess in the realm of social media optimization, reinforcing its position as a top-tier choice for businesses aiming for digital excellence.
Notable Clients:
Apple Fostering
Life Holidays
Panel Pros
Esselate
---

Radiansys presents itself as a comprehensive social media optimization agency with a focus on creating impactful and engaging digital presences for businesses. One of their primary offerings is a meticulous and in-depth social media presence analysis. Before implementing any strategies, their team of digital marketing specialists delves deep into assessing a business's existing online footprint. This proactive approach ensures every potential avenue for enhancement and expansion is explored.
Building on this foundation, Radiansys proceeds to develop a tailored SMO strategy, taking into account essential elements such as content formulation, budget allocation, audience targeting, and precise reporting for both organic and paid social campaigns. What sets Radiansys apart is its expansive coverage of multiple social media platforms, including but not limited to Facebook, Twitter, LinkedIn, Snapchat, Pinterest, Google+, and YouTube. This ensures that businesses can tap into various audience demographics for maximal outreach. Further enhancing their services, Radiansys offers continued post-project support, which encompasses social network monitoring, community management, and strategy updates rooted in the latest digital insights. For businesses looking to fortify their digital presence with a trusted partner, Radiansys proves to be an impeccable choice.
Notable Clients:
Wells Fargo
Star Casualty
Habit Better
Goodaction
---

Socinova stands at the forefront of social media optimization, demonstrating a comprehensive understanding of enhancing a brand's online presence through meticulous content optimization across various social media platforms. The agency's primary objective is to transition a brand's digital footprint from "Good" to "Best", ensuring that content not only engages and resonates with the intended audience but also encourages organic sharing and interaction.
Diving deep into what makes Socinova unique: their strategies are rooted in data, experimentation, and the powerful leverage of word-of-mouth marketing. They proficiently harness the advantages of video marketing, alternative social networks, and current social media trends to bolster a brand's online reputation. This proactive approach in reputation management ensures negative feedback is seamlessly overshadowed by positive reviews. Their efficacy is further underscored by their impressive track record, with an average growth in engagement ranging between 15-40% for their clients. Furthermore, Socinova's credentials include over ten awards and certifications, with 100+ glowing client reviews to vouch for their expertise. As a testament to their commitment to results, they offer tailored services that adapt to the unique needs of every business, solidifying their position as a leading social media optimization agency.
Notable Clients:
The Herbs Place
C6 Marine
Trip Gain
BG Media Solutions
---

LSEO excels as a top-tier Social Media Optimization (SMO) agency, providing a crucial lifeline for businesses seeking to harness the full potential of their social media channels. In a world where time is a precious commodity for business owners, LSEO offers a dedicated team of experts to steer your social media strategy in the right direction, freeing you to concentrate on the day-to-day operations of your business.
The agency understands the transformative impact of social networks like Facebook, Twitter, Instagram, Pinterest, and LinkedIn on contemporary business connectivity. With billions of users engaged on these platforms, LSEO recognizes the boundless opportunities to showcase brands to a vast and diverse audience. Their commitment to guiding businesses in crafting successful social media strategies is evident in their unwavering focus on enhancing social media reach, brand awareness, and conversion rates. To underscore the power of these platforms, LSEO presents compelling statistics, highlighting daily and monthly user engagement on major social media networks. By offering precise audience targeting, effective content marketing, and engagement strategies, LSEO stands as the ideal partner for businesses aiming to leverage social media's potential to drive tangible results.
Notable Clients:
Ice Barrel
PAK Pediatrics
Heller's Gas
Beleza Na Web
---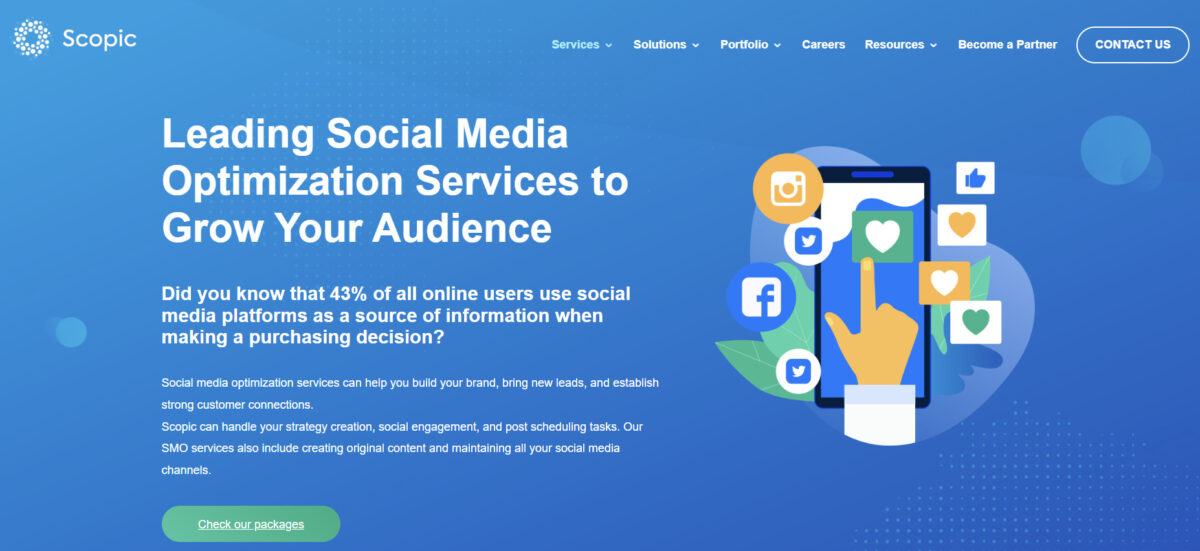 Scopic Software delivers robust social media optimization services designed to bolster online engagement and enhance brand presence. Their SMO offerings are both comprehensive and strategic, catering to businesses aiming to capitalize on the expansive reach of social media platforms. They claim that a staggering 43% of online users leverage social media when making purchasing decisions. So, Scopic Software meticulously crafts services that encompass strategy formulation, social engagement, post-scheduling, and original content creation to elevate brands on social platforms. Their prowess extends across major platforms, including Facebook, Twitter, LinkedIn, Snapchat, Pinterest, Google+, YouTube, and more, ensuring that businesses can tap into diverse audience demographics.
Their holistic approach to social media optimization makes Scopic Software stand out among its peers. Their experts begin with a thorough analysis of a company's existing social media footprint, identifying avenues for improvement and expansion. The emphasis on creating high-performing social media content aims to bring tangible value to both potential and existing customers. Their comprehensive SMO services are further complemented with post-project support like social network monitoring, community management, and periodic strategy updates rooted in the latest digital innovations. For businesses aiming to harness the power of social media for tangible ROI, Scopic Software emerges as a compelling partner in their digital journey.
Notable Clients:
StocksToTrade
Gorilla Workout
FitStation
Interview Focus
---
Nascenture presents an unparalleled suite of social media optimization services meticulously designed to amplify brand awareness and foster meaningful connections in the digital realm. Their offerings emphasize the creation of a formidable online brand presence, ensuring businesses can tap into their target audience while magnifying engagement levels. Nascenture's adept team of social media experts endeavors to bridge the virtual gap between brands and audiences, emphasizing a harmonious blend of modernity and creativity in their strategies. Their suite is comprehensive, embracing every facet of social media marketing, from formulating potent strategies to their flawless execution.
The agency's SMO services extend beyond mere platform management; they infuse uniqueness in SEO content, ensuring coherence and alignment with the overarching business objectives. Emphasizing the manifold advantages of SMO, Nascenture elucidates the power of rapid updates, brand building, enhanced communication, and heightened website visibility, all of which culminate in customer satisfaction and augmented traffic influx. Their commitment to transparency, strategic planning, and continual post-project support underscores their dedication to clients. With a potent blend of experience, expertise, and cost-effectiveness, Nascenture emerges as a leading choice for businesses keen on harnessing the transformative power of social media.
Notable Clients:
Vive Health
Online Guitar Courses
Get Your CV
CrossXCourt
---
Key Social Media Optimization Statistics You Can't Ignore
When it comes to Social Media Optimization (SMO), the statistics are a testament to its soaring importance. Here are a few numbers that highlight its significance:
Billions of Users: As of last year, there are approximately 4.89 billion social media users globally

. That's over half the world's population, emphasizing the potential reach of a well-optimized social media strategy.

Increase in Lead Quality: Brands that optimize their social media engagement can experience a lead quality increase of up to 59%

, translating to better sales numbers.

Social Reviews: Social media plays a key role in modern online shopping, with 71% of shoppers more likely to purchase products after checking a brand's social media reviews

.
---
Industry Averages and Key Performance Indicators in SMOS
Success in Social Media Optimization Services (SMOS) is often quantified by benchmarks and Key Performance Indicators (KPIs). Understanding industry averages can help brands set realistic goals and measure their success comparatively. Here are some essential benchmarks and KPIs:
Engagement Rate: On average, the top-performing Instagram brands maintain an engagement rate of 1.05%

. This KPI tracks likes, shares, and comments relative to the total follower count.

Click-Through Rate (CTR): The industry average CTR for Facebook ads hovers around 0.9%

. Brands achieving higher than this average are considered to be optimizing their ad content effectively.

Conversion Rate: A crucial metric, the average conversion rate from social media traffic is around 2.37%

. It measures the effectiveness of turning engaged users into paying customers.
Brands aiming for success in the social media space must stay informed about these averages to tailor their strategies effectively.
---
 Conclusion
The power of Social Media Optimization Services (SMOS) in shaping a brand's online destiny cannot be overstated. As we delved into an extensive review of 11 leading providers, the uniqueness of each agency's approach and expertise became abundantly clear.
The evolution of social media optimization is evident in emerging trends like video dominance, augmented reality experiences, and ephemeral content, making it crucial for brands to stay attuned to these shifts. Armed with insightful statistics, benchmarks, and KPIs, businesses can make informed decisions to pair with an optimization service to transform their digital presence and elevate their brand to new heights in the dynamic world of social media.
Frequently Asked Questions
How do Social Media Optimization Services (SMOS) align with SEO strategies?
 While SEO primarily focuses on improving website visibility in search engine results, SMOS ensures that a brand's content is optimized for sharing and engagement on social platforms. Together, they work harmoniously to boost a brand's overall digital footprint.
What tools are commonly used in SMOS to track performance?
Several tools, including Google Analytics, Hootsuite, and Sprout Social, help businesses track social engagement, reach, shares, and more. These tools provide insights into how well a brand's content is resonating with its audience.
Can SMOS assist in online reputation management?
Absolutely! A well-optimized social media strategy not only boosts visibility but also allows brands to monitor mentions, feedback, and reviews, enabling them to address concerns and maintain a positive online reputation.
How do I know if my business needs professional SMOS?
If your business is struggling to achieve desired engagement levels, facing difficulty in content sharing, or lacking a cohesive brand image across social platforms, it might be time to consider professional SMOS. They offer expertise in optimizing content and strategies to enhance your brand's online presence.