A well-executed eCommerce marketing strategy is vital to any seller's success. If you want to grow your brand, you'll need to maximize awareness, conversions, and customer retention — all of which can be achieved by leveraging paid media.
If you're just getting started with paid media, it can seem a little overwhelming at first. How do you know which channels to use? How can you tell if your campaigns are working? This guide will break it all down for you and teach you how to use paid media effectively in your eCommerce marketing strategy.
---
A Seller's Guide To Paid Media: The #1 eCommerce Marketing Strategy:
---
Why Is Paid Media a Strong eCommerce Marketing Strategy?
Paid media is often a top-performing digital marketing strategy for eCommerce sellers. Compared to other tactics like SEO, organic social, or email marketing, paid media has several important advantages:
Faster results

- Paid ads start reaching your customers as soon as your campaigns go live. Compared to organic tactics that may take months to gain traction, paid media yields results almost immediately.

Better targeting

– Paid media provides a variety of precise targeting options (demographics, location, interests, etc.), so you can ensure your campaigns only reach your best-fit customers.

Scalability

– Unlike other marketing strategies, you can double or triple your paid media investment without adding two or three times as much work to your plate.
Additionally, paid campaigns generate vast amounts of valuable data that you can use to boost the rest of your marketing efforts. For example, it's easy to uncover which messaging is most effective using A/B tests.
---
What Types of Paid Media Ads Should eCommerce Sellers Use?
The term "paid media" encompasses a variety of advertising channels and formats, each with their own strengths and weaknesses. Incorporating multiple paid media channels into your eCommerce marketing strategy will yield the best results.
Let's review some of the most popular paid media channels for eCommerce sellers.
Google Ads
Google Ads is the most popular paid advertising tool among online retailers. With over 4.3 billion users worldwide, this leading search engine provider likely reaches the majority of your target audience.
Google offers a few advertising options, including Search, Shopping, and Display. Here's what you need to know about each of these ad types.
Google Search Ads
Today, 92% of eCommerce sellers use Search Ads. These keyword-driven text-based ads appear at the top of SERPs (Search Engine Result Pages) and catch visitors' attention right away.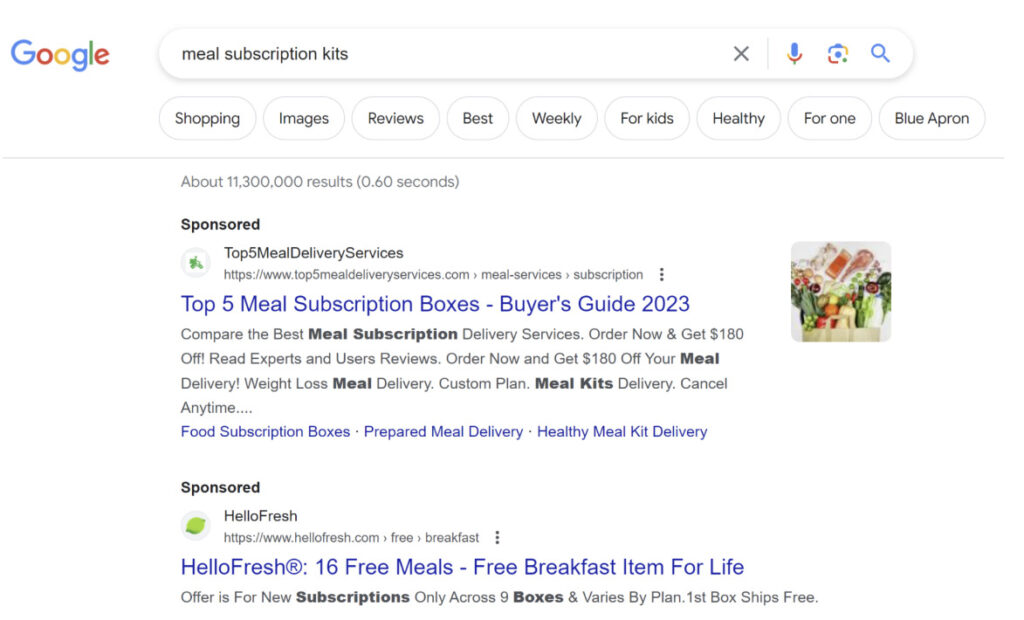 To set up a successful Google Search Ad campaign, eCommerce sellers should focus on the following campaign elements:
1. Keyword Intent
Targeting the right keywords will help Google place your ads on top of the most relevant search results. We recommend eCommerce sellers focus on keywords with transactional intent.
In other words, choose keywords that indicate the searcher is ready to make a purchase, such as, "buy TV in Springfield." Informational keywords like "best TVs for apartments" will attract visitors at the highest stages of the sales funnel who aren't ready to take action.
2. Negative Keywords
To improve your targeting, pay attention to negative keywords. These are keywords that you don't want your ads to show for. For example, if you are selling sports shoes for kids, you don't want people searching for adult shoes to click your ads — that would be a money-waster.
In this case, you would use "buy sports shoes for kids" as a keyword and make "buy sports shoes for women" a negative keyword to prevent your ad from appearing for this phrase.
3. Keyword Match Types
Another important aspect to consider is keyword match types, which range from broad to exact. If your keyword is "tennis shoes," choosing the broad match option would allow Google to show your ads for searches that are related to this keyword, such as "athletic socks."
Exact match only allows Google to show your ads in response to queries with the same meaning as your keyword. So if your keyword is "tennis shoes," the exact match option would only show your ad for very similar searches, such as, "tennis sneakers." If you're just starting out with Google Search Ads, we recommend that you stick to exact-match keywords.
4. Bidding Strategies
Google offers both manual and automatic bidding. If you don't have a lot of conversion data yet, it's best to start with manual cost-per-click (CPC) bidding. Once you get more data, you can switch to automatic bidding with the goal of maximizing conversion value or hitting a target return on ad spend (ROAS).
Some of your keywords will perform better than others. You can implement a performance-based bidding strategy by breaking your ads into ad groups. Ad groups can be based on theme, intent, funnel stage, or any other criteria you'd like. As conversion data comes in, you can invest more money into your high-performing ad groups.
---
Google Shopping Ads
Unlike text-based Search ads, Google Shopping ads display an image of your product along with a title, price, company name, and other details. These ads also appear at the top of SERPs.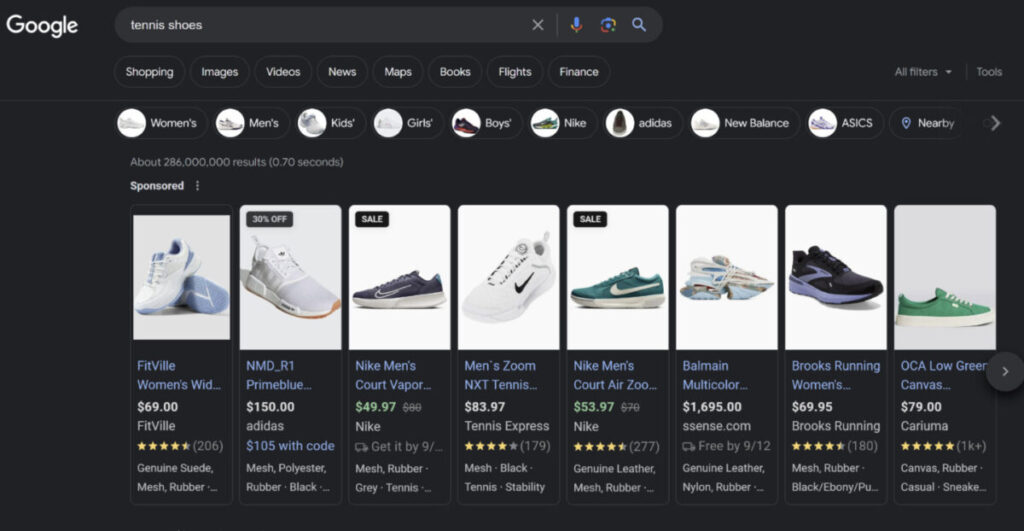 Shopping ads are especially effective because they provide detailed information that attracts a person with the intent to buy a specific product. Once the potential customer clicks on this ad, they are likely to take action.
Here are some essential things you need to know about setting up Google Shopping ads:
1. Automate Your Product Feed
While Google Shopping Ads have a 30% higher conversion rate than text ads, they are also more work to set up. To get started, you'll need to set up a product feed within the Google Merchant Center (GMC). This involves making a shopping card for each of your products with an image, description, and many other product attributes. This can be a significant amount of manual work.
Thankfully, if you are working with Shopify, WooCommerce, BigCommerce, or other supported eCommerce platforms, you can set up an integration that sends your product data to the Google Merchant Center automatically.
2. Pay Attention to Display Factors
The algorithm for Google Shopping ads is a little different than that of Search ads. Beyond keywords, Google considers a number of factors when determining whether to display your Shopping ads, including:
Customer reviews – Both seller reviews and product reviews

Delivery speed – How quickly and reliably you ship your items

Product attributes – Fill out as much info as GMC allows

Product titles and descriptions – Make sure your keywords fit in naturally ● Price – Include any relevant sales and discounts
As a brand-new advertiser, you may not have many customer reviews or discounts to boost your Shopping Ads yet. Just be patient; it can take a little bit to gain momentum.
---
Google Display and Discovery Ads
Google Display Ads are visual-based ads that appear on the top or side of the website or app content that a customer is browsing across the Google Display Network (GDN). Google Discovery ads have the same format but appear on Google-owned digital properties, such as YouTube, Gmail, and the Discover Feed. The GDN has an impressive reach, covering more than 2 million sites and apps.
When leveraged correctly, these ads can have a high ROI. Their key application is retargeting. Retargeting is when you advertise to your previous website visitors. For example, let's say a potential customer came to your online store and spent 10 minutes browsing TVs before exiting. A retargeting Display ad featuring your latest TV deals would then be shown to them when they browsed other websites to hopefully entice them back to your website.
---
Paid Social
With more than half of the world's population using social media platforms, leveraging paid social ads can help you reach a big chunk of your target audience. By 2025, social commerce is expected to reach $79.6 billion and make up over 5% of the total U.S. eCommerce sales.
Paid social campaigns can have a number of goals, including brand awareness, lead generation, or sales. If you are a new advertiser, we recommend choosing a bottom-of-the-funnel campaign goal such as checkouts rather than high-level metrics like impressions, clicks, or reach.
Meta (Facebook and Instagram)
Out of all social media platforms, Facebook and Instagram have the best targeting options available. Although they're owned by the same company, you should consider these platforms separately. They reach target audiences with different demographics and have different advertising formats.
Facebook formats:

Image, video, carousel, instant experience, collection

Instagram formats:

Image, story, video, carousel, collection, explore, shopping, reels
One of the most useful features of Meta paid advertising is Lookalike Audiences. This feature serves up ads to audiences that are similar to your existing customers. It analyzes people who have completed bottom-of-the-funnel actions (added items to cart, purchased items, etc.) and finds potential customers with similar demographics and behavior. If you already have a good
database of existing customers, this can be a great option to help you kickstart your paid social strategy.
---
YouTube
YouTube is a Google-owned property where your Discovery ads can appear. This platform has various paid ad formats, including bumper ads, in-stream ads, discovery ads, TrueView ads, and others. They can be highly helpful for driving brand awareness.
On average, YouTube ads are more affordable than Google Ads ($0.97 vs $2.69). So if you already have video ad content, YouTube can be a great option for your eCommerce marketing strategy. However, if your marketing budget is tight, creating brand-new video content specifically for YouTube might not be worth it compared to other channels.
---
TikTok
TikTok is a rapidly growing platform, but it has weaker targeting options than Meta or YouTube. While you can reach several segments of your target audience here, the majority of it also uses other platforms.
TikTok can be a great addition to your eCommerce marketing strategy when you have sufficient data and funding. But if you have to choose between platforms to fit into a small budget, TikTok loses to Meta considerably.
---
Marketplaces
If you are selling your products on Amazon or eBay, you may want to explore their advertising options.
As a marketplace giant, Amazon has some interesting paid opportunities. Surveys show that Amazon sellers usually see 14% of PPC-driven sessions convert into sales. You can use Amazon Ads to increase brand awareness and drive more sales. If you have an Amazon Store, Amazon also allows you to promote your products there.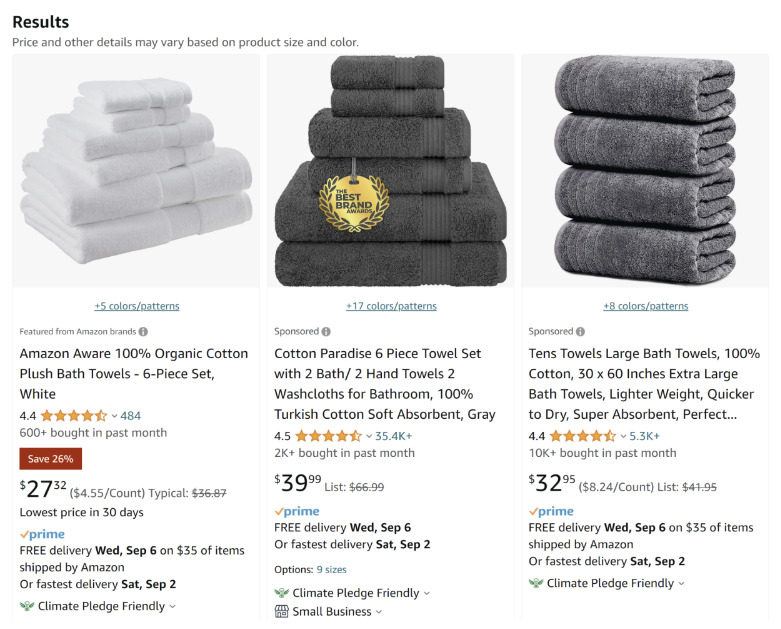 eBay is a much smaller marketplace that can be suitable for limited types of products. While it's the second most visited marketplace after Amazon, it doesn't have a robust advertising system. Essentially, it boils down to listing promotion. However, if you optimize your listings for searches and set appealing prices, your listings will show up high in search results anyway.
---
Scaling Your Paid Media Strategy
Paid media management may be heavily automated, but it isn't "set it and forget it." Once your ads are up and running, you'll need to decide if and when to reinvest your profits or increase your budget.
Today, over half of eCommerce businesses have a monthly PPC budget of over $5,000; some of the biggest brands spend millions. If your marketing efforts are in good shape and your market size is big enough, the only barriers to scaling your paid media strategy are fulfilling orders and holding enough inventory.
But let's not get ahead of ourselves — before you scale your campaigns, you need to figure out if they're performing well enough to justify the extra budget. For that, you'll need to know your breakeven return on ad spend (ROAS).
To calculate your breakeven ROAS, you first need to calculate your breakeven advertising cost. The formula for that is:
$0 = product sale price – cost of product – cost of advertising
For example, if you sell a product for $100 and the cost of the product is $60, your breakeven advertising cost would be $40. With this in mind, you can use the following formula to calculate your breakeven ROAS:
Breakeven ROAS = Product sale price/breakeven advertising cost
Continuing with the example above, your breakeven ROAS would be 2.5 or 250%. In your Google Ads account, you can find your campaign's ROAS in the column titled "Conv. value/cost". If the number you see there is greater than your breakeven ROAS, you should reinvest your profits to scale your growth.
There's a lot more that goes into deciding when to increase your paid media budget, but this is a great place for eCommerce sellers to start.
---
Should You Work with a Paid Media Marketing Agency?
Managing your paid media accounts can be complex. Besides choosing the most appropriate paid advertising channels and setting up effective campaigns, you also need to update product feeds, keep track of metrics, and make changes in real time.
Paid media marketing is constantly evolving. What worked during your first year could become useless the next year, and you may need to start from scratch. That's why many retailers collaborate with paid marketing agencies that handle paid advertising campaign setup and management.
If you're thinking about working with a paid media agency for your eCommerce marketing strategy, consider these pros and cons:
Pros:
You get a team of professionals handling your campaign — no more work for you

You can access decades of combined experience with paid media tactics

You get expert assistance for a fraction of the price of hiring an in-house team
Cons:
You typically need to pay a management fee on top of your existing paid media budget

You may be forced to work with a non-technical account manager or a junior paid media specialists

You may encounter shady practices such as an agency taking ownership of your accounts
While there are many advantages to working with paid media advertising agencies, the downsides stem from choosing the wrong partner. A bad agency could ruin your campaigns, waste your money, or damage your reputation. On the flip side, a great partner can help your eCommerce store grow tremendously with highly profitable campaigns. To find out if your campaigns are being mismanaged, download our free guide, 5 Signs Your Paid Media Account Is Mismanaged, today.