Advertising Disclosure
Advertising disclosure:
Our partners compensate us. This may influence which products or services we review (also where and how those products appear on the site), this in no way affects our recommendations or the advice we offer. Our reviews are based on years of experience and countless hours of research. Our partners cannot pay us to guarantee favorable reviews of their products or services.
A good dose of competition is good. Not just for consumers, but also for companies. Without it, consumers are robbed of choice and the chances are pretty good that they will end up having to pay ridiculously high prices, while brands run the risk of getting too comfortable, instead of continuously trying to improve their products.
The only monopoly that's good is the board game (and even that's up for debate).
So, if competition is actually healthy, how best can brands embrace it? For starters, you need to know where to look for it. Then, once you have a better idea of who your real competition (aka your threat) is, it's key that you keep track of what they're doing.
Enter competitive analysis. In a nutshell, competitive analysis refers to the process of figuring out who your main rivals are, the products or services that they sell, their strengths and shortcomings, and where they fit into the marketplace. The aim of this necessary exercise is to help you make better choices, not only with regards to your own offering but also your marketing plan.
We'll be honest, it's quite a lot of work and definitely not an exercise that you can do manually. Luckily, there are a number of great competitor analysis software solutions that can automate much of this process. In addition to using one of these tools, we also suggest that you create a competitive analysis template that will help you to track their performance easier and possibly compare your main rival companies side by side. Key data that you can track in this template include information like:
Location

Number of employees

Annual turnover

Number of customers

Key products or core services

Pricing model

Unique selling proposition, mission, vision, and values

Marketing strategy and channels (for example, the social media platforms on which they're most active)

Shipping
---
Top Competitor Research Tools:
---
Top Competitor Research Tools
Top
competitor analysis software tools
2024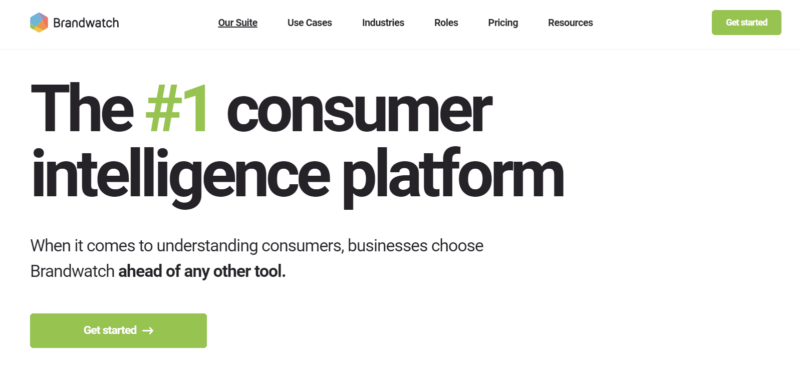 In addition to being one of the leading social media tools used by agencies, Brandwatch also offers a consumer intelligence/social listening standalone solution. With this tool in your arsenal, you can collect millions of data points, whether it's a post or comment, about topics that matter to your business. After you searched both historical and real-time data, you can segment the gathered data for easier analysis. You can, for example, sort information by complaints or more general feedback.
Not that you'll have to do a lot of analysis on your own. Brandwatch leverages artificial intelligence and machine learning to do virtually all the work for you. It has spent nearly two decades developing tools to help analyze unstructured data fast. For example, there's an AI analyst (affectionately dubbed Iris), AI-powered search, and auto segmentation to make light work of understanding the impact of all the info collected. And, if you've found any "dirt" on your competitors on your own, you can also upload your own data.
The only real work that's left for you to do is share these new findings with your team so that you can devise a strategy. To help you implement a data-driven culture in your company, Brandwatch also has your back with its instant reporting. You can share all the insights with the rest of your organization via various formats. Plus, for even more reporting functionality, it also includes an add-on that lets you unlock features like real-time display and live data reports.
Key features include:
Historical and real-time consumer data
An AI analyst
Image analysis
Auto segmentation
AI-powered search
Customizable visualizations
Pricing: You'll need to contact the team at Brandwatch for more details about their plans and subscription options.
---

Brand24 is one of the leading tools for competitor analysis and can be used for various purposes. You can, for example, use it to track keywords linked to your competitors on the web as well as on social media. If you're only starting out, you can keep things simple by tracking words like their company name and the name of their product. If they have a unique branded hashtag, you can also track this in social media mentions.
You can then use this data to find out what their customers (aka a potential target audience for your brand) are mentioning about them online. Was there a recent PR blunder that you can use to your advantage? Or, perhaps there are pain points that your product or service will be able to answer? Knowing answers to these types of questions places you in a position of power and you can then fill any gaps in the market that your competitors couldn't or have overlooked.
To help you stay on top of all this data, it offers a handy Summary tab where you can find the most important data points such as the most recent mentions and the most popular ones. It also shares a numerical summary of the number and different types of mentions and a graph to illustrate the social media reach of these mentions.
Key features include:
Sentiment analysis
Data exporting
Filtering
Pricing: After a free 14-day trial, pricing starts at $59 per month. Though, if you prefer to be billed yearly, you can get two months for free.
---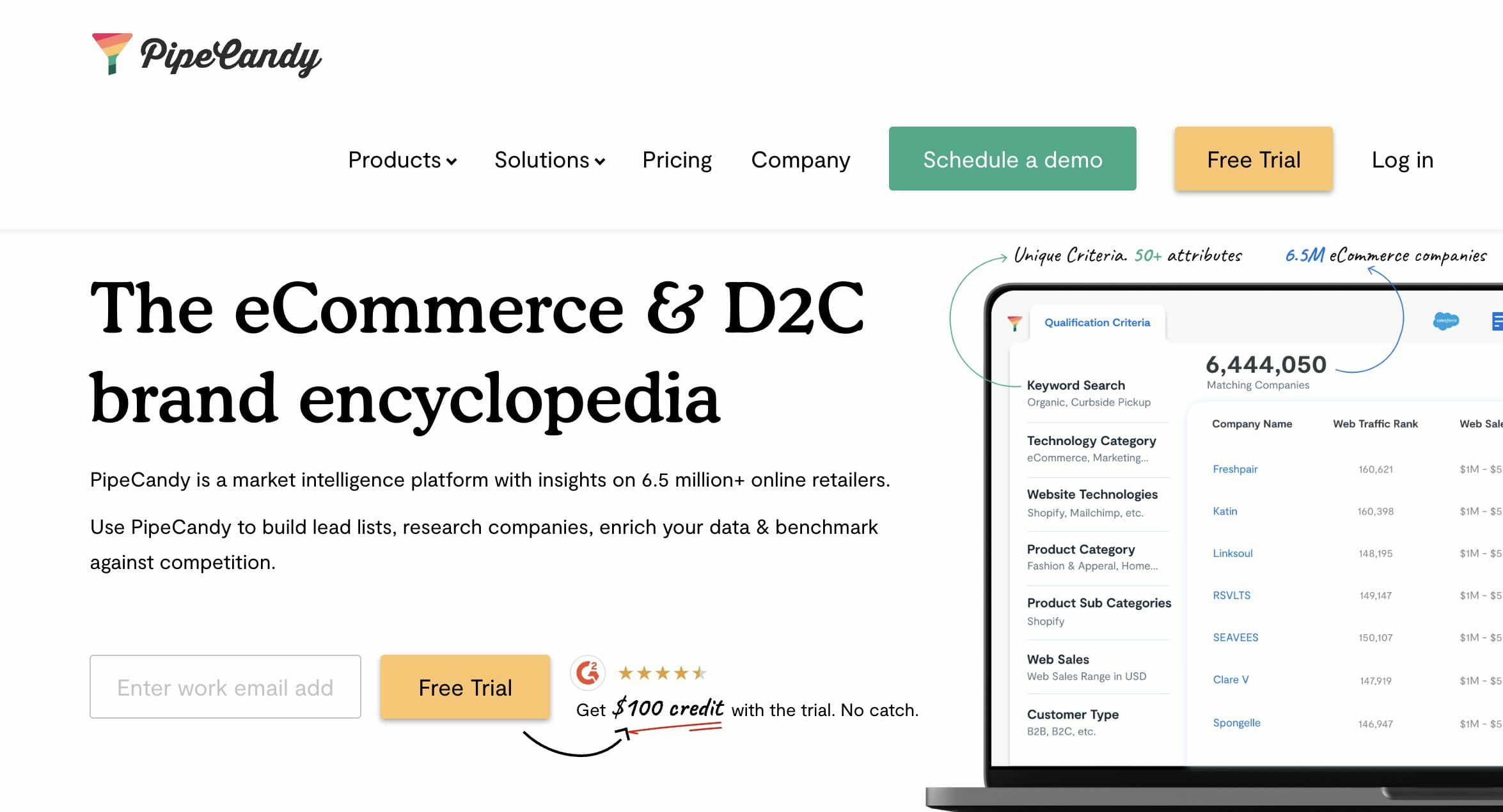 The idea for PipeCandy came about in 2015 when two of the founders were faced with two unique problems. The one was searching for a tool to help him find relevant leads for app developers in the marketplace, while the other one was searching for a way to stay on top of everything that he had to know about his prospects. The two got together and met with an acquaintance from grad school. Fast-forward to 2016 and PipeCandy was officially registered and opened for business.
Trusted by names like Microsoft, Rakuten, and American Express, PipeCandy describes itself as the eCommerce and D2C brand encyclopedia. Via its marketplace intelligence platform, you can gain insights on over 6 million online retailers. The data is curated by analysts and algorithms to ensure accuracy. It, for example, uses over 50 commerce specific factors to work out if a company will be a good fit, while its monthly eCommerce sales estimates are based on over 20 influencing attributes for accuracy.
It offers four products:
PipeCandy Analyzer for Amazon product-level sales and market share estimates
PipeCandy Researcher for eCommerce trends and market share estimates
PipeCandy Prospector for lead lists
PipeCandy Firehose that gives you access to their complete Commercepedia dataset as flat files and APIs
Key features include:
Transaction-level data from Amazon sellers
Actionable sales estimates for millions of ASINs
Analysis-ready data about weekly sales metrics
Market estimates
Pricing: After a free plan, pricing starts at $9,000 per year for 1,000 searches per month and 250 company profile views per day.
---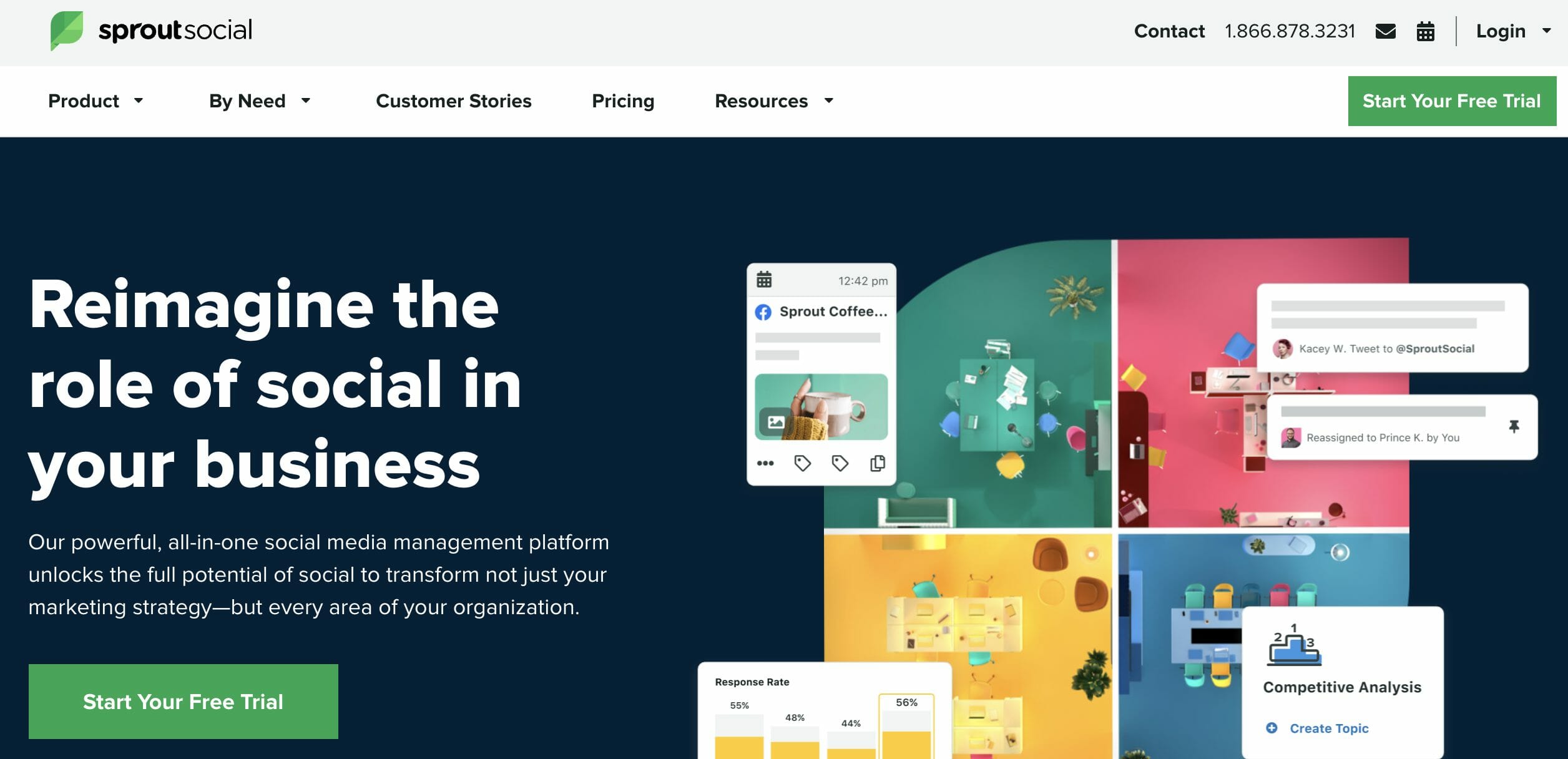 Sprout Social is one of the leading social media management software solutions and includes a suite of reports and listening tools that you can use for competitor analysis. These tools give you a much better idea of what your target audience finds relevant and what works for your industry which will ultimately help you to make informed changes to your marketing strategy.
Take their Competitive Analysis Listening tool, for example. It offers a side-by-side competitor comparison of important social metrics like impressions, engagement, and sentiment that you can use to compare your social presence to that of your competitors.
You can then analyze the sentiment further to understand better consumers' feelings about your competitors and industry as a whole. This information empowers you to identify your target audience's real needs, helping you to improve your service or product.
Key features include:
Network-specific performance reports
Sentiment analysis
Employee advocacy
Publishing and scheduling
Analytics
Pricing: After a free 30-day trial, pricing starts at $99 per user per month. If you select to pay annually, you'll save about 10% off the monthly subscription fee.
---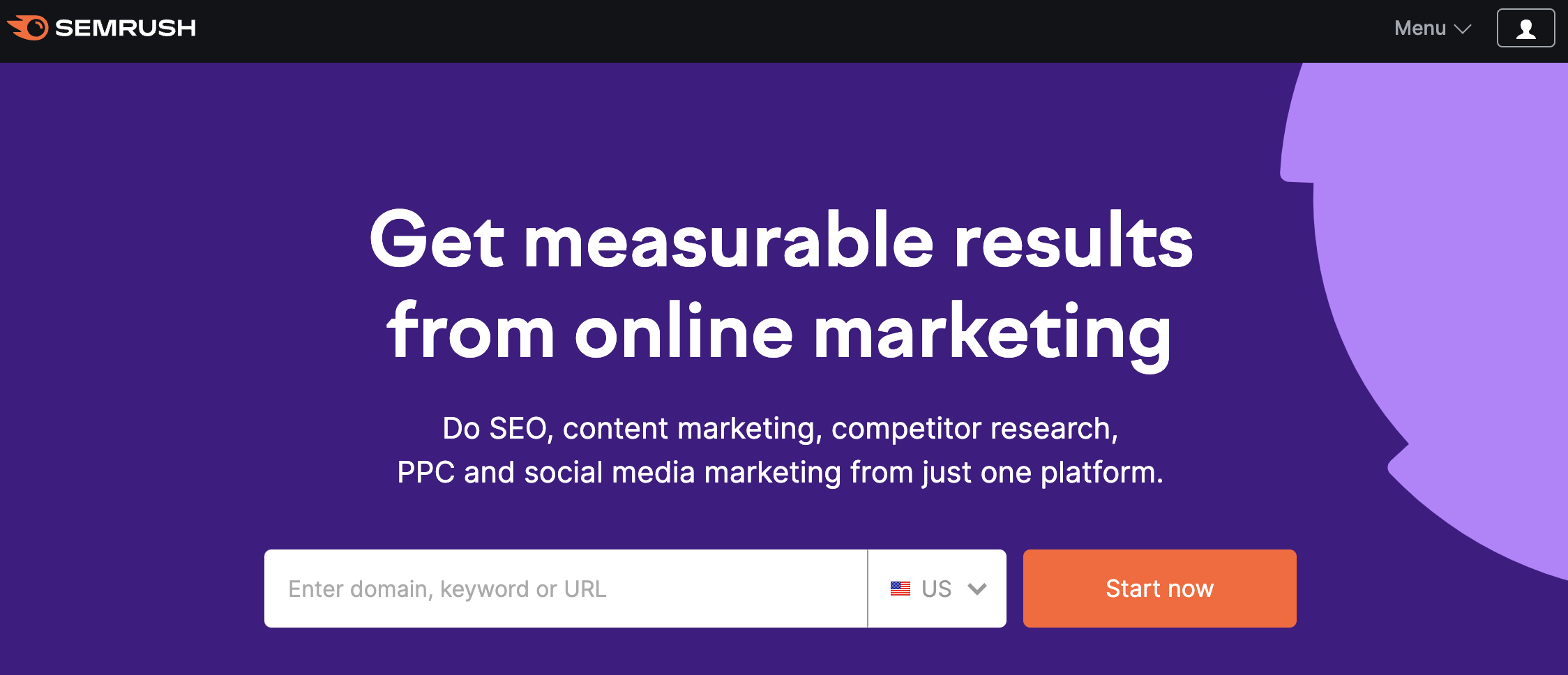 If you're a regular reader of Influencer Marketing Hub, you're probably already familiar with Semrush and its various use cases. Trusted by global leading brands like IBM, Forbes, and Quora, it's one of the top AI marketing tools and includes a long list of powerful features. If you specifically need help with deciphering your competitors' marketing strategies, you can check out Semrush .Trends.
In short, it shares an industry overview and competitive insights that you can use to uncover emerging trends and potential opportunities for growth. You can use it to get data for any industry or website that you can then use to improve your product and adjust your marketing spend. Examples of data that you can access include:
A comprehensive performance summary for any website
The most visited pages of your competition
The leading products of competitors
Detailed insights into the behavior of audiences
Leading players in the market
Market share of your own business and that of your competition
For competitor analysis, you can also check out its EyeOn feature. At the time of writing this article, it's available in beta. It's an automated competitor tracker that will keep you up to speed round the clock on every move of your rivals. From content strategies to marketing activity to which of their products get the most marketing love, you'll get a complete picture of what they're up to.
Key features include:
Competitor analysis
Competitor PR monitoring
Market analysis
PPC keyword research
Competitor SEO analysis
Pricing: After a free seven-day trial, pricing starts at $120 per month, but if you choose to pay annually you can save as much as 17%.
---

Loved by well-known brands like Booking.com, Adidas, and Walmart, Similarweb is one of the leading competitor analysis tools. With the help of their suite of tools, you can identify the digital marketing strategies of your competitors across various social media channels.
When it comes to content analysis, you can, for example, use it to benchmark how your competitors perform on each channel against the industry average to determine which channels have the most traffic. Then, you can take it one step further and evaluate the quality of the traffic by analyzing metrics like visit duration, bounce rate, and pages per visit. Armed with this knowledge, you can identify new acquisition opportunities, maximize your ROI, and assign your marketing resources better.
Then, if you use affiliate marketing and PPC ads, it also offers a number of useful features. You can, for instance, use its data to identify your competitors' most valuable affiliates and improve referral partnerships by analyzing the website traffic of referral websites. To help you improve your PPC campaigns, you can identify your publishers and ad networks that get the best results for other brands in your niche allowing you to improve your own placement strategy.
Key features include:
Competitive analysis
Keyword research
Referral research
Ad research
Media buying
Pricing: Pricing starts at $249 per month when billed monthly. Though, if you opt to be billed annually instead, you can save as much as 16%. Custom pricing is also available upon request.
---

If you want to find out more about what your competitors are doing for their SEO, PPC, and content marketing campaigns, you can check out Ahrefs. Trusted by the marketing teams of some of the biggest international companies like Netflix, Uber, and Adobe, it gives you data about their backlinks, keywords, pay-per-click ads, and content to mention only a few.
One of its features that deserve special mention is its easy-to-use Content Gap tool. In short, it lists the keywords for which your competitors rank that you don't currently rank for. Using the filters, you can then use this list to come up with more ideas for your content marketing strategy.
Another useful feature for competitor analysis is its Site Explorer. You can use it to get a detailed view of your competitors' organic search traffic and backlinks. Similarly to the Content Gap tool, you can use it to see which keywords they rank for in search and the traffic volume generated by each keyword. If they use paid search, you'll also be able to see how much traffic gets generated this way.
It's a particularly good choice for researching backlinks. Not only do they have the fastest backlink crawler, but also the biggest index of live backlinks, according to their website.
Key features include:
Keywords explorer
Domain comparison
Content explorer
Rank tracker
Pricing: Pricing starts at $99 per month. Though, if you choose to be billed annually, you can get two months free.
---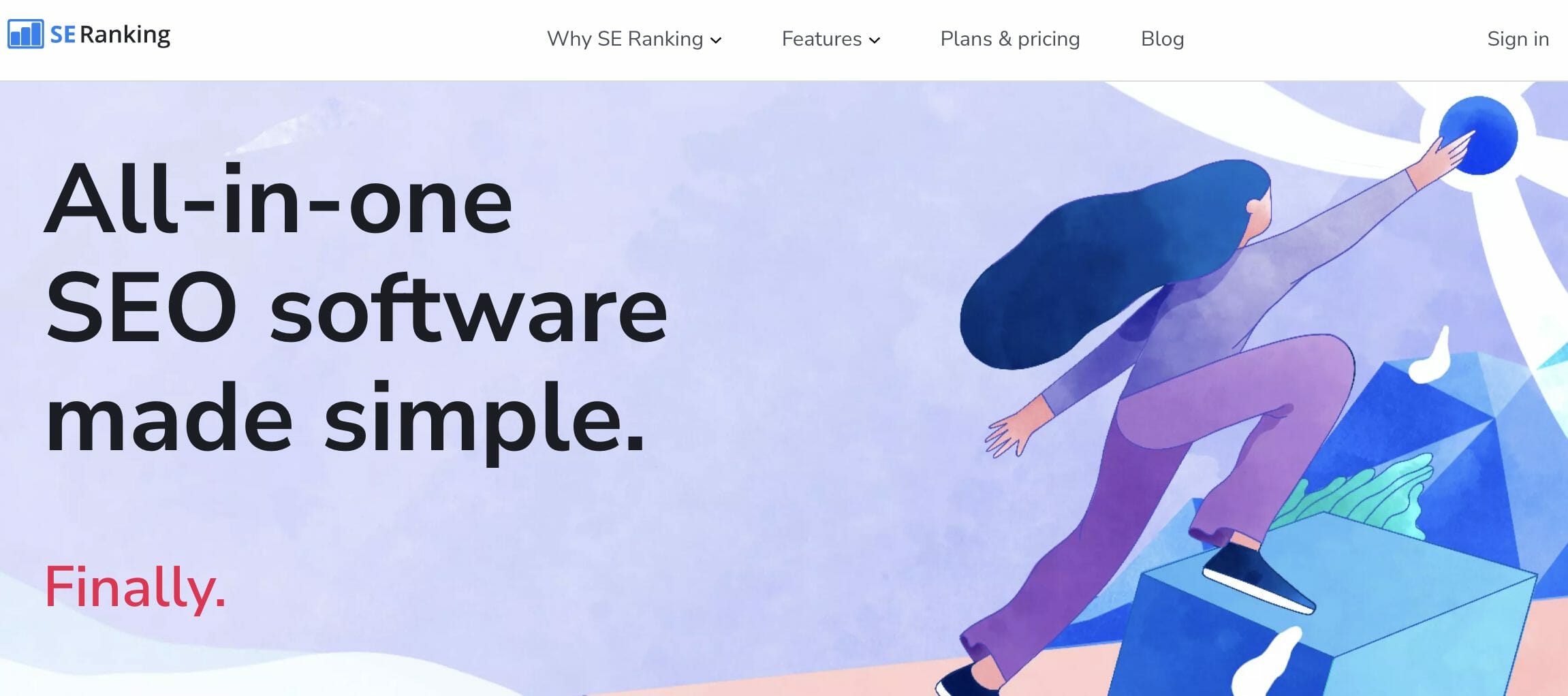 SE Ranking is an intuitive, all-in-one SEO software solution aimed at digital agencies, business owners, and SEO experts. It's trusted by more than 600,000 users including names like Zappier, Trustpilot, and cars.com.
You can use it to rank the keywords of websites across all the main search engines in real time. Then, to zoom in on the demographics, you can also take it one step further and track it according to country, region, or city. In addition to using it for tracking keywords of websites, you can also use it to uncover the keywords that competitors used in their organic and paid search campaigns.
All you need to do is type in the URL or domain name and you'll get a complete view of the paid and organic strategies that your rivals use. Other than using it for keyword insight, you can also use it to check up on:
The website traffic estimate and cost for organic and paid marketing campaigns
The competitors of your competition
Your competitors' most profitable ads
Recently, they've also introduced a backlinks feature to their software. With this new feature, you can assess the backlink profiles of competitors (in terms of the quantity and quality). It also has a Backlink Gap Analyzer that you can use to uncover banklink opportunities that are just waiting for you to be exploited.
Key features include:
Keyword rank tracker
Backlink checker
Website audit
On-page SEO checker
Report builder
Pricing: SE Ranking's pricing structure is quite unique. It offers you a number of subscription periods as well as the ability to change the rankings check frequency to every three days or weekly for savings of between 20% and 40%. Pricing roughly starts at $39 per month. You can also reach out to them for a custom plan.
---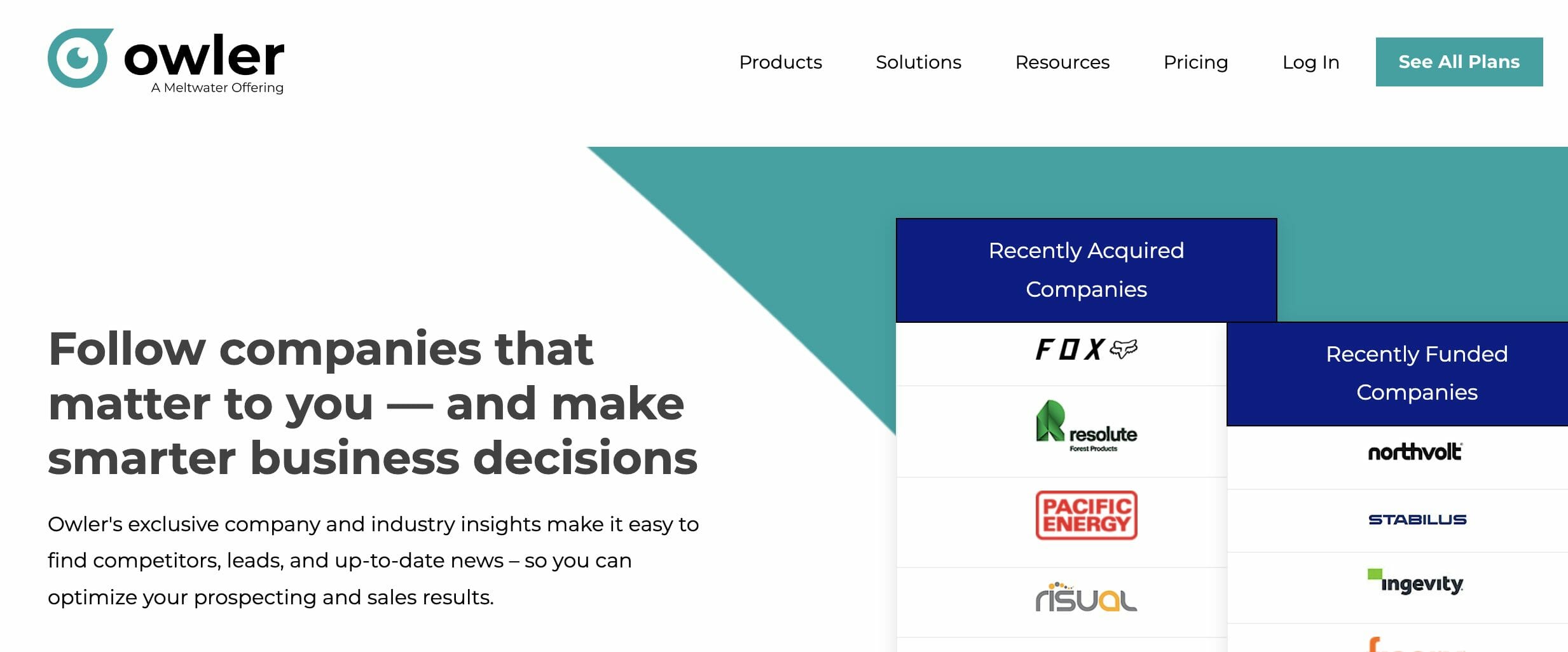 Founded in 2011, Owler was recently acquired by Meltwater — one of the leading brand monitoring tools, but it works quite differently to the other tools in this category. Instead, it describes itself as "a sales intelligence and business information research company".
They have a community of more than 5 million business users and, each month, the members of their community share unique insights about their employers. Some of the data that they have include revenue estimates, acquisitions, funding, number of employees, and ratings of their leadership. You can use this data for competitor analysis among many other things.
To help you make sense of all this data, you can check out the Daily Snapshot. Here all the news of the last 24 hours gets summarized. It also sends alerts as soon as breaking news gets shared. Armed with this hot-off-the-press news, you're in a much better position to find qualified leads and create better connections with your customers.
It offers three products:
Owler Community (a free product)
Owler Pro
Owler Max
If you want to use it for competitor analysis, you'll want to check out the Owler Pro package. It offers exclusive insights and real-time alerts for your competitors, helping you to uncover opportunities and stay ahead of industry trends.
Key features include:
Integration with Salesforce, HubSpot, and Slack
Sales triggers
Competitor graph
Access to accurate private and public company data
Pricing: Pricing starts at $35 per month when billed annually.
---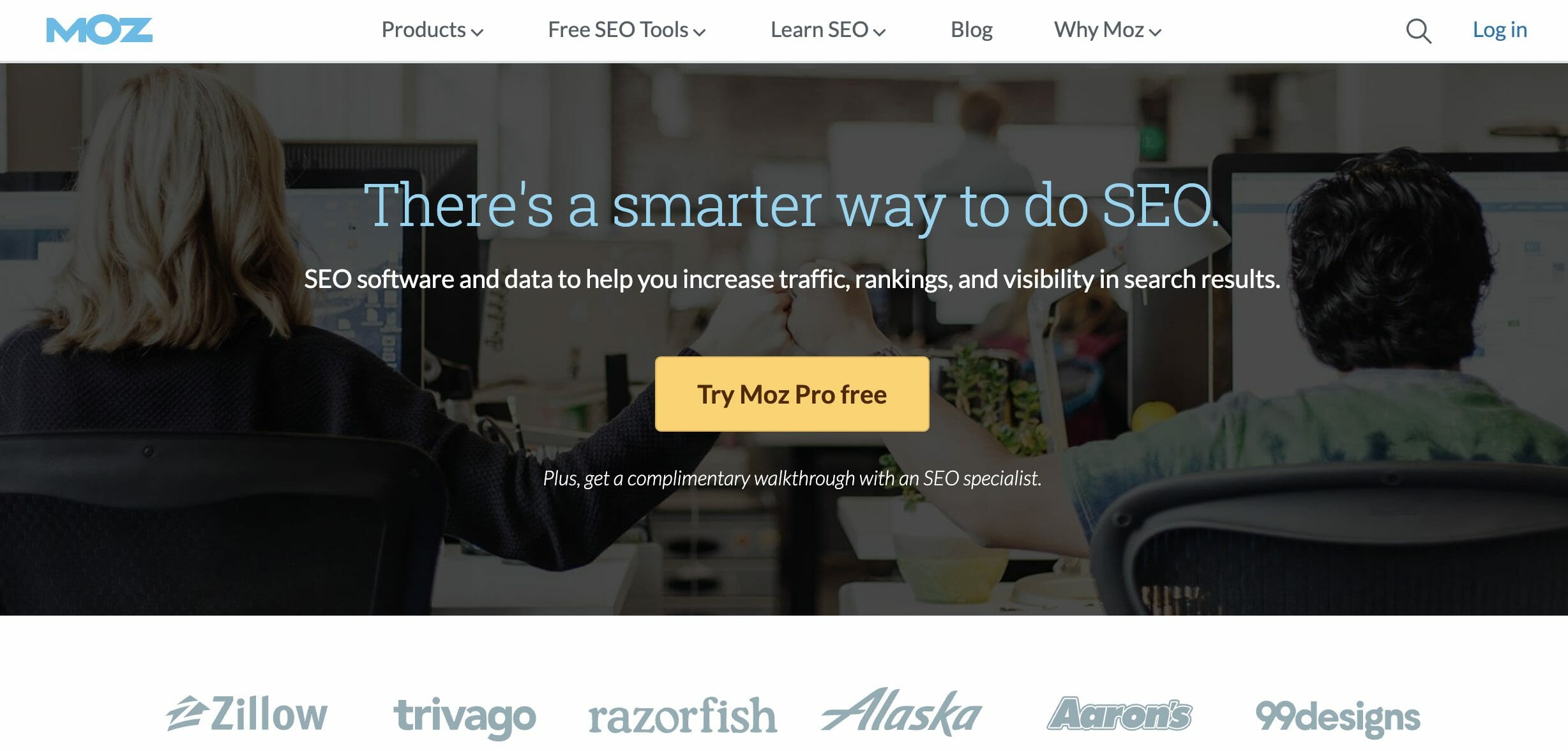 Trusted and loved by names like Zillow, 99designs, and Trivago, Moz offers a number of intuitive SEO tools that you can check out. For competitive research specifically, you can check out their free SEO Competitive Analysis Tool. All you need to do is type in a domain in its search block and it will show you valuable data such as:
Your main search engine ranking competitors
Gaps and opportunities in keywords
Examples of articles and other content pieces that work well for your rivals
Domain authority
Another free tool that you can help with competitive research is its Link Explorer. It has over 40 trillion links! You can use it to get detailed metrics, such as domain authority and page authority, for any site. With this data, you can then perform a SEO link gap analysis and compare the backlink profile of other companies in your niche to your own to identify where and how they get their backlinks. Here's how it works:
Enter the URL for which you want to get backlink data
Create a Moz account
Verify your account
Voila, you'll receive a detailed analysis for the URL that you've keyed in
Key features include:
Weekly keyword ranking tracking
Keyword research
Link research
Custom report builder
Pricing: If you don't want to take advantage of one of their free SEO tools, pricing starts at $14 per month. However, if you'll mainly be using it for competitor analysis, the Moz Pro plan that costs $99 per month is the one that you'll actually want.
---
---
Wrapping Things Up
There are many more great competitor analysis tools that you can check out and it's by no means just limited to these solutions. If you're already using a social media management tool, first double-check which features they offer that can help with this task. Most software solutions in this category have some built-in features that you can use to gather data. If it lacks in this department, then be sure to check out one of these top tools mentioned above.
Don't think of it as just another tool that you'll hardly use. Rather, think of it as a potential trusted ally. Someone who will whisper in your ear which areas of opportunities and gaps in the market other businesses in your niche might have missed. And, then be ready to pounce and make the most of this untapped market.