Advertising Disclosure
Advertising disclosure:
Our partners compensate us. This may influence which products or services we review (also where and how those products appear on the site), this in no way affects our recommendations or the advice we offer. Our reviews are based on years of experience and countless hours of research. Our partners cannot pay us to guarantee favorable reviews of their products or services.
Connecting with your target audience is not just a matter of clicking a button but about crafting a narrative that resonates. Social media platforms have democratized the realm of communication, empowering everyone, from individuals to large corporations, to have a voice. But for small businesses, navigating this vast digital landscape can often feel daunting. That's where the specialized expertise of a social media marketing agency for small businesses comes into play.
Social media marketing agencies act as a bridge, connecting businesses to their target audiences in meaningful ways. This makes selecting the right agency paramount. A mismatch can not only lead to ineffective campaigns but also missed opportunities and potential brand damage. As business owners looking to produce content that resonates with clients and bridges the connection over social channels, there are pivotal factors to consider.
In the ensuing listicle, we will guide you through the top 9 Social Media Marketing Agencies for Small Businesses, ensuring you're equipped to make an informed and beneficial choice.
---
Top Social Media Marketing Agencies for Small Businesses
Top
social media marketing agencies small businesses
2024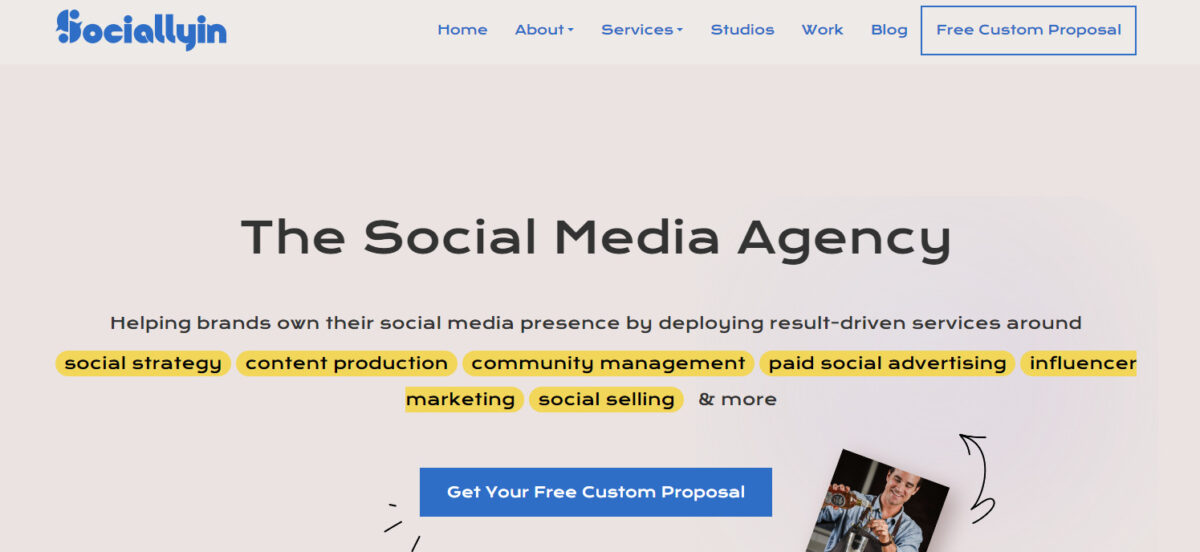 Social Media Platforms Supported: Facebook, Instagram, TikTok, Twitter, YouTube, LinkedIn
Sociallyin, a leading agency, offers bespoke social media marketing solutions tailored to the unique needs of small enterprises. Grounded in research, their approach ensures that brands don't just have a presence but effectively engage and resonate with their target audience. A commitment to success is evident in their client-centric operations. From a strategic kickoff call to transparent, real-time campaign reporting, Sociallyin ensures businesses are always in the loop. Their data-driven strategies underpin every decision, guaranteeing that content is compelling and impactful.
The brand audit stands as a testament to their meticulousness. By thoroughly examining a brand's current social footprint, they glean valuable insights that inform subsequent strategies. This audit-driven methodology ensures content and campaigns align perfectly with a brand's ethos and audience expectations.
A highlight of their efficacy is a transformative case study on LinkedIn. Sociallyin revamped an underleveraged profile, resulting in 1,846 connection requests, 179 shared posts, and a massive 6,213 likes, showcasing their potential to amplify a brand's digital presence. Sociallyin's services are more than just solutions; they're strategic partnerships.
---
Social Media Platforms Supported: Facebook, Twitter, Instagram, Google My Business, TikTok, Pinterest
When it comes to social media marketing for small businesses, SmartSites has carved an indelible niche. Their top-tier recognitions, such as being a Google Premier Partner, underscore their expertise in crafting solutions perfect for smaller enterprises.
They provide a full spectrum of social media solutions. From optimized profiles across all major platforms to innovative monthly content calendars, their offerings ensure consistent, engaging brand presence. With custom graphics and boosted posts, they enhance brand visibility, ensuring every message resonates. SmartSites caters to the individual needs of each small business. So, they craft social media strategies tailored to resonate with specific audiences, with businesses working closely with dedicated specialists. This collaboration ensures brand messages, from tone to visuals, align perfectly with intended audiences.
SmartSites' active engagement strategies, from responding to comments to initiating conversations, help foster deeper brand-customer relationships. They enhance overall brand reputation by placing brands at the center of discussions. With SmartSites, Audi New Rochelle saw a whopping 82% increase in post likes. Similarly, their strategies for Biotrial and Boater's World brought significant spikes in platform reach, reinforcing their capability to deliver tangible growth.
---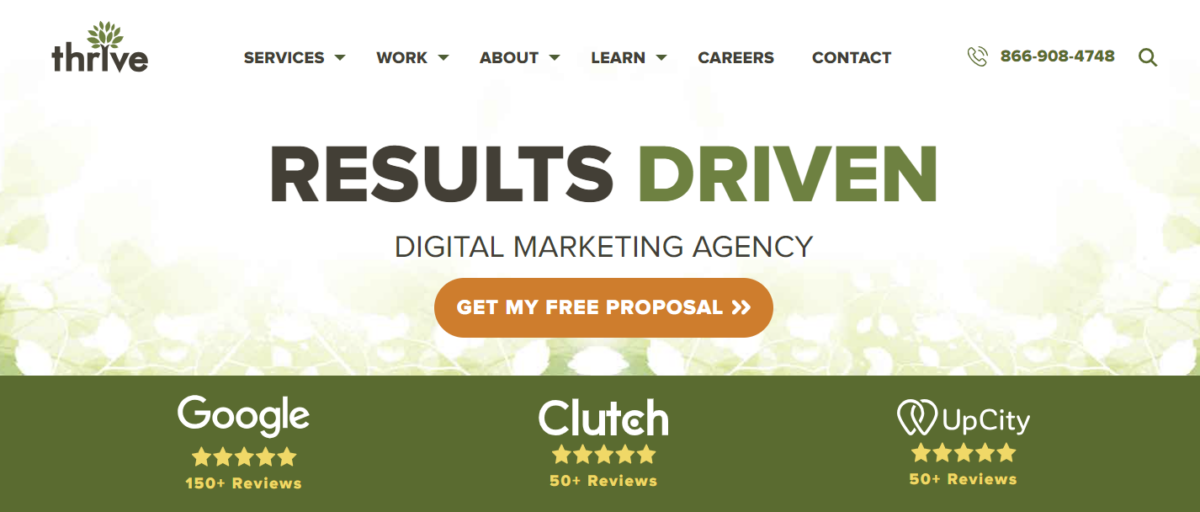 Social Media Platforms Supported: Facebook, Twitter, Instagram, LinkedIn, YouTube, Pinterest, Snapchat, TikTok
Thrive stands as a full-service agency dedicated to optimizing social media marketing for small companies. Their comprehensive approach integrates SEO with popular platforms to enhance organic traffic. Leveraging the rising trend in social media ad impressions, Thrive crafts compelling visuals and captions to maximize return on ad spend. Their emphasis on brand consistency is evident in their website design, which integrates social media elements, fostering seamless brand narratives. Moreover, Thrive recognizes the power of video content, offering premium video production for video-sharing platforms.
Dedicated to multifaceted strategies, Thrive blends email marketing with social media, ensuring harmonized customer experiences. Their content creation engages audiences with brand-centric material. Clients also benefit from in-depth reporting and dedicated account managers, ensuring personalized engagement.
Thrive's results-driven approach is evident in their impressive case studies. For instance, they bolstered a gaming company's social visibility, leading to over 773,674 impressions. Similarly, a fitness influencer experienced a growth surge with an addition of 8,000 new Instagram followers under Thrive's strategies.
---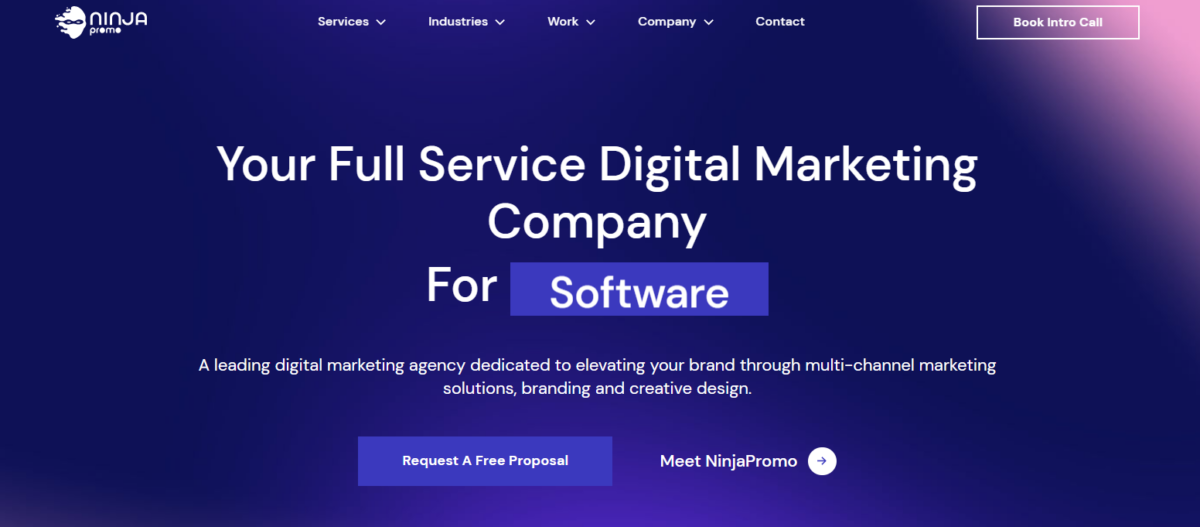 Social Media Platforms Supported: Facebook, Twitter, Instagram, LinkedIn, YouTube, Pinterest
NinjaPromo is a well-versed social media agency catering to the needs of small businesses. Its extensive suite of services reflects its holistic understanding of the social landscape. From strategically sculpting organic social content encompassing platform selection, editorial calendars, community management, and influencer marketing to mastering the realm of paid social with creative development, audience targeting, and social media optimization services.
Ninja holds the blueprint for success. With data at the heart of their strategy, they strike the right balance between analytical insights and human creativity. This dual-pronged approach guarantees tailored solutions that yield genuine results. But what truly distinguishes NinjaPromo is its demonstrated efficacy.
Consider the compelling case of CEEK VR, a cutting-edge Web3 platform. Under NinjaPromo's expert stewardship, CEEK VR's organic social media followers swelled by an impressive 300,000 within a mere two months. Moreover, this campaign tripled their engagement rates, fostering a robust community around the brand.
---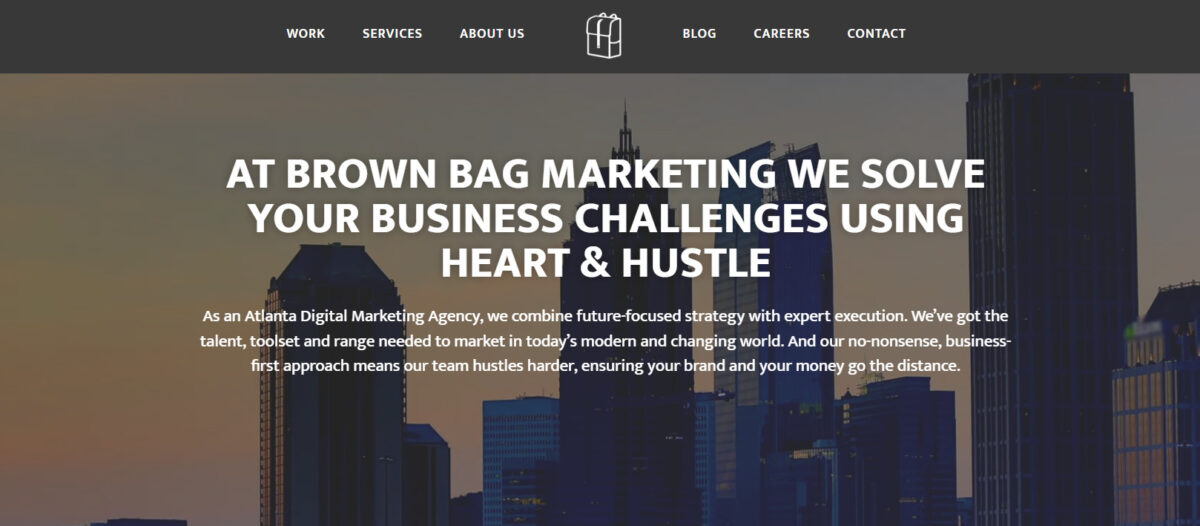 Social Media Platforms Supported: Facebook, Instagram, TikTok, Twitter
Brown Bag Marketing stands tall in the social media marketing arena, offering a tailored experience that transcends conventional norms. This Atlanta-based agency understands that the essence of Social Media Optimization isn't solely about refining profiles but is deeply rooted in fostering authentic relationships and acquiring quality leads.
The agency's approach is comprehensive: engaging target audiences, elevating brand visibility and ensuring a brand's presence isn't merely seen but felt. Their expertise doesn't discriminate based on industry. From manufacturing and healthcare to financial services and technology, Brown Bag's nearly two decades of experience makes them a reliable partner for both local Atlanta businesses and expansive national corporations.
A keen look at their portfolio unveils a meticulously crafted custom social strategy that aligns seamlessly with a client's unique objectives. Their work with various esteemed brands attests to their capacity to mold a brand's voice and make it resonate. Brown Bag Marketing exemplifies how to make those connections and ensure they're meaningful, driving businesses to greater heights.
---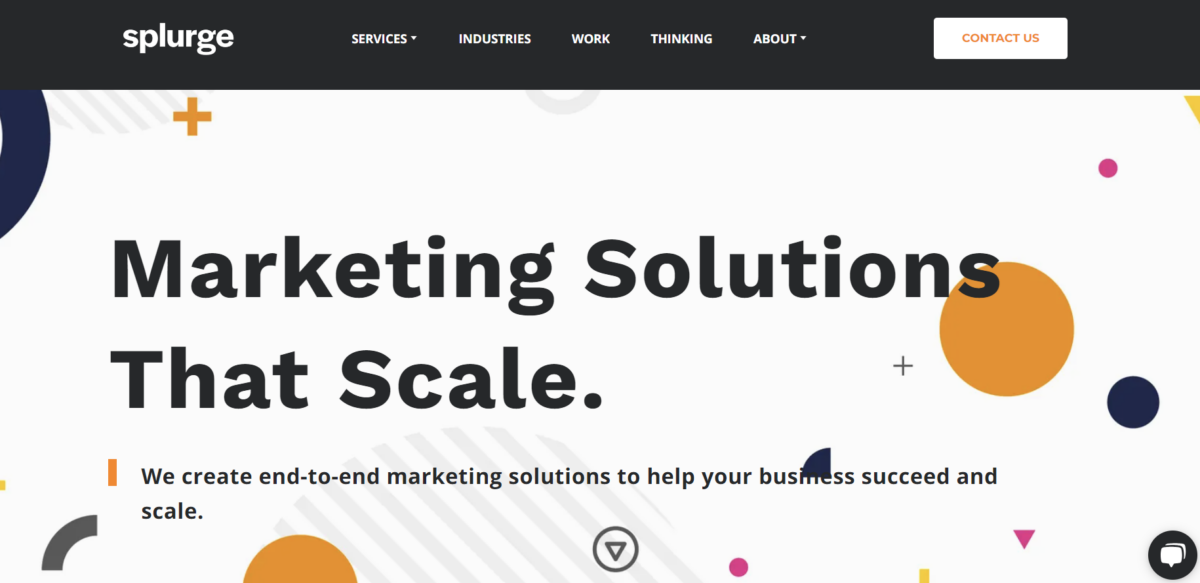 Social Media Platforms Supported: Instagram, Twitter, Facebook, LinkedIn
Nowadays, when digital presence can make or break a brand, Splurge Media emerges as a beacon for small enterprises.  At the heart of Splurge Media's offering is a robust social media strategy. This is complemented by consistent brand engagement through expert social media management and the crafting of compelling narratives that resonate with the audience.
Moreover, the agency taps into the vast potential of digital advertising by harnessing the power of search engine marketing, display ads, and other innovative campaigns. Beyond that, they also recognize the undying power of email, deploying targeted campaigns that nurture relationships and convert leads.
Research underpins Splurge Media's methods. They believe in data-driven strategies, emphasizing that even businesses that regard themselves as 'too small' can wield immense influence through adept use of social media channels. Their commitment is evident in the glowing testimonials from diverse clients, from startups to long-established entities, all of whom commend the agency's efforts in understanding their unique visions and translating them into tangible results.
---

Social Media Platforms Supported: Instagram, Facebook, Twitter, LinkedIn, TikTok
WebFX's prowess is not solely anchored in figures but is further vindicated by its impressive retention rate of 91%, towering over the industry average of 50%. What are the reasons behind such stellar figures? Scalable solutions, industry specialists, and a consistent track record of producing tangible results. Moreover, with a client satisfaction score of 93%, which significantly eclipses the industry average of 72%, the agency's emphasis on effective project management, ROI tracking, and a diverse set of skills becomes evident.
With more than two decades of industry experience, WebFX specializes in custom social media services for small businesses. Regardless of the platform, the agency has got brands covered. Their comprehensive approach encompasses everything from dedicated account management and competitor analysis to full-funnel ROI reporting, all tailored to the client's unique requirements.
A standout feature is their personalized marketing strategy, crafted with the business, industry, and market in mind. This bespoke strategy is backed by a dedicated team of over 500 professionals spanning strategists, copywriters, designers, and more. Their results-driven methodology has engendered a jaw-dropping revenue surge of over $3 billion in the past five years alone.
---

Social Media Platforms Supported: Facebook, LinkedIn, Twitter, Instagram
Navigating the modern digital landscape can be intricate, but KEXINO stands out by delivering tailored marketing solutions specifically designed for startups and small businesses. They adhere to the philosophy that marketing isn't just a supplementary function—it's the very core of a business's success.
KEXINO's SMM services span from generating robust social content to enhance lead generation to crafting optimized profiles and ads prioritizing user conversions. Beyond digital domains, they're proficient in producing tangible collateral such as brochures and factsheets, ensuring every touchpoint with potential clients resonates with the brand's essence.
By advocating for a "buyer vocabulary," KEXINO ensures brands connect authentically with their target social audience, eliminating jargon and focusing on the real needs of potential clients. With KEXINO, startups and small businesses don't just get a social media marketing partner but a dedicated strategist focused on delivering measurable results.
---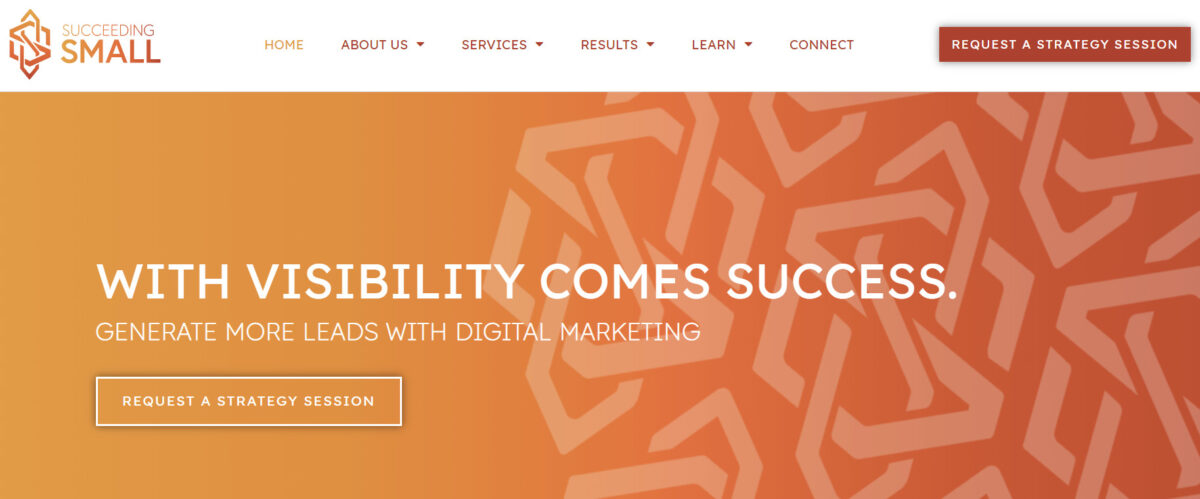 Social Media Platforms Supported: Facebook, Instagram, LinkedIn, Twitter
Located in Colorado Springs, Succeeding Small has firmly etched its presence as a digital marketing virtuoso, particularly for small businesses. Recognizing the nuanced challenges that small business owners face in the vast sea of social media, the agency meticulously carves out consistent online branding. This is not just a hasty blend but a calculated fusion of their deep-seated understanding of platform algorithms, especially those of giants like Facebook and Instagram.
They adeptly channel online advertisements and timely social media posts to drive significant traffic to client websites, and their commitment to the client is evident in how they metamorphose customer support, making it an online-centric affair. By promptly addressing concerns and inquiries on social platforms, they lay down a path of trust, inevitably leading to brand loyalty.
Diving deeper, one would find an intricate weave of strategy. This is not about mere posts but about understanding target audiences, discerning the content they'd engage with, and laying out a plan that's as precise as it's effective.
---
Navigating the Maze of Social Media Channels Through Platform Prioritization
Myriad social platforms beckon businesses with promises of untapped audiences and unrivaled engagement. Yet, for small businesses, plunging headfirst into every available channel can lead to diffused efforts and diminished returns. This is where platform prioritization becomes essential.
Platform prioritization isn't just about determining where a majority of your potential customers hang out; it's about aligning the platform's inherent characteristics with the nature of your business. For instance, a handcrafted jewelry brand might find a visual platform like Instagram or Pinterest more suited to showcasing their products, while a consultancy firm might leverage the professional networking strength of LinkedIn.
A competent social media marketing agency deciphers the nuances of each platform, assessing their relevance to a specific business. They can guide on:
The type of content best suited for each platform.

Optimal posting frequency and timing.

Audience demographics and behaviors specific to the platform.

Integration of paid advertising strategies.
In essence, platform prioritization is the first step in ensuring that your marketing efforts aren't just spread wide but dive deep where it matters the most.
---
Social Media Marketing Cost Vs. Benefit Analysis
The allure of social media marketing often comes with a price tag. Unfortunately, for small businesses, every dollar counts. There were over 4.8 billion active social media users in 2023, constituting more than half of the global population. With such figures, small businesses can utilize social media marketing to reach untold numbers of customers. However, they must understand the associated costs versus the potential benefits to truly grasp the potential of social media.
First, it's important to mention that businesses will spend depending on their goals and capabilities. But, on average, businesses spend between $4,000 and $7,000 monthly on social media marketing. This includes agency fees, platform-specific advertising costs, content creation expenses, and more. This figure can soar to hundreds of thousands of dollars per month for bigger brands. 
Conversely, the benefits of a well-executed social media strategy can be immense. Investing in social media marketing generates $2.80 for every dollar spent. Moreover, 31% of users prefer to discover new products through influencers, while the number for Gen Z is 43%. This highlights the potential of influencer marketing for social media campaigns.  
A social media marketing agency's role is to ensure that businesses receive a positive return on their investment. Through a comprehensive cost vs. benefit analysis, agencies provide a clear picture of what businesses can expect in terms of both tangible and intangible returns. By demystifying the financial aspect, agencies enable small businesses to invest confidently, knowing that their marketing budget is being channeled effectively and efficiently.
---
Conclusion
Small businesses stand at the crossroads of limitless opportunities and intricate challenges. Navigating the world of social media marketing requires expertise, strategic insight, and a commitment to continuous adaptation. That's why the experts are here to guide small businesses and ensure these challenges don't become costly mistakes.
By picking the right social media marketing agency, small businesses can harness the true potential of online engagement. As a result, forging partnerships is not just a choice but a decisive step towards sustained digital success.
Frequently Asked Questions
Why should I consider hiring a social media marketing agency for my small business?
Hiring a specialized agency ensures your social media strategies are expertly crafted, optimized for your target audience, and in tune with the latest trends. It saves time, enhances brand visibility, and offers a higher ROI compared to in-house management without specialized knowledge.
How do I choose the right agency for my business needs?
Look for agencies with a proven track record in your industry or niche, read client testimonials, and assess their understanding of your specific goals during initial consultations.
Are social media marketing agencies cost-effective for small businesses?
While there's an upfront cost, the long-term benefits—increased brand awareness, customer loyalty, and potential sales—often outweigh the investment. An effective agency can optimize your budget, ensuring every dollar is well-spent.
How do agencies handle multiple platforms?
Agencies typically have dedicated teams or experts for each major platform. They prioritize platforms based on where your audience is most active and tailor content and strategies accordingly.
Can an agency help with crisis management on social media?
Yes, a key component of many agencies' services includes online reputation management, which involves monitoring mentions, handling negative feedback, and addressing any PR challenges proactively.