Advertising Disclosure
Advertising disclosure:
Our partners compensate us. This may influence which products or services we review (also where and how those products appear on the site), this in no way affects our recommendations or the advice we offer. Our reviews are based on years of experience and countless hours of research. Our partners cannot pay us to guarantee favorable reviews of their products or services.
As the world's biggest video sharing platform, YouTube is the place to be for creators and brands alike. It sees a ton of engagements on a daily basis with 51% of users visiting it daily and people spending an average of 17 minutes on the platform each day. That said, it takes more than sheer luck to make it on the platform. You have to strategically see what users are consuming and what's resonating with them to create content that would appeal to them.
This is where YouTube analytics enters the picture, providing you with valuable insights into video or channel performance that will inform your next move. In this post, we'll share a few of the best YouTube analytics tools that you can use for free. Let's get started.
---
Best Free YouTube Analytics Tools:
---
Why You Need YouTube Analytics Tools
If you want to grow your business or channel, you have to be able to understand where you currently stand so you know what to improve. This is why you need to use YouTube analytics as it gives you an idea of what's going on at the moment, which will then allow you to plan your next steps. Here are a few reasons why using YouTube analytics tools can benefit you.
Understanding Your Audience
For both brands and content creators, being able to get a sense of what types of videos appeal to your audience is crucial so you can keep producing highly engaging content. The more you produce the types of videos they like, the better your channel will grow. YouTube analytics tools can provide you with just the information you need to understand what your audience likes and dislikes based on what videos they watch and engage with the most.
Many YouTube analytics tools will show you metrics such as views, impressions, average view duration, likes, and more. This can give you an idea of which videos had the most impact on your viewers and which ones didn't really appeal to them. As a result, you should be able to gauge what types of videos you should create more of to improve your overall channel performance.
Additionally, you can also use YouTube analytics tools to gain audience insights such as what their demographics are, when they're online, which other channels they watch, and more. This gives you a sense of who your audience is so you can craft your content and messaging to better resonate with them.
Assessing Your Channel Performance
You can also use YouTube analytics tools to understand how your channel is performing overall. You'll be able to see metrics such as how people found your content, how many subscribers you have, how many likes you've garnered, which of your videos/streams/Shorts performed the best, and many more.
Having a big-picture overview of how your channel is performing will help you understand where you currently stand, how it compares to a previous time or how your performance might improve at a later date. You could get a sense of your overall channel growth and how it's connected with a specific campaign or content strategy, for example.
Vetting Influencers for a Campaign
For brands that plan to work with influencers, certain YouTube analytics tools can also provide you with different insights to inform your influencer selection. This is one of the most important steps in the process of executing an influencer marketing campaign as your choice of influencers can make or break your campaign.
With YouTube analytics tools, you'll be able to see metrics such as how many fake followers they have, what their average engagement rate is, and where their audience is from. Some of the more robust tools can even show you how "safe" an influencer is for your brand based on the number of content that's labeled as toxic, offensive, political, or negative.
---
Top Free YouTube Analytics Tools
While there are a number of powerful YouTube analytics tools out there, most of them are only accessible through paid plans. So the selection is a bit limited if you're looking for a free analytics tool. Fortunately, the native analytics tools on YouTube are pretty robust, which means you might not even need a third-party tool at all. That said, let's take a look at some of the best free YouTube analytics tools for 2022.
Top
free youtube analytics tools
2024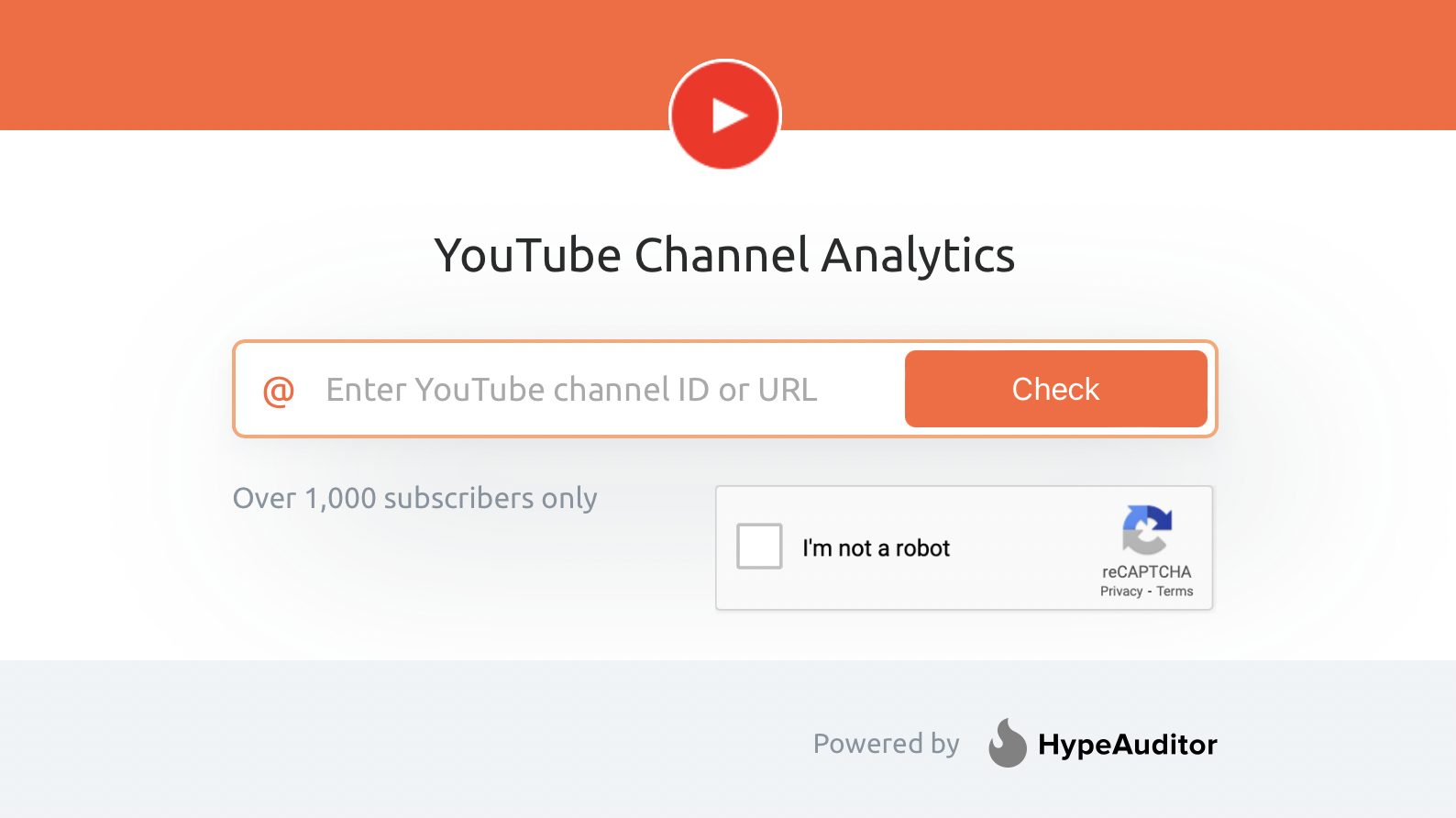 Best for: Influencer vetting
Another tool powered by HypeAuditor, the YouTube Money Calculator gives you an idea of how much a content creator makes per video. While you may find YouTube influencers who are perfect for your campaign in every other aspect, they may not necessarily be within budget. And you don't want to end up overpaying influencers just because they're charging a certain amount. That's where the YouTube Money Calculator comes in, helping you understand how much a YouTube creator is estimated to make per video.
This can give you an idea of which influencers will be right for your campaign, factoring in how much they normally charge for their videos. So you can carefully select the ideal influencers that are within your budget and will help you get your message across effectively.
The tool also provides you with other performance details such as the channel's subscriber growth, average engagement per video, total comments, and subscriber growth chart. Essentially, you can get access to crucial metrics that will inform and enrich your influencer vetting process.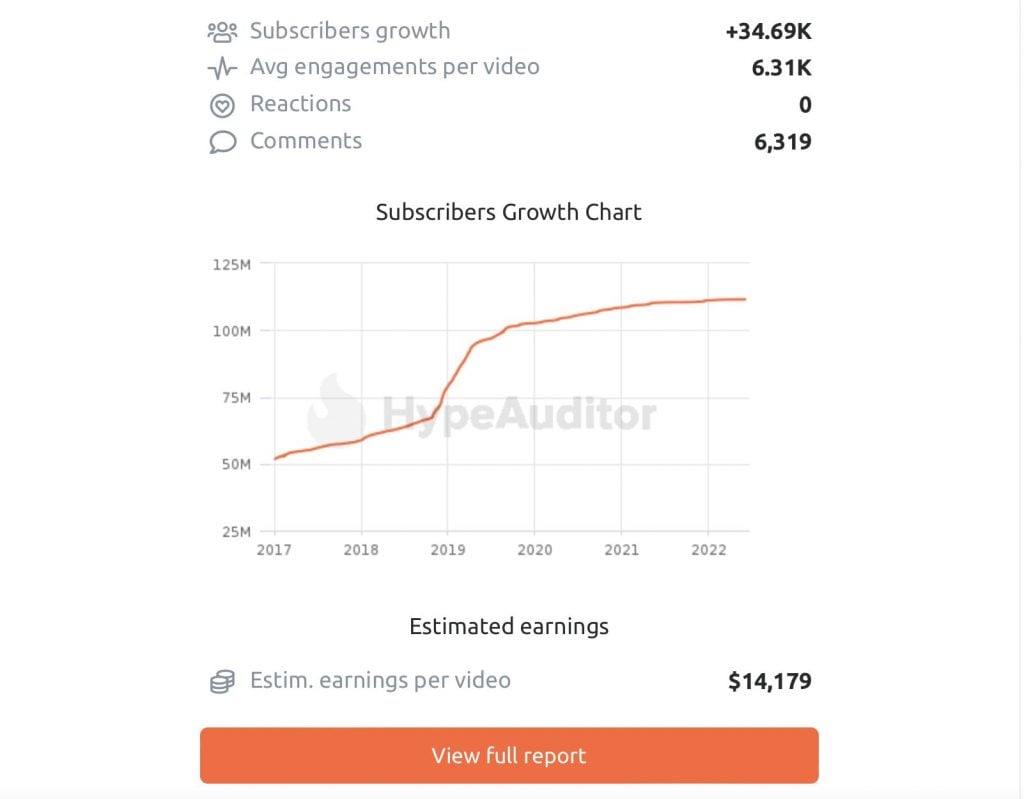 ---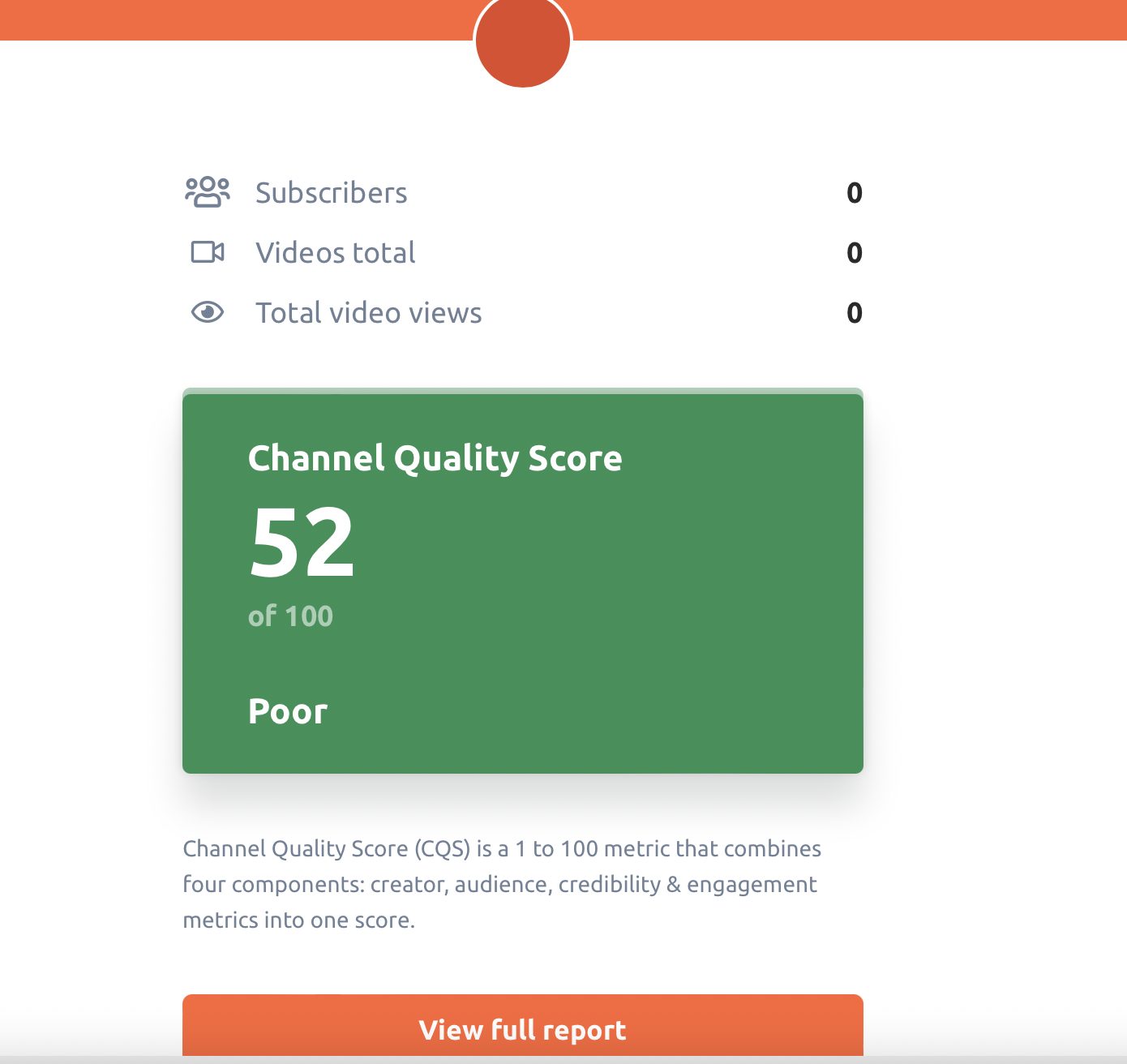 Best for: Influencer vetting
Powered by HypeAuditor, the YouTube Fake Subscriber Checker audits YouTube channels and provides a rating based on different factors including creator, audience, credibility, and engagement. It looks at the credibility of an account based on the number of fake subscribers it has and the authenticity of its audience. This helps you to get a better sense of which YouTube content creators to partner with for your influencer marketing campaign.
It gives you an overview of the total subscribers they have and the number of video views they've garnered. So you can get some idea of whether the creator would be the right choice for you. You can also click on the option to view the full report, which will take you to the HypeAuditor page where you can get more comprehensive stats on the channel.
From here, you can analyze the channel's subscriber growth rate over the past 30 days as well as details like the audience countries, age and gender, and languages. HypeAuditor will also provide metrics related to engagement such as like-comment ratio, comment rate, and reaction rate.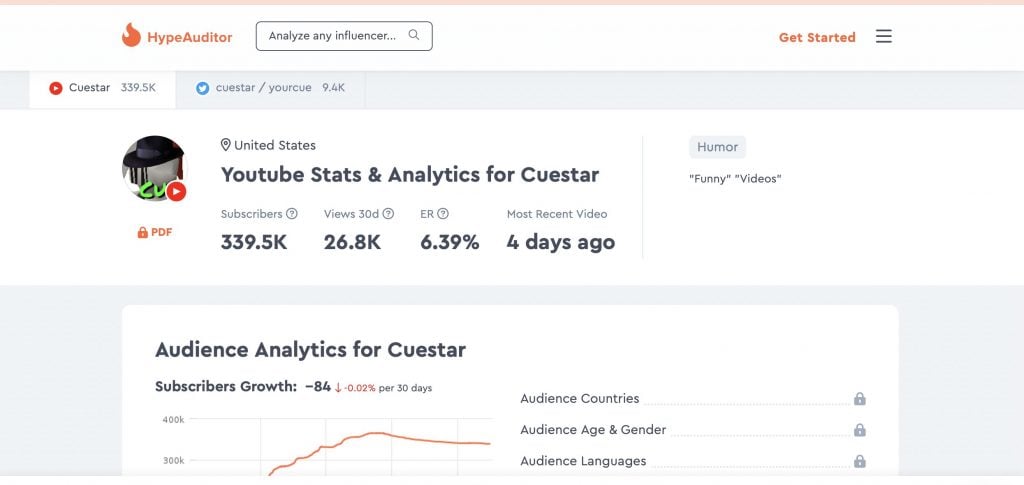 One of the most useful analytics reports for brands is the brand safety analysis. This will show you how "safe" the creator is for brands based on the number of content that's deemed toxic, offensive, political in nature, or containing negative sentiment. With this report, you can gain a thorough understanding of whether a particular creator is safe to partner with and whether their content truly aligns with your brand.
---
3. YouTube Analytics
Best for: Overall YouTube analytics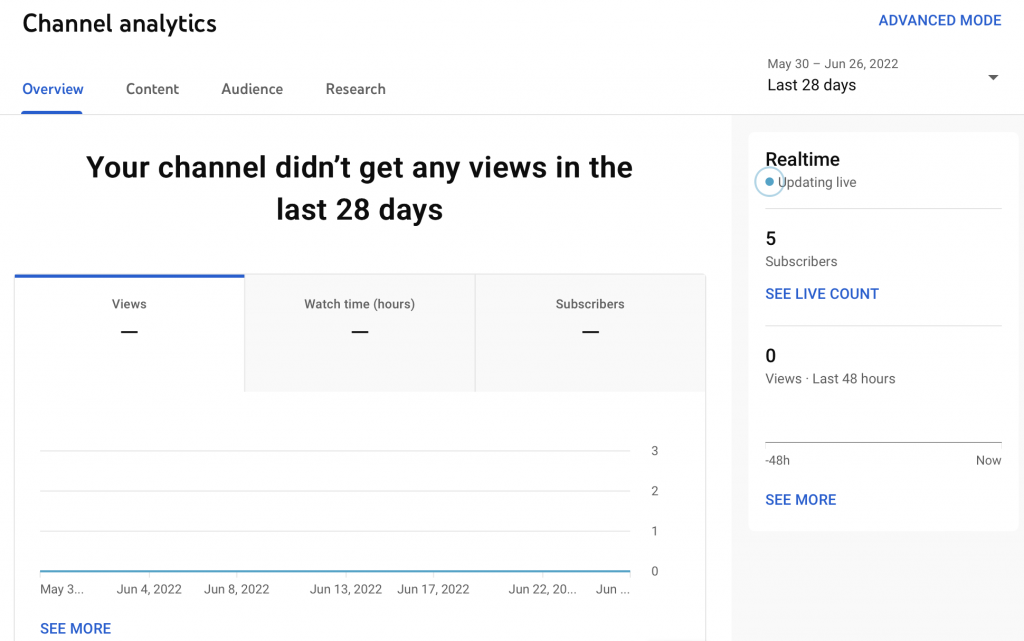 The native YouTube analytics tool is extremely robust, providing you with all the critical metrics you need at a channel and content level. Your subscriber count is updated in real-time, which means you get the most updated information at all times. The overview section shows you how your overall views, watch time (in hours), and subscriber count have changed over a specific time period. This high-level overview is an excellent way to get an idea of how your performance has changed within this period.
Under the "Content" tab, you can access metrics such as your views over the past 28 days, how viewers find you, and impressions and how they led to watch time. This can help you gauge how your channel has been performing in terms of attracting viewers.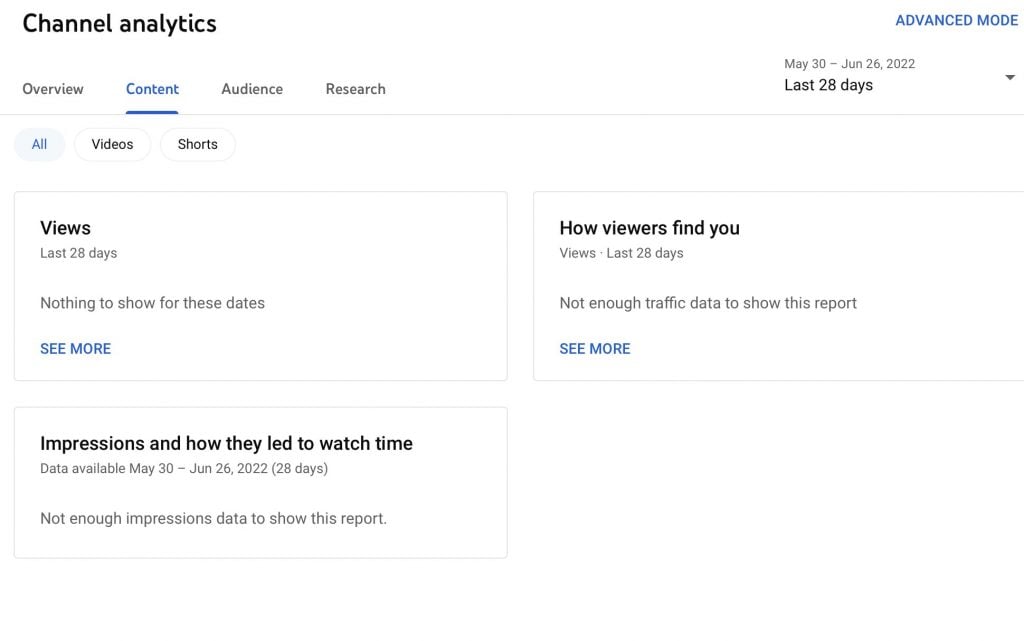 Under the "Audience" tab, you'll be able to view metrics such as how many unique viewers you attracted and how many viewers are returning. YouTube analytics also shows you when your audience is on YouTube, which is useful for planning your publishing strategy. Other important audience-level metrics include watch time from subscribers, other channels and videos your audience watches, age and gender, top geographies, and top subtitles/CC languages.
Using these valuable insights, you can strategically optimize your YouTube marketing approach to better resonate with your audience. For example, you may want to improve your subtitles based on the top language preferences of your audience. Or you could even create content that's relevant to your audience's top geographies.
YouTube analytics even provides you with research tools that will further help you optimize your content development efforts. You can use the built-in keyword research tool to understand how certain search terms are performing across YouTube i.e. how many people are searching for the term on YouTube. Plus, the tool even reveals what your audience is searching for, which can provide you with excellent content ideas.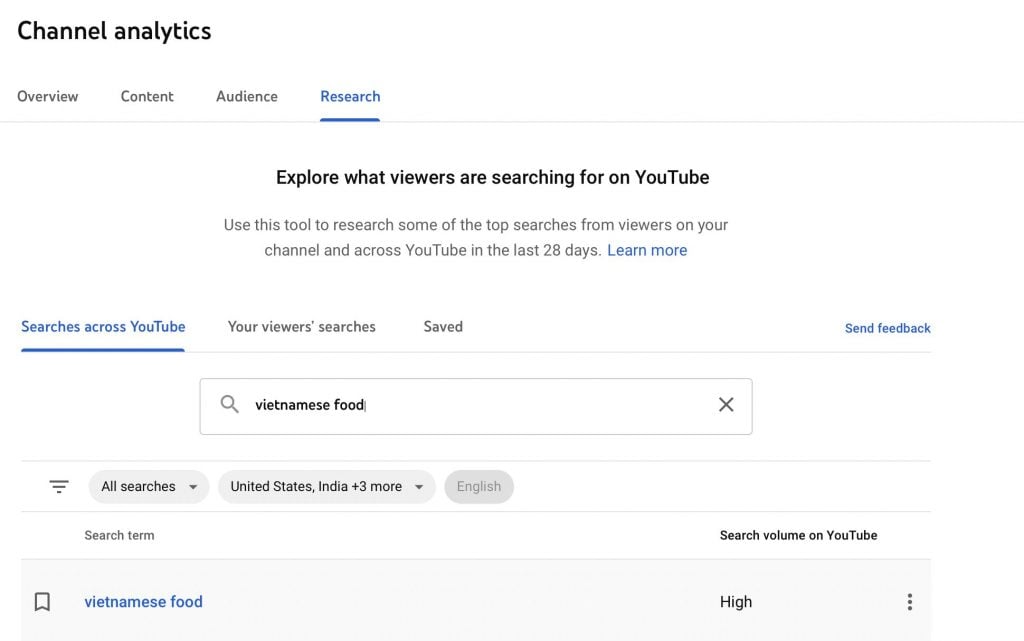 ---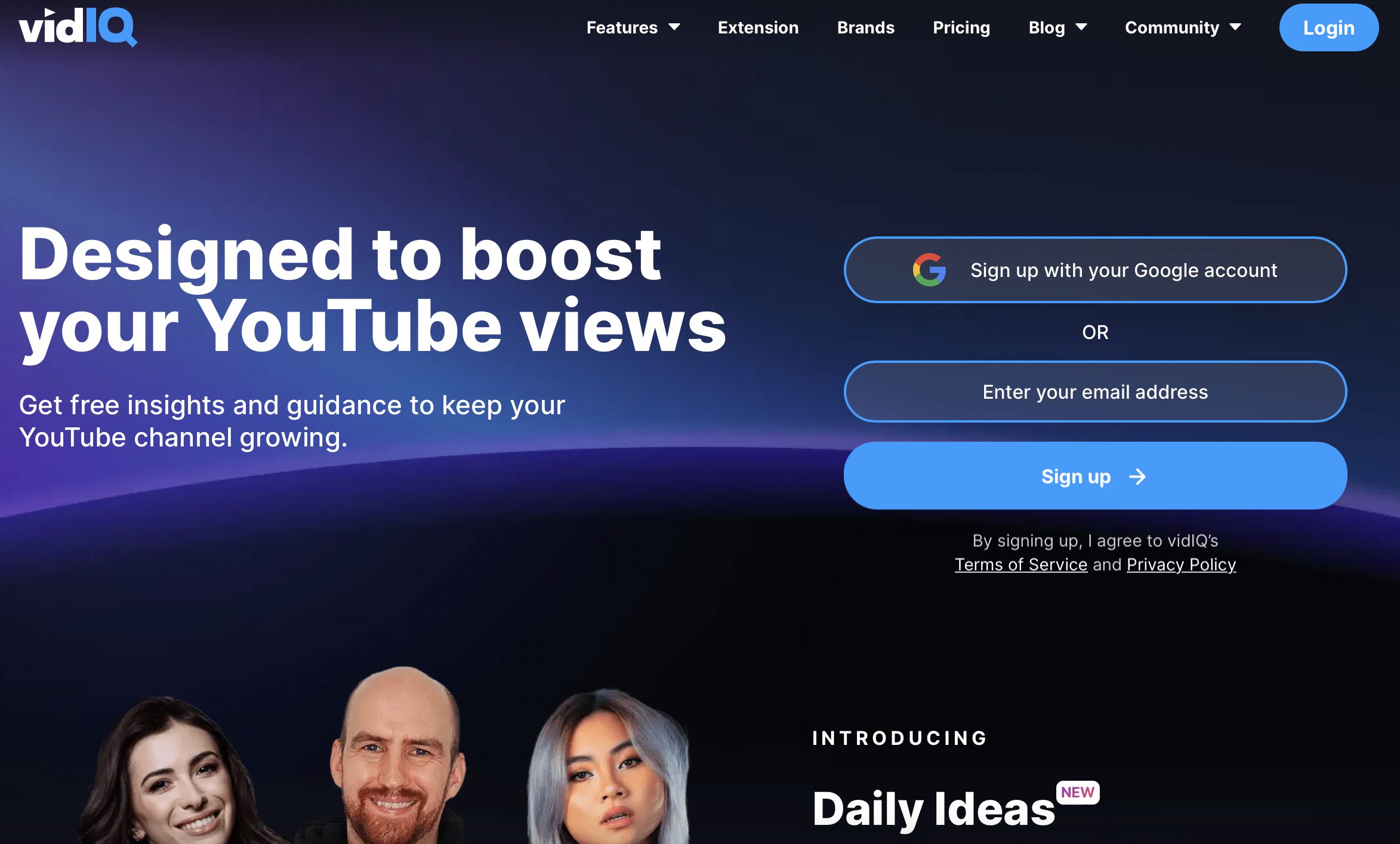 Best for: Content creators
VidIQ is one of the leading YouTube analytics tools in the market, vouched for by creators such as Mark Cuban, Jade Darmawangsa, Sean Cannell, and Marina Mogilko. This tool provides robust analytics insights that are perfect for video content creators who want to make it big on the platform. The basic analytics plan is available for free, so it's a great option for creators who are just starting out and don't have a huge budget to work with.
VidIQ provides you with all the tools you could possibly need to help with video creation. This includes daily ideas, which use AI to analyze other channels similar to yours and provide you with creative ideas to inspire your content creation. VidIQ also offers powerful channel auditing features to see the number of subscribers gained or lost, the increase or decrease in views, and the changes in watch time.
It provides you with suggestions on what to improve on based on what's working and what's not. For example, these suggestions may include adding end screens to your videos, adding custom thumbnails, including your videos in a playlist, and publishing a certain number of videos each week. In short, VidIQ is one of the best YouTube analytics tools out there if you want to build your name as a content creator on YouTube.

---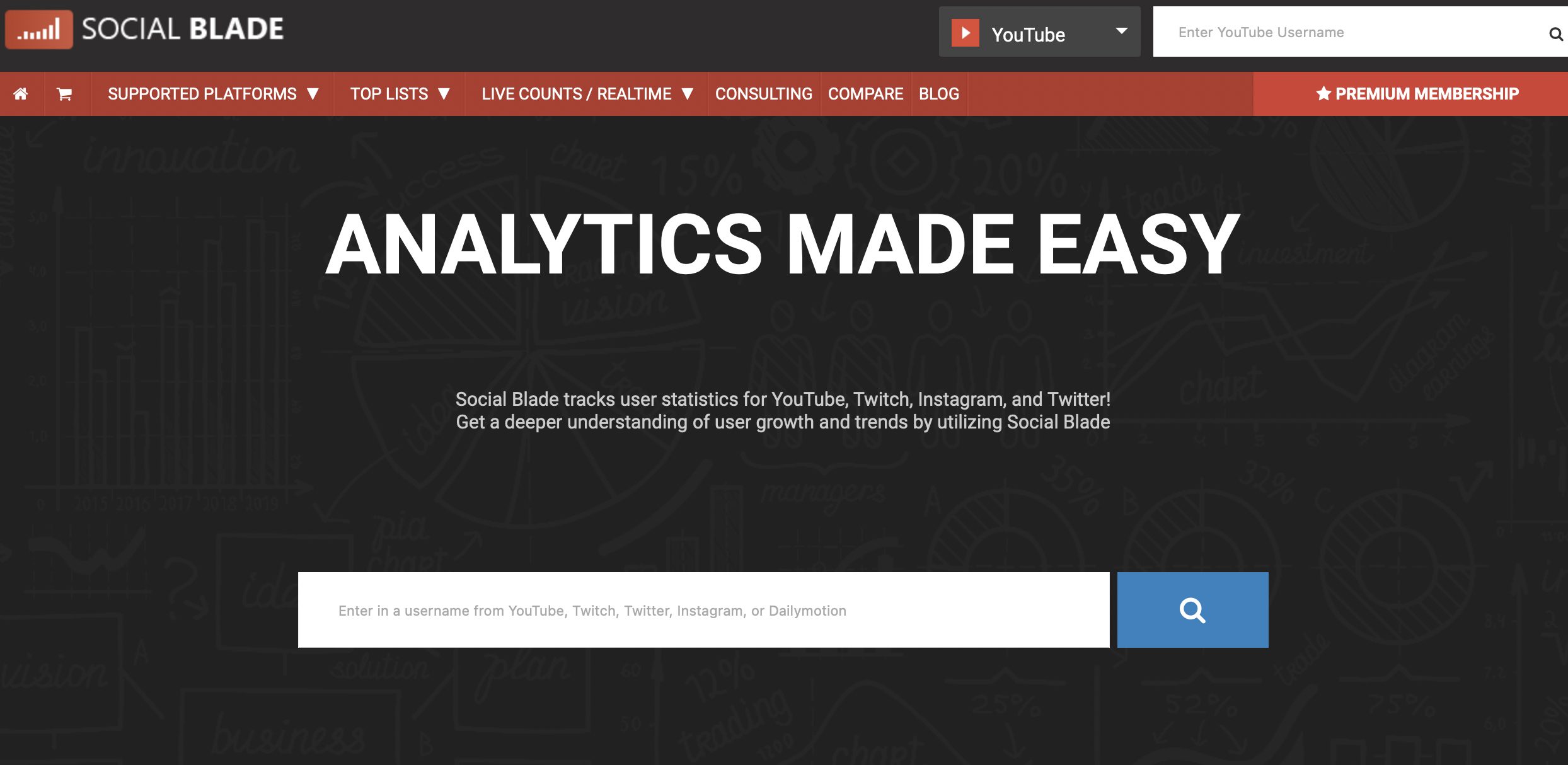 Best for: Competitor research
Social Blade is a powerful social media analytics platform that offers analytics solutions for YouTube. The free analytics tool provides you with highly comprehensive performance metrics on a channel level. The best part is that it's not just limited to analyzing your channel but can also be used for analyzing other YouTube channels. You can enter any YouTube channel name that you want to analyze and get detailed insights into its performance.
The tool gives you an overview of the number of uploads, subscriber count, video views, channel type, and country of each channel. It also ranks the channel based on its performance in terms of subscriber count, video views, and niche. Social Blade gives the channel a rating based on its overall performance across the platform's database, helping you gauge where your competitors or potential influencers are currently standing.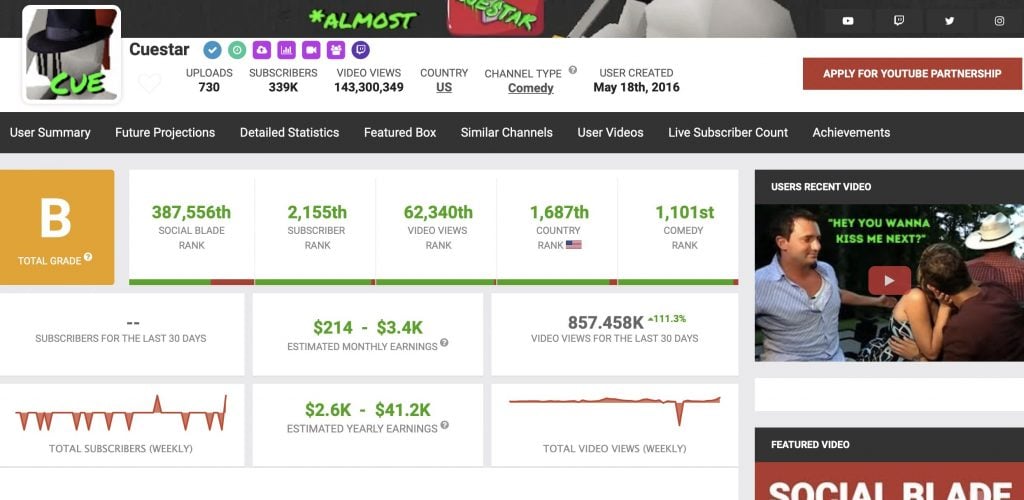 The tool analyzes how a channel's subscriber count and views are growing on a weekly and monthly basis. It also shows you channels that are creating similar content so you can discover other competitors to assess. Additionally, Social Blade provides you with a video-level overview of how the channel's content is performing in terms of views, ratings, comments, and estimated earnings. So you can take a look at their best-performing content to see what works and what doesn't.
---
Using Analytics to Grow Your YouTube Channel
Whether you're a brand that's looking to market on YouTube or you're a creator who wants to grow your channel, the right YouTube analytics tool will inform and strengthen your strategy. You'll be able to gain valuable insights into your current performance to see where you stand and how you can make improvements. You can also gain a better understanding of your audience, which will allow you to strategically craft content that would resonate with them.
Moreover, brands will also be able to use YouTube analytics to vet influencers and narrow down the best creators to partner with. So make the most of the free YouTube analytics tools listed above to grow your channel and effectively market on the platform.