Instagram influencer marketing is all the rage, as you already know. Statista even forecasts that the market size will grow to $2.39 billion by 2019. Brands know that influencer marketing works, and that Instagram is the best place for it. So we should expect to see a lot more of influencer collaborations in the coming months.
While anyone can get into Instagram influencer marketing, there's a lot involved to ensure the success of the campaign. Your choice of influencers, for instance, could have a significant impact on the outcome. So if you're planning to collaborate with Instagram influencers, here are a few things you should consider beforehand:
---
5 Things You Need to Ensure Before Collaborating with Instagram Influencers:
---
#1: Are They the Real Deal?
The first and most important factor to consider is the authenticity of the influencer. Sure, you may have found an account with a million followers. They seem to have a lot of high-quality photos as well. But are they the real deal?
It's important to check this because there has been an influx of fake influencers on Instagram. There have been incidents of people creating fake accounts and building fake influence through them. There are even influencers who buy fake followers. For example, some famous fake influencers like Alexa Rae and Amanda Smith have built their influence by buying fake followers.
Adage reported that even the biggest advertisers like the Ritz-Carlton and L'Occitane have a high percentage of fake followers. For instance, 78% of the Ritz-Carlton's followers are fake. And fake followers make up 39% of the followers of L'Occitane.
Now the challenge lies in assessing whether or not the influencer you're interested in has genuine influence. You can do this by calculating their engagement rate. This is to determine whether there are real people engaging with the influencer's content. And you need to make sure the amount of engagement is reasonable considering their following size.
But engagement rate alone may not be enough to determine the authenticity of an influencer in some cases. Some influencers may be part of comment pods designed to drive engagement from other influencers. This can have a negative impact on your influencer marketing efforts because you're not getting visibility and engagement with a real audience.
The good news is that you can still tackle this challenge using tools like Buzzweb. The tool lets you enter an Instagram username and it automatically brings up a detailed report of the user's profile.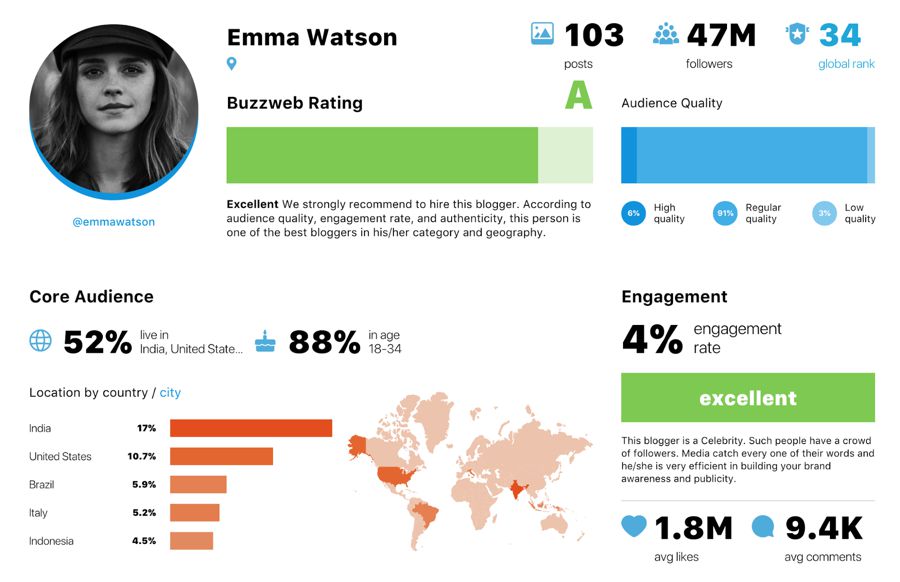 In addition to calculating the engagement rate, it also rates the influencer and assesses their authenticity. So you don't have to go through a tedious process of determining whether the influencer can reach a real audience.
These ratings range from N/A to a phenomenal A+. Buzzweb creates an accurate and transparent rating based on a variety of factors. This includes audience quality, engagement rate, reach, etc.
---
#2: Are They Relevant to Your Brand?
Once you've determined that an influencer is authentic, the next step is to check if they are relevant to your brand. You need to see if the influencer has frequently created content that's relevant to your industry.
For instance, a clothing brand would naturally want to partner with an influencer who regularly creates fashion-related content. But an outdoor clothing brand would rather partner with an influencer who regularly travels or goes on adventures.
This is another crucial step because your collaboration needs to be authentic and relevant to the influencer's audience. In other words, the audience should be open to hearing about topics related to your industry. So your collaboration wouldn't seem forced or unnatural.
For example, Jess Vuong is a foodie influencer and she regularly creates content related to food at restaurants in her city. So partnering with bakeries like Frank Cake Bar is the perfect move as she can create content that naturally fits into her usual feed.
Most influencer search tools will let you conduct a search based on category. So that part is easily sorted based on the tool you are using. However, categories like "fashion" or "travel" may be too broad a term to ensure whether the influencer is specifically relevant to what you are selling.
As briefly mentioned earlier, an influencer who creates content related to high fashion brands may not be suitable to promote an outdoor clothing brand. So you need to take influencers through another short vetting process to ensure that they create content relevant to your brand.
For this, you should quickly take a glance at their Instagram feed. Check out some of the content they have created to see if they are relevant for your brand and industry. Check out some of the brands they have promoted to see if they have promoted brands similar to yours. This will give you a clear idea of whether the influencer is relevant for your brand or not.
---
#3: Do They Produce Quality Content?
Good influencers create good content. While most influencers have earned their influence by consistently producing quality content, that's not always the case. You don't want to make the mistake of partnering with an influencer who doesn't have an original idea or any creativity. It's important that you go through an influencer's content thoroughly to see if they can meet the quality you expect.
Again, check the sponsored content they have created for other brands. This will help you see if the influencer has an ability to naturally infuse the product into a post without it seeming overly promotional.
Some influencers even have an ability to talk about products that don't specifically fall under the category of content they create. They can still easily influence their audience this way. These are influencers who have a knack for creating high-quality content and use their creativity to naturally promote products.
Lisa Linh, for instance, is a fashion and travel influencer. She usually creates content related to travel destinations, travel fashion, etc. So she normally partners with fashion brands, hotel chains, and tourism departments.
However, she recently partnered with Tic Tac. Who would've thought that a travel influencer could naturally talk about Tic Tacs? But Lisa Linh started a natural and relevant conversation around the product and helped promote their contest as you can see in the screenshot below.
This is the kind of content you should be looking for. If she manages to create such high-quality content for a product that's by no means directly related to fashion or travel, there's a good chance she will be able to pull off the same move for your products. This, however, would mostly work on consumer goods and items that everyone can use.
---
#4: Are They Engaging with Their Audience?
It's not enough that the influencer has a lot of followers who like their posts and comment on them. What's important is that they can engage their audience in a conversation around the brand or product they are promoting.
Again for this, you will need to go through some of their posts and check the captions and comments. Are they good at writing captions that focus on the product they are promoting without sounding overly promotional? And are they responding to followers who have questions about the product?
It's virtually impossible for an influencer with tens of thousands of followers to respond to each and every comment. But it's a huge plus if you see an influencer who takes the time to answer important questions in the comments.
Cooking and parenting influencer, Jenna Beaugh, for instance, regularly responds to questions that her fans have about the products she's promoting or about topics she has expertise in.
---
#5: Are They Affordable?
Even after you've found the perfect influencer, it may not always work out with them if you cannot afford to pay them their expected rate. While there are still some influencers who will review your products in exchange for free products, most influencers expect monetary compensation. You can't expect them to spend their time and resources to create free high-quality content for you.
So before you decide to approach an influencer, you should first have some idea of how much compensation they might expect. The cost of working with an influencer may vary depending on a number of factors. This includes industry, audience size, and engagement rate.
Luckily for you, there are tools like the Instagram Money Calculator, which does the hard work for you. It takes into consideration factors such as the number of followers, accounts following, and posts. It also considers the number of likes and comments per post to calculate engagement rate. It then comes up with a suitable estimate of how much the influencer's post is worth.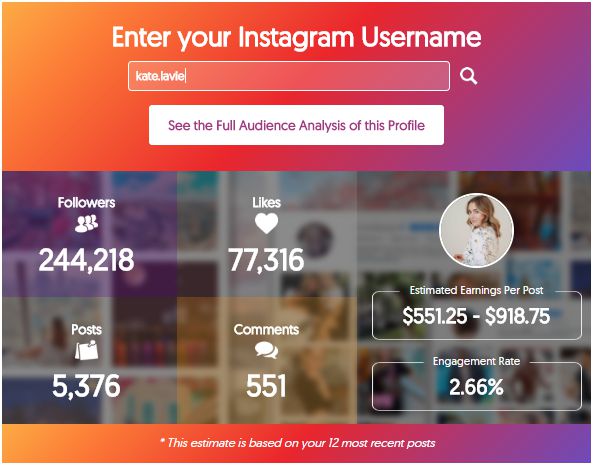 Based on this information, you will have a clear idea of how much you might need to spend on an influencer. If their rates are too high, you might want to avoid connecting with them altogether. But if you think the rates are negotiable, you could approach them with an offer.
---
Conclusion
These are five of the most important factors you should consider before collaborating with Instagram influencers. The most vital factors are the influencer's credibility and authenticity, followed by relevance. In addition to this, factors such as content quality, engagement, and cost also play an important role in determining whether or not an influencer is right for you.