Advertising Disclosure
Advertising disclosure:
Our partners compensate us. This may influence which products or services we review (also where and how those products appear on the site), this in no way affects our recommendations or the advice we offer. Our reviews are based on years of experience and countless hours of research. Our partners cannot pay us to guarantee favorable reviews of their products or services.
Digital marketing is a fast-paced and constantly evolving area, forcing marketers to prioritize efficiency to ensure success. Modern-day marketers are tasked with a myriad of responsibilities, from content creation and campaign monitoring to data analysis and strategic planning. Not only that, but the number of digital channels is constantly growing. 
Among the many channels to manage, Twitter stands out as a particularly potent platform. With real-time interactions, a vast user base, and a rich array of engagement opportunities, Twitter is undeniably a cornerstone for any digital marketing strategy.
Despite the platform's immense capabilities, maximizing the potential of Twitter marketing is no small task. The continuous nature of the platform, coupled with the need for timely engagement, demands a significant time commitment. The need to help marketers achieve their goals paved the way for Twitter Automation Tools. 
These are sophisticated Twitter marketing tools designed to shoulder the bulk of repetitive tasks, streamline the process of scheduling tweets, automate retweets, facilitate liking posts, and a multitude of other functionalities unique to Twitter.
Below, we dive deep into the best Twitter automation tools to elevate your Twitter game and optimize your digital marketing efforts.
---
Best Twitter Automation Tools
Top
twitter automation tools
2024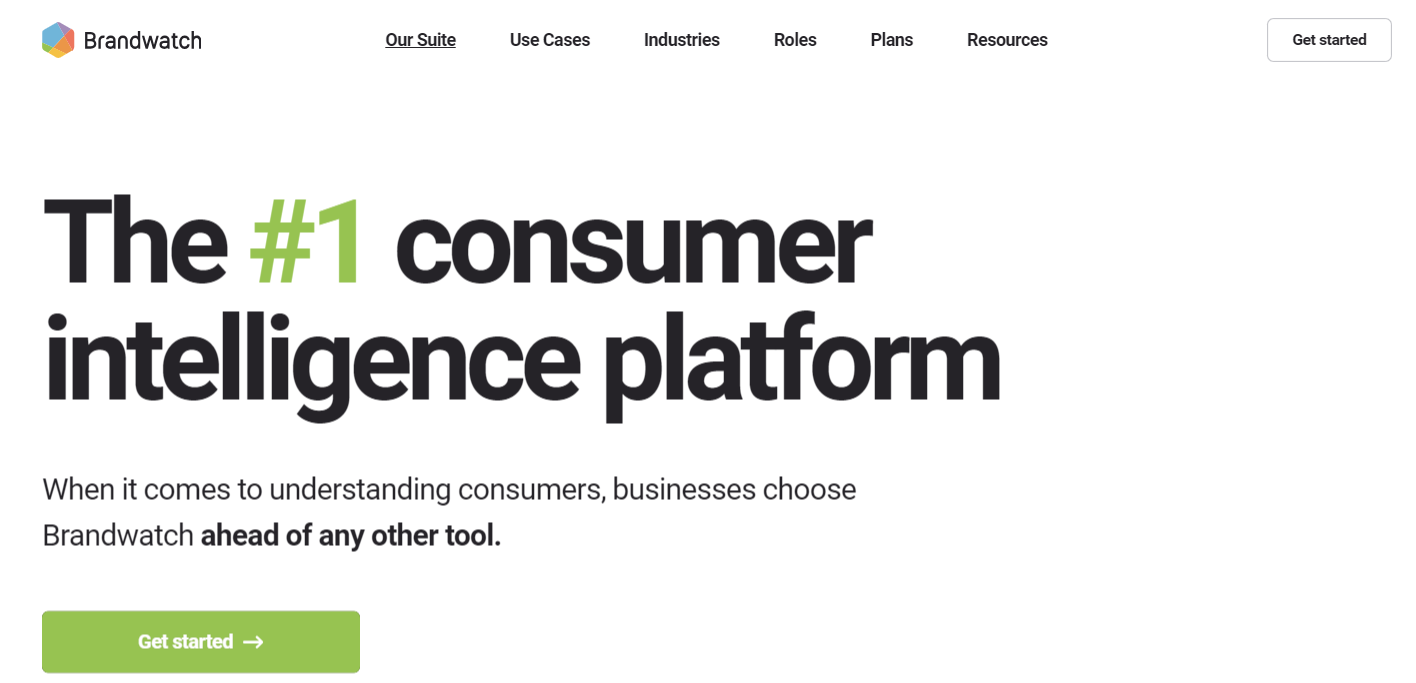 Ideal for: Comprehensive social media automation and audience insights
Brandwatch is more than just a piece of Twitter software—it's an all-encompassing social media automation tool designed to engage and analyze every aspect of SMM. The tool's primary aim is to help you stand out on social media and expand brand outreach across various channels. One of its unique propositions is the Engage feature, which allows you to set automated welcome and away messages tailored for specific channels like Twitter.
Moreover, Brandwatch offers seamless customer engagement and care capabilities that funnel interactions into a unified inbox. The obvious benefit is that you will never miss an opportunity to engage with your customers when using Brandwatch. In the realm of analytics, Brandwatch shines by offering aggregated metrics and real-time consumer listening. Finally, you can monitor mentions, track competitors, and stay updated on industry trends, making them crisis-ready.
Key Features:
Unified content calendar for cross-channel publishing
Seamless campaign management and collaboration
Advanced reporting, including content performance and customer demographics
Smooth management through mobile-friendly dashboards
---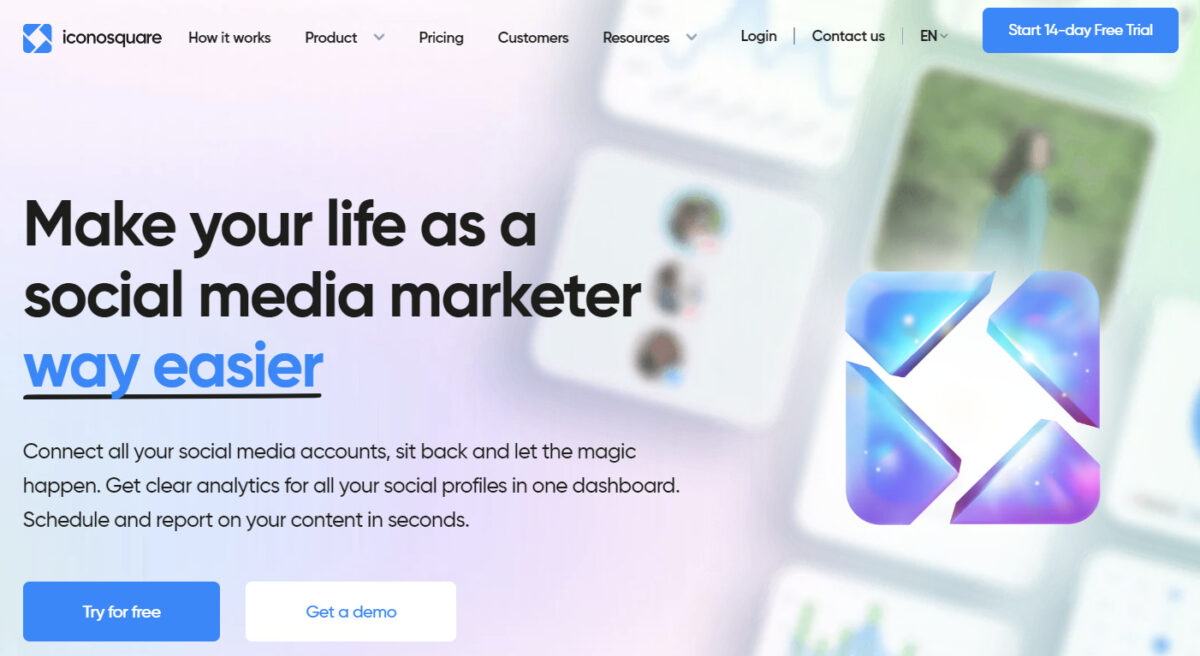 Ideal for: Enhancing Twitter efficiency through intuitive scheduling
Iconosquare provides an effortless way to plan your tweets through the power of automation. Whether you're looking to post text-only content, images, or even GIFs and videos, the platform guides you through the process. Iconosquare allows you to choose your content type and add your text. Simply said, it streamlines every step of the way.
Moreover, with the added feature of Time Slots, Iconosquare takes the guesswork out of deciding the optimal publishing time. The feature does this based on your audience's engagement patterns, ensuring your tweets get the maximum visibility. To add icing on the cake, Iconosquare's integration of automated social media reporting ensures you're always updated on your performance metrics without the hassle of manual reporting.
Key Features:
User-friendly Scheduler for easy Tweet planning
Advanced audience and competitor listening 
Identify unread comments and mentions and respond easily
Crossposting option for multi-platform content distribution
---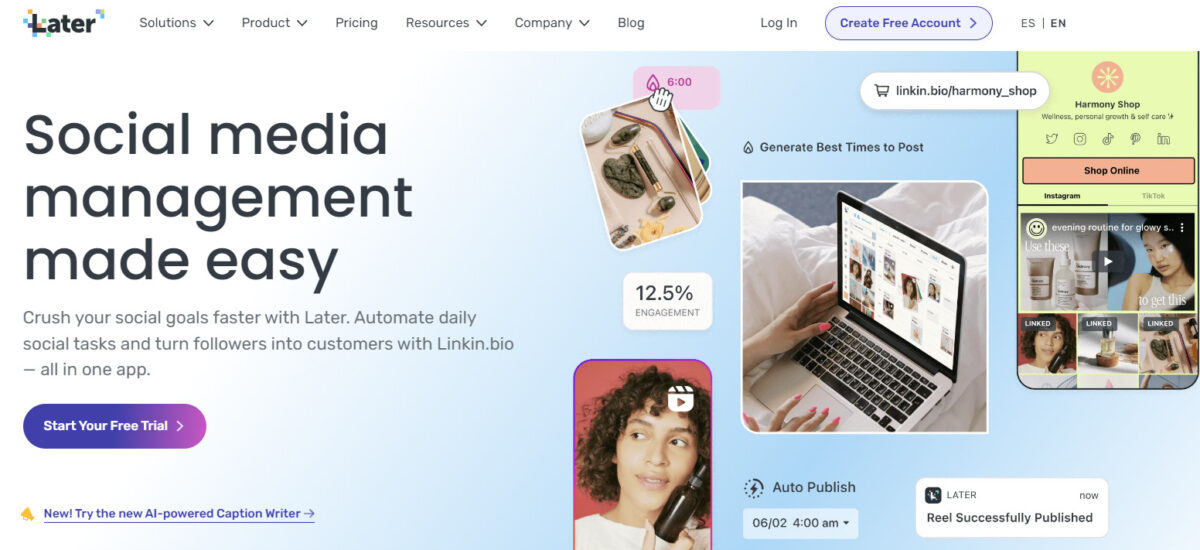 Ideal for: Multi-platform social media management with a focus on Twitter
Later revolutionizes the way you approach Twitter marketing, making drafting, tweaking, and scheduling tweets a breeze. The platform even offers a single interface to manage your Twitter postings. But Later isn't limited to just Twitter and even supports other major social media platforms like Instagram, Pinterest, Facebook, TikTok, and LinkedIn, turning it into a one-stop solution for all your social media content needs.
Their Auto Publish tool is a game-changer for those constantly on the move. The tool is designed to take the burden away from tweeting on time. With this feature, you can set your tweets and forget about them, knowing they'll be posted right on schedule. Furthermore, the URL shortener feature ensures your tweets are concise without sacrificing essential links.
Key Features:
Ability to identify, organize, and edit media and get on-brand UGC
Drive traffic from Twitter directly to your website by adding custom links
Capabilities for tagging users in tweets 
Advanced analytics for data-driven decisions
---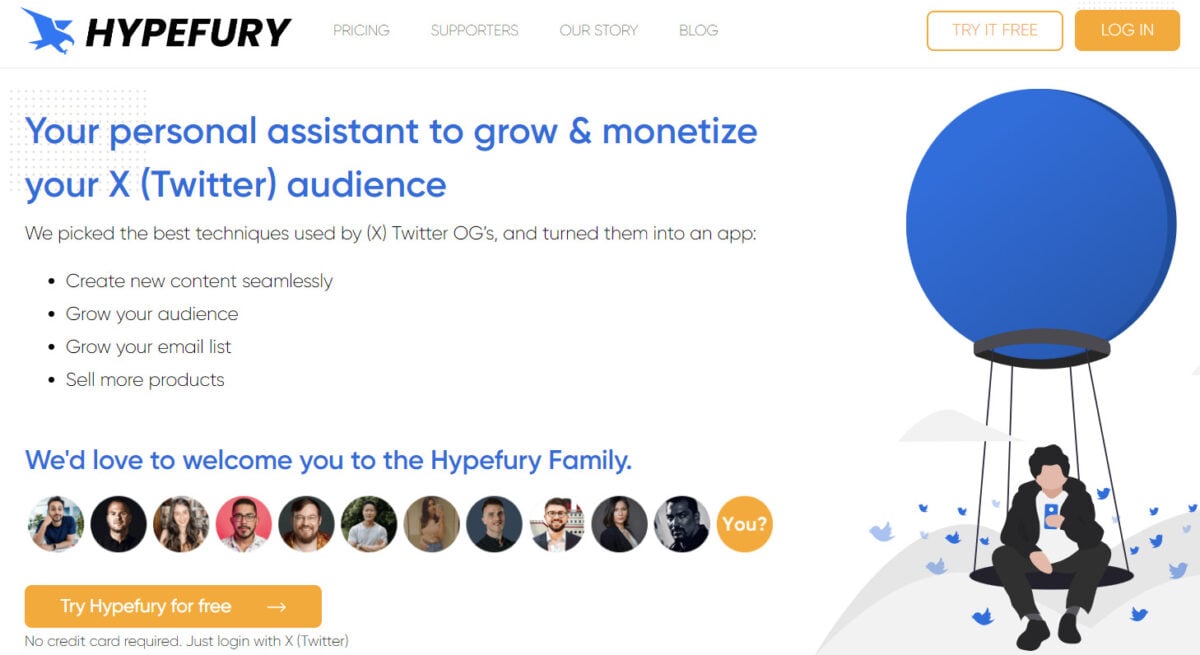 Ideal for: Growing & monetizing your Twitter audience seamlessly
Hypefury is designed to be your personal Twitter assistant. This platform empowers you to effortlessly create compelling content and expand your audience and product sales. With a seamless interface and unique features, Hypefury takes pride in turning successful tweets into sales opportunities.
One Hyperfury functionality automatically adds comments promoting your newsletters, courses, or websites under your high-performing tweets. But what really sets Hypefury apart is the ability to automatically retweet, ensuring a wider reach without any extra effort. The obvious benefit is the chance to boost your email list and increase engagement. Additionally, Hypefury can convert tweets into Instagram-friendly formats, further amplifying your digital presence.
Key Features:
Creation panel for new content inspired by top tweets
Ability to listen to your audience and spy on competitors
Identify unread comments
Collaborate with others in your team
Sales automation, marketing calendar, and more for revenue boost
---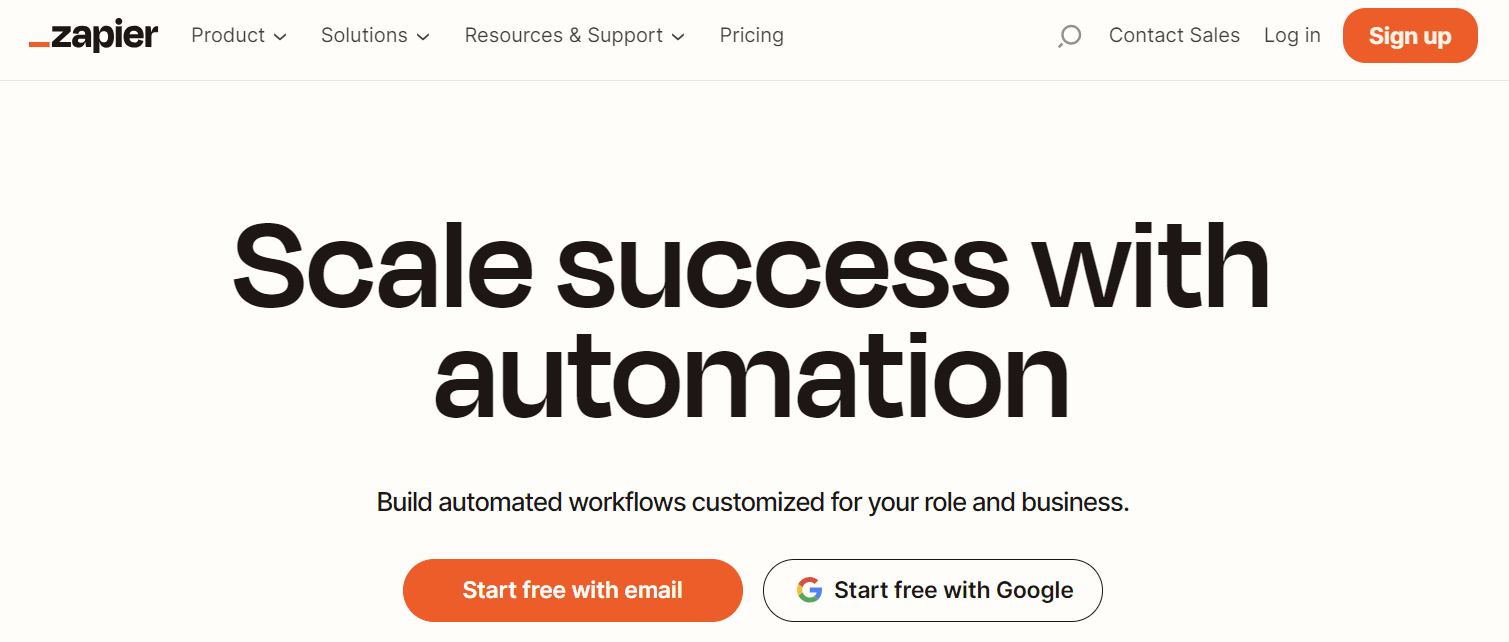 Ideal for: Streamlining Twitter activities by connecting with other apps
Zapier's automation prowess goes beyond just managing tweets. Instead, Zapier integrates Twitter with your favorite apps, allowing you to monitor brand mentions and be notified about relevant tweets. Moreover, Zapier eliminates unnecessary alerts from Twitter and other social platforms thanks to its customizable "Zaps." These allow you to get tailored alerts for brand mentions, tweets from industry leaders, and much more.
Zapier also allows you to monitor Twitter lists, ensuring you never miss out on crucial industry-related updates. However, the tool's list of impressive capabilities doesn't stop there. Zapier allows long-term sentiment tracking, a comprehensive view of audience interactions, customizable cross-postings, and more. For businesses, Zapier's automation ensures a hassle-free way to promote content on Twitter and draft tweets in advance, fostering a more efficient social media strategy.
Key Features:
Seamless integration for well over 6,000 apps
Activity logs and app restrictions for seamless team management
Advanced workflows built on custom if/then logic
Automation to share business content on Twitter from CMSs like WordPress
Advanced scheduling and user-generated content posting options
---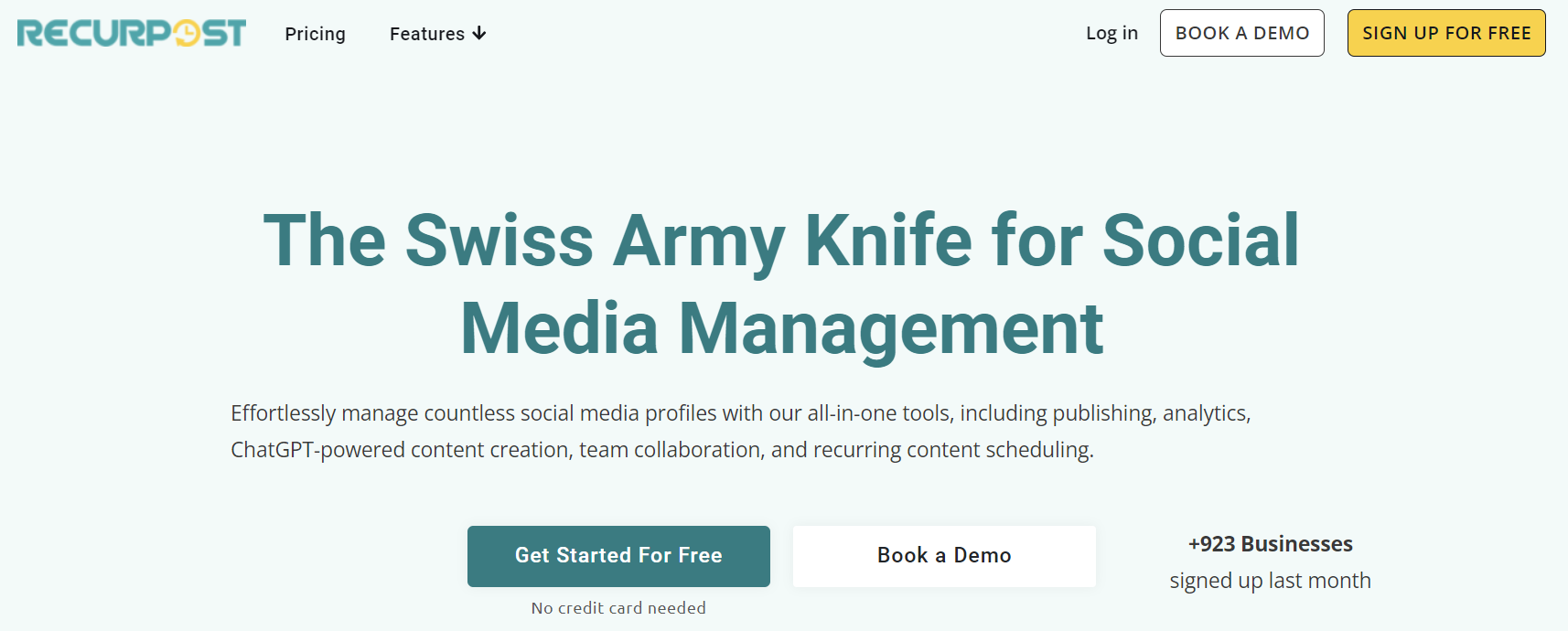 Ideal for: Seamless scheduling and content recycling on Twitter
RecurPost is a social media scheduling tool designed to simplify your tweeting journey. From scheduling tweets for multiple accounts to redoing and reusing old tweets, RecurPost offers a versatile approach to help you reach your audience consistently. But the platform isn't just about scheduling; it ensures your tweets resonate with your followers by integrating rich multimedia and curating content on the go.
RecurPost does this by delving deep into content creation. The platform's integration with tools like Canva ensures you always have access to high-quality visuals. Moreover, its innovative AI content generator allows you to generate tweet ideas effortlessly. With additional integration features like RSS feed and the Google Chrome plugin, you can stay updated with trending content from your favorite sources, ensuring you always have something relevant to share.
Key Features:
Plan and bulk schedule tweets
Curate trending content 
Import content in batches via CSV files, social media accounts, or third-party websites
Monitor tweet performance and understand audience demographics
Manage DMs, mentions, and notifications across all social media sites
---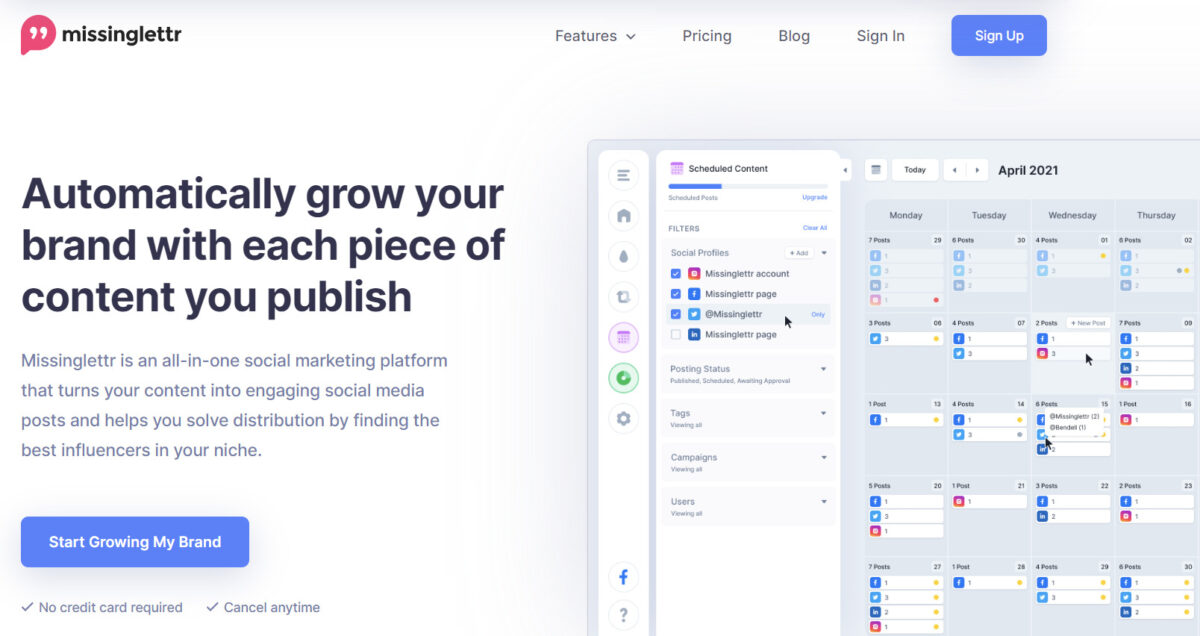 Ideal for: Streamlined campaign automation and content generation
Missinglettr stands out as a premier Twitter scheduler tool that takes the hustle out of finding tweet-worthy content. The platform not only schedules but also automates your entire campaign process. With Missinglettr, you can enjoy the benefits of hands-free content curation, enhancing your Twitter presence and driving consistent engagement.
Missinglettr also provides in-depth analytics that empower you to optimize your Twitter strategies. With data-driven insights at your fingertips, you can understand what resonates with your audience. Refine your approach based on actual performance metrics and keep your Twitter engagement growing.
Key Features:
Schedule, create, and review tweets from a unified dashboard
Implement content strategies, repurposing content from blogs, Medium, or YouTube 
Auto-generates posts for review before campaign initiation.
Convert provided content into a 12-month drip campaign
Derive a series of tweets from a single content link
---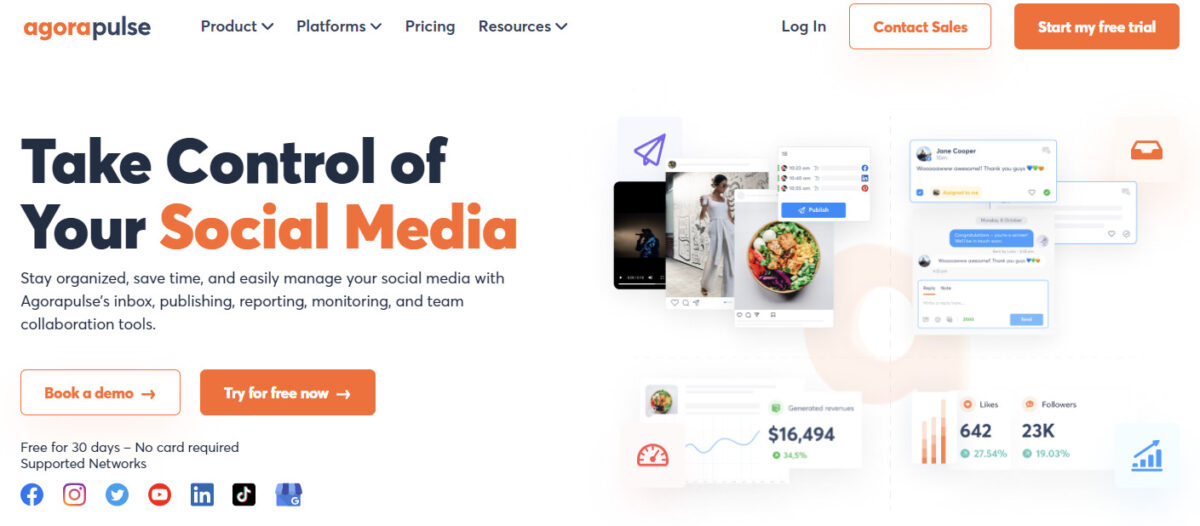 Ideal for: Comprehensive social media management with in-depth Twitter automation
Agorapulse helps elevate your social media strategy by ensuring each post is perfectly timed and optimized for maximum engagement. Team collaboration is a breeze, letting you manage pending content cohesively.
When it comes to managing user interaction, Agorapulse acts as a central hub. All your messages, be it from Twitter, Facebook, or any other platform, come to a unified inbox. You can label, assign, or share conversations without the hassle of switching between apps. Moreover, Agorapulse offers a social media listening tool that ensures you're always attuned to your audience's sentiments and can jump into pivotal conversations timely.
Key Features:
Post-scheduling and in-depth categorization
Publishing Calendar that allows you to stay organized
Manage Twitter DMs and comments
Customizable report generation with critical metrics
---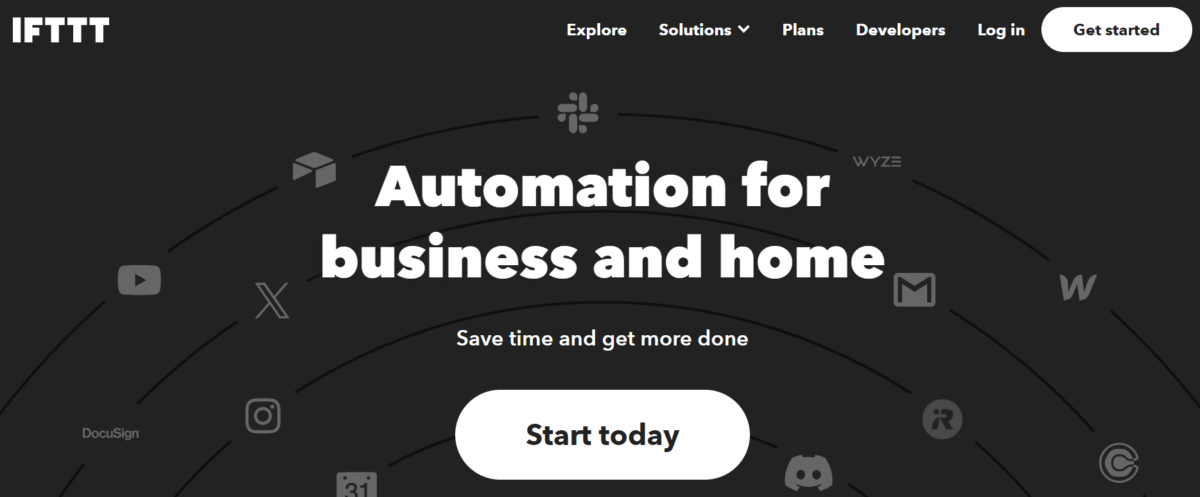 Ideal for: Versatile automation with extensive third-party integration capabilities
IFTTT stands out with its impressive spectrum of automation possibilities, especially for Twitter. The sheer variety it offers ensures that your Twitter strategy is flawlessly aligned with your needs. IFTTT's auto-tweeting, tracking vital hashtags, and curating messages from select accounts help you streamline Twitter tasks efficiently.
But what truly sets IFTTT apart is its expansive library of third-party integrations. Connect, combine, and create unique workflows interlacing Twitter with other services and apps. Lastly, you gain access to a wide array of tools capable of monitoring news and social feeds.
Key Features:
AI tools to write your tweets
Integration with over 800 popular apps
Customizable notifications for mentions 
Advanced Pro features, including unlimited tasks and team tools
---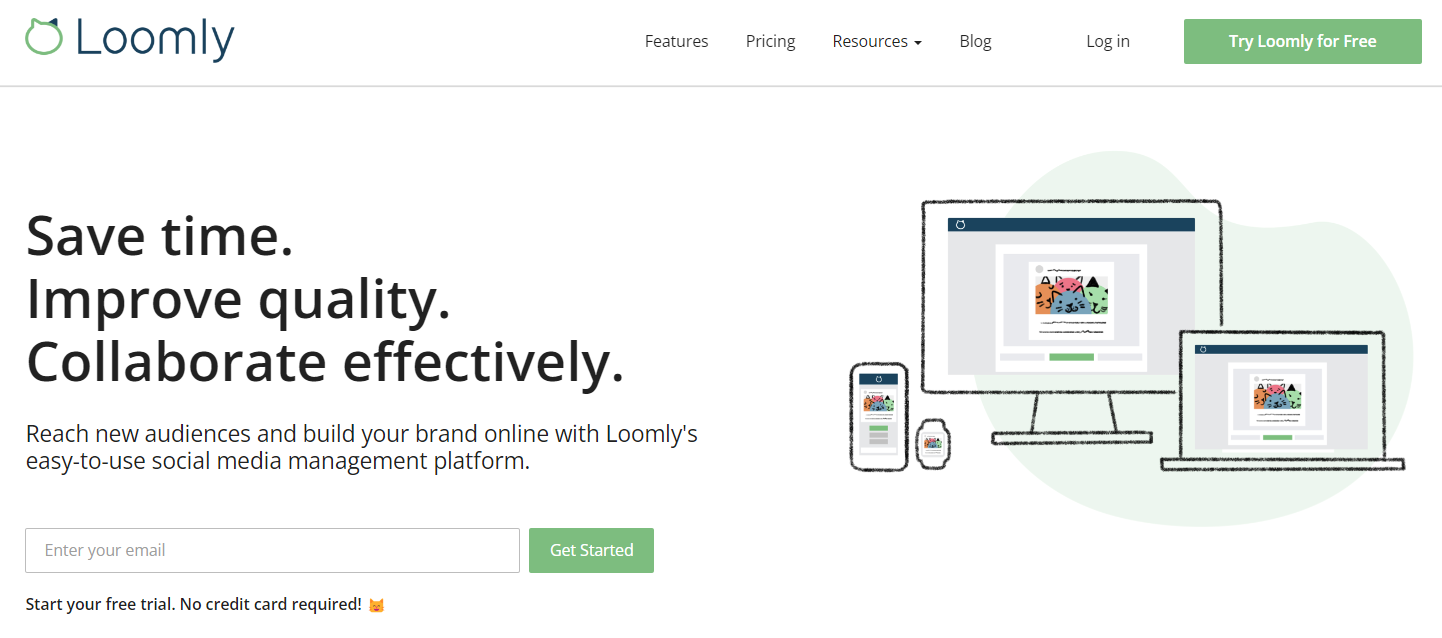 Ideal for: Streamlined content management and audience engagement on Twitter
Loomly takes a holistic approach to Twitter automation, offering a comprehensive platform tailored for efficient content management and optimization. Recognizing the challenges faced by teams dealing with spreadsheets for content organization, Loomly brings all content under one roof, enhancing team collaboration and ensuring real-time updates with notifications spanning email, push, Slack, and Microsoft Teams. 
Based on Twitter trends, RSS feeds, and even social media best practices, the platform ensures you never face a content drought. Further emphasizing its focus on crafting perfect tweets, Loomly guides you with post ideas, optimization tips, and even provides post previews before going live. Its collaborative review, approval workflow, and end-to-end post history also keep all your team members in sync. 
Key Features:
Robust analytics offering insights on account, post, and URL metrics
Comprehensive Library for organizing and accessing assets
Automated publishing, with support for diverse platforms
Mobile app support
---
Why do Businesses Need Twitter Automation Tools?
The importance of these automation tools is manifold. Firstly, they grant marketers the invaluable gift of time. Instead of being tethered to the platform around the clock, they can set up campaigns, analyze metrics, and orchestrate engagements with a few clicks, leaving the software to execute their strategy flawlessly. This not only conserves time but also reduces the risk of human error.
Furthermore, these tools are equipped with analytical capabilities, allowing marketers to glean information about peak engagement hours, audience demographics, popular hashtags, and more, all of which can inform a more targeted and effective approach. In a sense, Twitter Automation Tools don't just automate; they elevate.
---
Factors to Consider When Selecting Twitter Automation Tools
When selecting the right software for Twitter automation, weighing various considerations is crucial. First and foremost, evaluate the tool's features against your specific needs. For instance, if you're looking for scheduling capabilities, Twitter analytics, or follower management, the software should cater to these requirements. 
The tool's user interface is equally significant; even the most feature-rich software might not be beneficial if it's not user-friendly. You'd want an intuitive interface that ensures a smooth experience without complicating the user journey.
Additionally, as your brand's stature and demands grow, the software should be scalable, adapting to your evolving needs and allowing for enhanced functionalities or integrations. The financial aspect can't be overlooked either. While the cost shouldn't dominate your decision, it's essential to guarantee that you're receiving substantial value for your investment. This means comparing the software's benefits to its price point.
Another paramount consideration is the quality of customer support and the strength of the user community. Having robust support can make troubleshooting a breeze, and an active user community can be a treasure trove of useful tips and insights. Lastly, always remember the importance of compliance. Any software you choose should strictly adhere to Twitter's rules and policies, ensuring you avoid unforeseen complications or penalties.
---
Conclusion
Twitter automation tools revolutionize the way brands and individuals manage their online presence. They streamline the process of content scheduling, curation, and analysis, ensuring a consistent and engaging Twitter feed. These tools automate tweet scheduling and offer unique features like generating content variations and running drip campaigns. By leveraging them, users can maintain an active Twitter presence, repurpose content efficiently, and gain valuable insights into their audience's preferences and behaviors.
Frequently Asked Questions
Are there any risks associated with automating Twitter activities?
While automation tools are beneficial, over-relying on them or using them to spam can lead to your account getting flagged or even suspended. It's crucial to use these tools responsibly and ensure your activities stay within Twitter's guidelines.
How do these tools affect engagement and interaction with my followers?
Automation tools can help maintain consistent engagement with your audience, ensuring you never miss out on retweeting or liking relevant content. However, a human touch is still best for personalized interactions and responses.
Are there any free options available?
Yes, many tools offer free plans with basic features. As your needs grow, you can consider upgrading to paid plans that offer more advanced functionalities.
Can I combine multiple automation tools for a comprehensive solution?
While you can use multiple tools, starting with one is recommended to avoid overwhelming yourself. Over time, if you find gaps in one tool's capabilities, you might consider integrating another to fill those specific needs.