Advertising Disclosure
Advertising disclosure:
Our partners compensate us. This may influence which products or services we review (also where and how those products appear on the site), this in no way affects our recommendations or the advice we offer. Our reviews are based on years of experience and countless hours of research. Our partners cannot pay us to guarantee favorable reviews of their products or services.
If you want to market your brand and product, you need content. There's no way around that.
While leveraging user-generated content (UGC) will continue to remain a critical part, it will never replace the need to create your own content from scratch, whether that's a short, social media post caption or a long, 2,000-word blog post like this one.
That said, with the advances in tech, specifically artificial intelligence, whether there will still be the need to start entirely from scratch will be debatable. If you keep track of content marketing trends, you'll already know that moving forward AI-powered content marketing will become more popular. If you feel that you're ready to start entrusting some of your content generation to AI, here are nine top tools that you can check out.
---
AI Tools to Put Your Content Generation on Autopilot:
---
Best AI-powered Tools for Content Generation
The adoption of AI Content Generators is becoming increasingly vital for marketing executives seeking to create compelling content that effectively engages their target audience. By understanding the importance of these innovative tools and carefully considering the factors outlined above, marketing teams can make informed decisions about which AI Content Generator software is best suited to help them achieve their goals and drive business success.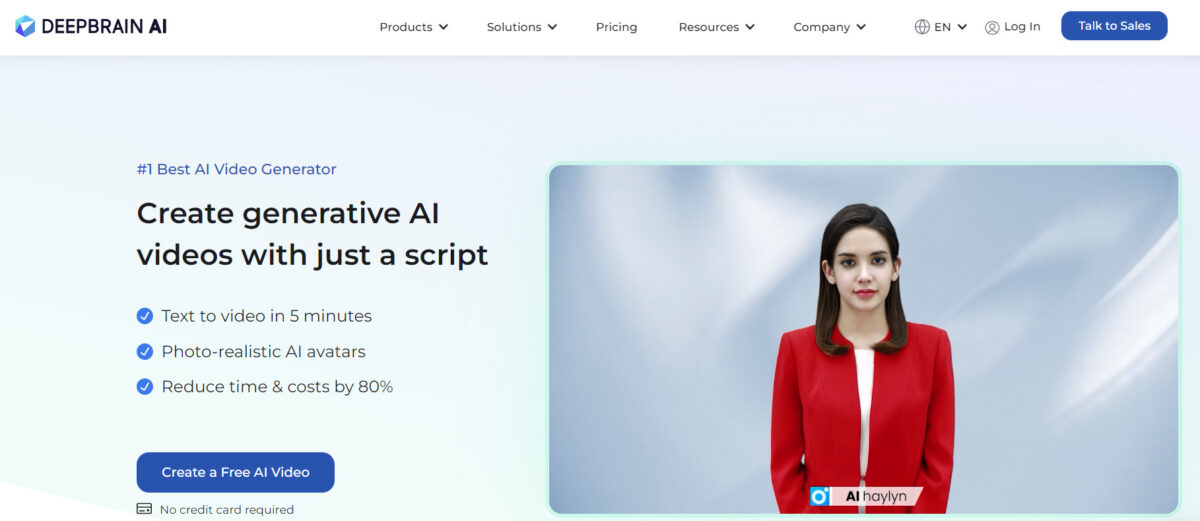 DeepBrain AI stands out as a revolutionary tool for video content creation, specifically tailored for businesses and professionals seeking to harness the power of AI-driven video generation. With a clientele that boasts of names like Microsoft, NVIDIA, and Lenovo, it's evident that DeepBrain AI is a trusted choice for many.
The software's primary focus is on generating AI videos, and it promises a swift transformation from text to video in just 5 minutes. What sets it apart is its ability to produce hyper-realistic AI avatars, making training and how-to videos feel more human and relatable. This is especially beneficial for businesses aiming to connect deeply with their audience.
Types of content it can generate:
Training videos
How-to videos
Marketing videos
Explainer videos
News videos
Social media templates for platforms like YouTube, TikTok, and Instagram
Plans and Pricing: DeepBrain AI offers a Starter plan priced at $30/Mo, ideal for beginners. For small businesses looking to expand, the Pro plan is available at $225/Mo. For extensive professional use, they offer an Enterprise plan with custom pricing.
---
---
---
---
---
---
---
---
---
---
---
---
---
---
---
---
Evolution and Influence of AI Content Generators
We've looked at a wealth of AI-powered tools that are revolutionizing the digital landscape and boosting the efficiency of content creation. Now, as we approach the end of this exploration, it's time to take a step back and reflect on the broader landscape.
The advent of AI Content Generators, with their advanced natural language processing (NLP) algorithms and machine learning models, has truly changed the game. These tools have not only streamlined the content creation process but also greatly improved the quality of the output.
The significance of AI Content Generators within the marketing sphere is undeniable. Recent surveys show that nearly half of marketers find AI effective at producing clear and easy-to-read text, and agree that AI accelerates the content creation process. With AI in marketing projected to skyrocket in value over the next few years, it's clear that AI-driven content generation tools are not just a passing trend - they're here to stay.
---
Considerations for the Future of AI Content Generation
As you evaluate different AI Content Generator options for your own use, remember the key factors:
Quality of Generated Content: This should always be a top priority. Ensure your chosen software can produce coherent, contextually relevant, and grammatically accurate text that aligns with your brand voice and messaging.

Customizability: A versatile content strategy requires a diverse array of content types and formats. Choose an AI Content Generator that offers customization options, allowing you to tailor the output to your specific content requirements and objectives.

Integration Capabilities: Your chosen AI Content Generator should integrate seamlessly with your existing marketing tech stack for maximum efficiency and ease of use.

Scalability: As your organization grows, so too will your content needs. Choose a tool that can grow with you, offering the flexibility to adapt to new content demands and strategies.

Cost and ROI: Finally, consider the pricing structure and potential return on investment (ROI) of each AI Content Generator option. Look beyond the initial cost and consider the long-term value the software will bring to your organization.
With these considerations in mind, you're well equipped to select the best AI Content Generator for your needs, and perhaps even revolutionize your content strategy along the way.
---
Wrapping Things Up
Any of these tools will beat staring at a blank screen while you wait for fresh ideas to find you. The content creation process has many steps and, most of the time, there's a logical sequence. For example, you first need a simple keyword before you can generate a blog post outline and you first need an outline before you can write an intro. You get the idea.
While most of these tools aren't generating exceptionally high-quality content, they will help you to create content faster. Whether you're a business owner lacking confidence in your own writing skills or a team of writers or content marketers looking for a way to streamline the whole process, these content writing tools offer several powerful features and mostly positive user experience. Just know that human intervention will still be needed.