Photos alone won't get you a substantial following on Instagram. If you want your profile to shine and stand out, you also need an engaging Instagram bio to grab the attention of your target audience and grow your follower count. As a matter of fact, users will often notice your bio before your photos.
Not only can you use your bio to get more followers, but it will also help you to introduce yourself or your brand to your audience. With the right keywords, you can quickly explain to Instagram users what you have to offer and what they can expect from your brand.
Luckily, crafting an effective Instagram bio doesn't require that much skill. If you follow the basic formula and include the key elements, it's actually pretty straightforward. We've also included a few examples of Instagram bios that you can tweak to fit your brand identity and content.
---
7 Tips for Crafting Instagram Bios That Attract More Followers:
---
What's an Instagram Bio?
In a nutshell, your Instagram bio is that short section below your username. This space is typically used to share a couple of details about yourself (or your business) like your job title, what you do, and what others have to say about you or your work. It typically also includes contact details, emojis, hashtags, a call to action, and website link.
We've shared several easy-to-implement tips for creating an Instagram bio that will stand out and we've also included some ideas that you can make your own. Now, to make the most of the one link that you're allowed to add, there are a number of Instagram tools for adding links in bios that you can try out. Depending on the tool that you pick, you'll also be able to get access to key data about clicks.
---
What Should You Include?
While there are no set rules for writing Instagram bios, here are the key elements that you should include: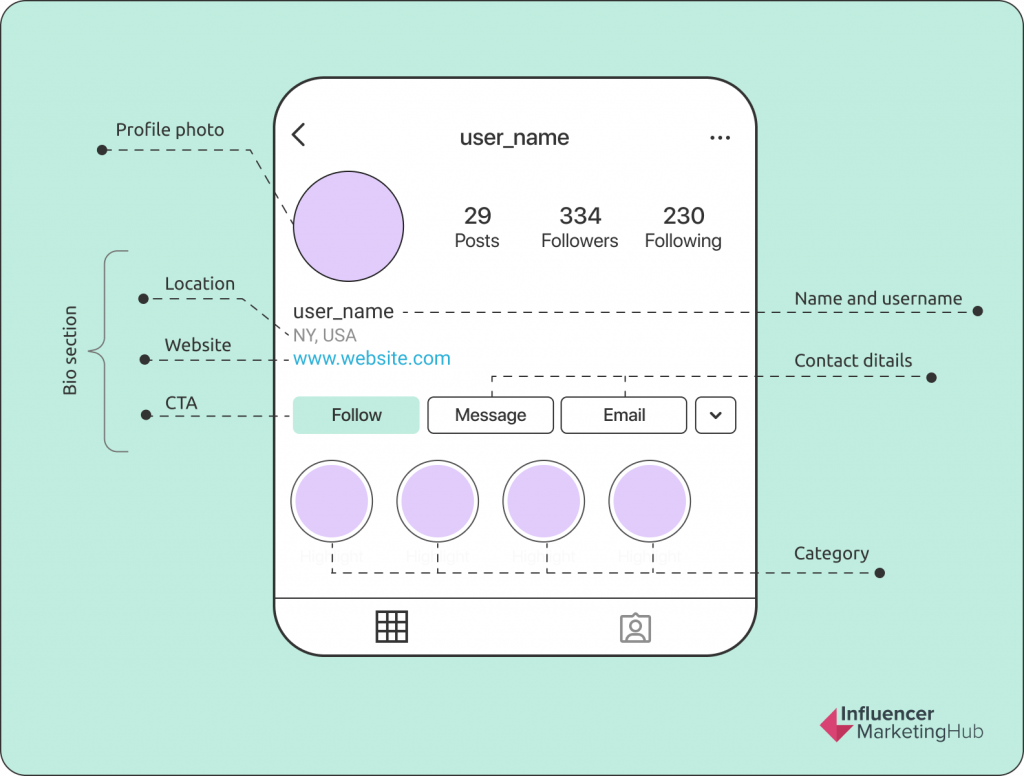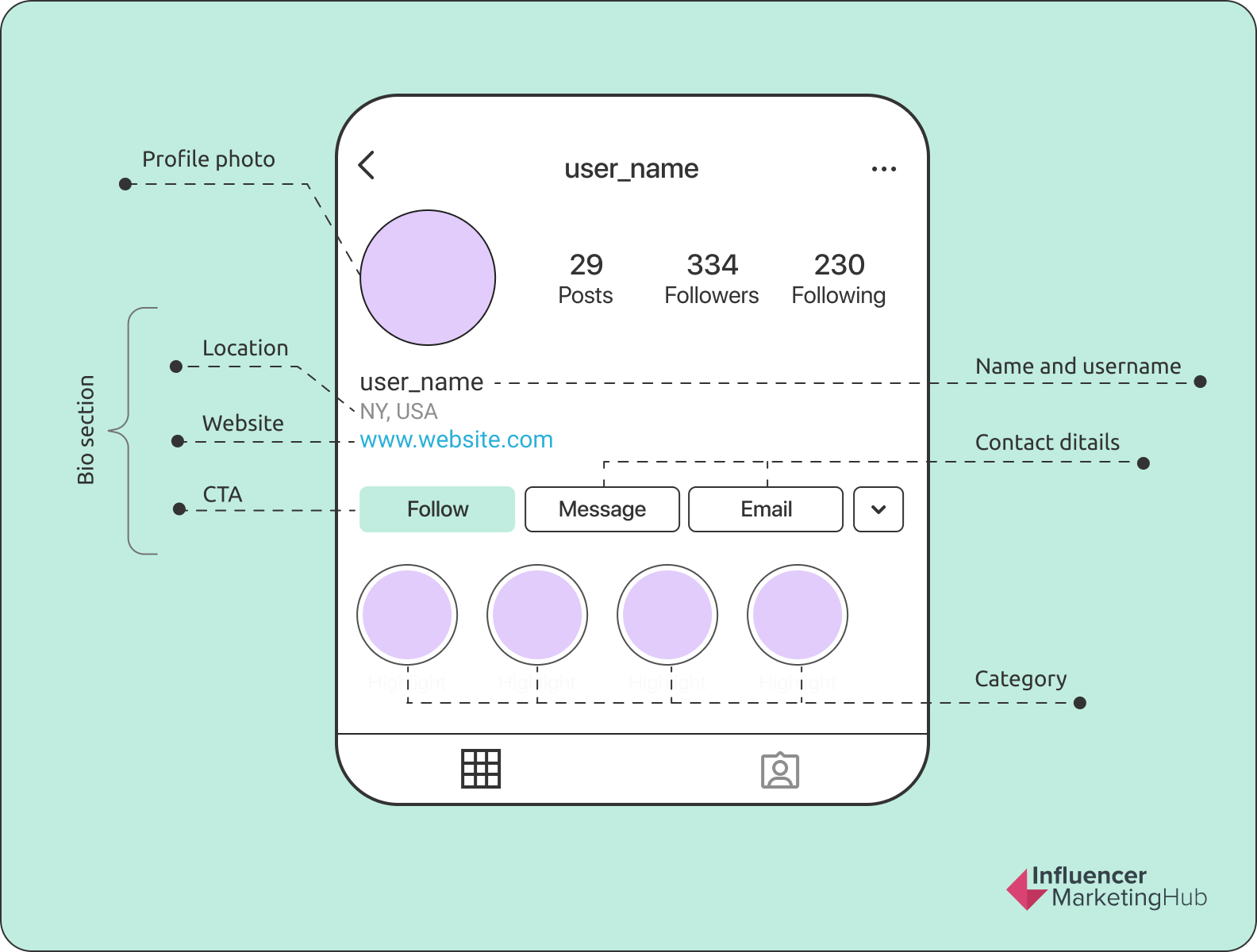 Profile Photo
Whether it's a logo or a product photo, your profile photo should be relevant to your niche and brand identity. The profile pic that you use on Instagram should also tie in with your other social media profiles to ensure that your brand identity remains easily recognizable.
As Instagram places a lot of emphasis on visuals, whatever you choose to use as a profile pic should be visually appealing and high-quality. It's also best practice to use the same filter that you usually select for the other photos that you share. This way you can create a cohesive visual identity.
---
Name and Username
Your Instagram name is your actual full name, while your username is your @handle. Your username will appear at the top of your profile as well as in the URL of your profile. It doesn't have to be the same as your full brand name and can instead be name variations or abbreviations.
---
Category
If you have an Instagram Business account, you can also select a category for your business. This is useful as users will immediately see what you do. Plus, it will also help you to save characters that you can use for other key information.
---
Bio Section
Unlike other social media channels, Instagram is quite stingy when it comes to character limits, partly because it's mainly a visual network. Instagram limits the bio section to only 150 characters. So, you'll find that this will be your biggest challenge when writing your bio. That's why it's so important that you take advantage of tools, emojis, and other symbols to help you optimize every available character.
---
Website
Instagram allows you only one clickable link in your bio. This link doesn't necessarily have to go to your home page. Instead, another approach is to change it regularly so that you can direct your followers to a new press mention, sale, or landing page.
---
CTAs
As you may use only 150 characters in your bio, it's key that you optimize your CTA. If you're selling products via an Instagram Business account, you'll be able to add buttons as well. Depending on what you're selling, you can then word your button's text in such a manner that your followers will know exactly which action they can take directly via your profile. Whether it's to shop for the latest products or sign up for a newsletter, all bios should have a clear and compelling call to action.
---
Contact Details
Your contact details should be easily accessible. If you have a business, you can include an email address for all business inquiries. If you prefer a more informal approach, you can, for example, encourage users to send you a direct message instead of an email.
---
Location
If you have an Instagram Business account and a brick-and-mortar store, you can also add your address below your bio. It won't contribute to your character count and will help you to reach a local audience. Even if you choose to add only your city, it can make your bio more authoritative and trustworthy.
---
7 Tips for Creating Memorable Instagram Bios
1. Identify a Goal
It's crucial that you identify a goal before composing your bio. Whether it's to help your audience get a sense of your personality or share the mission of your business, you need to know what you want your Instagram account to achieve. With a clear objective, it will be much easier to stick to the character count.
---
2. Describe Yourself
Successful Instagrammers know that they can't solely rely on their photos and captions to tell their target audience more about themselves. Even the best photos need an engaging Instagram bio. You can, for example, include your job title, current employer, achievements, and hobbies. Also, when writing your job title, you don't have to limit it to just one. Perhaps you have a side hustle that you can include?
Whatever you decide to include, it's key that you use the right tone that will convey your personality appropriately. For example, if you want to come across as fun and informal, relevant emojis are great as they can also save valuable characters.
---
3. Include your Interests
To grow your social media following, you need to connect with your target audience. It's also a good way to introduce your audience to the type of content that you'll be sharing. As you've limited characters that you may use, it doesn't necessarily even have to be in sentence format. Listing a couple of words that hint at what gets you excited will also get users excited about following you.
---
4. Use a link in Bio Tool
Not only is the character limit a source of frustration, but also the link limit. As mentioned, you may add only one link in your Instagram bio. To help you make the most of that single link, you can use Instagram link in bio tools, such as Feedlink, Linktree, Tap Bio, or Shorby, that will direct users to another page with multiple links. This way, you can promote more than one link and even measure clicks.
---
5. Change the Font
Another type of tool that you can check out is tools that let you change the look of the custom Instagram font. You can use it to change your entire text to special characters, but it's recommended that you just apply it to a couple of words to emphasize keywords better.
---
6. Add Instagram Bio Symbols
If you don't necessarily want to use emojis, you can also use special text symbols strategically in your bio or as bullet points. All you have to do is open a Google Doc, click on "Insert" and select "Special characters" from the drop-down menu. You can either scroll through the list of characters for inspiration or search for a keyword related to your niche.
---
7. Rely on Relevant Hashtags
Instagram also allows you to include clickable hashtags. If you have a branded hashtag, you can include it to promote a new campaign or collect user-generated content.
---
Instagram Bio Ideas to Get You Started
Using the tips discussed, the following are Instagram bio ideas that you can improve to craft and make your own:
I practice what I post.

Fitness enthusiast + dog mom + founder of [brand name].

Gifted napper, talker, and chocolate eater.

My hobbies are: breakfast, lunch, and dinner.

Sparkling joy everywhere I go.

The best things come from living outside of your comfort zone.

If I can't do great things, I can do small things in a great way.

Official home of [brand name] on Instagram.

Sand in my toes and saltwater in my curls.

Risk-taker. Adventurer. Globetrotter. Living my dreams.

Currently saying yes to new adventures.

I'm cool, but global warming made me HOT.

I put the whine in wine.
CTA Ideas
Press that follow button to know my story.

My story will inspire you. So, be sure to hit that follow button.

I'm on my journey. Join me by following along.

👇 SHOP OUR FLASH SALE THIS WEEKEND ONLY – 50% 👇
---
Wrapping Things Up
While it's important that you include all the key elements in your Instagram bio, it should not be at the expense of readability. It should still be easy for your audience to read and digest the information. Most people will spare only a couple of seconds to scan a bio. So, if the block of text is difficult to read, they'll lose interest in your Instagram account and possibly your brand.
Not only should it be easy to read, but it should also be captivating and catchy. Get this right and the likes, shares, and sales will follow.
Frequently Asked Questions
How can you add more than one link in your Instagram bio?
With the help of a link in bio Instagram tool, you can link to more content and pages. You can also use this type of tool to create marketing campaigns that resonate with your target audience on Instagram. The following are some of the top Instagram link in bio tools to help you optimize your links:
Feedlink by EmbedSocial
Linktree
Shorby
Sked Link
Link in Profile
Tap Bio
Should I use an Instagram business profile?
If you're serious about Instagram, you should have a business profile (even if you don't view yourself as a business). Business profiles offer a lot of advantages. The advantages include access to Instagram Insights and the ability to add a contact button and links to Instagram Stories. What's more, with a business profile, your industry will also be shown on your profile and you'll be able to advertise on Instagram and create Promoted Posts.
How can you encourage your Instagram followers to share UGC?
You can encourage your Instagram followers to share user-generated content (UGC) by creating a suitable custom hashtag that you include in your Instagram bio and asking them to upload any relevant photos using that hashtag. You can then regram the posts to the rest of your followers (in other words, take the photo from the user's account and post it to your own account).
What content works well on Instagram?
Content remains the most important thing to give thought to when you're planning your Instagram marketing strategy. Since 2019, there has been a trend toward unfiltered and "authentic" content from Instagram influencers and brands. Candid, high-quality visual content that's eye-catching and tells a story works well. So, it can be a good idea actually to share your failures in addition to your success stories. This type of content will make you a lot more relatable to your audience.
How do you create a good Instagram bio?
While there's no objective answer, the most effective Instagram bios are easy to read, informative, witty, humorous, and compelling. Also, as you may include only one link in your Instagram bio, it's a good idea to use a link in bio tool to help you make the most of that one link.