Advertising Disclosure
Advertising disclosure:
Our partners compensate us. This may influence which products or services we review (also where and how those products appear on the site), this in no way affects our recommendations or the advice we offer. Our reviews are based on years of experience and countless hours of research. Our partners cannot pay us to guarantee favorable reviews of their products or services.
The Instagram bio link is one of the features that gives marketers and creators a headache.
You only get one link on your Instagram bio.
In the past, if you wanted to change it, then you had to keep swapping links every time you start a new campaign. But you don't have to do that anymore. You can use that one link for so much more.
Using link in bio tools can help you optimize that one link. These tools can help you improve your Instagram marketing strategy. They can even help you measure clicks, drive traffic to your site, and drive sales. Link in bio tools also allow you to promote more than one link.
In this article, we delve into 11 of the best link in bio tools you can use to maximize the link in your Instagram bio. But first, let's discuss why your business needs to optimize your bio link.
---
Best Link in Bio Tools for Instagram:
---
Why is the Instagram Bio Link Important? Why Optimize It?
The one link in bio rule on Instagram limits you as a marketer from adding more than one link in bio or adding individual posts links. You must manually swap the bio link every time you want to promote a new blog post, campaign, or product. It's one of the reasons most creators and marketers ask followers to "check out the link in bio."
But you don't have to worry about that anymore by using link in bio Instagram tools. These tools help you link to more content and pages. However, each one works differently.
To help you decide which one will be right for you, consider the following:
What kind of campaigns will you be running? Are you promoting products, links to your website content, a campaign, or a landing page?

If promoting products, how long will the promotions run? What kind of promotional content will you post? How many products do you need to promote?

Are the links meant to increase engagement or site visits to your website?

What is your budget?
These questions will help you choose the best tool for your business. The following are some of the best link in bio tools to choose from:
---
Best Link in Bio Instagram Tools
Here are some of the best link in bio tools for Instagram that you can try.
Top
link in bio tools instagram
2024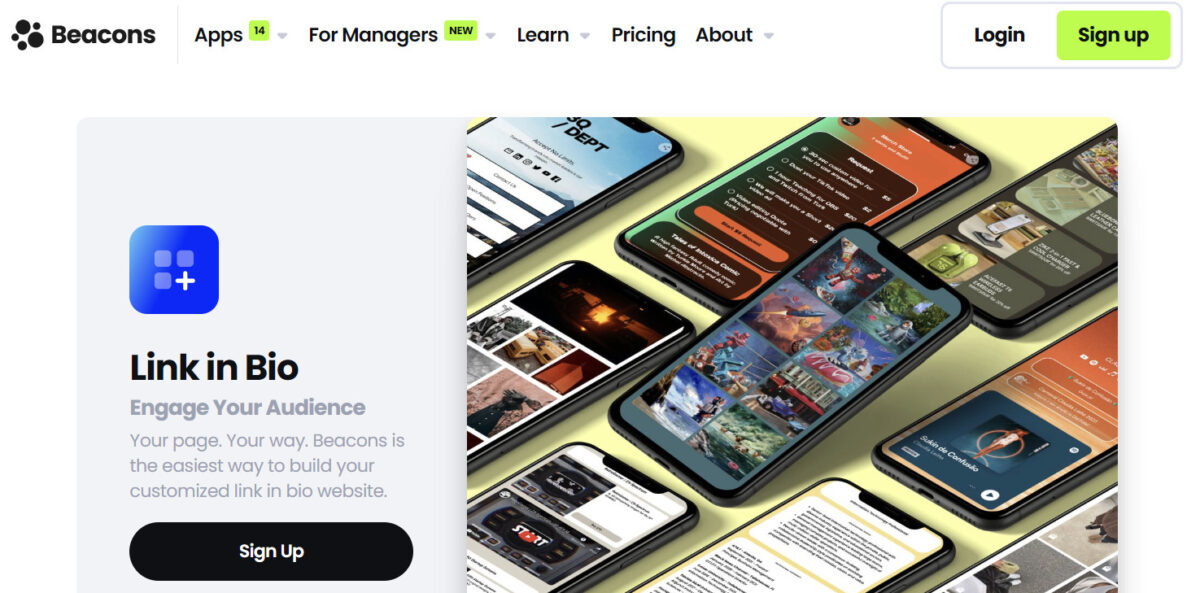 With Beacons, brands, content creators, and influencers can build mini websites on their Instagram accounts. It allows creators to link their custom shops directly in their bio, making it an easy way for them to earn money from selling e-books and other digital products. It also gives followers the option of purchasing from within your requests page. Through Beacons' requests block, your followers can easily request a shoutout, personal call, or solicited advice with just a few taps. Meanwhile, its appointments feature enables followers to schedule calls with you and make payments.
Beacons' other features include:
Customizable fonts, colors, and templates to showcase your brand

Capability to track clicks, sales, and conversions

Link multiple products in one store

Robust analytics to get insights into your followers' behaviors

Integrated payment processing
If you're looking for an easy and effective way to engage more with your followers while making money from your Instagram account, Beacons is a perfect solution. With its simple and user-friendly interface, anyone can create a custom mini website in just a few clicks.
You can sign up for Beacons through its free plan. Alternatively, it offers a Link in Bio Pro plan for $10 per month.
---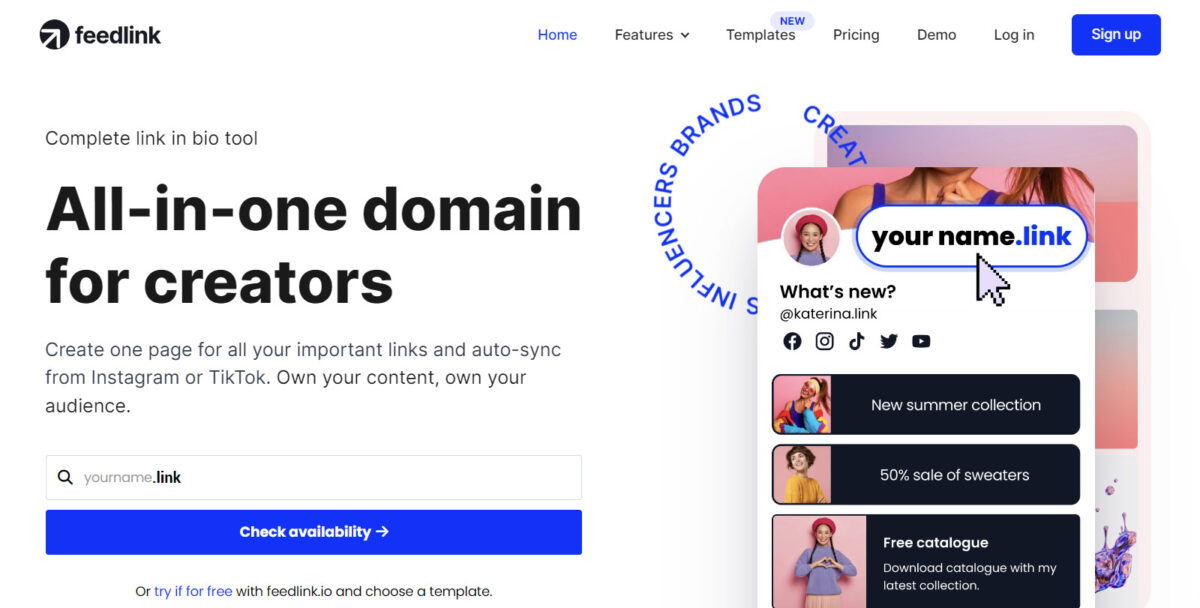 Feedlink by EmbedSocial works as a web and mobile-optimized landing page that assembles a clickable Instagram feed in a single place. This tool allows you to tag each photo in the feed with a unique link in order to maximize the potential of your Instagram account as a sales and distribution channel.
Here is what you get with Feed Link:
A mobile-optimized landing page that works like a charm on all devices
Instagram bio link page that loads fast thanks to its AMP version
A shoppable landing page that navigates followers to product pages where they can buy the product
A reusable link that can be applied in other social media networks
Option to transform the feed page without changing the link in bio all over again
Boost of traffic, conversions, and revenue using your Instagram profile
Feed Link is a free functionality that comes as a part of the EmbedAlbum platform. It's forever free when using photos from one source. Pricing plans range from $19 to $99 per month, depending on the number of sources and additional features.
---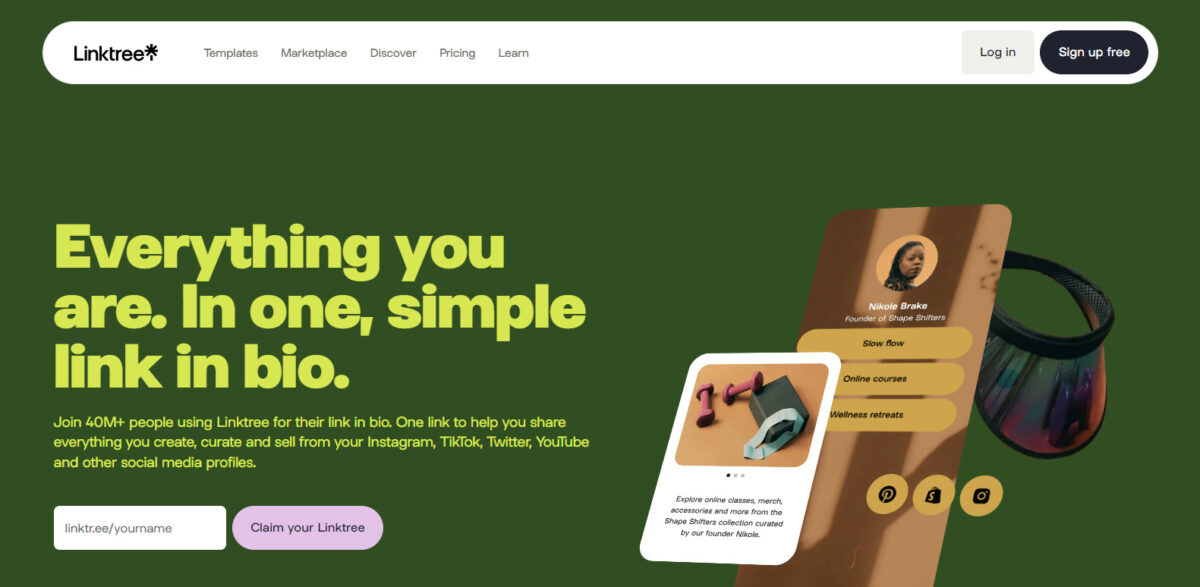 Linktree lets you optimize your landing pages using links to sites you want your audience to visit. These could be any social sites, blog, your online store, and others.
The tool also allows you to share the link on other social sites, including Facebook and Twitch.
The paid version is $9 a month and allows you to use your logo instead of Linktree's.
With the premium plan, you can:
Export your analytics data in .csv format
Gain access to a dedicated Customer Success Manager
Schedule a 30-minute onboarding meeting
Enjoy exclusive webinars, videos, and a host of other designed content
---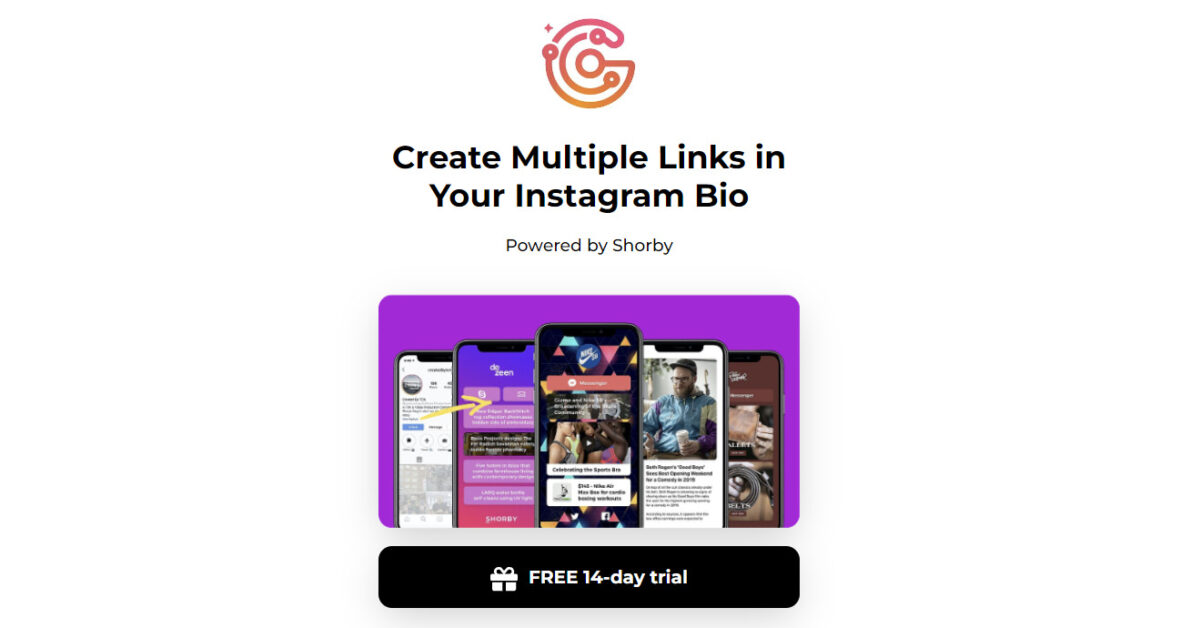 Shorby allows you to add multiple links that send your followers to your website, blog, social networks, online store, affiliate links, and more. It enables you to:
Customise your page by adding videos, backgrounds, animated avatars, and icons

Add rich links, text blocks, GIFs, and catchy headlines.

Swap, add or change links as often as you want

Access analytics to help you track your traffic

Cross-link to other social profiles, thus improving engagement across channels

Retarget audiences on third-party websites like Clickbank or Amazon. The app allows you to retarget those who click on the custom links with ads to increase sales.
Shorby offers three paid plans ranging from $15 per month to $99 per month, depending on the features you want.
---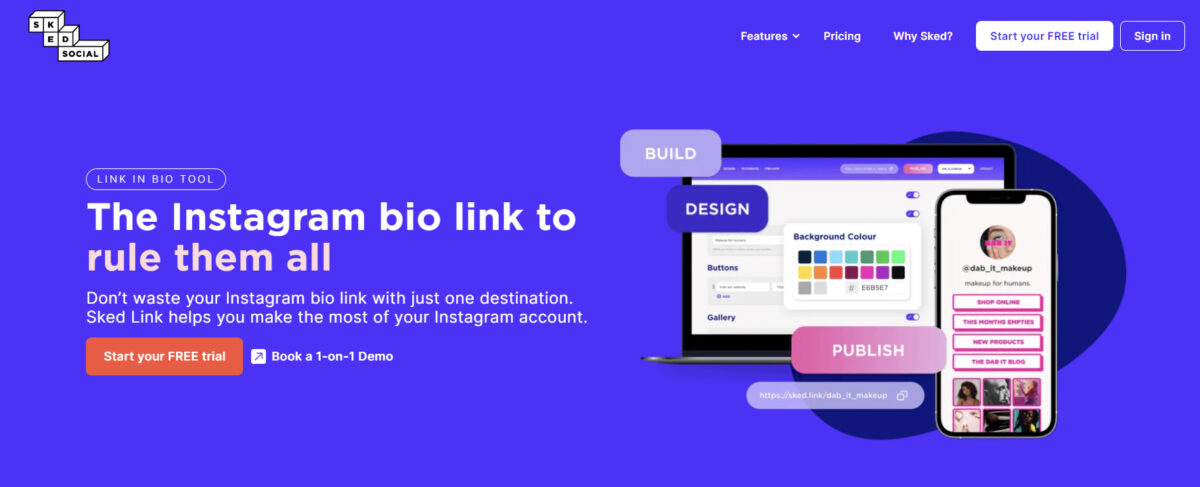 Sked Social allows you to link followers to your blog posts, email newsletter signups, website, products, and more. It offers users a Fundamentals, Essentials, Professional or Enterprise plan. Some of the Professional features include the ability to:
Collaborative teamwork and content coordination
Streamlined review and content approval workflows
A branded portal for external (client) approvals
Access to advanced PDF reporting
1-on-1 training and telephone support
Benefit from a dedicated account manager
Those who choose the Enterprise plan can take advantage of the ability to acquire as many accounts as necessary, access team training, and enjoy rapid response times.
---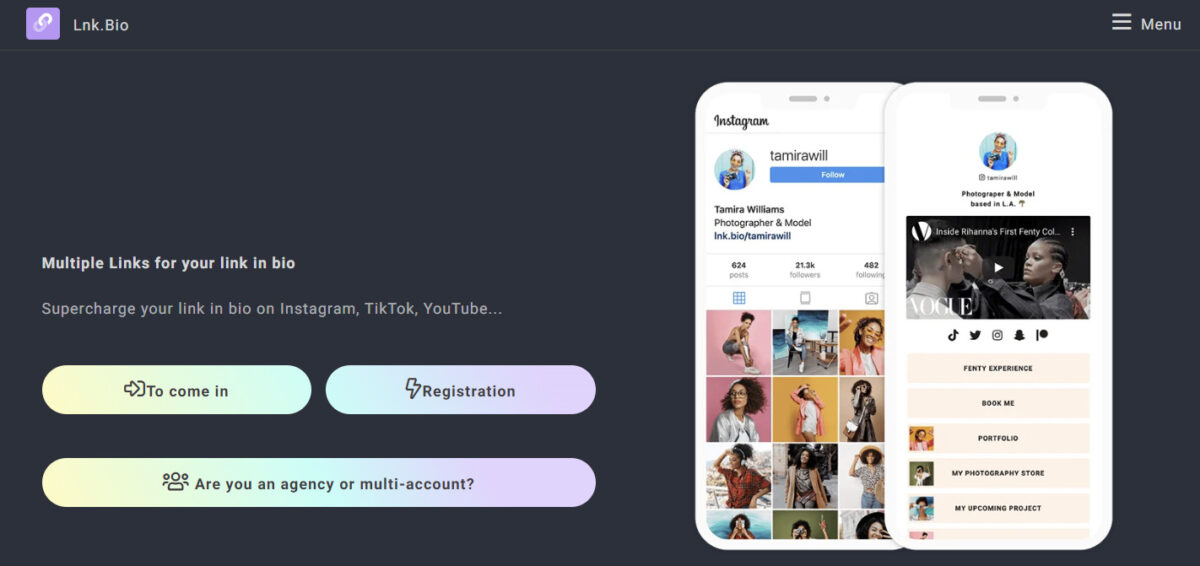 Lnk.Bio allows you to create a mobilised landing page containing all of your links. You can add as many links as you want and add images to accompany them on the free plan.
For the paid versions ($0.99 a month and $9.99 for the lifetime plan), you get:
A custom URL

Link stats and analytics

Tracking pixels
Password-protected links
Their highest-paid version at $24.99/lifetime allows you to remove the Lnk.Bio logo and footer.
---

Link in Profile differs a little from other link in bio tools in that it allows you to add links to Instagram images. Your followers can then use these links to direct traffic to your website. It pulls content from your feed and takes users to linked content using a specified photo.
Link in Profile goes for $9.99 with a 30-day free trial at no risk. Some of the features include:
A dedicated landing page

Zero effort management

A branded landing page where you can have your Instagram name and profile picture

Enabled commerce links for Etsy, shop pages, or affiliate links

Stats and analytics
---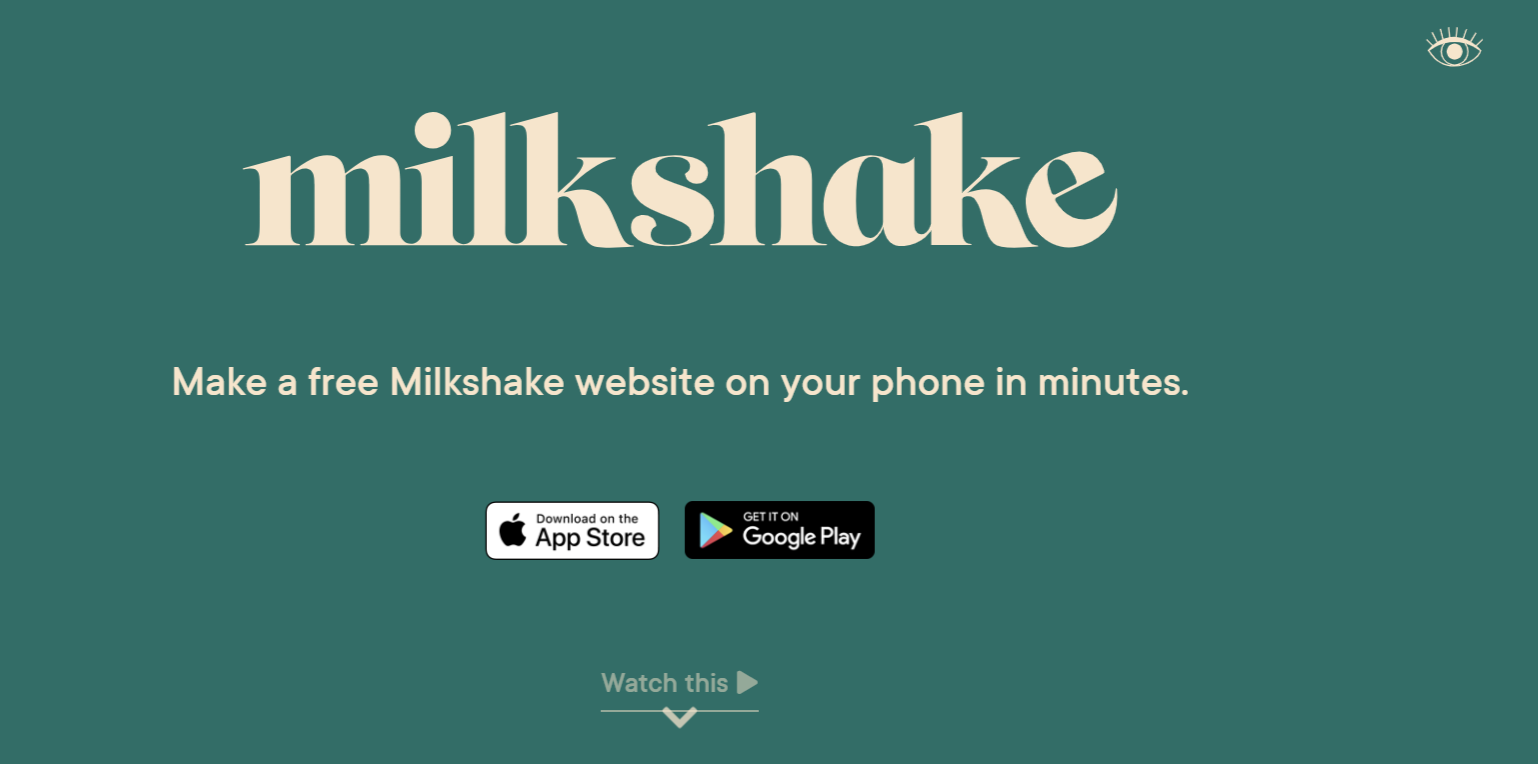 The Milkshake app lets you build an Insta website (simple website) on your device. Your link in bio becomes an Insta website where your followers can connect with all of your offers.
Designed for the mobile Instagram browser, the app allows your followers to browse through your content, in the same way, they swipe Instagram Stories. Once they click on the Milkshake link in your bio, your followers can see all your brand's content and products.
With the Milkshake app, you can:
Share your Insta website to your

Instagram Stories

Customize cards (pages on your Insta website) and themes depending on your needs

Access analytics and insights

Invite followers to send you emails using a link. When they click on the Email link, they can write messages to you

Invite followers to call or message you using a link

Add a Buy button that directs customers to a purchase page on PayPal. You can do this for individual products or services.
---

Campsite is packed with a lot of premium features to help you solve the one link in Instagram bio problem. With the tool you can:
Add unlimited links

Change the title and add a brief introduction

Customise fonts and colours on the landing page

Access analytics

Add social accounts like LinkedIn, Facebook, Instagram, and others

Archive and restore links

Schedule when links should go live or stop appearing

Switch easily between multiple Campsite accounts

Integrate with Google Sheets or Mailchimp

Retarget visitors with Google AdWords or Facebook Pixel
They have a free account, but you can get more features with their Pro account for $7 a month.
---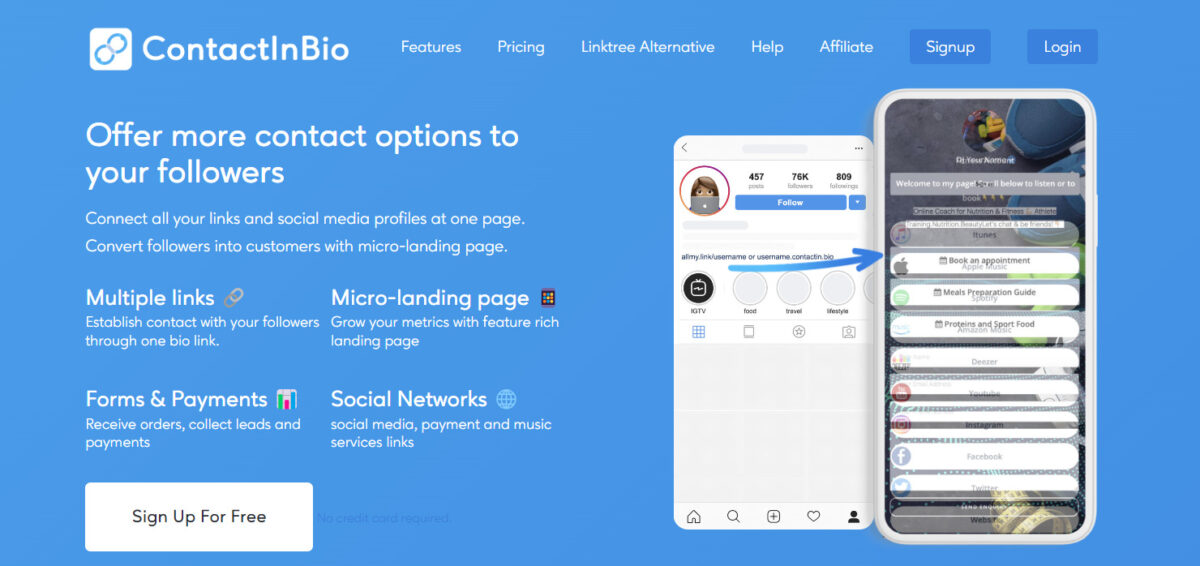 ContactInBio helps you connect your followers with other links and content. These include text, contact forms, images, videos, and more. You can customise your user name and with the link in bio, allow customers to contact you easily. With a free plan, you get access to:
Create a custom profile/bio URL
Import your links from Linktree
Customize your links
Add social media buttons
Integrate music services
Choose from various font styles
Customize text as you like
Access 7 free themes
Enjoy full customization of text, link, and button colors and styles
Track link clicks
Analyze page visitor statistics
Their paid plan is available at $7 per month for businesses and $28 per month for agencies. With the paid plan, you get additional features like:
Mailchimp integration

Facebook Pixel Integration

Email signup and collection

Video and image uploading

Branding
---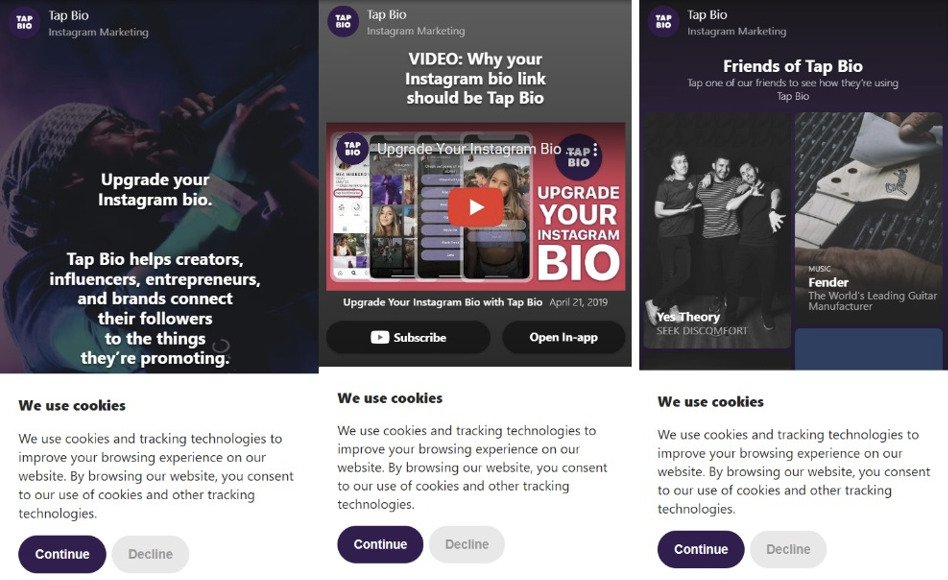 Tap Bio helps you personalise and brand mini-websites that have all the links that you want to share on your Instagram account. They have a user-friendly interface where you can create landing pages designed for your mobile followers.
This link in bio tool uses cards that become an extension of your landing page. Each card can have a different function where you highlight multiple links without losing your single call-to-action advantage. The single call-to-action view increases the chances of your followers clicking on the link.
Tap Bio's Basic account is free and allows you access to one profile and a card to add one unique link.
Their Silver plan goes for $5 a month with three additional cards. You get four cards to share four links. You can also access analytics to your links.
If you have more than four links, then sign up for the Gold plan at $12 per month. You can access an infinite number of cards, stats, and use three different IG accounts. You can also remove their "Friends of Tap Bio Card."
---
Conclusion
If you want your Instagram bio to include more than one link, then one of these tools may be your solution. You can use them to create marketing campaigns that resonate with your audience on Instagram. However, the best link in bio tool for your brand will depend on your use case and budget.
The tool you chose should help you reach your Instagram marketing goals with ease. Giving one of these tools a try will help you escape the limitation of the one link in bio on Instagram. You can direct your followers to where you want them to go with ease.
Frequently Asked Questions
How can you include more than one link in your Instagram bio?
With a link in bio Instagram tool, you can link to more content and pages. You can use this type of tool to create marketing campaigns that resonate with your target audience on Instagram. The following are some of the best tools to help you optimize your links: Feedlink by EmbedSocial, Linktree, Shorby, Sked Social, Link in Profile and Tap Bio.
How does the pricing of Tap Bio work?
Tap Bio's Basic account is free and lets you access one profile and one card. If you need more cards, you can try their Silver or Gold plan. The Silver plan costs $5 per month and offers four cards to share four links. With this plan, you can also access analytics to your links. The Gold plan costs $12 per month. You will be able to use three different Instagram accounts with this plan and access an infinite number of cards and stats.
How does the Milkshake app work?
With the Milkshake app, you can build an Insta website on your device. Your link in your Instagram bio will then become an Insta website where your followers can find all of your content and products. You can even add a buy button that will direct your followers to a purchase page on PayPal.
Is Lnk.Bio expensive?
Compared to most of the other top link in bio tools for Instagram, Lnk.Bio can work out much more affordable. Its most expensive plan costs a one-time fee of about $24.99 per account. With this plan, you get your custom URL and the ability to remove the Lnk.Bio logo. On average, other similar tools cost about $10 per month.
How do I pick the right link in bio Instagram tool?
Start by identifying the type of campaigns that you will be running. For example, if you are promoting products, figure out how many products you will need to promote and for how long the promotions will run. Secondly, ask yourself if the links will be used to boost engagement or visits to your website. Lastly, do not forget to consider your budget. All in all, the best tool for your brand will depend on your use and budget.