Twitch is rapidly becoming the streaming platform of choice for gamers. However, it would be boring if every channel had the same look and feel. Twitch has solved this by allowing a range of Twitch templates. You can effectively re-skin and personalize your channel to make it visually stand out from the crowd.
The phrase "Twitch template" is a generic term for all the customizable parts of your Twitch channel. These include
Stream overlays

Game overlays (customized to fit in with particular games)

Stream alerts

Stream alert sounds

Webcam overlays

Stream panels

Stream banners

Avatars
If you had the requisite skills, you could go to Photoshop to design your own templates, but many gamers can't afford a Photoshop subscription or lack the necessary skills or knowledge. Others may be capable Photoshop designers, but not have the free time to design custom Twitch templates.
Therefore, an easy solution is to go to a specialist Twitch Template website and buy whatever you need to jazz up your Twitch stream. As we have previously covered, you can even find Twitch templates offered by designers for free.
We have selected our favorite templates from eight companies that specialize in Twitch templates, along with templates for other streaming networks in many cases. You may love these templates too or find something more to your tastes on one of these sites.
Note: Influencer Marketing Hub may occasionally earn revenue as a result from affiliation with partners listed below
---
Top 8 Twitch Panel Templates for 2024 | Twitch Panel Reviews:
---
Titan Stream Design Ultimate Package
Own3D.tv offers a wide selection of Twitch templates. They can provide you with webcam overlays, talking overlays, offline banners, Twitch profile banners and pictures, and complete packages. You will also find YouTube banners if YouTube Live is your preferred streaming network. That's not all though. You can even jazz up your channel with alerts, alert sounds, panels, stinger transitions, sub emotes, sub badges, bit badges, avatars, and logos.
You will find virtually everything on Own3d.tv to make your channel visually yours.
To top everything off, Own3d.tv offers a choice of ultimate packs, which allow you to give your channel a complete, coordinating visual makeover. One of these packs is the Titan Stream Design Ultimate Package. It certainly seems to live up to its title as an "ultimate" pack. It's an animated stream design package, and you receive all graphics and animations in four different colors (you can combine the colors if you choose).
The ultimate pack includes:
Fully animated /HD video animations

All .webm files (video format), .PSDS , .PNGs, and .JPGs

One animated overlay for each color

6 game-specific overlays for each color

3 animated intermission banners for each color (pause, starting, ending)

1x static intermission banner for each color (Offline)

12x Twitch panels for each color

5x animated Twitch alerts for each color

1x Twitch profile picture & Twitch profile banner for every color

3x Social Media Banner for each color (Facebook, Twitter, YouTube)

8 perfect streamer emotes - available as blonde, brunette and black-haired in 6 different Shirt colors for every hair color (black, blue, green, orange, red, yellow)

Sub badges and 12 Bit badges for your viewers

An avatar maker, to create yourself as an avatar
---
Glitch 2 Stream Package
Nerd or Die creates overlay templates and alerts for live streamers and YouTube creators. They originally started as a tutorial website and YouTube channel but evolved into a brand that creates products, custom designs, free resources, and tutorials for anyone looking to enter the live streaming world.
Nerd or Die offers a mix of both free and premium Twitch templates. They use the Adobe Creative Suite to create their designs. They like to start with ideas in Photoshop and Illustrator, and then move them into After Effects for animation.
One of their more recent products is the Glitch 2 Stream Package. It's a follow up to one of Nerd or Die's most popular stream packs and is inspired by the original. However, they believe Glitch 2 brings the best of what they have learned since then. It works for Streamlabs and StreamElements, for use on Twitch, YouTube, Facebook, and Mixer.
The package features glitch, distortion, and futuristic animations. The overlay is clean and lightweight, easy to use, and simple to set up. The alerts allow you to choose any color, language, and time delays.
Nerd or Die lets you buy the Glitch 2 Stream Package in a variety of ways:
Overlays and Stingers

Alerts

Full Stream Package (Overlays, Alerts, and Stingers)

Overlays, Chat Box, Stingers and After Effects source files

Full Stream Package (Overlays, Alerts, Stingers, and After Effects Source Files)
The Overlay package contains:
Animated Overlay Files

Webcam frames (16:9 and 4:3 ratio)

Screen designs (Starting, BRB, Ending, Just Chatting and blank versions)

Stinger Transitions

Profile panels

Chat Widget
The Alert Package contains:
Fully customizable animated alerts

Quick install link for Streamlabs and StreamElements

Customize colors of all elements and fonts via our custom fields

Change the language and text used

Align with or without webcam frame
Nerd or Die
The packages with source files, obviously adding in the relevant After Effects project files.
---
Streamer Vitals – Coach
Visuals by Impulse is home to hundreds of free and premium Twitch overlays, animated alerts, stream packages, resources, and more. The company also offers custom design services for streamers/content creators who are looking to finetune every aspect of their channel.
Caleb Leigh formed the company in 2015, with the aim of establishing a kick-ass design studio built around the gaming community to help those who dream of being full-time streamers or content creators. You can use their free graphics download area to test-drive their design free of charge before customizing your channel with their pre-made or custom designs.
They are home to hundreds of free and premium Twitch overlays, logos, alerts and more – all compatible with Twitch, Mixer and Streamlabs.
Streamer Vitals – Coach is a complete stream graphics package, designed for punk hackers and the tech junkie. You can choose from one of eight different colors, featuring bright, neon tones to up your stream's energy. They recommend you can use this package when playing a range of genres: first-person shooters, adventure, sports, and more. Visuals by Impulse provides complimentary edit services after your purchase. The package includes:
Stream alerts

Profile banner/avatar

Stream overlay

Webcam overlay (4:3 & 16:9 aspect ratios)

Stream panels

Stream screens

Source/design files (.PSDs)

VBI Design panel

Setup/edit instructions readme
---
Bloodline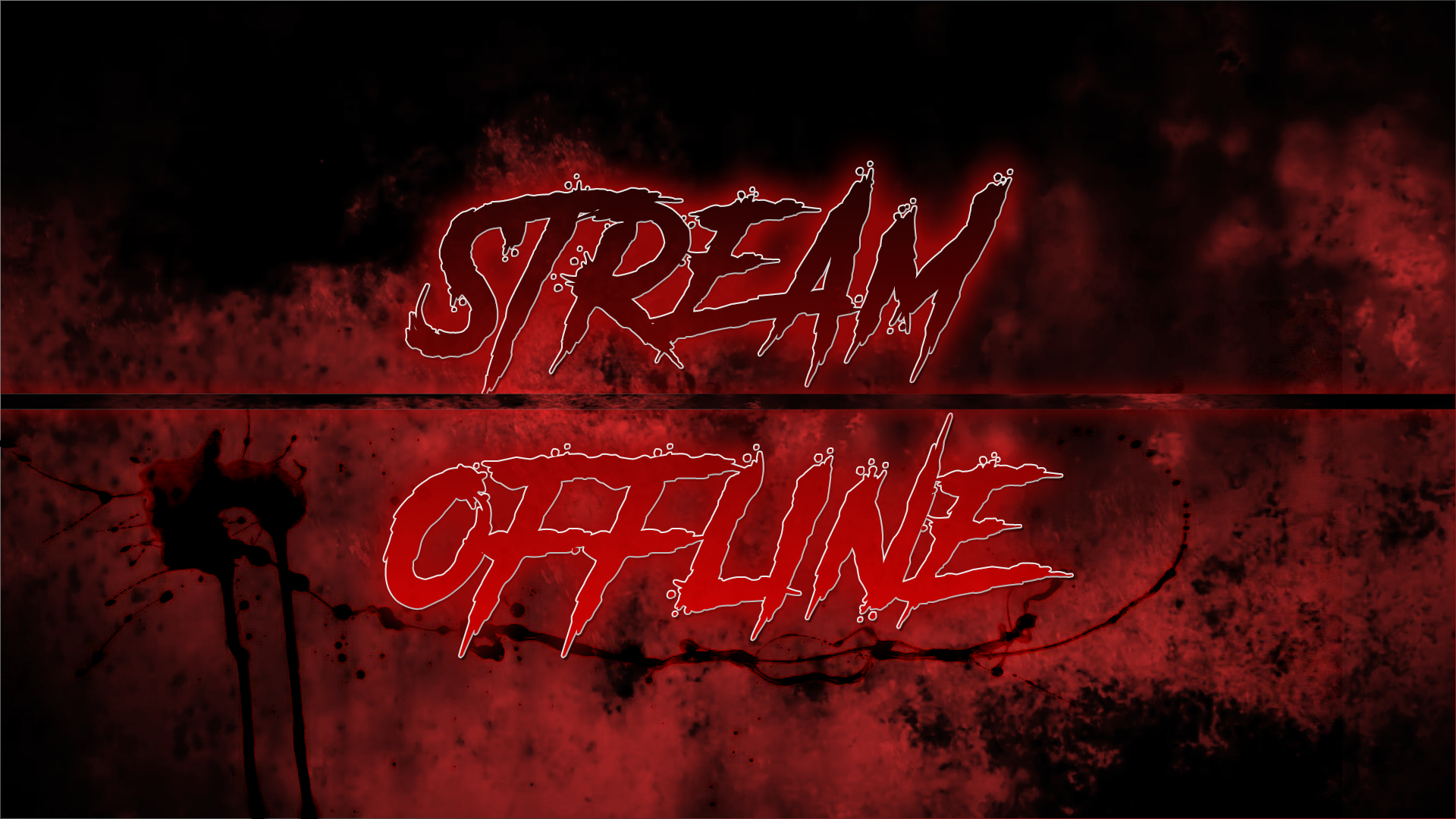 Zerging Gaming and Steaming is a graphic design business that makes graphics overlays for streamers active on Twitch, Hitbox, and the other popular streaming platforms. It provides stream overlays, graphics, panels, and much more.
All the graphics on Zerging are free. However, they suggest that if you want more premium products, you should go to their partner, Own3d.tv.
Although their website is written in German, it includes English translations on most pages. However, it has minimal text, preferring the graphics to tell their own tale and "sell" themselves.
Many of the designs come in sets, and you can either pick and choose the parts you desire or opt for a complete set. Bloodline is one such design. As the name suggests, it is blood-red, with a consistent look and feel, using a font that's almost like graffiti. You can go into either Overlays or Panels to find individual graphics, downloading what you require by right-clicking on the appropriate preview. Alternatively, you can go into the Complete Pack section to see every component of the Bloodline design.
---
VX Pro Green – Animated Stream Package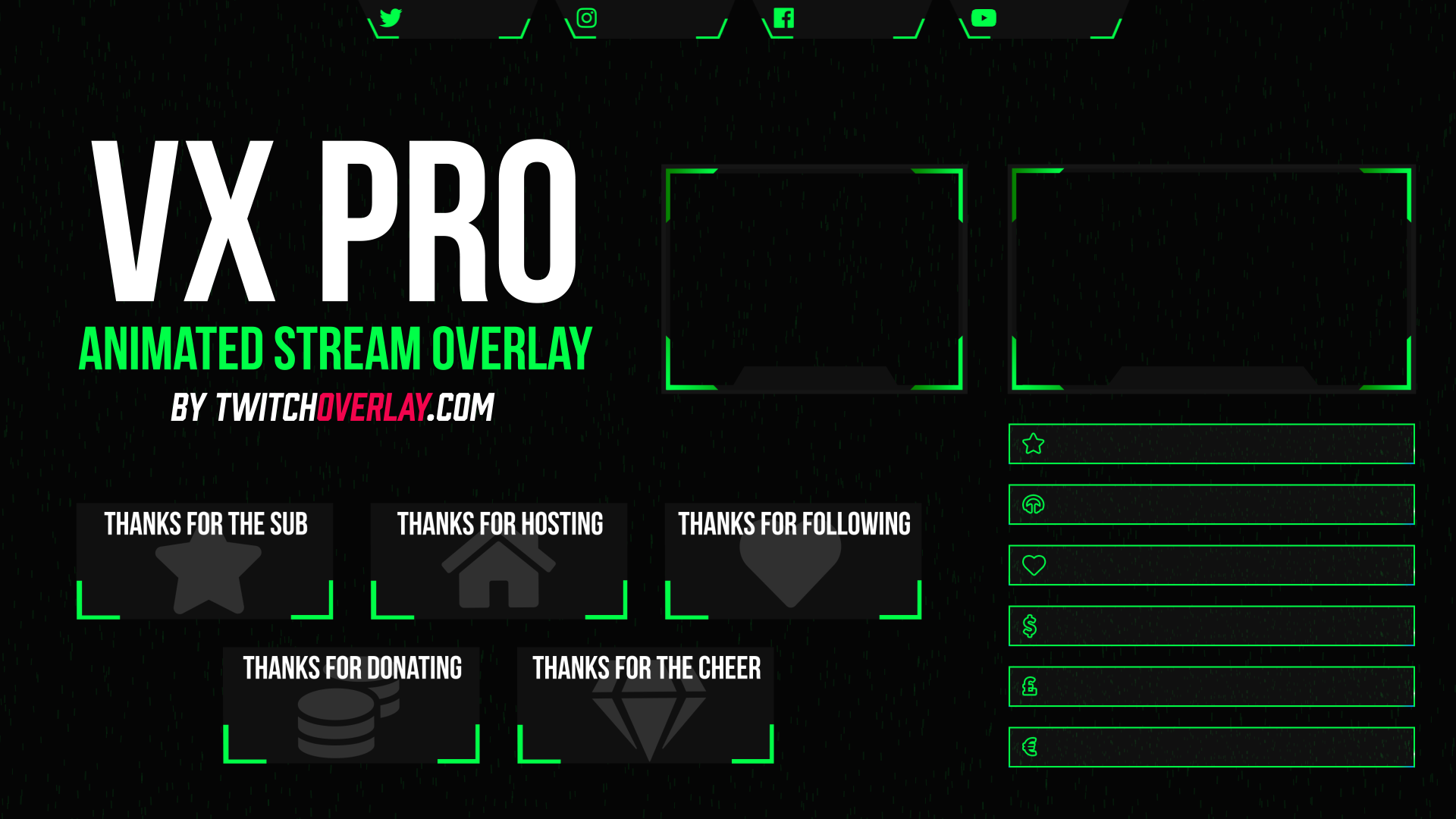 Twitch Overlay, which was founded in 2014, is very much a case of a company whose name says precisely what it does. It offers free and premium Twitch overlays, alerts, and graphics. It uses an easy-to-navigate website that allows you to navigate by top downloads, graphics categories, color, and even style.
They emphasize the wide variety of their designs - from gothic to horror/grunge to punk to bright and fun. They break their designs down into multiple parts. Overlays, for example, include many moveable parts for extended use and customization.
VX Pro Green is a (mostly) animated stream package, featuring a combination of smart, flat, minimal coloring and dynamic backgrounds and animations. The package includes:
Avatar & Profile Banner .PSD files – styled to match the rest of the designs, these are static designs that you can easily edit with your own details in Photoshop

Animated Overlay –featuring pulsating panels, social boxes with rolling (and platform-applicable) colors, a background with falling green rain, and a fully stylized and animated webcam featuring a lower space to place your name. It also includes a collection of animated stream alerts in .GIF format.

Animated Stream Screens – 3 animated stream screens featuring the same falling green rain as the overlay, and appropriate text depending on the messaging you require. It also includes a static stream offline screen.

Profile Graphics – 16 individual profile panels to use for headings, all matching the style of the rest of the package.
---
Plasma for Battlefield
Strexm provides over 200 free handcrafted, beautiful overlays all with integrated alerts and stream widgets that you can edit, tailor, and store directly in the cloud. You just copy each overlay's unique URL into OBS or XSplit.
Strexm offers Twitch templates designed to overlay the most popular games you stream, including Overwatch, Black Ops 4, CS: GO, League of Legends, Battlefield, and Fornite.
For the more adventurous (or those who like to tinker) Strexm's powerful editor allows you to import several different stream widgets, including alerts, goals, trains, counts, and chat.
Strexm is an all-in-one solution; everything is housed under the same roof, meaning you only need to add one single source. Whether its OBS, XSplit, Lightstream or Elgato you use, Strexm integrates into them all
Most of their overlays are game-specific. However, they currently have four generic templates (which they have named War Child, Stained Steel, Shadow, and Dark Matter).
They currently have only one overlay for Battlefield, which they have called Plasma. It includes a square in the upper right where you can insert the webcam image of yourself as you play.
There is a 3-step process to obtaining the Plasma for Battlefield overlay (or indeed any free Strexm overlay):
Connect to Strexm with your Twitch account

Select an overlay from their library

Copy your unique overlay link into OBS or XSplit
---
Victory Royale

Streamlabs is a free set of tools for live streamers. Indeed, 70% of Twitch streamers apparently use Streamlabs, according to the company website. They offer a massive library of free stream overlays.
Their tools integrate into all major streaming platforms, including Twitch.
Streamlabs is probably best known for Streamlabs OBS, a free, reliable streaming app. 1.6 million streamers actively using Streamlabs OBS monthly, and there have been 161 million hours streamed using Streamlabs OBS since January 2018. It comes with more than 1000 free themes over a vast range of categories.
Streamlabs includes an excellent way to search its database. You can sort by most installed, newly added, or trending. You can filter their scene themes by whether they are animated or static, color included scenes or type of game. You can also search for widget themes, with many of the same filters, but you can pick and choose the specific widgets you require.
The themes also include products from other designers, for example, Nerd or Die's Glitch 2 featured at the time of writing this.
Victory Royale is one of Streamlabs' more popular themes. It is designed for streamers playing first-person shooters/action games. It includes Live, Stream Starting, Be Right Back, and Offline screens.
---
Fortnite Overlay Package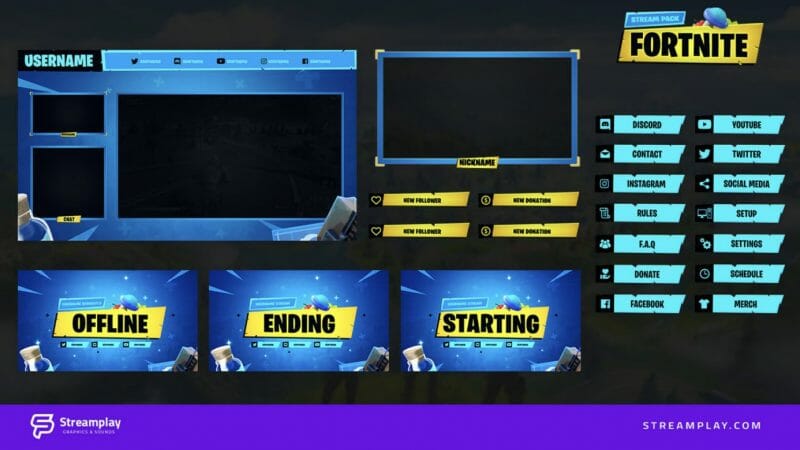 StreamPlay offer premium stream graphics, including:
Stream packages

Overlays

Offline banners

Webcam overlays

Panels

Alerts

Scene transitions

Stream starting and intermissions

Animated Twitch alerts

Animated graphics
Their overlays for Twitch streamers are professionally designed and will work with any streaming software you use, whether it's OBS, Streamlabs, XSplit, StreamElements, and more. They also have a selection of free Twitch overlays.
One of the most popular games over the last year has been Fortnite. StreamPlay offers a Fortnite Overlay Package. You can either buy and download the default package, or for $5 more StreamPlay will customize everything for you and send the .png files once completed.
The package includes:
Fortnite overlay

Fortnite webcam overlay

Fortnite alerts

Fortnite offline banner

Fortnite stream starting soon intro video
Frequently Asked Questions
How do I make Twitch panels?
To make a Twitch panel, follow these steps:
Create or edit a panel

Click the edit panels and then switch from off to on on your channel page

Submit to save the Twitch panel
What program do you use to make Twitch panels?
Open Canva and search for "Twitch Panels" to find templates. You can get inspiration for an overarching style or theme to follow for brand assets.
Are Twitch panels free?
You can download free Twitch panels in a few easy clicks. Once you pick the theme and color, you can custom create your own Twitch panels free.
Can Twitch panels be PNG?
Twitch panels can be PNG files. The maximum files size for Twitch panels in 2.9MB. Both PNG and JPEG files will work. Transparent PNG files perform best.