Advertiser Disclosure: Our unbiased reviews and content are supported in part by affiliate partnerships, and we adhere to strict guidelines to preserve editorial integrity. We may from time to time earn commission when you visit the suggested solution's and make a purchase. You will never pay more due to this.
Unless you are merely a casual lurker on Twitch, then people will probably watch you play games as you broadcast. As a beginner, you may keep their Twitch account in the original vanilla format for a while. In time, however, you will want to adjust your screen to match your tastes, along with your playing and broadcasting style. Twitch Interactive has made it easy to use Twitch overlays and borders to customize your account.
You have three main options when it comes to Twitch overlays. If you want to experiment to see what type of twitch overlay best suits your style or you merely lack funds, you can find many sources for free Twitch overlays. If you have the budget and want a more aesthetically pleasing overlay, you could buy a premium Twitch overlay. Serious gamers, however, prefer to have an overlay that genuinely reflects their style, personality, and, gaming strengths. In that case, it makes sense to pay a designer to create a customized Twitch overlay for your account.
Some designers create stream overlays that are wholly customized for playing a particular game. Most, however, are generic, and you can legitimately use them when you stream, no matter what game you choose to play.
When it comes to deciding whether a particular design counts as one of the "best" Twitch overlays, it will usually come down to your individual tastes. What is pleasing on the eye to one person can be horrendous and distracting to another. So we cover the best free Twitch overlays offered from a variety of the leading Twitch Overlay Template providers in 2020. You may find other Twitch overlays at these sites that you prefer, which suit your tastes better. Also, many of these sites also offer reasonably priced premium designs, which may interest you more if you have the budget to spare.
---
23 Top Free Twitch Overlay Templates for 2021:
---
1. Free Own3D.tv Twitch overlay – Own3D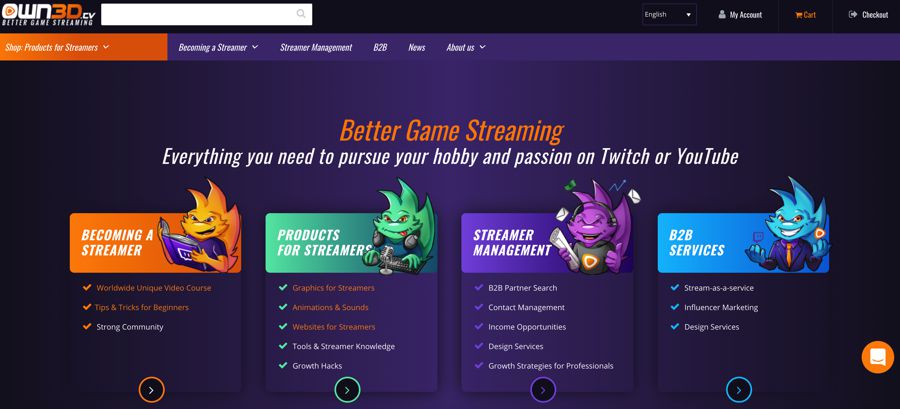 Own3D describes itself as providing better game streaming - everything you need to pursue your hobby and passion on Twitch or YouTube.
They have a large number of overlays for Twitch, YouTube, and Facebook. However, most of these are premium and come at a cost. You can quickly filter their overlays/templates by game or color.
Own3D.tv separates its graphics for streamers into:
Twitch Overlays

Twitch Overlays – Webcam

Twitch Overlays – Talking Screens

Twitch Overlays – Master Bundle

Twitch Starting – Pause- & End-Screens

Twitch Panels

Twitch Alert Sets

Twitch Giveaway Banners

Animated Twitch Overlays

Animated Twitch Webcam Overlays

Animated Twitch Alerts

Animated Twitch Scene Transitions
They don't offer many free overlays or templates, however, as they prefer to work with designers who make premium themes which stand out from the crowd.
They do have a couple of free items, however, including the free Own3d.tv Stream Overlay for Twitch. It comes with a frame for the stream and your camera, space for social media links and the matching fonts for your texts. The initial template is orange, but the pack includes instructions on how to use GIMP to customize your colors and design of the overlay.
Own3D.tv
All of our products are created for all streaming platforms The world's largest Graphics Shop for Twitch & YouTube streamers. Our graphics make your hobby even more beautiful and individual.
---
2. No Man's Sky Overlay – Nerd or Die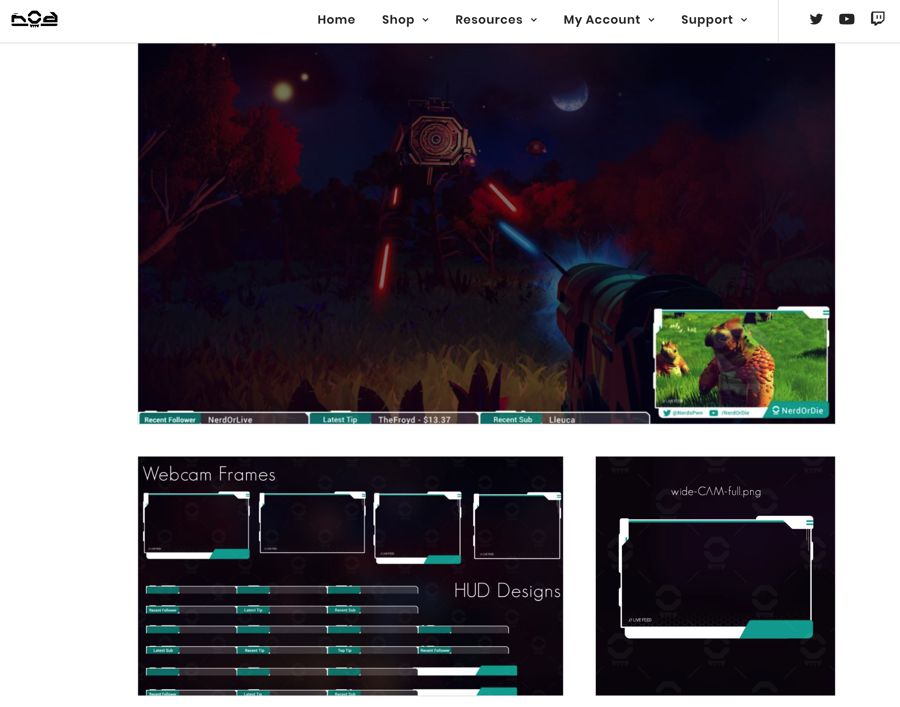 Nerd or Die creates Twitch overlays, alerts, and stream designs. They initially started as a tutorial website and YouTube channel, but they evolved into a brand that creates live streaming designs products, and tutorials for people across the globe.
Although Nerd or Die's overlays were designed for Twitch, almost all of the items they list will work with Facebook, YouTube Gaming, Mixer, and more.
The free No Man's Sky Overlay Theme MegaPack was initially created for the game No Man's Sky. The download includes .png files that can be placed inside of your streaming or video production software.
The downloads include webcam designs, HUD / Supporter Section Designs – with text, and HUD / Supporter Section Designs – blank (no text).
Nerd or Die
As well as eight free overlays, Nerd or Die offers free alerts, stream widgets, stream transitions, Twitch panels, and looping backgrounds.
---
3. Twitch Overlay Maker - Placeit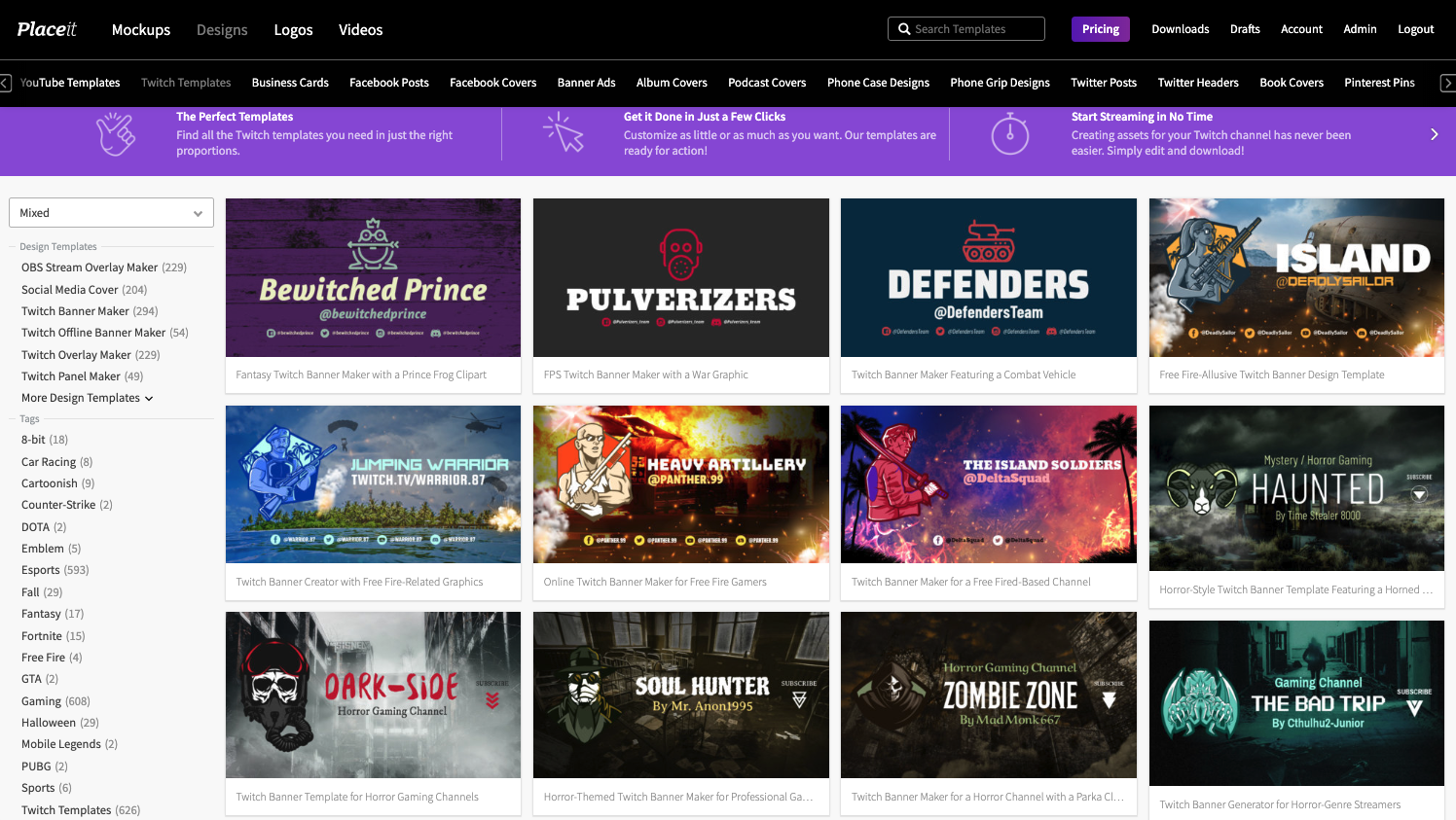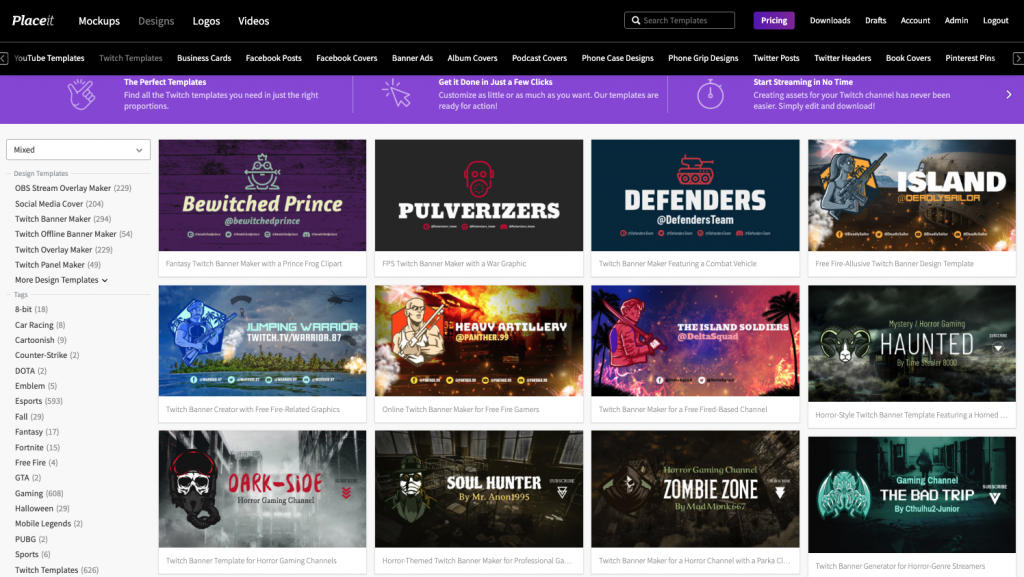 Placeit is an online design maker that provides easy-to-use tools to create professional visual assets that stand out on Twitch, YouTube and other social media, as well as video and realistic mockups.
There are hundreds of Twitch design templates that are customizable and made to fit current formats and sizes. If you're creating video content, you can use Fast Preview to view the progress and changes live while you're editing.
Gamers can choose from a variety of options that include:
OBS Stream Overlay Maker
Social Media Cover
Twitch Banner Maker
Twitch Offline Banner Maker
Twitch Overlay Maker
Twitch Panel Maker
Webcam Frame
How does Placeit work? Once you choose, customize and finish your template, you can download it and get a vector version of it. If you need to work on it later, you can go back to your previous downloads.

Placeit
With an annual ($99.95 USD) or monthly ($14.95) subscription you can get access to all mockups, designs, and videos; additionally, you get 50% off logos.
---
4. Ghost Rising – Twitch Overlay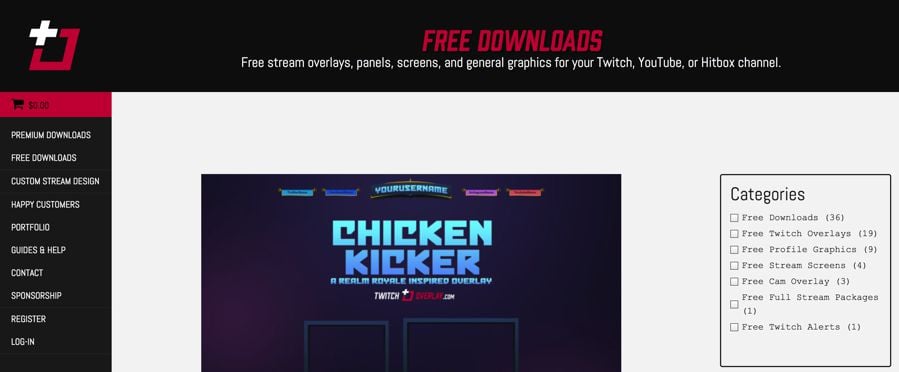 As its name suggests, Twitch Overlay specializes in designing overlays for Twitch live streaming, although they are also suitable for YouTube or Beam. They offer a range of premium and free downloads, as well as providing custom stream designs for anybody who wants something more personal.
At the time of writing, they offer 19 free Twitch overlays, nine free profile graphics, four stream screens, a free twitch Alert, and one full free stream package. If you are willing to spend an amount between $2 and $26, they offer 53 premium downloads, including 42 Twitch overlays.
The Ghost Rising overlay is quite distinctive and is clearly inspired by the game Free Destiny 2. It features sections on the left-hand side showing new followers, thanks for donations, thanks for hosts, and thanks for subbing.
Twitch Overlay
Over 150 overlay templates, alerts, panels, and stream starting & brb screens for use with OBS, Streamlabs & Stream Elements on Twitch, YouTube Gaming, and Facebook.
---
5. Overwatch Stream Overlay – Zwerger
Dominick Zwerger is a designer who provides personalized logos, designs, videos and many more for products. He includes many different samples of his designs on his site, in areas like photography, videography, web design, and graphic design.
One of his specialties is designing gaming templates. At the time of writing, he has 26 templates on the site (with an additional four currently in creation).
Some of the templates are more YouTube focused, but quite a few are streaming overlays, usable on any streaming platform, including, of course, Twitch.
A number of the templates are game specific and include examples for Counter-Strike Go, BF1, Watch Dogs 2, Farcry 5, League of Legends, and Overwatch.
The Overwatch Stream Overwatch Template is Dominick's 22nd template on his site. It features game imagery and is in an Overwatch-HUD style. It's easy to edit and free to use. It includes a facecam a "donation bar," and a "follow bar."
You will need access to Photoshop if you want to make any edits. You receive both the Photoshop .PSD file and the font.
---
6. Rage 2 FREE Twitch Animated Overlay Pack – Gael Level
Gael Level is a designer of photos, videos, graphic design, and more. He shares his designs on Gumtree, some for free, others for the relatively low process of $0.99 to $5. Many of his designs are Twitch overlays, with some of the best (paid ones) being packages. For example, he offers a Fortnite pack of more than 100 files, some animated, for $5.
One of his free Twitch animated overlay packs is designed around the game Rage 2. The pack includes three animated screens:
Starting Soon screen

Be Right Back screen

Stream Ending screen
It also includes plenty of static images:
Offline image

Intermission screen

Starting soon screen

Be right back screen

Stream ending screen

Background

2 Avatars (drag and drop)

Banner (Blank)

2 Labels bar (Inline / Stacked)

20 panels
Although this pack can be obtained for free, it is promoted as "Name a fair price," so it may be worth offering some money if you feel the templates will give you enjoyment.
---
7. Own3D Club: Free Twitch Streamer Community – Own3D
One way to gain free Twitch overlays and other graphic add-ons is to join the OWN3D Club: Free Twitch Streamer Community. Also, for everyone who wants to start streaming or is new to streaming, OWN3D offers a Community Discord.
The OWN3D Club: Free Twitch Streamer Community offers its members:
Largest streamer community worldwide

Exclusive offers

Free downloads regularly

Weekly giveaways

Premium partner offers

Free checklists and tutorials

Dozens of Twitch partners will give you feedback
Straight away, you receive a free stream panel set, that includes 5 color sets, 13 prefabricated panels and 1 blank panel, PNGS and PSDS. They also give you their free OWN3D Design Panel Extension, which makes it possible to add free animated Twitch Panels to your channel. The extension offers you a large selection of different graphics and animations. Currently, there are about 40 designs in different colors and styles
There is a list of free and animated Twitch Overlays in the Community Discord channel.
---
8. Dark Matter - Strexm
Strexm provides free Twitch overlays. Most are customized for particular games, though there is also a range of generic overlays.
The Dark Matter overlay is one of Strexm's generic range. It features a red and black color scheme that doesn't take up too much of your precious window space. It utilizes a playful font, which although informal looking is simple to read. The top bar shows your latest followers, recent donations, and your social accounts.
Strexm overlays work out of the box and can be manipulated to your exact needs. They are fully dynamic, and you can change your stream's content at any time through Strexm's intuitive online editor. All of their overlays come built in with follower, subscriber, donation and host alerts.
To date, Strexm has produced game-specific overlays for Battlefield, Call of Duty, Counter-Strike: Global Offensive, Destiny, Diablo III, Doom, DOTA 2, Dark Souls III, Fallout 4, FIFA, H1Z1, Halo 5, League of Legends, Minecraft, Overwatch, Rocket League, Starwars Battlefront, Tom Clancy's The Division, and World of Warcraft.
---
9. Cyan - Zerging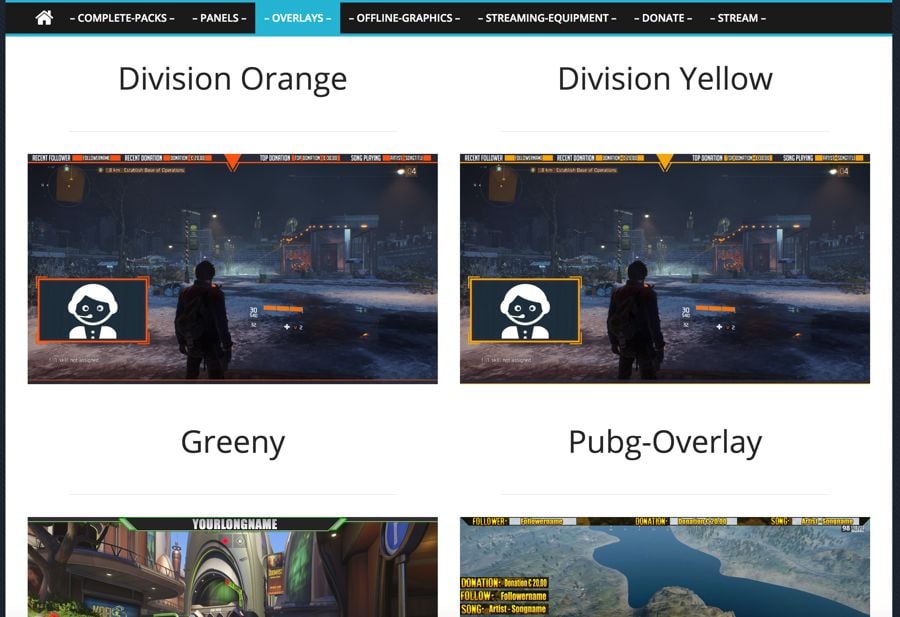 Cyan is one of many free overlays freely provided by German site, Zerging. As its name suggests, Cyan features a light blue color scheme that doesn't overpower the game you are playing.
Zerging is very flexible and encourages its users to mix and match parts of different overlays and panels. Indeed they also offer complete packs with many parts, and you can use them in your stream in whole or in part, however you see fit. The Complete Pack pages include a link to a full pack for Cyan, which provides even more than just the overlay.
It's clear that Zerging's native language is German, and some of the translation could be improved, but you are sure to find something that will interest you. Most of the overlays, panels, and packs are generic, although a few have been designed to work best with particular games.
---
10. Raptor – WDFLAT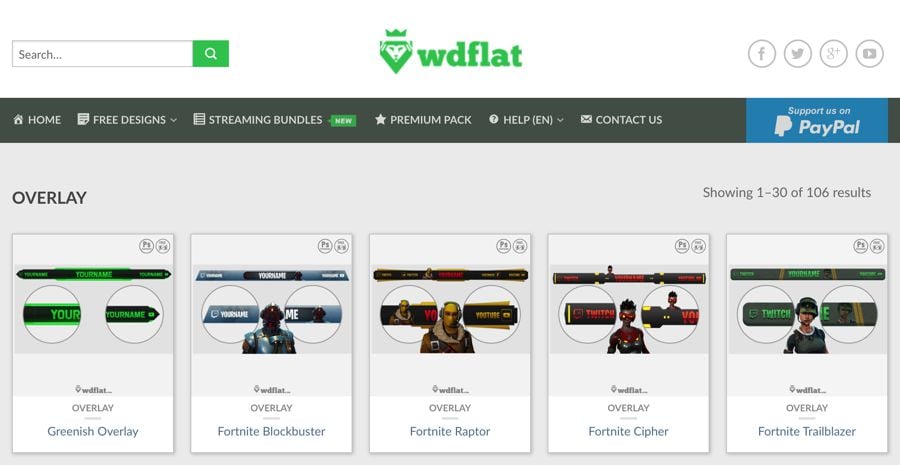 WDFLAT describes itself as an online platform for streamers, with elements for Twitch and YouTube Gaming – Stream Overlay, Twitch Panels, Twitch Offline, YouTube Banner, YouTube Thumbnail, Logo Esports, and more others.
They currently offer more than 100 free overlays, many of which are inspired by particular games. With Fortnite being the Twitch game of choice in 2018, it should is unsurprising that many WDFLAT overlays are Fortnite-inspired. Many of the overlays represent the various characters you can play as in Fortnite and feature matching color schemes.
If you are a Fortnite fan, you will know that Raptor is a playable Soldier character associated with the Raider subclass and can be only obtained as a reward from Level 100 Collection Book. He wears a yellow mask in the game. This overlay uses yellow as its secondary color (along with black) and includes a picture of Raptor at the top of the screen.
---
11. Orbitron – Twitch Temple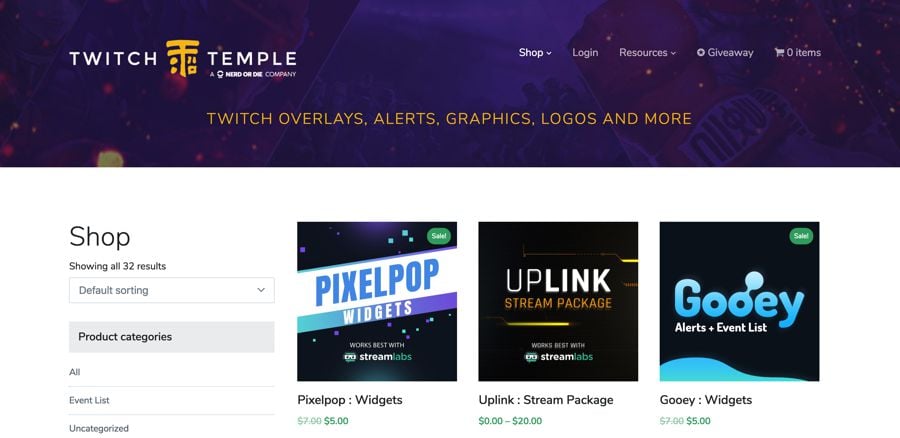 Twitch Temple offers Twitch overlays, alerts, graphics, logos and more. They offer both premium and free Twitch overlays.
The bulk of their packages are premium costing from $3 to $20, depending on whether they feature just an overlay or a full package of animated overlays, goal widgets, and unique alert designs. However, they do currently offer four free Twitch overlays.
The Orbitron design comes resplendent with a gray and red color scheme. It includes a set of modular elements making it very easy to modify the free Twitch overlay however you like. It comes with a range of Twitch panels you can include, covering such areas as About Me, Schedule of Regular Times, Specs, and various social media buttons. The package also offers a Twitch Intermission Screen, a Twitch Offline Screen, and a Twitch Starting Soon Screen.
---
12. Haunted Twitch Overlay – Visuals by Impulse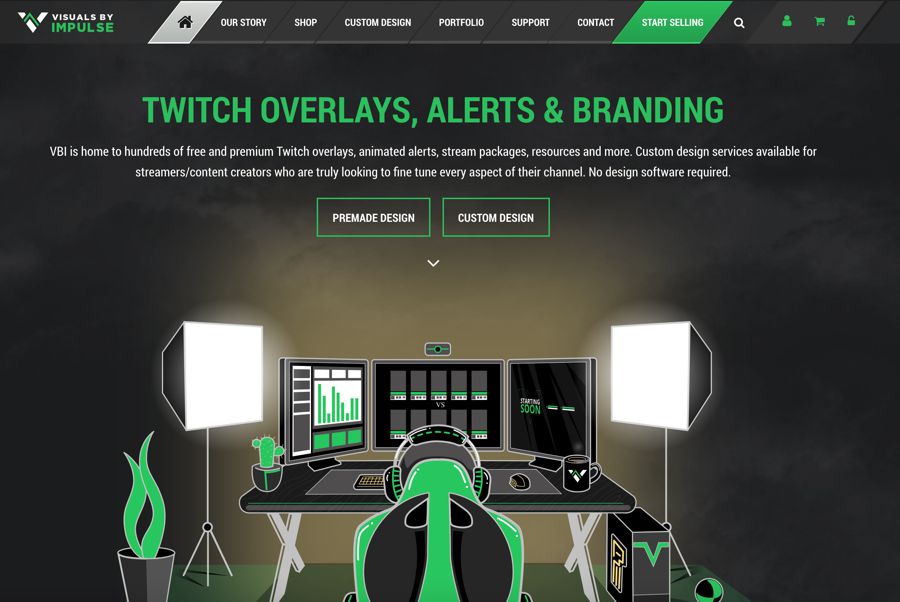 The Haunted Twitch Overlay is one of 36 free Twitch overlays, packages, and panels that Visuals by Impulse offers.
It comes with a spooky purple color theme, top bar setup, slots for top donation, recent sub and more.
The Haunted Twitch Overlay is designed to get your stream up to par with the pros quickly. Each package contains webcam overlay, VBI design file, a preview image, and a Readme file.
The Visuals by Impulse site is home to hundreds of free and premium stream overlays, logos, alerts and more. These are all compatible with Twitch, Mixer, and Streamlabs.
---
13. Bitter Jungle – Stream Play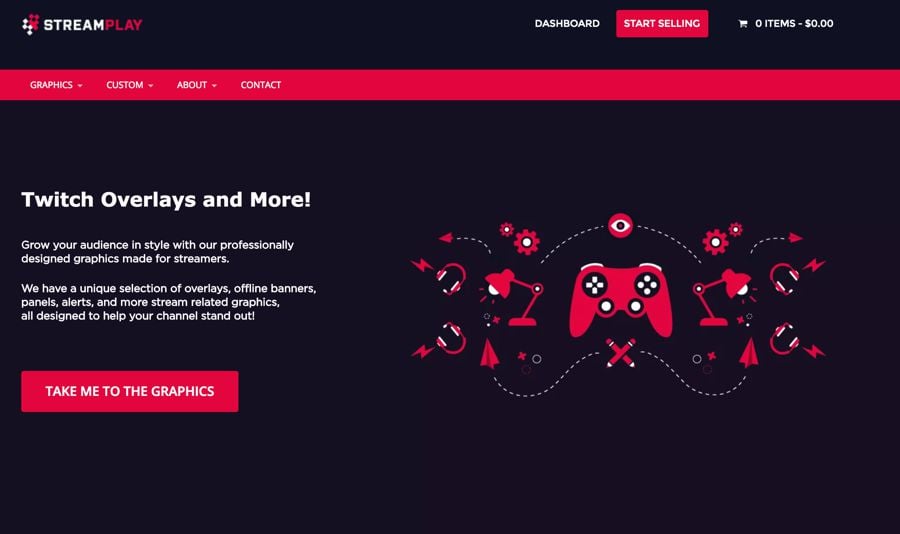 Stream Play Graphics makes custom and premade graphics for streamers. Their primary focus is to help gamers brand their channels with the most visually appealing designs out there. They believe that it is essential to brand your gaming channel. Branding yourself lets your audience know that you're serious about streaming.
As with most of these graphics sites, the main focus is on premium overlays and custom designs. However, they do have a Free Twitch Graphics Collection. They believe that when you're just starting out, a free stream overlay is the best way to test out the waters without worrying about spending money.
All of Stream Play's free overlays and stream graphics will work for you even if you stream on YouTube or Mixer.
As its name signposts, Bitter Jungle is a green-themed overlay template, taken from their full-stream package. There is enough room to add your streamer name, as well as sections for thanking your recent followers and donations. As it comes in a PSD file, you can customize the text and colors to match your style.
---
14. Free Stuff – Twitch Designs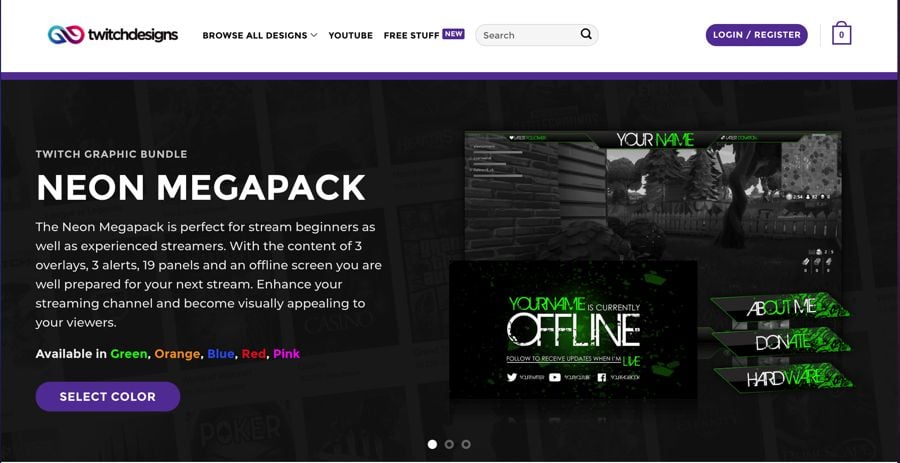 Twitch Designs specializes in, well, Twitch designs to improve the look of your Twitch stream. They include Stream Overlays, Stream Panels, Stream Bundles, and Stream Facecam. They have around 300 products overall.
Many of their templates highlight individual games. These both show off the game itself and leave room for your face cam as well. You can pick your choice of animated overlays which create an active, busy environment even during streaming breaks. If you can't find a template that fits what you need, their designers can create a unique Stream Overlay for you.
Twitch Designs doesn't individually name the items on their Free Stuff page, so I haven't selected a particular design in this case. Although one that looks like a GTA V-type banner could be an excellent design choice for gamers who love to play that long-lived game.
---
15. Triassic – StreamLabs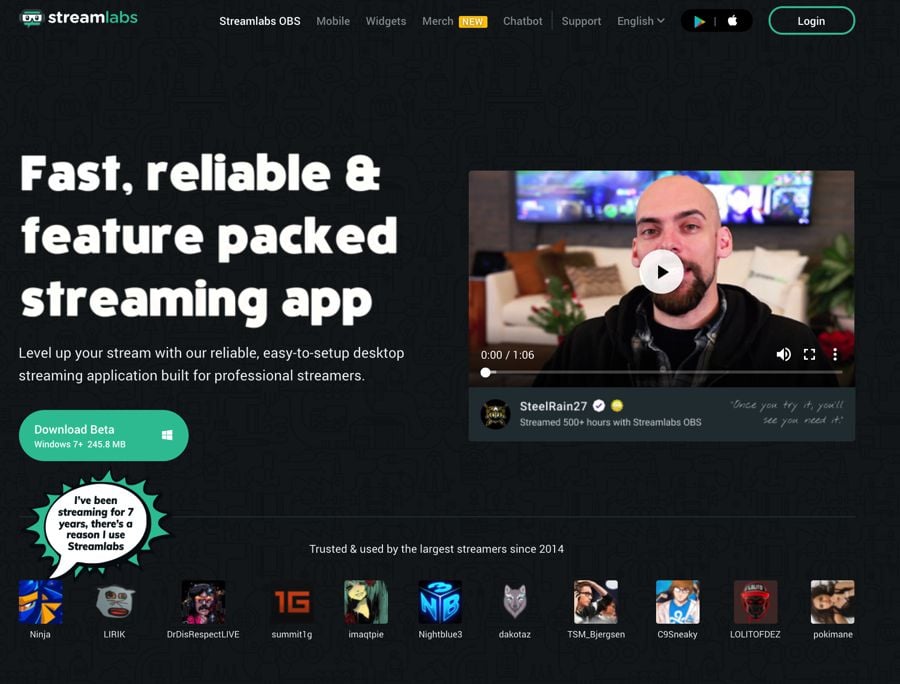 StreamLabs is a free desktop streaming application built for professional streamers. It includes hundreds of free themes and design elements you can install directly into your editor, with one click. You can select from both static and animated themes.
You can quickly sort by features such as theme color, included scenes (Live, Be Right Back, Offline, and Stream Sharing, and theme categories (such as first-person shooter, action, simulation, sports, and many more).
Triassic is unusual in that it is inspired by dinosaurs. It is in the Simulation section, and includes Live, Stream Starting, and Be Right Back screens.
---
16. Fully Customizable Themes – Player.me

Player.me is a simple and powerful all-in-one streaming and recording app that's easy to use in-game and out. It allows you to live stream, record, edit, customize and share.
It includes a powerful cloud-based Stream overlay editor, where you can choose from hundreds of fully customizable themes, and make one your own.
Unlike most of the rest of these sites, you don't select from an existing range of overlays. You begin with their existing templates and make them your own. Player.me's overlays offer a ton of customization and feature all the widgets you are likely to need for your streaming.
Player.me's overlays are entirely web-based, so to use them you click the Launch button, select Copy your overlay URL, and add it as a webpage source onto your streaming software, such as XSplit Broadcaster or OBS Studio.
---
17. God of War Twitch and YouTube Overlay – Free Video Game Backgrounds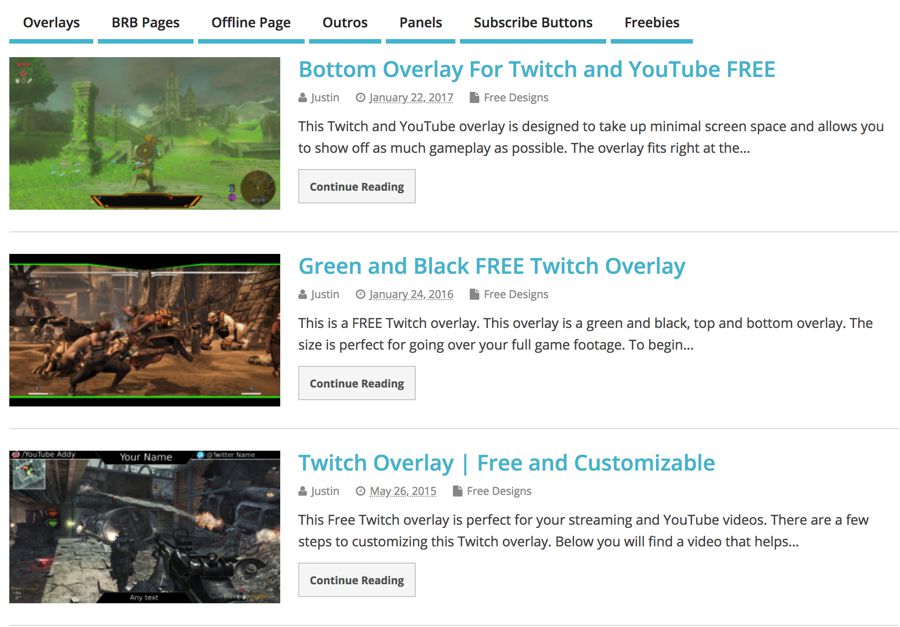 Despite this site being called Free Video Game Backgrounds, this site actually includes a mix of free, premium, and custom designs. It splits its offerings into overlays, BRB pages, Offline pages, Outros, Panels, and Subscribe Buttons.
It does have a Freebies section, however, with a sizeable part offering graphics you can download.
The God of War overlay I themed to match the game of that name, with appropriate graphics, colors, and fonts. It has an area for a webcam, gameplay, and social media, and is spiced up with the new God of War logo. Kratos (from the God of War game) is featured on this Twitch and YouTube overlay.
---
18. Free Twitch Overlays – Fuskare – Behance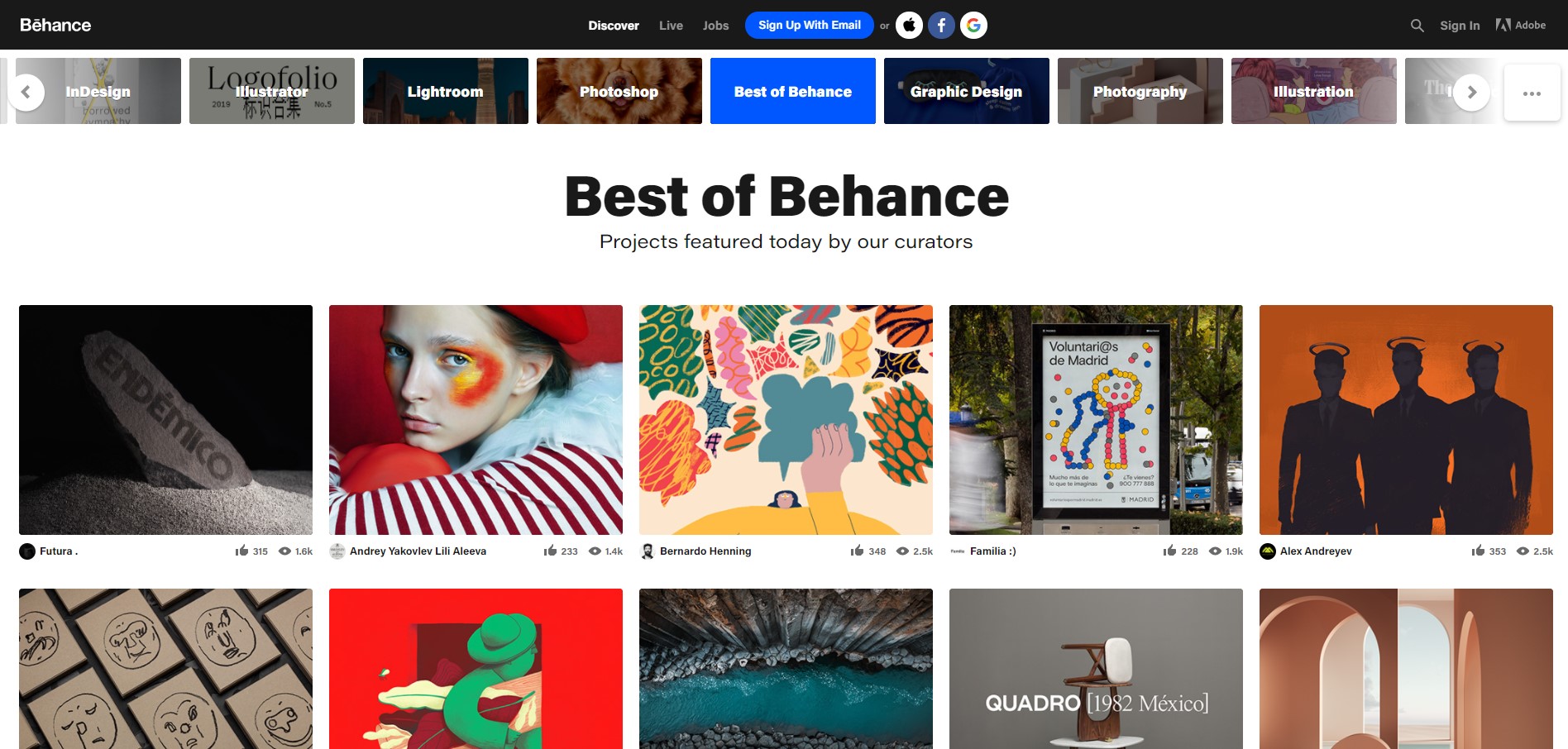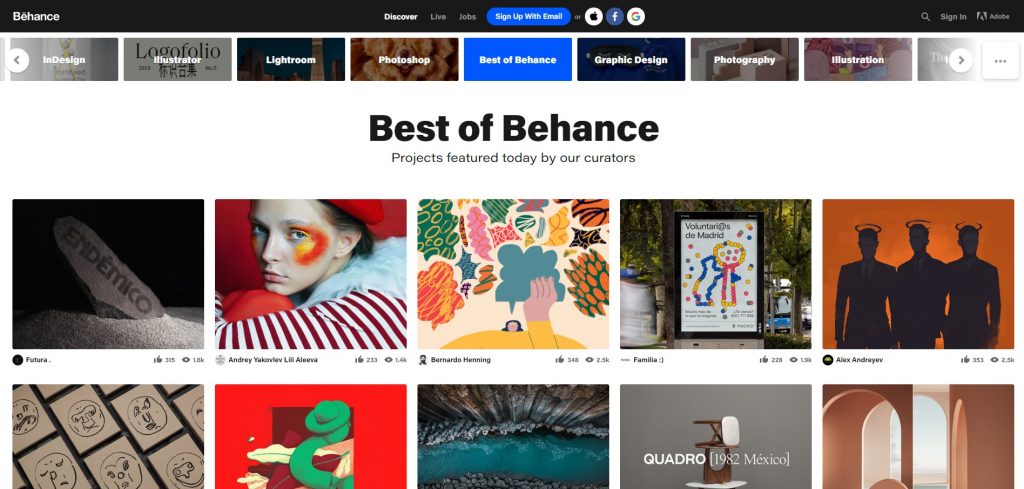 22-year-old Polish video editor and graphic designer, Fuskare, has shared a selection of free Twitch overlays on Behance. Behance is a platform where web designers can showcase their graphical skills. It comes as part of the Adobe Creative Cloud plan, although you don't have to be an Adobe user to download the files that people share on the platform.
Behance is straightforward to use and is an excellent venue for those in fields like graphic design and illustration to demonstrate their skills.
Fuskare has uploaded a mix of social media headers, free Twitch overlays, anime headers, and Valorant headers.
Of course, Fuskare is just one of many graphic designers who have shared free Twitch overlays. If you search for that term on Behance, you will come up with a considerable number of overlays and other Twitch graphics, and you may find one more in line with your tastes.
---
19. Free Hitbox Streaming Overlay Pack – GDR (GraphicDesignResources)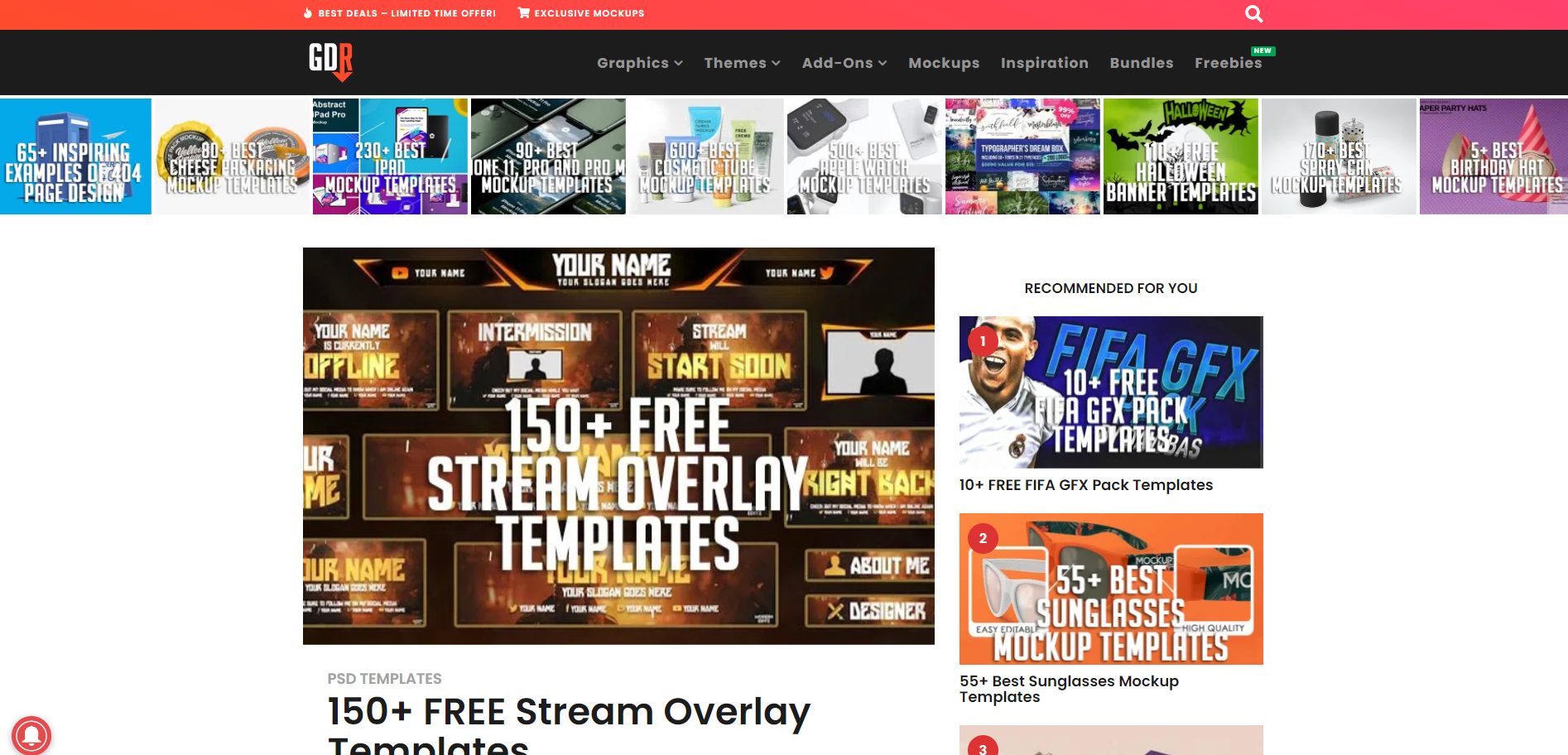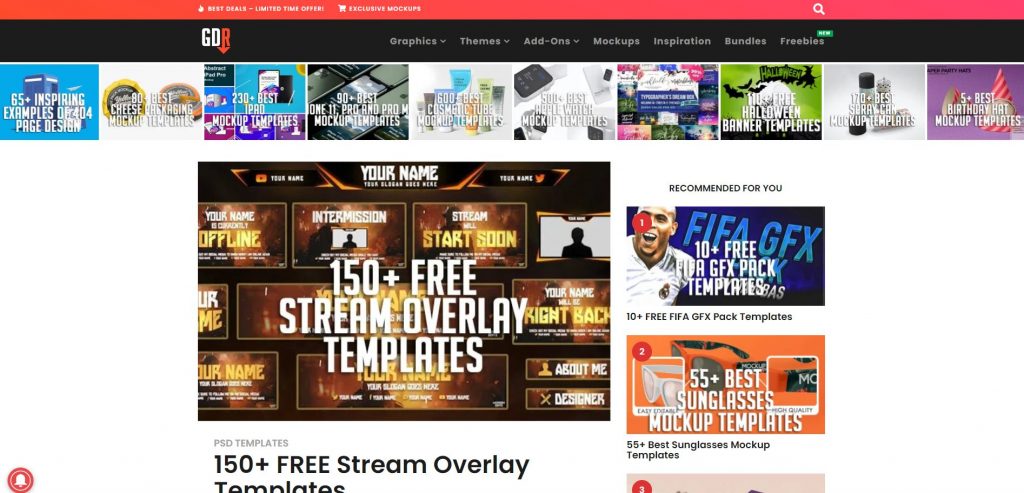 As its name indicates, GraphicDesignResources offers multiple graphics files. You will find no end of different types of graphics, themes, add-ons, mock-ups, inspiration, and bundles on the site, as well as the all-important freebies. These include a page showing 150+ free Stream overlay templates. The site stresses that its graphics can be used with streaming platforms such as Twitch, YouTube, Mixer, Facebook, Huya, or others.
Look through the collection to see one that would suit your streaming style and appear attractive to your audience.
The first item currently on the list is the Free Hitbox Streaming Overlay Pack in PSD format. When you click on the Download button, it takes you to a YouTube video showing the graphics in action. The link to download the pack is beneath the YouTube video.
This particular template is a pack, including ten screens, banners, avatars, and more. It also comes in various colors, so you aren't restricted to the teal color showing on GDR (or the green color depicted in the YouTube video).
---
20. Blue Neon Twitch Overlay – Adobe Spark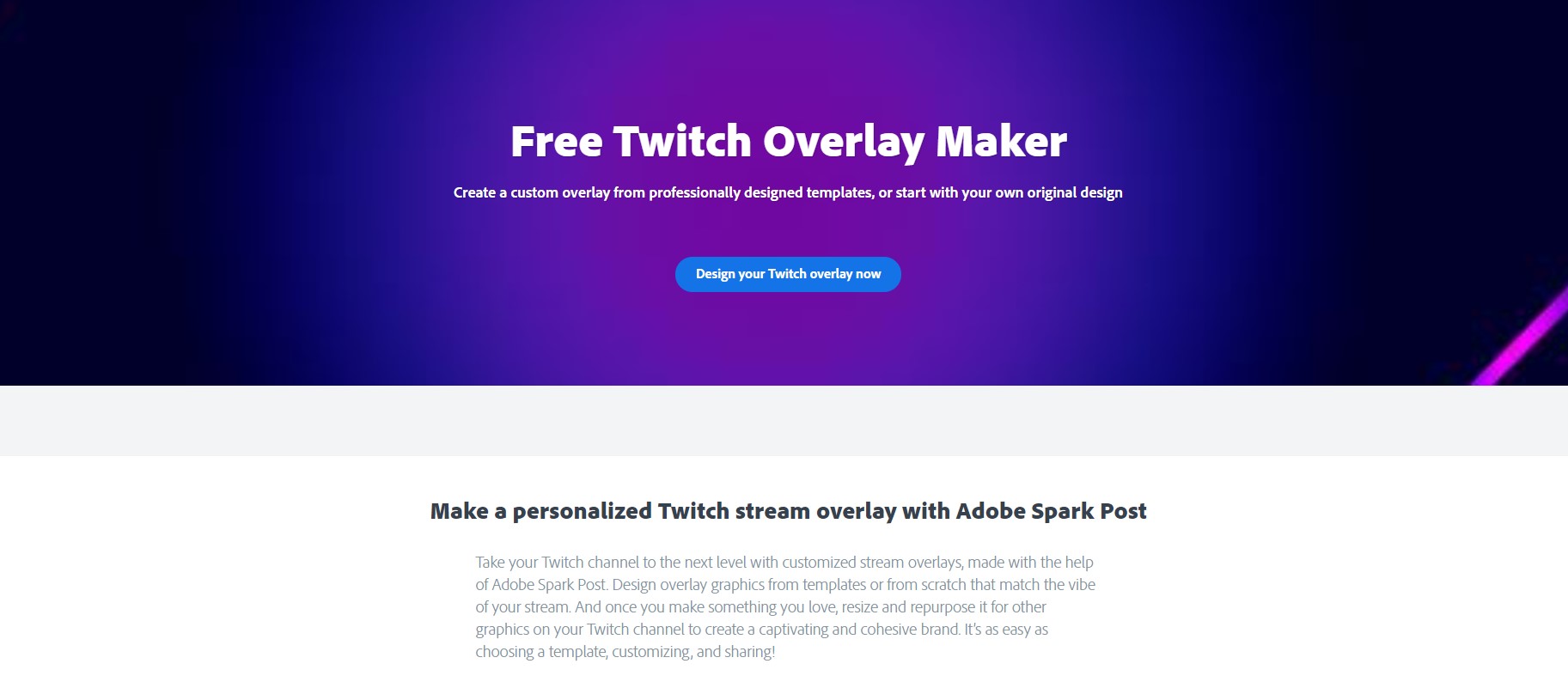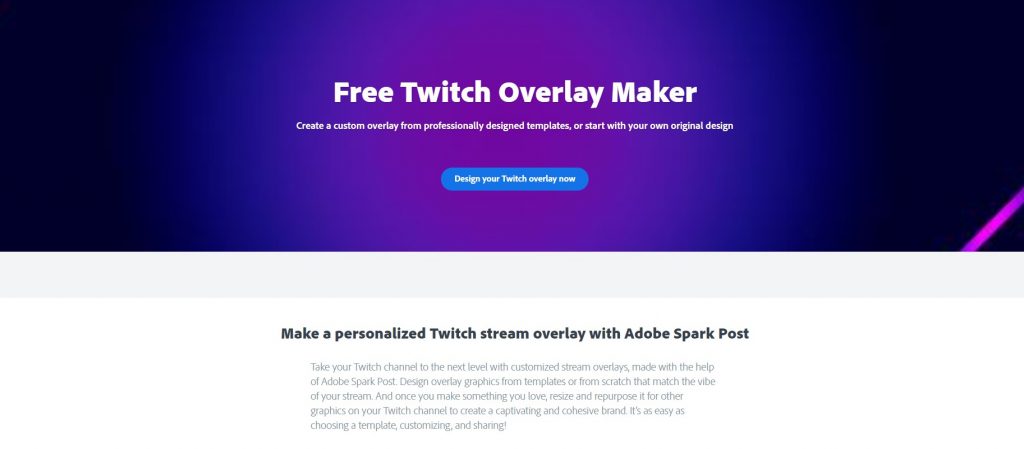 Adobe Spark is an integrated web and mobile solution that enables everyone to easily create and share impactful visual stories, social graphics, and animated narrated videos. However, you can use it for other graphical purposes too, and you can use the app to make various graphical projects. One of the templates you will find there is the Blue Neon Twitch Overlay.
In this case, you will probably want Adobe Spark to make some modifications to the design, which you should be able to do without any significant need for graphical skill and expertise. The first thing they say you should do is to remove the Adobe Spark logo in the bottom right corner.
---
21. Twitch Stream Overlay Red Face – Sathya Studios – PNGTree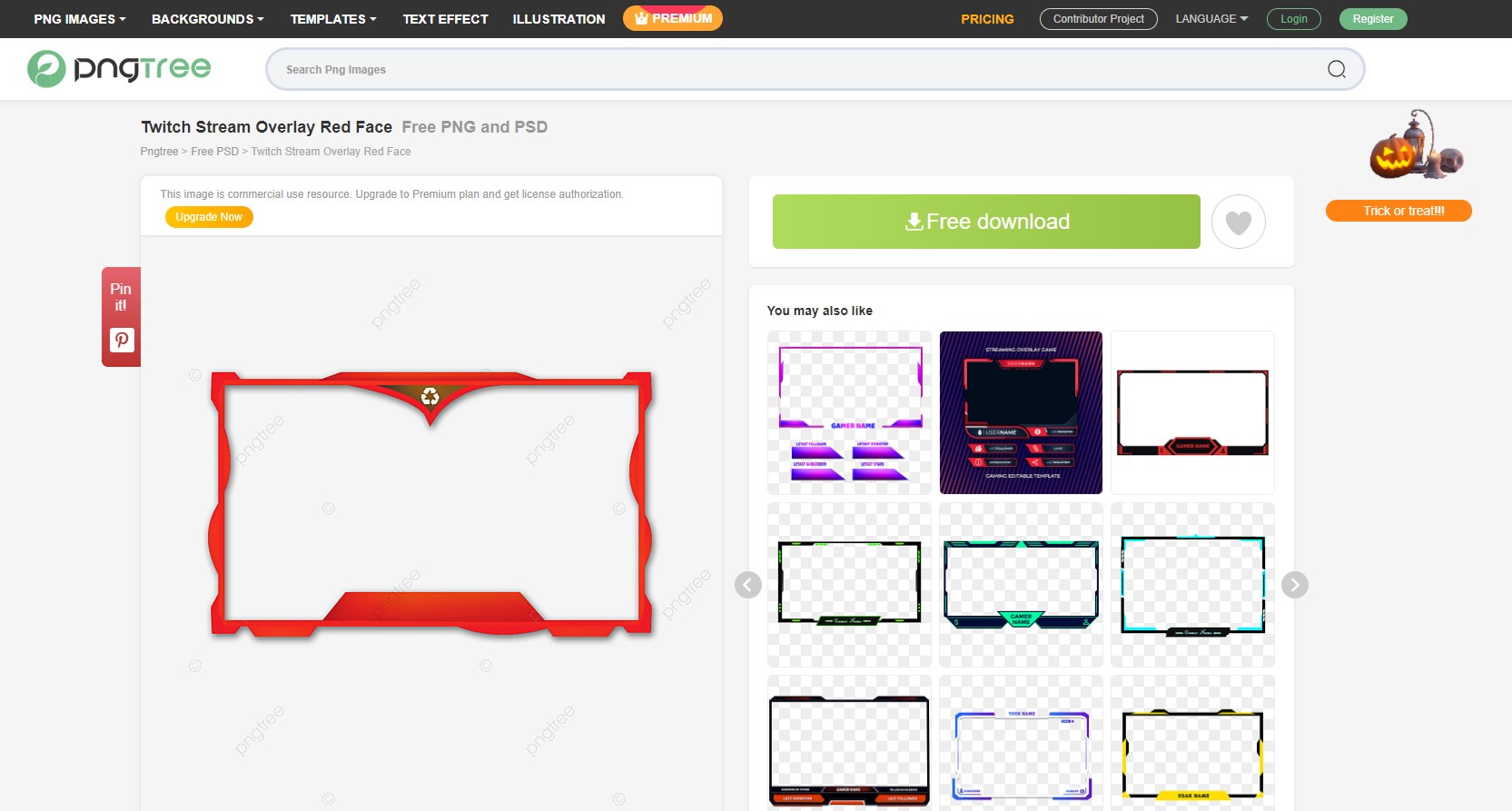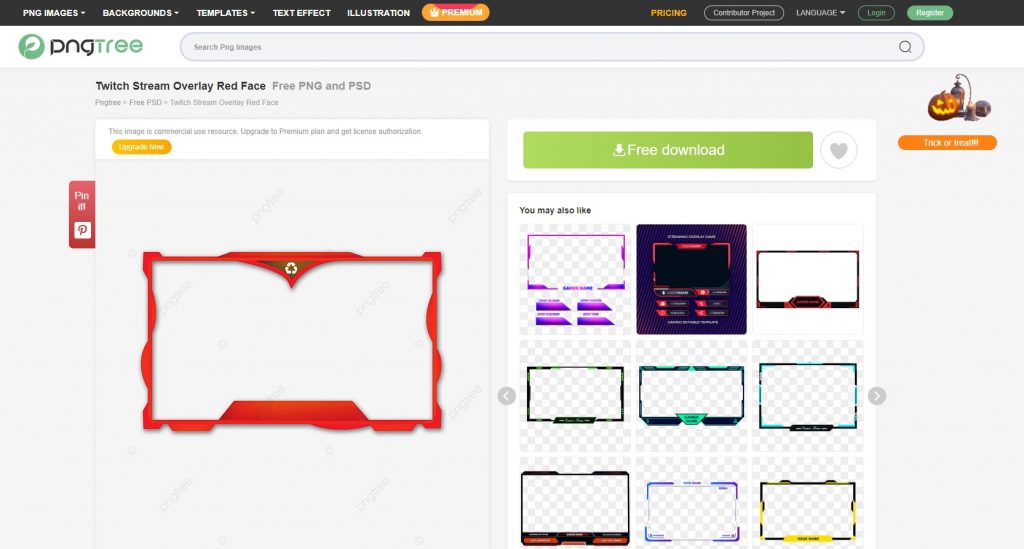 Founded in Dec 2016, PNGTree has millions of graphics resources for everyone to download. One of these is called the Twitch Stream Overlay Red Face.
PNGTree's vision is to build the largest PNG free resource platform in the world, service for all the professional designers and people who have the design skills.
If you search for "stream overlay," you will find four screens (currently) of streaming overlay graphics in a range of styles and colors. The Twitch Stream Overlay Red Face is what it says – a free, red-colored overlay of the surrounds of a Twitch screen. When you click on the Download button, you are prompted to register for PNGTree. However, once you have done that, you can continue the download. This particular overlay has been designed and shared by Sathya Studios. They have uploaded over 130 PNG images and templates to PNGTree. Some are bare and basic, like the Overlay Red Face, but others are graphically more complex, so you should be able to find a design that gains your attention.
---
22. Llama Fortnite Animated Super Theme – StreamElements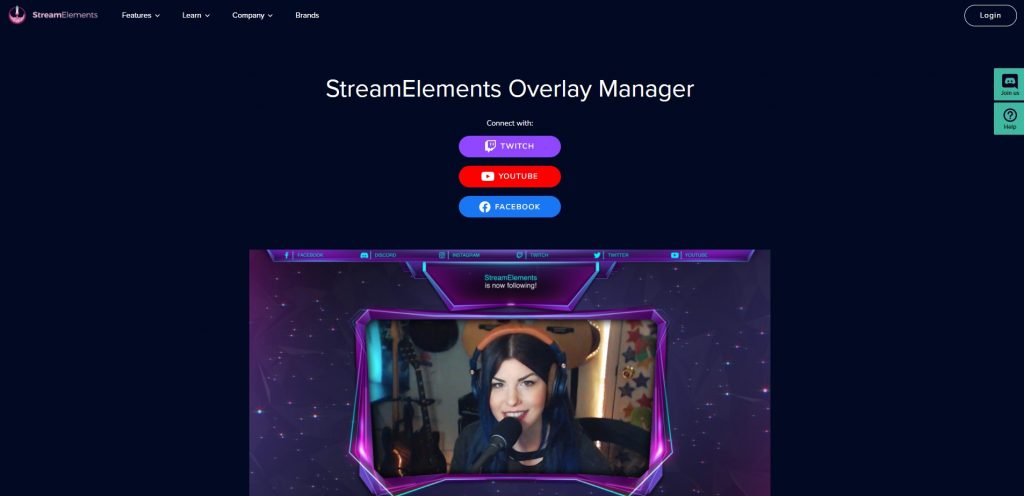 StreamElements is a cloud-based platform for streamers. Amongst the features it offers is an overlay manager. You can use this to manage all your graphics with ease and load them in your OBS\Xsplit from a single source and one click. You can either create a new overlay yourself or use a free ready-to-stream designer-made "SuperTheme" from their Themes Gallery. Super Themes are a complete package for multiple scenes. Using a Super Theme will create five overlays that you can use in different scenes in OBS.
One Super Theme is the Llama Animated Super Theme, designed for Fortnite streamers. The five overlays that are part of this pack contain llama-enhanced overlays, showing the streamer's head superimposed over their gameplay, a near full-screen view of the streamer, a Stream Starting Soon screen, a Be Right Back screen, and a Stream Ended screen.
---
23. Tribal – OvrStream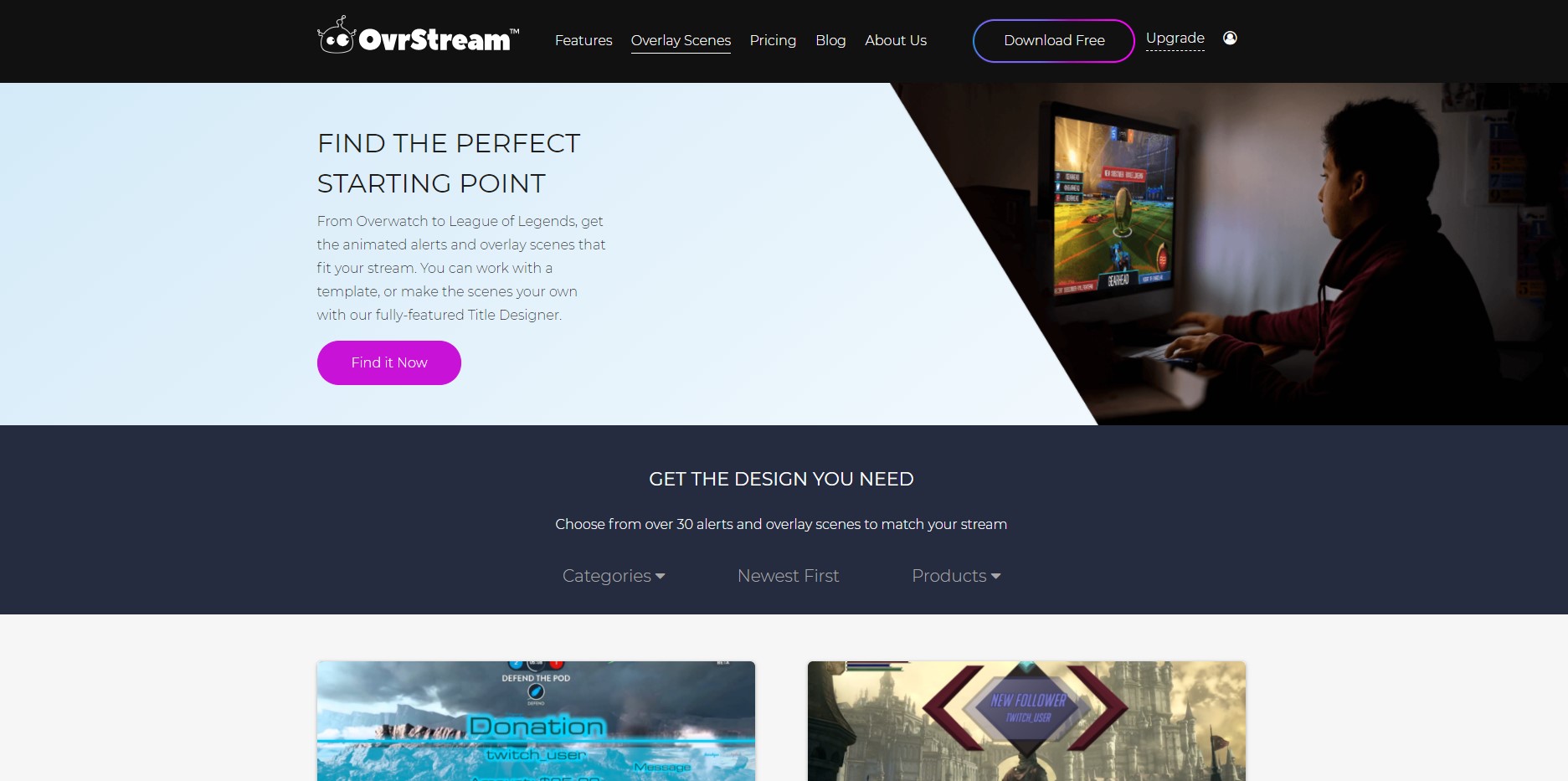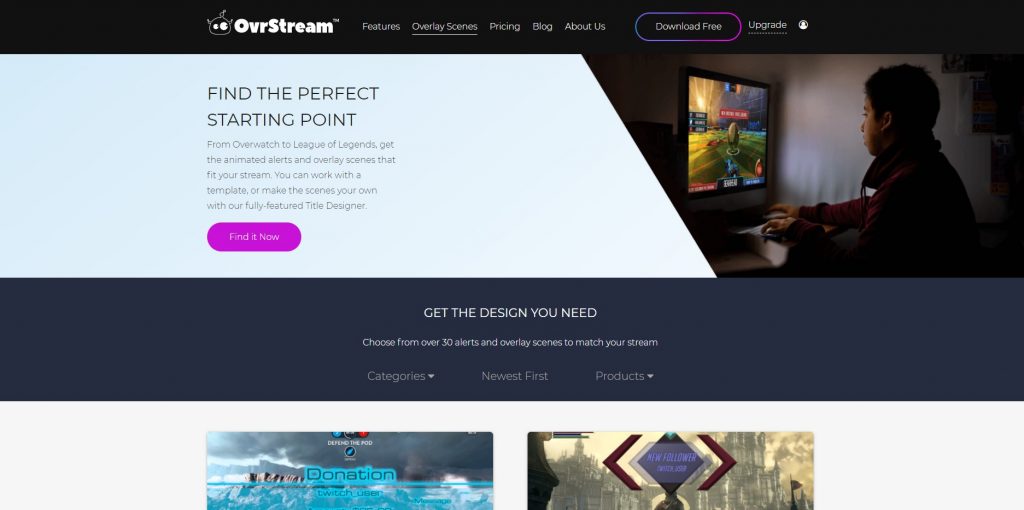 OvrStream is an automated motion graphics app for streamers that offers custom graphics, alerts, and overlays. You can download OvrStream for a free 60-day trial, and when you get the hang of OvrStream's powerful rendering engine, you can subscribe for $4.99/month. This allows you to keep access to their design tools, a library of effects and animations, and connection to YouTube, Twitch, Twitter, Streamlabs, and more
OvrStream allows all their potential customers to test their layouts, graphics, and templates within the 60-day trial period. During this time, you'll be able to access overlays, alert templates, and a variety of free streaming layouts for all of your broadcast's needs.
OvrStream has over 30 alert and overlay templates inspired by popular games, styles, and trends. Customizing a template is easy and creating your own from scratch in their Title Designer can provide your audience with a memorable experience. Tribal is an example of one of the existing templates you can download for your stream.
Frequently Asked Questions
What are the best overlays for your Twitch live stream?
In many ways, the choice of best overlay for your Twitch live stream is a matter of personal taste. You will find a wide range of colors and styles, so you should easily find one that suits you. If you regularly play and stream a particular game, you may even opt to use a game-specific overlay. You should experiment to determine what type of Twitch overlay best suits your playing and streaming style. We cover a wide variety of different overlay styles in this post.
What are the best extensions for Twitch?
Ultimately the choice of best extension or overlay for Twitch will depend on your tastes. While most Twitch extension developers only make a limited number available for free, you will find many more if you are willing to pay for them. Most paid extensions are relatively cheap. Serious gamers choose to use an overlay that genuinely reflects their style, personality, and gaming strengths.
Where can I get free Twitch overlays?
We cover quite a few places where you can find free Twitch overlays in this article. Not all Twitch overlays on these sites are free. The developers do create them in the hope of earning some income for a start. However, you will find some free overlays at every site listed above. If you are a serious gamer, however, you should consider including the paid Twitch overlays in your search. Many of these are very high quality, and you will find a much greater choice.
What is a Twitch overlay?
While you could use the standard Twitch screen, more serious gamers and streamers prefer to personalize their screens. There are many sites online where you can find free or paid overlays to help you change your screen décor. The phrase "Twitch overlay" covers a whole range of different graphic types that modify part of your Twitch screen. These include webcam overlays, talking screens, panels, alert sets, giveaway banners, and more. Some designers bundle these together as sets.
Do I need 2 monitors for streaming?
While two monitors may make the management of your Twitch stream easier, it isn't a Twitch requirement. You can stream using a single monitor; however, it will be much more difficult for a busy streamer. The main advantage of a second monitor is that you can separate your communication chats with your fans from the game you are playing.
How powerful does a streaming PC need to be?
Most gamers stream from a dedicated gaming desktop or laptop PC, although some prefer to use Macs. Although many gamers play games on Xboxes or PS4s, these are not as suitable for streaming. Because you are both playing your game, and also broadcasting your play, you need a reasonably powerful machine. Twitch recommends at least an Intel Core i5-4670 processor (or its AMD equivalent), 8GB of RAM, and Windows 7 or newer. Ideally, you should have a quality graphics card and a fast internet connection.