In August 2017, Twitch gave streamers additional power in the form of extensions. Twitch extensions provide a wide range of extra capabilities to broadcasters, from game-dedicated overlays to leaderboards to the ability to create polls. We have previously covered two types of Twitch extensions – overlays and panels . However, there are many other types of Twitch extensions as well. There are now over 200 extensions, with people developing new ones every month.
Twitch initially only made their extensions available on desktop, but more recently they have expanded their use to mobile as well. Initially, streamers could just select one extension for their stream. However, Twitch has now opened things up, and broadcasters can now operate up to three video extensions running at the same time, along with up to three panel extensions running below their video.
Developers design Twitch extensions to help streamers and their audiences interact. They add to the viewing experience. Some of them provide a way for viewers to give broadcasters feedback.
You can find many extensions directly within the Twitch Extension Manager . You will find others on individual developers' site across the web.
---
10 Best Twitch Extensions for streamers:
---
Types of Twitch Extensions
Twitch splits extensions various ways within in its Extensions Discovery page. Firstly, it divides extensions by general purpose into:
Viewer Engagement
Loyalty and recognition
Games in Extensions
Extensions for Games
Schedule and Countdowns
Streamer Tools
Polling and Voting
Music
However, it also indicates the type of extension included in each package. Some Twitch extensions cover multiple types. The types of extensions catered for are:
Component
Overlay
Panel
Mobile
Bits
Purchases
Here are ten of the best Twitch extensions.
---
1. own3d.tv RedDead-Series Stream Design Overlay Pack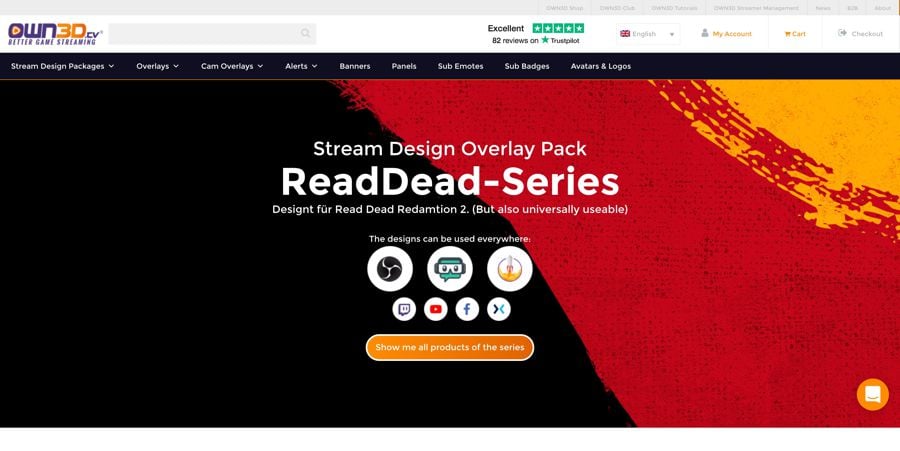 own3d.tv provides a wide range of different types of extensions, not just for Twitch, but also for the other livestreaming platforms where you're likely to find gamers – YouTube, Facebook, and Mixer. The company takes livestreaming seriously and splits its offerings into:
stream designs for streamers
animations for streamers
sounds for streamers
websites for streamers
video courses for streamers
The company also manages more than forty Twitch streamers, including gtimetv who has 475k followers.
own3d.tv includes complete stream design packages amongst its offerings. A recent addition to the line is for players of new super game Red Dead Redemption 2 is a range of RedDead Series Packages . If you regularly stream Red Dead Redemption games, then these enhance the overall look, feel (and sound) of your page.
As with all own3d.tv overlay complete packages, streamers can select from one of three different sized packages to find the combination that best meets their needs. All feature matching design, helping a streamer's channel look much more professional.
The three packages a potential purchaser can choose from are the Light Package, the Basic Package, and the Monster Package – all RedDead themed and coordinated.
The Light Package includes
Stream Overly
Stream Alerts
Stream Webcam Overlay.
The Basic Package includes everything from the Light Package, along with
Stream Intermission Banner
Stream Panels
The Monster Package includes everything from the other packages, as well as
Stream Talking Banner
3x Twitch Emotes
If you are a beginning or inexperienced Twitch streamer, own3d.tv offers a range of free game streaming tutorials on their site.
---
2. Streamlabs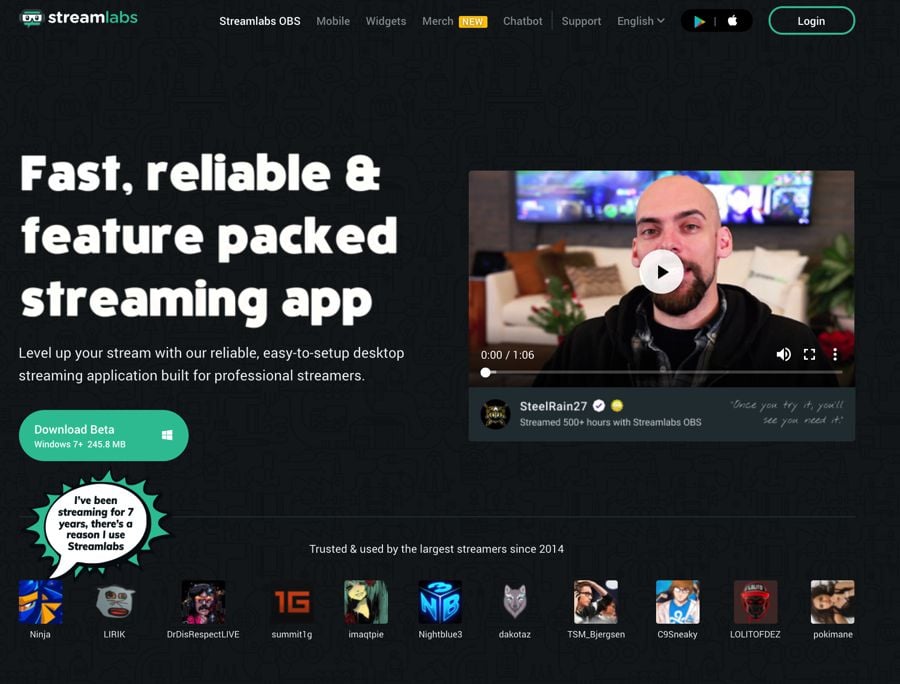 Streamlabs provides a distinct system for gamers to enhance a channel and simplify its monetization. Streamlabs is an all-in-one tool – a streamer's viewers can earn loyalty points, request songs, vote in polls, enter giveaways, and play mini-games that will keep them coming back to the channel. In many ways, it provided Twitch extensions before there formally was any such thing.
Technically, only the downloadable Streamlabs widgets are Twitch extensions. These are available from the Twitch Extension Manager. These include widgets for
Alertbox
Chatbox
Event List
The Jar
Donation Ticker
Donation Goal
Guilds
Loyalty
All-Stars
However, Streamlabs has also now released their own streaming app – Streamlabs OBS. This provides additional features for streamers, including a sizeable library of free themes – both scene themes and widget themes. The widgets are similar to those you can download from your Twitch Extension Manager.
---
3. StreamLegends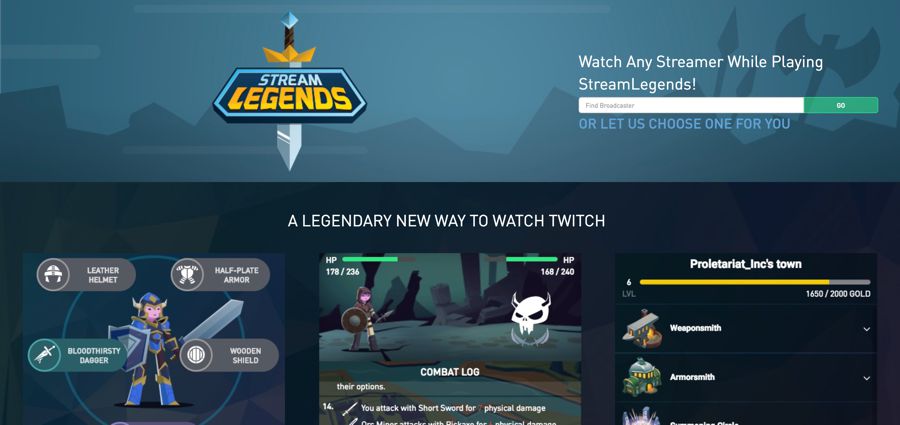 StreamLegends is an RPG extension for Twitch that lets channel communities quest and build guilds together. It allows viewers to play during the stream, leveling up the streamer's "town" and have fun.
This makes a Twitch stream much more interactive than usual. Viewers do much more than just watch and chat – the Twitch norm. They become part of the steamer's town and can join in the action.
StreamLegends gives a streamer's audience a unique, ongoing adventure that they can all participate in together. Each channel becomes its own guild. Viewers can rally together to build the channel's guild, unlock raids, and share in the spoils.
Broadcasters can give gifts to their channel every day. There's even a chance of raid loot! Players can then collect the gifts by going to the new building that appears in their Guild tab.
---
4. Washington Post News Ticker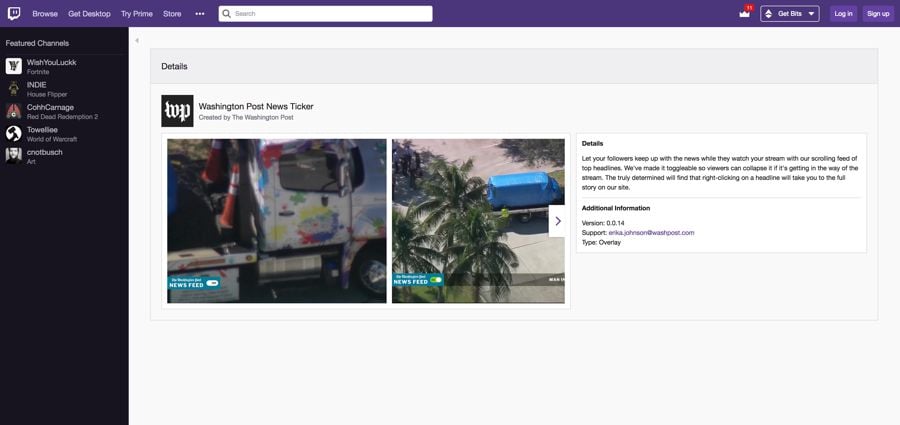 While most people think of Twitch as being exclusively about gaming, it does feature non-gaming material as well. Earlier this year, The Washington Post launched a channel on Twitter, which they described as "a space for civil discourse on issues of the day and a fun entry into news." Their first streaming experiment on Twitch was for Mark Zuckerberg's testimony on Capitol Hill. The Post regularly streams live coverage of must-watch news and political events.
The Washington Times hasn't ignored Twitch's gamers entirely, however. One of the programs they livestream is "Playing Games with Politicians" where Dave Weigel interviews prominent politicians while they play a video game. Viewers can follow along as the two discuss what's happening on Capitol Hill and in the headlines and take questions while engaging in a game.
For those more interested in traditional gaming streams, The Washington Post has released a Twitch Extension – the Washington Post News Ticker .
This allows a channel's followers to keep up with the news while they watch the stream with a scrolling feed of top headlines. Viewers can toggle the news ticker to collapse it if it's getting in the way of the stream. The genuinely determined can right-click on a headline to go to the full story on the Washington Post site.
---
5. MasterOverwatch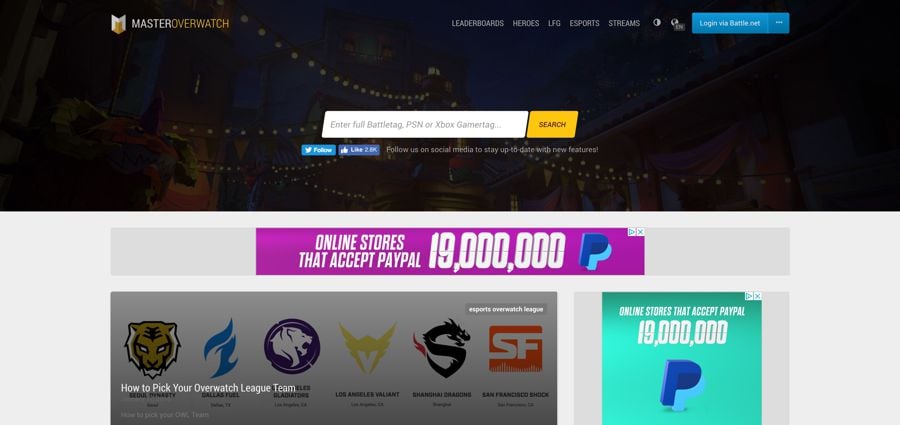 The MasterOverwatch overlay was one of the first Twitch extensions trialed on Twitch in early 2017 before they were even called Twitch Extensions.
As its name suggests, the MasterOverwatch overlay is designed for streamers who play the team-based multiplayer first-person shooter, Overwatch.
It displays all the on-screen stats needed during Overwatch games. It is a product of the Master Overwatch website , which has extensive leaderboards for players of the game on PC, PS4, and Xbox One.
---
6. Crowd Control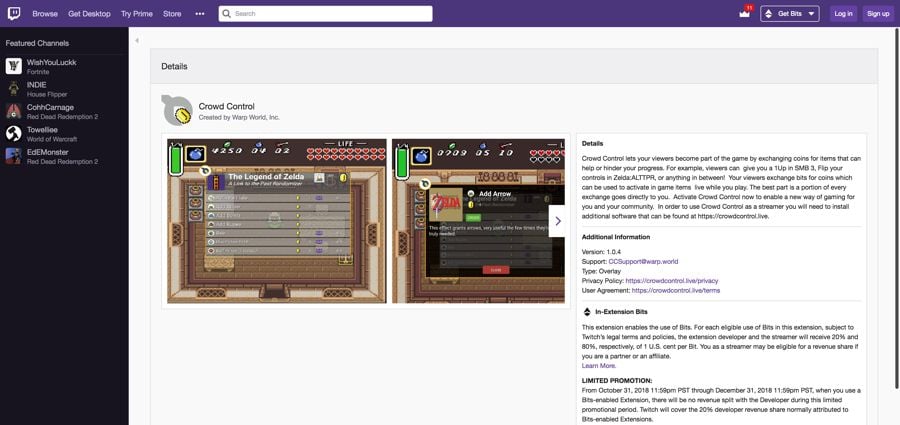 Crowd Control lets a channel's viewers become part of the game by exchanging coins for items that can help or hinder your in-game progress. For example, viewers can give the streamer a 1Up in SMB 3, or flip their controls in Zelda: ALTTPR. Viewers exchange bits for coins that they can use to activate in-game items live while the streamer plays. A portion of every exchange goes directly to the broadcasting gamer - 20 cents for every Bit. Partners and Affiliates may also be eligible for a revenue share.
Crowd Control works with multiple games. The first three that it supports are Super Mario Brothers 3 (SMB3), Super Mario World (SMW), and The Legend of Zelda: A Link to the Past (ALLTP). The developers are working on expanding Crowd Control to cover other games, with support for Celeste and Super Metroid likely to be the next two.
---
7. Amazon Blacksmith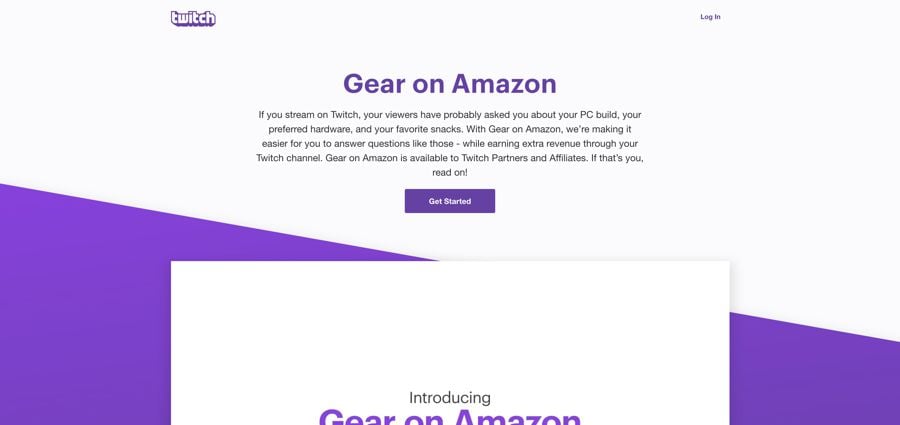 Amazon Blacksmith was until recently known as Gear on Amazon . It allows Twitch Partners and Affiliates to display a list of the computing/gaming gear that they use. The Amazon Blacksmith / Gear on Amazon list shows as an enhanced panel on the streamer's channel page. The streamer can customize the background and text color to match their channel's look and feel.
It is quite common for viewers to take an interest in what gear the gamers use. This extension makes it clear to any interested viewers, while at the same time acting as an affiliate link to Amazon, should anyone want to purchase the same gear for himself or herself. Streamers earn a referral fee for all eligible products their viewers buy on Amazon.com after clicking on their Gear on Amazon list.
As well as being a Partner or Affiliate on Twitch, the streamer will also have to be a member of the Amazon Associates Program if they are to earn any commission.
---
8. Exclusive Content for Subscribers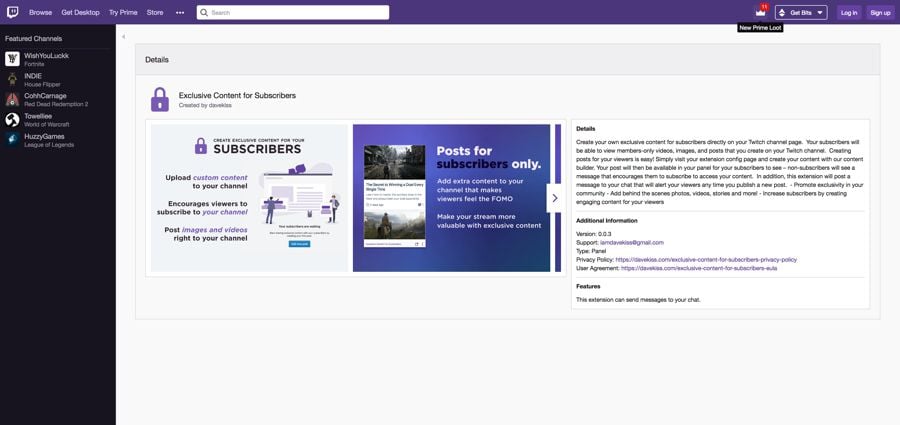 As the extension's name indicates, Exclusive Content for Subscribers allows streamers to create content solely for subscribers on their Twitch channel page. A channel's subscribers will be able to view members-only videos, images, and posts that the streamer creates on their Twitch channel.
A broadcaster merely needs to visit their extension config page to create content with the extension's content builder. The post will then be available in a panel on the broadcaster's page for their subscribers to see – non-subscribers will view a message that encourages them to subscribe to access the content.
Exclusive Content for Subscribers posts a message to the streamer's chat that will alert their viewers any time they publish a new post.
They can create a wide range of different types of content - behind the scenes photos, videos, stories and more.
---
9. Snap Camera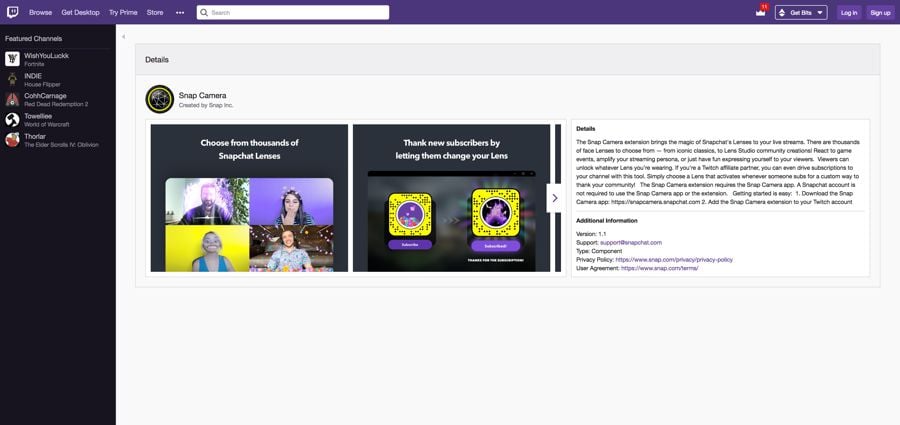 Snap Camera brings one of the most popular features of Snapchat to Twitch – Snapchat Lenses. You can choose from thousands of face Lenses— from iconic classics to Lens Studio community creations.
Viewers can unlock whatever Lens a steamer is wearing. If they are a Twitch affiliate partner, they can even drive subscriptions to their channel with this extension. The Lens activates whenever someone subs for a custom way to thank the streaming community.
---
10. Sound Alerts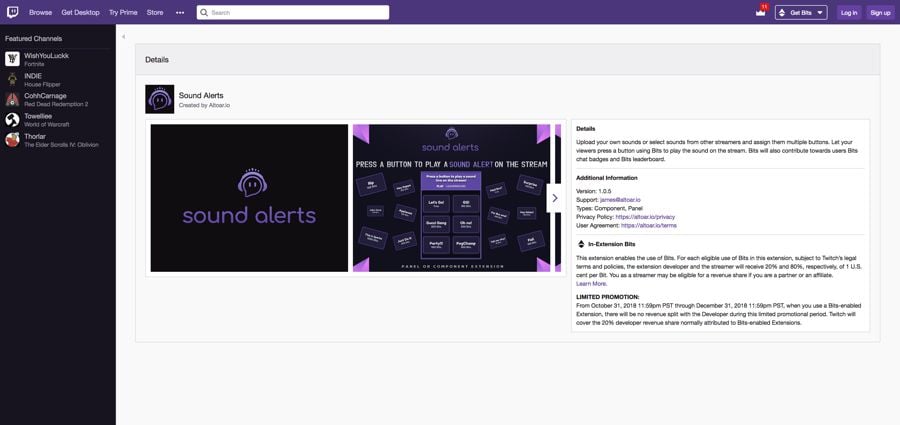 Sound Alerts allows streamers to upload their own sounds or select sounds from other streamers and assign them multiple buttons. They can let their viewers press a button using Bits to play the sound on the stream. The broadcaster receives 20% of the money paid for the Bits used.
Bits also contribute towards users' Bits chat badges and Bits leaderboard.
---