We have reviewed many influencer marketing platforms on this site. We have published 75+ reviews and are unlikely to run out of platforms to examine for some time yet. While we haven't seen statistics solely about the number of platforms, Statista reported a combined 1,360 influencer marketing agencies and platforms in 2020. With this level of competition, many influencer marketing platforms and agencies have chosen to specialize. For example, some platforms identify as eCommerce influencer marketing platforms.
---
Top 10 eCommerce Influencer Marketing Software & Platforms:
---
Why Choose an eCommerce Influencer Marketing Platform?
One of the primary reasons for influencer marketing's success is working with social media experts with niche audiences. Your goal is to find influencers whose followers match your target audience. For example, if you're a firm that engages in (or services) eCommerce, you will want to work with influencers who attract the types of people likely to buy your products. Some influencer marketing platforms are better at finding suitable eCommerce influencers in your niche than others.
The aim of any influencer marketing campaign is to encourage relevant influencers to inspire their followers to buy your product or service. However, all too often, firms forget the importance of the word "relevant." There is little value in working with an influencer whose followers are unlikely to take an interest in your product. In the case of an eCommerce store, this could be because the influencer's followers are the "wrong" types of people to buy your products, possibly because they are the "wrong" demographic, or they are not the type of people likely to spend money online. Some prominent influencers (macro- or mega-influencers) may have vast numbers of followers, only a small portion of whom would ever have an interest in your product. Also, some social sites are better for shopping than others. For example, influencers on Instagram or TikTok are far more likely to be successful for eCommerce brands than Facebook influencers because both Instagram and TikTok have embraced eCommerce and social shopping.
One of the most challenging tasks firms face is finding suitable influencers. Unfortunately, it isn't as if there is a directory of appropriate influencers. Although the role of influencer marketing platforms has expanded over the last few years, the core activity for most is still influencer discovery. These are effectively networking platforms where influencers and businesses can discuss terms for influencer marketing campaigns. eCommerce influencer marketing platforms are essentially the same as other influencer platforms, but many have specialist tools to make life easier for eCommerce firms.
Grin makes a point of emphasizing its capabilities as an eCommerce influencer marketing platform, targeting eCommerce businesses of all sizes. Grin describes itself on the front page of its website as "the all-in-one creator management platform helping eCommerce companies build more valuable brands through the power of creator partnerships."
Grin's philosophy is that influencer marketing is marketing to the influencer, and brands need to build a trusting relationship with relevant influencers.
The platform has integrations with many of the major shopping platforms, including Shopify, Shopify Plus, Magento, WooCommerce, and Salesforce Commerce Cloud. These integrations make product seeding and payments a cinch.
Grin also integrates with all major social media networks, meaning you can use it to find, recruit and manage creators from virtually every social channel. As a result, Grin helps you discover the perfect social media creators for your brand, no matter your niche. You can also integrate Grin with common email and messaging software, such as Gmail, Slack, Office 365, and SMS to assist with communication.
One advantage of Grin having direct connections with your eCommerce software is targeting your existing customers. Grin pulls in all the registered users from your eCommerce site, finds their social profiles, and creates a list of potential influencers who have already bought your products and their relevant statistics.
---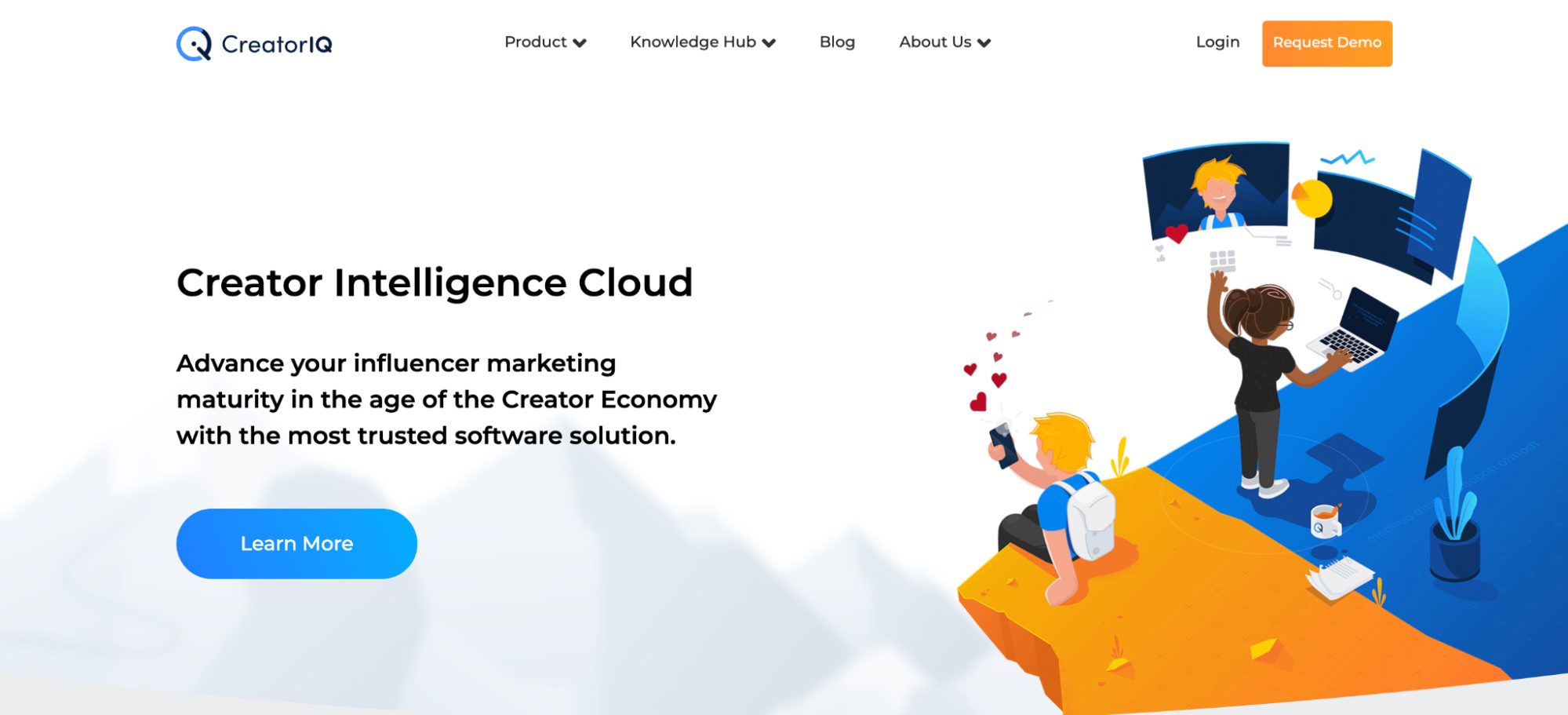 CreatorIQ is an end-to-end influencer marketing platform with a polished and efficient interface. It relies on tech to simplify the influencer marketing process and solve some of the problems that have long plagued the industry, for example, follower fraud, inflated reach metrics, and inauthentic/mercenary influencers.
However, they don't target small businesses offering pricing customized to large brands and agencies.
CreatorIQ integrates directly with social platform APIs and its AI-powered algorithm analyses over 1 billion public social accounts and their content. They currently index more than 15 million creator accounts on their system. Their AI looks at all the discrete parts of any given piece of content, including images, location, mentions, and even emojis. From this, it makes logical inferences. As a result, the discovery tool finds astoundingly relevant influencers. In addition, the AI gives each influencer an "Integrity Quotient" to discern the authenticity of the influencer's audience.
You can invite the influencers CreatorIQ identifies to join your network through a white-labeled, fully customizable portal. They then connect their social accounts, authorizing CreatorIQ to ingest all the data that the public APIs can't get.
Unlike most influencer marketing platforms, you create what is effectively your own private influencer marketplace with CreatorIQ. As a result, you can easily run campaigns tailored to your objectives. eCommerce businesses can create a comprehensive creator program that allows them to meet conversion and sales goals in one place. CreatorIQ connects to all significant affiliate platforms so you can generate and share monetized links and codes with creators from your solution of choice. You can also integrate with your Shopify site, so you can seed products directly from your eCommerce site without jumping back and forth between tools.
---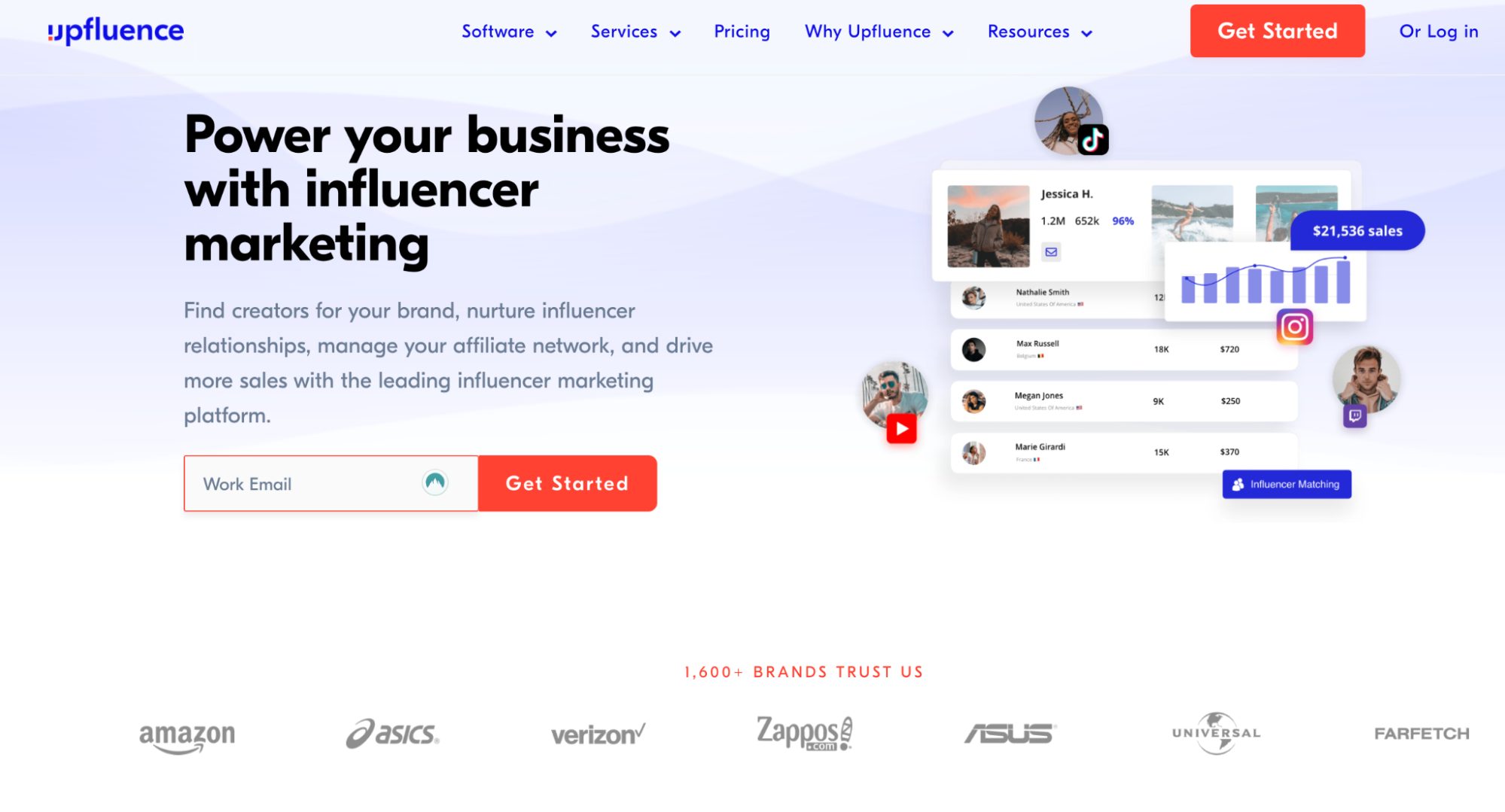 Upfluence has evolved from a marketplace into an all-in-one influencer platform over the last few years. Brands can use it to connect and collaborate with content creators, generate quality content, manage payments, and nurture meaningful relationships that drive results.
It has expanded its integrations and now includes integrations with popular eCommerce software, such as Shopify and WooCommerce. It even integrates with other marketing platforms, such as Refersion and Klaviyo.
Upfluence stresses how you can use it to drive sales from your influencer campaigns and boost your ROI. With its eCommerce integrations, you can connect your Shopify or WooCommerce store to your Upfluence account to find influencers in your existing customer base. You can then enrich their customer profiles with social data to identify the best ambassadors for your brand.
Upfluence also includes social listening technology to uncover influencers who already interact with your brand or talk about your products. Then, you can turn these influencers into brand ambassadors.
You can go one stage further by onboarding selected influencers to your affiliate program by reaching out to them straight from Upfluence's platform. This can include issuing personalized promotion codes natively compatible with your online store and watching your eCommerce sales grow.
---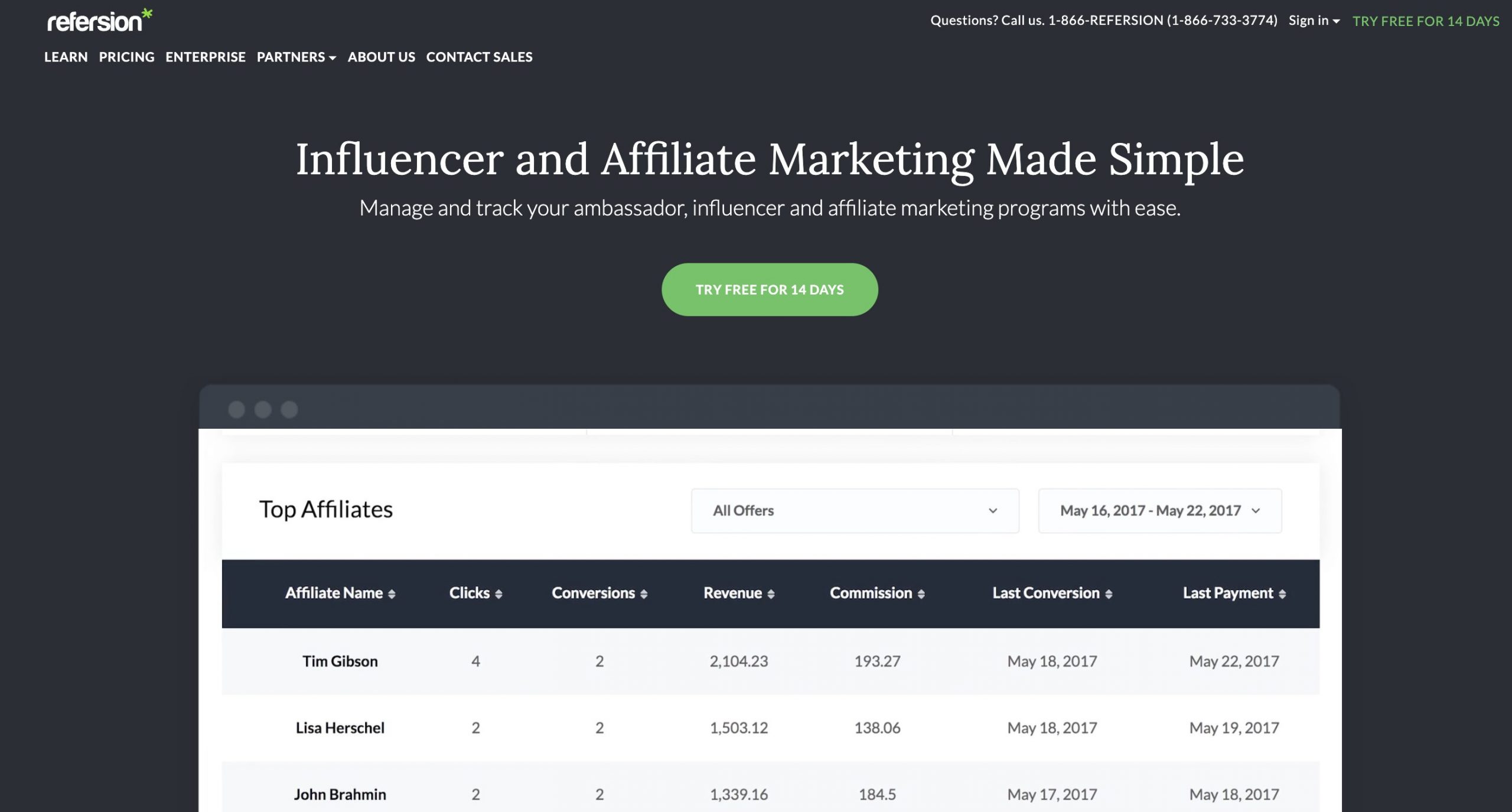 Refersion began as an affiliate marketing platform but quickly saw similarities between affiliate and influencer marketing. As a result, you can now use their software to assist with both types of marketing activities.
It helps brands create and manage vast affiliate (and influencer) marketing networks, tracking the thousands of small transactions brand affiliates and influencers generate, making payouts and reporting more streamlined than possible with an Excel spreadsheet. When it comes to eCommerce, the lines between influencer and affiliate marketing are decidedly blurred.
While Refersion doesn't pretend to be a comprehensive influencer marketing platform, offering all possible services, it integrates well with other tools, such as Upfluence, #paid, and Cohley.
One of the first things you do when signing into Refersion is to integrate your eCommerce solutions, e.g., Shopify, BigCommerce, WooCommerce, Magento, Stripe, and Chargebee. However, even if your eCommerce platform isn't on that list, you can still create a custom integration with Refersions's API.
The platform includes the Refersion Marketplace, where you publish a campaign (an "Offer") with specifics about what you need and what you're paying and wait for people to apply to participate. The platform sets you up with a landing page with trackable links and coupon codes. You can structure your offers in a way that makes the most sense for each campaign.
---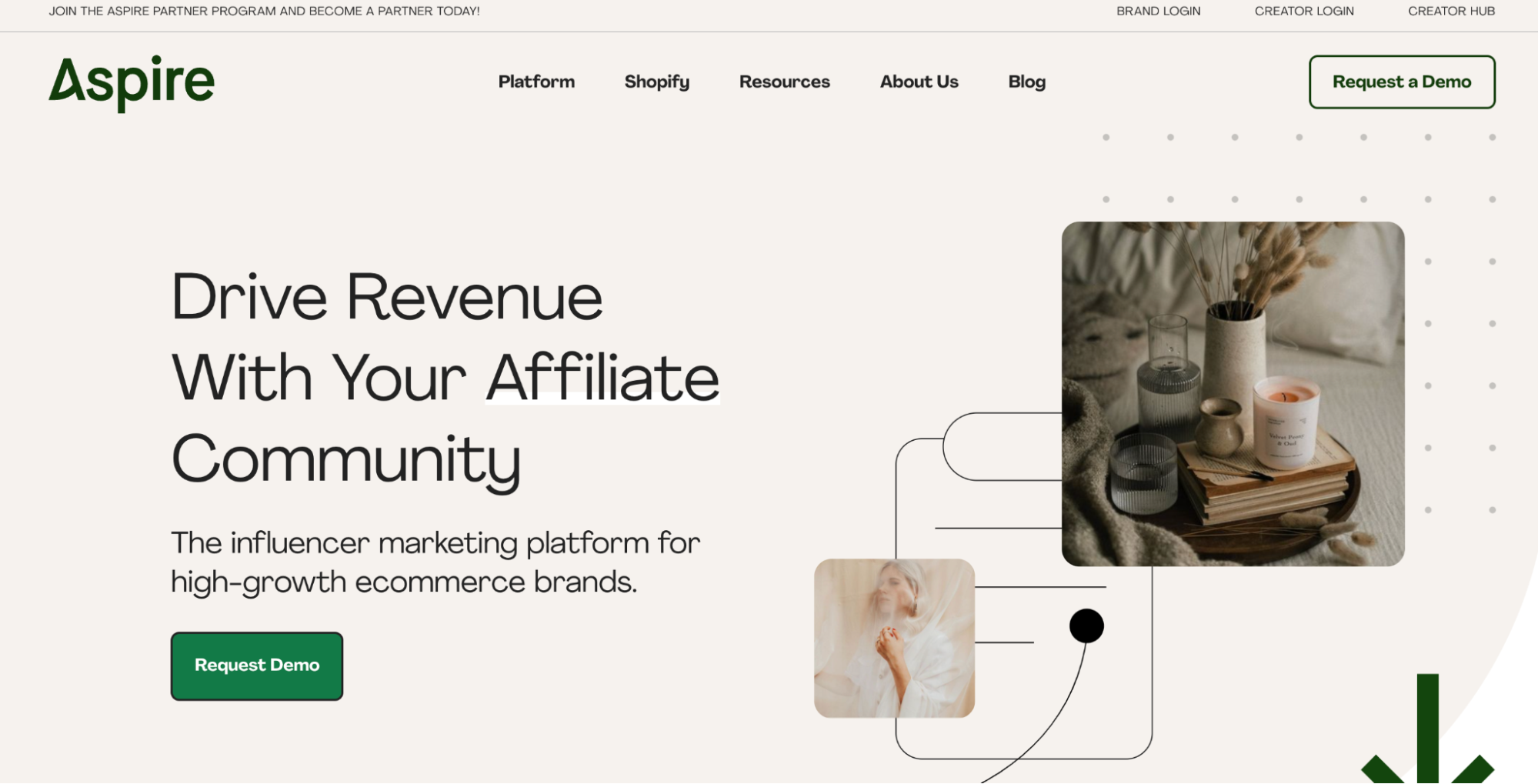 AspireIQ began life as an influencer marketplace called Revfluence. Since then, they have changed their name and widened the range of services. They highlight on the front page of their website that they consider themselves the influencer marketing platform for high-growth eCommerce brands.
AspireIQ has over 6 million influencers in its database. It crawls the web, gathers massive data on social accounts, and adds the best ones to the platform. It provides multiple ways for customers to find the right influencers, from a traditional search engine, where you can search for keywords, hashtags, topics, etc., to a "Quickmatch" feature, which is like a "Tinder for Influencers."
You can even use AspireIQ's social listening abilities to find quality influencers in other ways, such as monitoring your competitors' social activity or creating lists of influencers who mention your brands. You can even search for influencers by matching their content to an image you provide. As a result, you can quickly identify those influencers that drive the most sales and revenue and optimize your ad campaigns with whitelisted influencer content to drive ROI at a fraction of the cost.
Connect to your Shopify or WooCommerce store and automate your shipping and tracking. AspireIQ will integrate with your ordering system to ship influencers the products they want and even share tracking info. Bulk-create unique Shopify promo codes and affiliate links for every influencer without ever having to leave the platform. These integrations enable you to continuously pull in buyer data, enrich customer profiles with social engagement data and mentions, automatically ship and track products, and update the records for your store.
---
Although Gen.video is relatively new to influencer marketing, its parent company, Expo Communications, has nearly twenty years of experience in marketing, user-generated content, and eCommerce. Gen.video takes the best of influencer marketing and integrates it into a content syndication network. As the platform's name indicates, its focus is on sourcing video content tied to specific products.
The platform targets mid-market brands with an eCommerce footprint. You can opt for self-service, fully managed services, or one-off campaigns.
Gen.video doesn't include an influencer discovery tool, and you will have to bring your own roster of influencers (or discover them elsewhere). However, Gen.video provides excellent tools for relationship management.
When you start a campaign, you set a budget and allocate portions to your paid efforts and costs for free products. You then create a brief with all the usual information, including targeted products and the influencers you intend to use. Then, once your campaign goes live, Gen.video pulls in data from just about anywhere that sells these products and reports on these results, not just from your eCommerce store but from many other retailers and markets as well.
---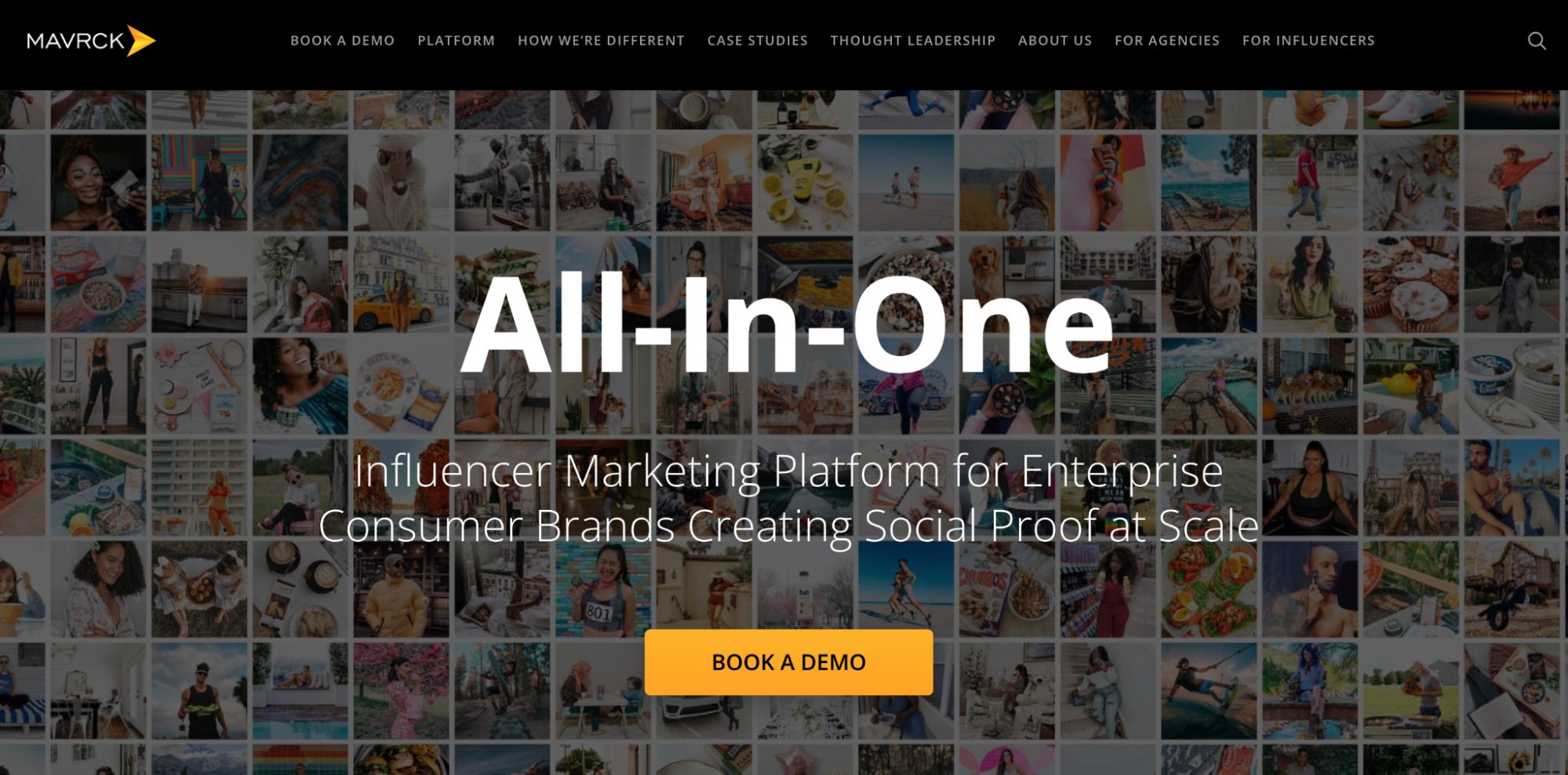 Mavrck is an all-in-one influencer marketing platform for enterprise consumer brands creating social proof at scale. They work on the inverse philosophy of most influencer platforms: they take customers and turn them into influencers. More precisely, Mavrck analyzes your existing customer base, looking for micro-influencers.
However, don't think that Mavrck restricts itself to merely supporting brand ambassadors. You can traditionally search for influencers of all sizes and activate them to create authentic brand content across all social platforms.
Mavrck offers more programs than many other marketplace platforms. Some of these can be almost entirely automated. The platform comes with 20 predefined "digital activities" for your influencers to participate in. Your customers earn rewards for sharing these things.
When you create campaign briefs and solicit participants, you can publish everything to a white-labeled standalone microsite or a plugin with your existing website.
You can use Mavrck to manage most aspects of the campaign – discovery, communication, contracts, incentives, syndication – within the platform. In addition, you can issue trackable referral links and promo codes tied to each influencer and track sales and ROI.
It acts as an eCommerce influencer marketing software platform by encouraging ratings and reviews from your influencers and ambassadors. You can capture star ratings and written reviews for eCommerce syndication and syndicate photos and videos from influencers to your eCommerce site and retail partners.
---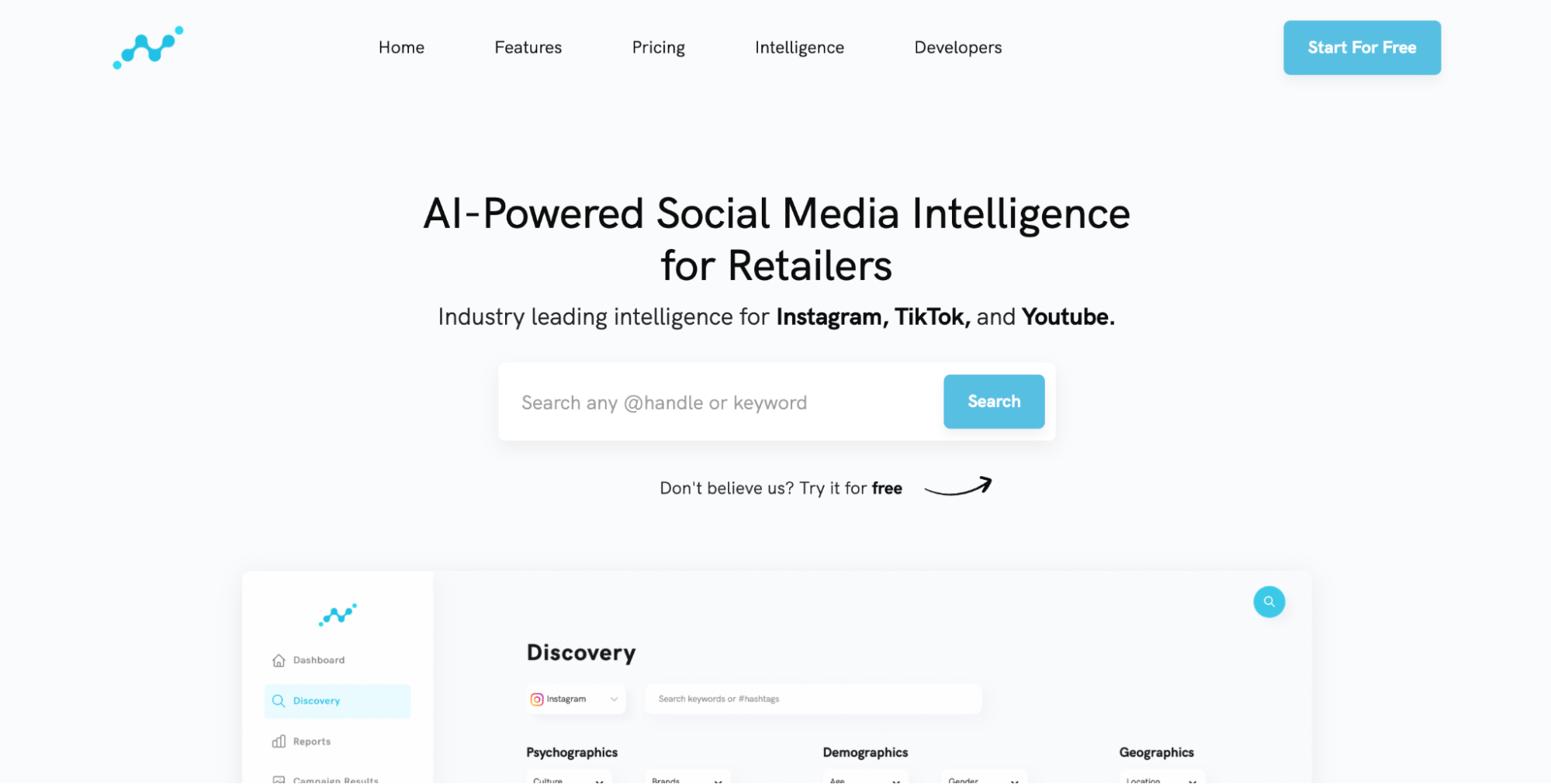 Tensor caters for any sized business and has plans priced accordingly, ranging from a free plan (with one influencer report and only showing the top 3 results of your search) to a $749/mo Premium plan, offering 200 reports, 5,000 Discover Exports, Tensor Lists, Post Analysis, API Access and more.
It features a database of over 100 million influencers across Instagram, YouTube, and TikTok. Tensor gives you a word cloud of search suggestions, other keywords, and hashtags related to your search that might uncover similar results/influencers. You can filter the results by multiple filters relating to demographics, geographics, psychographics, audit and social ranking, notable and lookalike audiences, and Story analytics. It's the psychographic filters where Tensor really shines, however. They use a proprietary 13-point behavioral signature system to match your brand with the perfect influencer/audience.
Tensor's reporting is hard to match—the data and insights fuel top-notch business intelligence.
---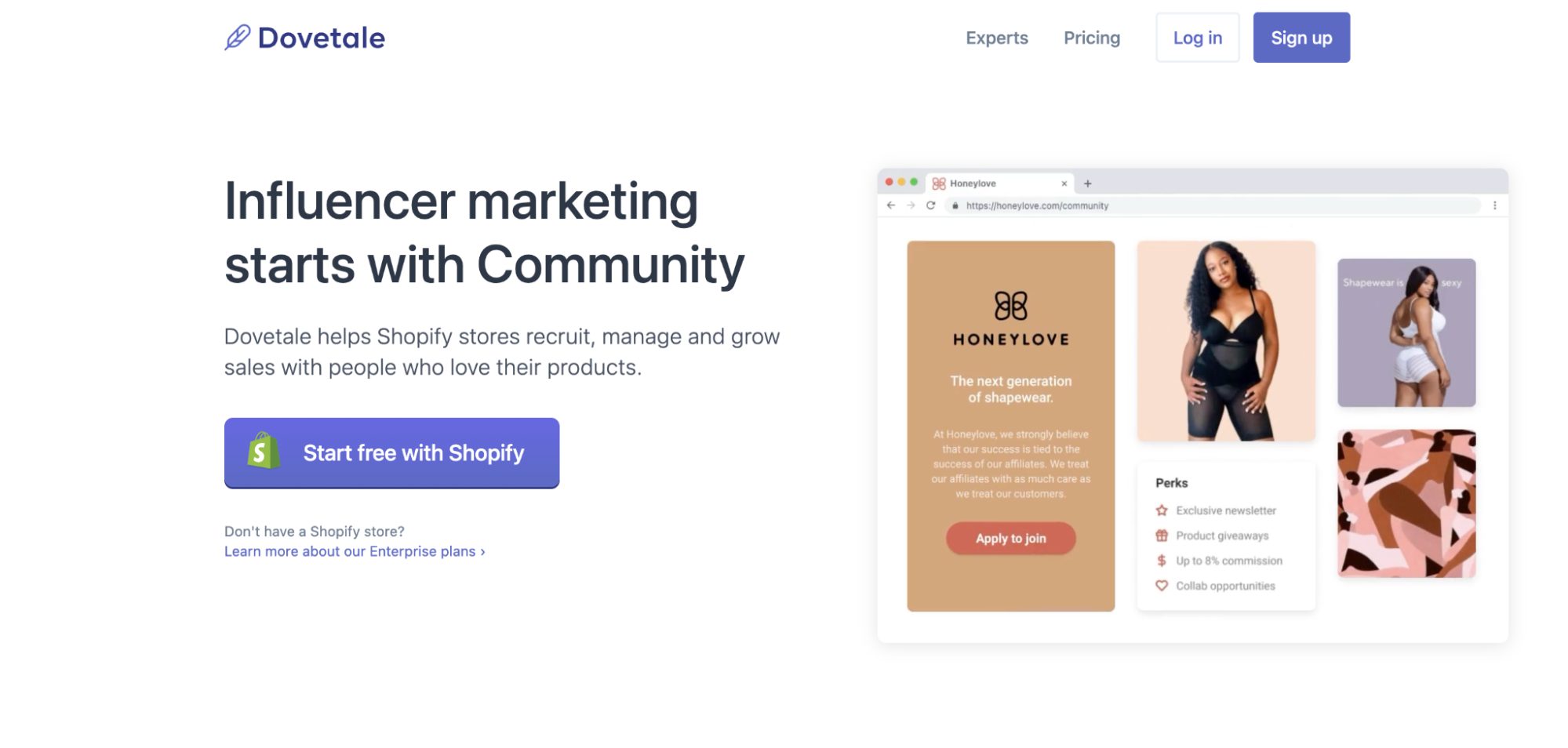 Dovetale is another firm that emphasizes its qualities as an eCommerce influencer marketing platform. They currently head their site with a section saying, "Dovetale helps Shopify stores recruit, manage and grow sales with people who love their products," and a bright green button inviting you to connect your Shopify store.
The platform even offers a genuine free plan for small users who connect their Shopify store. With this, three users can manage five Community members (i.e., influencers). In addition, you get a custom community sign-up page, a custom sign-up widget for your website, unlimited gifting and affiliate offers, and affiliate sale tracking. Of course, there are paid plans catering to more users and Community members.
On logging in to your account, you'll see a dashboard that gives you quick insight into your Dovetale Community, with stats on the number of members, number of applicants, total affiliate sales, payments to influencers, and more. You will want to set up an application page where potential influencers can sign up to work with you. When you start receiving applications, Dovetale makes it incredibly easy to go through them and decide on those influencers with whom you'd like to work. Accepted members can choose a "welcome" package, i.e., any free product they'd like to feature in their social posts, and these connect back to your Shopify with product-specific SKUs.
Managing campaigns is straightforward. For each campaign, you will find a list of necessary tasks that you can assign. In addition, Dovetale provides specific instructions for each job.
---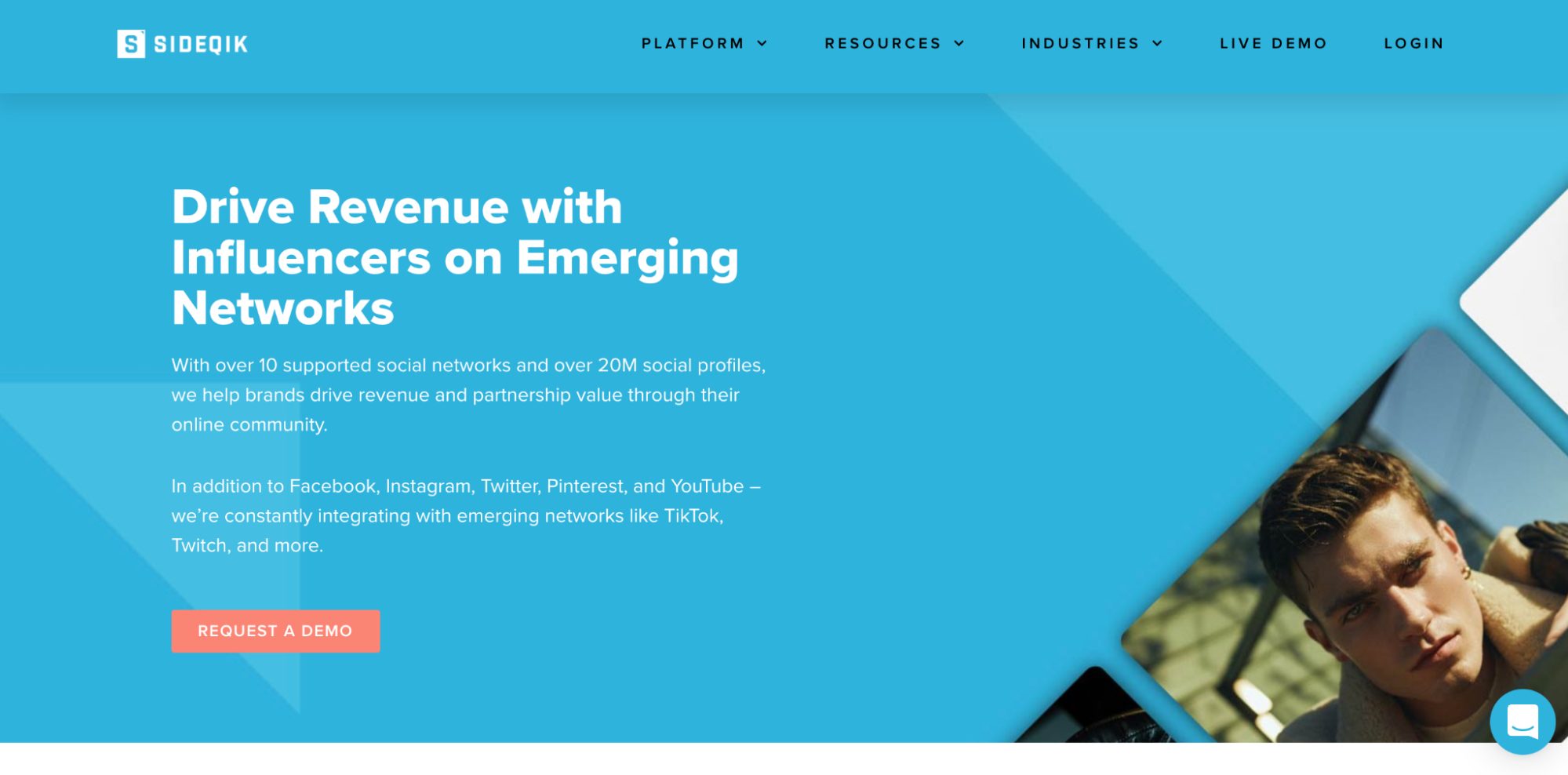 Sideqik supports more than ten social networks with over 20 million social profiles. It offers fully integrated influencer marketing, with out-of-the-box integrations with many networks and marketing technology that firms use. These integrations are not one-size-fits-all, and where necessary, Sideqik works in close partnership with clients to build out custom integrations with other tools. In addition, Sideqik is an open platform that you can integrate into your existing ecosystem, offering APIs that your team can access and customize as needed.
Sideqik features a complete Shopify integration that lets you track conversions and see precisely how marketing campaigns impact your brand's bottom line. You can use it to track marketing ROI, identify trends to empower your marketing decisions, track conversions directly to their source (including views, purchases, form submissions, cart activity, and more), pay influencers, and remarket more effectively to turn leads and promos into actual sales.
When you start influencer discovery, Sideqik analyzes your social followers and evaluates each of them for their influence, not just based on followers and engagement, but on topic relevance. Sideqik then widens its search for relevant influencers who could potentially meet your needs. Sideqik's influencer profiles offer very detailed information, and they assign influencers an Influence Score on a scale of 0 to 100.
When you've identified potential influencers, Sideqik blasts out an email to all of them with an invitation to apply to participate for rewards. Sideqik continues to analyze and look for recruits during your campaigns.
The platform provides users with "blueprints" for more than a dozen different campaign types, each with its own goals and actions. Then, all you have to do is customize each campaign and launch it.
In addition, you can integrate your account with Google AdWords or Analytics, Facebook Ads, or Twitter Ads. Sideqik uses tracking pixels to retarget ads back to those who show interest but aren't quite ready to seal the deal.
---