Best for:
Small e-commerce brands
When we first reviewed Dovetale a few years ago, it was still a relatively new platform. Launched in 2017 by founders Mike Schmidt and Navied Shoushtarian, its origins can be traced back to the pair's previous ventures. Schmidt and Shoushtarian already had one successful startup under their belts, creating Listn, which they then sold to Beatport. During their time building and growing Listn, they were introduced to influencer marketing as an effective, low cost way of spreading the word about their product. The experience left them intrigued by IM's potential, but also a little frustrated with its reality.
Influencer marketing had yet to go mainstream at that point, and the software that did exist to streamline the process was too expensive for small businesses. That didn't really make sense to them: influencer marketing itself had the potential to be incredibly democratising. The idea of everyday people partnering with businesses to promote them, and the fact that it was incredibly effective, should have opened up entirely new marketing avenues to the kinds of businesses that couldn't afford to reach millions of people otherwise. It didn't seem right that only big businesses had access to software tools that not only let them manage all the moving parts, but let them do it in more targeted, data-driven ways.
With this in mind, Dovetale was conceived, and then born, and in its first year showed signs of steady growth—and change. In its original form, Schmidt and Shoushtarian saw Dovetale as an all-in-one answer for influencer marketing, including discovery, campaign management tools, social listening, payments, and analytics. That's all still there in one form or another, though over time they shifted their focus onto analytics and e-commerce. While the platform was designed to satisfy the needs of any sized business and/or agency, there is definitely a strong effort to make Dovetale the go-to platform for small businesses. This makes it a very potent tool for small, online retail shops, an underserved niche. Which isn't to say that Dovetale doesn't scale bigger; it's enterprise customers list features the likes of Best Buy, Samsung, Starbucks, and Uber. But big companies like that can basically use any platform they want. Small e-commerce businesses don't have very many options to get the most out of influencer marketing, so they'll want to see what Dovetale can do.
---
Summary:
---
Pricing
The first sign of Dovetale's e-commerce focus can be found in the pricing options offered. The lowest subscription level is free—all you need to do to get started is connect your Shopify store. This level is a "free forever" situation: it's not a limited time trial. The limitations are in the features, and this approach lets (and helps) small time/startup Dovetale users grow into paying customers. The plans are as follows:
Free, $0/mo (of course) —

3 users can manage 5 Community members (aka influencers, more on this in The Details), Custom community sign-up page, custom sign-up widget for website, unlimited gifting and affiliate offers, affiliate sale tracking
Growth, $50/mo —

All of the above for up to 50 Community Members ($1 per additional member), email support
Professional, $250/mo —

All of the above for 10 users and up to 500 Community members ($0.50 per additional member)
Enterprise, $Custom/mo —

Custom everything for multiple stores, with Premium Support
---
The Details
The e-commerce focus is abundantly apparent from the get-go. Logging in brings you to a dashboard that gives you quick insight into your Dovetale Community. You'll see stats on the number of members, number of applicants, total affiliate sales, payments to influencers—the kind of high level insight that's meant as a quick summary of a business's overall marketing and sales performance. If it's your first time logging in, you'll get right to the business of setting up an application page where potential influencers can sign up to work with you. Discovery is always valuable, and it's always an option within Dovetale, but a passive recruitment tool like this helps bring the talent directly to you even when you're not actively looking.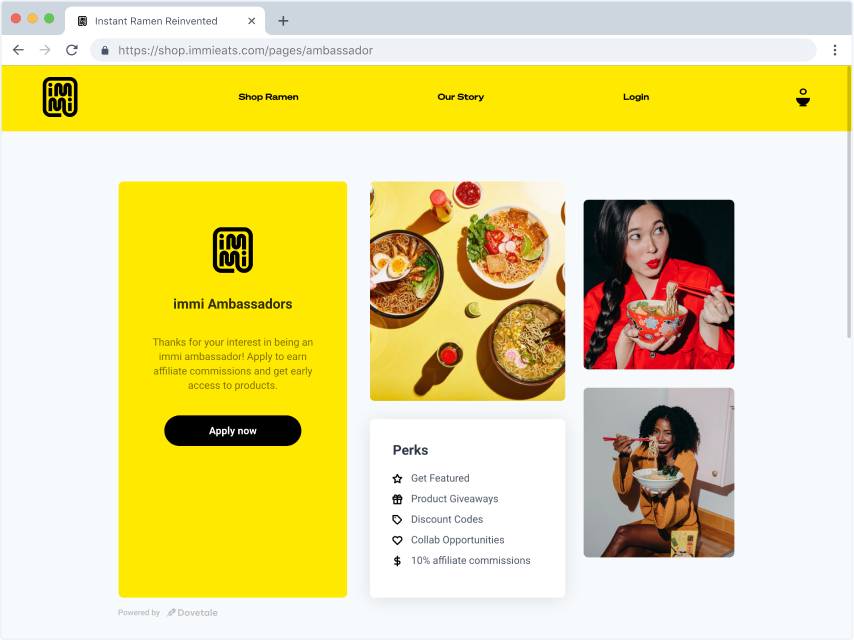 Setting up the application page couldn't be easier—it's a pretty clear workflow, from adding your logo and the design elements of the application, to specifying the kinds of information you want from your applicants (name, address, PayPal account, etc). For every change or addition you make, you'll see a real time preview of the resulting web page, in both desktop and mobile form. You can also add a customized survey to the application to make sure you're finding out the information you want to know, like: Have you bought our stuff before? What do you like about it? What can we do better? Why do you want to join our community?
When you start receiving applications, Dovetale makes is incredibly easy to go through them—all the information you asked for in the application is visible, along with their social handle and metrics. Approving or rejecting an applicant is a matter of a few clicks, and you can add in referral and discount codes right then and there so they can get right to promoting you before they're even active in a specific campaign. The Shopify integration makes this possible, as well as when accepted members can choose their "welcome" package. This is where influencers choose the free product they'd like to have/feature in their social posts. These connect right back to Shopify, with product specific SKUs.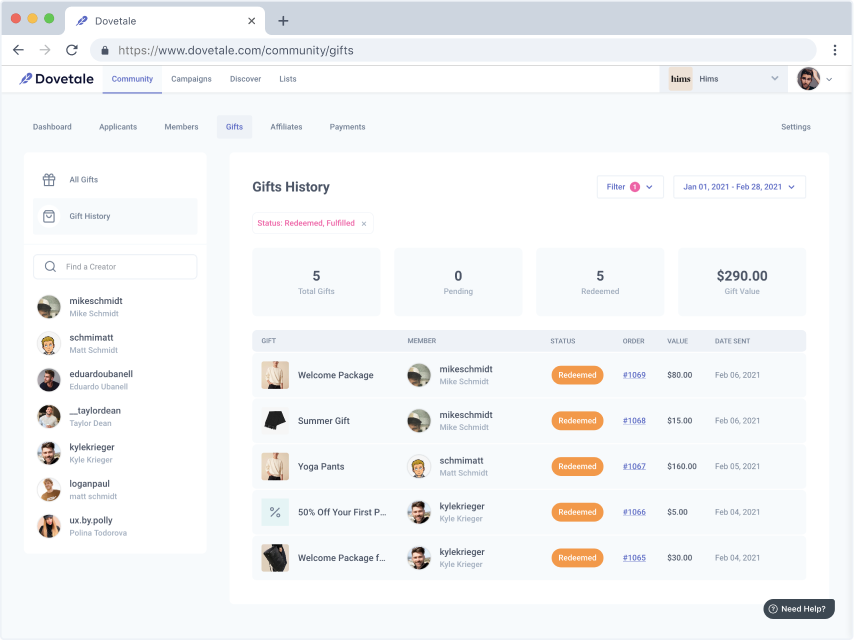 The gifting features in Dovetale are one of its highlights, actually. Even most platforms at the enterprise level—and considered to be "end-to-end"—don't put this much attention to detail into this apsect of influencer marketing. Physical addresses are taken during the application process, so that part's all set by the time someone chooses their gift. And gifting goes beyond just welcome packages. You can group Community members together in ways that make sense—you might have an "influencer" group for those with big followings, another group for employees, another for family and friends, for example—and then you can define appropriate perks for each group. This can be done as a matter of course, or on an as-needed basis, but the process of defining who gets what is incredibly streamlined. One the recipient side, they'll see they've got gifts waiting for them when they log onto the platform, and it's simply a matter of claiming them to get them boxed up and shipped. Meanwhile Dovetale is keeping track of what's pending, what's been received, how much you've spent, etc. This kind of tool helps small businesses, who don't have the resources to manage this kind of administrative work, as well as large businesses and agencies, who can easily get overwhelmed by the volume of it.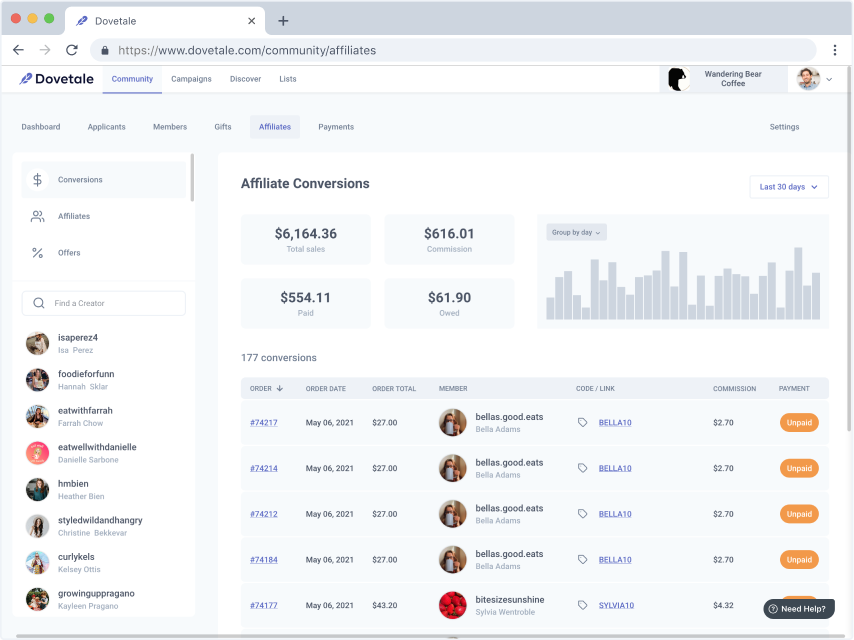 The same goes for affiliate sales. The dashboard here breaks down all the conversions that have happened via the sales links that you assigned to your influencers when they signed up. It keeps track of total sales, commissions owed, commissions paid, and then shows the individual stats for each influencer. When you're ready to pay those influencers their commissions, it's a click of a button to get the money over to their PayPal account. On the flip side of that, influencers have their own affiliate dashboards that recaps the offers available to them and summarises their earnings and/or what's owed to them. The automatically-generated tax forms that Dovetale provides to account for these payments is an administrative cherry on top of your marketing's financial sundae.
An area of major improvement for Dovetale since our last look is in the campaign management tools. Previously, there weren't many tools available to manage campaigns—you could create them, and monitor their performance, but just about everything in between (fee negotiations or content scheduling, for example) had to happen off the platform. These days, the campaign management is exceptionally granular. For each campaign, there are a number of tasks that are possible to assign, and there are a number of pre-made (but customisable) tasks to choose from. Some are administrative—verifying social accounts or signing contracts—and some are marketing related—publishing a social post, or just creating and uploading content. For each of these tasks, specific instructions are provided. Beyond that are the standard features of a campaign manager that you'd expect (an accounting of all the influencers participating and where they are in the process, performance of content that's live, etc.), and it's all implemented in a well-designed and intuitive way.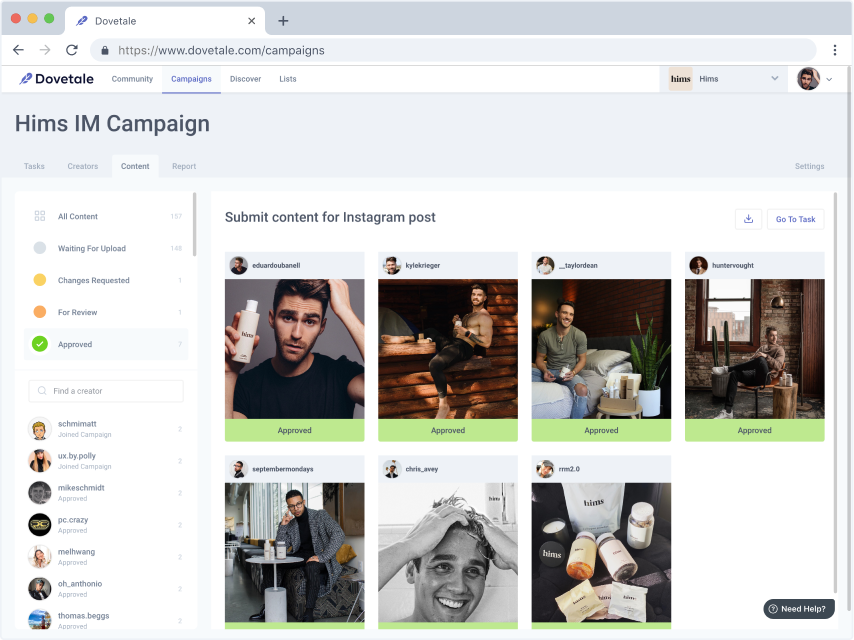 The reporting on campaigns is another standout feature. First, there's the fact that all the content—whether it's a static photo, a video, an Instagram story, or TikTok video—is collected and saved directly inside the platform. And the performance reporting gets really specific, too, not only showing you things like reach and engagement, but gives details on things like the actions taken by users while watching an Instagram story—swipes up and down, taps back and forward, exits, and other behaviors. For all types of content, you'll get the Social Media Value (what Dovetale calls Earned Media Value) of your campaigns. When you add SMV to the sales conversions coming from your community, you start to come closer to a real understanding of ROI than most platforms can provide. All of the data you can get out of the reporting function can be exported to customised PDF reports.
Finally, there's Discovery, and it's a breath of fresh air that Discovery is the "finally" part of the review. Usually, that happens at the beginning. It's not that discovery is an afterthought on the platform, so much as Dovetale's rethinking of what their platform should and could do makes Discovery part of a larger process. And they put the same thoughtfulness and thoroughness into this aspect of their platform as they did with everything else. The search function is, in fact, vastly improved, which is saying something because it was the highlight of the platform when we first had a look at it three years ago. The interface is dynamic and responsive, and searches can get very specific. Keywords, mentions, hashtags are all searchable, but then each can be filtered down and refined further. I'm going to say that again: each criteria can be refined further. You might search for "foodie," for example, but restrict those results only to when the word appears in usernames or bios. Drilling down into an influencer profile can also get remarkably granular. You can look into their audience metrics, as a whole or broken down by social channel. You can peruse their content and get audience analysis. When you find someone you like, you can add them to a list and send invites to join your Community. And because you've already got your community and campaigns set up, the activation process couldn't be simpler.
---
Conclusion
Even from its beginnings, the founders of Dovetale had a very clear idea what their vision was, something that's not as common as one might think—or hope. Over the four-plus years of its existence, the platform continues to reinvent itself and impress, but the remarkable thing about their reinvention is it keeps with that original vision: an advanced, yet easy to use, influencer marketing platform that puts the same kind of power into the hands of small business marketing teams that the big brands have been enjoying for years.
It's been three years since we first checked out Dovetale; back then we found that they did an excellent job of executing on their vision. Somehow, they've gone ahead and topped themselves with the latest version. We don't know what they'll be up to in another three years, but we're certain they'll still be around.
Dovetale
Features

Ease of Use

Reporting

Best for:
Small e-commerce brands