Services Offered:Influencer Search & Discovery
Channels: Instagram, Twitter, Facebook, YouTube, Twitch
In just a few short weeks (as of this writing), Dovetale will turn one year old. The platform went live on February 21, 2017 after Mike Schmidt and Navied Shoushtarian spent time developing the idea at Expa Labs, a kind of startup incubator run by the founders of Uber and Foursquare. Schmidt and Shoushtarian already had one successful startup under their belts, creating List.n, which they then sold to Beatport. During their time building and growing List.n, they were introduced to influencer marketing as an effective, low cost way of spreading the word about their product. The experience left them intrigued by IM's potential, but also a little frustrated with its reality.
Influencer marketing had yet to go mainstream at that point, and the software that did exist to streamline the process was too expensive for small businesses. That didn't really make sense to them: influencer marketing itself had the potential to be incredibly democratising. The idea of everyday people partnering with businesses to promote them, and the fact that it was incredibly effective, should have opened up entirely new marketing avenues to the kinds of businesses that couldn't afford to reach millions of people otherwise. It didn't seem right that only big businesses had access to software tools that not only let them manage all the moving parts, but let them do it in more targeted, data-driven ways.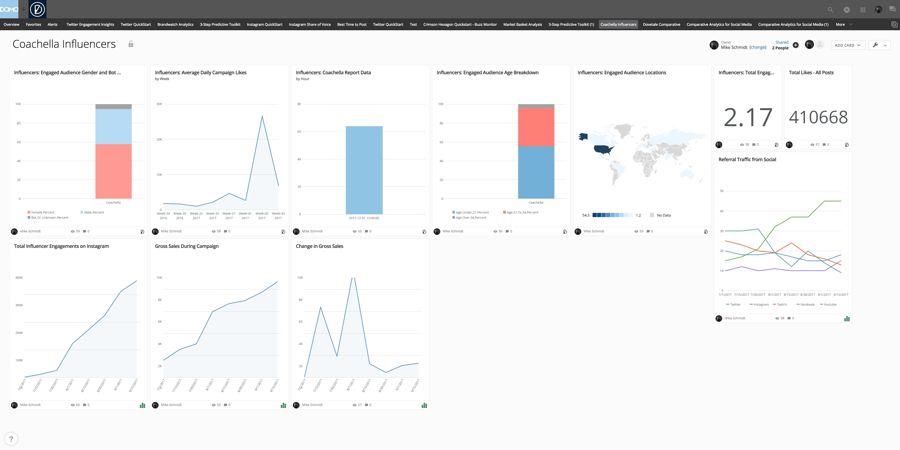 With this in mind, Dovetale was conceived, and then born, and in its first year has shown signs of steady growth—and change. In its original form, Schmidt and Shoushtarian saw Dovetale as an all-in-one answer for influencer marketing, including discovery, campaign management tools, social listening, payments, and analytics. That's all still there in one form or another, though over time they've de-emphasised campaign management in favor of analytics—most notably through the platform's ability to connect to Domo. There are plenty of platforms that make attempts at data visualisations and the results tend to range from Sub-Par to Pretty OK. Dovetale itself goes well beyond the Pretty OK mark, and when you funnel that data (and more) over to Domo, it takes your analytics to the next level. And then another level beyond that.
---
Dovetale Summary:
---
Pricing
True to their beginnings, the creators of the platform offer two standard levels of subscription designed with small businesses in mind, with limitations placed on some of their features. For companies that want it all, though, Dovetale will create custom subscription packages that give you everything the software has to offer.
Starter Plan, $199/month —

Starter Search (allows you to search through influencers in the Dovetale database), up to 3 Comparison Monitors (for monitoring your own social account's performance against your competitors), up to 5 Influencer Monitors, Unlimited Lists, Payments, Campaign Tools

Pro Plan, $499/month —

Pro Search (searches in and out of the Dovetale database, and you can filter by Audience & Category), up to 5 Comparison Monitors, up to 20 Influencer Monitors, Unlimited Lists, Payments, Campaign Tools, Import Lists, Up to 25 Analytics Reports, Advanced Search (these searches are automatically saved for easy future reference), Image Recognition, Compliance Tools

Enterprise Plan, Custom Pricing —

All of the above without limitations, plus: Multiple Account Views, API access, Domo Integration, Volume Discounts, and Priority Support
Before we get into the details, it should be noted here that Dovetale kind of misses the mark for getting at those smaller businesses. As you'll soon see, the platform can do some pretty amazing things with data and discovery, though almost none of that is available in the Starter Plan. The Comparison Monitor is, in a word, amazing, but the Campaign Tools are severely lacking at this point. Small businesses may not want to spend $199 a month for great data insights that don't come with a way to easily manage their campaigns.
That said, for businesses and agencies that can afford $499 a month or more, the additional features of the Pro and Enterprise plans make up for the lack of campaign management. If this falls in your budget, read on and see what it can do.
---
---
The Details
Logging into Dovetale for the first time can be a bit confusing, as there's not much in the way of on-screen guidance. The software doesn't provide any explanations for what each section does, nor are there any contextual help icons to ground users in how to work within each of them. You can access "Dovetale University" from the main navigation window, and the collection of short videos helps you to understand how to get started with each the platform's main functions. These are introductory in nature, though, and in a few cases more information is needed to really start diving deep. Don't take this to mean Dovetale is difficult to use. Once you get going, it becomes second nature pretty quickly. Still, there's a lot of white space in these screens, white space that could have been taken up by words telling you just what it is you're looking at.
But on to the show.
Whereas most influencer platforms begin at the perceived beginning—influencer discovery—Dovetale's first listed tool encourages brands to start before that. With research. In the first hint toward the software's analytical leanings, one of the few things Dovetale does guide you through is adding in your own social accounts to monitor. At this point, Instagram is the only platform that you can truly dig deep into. You can still connect your Facebook, Twitter, YouTube, and Twitch accounts, but Instagram is where the data is. There are five data points, with visualisations, that Dovetale allows you to monitor, and they're all very helpful in terms of shaping your marketing strategies:
Followers Growth,

which is presented as a graph showing the growth and/or decline of your follower count over a time period you define. You can hover over any point to see the exact date along with the change in followers. This is useful for knowing what kind of content you'll want to do moving forward: you can check back on your Instagram feed to see what you posted to cause such a big spike or decline, and then make decisions accordingly.

Engagement,

which measures likes on comments on each post. Again, each data point corresponds to a day, so you can go back and find out what you did that caused people to get engaged.

Gender
Locations, and
Age,

all of which are useful in determining which demographics you want to be focusing on as you plan for future content.
On its own, this kind of visibility into your audience is extremely valuable. But you can also plug your competitors' accounts into Dovetale (the number of which is determined by your subscription level) and get all the same data, visualised and color-coded so that you can see them side-by-side along your own. Again, on its own, this kind of data is extremely valuable for formulating your influencer marketing strategy, but—and again!—Dovetale goes a step further here. The Monitor feature also includes a social listening feature, identifying potential influencers who are engaging with your (and your competitors') posts.
The one aspect of data that's lacking on the platform is audience psychographics, which we at IMH tend to view as more important than demographics. Schmidt has said this sort of data is something that's coming to Dovetale in the future, but is also something that's already available with their Domo connector. If you're familiar with Domo, you might know all the ways it can help you to parse and visualise data. If not, it should be enough to point out that using Dovetale's Domo connector opens up an entirely new set of possibilities. Those possibilities may look something like this: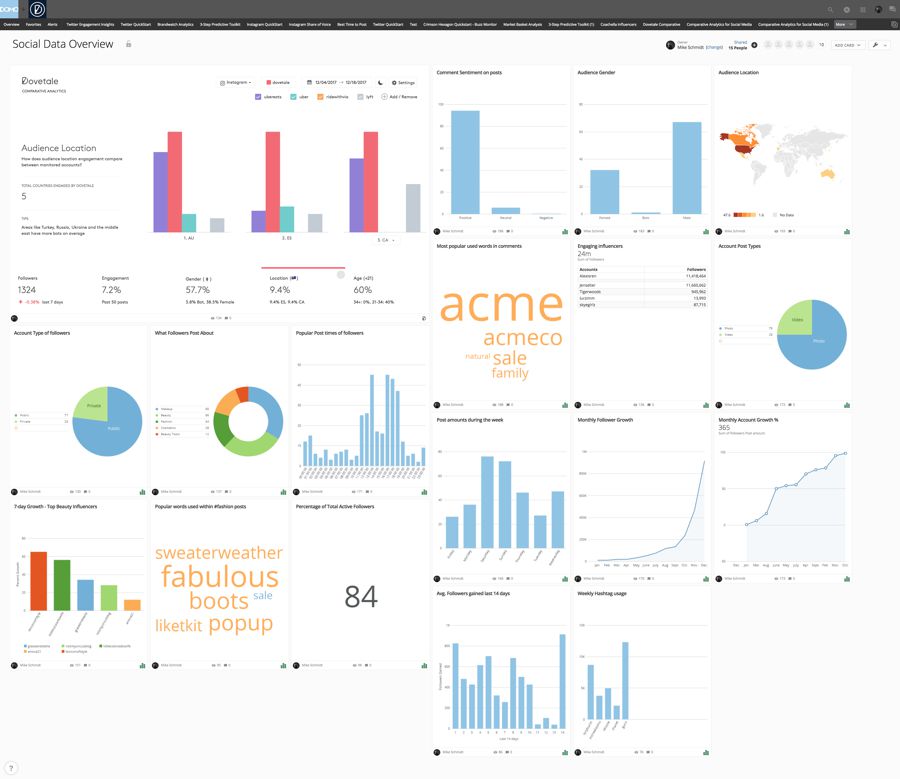 But enough about data. We haven't even gotten to Dovetale's other highlight: its influencer discovery engine. At first glance, it looks like it's on the lean side of things. Clicking on the Discover link in the software brings you to a list of influencers whose profiles, metrics, and audience data are all stored in the platform's database. You can search by keyword, hashtag, username, or URL to refine that big list, and then filter those results down even further (by platform, follower range, and audience demographics). It's pretty basic stuff, and the results are limited to whose on the platform.
Doing an Advanced Search, though, expands the discovery net out beyond the Dovetale. Here, you enter in as many categories, keywords, and hashtags as you like, and then specify a follower range, as well. The cool thing about Advanced Search is the image recognition feature, which allows you to upload a picture that serves as an example of the kind of content you want to create. Dovetale will then also search through content—not just users—and find you influencers who match not only your search criteria but your aesthetic. I tested this feature out and was incredibly impressed with the results. These searches, with images or without, can 10 or more minutes before you can start browsing the results. It then takes maybe another few hours more to download all the attendant audience data—but the platform automatically saves the search and results so you can come back and look at anytime. The results can get remarkably specific, and Dovetale allows you to flag the ones that aren't good matches. This has the combined effect of both learning what you like to make future searches better, as well as turning these saved searches into lists.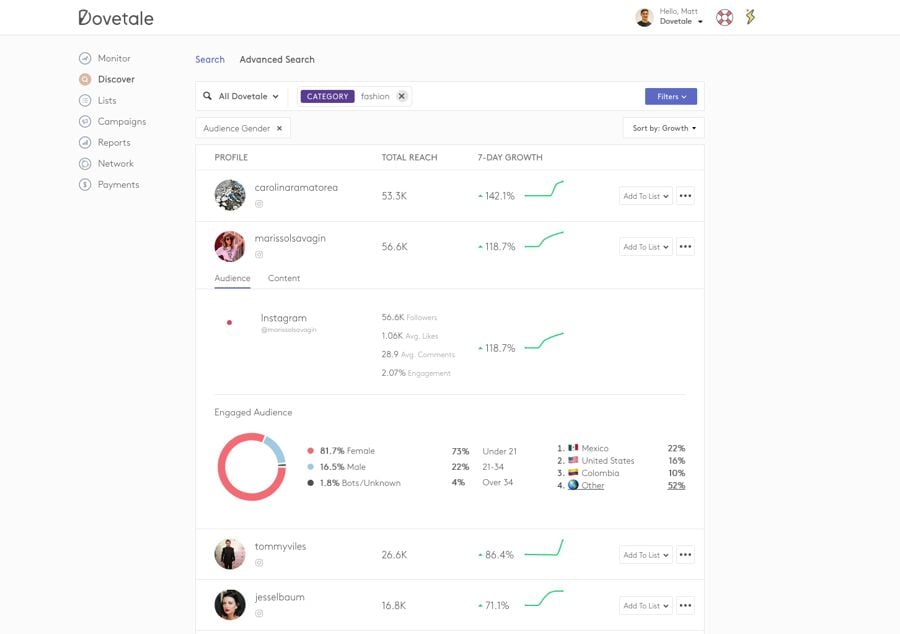 Dovetale's one area of disappointment is in its campaign management tools. You can only use them at the very beginning or very end of campaign, and for nothing in between. You create campaign briefs much like you can on a marketplace, and the software will publish it to the web and then give you an automatically generated URL. You can send this URL to any influencers you'd like to invite to the campaign and if they click the "Join" link they'll be prompted to create a Dovetale account. Once they've done this they'll be added to your network of influencers, but from that point there isn't much else you can do during the campaign. Fee negotiations, gift arrangements, content scheduling, and all communications must be done off the platform. Then, as influencers create and post content, you've got to manually enter each one in to be able to get any reporting out of the platform. For all the intelligence of the platform as a whole, it's pretty incredible (as in: I can't believe it) that this functionality remains so frustratingly basic. Imagine having a self-driving car that you had to shout directions at every time you needed to make a turn, and you'll get what I mean. Once you've input all the content for reporting, though, your campaign reporting is easy to get at—and as thorough as you'd expect given all that I've already mentioned in that regard.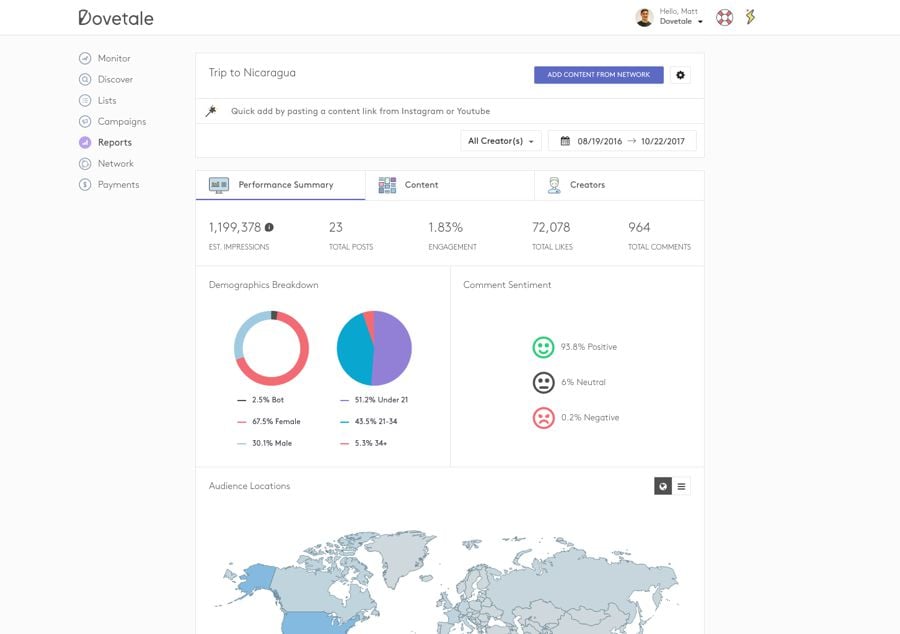 Dovetale also makes it possible to pay all your influencers, at rates that are much more reasonable than the standard 10% - 20% that competitors do: 2% for ACH transfers, and 4% for debit/credit transactions over the Stripe payment platform. Given that all communications/interactions with your influencers happens off the platform, it feels a little superfluous to have this feature (why not skip the Stripe-y middleman and pay them directly with PayPal or Venmo?). For brands in the U.S., though, there is at least one compelling reason to use it. Dovetale also generates and stores W-9 forms for each influencer, helpful for tax compliance.
---
Conclusion
The incomplete feel—and disjointed nature—of managing campaigns on Dovetale are the one sore spot in an otherwise impressive new entry to the list of influencer marketing solutions. If you're already managing your own campaigns in-house, with software or some other internal process, Dovetale comes with tremendous benefits for your influencer marketing efforts. Even if you're not already doing that, there's still a huge upside.
It's also worth remembering that Dovetale is still in its infancy—there will be more features to come and Schmidt has said that revamping the campaign management features is among the many aspects they're looking at. Still, at this stage of the game, Dovetale is way beyond where you'd expect them to be. Given where they are that the present moment, their future is certainly intriguing. We'll certainly be watching to see what's next.
---
Search

Management Tools

Interface/Ease of Use

Reporting/Analytics

Services Offered:Influencer Search & Discovery
Channels: Instagram, Twitter, Facebook, YouTube, Twitch