Advertising Disclosure
Advertising disclosure:
Our partners compensate us. This may influence which products or services we review (also where and how those products appear on the site), this in no way affects our recommendations or the advice we offer. Our reviews are based on years of experience and countless hours of research. Our partners cannot pay us to guarantee favorable reviews of their products or services.
Make no mistake, Linktree is one of the leading creator tools. Trusted by some of the world's biggest influencers and brands like Selena Gomez, The Guardian, and Gary Vee, it's one of the most powerful bio link tools. Though, what if you're searching for more functionality? What if you want to share many other types of content instead of just links? In that case, it might make more sense to look at other link-in-bio tools that offer additional features for more or less the same price.
To help you make the most of your single link and unlock other cool features, here are 11 of the most popular Linktree alternatives. Whether you need it to manage clients' social media or you're a creator simply searching for an affordable way to optimize social links, one of these bio link tools is bound to tick your boxes and budget.
---
Top Linktree Alternatives to Boost Your Link-in-bio Game:
---
Best Alternatives to Linktree
Top
linktree alternatives
2024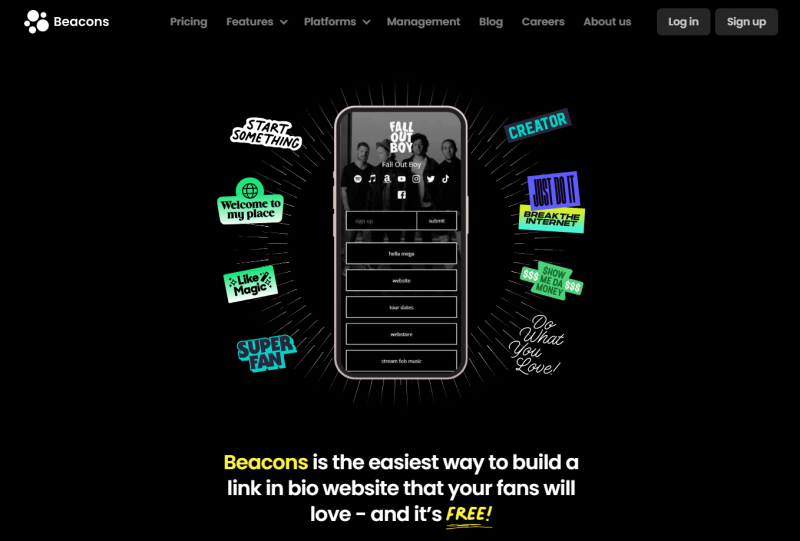 Beacons is an alternative to Linktree for your link-in-bio needs. Since its recent funding in 2021, the company has grown rapidly, with many well-known influencers and brands using the platform. Creating a central hub for all your links is easy with Beacons, whether they're to your website, social media, or online store. The tool allows you to customize your fonts, templates, and links with call-to-actions, turning your bio into a powerful marketing tool. Moreover, it has the ability to track link clicks and see which ones are performing well. This helps you tailor your content strategy and make sure you're putting your best foot forward. Overall, Beacons is a great tool for creators and businesses of any size that want to better manage their links.
Beacons' vision is to empower creators. What this means is that, whether you run a business or are an influencer who's just getting started or has been in the industry for years, Beacons is here to help you succeed. The platform can help you with everything from link building to eCommerce and website building. With its payment system that allows you to set your own prices, it makes it easy for you to get paid for your work and services. All in all, Beacons can be a tool to help you grow your online presence and achieve your business goals.
Pricing: Beacons offers a freemium plan. The Entrepreneur plan costs $10 per month.
---
2. Feedlink
Feedlink is EmbedSocial's answer to the one-link-in-bio dilemma that Instagram users face. Founded in 2007, they've helped more than 100,000 users with their social media marketing. With Feedlink, you can create a custom URL for your TikTok, Facebook, Twitter, or Instagram bio and direct your followers to a blog post or product pages. It's also completely customizable so you don't have to worry about branding consistency.
While it offers a lot of customization, one area that's a bit lacking is the analytics. It currently offers only basic analytics (the total clicks and views that your Feedlink page generated). It also doesn't offer as much flexibility with regards to pricing as most of the other Linktree alternatives on our list. That said, at only $9 per month, it's one of the most cost-effective solutions.
Pricing: It offers a Free plan and a Business plan. The Business plan costs only $9 per month when billed monthly, but if you choose to be billed yearly you can save 20%.
---
3. Milkshake
The Milkshake app is one of the top Instagram marketing tools and has been featured and recognized by the likes of Creative Impact Group, Freelancing Females, and The Webby Awards. It's basically a website builder and link-in-bio tool in one. With it, you can design a basic website where you can share more details about your brand with your target audience. Not only is it intuitive thanks to its drag-and-drop features, but it also offers analytics and insights to help you identify which type of content gets the best results. All in all, it's a great alternative to Linktree, if you mostly manage your social media accounts via your phone.
Pricing: It's available free of charge on Google Play and the Apple App Store.
---
4. Tap Bio
Trusted and loved by global brands like Fender and Bing and artists like Rhett Miller, Tap Bio is a great tool and Linktree alternative for creators, influencers, and businesses who want to connect with followers via Instagram.
Headquartered in Venice, California, one of its major appeals is that it has a basic free plan that lets you connect one Instagram account and includes one profile card and one additional card. Though, if you would like to access stats, you'll need to sign up for either its Silver or Gold plan. For heavy users and social media marketers, the Gold plan is the better option as you can connect up to three Instagram accounts and you'll get unlimited additional cards. Plus, you'll have the ability to remove the Friends of Tap Bio card.
Pricing: In addition to its Free plan, it also offers two paid plans: Silver ($5 per month or $36 per year) and Gold ($12 per month or $96 per year).
---
5. Campsite.bio
Based in Milwaukee, Campsite.bio is one of the most intuitive link-in-bio tools. Unlike a tool like Tap Bio, it can also be used on any social platform where you wish to share your links and not just Instagram. You basically just need to drag and drop the items to create your bio link. Plus, if you need to customize it later down the line, it's just as straightforward. In fact, according to their website, you can get your profile setup in less than two minutes.
While its free plan doesn't offer tons of customization options, it does include advanced theme customization. For the ability to highlight links, add a custom background image, schedule links, or hide Campsite's branding, you'll need to opt for one of its paid plans.
Another feature that deserves special mention is its analytics. When you sign up for its Pro+ plan, you'll be able to get unrestricted access to link clicks and views. You'll also be able to view the click-through rate and get detailed info on location, referrer, device, and events (like opt-in submits and video views).
Pricing: In addition to its Free plan, it also offers two subscription plans: Pro ($7 per month) and Pro+ ($24 per month).
---
6. Linkin.bio by Later
Linkin.bio is created by Later, one of the leading social media management platforms. So, you know that you can look forward to great functionality. With it, you can create a completely customizable link-in-bio web page that you can use to generate more traffic from TikTok and Instagram. In fact, you can add as many as five links per Instagram post.
All in all, it's one of the best choices if you use Instagram to sell products. It recently introduced a new feature, Linkin.bio Blocks, that you can use to highlight your best content and promotions. You can, for example, use it to add buttons to the top of your Linkin.bio page. Then, thanks to the analytics inside Later, you can measure your ROI from Instagram.
Plus, thanks to its integration with Shopify, it's a great choice if you have an existing Shopify store. This way you can integrate your store directly to your Linked.bio page to make the sales experience seamless.
Pricing: Pricing starts at $15 per month when billed annually.
---
7. Lnk.Bio
Not to be confused with Later's Linkin.bio tool, Lnk.Bio is a bit more basic and better suited for brands that simply want to drive traffic instead of generating sales. That said, it still has a pretty impressive list of users that include names like the Golden Globe Awards, the Guggenheim Museum, and Lonely Planet. In short, you can use it to make the most of your link in bio on TikTok, YouTube, and Instagram by adding multiple links.
As it's web-based, you don't need to install anything or download any apps as is the case with Milkshake. It also offers a single control panel, making it a good choice for social media marketing agencies.
If you hate monthly subscriptions, Lnk.Bio can solve that. Its different approach to pricing is one of its main pros. In addition to its Free plan, it also offers three paid options. You can choose to pay a small fee of only $0.99 per month or get it over and done with by paying a one-time fee of either $9.99 or $24.99. With the more expensive plan, you can also open your shop, making it ideal if you want to explore the world of eCommerce.
---
8. Bio.fm
Compared to Linktree, Bio.fm gives its users more control. You can share more than links by, for example, embedding YouTube videos, adding voting polls, or collecting email addresses, making it a great tool if you want to share more than just links. What's more, you can basically put your bio on autopilot as your latest post will get shown automatically. Whether you're an influencer or a brand, it offers a wide range of features that will help you to optimize your marketing campaigns and drive traffic from Instagram to other channels.
Not only does it offer more functionality, but it's also very easy to use. You simply select what you want to share, reorder and customize your blocks with the click of the mouse, and share your link on your favorite platforms. The best part – it's free!
Pricing: Free
---

With ContactInBio, you can create one link that contains other info and elements like a contact form, video, and images. It also offers a number of other features that you can use to sell your products online and connect with your followers.
Trusted by nearly 200,000 users, it's a powerful alternative to Linktree. Plus, it offers a few useful features that's not included in Linktree's list of features like Google Analytics and the ability to add video, image, an image carousel, and payment links.
Not only does it offer impressive functionality, but, compared to similar tools, its pricing is also some of the cheapest. It offers a generous Free plan and for less than $20 per month you can sign up for its top-of-the-range Agency plan.
Pricing: In addition to its Free plan, it offers two subscription plans: Business (currently on special for $4.55 per month) and Agency (currently on special for $18.20 per month).
---

Trusted by thousands of Fortune 500 brands, small businesses and marketing agencies, ShortStack is one of the top landing page builder software solutions and a great tool if you regularly need to create customized marketing campaigns. It's so much more than simply a link-in-bio tool. In addition to using it to create landing pages and mini websites, you can also use it to share coupon codes, collect user-generated content (UGC), and create online contests like hashtag giveaways. So, if you ever thought about using contests on Instagram to increase engagement, be sure to check it out.
For example, one marketing company used ShortStack to direct their Instagram followers to a mobile-friendly campaign created with ShortStack. Here, they could share various types of content with unique tracking links. Thanks to the software's time-based visibility setting, they could configure this campaign so that the content was only revealed at the exact time that they planned to market the specific content on their Instagram account. The result – they managed to boost their Instagram engagement by more than 150%.
Pricing: Pricing starts at $99 per month.
---

On its website, Link in Profile, describes itself as "Instagram's missing link". While it doesn't work with other social media networks, it's a great solution if you know that you want to focus on Instagram solely.
It's very easy and quick to set up. All you need to do is give Link in Profile authorization to access your Instagram account and add your dedicated landing page to your profile. You can either add your links via the tool's dashboard or paste the URL into the caption of your Instagram post.
Pricing: When it comes to pricing, Link in Profile also likes to keep it simple. It has only one plan for $9.99 per month.
---
Wrapping Things Up
Linktree is a great tool for entrepreneurs, bloggers or other types of creators who want to drive their Instagram traffic to other channels. Though, there are several other tools that do just that and more.
For example, a number of the alternatives mentioned on our list also offer great eCommerce capabilities. So, if you have an online store, it will make more sense to invest in a tool, like Later's Linkin.bio, for example.
Maybe you want to focus on growing email lists? Then, try out Bio.fm.
You get the idea.
Just like you want to offer your followers more info, make sure that you do your own research and see what similar tools are available that might offer you more customization options and other amazing features. Neither does your link nor your landing page need to be limited.