Advertising Disclosure
Advertising disclosure:
Our partners compensate us. This may influence which products or services we review (also where and how those products appear on the site), this in no way affects our recommendations or the advice we offer. Our reviews are based on years of experience and countless hours of research. Our partners cannot pay us to guarantee favorable reviews of their products or services.
As technology continues to evolve, businesses are constantly searching for ways to optimize their marketing strategies. One of the latest innovations is the use of artificial intelligence (AI) in marketing, including social media marketing.
It might sound contradictory. Aren't social media trends all about authenticity? Now, brands are told to entrust that to artificial intelligence?
Here's the thing: when done right, it can actually improve targeting and personalization. These are key if you want to create deeper — more authentic — relationships.
AI also provides an opportunity for marketers to automate tasks, saving time and energy that can be allocated elsewhere. It's not about replacing human social media marketers and managers, but rather about giving them more tools to make their demanding job easier.
With these benefits in mind, let's take a closer look at some of the top AI tools to help with social media marketing specifically that you should keep an eye on in 2024.
---
The Digital Marketing Revolution: Top 10 AI Social Media Marketing Software for Your Business:
---
Top AI Social Media Tools
Top
ai social media marketing software
2024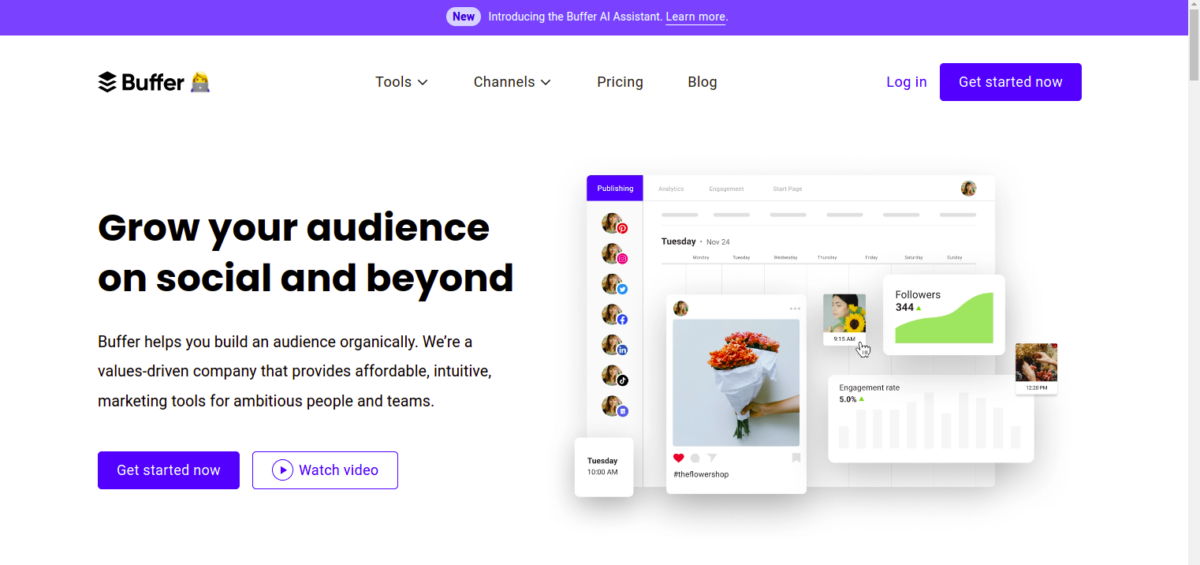 If you've researched social media marketing software solutions, you're most likely already familiar with Buffer and its capabilities. It also recently introduced a new AI assistant that helps you to create social media post ideas and repurposes existing content. As it's integrated into its other features, it will work seamlessly with other useful features like scheduling.
All in all, it's very straightforward to use. After you've asked it to generate ideas for a new social media post, you simply select the one that you prefer and it will expand it further to create a publish-ready post. Alternatively, you can add long-form content, like a recent blog post, and Buffer AI Assistant will identify the main points and turn that into a short post that can be posted on social networks instead.
As it understands what type of content users find engaging, its suggestions will help you to fast-track your growth. It can also translate social media posts into several other languages which can come in useful if you want to grow a global audience.
Other key features include:
A landing page builder
A link shortener
Post scheduling
Plans and pricing: Buffer AI Assistant is available to all new Buffer users irrespective of which plan they signed up for. If you signed up to Buffer more than a year ago, you might have to migrate your account first if you want to use Buffer AI Assistant.
After a free 14-day trial, pricing starts at only $6 per month for one channel. If you opt to be billed yearly, you can save two months' subscription fees.
---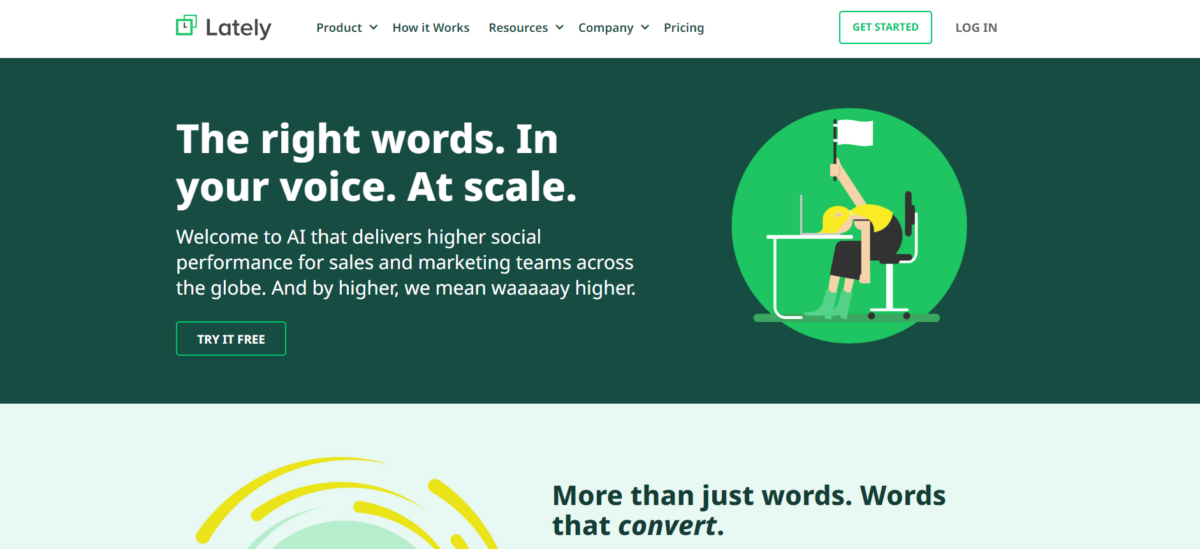 Not to be confused with Later, a leading social media management platform, Lately is an AI-powered content generator and social management content platform that helps human copywriters with marketing content. Its AI looks at the type of content your social media followers want to consume to create a custom writing model. With the help of this writing model, it can then repurpose long-form content, like white papers or email newsletters, into social media posts automatically. The beauty is that it isn't restricted to only written content. If you have a podcast, you can also add that episode and Lately will transcribe it for you automatically.
In addition to content creation, it also acts as a full-service platform that can assist with scheduling and analytics. From scheduling to publishing and virtually all the other steps in between, Lately streamlines social media marketing.
Other key features include:
Approval workflows

A unified social media calendar

Social media analytics

AI-recommended hashtags
Plans and pricing: Pricing starts at $29 per month but excludes audio and video repurposing and scheduling. To be able to repurpose all types of content, you'll need to sign up for its Litely plan ($49 per month when billed monthly/$39 per month when billed yearly).
---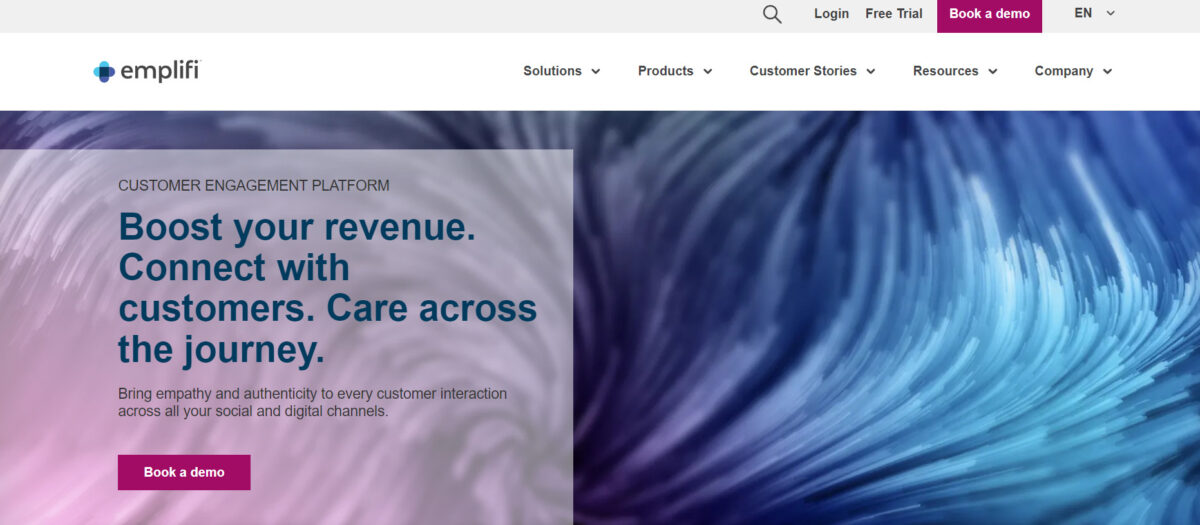 Previously called Socialbakers, Emplifi offers a number of tools to help you amplify your presence on social media. Its Social Marketing Cloud uses AI-fueled automation to help you publish more efficiently. Using its powerful AI recommendations, posting will no longer be a guessing game. It will not only share the best times to post, but also identify which posts you should promote.
Thanks to its drag-and-drop calendar, it's also very easy to use. All your content will be stored in a single hub from where you can monitor how your posts are performing.
Plus, to help with the actual content creation process, it also embraces AI. At the beginning of 2023, it introduced the Emplifi™ AI Composer. It uses OpenAI's GPT-3 to create publish-ready social media posts tailored to specific platforms. This means that not only will you know what to post but also when to publish and promote it.
Other key features include:
Analytics and reporting

A unified inbox

An approval system to help with workflows

Social listening tools

Market benchmarks

Sentiment analytics
Plans and pricing: To access Emplifi's AI-driven publishing and scheduling, you'll need to sign up for the Complete Social Marketing Cloud package. Pricing is available upon request.
---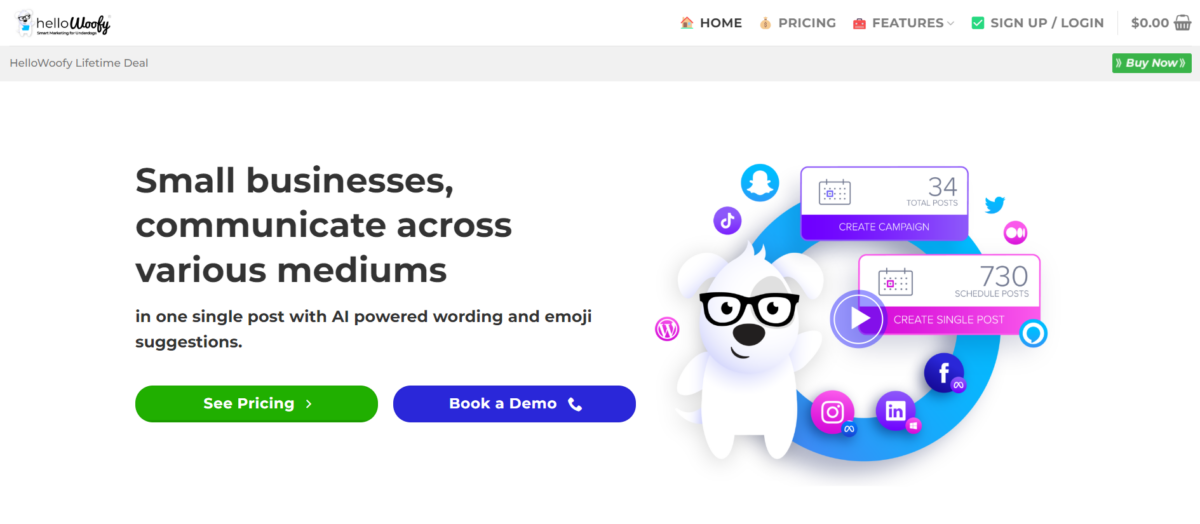 Aimed at small businesses and startups, HelloWoofy offers smart marketing solutions to underdogs. It uses generative AI to help create social posts. According to their website, their AI-powered website acts as your very own personal copywriter. As you type, it will share recommendations for your copy.
If your target audience is more visually inclined, HelloWoofy can also suggest relevant emojis that you can add (there are more than 35 million points in its backend). Its AI can also identify trending hashtags which you can save to create your own hashtag playlists for easier access. This means that you can include all the essential elements in your social media posts — the right keywords, emojis, and hashtags.
Other key features include:
Limited analytics

Bulk content import

Quote suggestions from an online article

Text translation into any language
Plans and pricing: For full access to all its copywriting assistance tools, pricing starts at $249 per year. This includes a lifetime deal (in other words, if you stick to that package and you never fall behind on a payment, you're protected against price increases).
---
QuillBot is one of the most popular AI content writing tools and offers a number of features that can help with social media marketing campaigns. The interface is a bit dated, but it's a useful tool if you have existing long-form content that you want to turn into short social media posts.
To help you with this, you can check out its Summarizer and Word Counter. The AI-powered Summarizer can shorten articles into key sentences or a short paragraph. All you need to do is upload your doc or paste the text, select the summary length, and click on summarize.
Then, to help you stick to the character limits set by different social media channels, you can use the Word Counter. This specific tool is available free of charge and all you need to do is just paste your text into the input field.
Other key features include:
An online translator that can translate text into over 30 languages

Free grammar tools

A paraphrasing tool

A plagiarism checker
Plans and pricing: Pricing starts at only $10 per month (or about $4 when billed annually).
---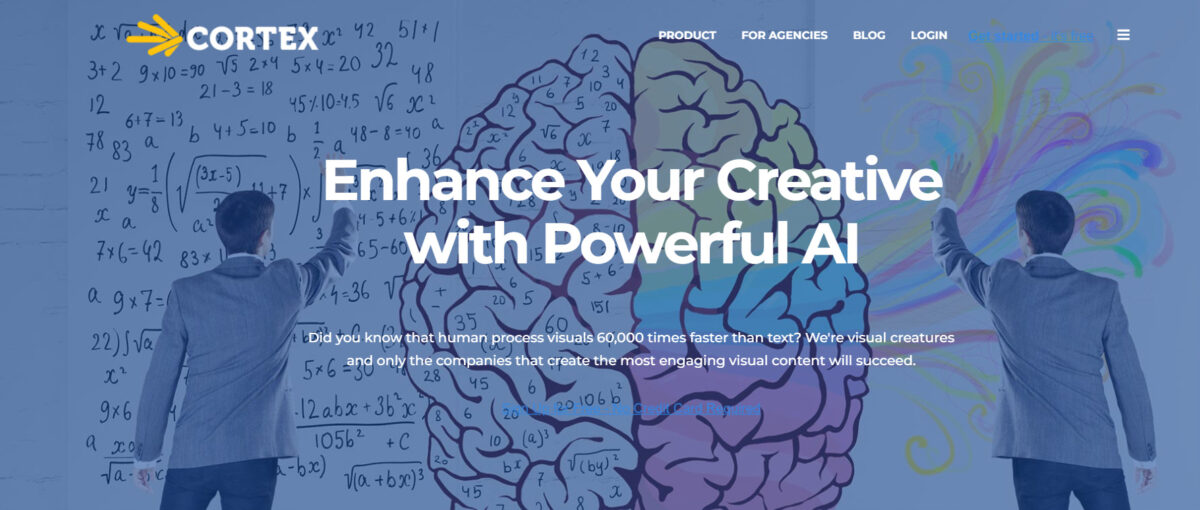 Cortex was created in 2015 by digital marketers to act as a dedicated social media data analyst. From content calendars to competitor analysis, its AI platform can automate several key tasks.
In addition to automation, it can also provide creative direction. Its AI will gather insights about which content delivers better results empowering you to optimize your content accordingly. Thanks to advanced demographic filtering, you can customize these insights further to drill down into your target market.
Other key features include:
Integration with most digital asset management software solutions

Custom insights

White label services

Real-time alerts about high-performing posts

Ad budget optimization
Plans and pricing: For more info about Cortex's pricing, you'll need to reach out to them directly.
---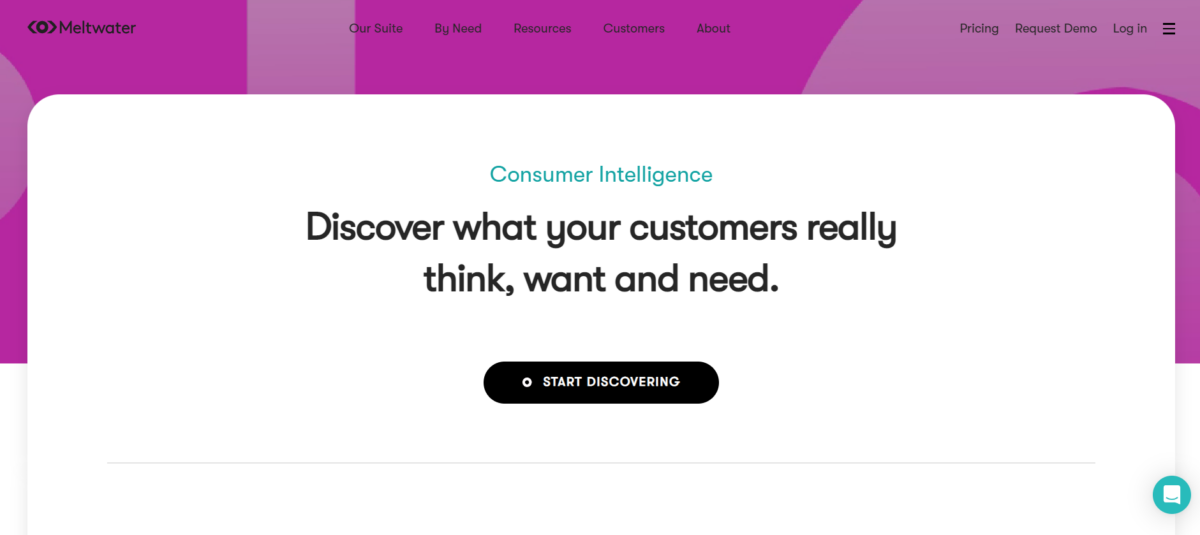 For help specifically with consumer research, be sure to check out Linkfluence. It's an AI-enabled consumer insights platform that's used by global brands like Nike and Burberry. It uses AI, data science, and market research to transform social data, like audience demographics and sentiment analysis, into consumer insights. Armed with this knowledge, you can measure how your social media campaigns are performing and measure brand reputation. Linkfluence also makes it easy to share this data thanks to one-click reports.
In addition to campaign performance measurement, content ideation is another one of its use cases. Once again it uses the same approach (combining AI, data science and market research) to identify subtopics and make sense of underlying themes that spark conversation among the social media communities you're targeting. It will also look at your current content and highlight user-generated content (UGC) as well as content shared by your competitors that's proving the most popular.
On a side note, Linkfluence is set to rebrand as Meltwater later in 2023. It joins other leading marketing tools like Klear that's also integrated with Meltwater. So, it would be interesting to see which new features will be added down the line.
Other key features include:
12-month historical data

Competitive benchmarking

Consumer intelligence

Data visualization
Plans and pricing: For more info about Linkfluence's pricing, you can request a fully personalized demo.
---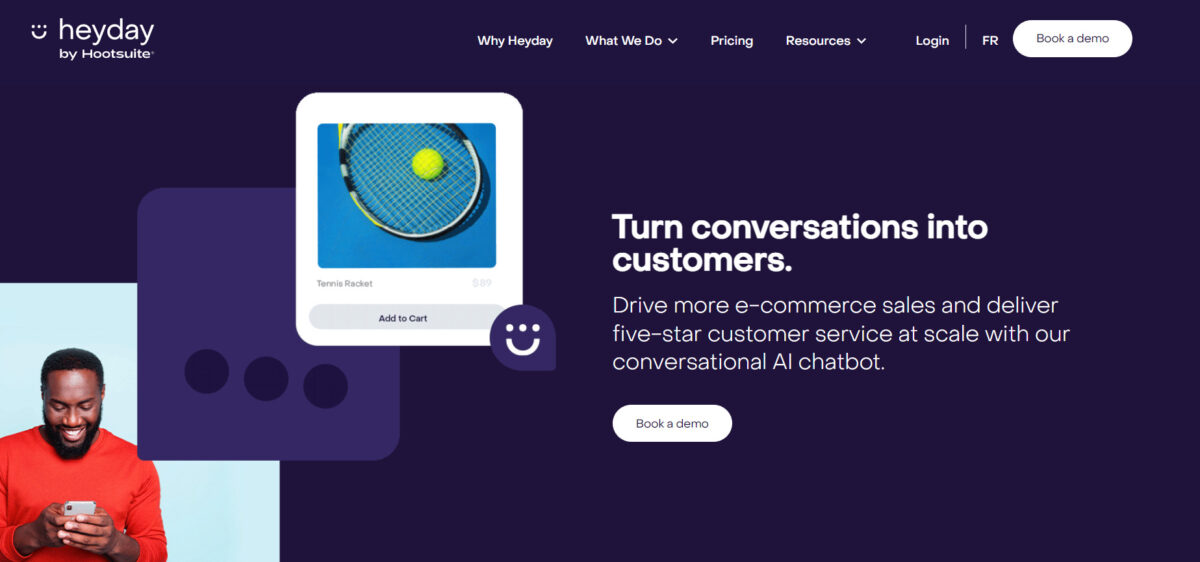 If you want to start embracing conversational commerce and chatbot marketing, adding a tool like Heyday to your tech stack will help set you up for success. Its mission is to make it easier for retailers to humanize eCommerce with the help of conversational AI.
Trusted by global brands like Lacoste and Decathlon, it offers an AI chatbot that replies to inquiries at all hours of the day. Though, it's much more than simply a way to answer FAQs. You can also use it to guide potential customers through the buyer's journey by creating a more personalized experience. For example, larger brands can also use AI product recommendations to drive more sales. Think of it as your AI assistant for Facebook Messenger and Instagram.
Other key features include:
A unified inbox where you can view all your customer chats from different channels

Seamless agent transfer

Advanced analytics

Automated customer surveys
Plans and pricing: After a free 14-day trial, pricing starts at $49 per month.
---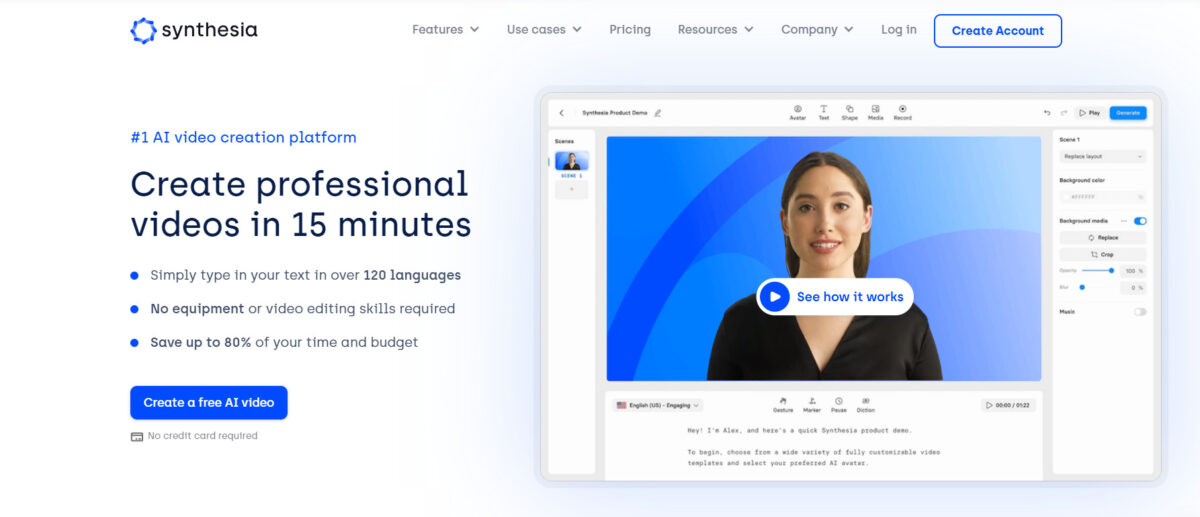 For help specifically with social media video marketing, you can check out Synthesia. It's an AI video creation platform that's trusted by thousands of marketing teams and companies including big names like Reuters, BBC, and Novo Nordisk. To date, they've created more than 4 million videos and for more social proof you can check out the hundreds of reviews Synthesia has received on platforms like Trustpilot and G2.
The beauty of Synthesia is that you don't need a cast or any prior video editing experience.
To get started, you can select one of the dozens of fully customizable video templates and AI avatars. Alternatively, you can create your own custom one or get an exclusive AI avatar just for your brand. Next, you type in your script. There's no need to record your own voice as it includes AI voice overs too. What's more, it also supports over 120 languages and accents, making it a great tool if you want to reach a global audience.
Other key features include:
A built-in screen recorder

Free stock images and videos

A selection of background music
Plans and pricing: Synthesia costs $30 per month when billed monthly. Custom pricing is also available for bigger companies.
---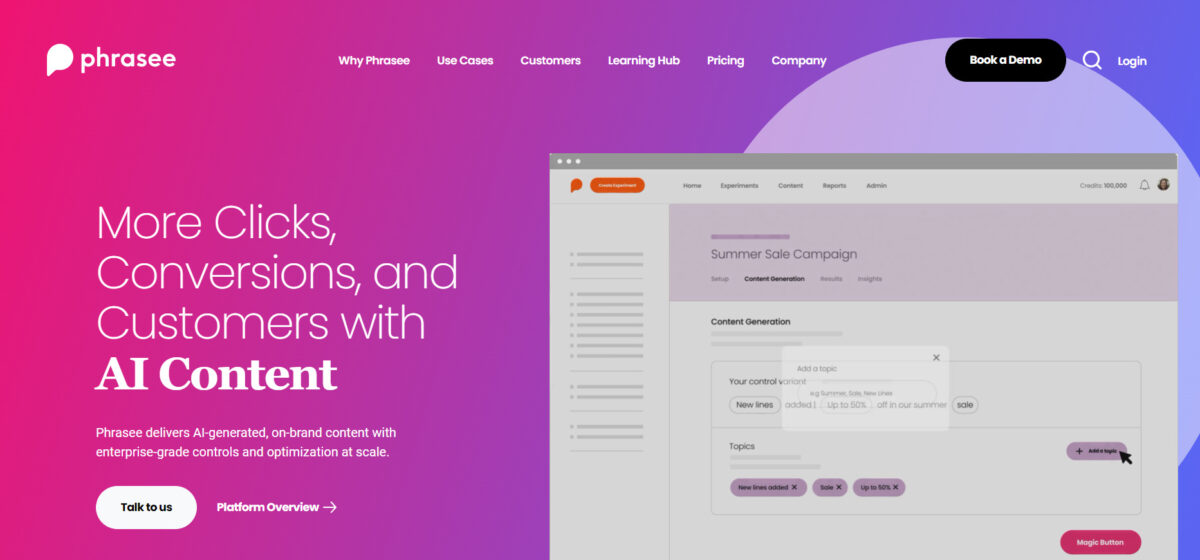 If you need help with paid social specifically, you can check out Phrasee. It's one of the best AI tools for paid marketing and has been used by brands like Virgin Holidays and Gumtree.
It uses AI-powered content to create more personalized customer experiences, helping you to boost the performance of your social media ads. The best part is that you don't need to flex any writing muscles. It will automatically generate content for you that's optimized in real time. This means that the best-performing ad will enjoy the widest reach possible.
Key features include:
Customer insights

Dynamic optimization

Word and emoji analysis

Sentiment analysis
Plans and pricing: For more information about Phrasee's pricing, you'll need to reach out to them directly.
---
---
Wrapping Things Up
Moving forward, the use of AI tools in social media marketing will only grow in importance. It's expected that AI will have a lasting impact on the way companies manage their social media presence. Whether you're a business owner or a full-blown marketing team, the right AI tools can help you make the most of your social media efforts. It will help you to create smarter campaigns, attract more customers, and expand your reach.
Just like technology, marketing is also continuously evolving. Marketers have to stay ahead of the curve in order to keep up with the latest trends and best practices. And, with the rise of AI, there's no doubt that social media marketing will continue to change and adapt in the years to come.
Considering that video content has become increasingly popular in recent years, signing up for a tool like Synthesia can be a worthwhile investment. Plus, creating videos is also more technical and time-consuming than writing a caption. With that said, we don't want to single out any tool. Look at your own tech stack, needs, and budget and see which of these tools will be the most cost-effective solution for you. Then, as your business grows and marketing strategy changes, consult this list again to see if there's perhaps another tool that you have a need for or maybe a better alternative for the one(s) you're currently using.