Advertising Disclosure
Advertising disclosure:
Our partners compensate us. This may influence which products or services we review (also where and how those products appear on the site), this in no way affects our recommendations or the advice we offer. Our reviews are based on years of experience and countless hours of research. Our partners cannot pay us to guarantee favorable reviews of their products or services.
The best AI search engine optimization (SEO) tools are crucial to the success of your digital content. In a nutshell, SEO and SEO specialists enable your website or social pages to be the source of valuable content. Once visitors check out your website, SEO keeps them staying longer on each page, retaining their attention as they learn more about your meaningful solutions.
Data published in 2022 finds that 32.8% of SEO professionals believe that on-page elements (e.g., meta titles and descriptions) are the most crucial factors for ranking high on search engines like Google. Google has dominated the search engine market, with an 83% market share. Bing is behind at around 9%, and Yahoo is even further at 2.55%.
The thing about SEO is it can take time to set it up correctly. Online content creation won't be successful if you do not perform the proper analytics and audits. It would help if you explored several tools to compare which works best. There are numerous free and premium tools available out there. Finding which one has the features and insights that can deliver the ranking and visibility your website needs is a matter of testing them out and checking expert recommendations about the latest tools.
---
Top AI SEO Tools to Automate Your Organic Performance:
---
Top AI SEO Tools for 2023
Gaining valuable leads and boosting engagement in your site is a constant battle for eCommerce businesses and marketers. SEO tools abound, and free SEO and paid options are available for every business size. Here are our top-rated AI SEO tools to help drive your traffic and automate your SEO efforts.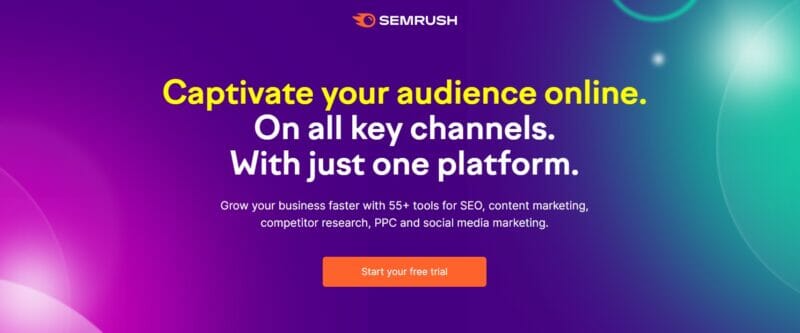 Semrush delivers a vast assortment of AI-driven SEO tools, skillfully designed to support marketing professionals in maximizing their success in organic search rankings. By leveraging the power of Semrush's 50+ tools encompassing SEO, content marketing, competitor research, PPC, and social media marketing, marketing professionals can attract and grow their audience online with greater efficiency.
With access to millions of national and local keywords, Semrush enables users to uncover the most relevant and high-performing keywords for their content. The Keyword Magic Tool uses AI to help you find the most relevant and high-performing keywords for your content, providing dozens of long-tail keywords, search volume data, and keyword difficulty scores. To audit the website, the platform's AI-driven site audit feature identifies technical SEO issues and provides actionable recommendations for improvement, ensuring optimal site health and search visibility.
Content marketing is another specialty of Semrush, as the platform's Writing Assistant helps users create SEO-friendly content by providing suggestions on readability, keyword usage, and content length.
The AI capabilities of Semrush extend to market research, enabling users to unveil competitors' marketing strategies, analyze website traffic, and discover keyword and backlink gaps. All this data is presented in its database thanks to machine learning algorithms and quality data providers, which further empowers businesses to make data-driven decisions to increase market share.
In the realm of advertising, Semrush's AI tools assist users in optimizing their ad spend, monitoring competitor ad copies and landing pages, and analyzing Google Shopping ad campaigns.
Features:
AI-driven keyword research

Technical SEO audits

SERP position tracking

AI-enhanced content creation

Real-time content metrics.

Competitor analysis

Keyword & backlink gap analysis

AI-powered ad optimization
Price:
14-day free trial is offered / Paid version costs $119.95 per month.
Best for:
Agencies and businesses of all sizes
---

Surfer SEO is a popular AI SEO tool for increasing your organic traffic, making your site more visible, and boosting your rankings. It simplifies the SEO process by helping you gather information, create content, optimize, and conduct audits. This tool has the features you need to develop a content strategy that works. Surfer SEO is trusted by leading companies around the world, including Lenovo, ClickUp, Thomson Reuters, Shopify, and Opera.
With Surfer SEO's Grow Flow, a growth management tool, you can get SEO insights on a weekly basis. It lets you identify high-ranking keywords, research niche topics, discover relevant internal links, generate fresh content ideas, and more.
Its Keyword Research tool allows you to find dozens of related topics using your primary keyword. Using it, you can determine your target audience's search intent and assess the difficulty of keywords and searches per month instantly.
Meanwhile, its SEO Audit tool helps you identify errors in your SEO. Some of the insights you can get from this tool include page speed, keyword density, missing backlinks, and NLP sentiment. It also helps you keep a close eye on your competitors to help you improve your own website content.
Features
Grow Flow

Content Editor

Keyword Research

Audit

Keyword Surfer Extension

AI Outline Generator
Price: Comes with a free version / Paid tiers start at $49 per month
Best for: small bloggers, organizations with multiple websites, and large agencies
---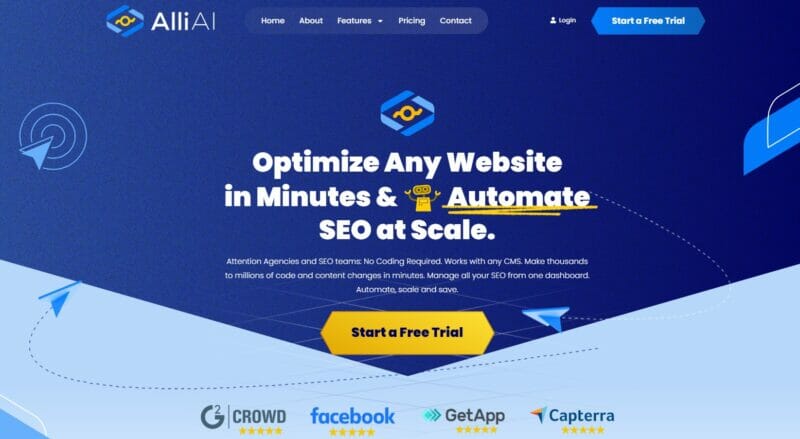 Alli AI can help companies automate their SEO efforts easily, enabling SEO teams of agencies to optimize their site in minutes. It allows teams to manage SEO campaigns quickly without the need for developers or coding know-how. Moreover, it can be integrated into any content management system, such as Shopify and WordPress.
This AI SEO tool allows for custom automation, letting you and your team tweak changes for every page with ease. Another great advantage that Alli AI offers is that its algorithms are self-adjusting, which means that its automated processes change according to SEO best practices.
With Alli AI, you can efficiently perform SEO tasks that are time-consuming and costly, such as automating meta tags, link descriptions, alts for images, and more. As a result, you can reduce fulfillment costs and team overhead and scale your agency at the same time. The AI SEO tool's live editor lets you modify and optimize any page content immediately. By using this tool, you can instantly make changes to your website and publish them immediately.
Meanwhile, its link-building tool provides recommendations for links by examining the largest websites online and in your industry. It provides all the information you need to easily and quickly build links. Finally, its AI reports offer all the valuable insights that you and your team need to further improve your SEO strategy. Some of the reports you can generate with this feature include keyword ranking reports, recommendation exports, and site sales reports.
Features
Content optimization

Automation

Live editor

Link-building

SEO reports
Price: Starts at $249 per month; comes with a 10-day free trial
Best for: small teams, eCommerce stores, and tech hubs
---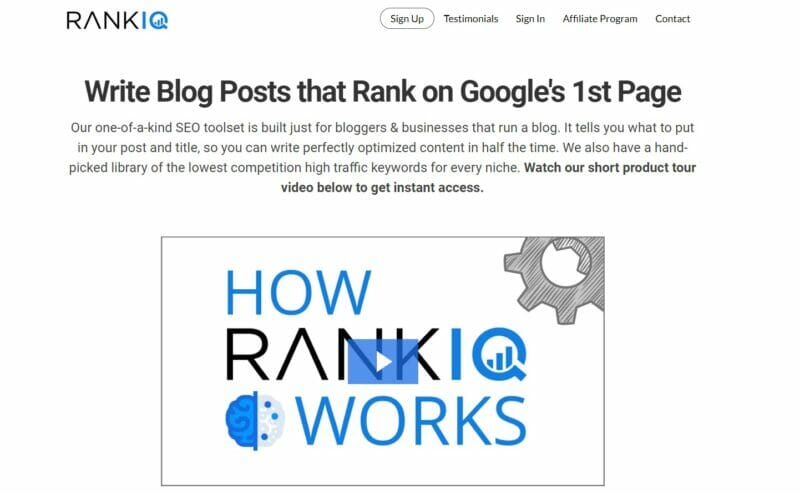 RankIQ's ease of use and quality customer support make it easy for bloggers and businesses to automate their SEO strategies. It can help you increase your website's organic search traffic. This AI SEO tool suggests titles and content for your posts, allowing you to write optimized content faster. The software includes a list of carefully selected, high-traffic, low-competition keywords.
With RankIQ, you can create a blog post outline quickly. It generates content briefs based on the topics you should cover, so the outline is ready in minutes. It allows you to produce high-quality content, capable of ranking on the first page of Google.
To use the software, simply type your target keyword into RankIQ. It then uses AI to find the best results on Google. Keywords are critical to the success of your content, and RankIQ makes sure you have the correct keywords in your arsenal. Additionally, RankIQ prepares a detailed AI SEO report based on Google search results.
Overall, RankIQ has an easy-to-use interface. The platform has an intuitive design. Plus, it provides video clips showing users how to use the product properly.
Features:
SEO content briefs

In-depth keyword research

Leading keywords by niche

Rank checks

Content optimization
Price: Starts at $49
Best for: bloggers and small businesses
---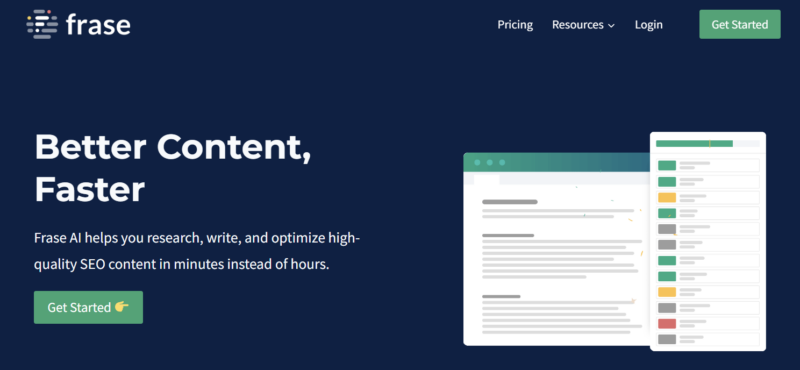 Optimizing your content for SEO can be tricky and time-consuming. The people behind Frase know this, which is why they've developed a tool to make the process as hassle-free as possible. Trusted by 30,000 clients—such as Coursera, Merkle, and Digitas—this AI SEO tool makes SEO content research and optimization easy.
It helps users create thorough content briefs in just a few minutes. Rather than spending hours researching SERPs, this tool saves you time by compiling, analyzing, and consolidating the best content. Through it, you can research the keywords, headings, and concepts used by your competitors. Plus, you can customize brief templates to make your workflow more efficient. For content optimization, Frase offers an easy-to-use text editor for comparing your content to those of your competitors. It will generate a topic list to assist you in publishing Google-friendly content.
The software's dashboard analyzes content opportunities and categorizes them. It uses data from Google Search Console to display useful insights into what you need to do next. Frase's analytics capabilities also allow you to spot pages that are losing rank and need to be updated, so you can stay on top of your SEO game.
Frase has a Crash Course section to help you start using the software immediately and leveraging it for your SEO needs. The lessons are short yet comprehensive, and there are even quick clips that serve as a demo.
Features
Content optimization

Automated content brief

Content scoring

Custom templates

Outline builder

Content writing

Content analytics
Price: Starts at $14.99 per month; comes with a 5-day trial for $1
Best for: content marketers and marketing agencies
---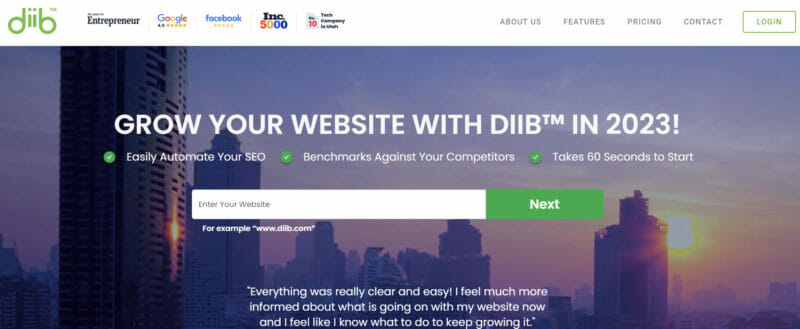 Diib is an AI SEO tool that you can use to get SEO and traffic insights for further growing your business. With Diib, not only can you automate SEO without any difficulty, but you can also compare your performance against your competitors.
Diib provides you with a growth plan, which includes customized growth objectives and alerts to assist you with SEO, social, mobile, and visitor experience. The tool allows you to monitor your SEO keywords and backlinks, track competitor rankings and changes, and come up with new keywords and content ideas.
It also automates website monitoring to let you know if we detect any issues. It keeps track of any issues regarding speed and security, deliverability of emails, changes in rankings, and the activity of your competitors.
Another great feature of Diib is that it provides users with a daily health score to check the health of your website. The software uses an advanced algorithm and takes into account 12 metrics to measure the performance of your website.
Features
Growth plan

Keyword rankings

Checking of SEO gaps

Competitor monitoring

Website monitoring

Daily health score
Price: Comes with a free plan; Pro plan is at $7.99 per month
Best for: individuals and owners of multiple websites
---

Outranking is an AI SEO tool that can help address your issues with organic traffic and engagement. The tool makes automatic content creation simple and hassle-free while at the same time targeting organic content through SERP analysis. That means that the tool scrutinizes top-ranking sites and uses the data to find opportunities that can help you rank higher. By simply using SERP data, Outranking can provide you with an automatic draft right away. You can then do further edits, fact-checks, and rewrites where necessary.
Outranking makes SEO a priority in every content generated for your site, such as blog outlines, briefs, and titles, and omnichannel campaigns. Aside from the Concepts feature, the tool has a comprehensive SEO Content Editor you can use to improve your SEO. You can easily generate meta titles and meta descriptions, optimize H2 and H3 tags, and answer 'People Also Ask' questions. Aside from using the SEO Content Editor when you're writing a new piece, you can also leverage it to refresh old or published articles.
Whether you need an article, a social media post, a press release, or website page content, Outranking does the job efficiently. It is a low-cost option that may prove to be one of the best tools for solo content creators or companies with smaller teams.
Features:
Outline Builder

Concepts

Workflows

SEO Content Editor

Internal linking
Price: $79 for solo, $149 for pro, and $219 for company use
Best for: SMEs or solo freelance content creators
---
NeuronWriter is an AI-powered content optimization tool that helps content writers hash out excellent articles and social media posts that will rank on search engines. One of the key strengths of this tool is its AI Writer, which can generate AI-written content for more efficient writing and SEO optimization.
NeuronWriter works by leveraging data on Google SERPs, competition insights, and natural language processing (NLP) to create effective content related to your target keyword. Aside from the AI Writer feature, there is Internal Linking, where you are given recommendations for related sites, making link-building and internal linking effortless. Another awesome capability is Competitor Analysis, where the tool analyzes the successful content of your competitor to check what drives their rankings per content.
NeuronWriter supports over 170 languages, has a Document Management system, and comes with a content planner function for well-organized SEO content campaigns.
Features:
AI Writer

Competitor Analysis

Content Planner

Custom Columns (analytics)

Multi-Language Support

Interoperability
Price: Starts at EUR 19 monthly up to EUR 97
Best for: marketers and agencies
---
Conclusion
These AI SEO tools can make the difference between you missing out on traffic and being on the first page results on Google and being viewed by the right people. There are free and paid SEO software tools, and each one enables you to get more traffic, sustain engagement, and improve what type of content you could offer your niche audience.
Nowadays, content is still highly critical in making your eCommerce, influencer brand, or company an authority online. Knowing how to leverage SEO can help you become a more effective brand and resonate with what audiences are looking for without getting too bogged down with tedious research and content editing tasks.
Frequently Asked Questions
What is AI based SEO?
AI based SEO is a form of search engine optimization that utilizes Artificial Intelligence (AI) to help improve a website's organic performance. AI based SEO tools can analyze a website or online content and offer insights into areas of improvement. These insights may include keyword research, content optimization, meta tags, link building and more. With the right AI-based SEO tools, businesses can optimize their websites for better organic results in search engines such as Google and Bing.
What are the best AI SEO tools?
There are a variety of AI SEO tools available to help with improving organic performance. Some of the best options include Outranking, a low-cost option for solo content creators or companies with smaller teams; NeuronWriter, which uses data on Google SERPs, competition insights and natural language processing (NLP) to create effective content; and Surfer SEO, a powerful suite that is trusted by companies such as Lenovo, ClickUp, and others.. Other popular choices include Frase, AlliAI, RankIQ and Diib. Each tool brings a unique set of features that can be used to improve website rankings so you should review and compare them closely before selecting the one that's right for your needs.
How can AI SEO tools help me improve my organic performance?
AI SEO tools can help you improve your organic performance by providing automated SERP analysis, spotting trending topics and content gaps, optimizing content for SEO, and generating AI-written content that is optimized to rank higher in search engine results pages. These tools also make it easier to build internal links and analyze the successful content of competitors for a better understanding of what drives their rankings. Additionally, AI SEO tools can be used to create well-organized campaigns, generate meta titles and descriptions, optimize H2 and H3 tags, answer 'People Also Ask' questions when writing new or refreshing old pieces of content. By using these powerful AI SEO tools you will be able to maximize traffic potential from organic sources.
Does AlliAI offer a free trial period for its services?
Yes, AlliAI offers a 10-day free trial period during which you have full access to the platform and features. This will give you a chance to evaluate the services before deciding to purchase a subscription.