Advertising Disclosure
Advertising disclosure:
Our partners compensate us. This may influence which products or services we review (also where and how those products appear on the site), this in no way affects our recommendations or the advice we offer. Our reviews are based on years of experience and countless hours of research. Our partners cannot pay us to guarantee favorable reviews of their products or services.
AI optimization tools help SEO marketers optimize web pages faster and better than previously possible. SEO remains a leading digital marketing strategy, as 68% of target audiences begin their online journey with a search engine. And with top-ranking pages getting the most search traffic 49% of the time, it's no surprise that marketers continue to vie for the top spot.
With the aid of AI technology, reaching the top is faster and easier than ever. Check out these top AI optimization tools to help grow your business in 2023.
---
Top 12 AI Optimization Tools to Grow Your Business in 2023:
---
The Top 12 AI Optimization Tools to Check Out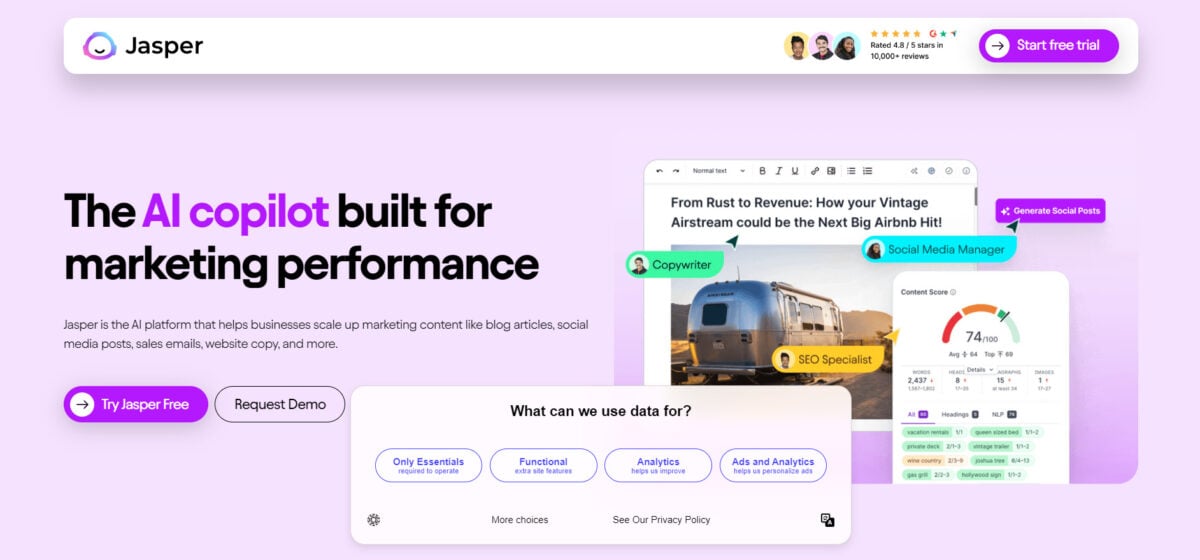 Best for: Writing optimized SEO blogs and other marketing copies
You can't have a list of AI optimization tools without mentioning Jasper. Websites rank because of multiple optimized pages that satisfy audiences and search engines.
With Jasper, marketers can create original content that ranks well in a fraction of the usual time.
Jasper helps content writers finish their drafts faster by utilizing well-thought prompts. From a few key phrases, it can write long-form blogs of up to 1,500 words. It also boasts marketing templates to generate copies for social media, video scripts, product listings, and more.
Jasper works with SurferSEO, so you can integrate both tools to amplify your SEO content production. If you need to translate content to different languages, Jasper also lets you do so in a manner of seconds.
Main Features:
Long-form content writer
Multiple copywriting templates
Translation to 30+ languages
SurferSEO integration
AI Chat
Browser extension
Pricing: Starts at $39/month
---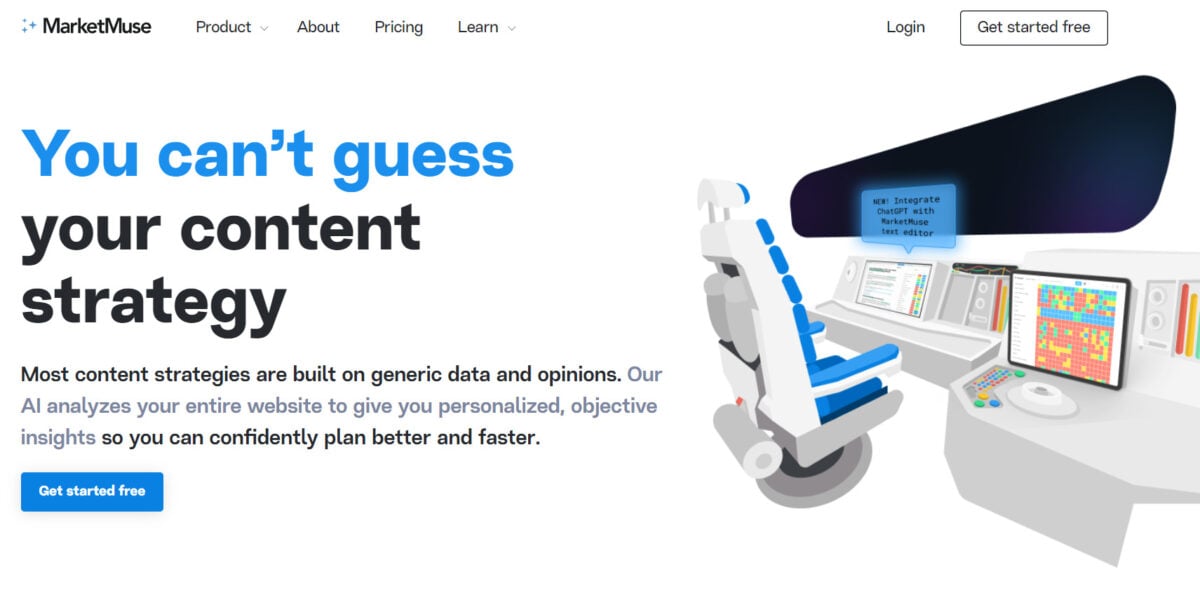 Best for: Analyzing websites, researching keywords, and writing content briefs
Creating optimized content begins with the right content marketing strategy, and Marketmuse was designed to help SEO marketers and content managers nail their content strategy in the shortest time possible. Using AI, you can quickly identify which types of content will help your site rank higher in SERP.
With automation tools, site analysis and content research that used to take days can be done in hours. Marketmuse also has a built-in AI-powered keyword research tool that generates personalized keyword results based on your website so you can confidently determine how easy or difficult it will be to rank for specific keyword terms.
It also lets you create automated content briefs based on the available research so you can create better articles in the least time possible. Its content optimization feature detects at-risk pages with low authority so you can improve them and increase your domain authority.
Main Features:
Content Planning
Cluster Creation & Analysis
Competitive Content Analysis
Keyword Research
Content Briefing
Content Optimization
Pricing: Comes with a limited free version. Paid plans start at $149/month
---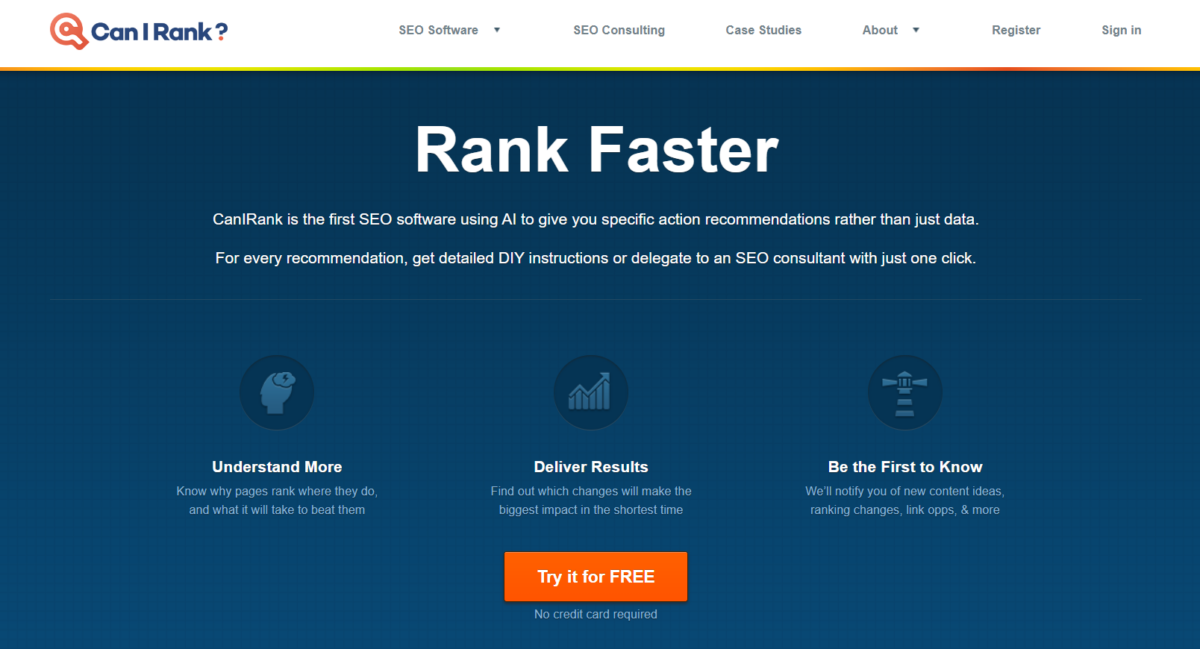 Best for: Analyzing rank across multiple websites for particular topics
The goal of optimizing content is to rank higher in search engine results. Typically, climbing up the ranking charts takes weeks or months. But with the help of AI, there's a way to rank faster. CanIRank is an AI optimization tool that gives you specific, actionable recommendations to improve your Google rankings quickly.
It's an SEO intelligence tool that collects data from different SEO services and then uses machine learning to provide effective insights and personalized recommendations.
Their goal is to help you spend less time collecting and analyzing data and more time executing the improvements your site needs.
Main Features:
Rank Tracking
Link Building Opportunities
Marketing Audit
Authority Building
Competitive Analysis
Content Ideation
Pricing: Comes with a limited free version. Paid plans start at $49/month
---

Best for: Content optimization
Optimizing your website begins with great content, and SurferSEO is the right tool for the job. It helps you write highly optimized content using a detailed list of relevant keywords and receive real-time feedback on your content's optimization score.
It has a built-in AI outline builder to help you structure your content with unique headings and potential questions. It works with multiple languages apart from English and
Spanish and uses natural language processing or NLP-ready keywords, so you can write great content that ranks anywhere in the world.
Main Features:
Content Editor
AI Outline Generator
Website Audit
Advanced Keyword Research
SERP Analysis
Pricing: Starts at $49/month
---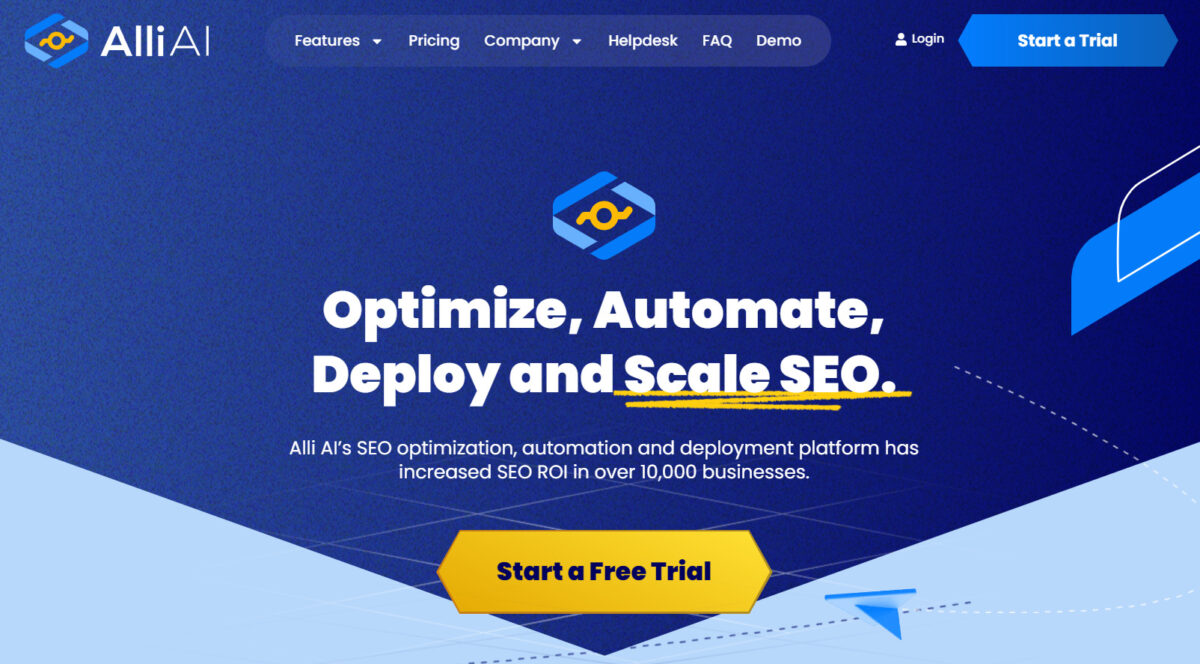 Best for: SEO marketing agencies working with multiple clients
Alli AI was built for marketing agencies to help them automate content management and SEO optimization for their clients. However, it also works well for small business owners. The tool has a comprehensive set of features that lets you optimize your entire website in minutes.
It has an AI enhancement feature that automatically generates high-converting meta titles and descriptions by scanning your content. If you have a large website, you can use their bulk on-page optimization tool to create rules and deploy code changes with just one click.
Alli AI works with any CMS and can be deployed even without the help of any developer. It has an intuitive onboarding wizard that gets the system up and running within minutes.
Main Features:
Bulk On-page Optimization
Live Editor
Real-time Deployment
Automated A/B Testing
Site Speed Optimizer
Pricing: Starts at $249/month
---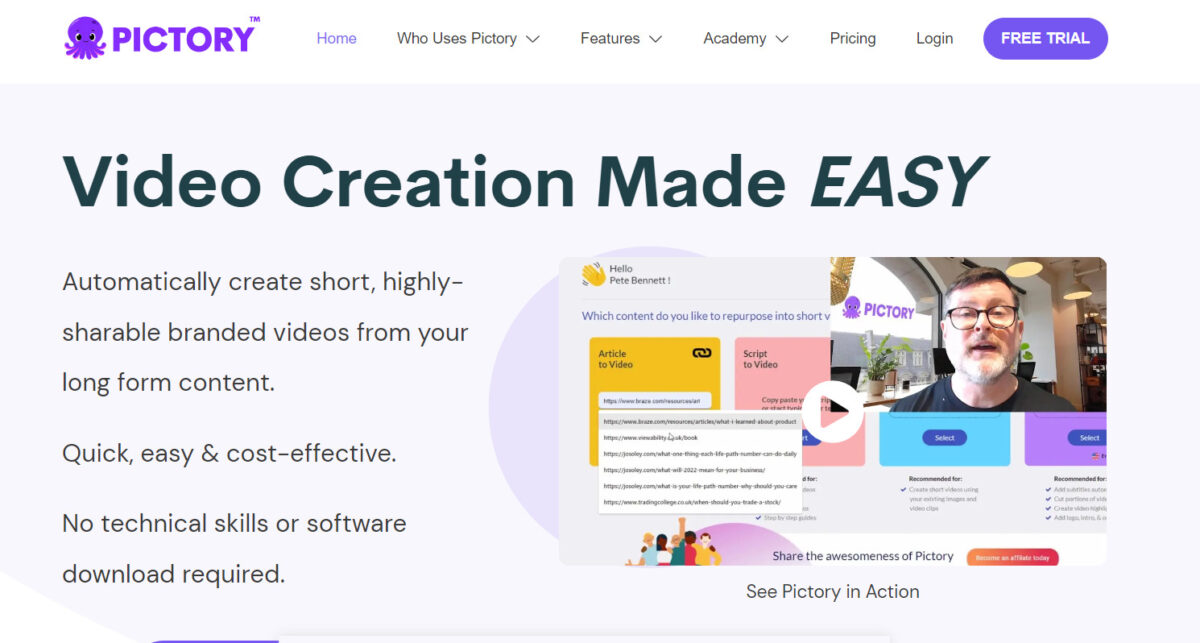 Best for: Adding videos to blog posts
Optimizing your blog posts and web pages is not just about inserting the right keywords and using the correct headings. Adding pictures and videos are also vital in ranking web pages higher in search engines. Creating videos can be time-consuming and skills-intensive, but thanks to AI, it has also become quick, easy, and cost-effective.
Pictory lets you create short and engaging videos straight from your long-form content. You can create video summaries for blog posts within minutes. By adding videos to your blogs, readers stay longer on your site and boost your ranking signals.
Aside from blog posts, Pictory also helps you turn scripts into short-form videos, automatically add captions to existing videos, and create short snippets from long-form videos. All of these are designed to help busy marketers harness the power of video marketing without the high expense or long timelines commonly associated with video production.
Main Features:
Video Edits Using Text
Video Highlights
Video Summaries
Script to Video
Blog to Video
Auto Caption Video
Auto Transcribe Video
Pricing: Starts at $19/user/month. Comes with a free trial for 3 video projects.
---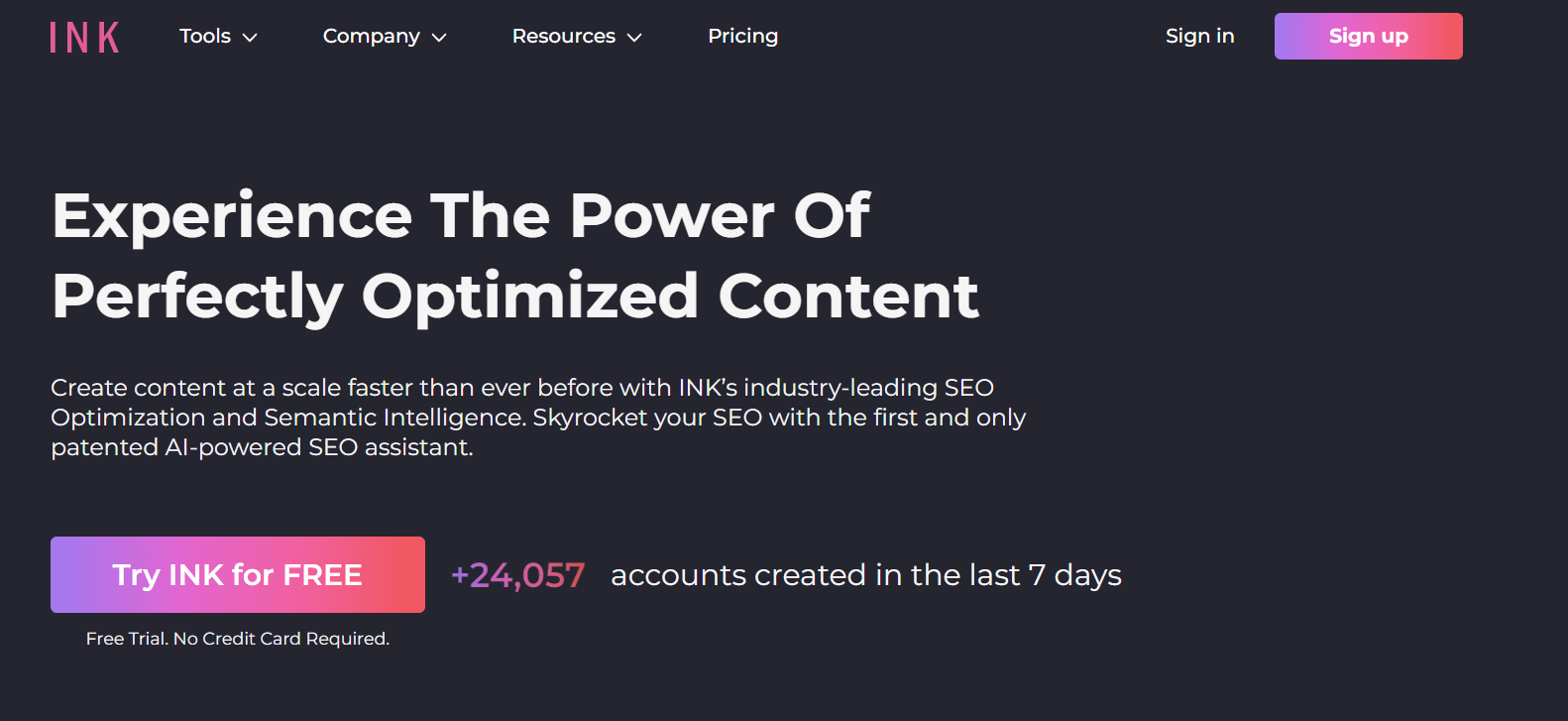 Best for: Writing AI-generated content
AI content writers are a dime a dozen, but nothing compares to INK. For over five years, this AI optimization tool has been developing and advancing its own AI technology to offer exclusive and unique features that no other tool can.
One example is its NLO, or Natural Language Optimization AI, which analyzes your content in real-time and trains the AI bot to create high-performing content. It also boasts real-time semantic SEO scoring so you can have a precise indication of how well your content will rank for search engines.
Getting flagged for synthetic and plagiarized content is a common fear among SEO marketers who use AI to generate content. With INK's AI Content Shield, you can protect your content from being flagged as plagiarized or AI-written by Google. The feature works in the background as you create content and shows portions that can be flagged while giving suggestions on how to improve.
Main Features:
Long-form document editor
AI Assistant
AI Image Generator
SEO Optimizer
AI Content Shield
AI Keyword Research
AI KW Clustering
Pricing: Starts at $39/month
---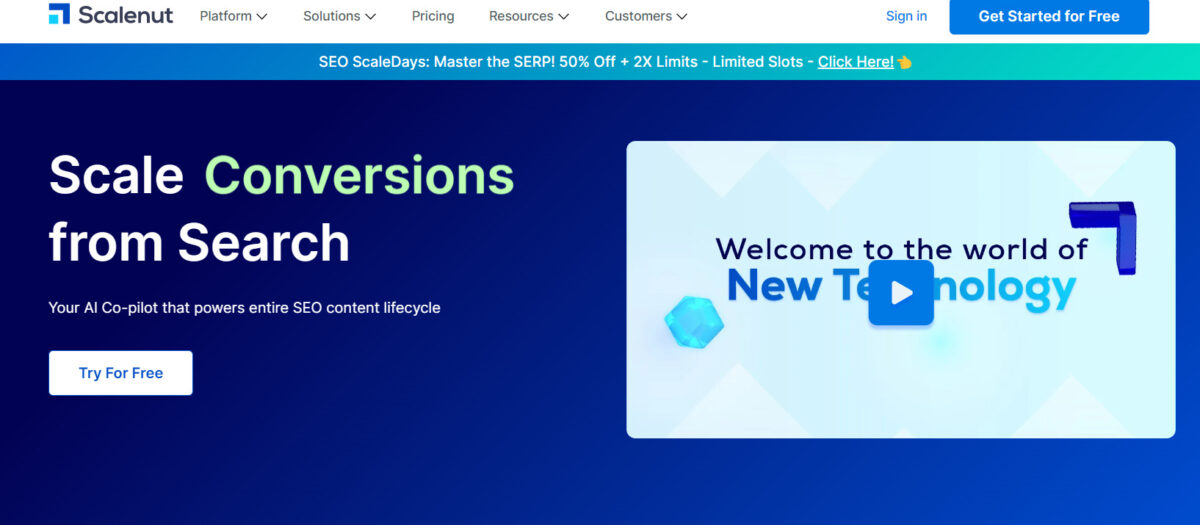 Best for: Planning, researching, and creating content
Scalenut promises to be a comprehensive all-in-one AI SEO tool that lets you plan, research, create, and optimize content. It claims to have grown organic traffic 10x for its more than 100,000 users and has generated over 5 million blog posts.
Its features start with the planning stage, where you can get the entire keyword plan for your niche and create AI-powered topic clusters. This gives you multiple blog ideas, which you can further enhance through its research features.
Scalenut helps you uncover insights by analyzing the competition and looking for NLP key terms. When everything is ready, you can use its long-form editor to generate original content using AI. As you build your content, the tool gives you real-time feedback on your SEO score and suggestions to increase it.
Main Features:
SERP Analysis
AI Content Writer
Keyword Research and Clustering
NLP Key Terms
AI-copy Marketing Templates
Pricing: Starts at $20/month for an annual plan
---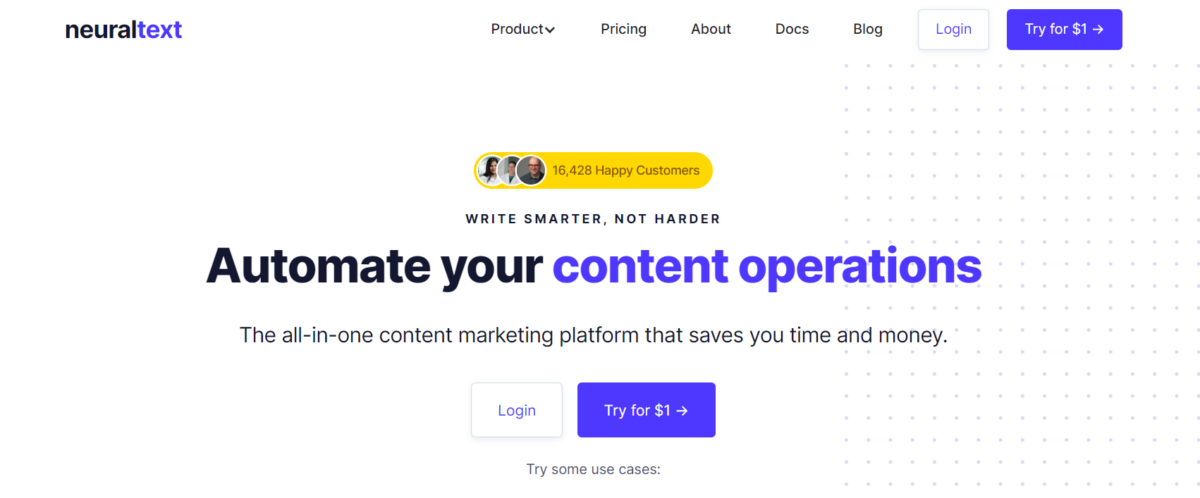 Best for: SEO content writers who need an all-in-one optimization tool
NeuralText accomplishes everything you could wish for in an AI optimization tool. It has automated keyword discovery and clustering that promises to cut down your manual organic research by 90%. The tool will generate thousands of suggestions and an actionable editorial plan starting from a seed keyword.
It has an SEO analysis feature that gathers SERP insights to help optimize your content, ensuring your output ranks quickly the moment you've published it. Its AI long-form document editor also enables you to write headlines, paragraphs, and copies to produce optimized content within minutes.
Main Features:
Keyword research and clustering
Competitor Analysis
Long-form content editor
SEO Analysis
AI templates
Pricing: Starts at $49/month
---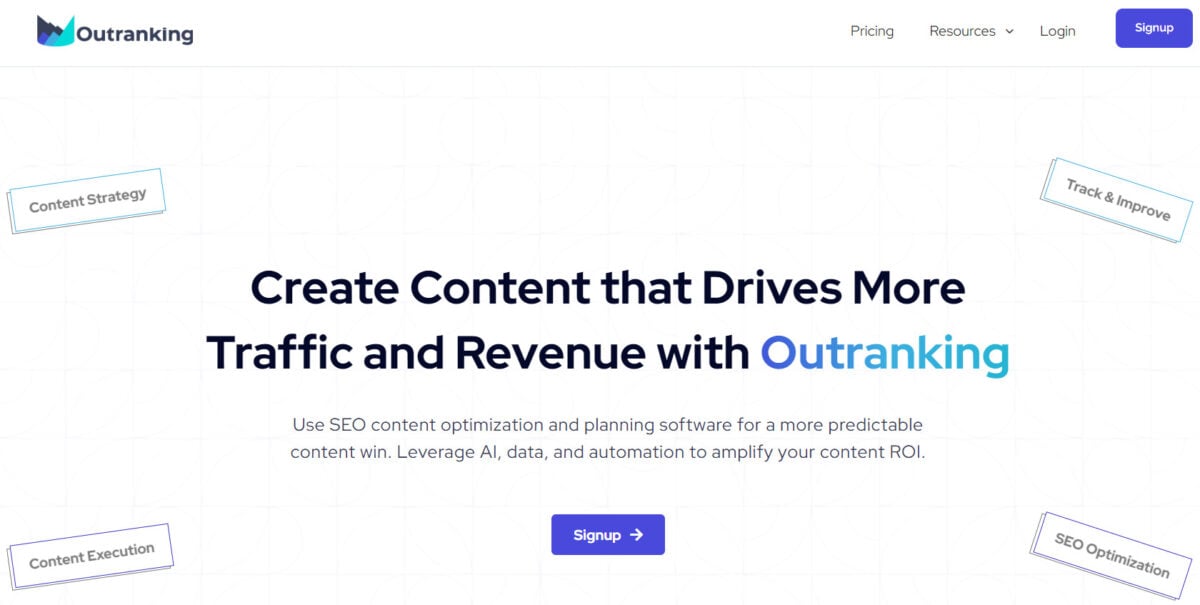 Best for: Solo professionals who need quick AI-assisted content
Outranking is ideal for creating SEO content quickly and efficiently using AI. Within minutes, it can write a well-researched first draft that follows SEO guidelines. You can enhance this copy by fact-checking the results and adjusting it to your preferences.
It also creates exceptionally detailed content briefs that are personalized for your brand and optimized for search engines. You can follow these outlines to write your article or use the tool to flesh out the content.
You can also use Outranking to create your SEO content strategy since it can show opportunities for link building, create topical clusters, and suggest your content calendar. It can also scan and analyze your site to make recommendations for optimized page structure, titles, descriptions, and more.
Main Features:
SEO content briefs
AI-assisted first drafts
Keyword clustering
GSC integration
Connected domains
Pricing: Starts at $7 for the first month, then $69/month after
---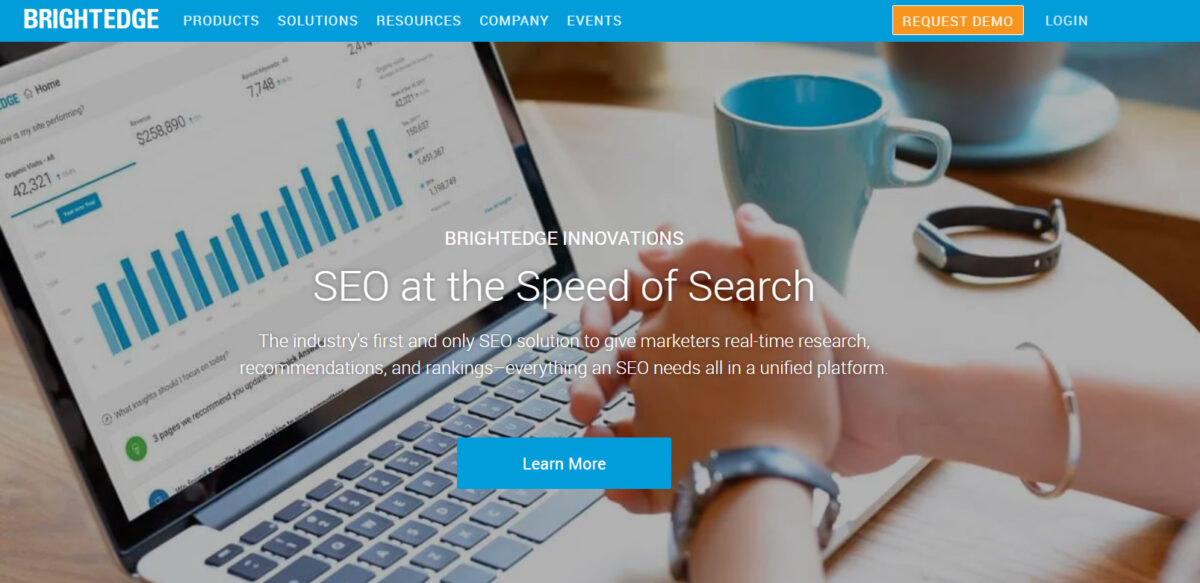 Best for: Enterprises who need to optimize their business with AI
Brightedge is a leading SEO software company that leverages AI using its own proprietary DataMind technology. It's a dedicated AI system that crawls the web in real-time to acquire first-party data, helping its clients identify search intent, optimize content, and increase their web traffic.
It's a comprehensive tool used to discover high-value content ideas and develop them into high-performing SEO content. It also works on social media content to boost your Facebook, Twitter, and other social campaigns.
Furthermore, Brightedge's AI technology helps you stay ahead of the competition by uncovering upcoming trends and market changes and providing insights on how to capitalize on them.
Main Features:
DataMind technology
Market Insights
ContentIQ
Site Report
Share of Voice
Storybuilder
Pricing: Available upon request.
---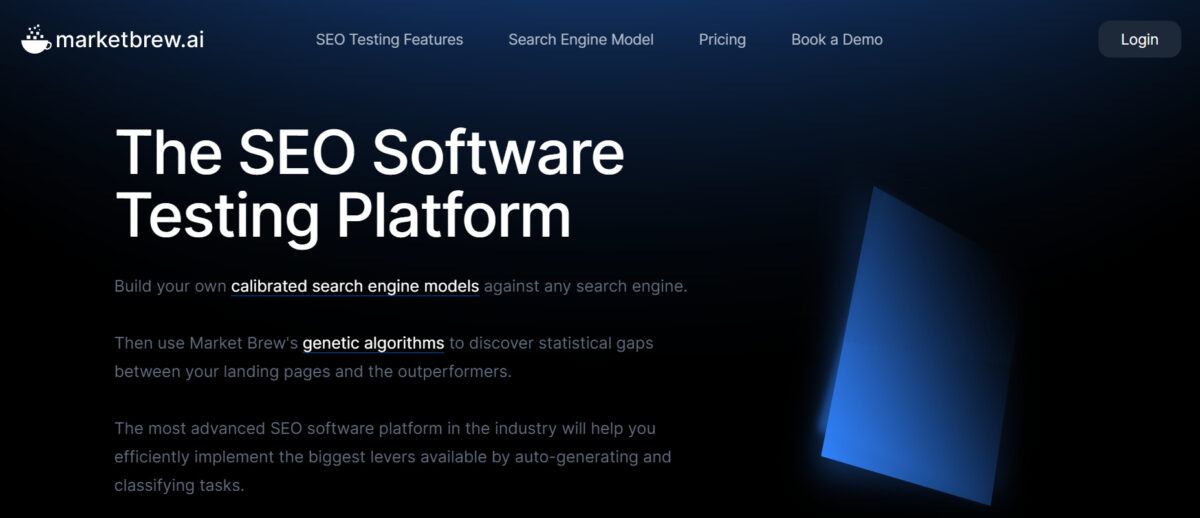 Best for: SEO marketing agencies and enterprises who needs a cutting-edge AI optimization tool
Created by a team of search engineers, MarketBrew offers search engine modeling, which lets you mimic existing search engines to test how every aspect of your website—including any minute changes—will impact your rankings.
It has the basic features of most SEO software, like keyword analysis, competitor research, on-page optimization, rank tracking, and others. However, it takes things a step further because you can forecast your search engine rankings based on its robust testing environment.
Despite its intimidating capabilities, it has an intuitive and user-friendly platform so users can quickly run the tests and make changes as suggested by the tool.
Main Features:
SEO Testing Capabilities
Search Engine Modeling
Evergreen Googlebot Crawler
Transparent Search Engine
Patented "Search-Engine" Approach
Pricing: Standard Agreement at $50/crawl or $400/search engine and Reseller Agreement at $25 per crawl or $200 per search engine model
---
---
Final Thoughts
SEO is a constantly evolving industry, with search engines continuously improving their algorithms to show better results to users. For brands to stay relevant and keep or increase their ranking, using the latest AI technology to optimize pages will improve turnaround time and create better content.
With the rise of multiple AI optimization tools, evaluating how each performs in relation to your needs is critical. Don't be afraid to try these tools and maximize technology to reach your audience faster and provide better content.
Frequently Asked Questions
What are the most useful AI tools?
]AI has significantly improved in the past years and has become incredibly useful for everyone, marketers included. Finding the most useful AI tools depend on your current situation and needs.
If you're a solo professional, startup, or budding entrepreneur, you can look at AI tools developed for small businesses. These tools are user-friendly, cost-effective, and come with generous free trials so you can evaluate if they are the right ones for you.
Check out Jasper for content creation, SurferSEO for SEO optimization, Pictory for video editing, and Dall-E for image generation. Plenty of other AI tools exist for smart scheduling, customer service, order fulfillment, and other relevant tasks.
If you're an enterprise user or a marketing agency, look for more robust tools that offer enterprise plans and advanced features with teams in mind. Most tools for small businesses like Jasper or SurferSEO also provide Enterprise plans. Other companies like BrightEdge and MarketBrew are developed with bigger companies in mind and have features better suited for enterprise-level needs.
How effective is AI in SEO?
AI is beneficial for improving SEO and has made significant impacts in the following:
Content creation and optimization.

AI-powered tools can analyze search patterns, user behavior, and content performance to generate data-driven insights and create high-quality and optimized content

Rank tracking and analysis.

AI tools can monitor search engine rankings and analyze vast amounts of data to track keyword performance, competitor performance, and backlink profiles

Natural language processing.

AI algorithms understand and interpret user queries more accurately so that search engines can provide better results that match user intent
While AI has significantly improved SEO practices, it doesn't replace human expertise. SEO professionals still play a vital role in developing strategies, analyzing data, and making informed decisions based on AI-generated insights.
Will Google flag AI content?
Google does not flag content simply because it has been generated or optimized using AI technology. Google's algorithms are designed to evaluate the quality, relevance, and user experience of a website's content, regardless of how it was created or optimized.
However, it's important to keep in mind that the content generated or optimized by AI should still adhere to Google's guidelines and best practices. This means focusing on providing valuable, unique, and engaging content that meets the needs and expectations of users. If AI-generated content is spammy, low-quality, or violates Google's guidelines (such as keyword stuffing or cloaking), it may be flagged and penalized by Google's algorithms.
The goal of Google and other search engines is to provide users with the most relevant and valuable results. As long as AI-generated content meets those criteria and follows ethical SEO practices, there is no reason for Google to flag it solely based on its AI origins.