Advertising Disclosure
Advertising disclosure:
Our partners compensate us. This may influence which products or services we review (also where and how those products appear on the site), this in no way affects our recommendations or the advice we offer. Our reviews are based on years of experience and countless hours of research. Our partners cannot pay us to guarantee favorable reviews of their products or services.
Once upon a time not too long ago, it felt like everyone was talking about startups. Now, it seems that the newest trending topic is artificial intelligence (AI).
Can you mix the two? Most certainly. 
From generating content for marketing campaigns to helping with image generation, AI can be applied in multiple ways. Here's a list of top artificial intelligence tools that eCommerce startups can use to boost conversion rates, customer engagement, and customer satisfaction.
---
10 Top AI Tools for eCommerce Startups: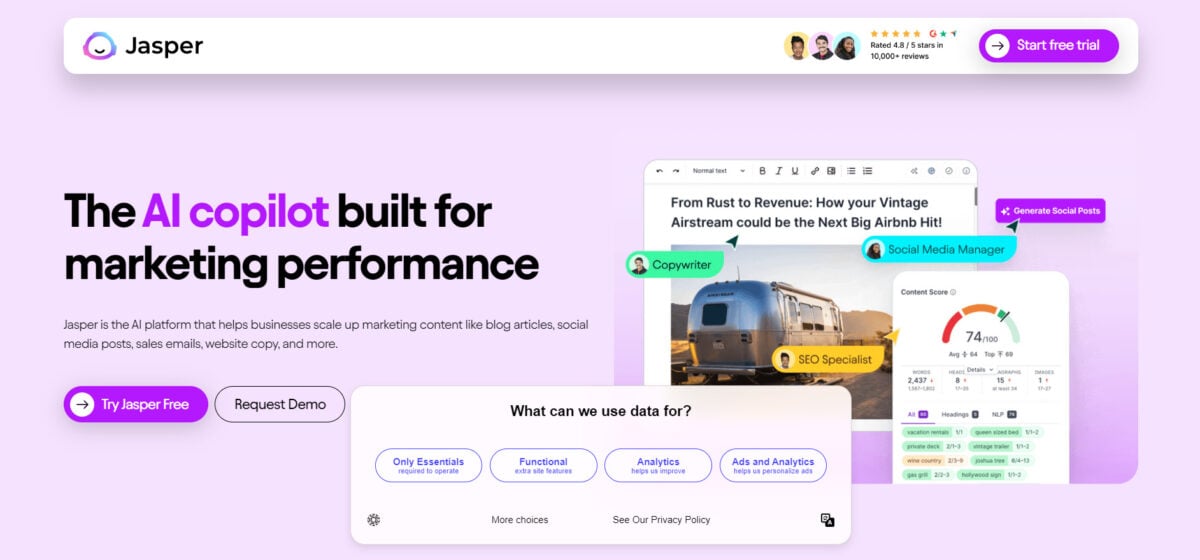 Each and every eCommerce business needs high-quality content. You can think of it as oxygen. If you stop creating content, leads will dry up. When that happens, sales will dwindle and, ultimately, your business will suffocate. 
Melodrama aside, content plays a vital function in any business. From short social media captions to long-form blog posts, content comes in all formats and lengths. It's needed for creative marketing assets and your typical transactional texts, among other things. 
As such, you'll need an AI content generator in your tech stack and Jasper is one of the best of the best. Here's the thing… When it comes to AI writing generators, it's currently often a hit or miss. However, Jasper continuously hits the mark. It's easy to learn its ins and outs and the end result typically requires minor editing.  
Key Features:
An AI chatbot

Integrations with Surfer and Copyscape

The ability to cite its source with backlinks to each website

Support for over 30 languages

More than 50 templates and the ability to create custom templates

A plagiarism checker
Pricing:
After a free seven-day trial (credit card required), pricing starts at $49 per month or $39 per month when billed yearly. 
---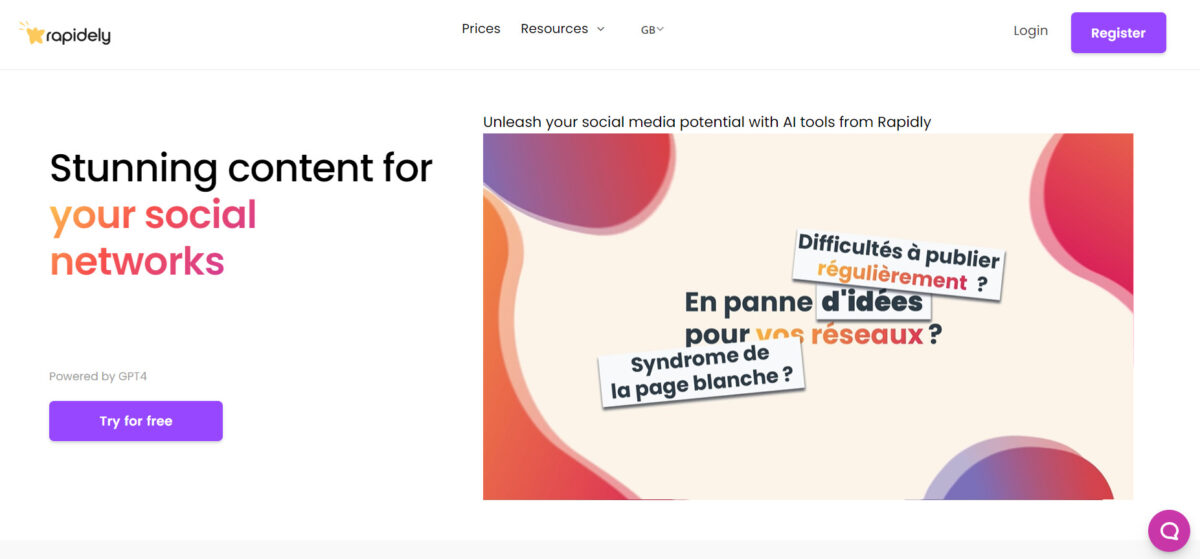 It's key that startups actively grow their presence on a variety of social media platforms. To help them with that, there's rapide.ly. It describes itself as "an interactive editorial calendar". 
It offers a number of AI-powered content tools, like AI-assisted writing, to ensure that you always have a consistent flow of social media posts. Then, to set your posts apart from other brands, it also links to Canva templates and image banks so that you can source visuals that match your branding. 
It also includes features to help with team collaboration, managing multiple accounts, and workflows. For example, if you want to use it for direct posting, it currently offers a functionality in beta for direct posting to TikTok, LinkedIn, and Instagram. 
Key Features:
A monthly calendar generator

A carousel maker

A dynamic collection of sounds 

An AI hashtag generator
Pricing:
It offers a free plan and four pricing plans. After a free five-day trial, pricing starts at $29 per month or $24 per month when billed annually.
---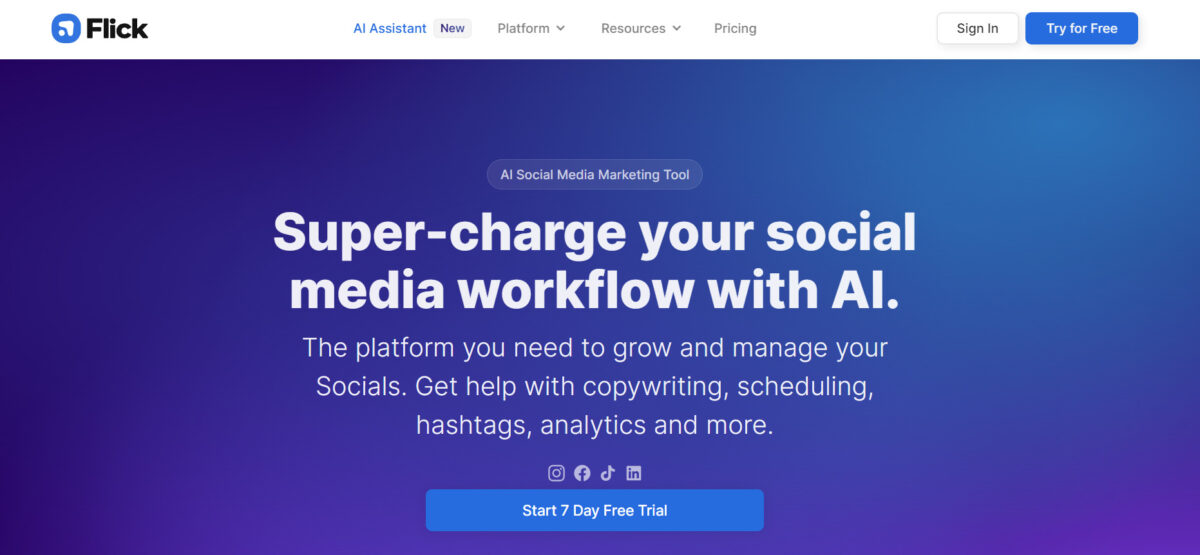 Flick is another tool that online stores can use for social media marketing. From scheduling to copywriting to analytics, it can help you with various aspects involved in social media campaigns. 
To get you started, your AI social media assistant will come up with unique content ideas. All you need to do is share a few topics. 
Once you have a few content ideas that you want to turn into posts, you can also leave the caption writing to your assistant. While it doesn't currently offer loads of customization options, you'll still have control over the tone of voice and style allowing you to tweak it so that it aligns better with your brand. 
In addition to caption writing, it's also very useful for hashtags. It lets you search for hashtags which you can then save to a collection for future use. After you've added a few to your collection, Flick will also recommend new hashtags. 
Key Features:
Caption writing

Instagram analytics

Scheduling for Instagram, Facebook, TikTok, and LinkedIn

Hashtag metrics
Pricing:
After a free seven-day trial, pricing starts at about $18 when billed monthly. However, if you choose to be billed yearly instead, you can save 20%. 
---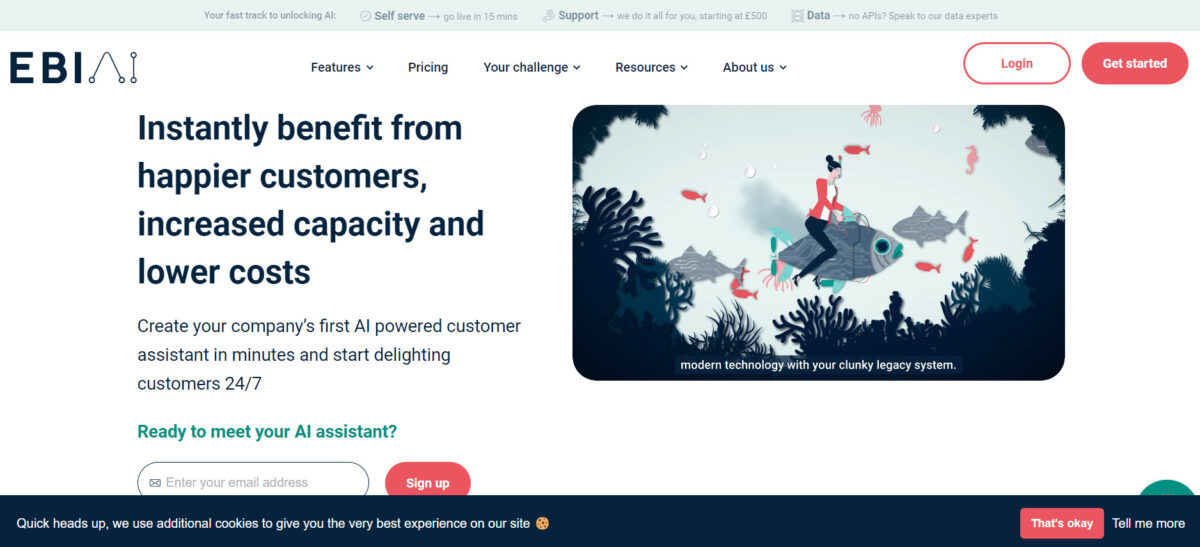 Another tool that you can check out to help you with customer experience is EBI.AI. With it, you can create an AI-powered customer assistant that can help to unlock growth opportunities. 
It's very easy to get set up. All you need to do is share the URL of your home page and it will create your new advanced AI virtual assistant, tailored to your startup. You can also add logos and colors to customize it further. Aside from these cosmetic changes, your AI assistant will also continuously learn how to deliver an even smarter service. 
Not only is it a smart solution in more ways than one, but also versatile. It can operate on any digital channel including messenger platforms, social media, mobile apps, and your website.  
One of its unique features is its pricing model. Unlike most other AI-powered tools that offer a couple of subscription tiers, EBI.AI uses a pay-as-you-grow pricing model. Your first month is on the house. It will then use the first 25 days to calculate your average monthly request volume, on which your custom pricing will be based. All payments are reviewed on a monthly basis, using your rolling average over three months.  
Key Features:
A reporting dashboard where you can find insights and capture real-time data

A bespoke dialog engine

Handover to live agents

GDPR compliant

Support for over 100 languages
Pricing:
The pricing depends on the number of requests. For 1,200 requests, you're looking at about $370 per month. 
---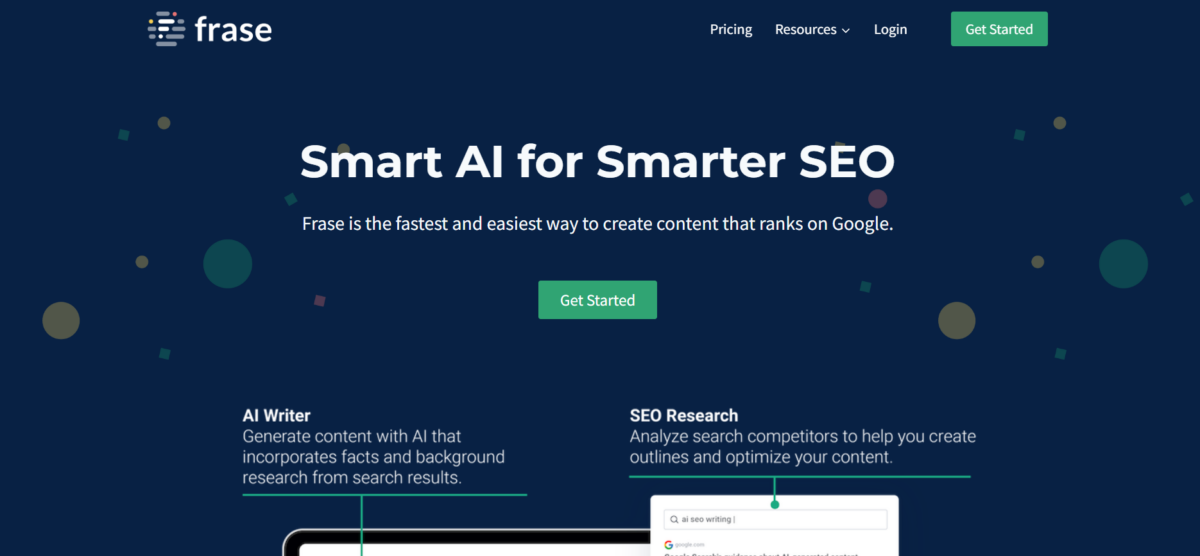 Frase is another writing tool that eCommerce startups can check out. Where Jasper is useful for content creation, Frase concentrates more on SEO, meaning that you can use the two tools in conjunction. 
That being said, Frase also includes an AI writer that can help with the actual content creation process. From blog post titles to how-to drafts, you can use it to create various types of texts. 
In fact, here's what Frase wrote about how eCommerce startups can use it:
Frase is an incredibly useful tool for eCommerce startups looking to improve their online presence and drive more conversions. With Frase, these startups can effectively optimize their website's content for search engines, ensuring that they rank higher in search results and attract more organic traffic. 
By utilizing Frase's AI-powered content optimization capabilities, eCommerce startups can identify and target the right keywords in their product descriptions, blog posts, and landing pages, increasing their visibility and attracting potential customers who are actively searching for their products or services. Additionally, Frase can also provide valuable insights and recommendations for improving the overall user experience, helping startups optimize their website structure and navigation to enhance conversions. By leveraging the power of Frase, eCommerce startups can greatly enhance their SEO efforts and ultimately drive more traffic, engagement, and sales.
Key Features:
A sentence and paragraph rewriter

Paragraph compression

An outline builder

An article rewriter
Pricing:
Pricing starts at $15 per month. 
---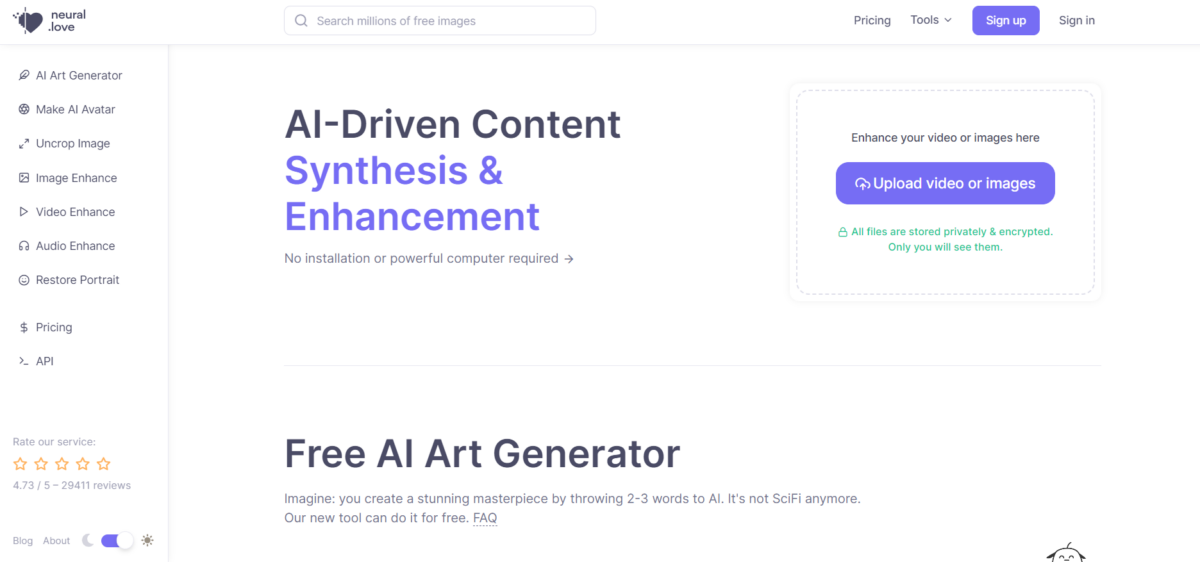 In addition to written content, eCommerce brands also need images. Visuals help to attract attention much easier than long blocks of text. 
To help you in this department, you can check out neural.love. On Trustpilot, it has received hundreds of reviews, with over 80% giving it five stars.
It includes a free AI art generator that has generated more than 40 million images to date. Then, to help you improve the images, it also includes image enhancements to improve the overall image quality. 
If you want to incorporate more video, you can also check out its set of tools for video enhancement. It offers AI filters that you can use to do various tasks like adding slow motion effects. 
Key Features:
AI-generated avatars

Batch processing

Audio enhancement

An AI-powered HD portrait generator
Pricing:
It offers a free plan, subscription option, and pay-as-you-go model. With the subscription model, $30 per month buys you 300 credits each month. If you opt for the pay-as-you-go option, you'll need to pay $57 for the same amount of credits. 
---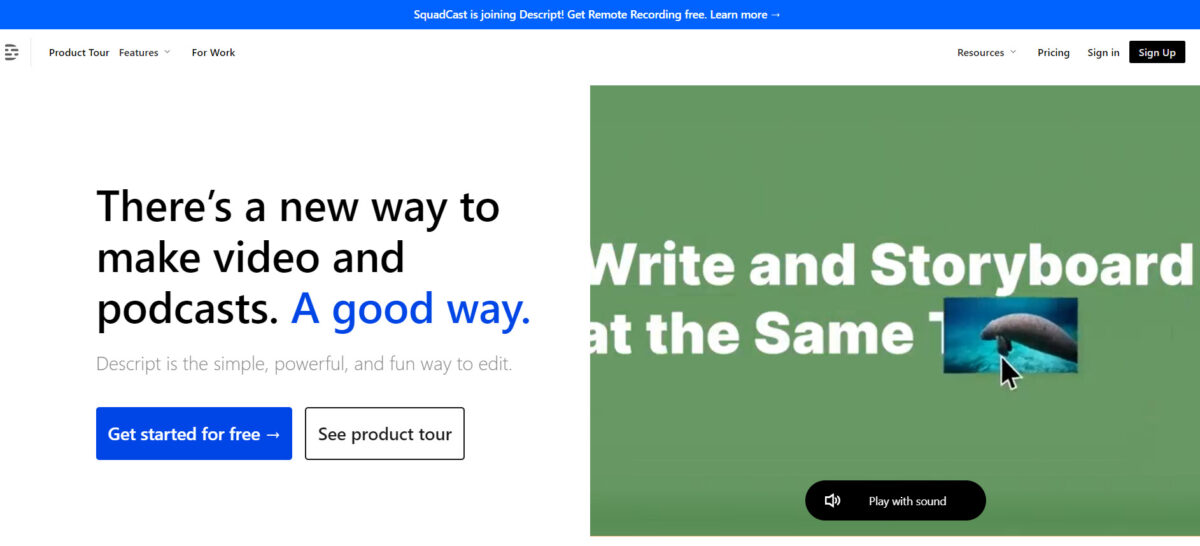 For help specifically with video content, there's Descript. It's basically a video editor with AI-powered features. 
It will automatically transcribe your recordings, helping you to make your content more accessible. Its AI features will also take care of other tedious tasks like removing filler words, making it a great tool for businesses wanting to start a podcast. 
Boring stuff aside, it can also help to make your content more exciting. You can, for example, create a realistic clone of your voice. There are also dozens of transitions, animation presets, and effects that you can select.
It also offers several features to help you with your workflows. You can write and edit your video script directly in its interface and then use live collaboration and comments to get input from the rest of your team. 
Key Features:
An AI-powered green screen

A template gallery

Millions of stock videos and images

Screen recording
Pricing:
Pricing starts at $15 per user per month when billed monthly.
---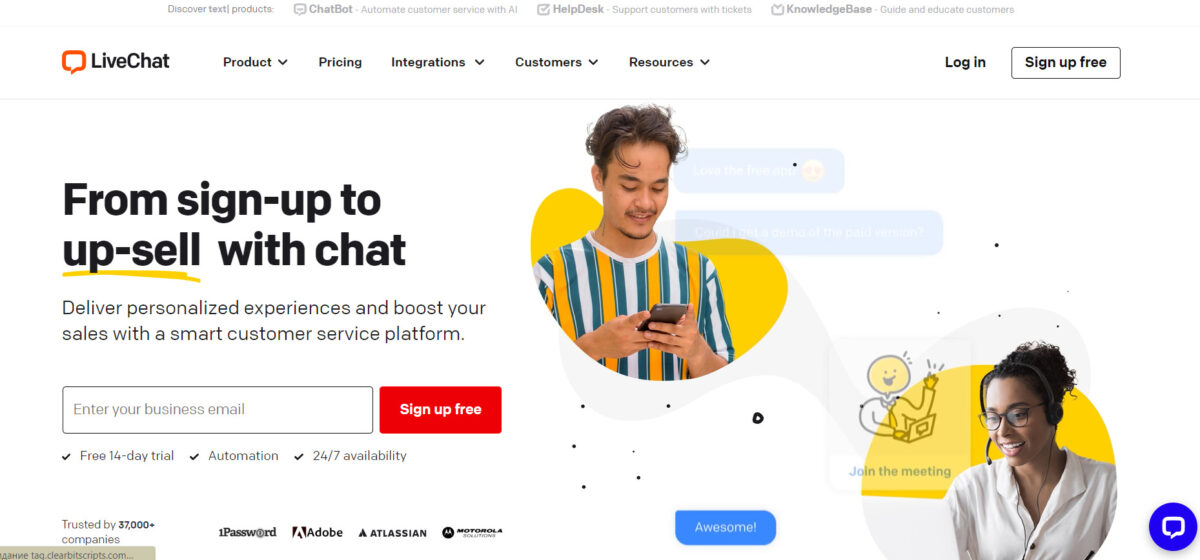 Rated as one of the best eCommerce tools for startups, LiveChat is a good option for help with customer service. What makes it such a great tool for this is that it still incorporates a human element. You can use it to create AI chatbots that can take care of repetitive questions, but if the expertise of a human agent is needed your customers can be assigned to a live agent. 
It's also specifically tailored for the eCommerce industry. You can use it to catch your website visitors at various stages of the customer journey. For example, if they're busy browsing, you can highlight new product ranges and suggest specific products with a personalized greeting. Once they've moved down the funnel and they're ready to make a purchase, your chatbot can guide them through the checkout process. 
It also integrates with a number of leading eCommerce platforms including Shopify, BigCommerce, and Squarespace. It also includes integrations with other popular eCommerce tools like Stripe, PayPal, and UPS Delivery Status. 
Key Features:
Canned responses and suggestions

Surveys

Agent rating

Smart chat routing

A chat history and email transcripts

Dark mode and accessibility compliance
Pricing:
Pricing starts at $24 per agent per month when billed monthly or $20 per agent per month when billed yearly. 
---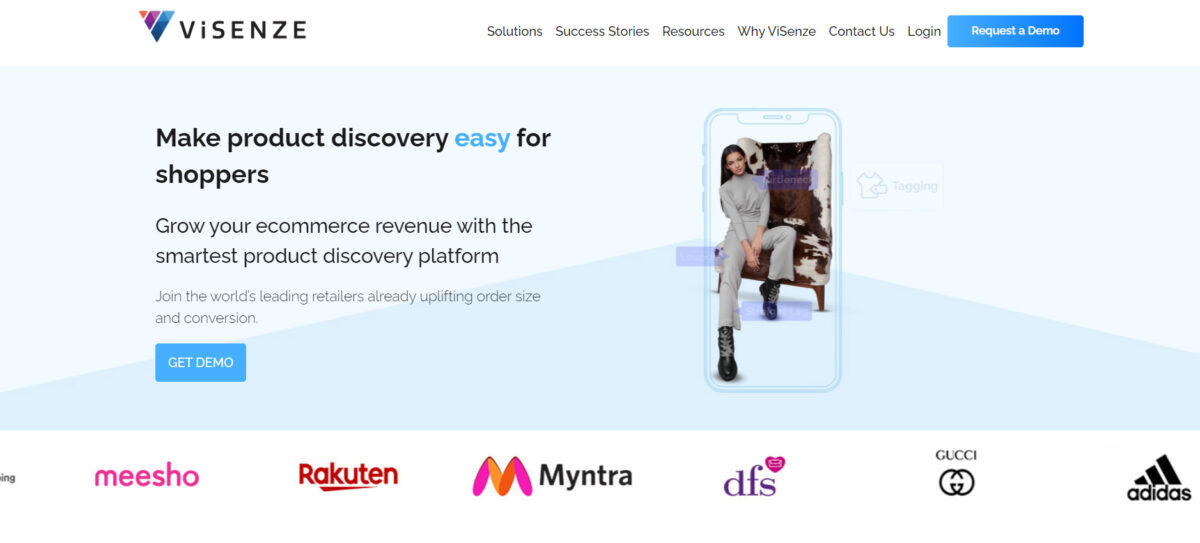 To help you drive sales, there's ViSenze. It's an AI search and discovery software solution that can help online shoppers find your products faster. 
Its automated AI platform is especially useful for startups operating in the fashion, furniture, or eyewear industries and has delivered impressive results for businesses operating in these fields. For example, when Zalora, a leading online fashion and lifestyle retailer in Asia, signed up for the ViSenze Discovery Suite, they managed to grow their average order value (AOV) by 15%. 
Setting it up is pretty straightforward and integrating your whole product catalog is quick. Then, to improve the performance, you can also use smart tagging. This way, its sophisticated visual AI will add accurate tags matching shopper intent to make your products more searchable.  
All things considered, it can be a worthwhile investment for startups. After all, if they can't find the product, they can't buy it, right?
Key features:
Visual AI-powered smart recommendations

Visual search to complement text-based searches

Smart product recommendations

Merchandising analytics
Pricing:
ViSenze doesn't display any pricing details on their website. However, you can schedule a customized product demo walkthrough via their website. 
---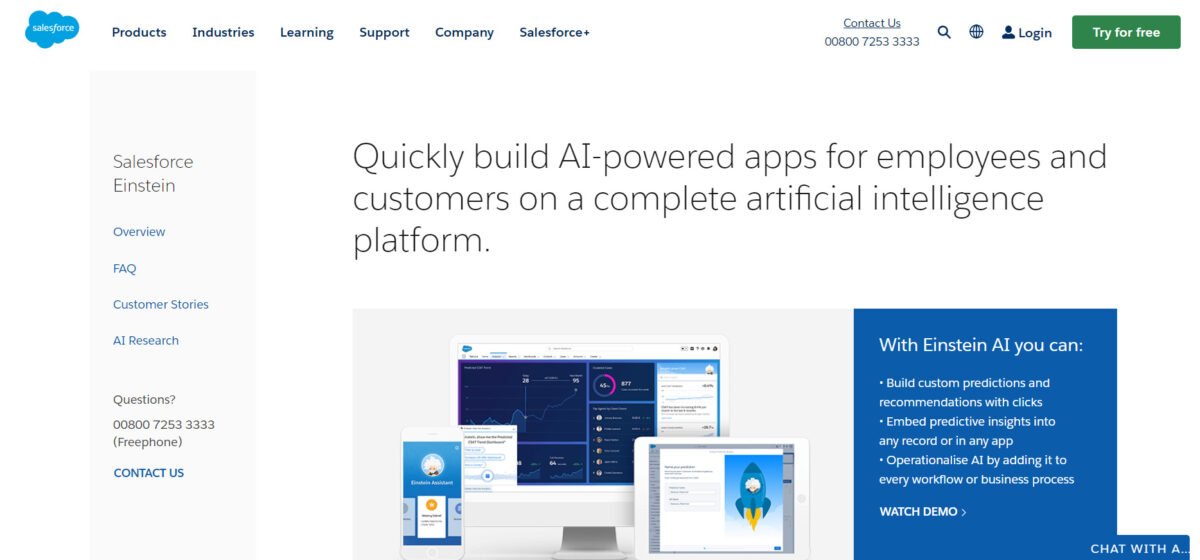 Another key tool that eCommerce startups can add to their tech stack is a customer relationship management (CRM) tool. With Salesforce Einstein, a comprehensive AI solution for CRMs, Salesforce users can make its Customer 360 tool even more powerful. 
You can use it to anticipate new opportunities, enabling you to act more proactively. It also makes it easier to create predictive journeys and personalize experiences via AI-generated emails and conversations. Other popular eCommerce use cases include smart product recommendations and tailored product sorting. 
Key features:
Auto-generated personalized emails and replies

Sales forecast prediction

Automated data capture

Lead scoring
Pricing:
Pricing starts at $25 per user per month. 
---
Wrapping Things Up
Whether you want to explore the idea of introducing digital assistants to your team or searching for copywriting tools to help out your marketers, there are a number of AI tools that eCommerce companies want to check out. It's not to replace, for instance, your content creators. Rather it's a tool for them to use. 
If you understand this and make that your end goal, the results that these tools can deliver won't disappoint you. This is especially true when it comes to content writing.
Also, keep in mind that when you incorporate AI, it's not only about saving time. Yes, that's one of the big benefits. However, it's also about staying relevant. If you want to operate in a highly competitive space like eCommerce, that's a must.  
Frequently Asked Questions
What are some of the best AI writing generators?
There are several AI writing tools currently available. Some of the tools that you can try out include:
Jasper

Hypotenuse AI

Anyword

Frase

Rytr

Writesonic

Copysmith
Are there any AI tools that you can use to create a business logo?
Some of the top AI logo generators that you can check out include:
LogoAI

Designs.ai

Logomaster.ai

Fotor

Logopony

Looka

DesignEvo
Which AI tools can help with visuals?
If you want to explore AI art generation, you can, for example, check out the following tools:
Jasper

neural.love

OpenArt

Artbreeder

Artimator

ImagineMe
How can AI help with eCommerce?
The eCommerce industry is very competitive which means that it's crucial that businesses focus more on delivering better shopping experiences. One way to do that is to create personalized experiences to boost sales and encourage repeat customers, among other things. This is one area where AI can be very useful. Using machine learning capabilities, natural language processing, and deep learning, AI can be used to create personalized messages and suggest relevant products, for example.