Advertising Disclosure
Advertising disclosure:
Our partners compensate us. This may influence which products or services we review (also where and how those products appear on the site), this in no way affects our recommendations or the advice we offer. Our reviews are based on years of experience and countless hours of research. Our partners cannot pay us to guarantee favorable reviews of their products or services.
AI sales software is a revolutionary marketing tool that will be a game-changer for sales teams in the coming years. This means AI sales software will help sales teams do more of what they do best—chatting with customers and learning customer needs—while automating the more repetitive tasks involved in sales. In addition, AI sales software can help organizations uncover new leads and close transactions faster.
AI's promise of automation has attracted a lot of attention, but before you start using AI technology, it's worth evaluating your current marketing strategy to see where you can integrate it into your process and operations. Read on to find out how AI technology can make a difference in your marketing efforts and how it can support a seamless customer experience.
---
5 AI Sales Software Options That Can Help You Win In the Market In 2023:
---
What is an AI Sales Software Tool?
AI sales software is a tool that helps sales teams automate mundane tasks, unlocking potential and efficiency. It combines customer data, market intelligence, and machine learning algorithms to personalize conversations and deliver insights that increase the success rate of sales teams. AI sales software tools enable users to better understand customer needs and provide personalized experiences with the right content at the right time to drive more successful outcomes.
---
How Do They Work?
Every AI sales tool works differently. However, there are some common features that all AI sales software tools share. In general, these tools provide users with an automated way to identify leads, track customer interactions and activities, as well as manage marketing campaigns. Artificial intelligence can be used to analyze customer data and generate insights regarding customer behavior or preferences to create more personalized experiences. AI-driven automation can also help sales teams manage tasks like scheduling meetings or sending follow-up emails.
---
The Top 5 AI Sales Software to Watch Out For
Whether you have a sales assistant or a team of sales reps, AI sales software can help you be more efficient and effective in your day-to-day operations. Here are five of the most promising AI sales tools to watch out for:
---
---
---
---
---
What to Look for in AI Sales App Software
The market is changing fast along with sweeping technological advancements. Every sales manager and their respective sales cycle is different, and just about any sales software program may not be the most suitable tool for a particular manager. But there are a few key features that any AI sales app should have to add value to those managing sales enablement teams.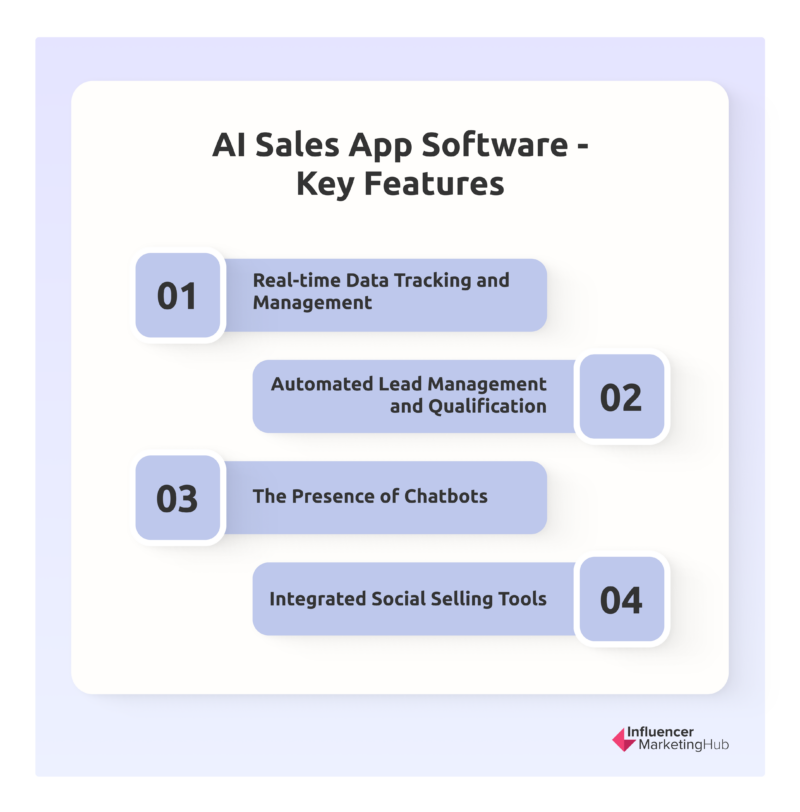 Real-time Data Tracking and Management
This is essential for managers who need up-to-the-minute information on their team's progress. If data management and tracking are fully integrated and automated, sales teams can quickly access their results. AI-generated insights are vital to ensure that the team does not miss any opportunities or potential problems.
Automated Lead Management and Qualification
Lead generation is an integral part of the sales process. Using sales automation tools can make lead management and quoting easier. The software can also manage the lead management process, allowing you to easily record, organize, and analyze sales data. This makes it easy to identify customer trends and make efficient sales decisions.
The Presence of Chatbots
Chatbots are a popular feature of sales software and can help with a variety of tasks, making them a valuable tool for sales teams. They can be used to manage customer interactions, handle orders, and more. AI sales software solutions are also equipped with AI chatbots that can provide a more personalized customer experience. This could come in the form of a live chat or a set of alerts on the interface. Chatbots as an assistant software can make sales management more efficient and effective.
Integrated Social Selling Tools
With AI sales software, you can connect with customers on a more personal level, increasing the chances of closing more deals. The software comes with features like email automation and chatbot marketing that can help you sell your products using engaging and personalized messages. It can also help you optimize your social media campaigns, increasing your conversions.
---
Integration with Other Marketing and Sales Tools
AI sales app software should be easily integrated with other marketing and sales tools. This will ensure that your team is able to access the data they need quickly and easily across multiple platforms. Enterprise resource planning (ERP) systems and customer relationship management solutions are great examples of this.
Some of the benefits of using AI sales software include easier lead management and data analysis, personalized customer experiences, and increased sales efficiency. By integrating these solutions with other marketing and sales tools, you can create a comprehensive solution that will help your team reach its revenue goals.
Great Customer Experience
An excellent customer experience can be tricky to achieve across all channels, such as online, phone, and in-person engagements. A consistent customer experience across all channels is necessary to ensure a smooth pipeline of opportunities. Thus, sales software should be easy-to-use and intuitive so that sales reps can quickly access relevant information and make decisions without having to conduct a lot of research on their own.
Pricing
Sales platforms that use artificial intelligence do not need to be expensive. However, you should make sure that the features offered by the software are high-quality and useful. Every deal status should be easily accessible, and sales reps should be able to manage their pipeline quickly and efficiently using the software. Consider a demo or a free trial before investing in AI software that includes value-added features such as conversational marketing and sales intelligence, among others. The last thing you need is software that does not live up to your expectations.
---
Final Thoughts
Sales software featuring AI technology is revolutionizing the way teams close deals and exceed their quotas. This powerful tool can automate lead qualification, scheduling tasks, data management processes, and more–allowing salespeople to allot more time in building relationships with potential customers.
Not only does this help streamline workflows by reducing error rates but it also allows businesses to better serve their customers through a customer-centric process that enables them to achieve success faster than ever before. Both sales and marketing teams are set to benefit from AI sales software, so be sure to choose a platform that can make your sales process easier and more efficient.
Frequently Asked Questions
How can AI be used in sales?
AI can automate a variety of tasks such as lead qualification, data management processes, scheduling tasks, and more. It also helps develop a customer-centric approach that allows to personalize customer experiences thus increasing chances of closing deals, optimize social media campaigns for increased conversions, and provide integrated social selling tools. Ultimately, AI sales software can help streamline workflows by reducing error rates while enabling businesses to better serve their customers through a faster and more efficient process.
What are the benefits of using AI sales software?
AI sales software can help streamline a business's sales process in a number of ways. Benefits include easier lead management and data analysis, personalized customer experiences, increased sales efficiency, integrated social selling tools, and integration with other marketing and sales tools.
How should I choose a sales software?
You should consider a few factors when choosing a sales software, such as features offered, ease-of-use, pricing, and customer experience. Make sure to try a demo or a free trial before investing in the software to make sure it meets your needs. Additionally, customer reviews can be a great way to get a sense of a product's quality and reliability.
What features should a good AI sales software have?
A good AI sales software should enable easy access to relevant information, fully integrated and automated data management and tracking, and additional value-added features such as conversational bots and sales intelligence. It should also be easy-to-use, intuitive and affordable.
Be sure to find a platform that fits your needs so that you can take full advantage of cutting-edge technology for a more profitable future.